Angie Kerber has won her first major crown ... the Australian Open, beating the hot favourite Serena Williams.
Not too many believed that Serena Williams would be dethroned in the final of the Australian Open. Even when Angie Kerber won the first set the feeling was that was a hiccup for Williams and she would rally. Then, when she won the second set, it seemed like a matter of time before the name Serena Williams would be etched on the Daphne Akhurst Cup for the seventh time.
How wrong everyone was. Angie Kerber did not stop believing. She believed she could fly and boy did she soar. After two hours eight minutes the German lefthander, who has succumbed to emotions so much in the past, kept it all in check. On match point, the only one that was needed, there was a short rally and Williams worked her way to the net and sent a volley long.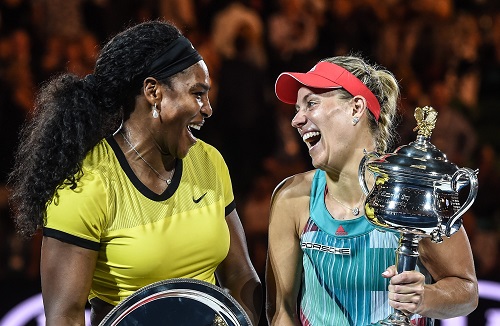 Rod Laver Arena erupted. A look of disbelief swept over Kerber's face which was lit up with a huge smile. Her racquet fell from her hand and the German was flat on the court and rejoicing. This time the crying was overwhelmingly happy. She was sobbing as the umpire called: "Game, set, match Kerber 6-4, 3-6, 6-4."
Serena walked to the other side of court to embrace Angie. The American was magnanimous in defeat something she not always is. It would have been hard for her as it was the second straight major she had lost having been beaten by Roberta Vinci in the semis of the US Open last September.
"I was actually really happy for her," Williams said. "She's been around a really long time. We've had a number of matches. I've beaten her a lot. She played so well today. She had an attitude that I think a lot of people can learn from: just to always stay positive and to never give up. I was really inspired by that. So, honestly, she's a really good girl. If I couldn't win, I'm happy she did."
But, it is all about Angelique Kerber who is the first German woman to win the Australian Open since Steffi Graf in 1994 who was also the last German woman to win any major, in 1999.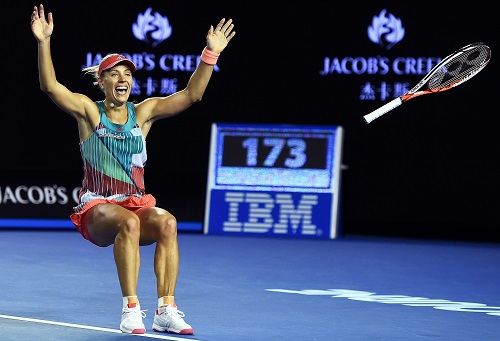 "I had really crazy two weeks. I mean, with the first round where I was match point down, and then with the win over Azarenka in the quarters. I never beat her," Kerber said as she gushed, the smile never leaving her face. "And now to play against Serena, what was a really honour to play against her in a Grand Slam final. It was my first final. You know, I was really looking forward. I was really excited.
"I knew before that I beat her once in Cincinnati that I really must go out there to try to beat her again because she will not give it to me. It was a really great match from both of us. Yeah, really it's a special moment for me."
Williams was looking for her seventh Australian Open title, she had never been beaten in a Melbourne final and she was vying for her 22nd career major which would have tied her with Graf. But, as Kerber jokingly suggested before the final "we Germans stick together" and she would do what she could to prevent Williams levelling with Graf. She certainly did that.
"I was nervous before the match," Williams said. "No, I didn't think about the record at all. I think more or less I thought just about winning this match. It wasn't necessarily the record for me."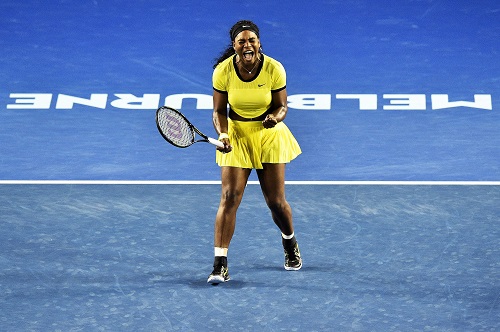 It was surprising to see Williams produce so many errors in the match; she had six double faults and an incredible 46 unforced errors. She was screaming at herself to motivate and push herself and when she desperately needed it, things just weren't quite there.
"When the ball was out from her, I was just, yeah, so happy. I mean, it's amazing," Kerber added. "This is the first big tournament of the year, and I won it, the first Grand Slam. It sounds crazy, but I can say I'm a Grand Slam champion now.
"I think it's more like proud, proud about my team, yeah, my family, my friends. They are always believing in me. I'm not the easiest person sometimes. I had also like a few downs where I was not so believing in myself.
"All my families and friends, they believe always in me. I think it's more like proud that the hard work pays off right now. Yeah, I'm just happy. I mean, I have so many emotions it's like crazy."