Three Grand Slam titles, six Masters 1000, 83 wins…naturally, it's Novak Djokovic.
Three Grand Slam titles, six Masters 1000, 83 wins…Novak Djokovic has bossed the 2015 season and is logically number one of our last offbeat ranking of the year. The Serb is followed by the American Serena Williams, who confirmed her domination on the woman's circuit. Andy Murray comes in third thanks to his victory in the BNP Paribas Davis Cup with Great-Britain. And the kilt he wore at his wedding.
1 - Novak Djokovic
Eleven titles of which three Grand Slams and six Masters 1000 (a record), 83 wins and only 6 defeats. Novak Djokovic has bossed the 2015 season, which he finishes as the world number one, without the slightest of doubts.
The only regret for the Serb would be his defeat against Stan Wawrinka in the final of Roland Garros. There is no doubt that the French Open, the only missing Grand Slam title in his personal record, will be his number one goal in 2016.
However, Novak Djokovic's most beautiful prizes are his wife Jelena and his son Stefan, absolute stars on social medias, who enabled him to have the best year of his life.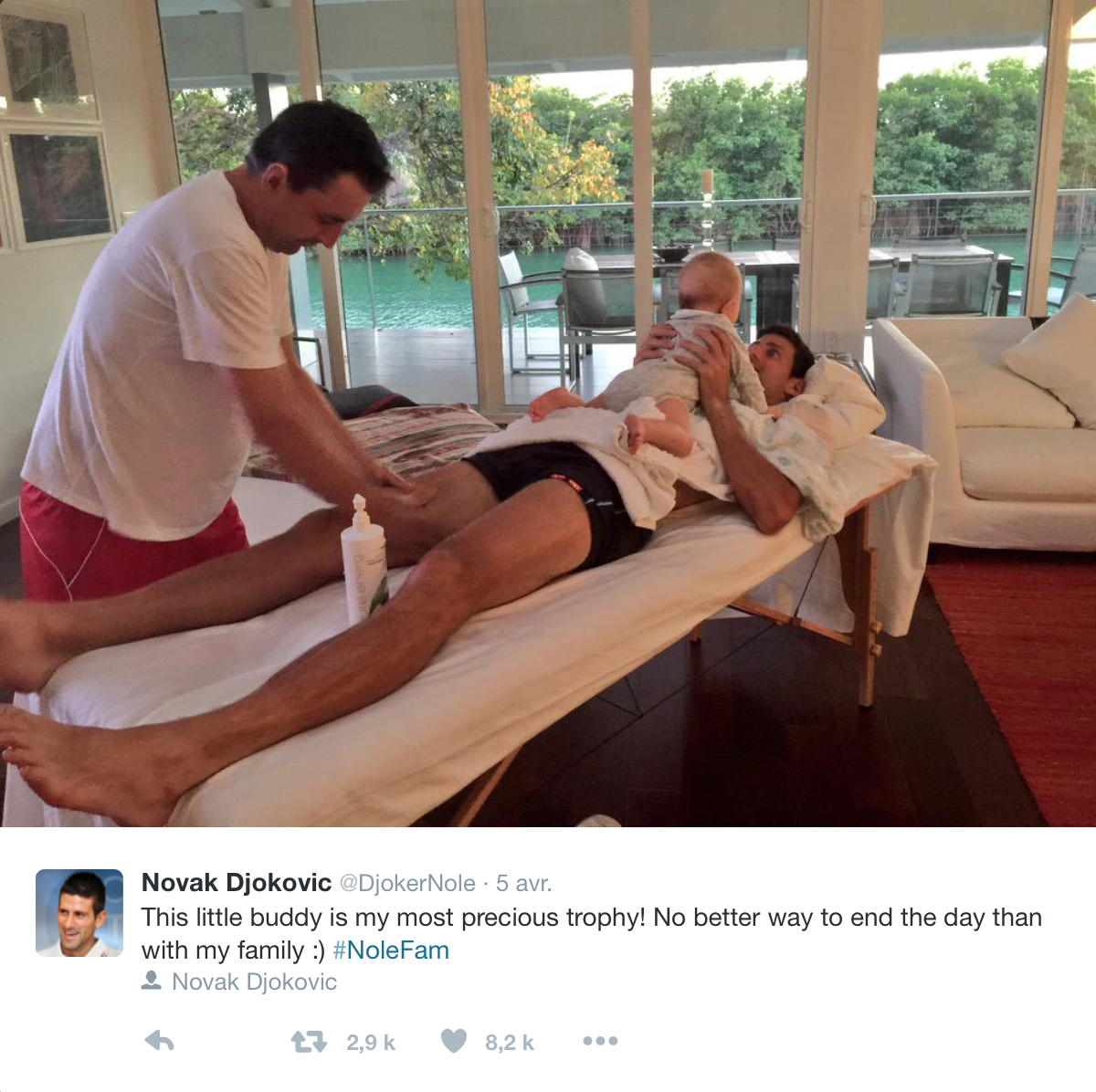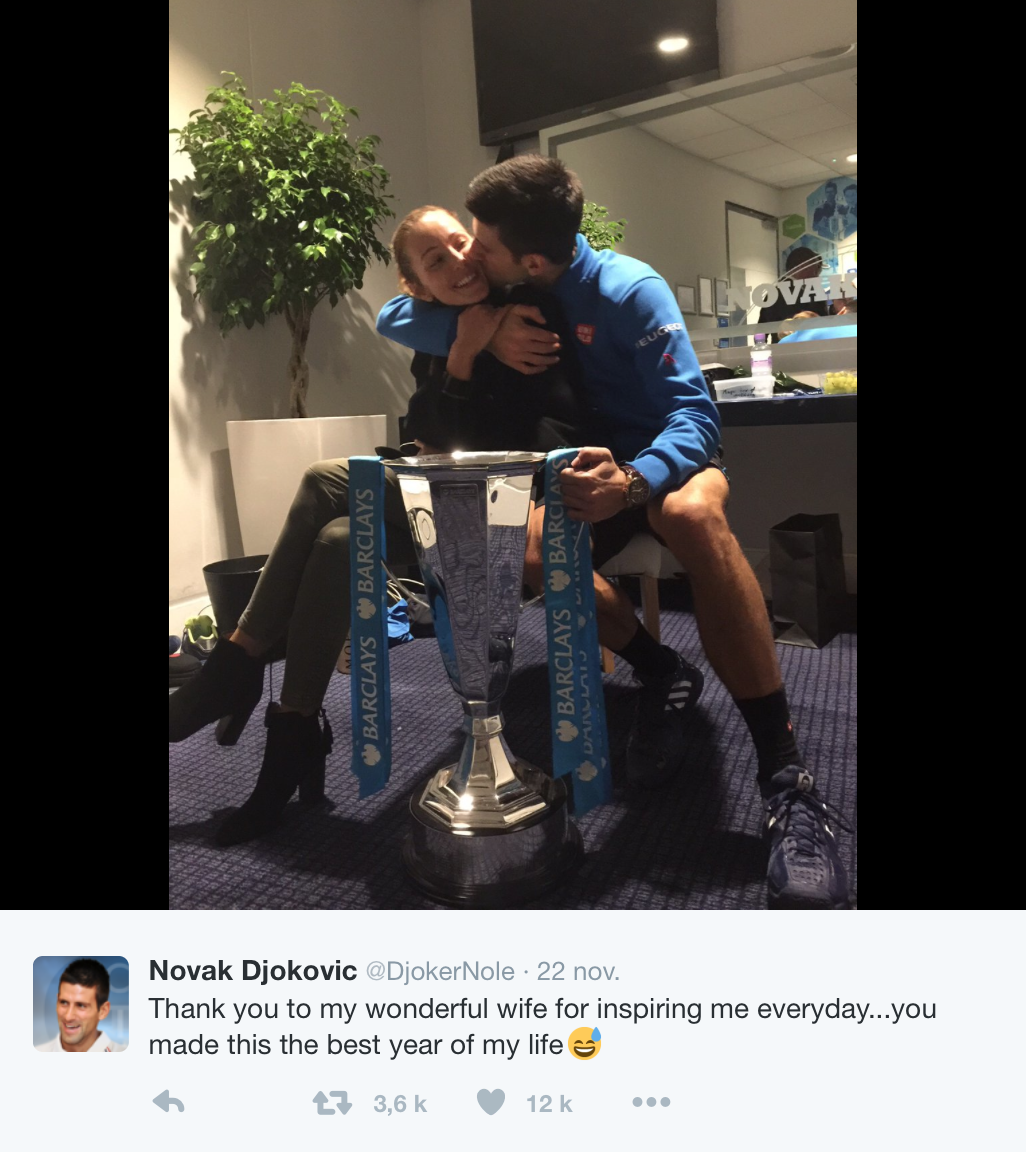 2 - Serena Williams
Serena Williams has been through an emotional rollercoaster this year. The emotion of winning more titles first, with three new Grand Slam titles (Australian Open, Miami, Roland Garros, Wimbledon), setting her total to an amazing 21 titles. In April, in Miami, the American has also won her 700th match in the WTA !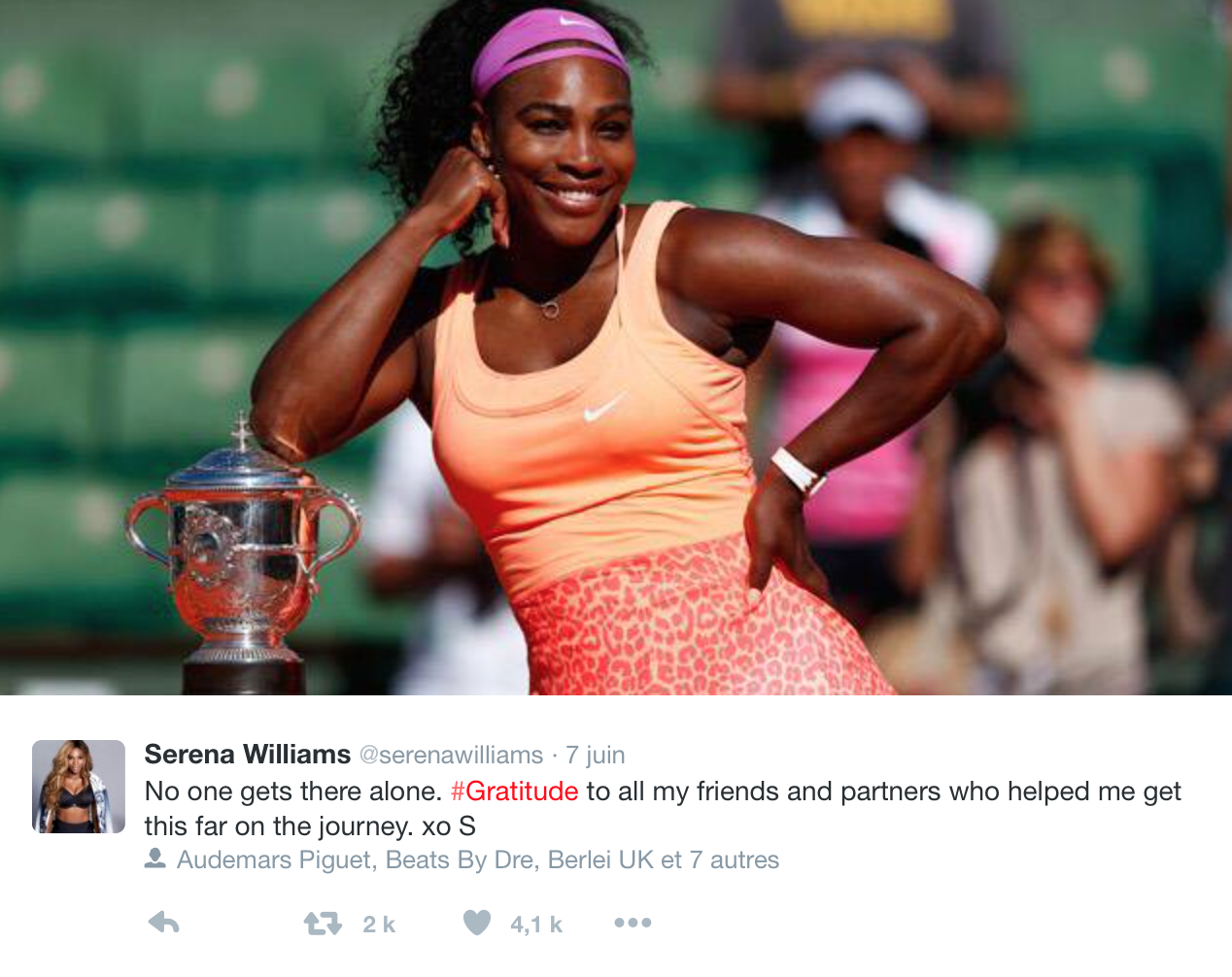 The emotion of a reunion also. After a fourteen year divorce, Serena Williams made her come-back at the Indian Wells BNP Paribas open in march. Entering the court to face the Romanian Monica Niculescu (7-5, 7-5), the 33 year old American couldn't hold back her tears as she heard the standing ovation coming from the crowd.
Finally, the emotion of a crushed dream. At the US Open in September, Serena Williams, competing for a fourth title in a row, had the opportunity to achieve the first Grand Slam in a year since Steffi Graf in 1988, and to catch up with Graff's 22 Grand Slam titles. After defeating her sister Venus in the quarter-finals, she was, to everyone's surprise, beaten in the semis by the Italian Roberto Vinci, then ranked 43rd at the WTA race (2-6, 6-4, 6-4).
3 - Andy Murray
Andy Murray hasn't won a Grand Slam title, but paradoxically, it has been the best season of his career. 74 victories, four titles, a world number 2 spot at the end of the year for the first time in his career, and most of all, a victory in the BNP Paribas Davis Cup, almost won single-handedly. The Briton has indeed won his eleven matches in four rounds (eight singles, three doubles), offering the United Kingdom its first title since 1936. In the final, he crushed Belgium, only helped by his brother Jamie during the double.
Other than that, Andy gave us a good laugh with his hair this year. He started by mocking his own hair cut with Roger Federer on Twitter…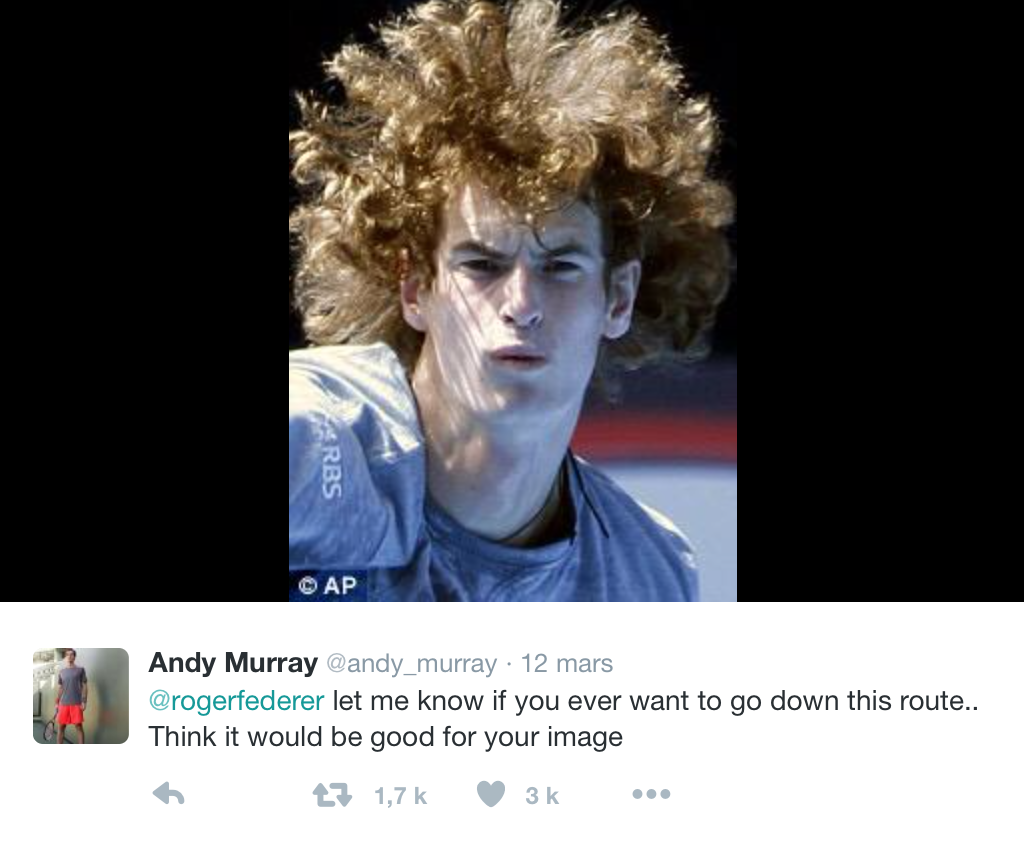 …before showing his barber skills during a match at the London Masters.
In other news, oh yeah, this year, the Scot got married to Kim Sears in April. Wearing a kilt, obviously.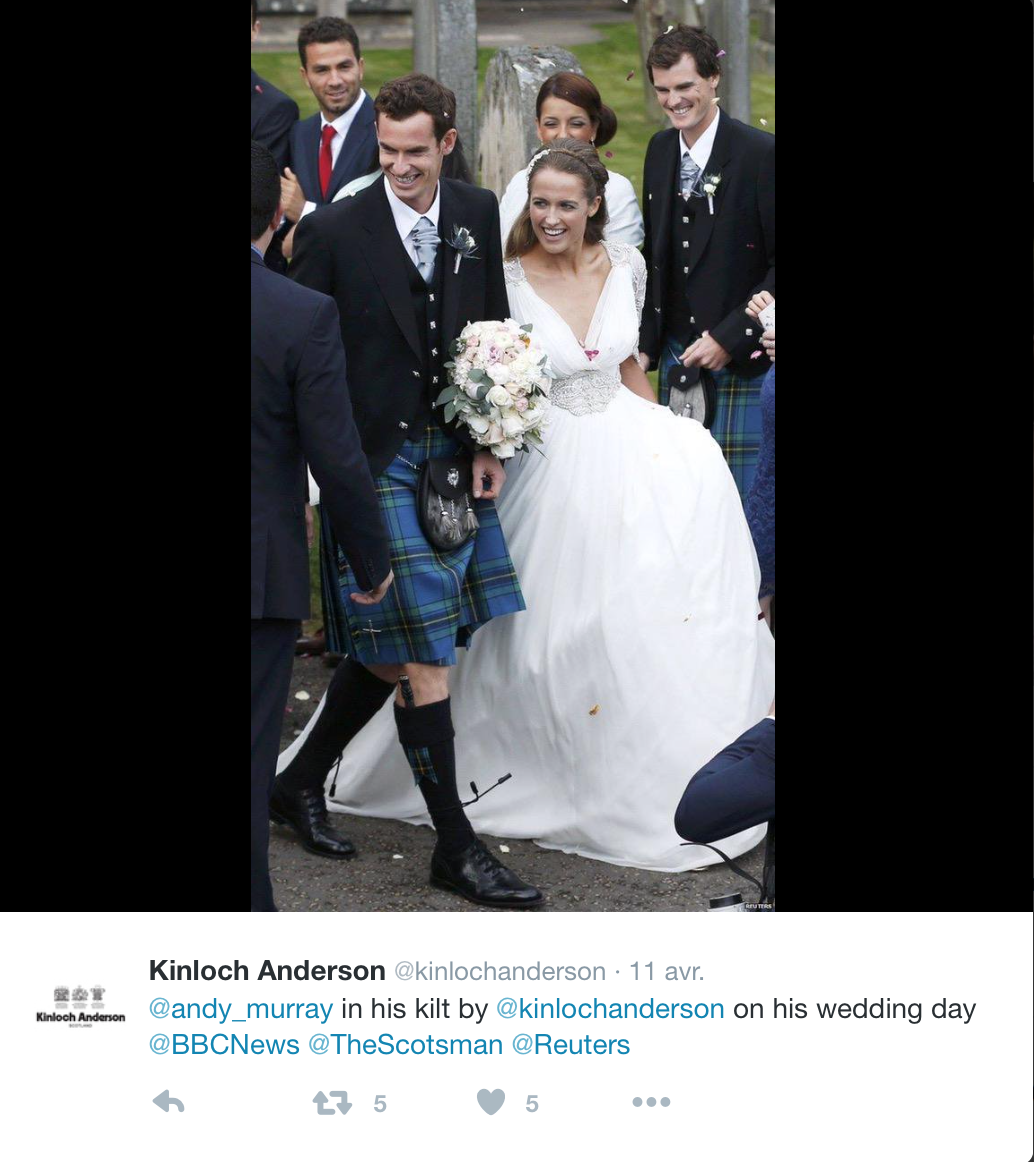 While we're on the subject, we're impatiently waiting for his next Christmas jumper.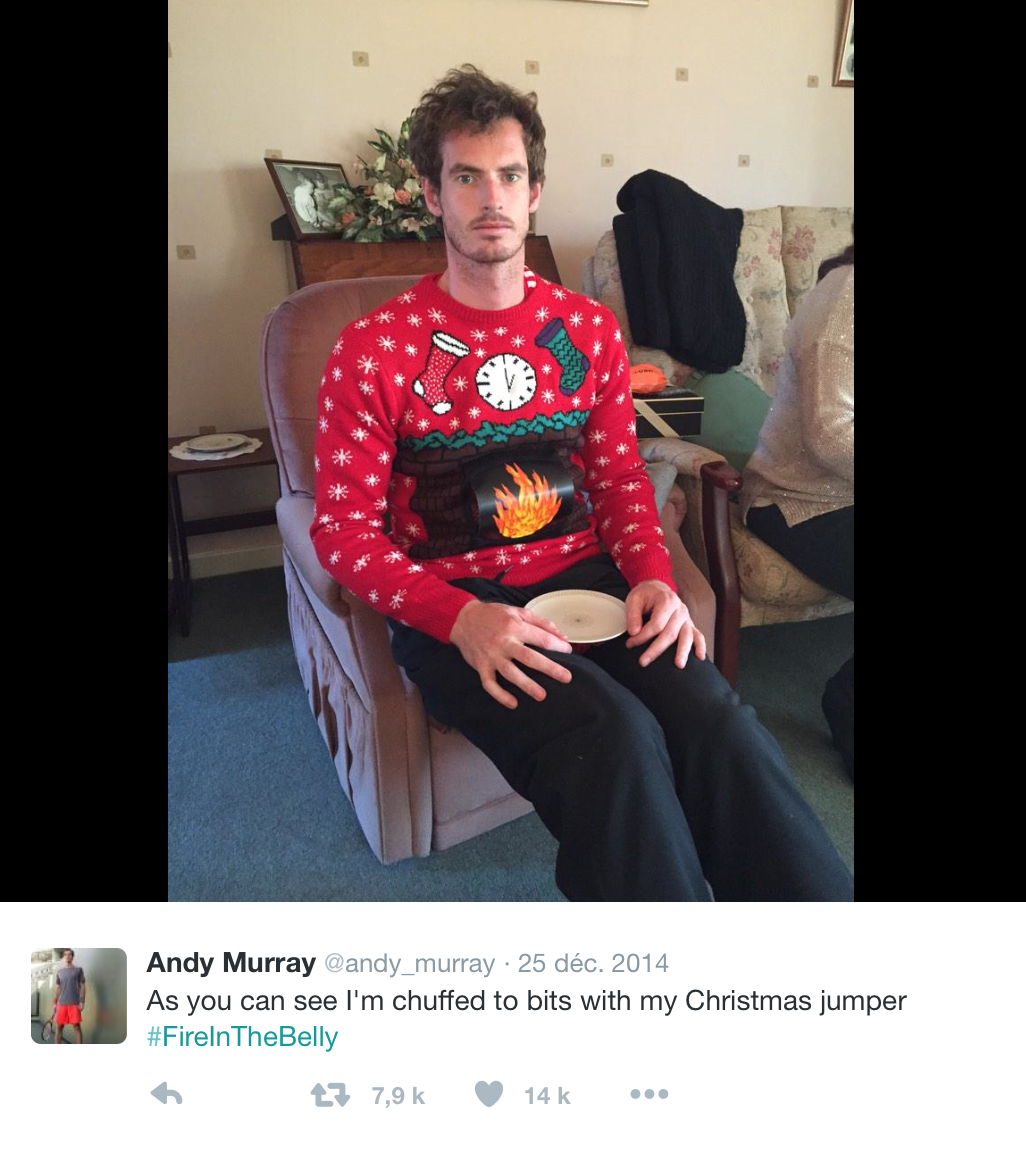 4- Stan Wawrinka
He's the only one this year who managed to stop, temporarily at least, Djokovic's domination. Stan Wawrinka took Roland Garros by storm when he defeated the mega favourite Serb in the final (4-6, 6-4, 6-3, 6-4). It was his second Grand Slam title after the 2014 Australian Open.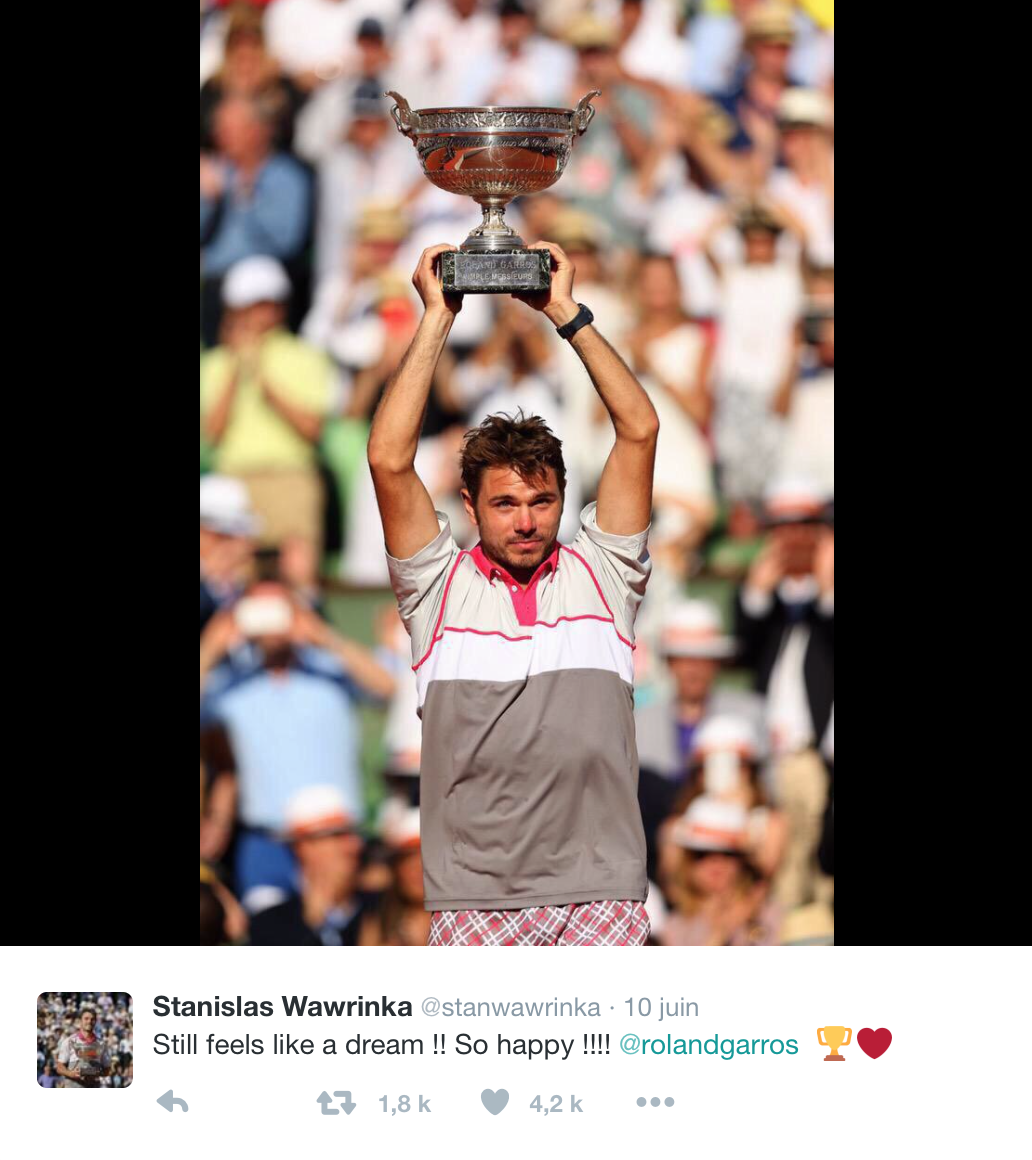 Stan owes this victory to his talent, but mostly to his famous pair of shorts, which had everyone talking.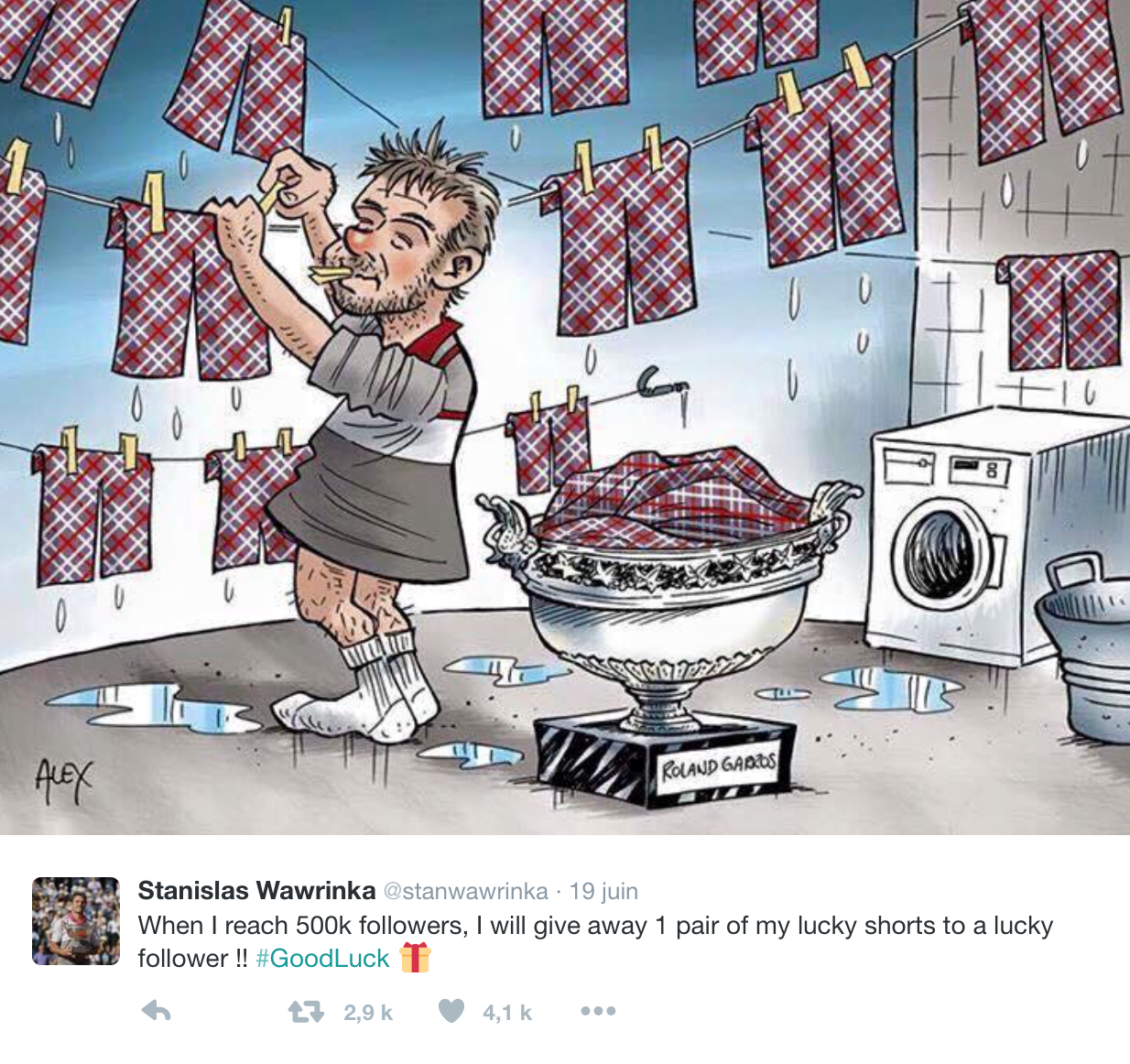 A lucky charm for the Swiss, who doesn't go anywhere without a mini-replica attached to his tennis bag, and even distributes them as gifts to his rivals.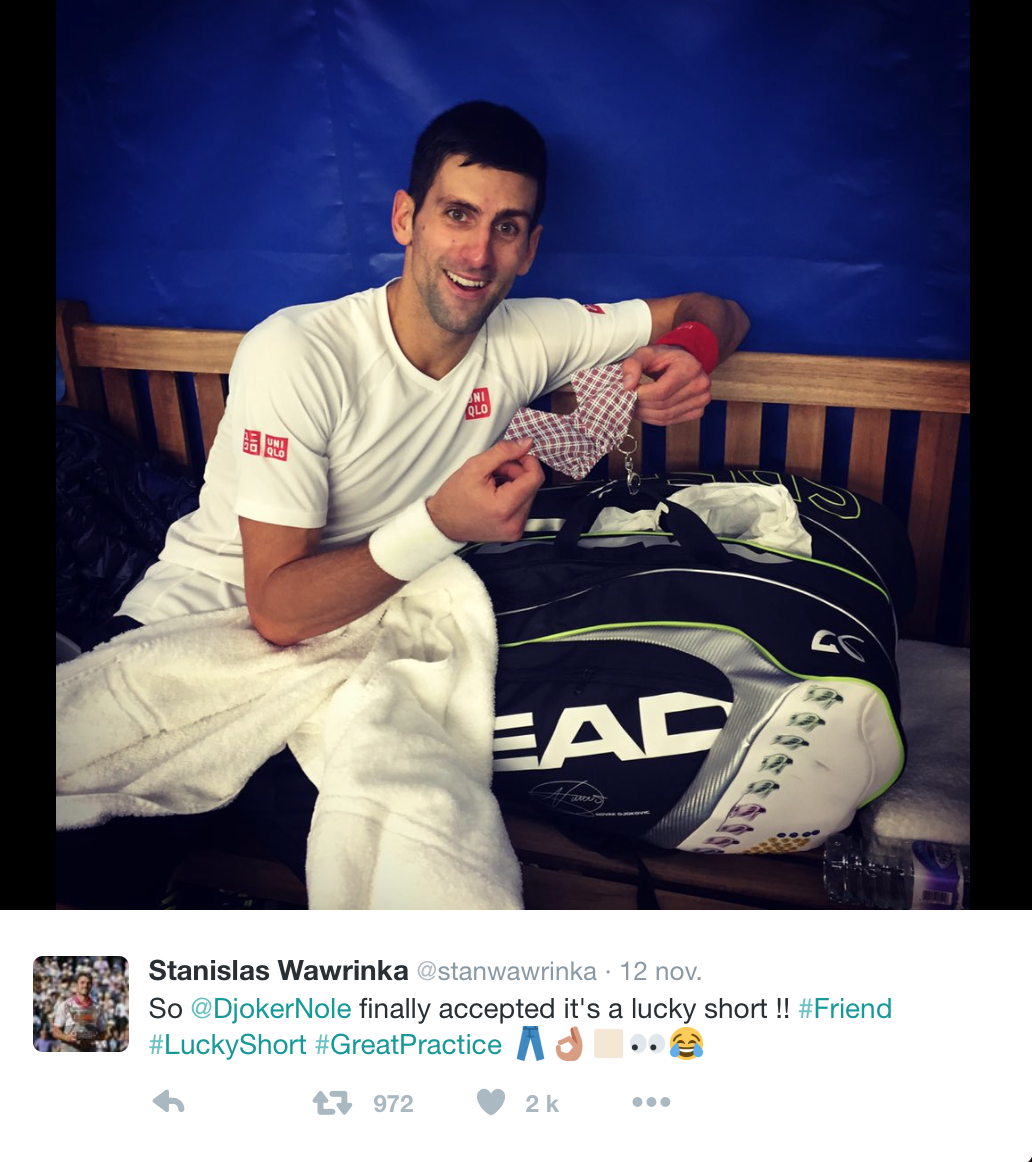 5- Flavia Pennetta
In 2015, she entered the history books of Italian tennis. In September, Flavia Pennetta became the first Italian tennis woman to win the US Open. In the final, she defeated her fellow countrywoman Vinci (7-6, 6-2). Before that, she had beaten Kvitova and Halep. The real deal.
She even had trouble realising she had actually won (translation of her tweet : « Everyone says I have won a Grand Slam title…can you believe it ?!?!? »)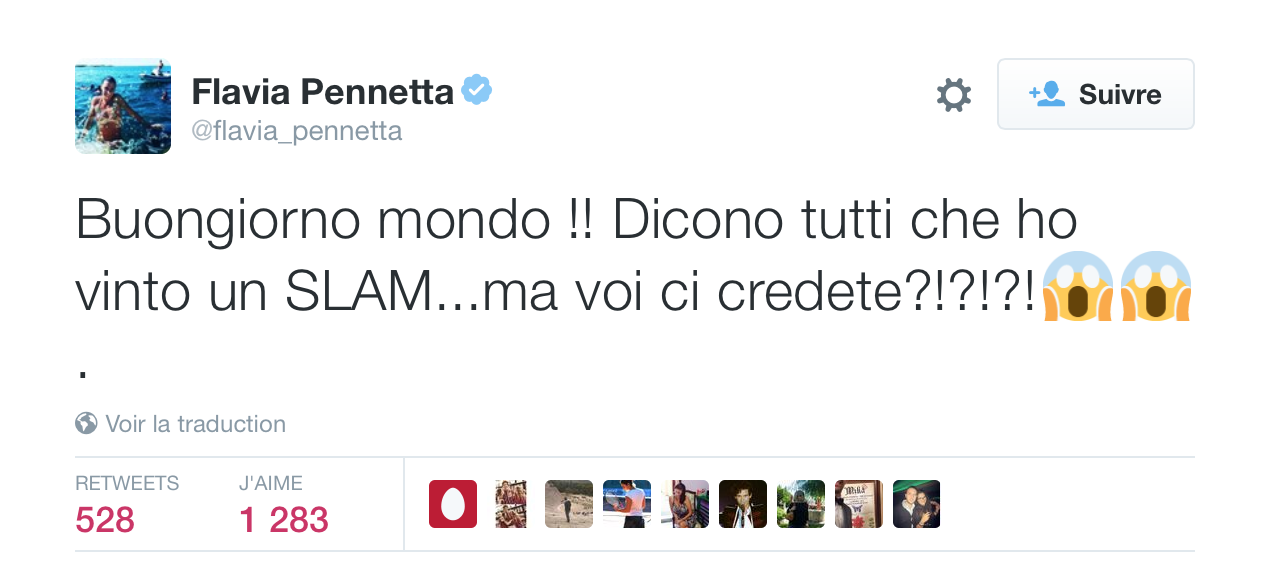 Thanks to this success, Pennetta reached her best career ranking (6th) before deciding to retire, at 33.
6- Roger Federer
What is there to say ? No, Roger Federer hasn't won a single Grand Slam title this year, even if he counts two lost finals against Djokovic in Wimbledon and at the US Open. But at 34, the Swiss has proven he is far from being finished. 64 wins, six titles and the 1000th win landmark on the ATP circuit reached in January, making him the third player with the most matches won behind Jimmy Connors (1253) and Ivan Lendl (1071).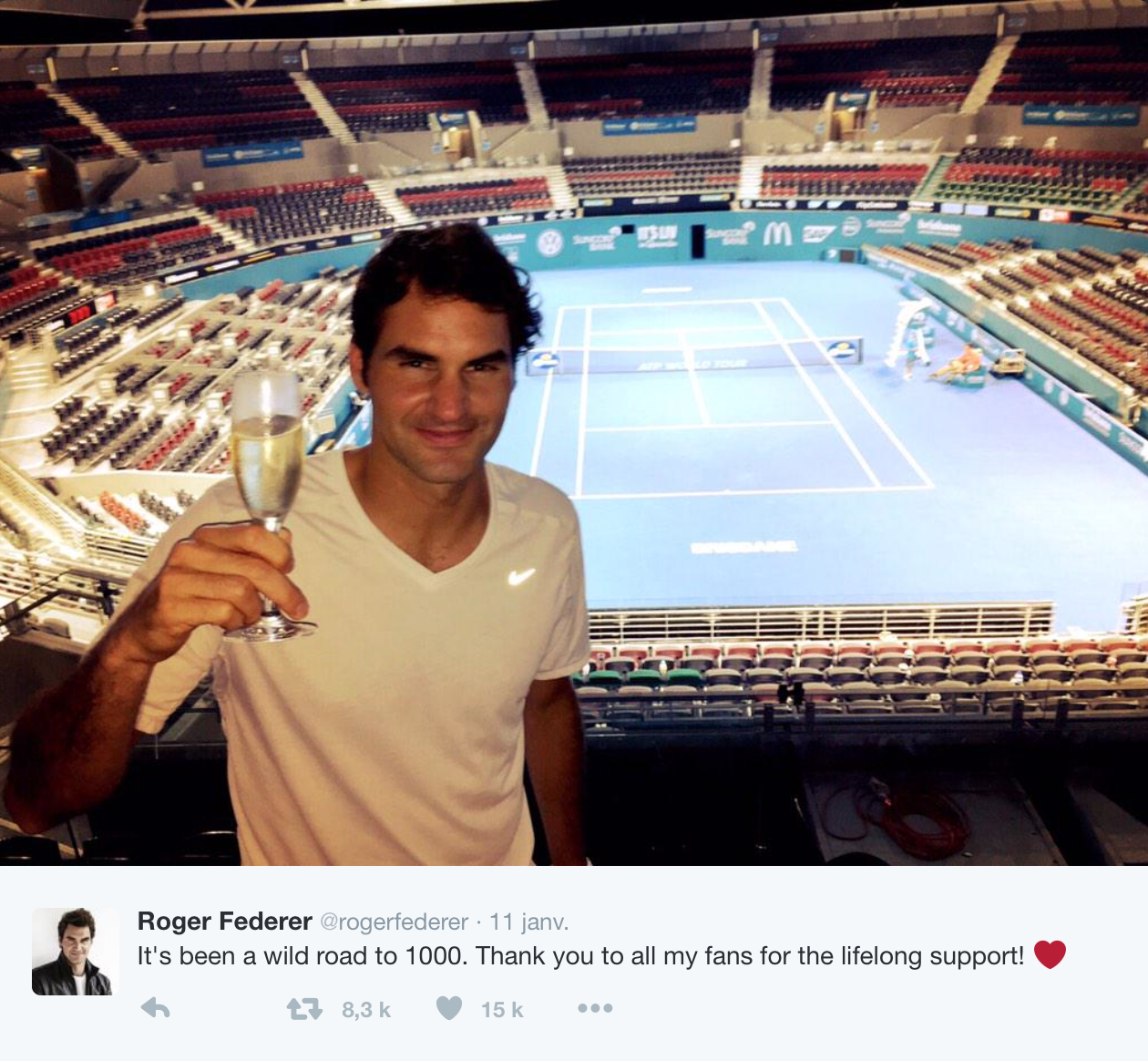 He has also reached the symbolic mark of 9000 aces in his career while beating Djokovic in the final of the Dubaï tournament. Only Goran Ivanisevic (10 183 aces) and Ivo Karlovic are now ahead of him in this particular exercise.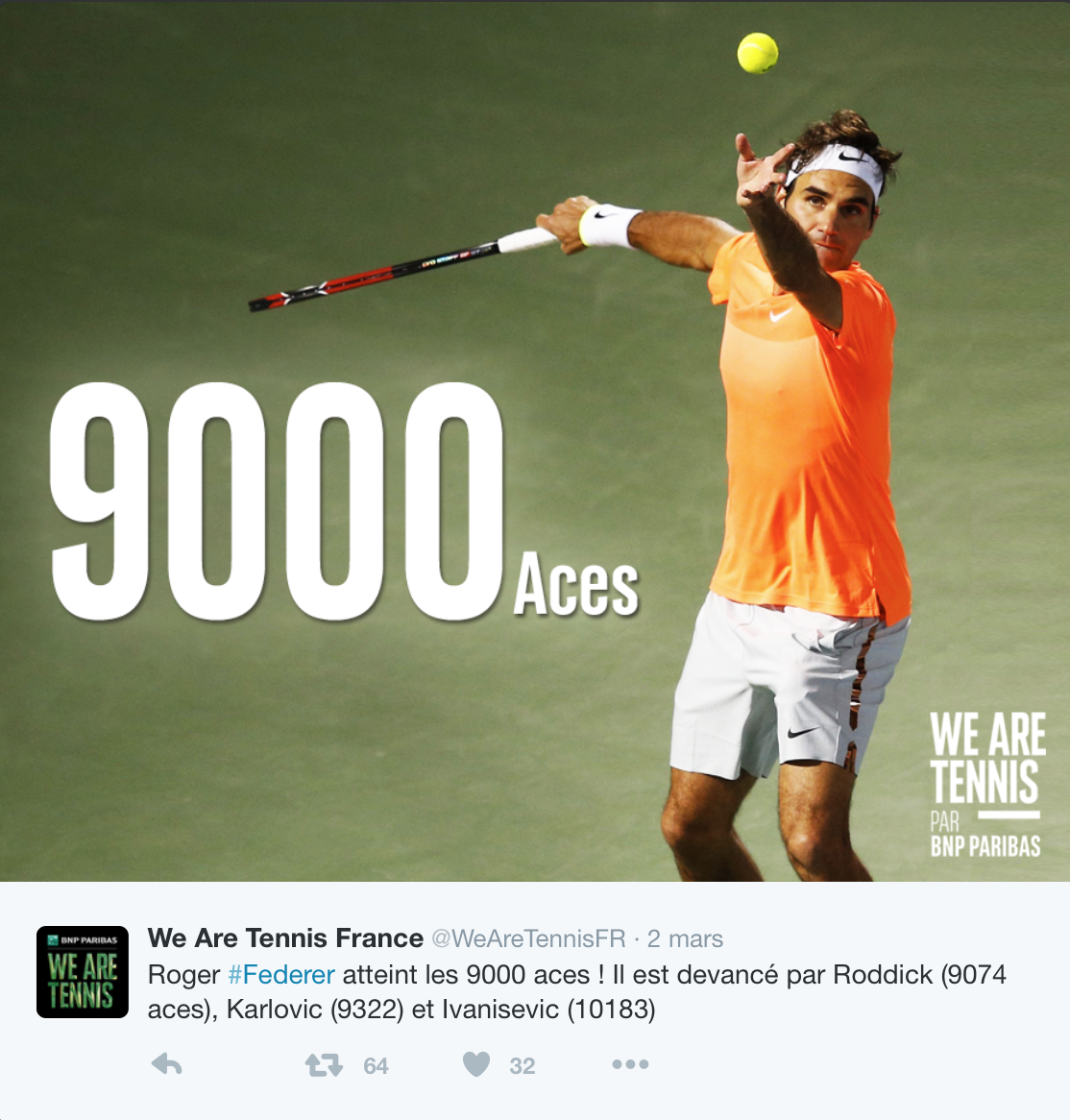 The Swiss has also displayed his best tennis in many years, as he did against Andy Murray in Wimbledon. A match that he acknowledged as one of the best in his career.
This year, Federer has also encountered another sport legend, MJ.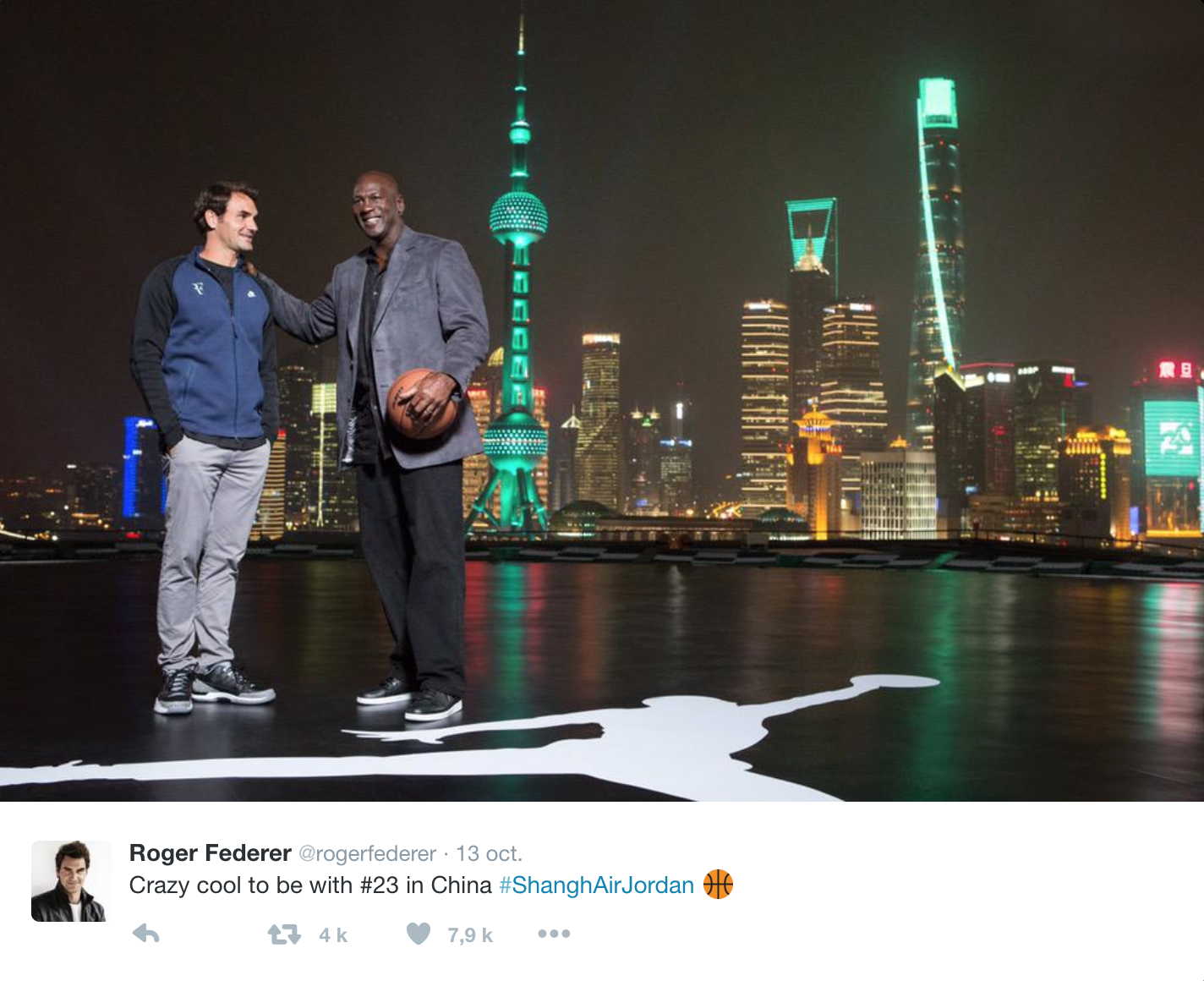 Legend.
7- Nick Kyrgios
When insolence takes precedence over the unpredictable. The brilliant player discovered by the general public in July 2014 in Wimbledon lost his way this year. He hasn't collected a single title and has been deceiving his fans all season, except for the Australian Open, where he reached the
quarter finals. He could blame the few injuries he's had, but mainly himself for his numerous misdemeanours. The most significant one occurred on August 13th, during the Montreal tournament, where he called out Stan Wawrinka, his opponent of the day : « Kokkinakis banged your girlfriend, sorry to say that, mate. »
Before then, the Australian had already been the centre of attention for other reasons than his tennis qualities after insulting a referee in the first round of Wimbledon, before refusing to play during a whole set against Richard Gasquet, again during the British Grand Slam.
Even with his national team, Kyrgios went mad. A broken racket, and an evident lack of motivation, which he acknowledged himself during the quarter final of the BNP Paribas Davis Cup against Kazakhstan : « I don't want to be here. »
However, on these more and more civilised courts, where we come to regret the madness of a McEnroe or the exuberance of a Jimmy Connors, Kyrgios' profile is always a plus for the show.
8- Benoît Paire
Lucky in love, lucky at cards. Everything has gone the right way for Benoît Paire this season. After a terrible year 2014, marked by several heavy injuries, the Frenchman has been walking on water in 2015, and finishes the season at a world number 19 spot, his best ever ranking. He has won four titles and had a great run at the US Open, beating the Japanese defending champion Nishikori before losing to his fellow countrymen Tsonga in the round of 16.
Paire also stroke the volley of the year at the BNP Paribas Masters, against Simon.
And a naughty point against Djokovic in Cincinnati.
Tennis-wise, everything is going great. On a personal level as well, as the Avignon-born player has made official his relationship with the French singer Shy'm.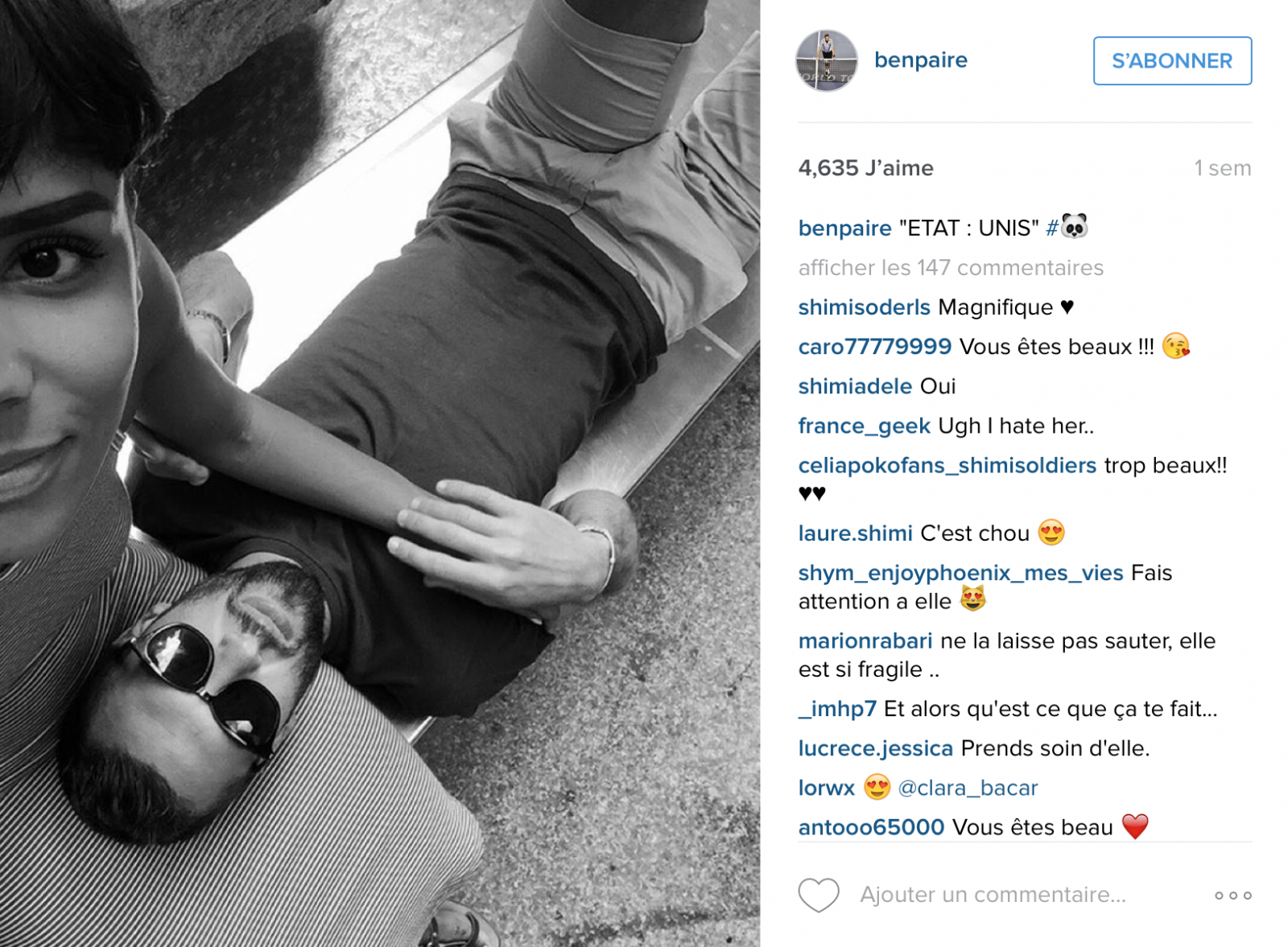 However, if something hasn't changed for him in 2015, it is his love for food.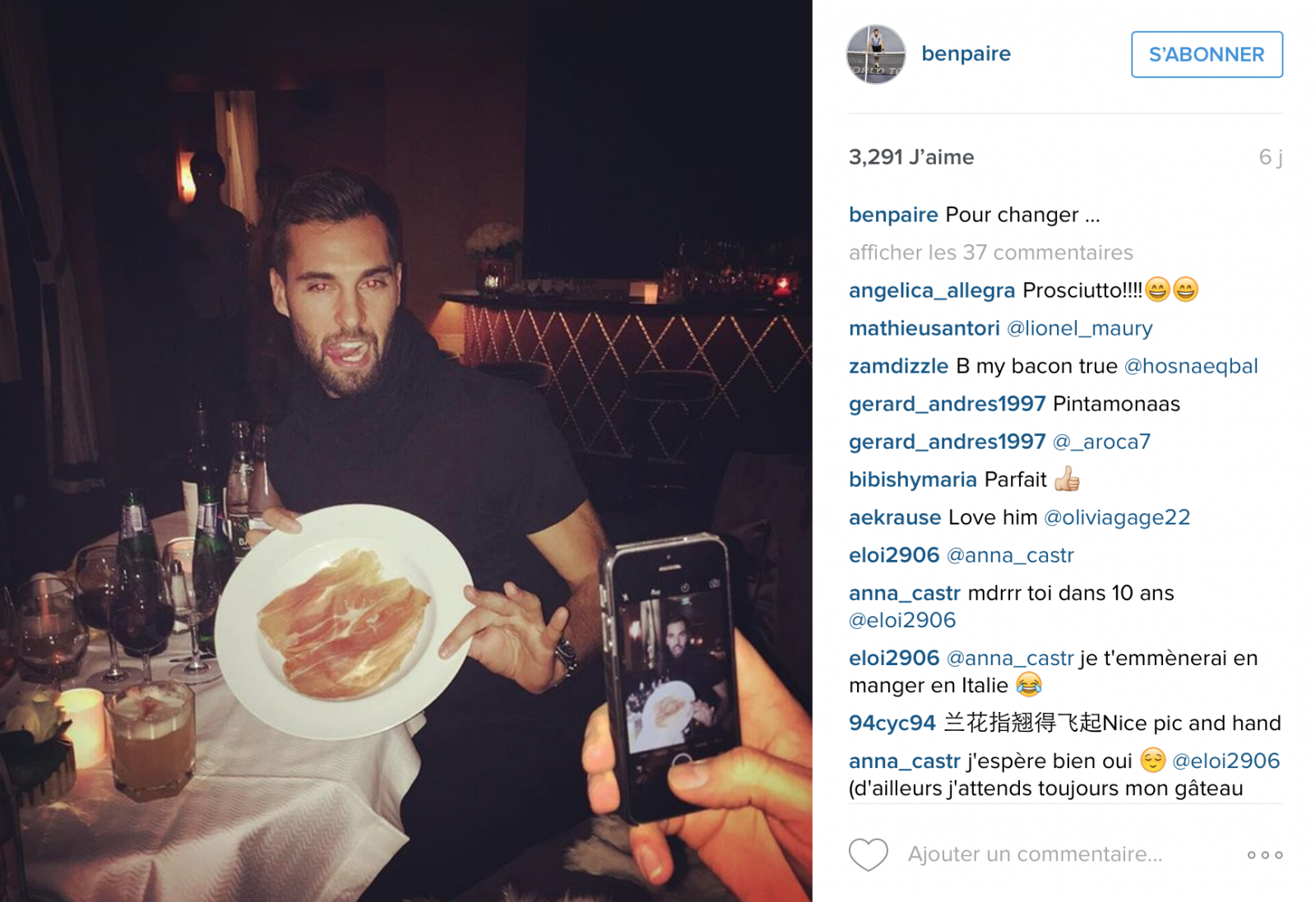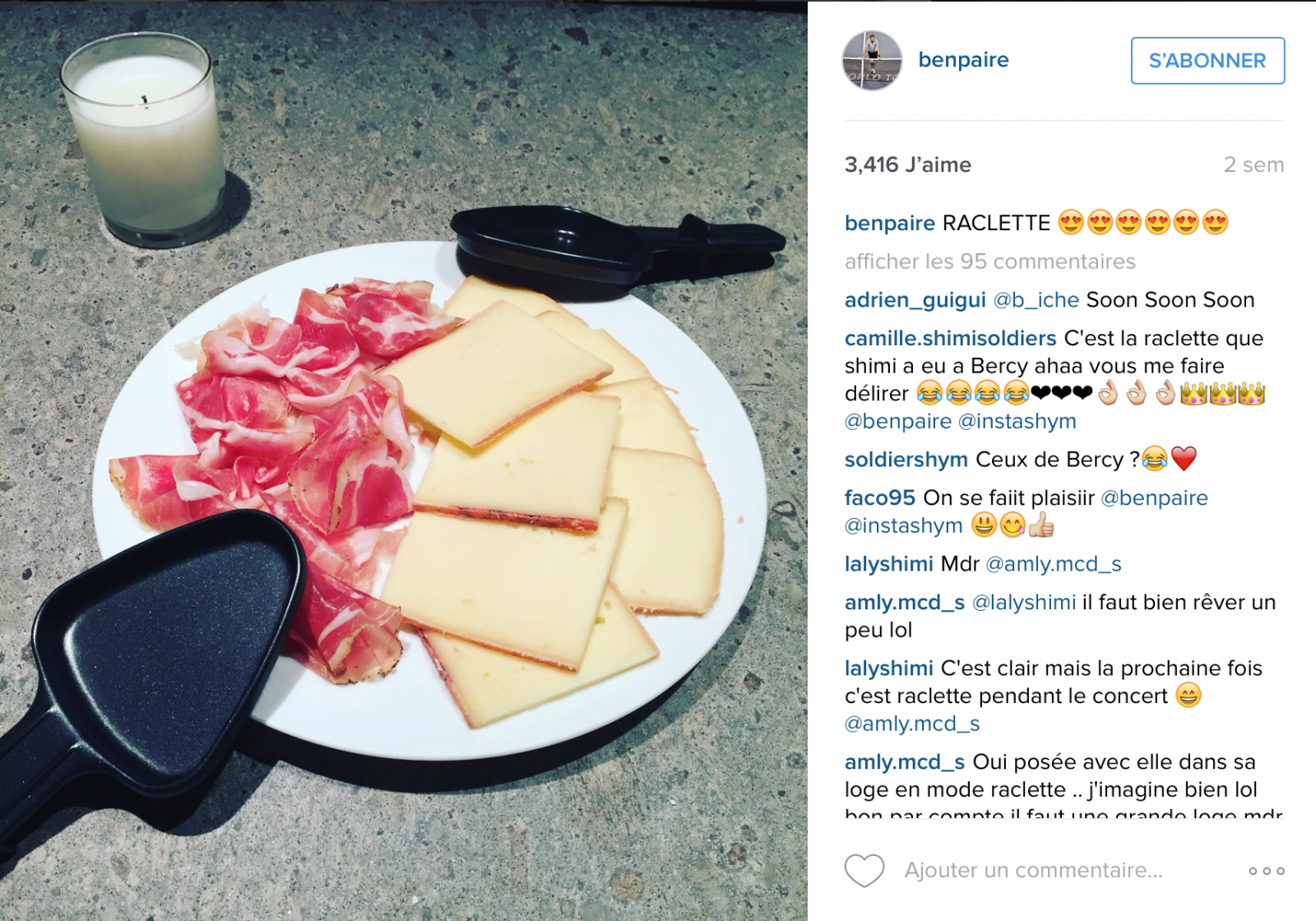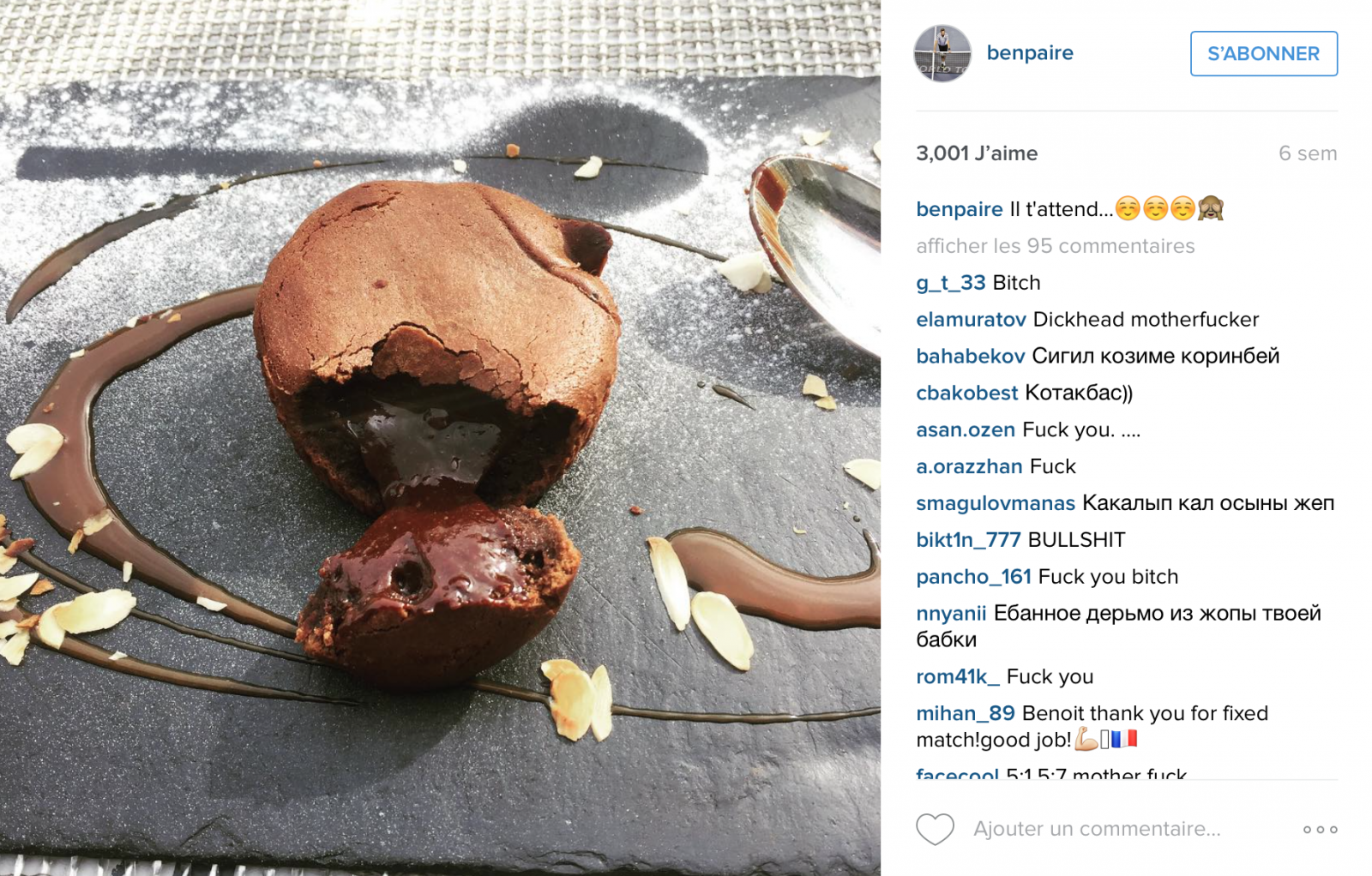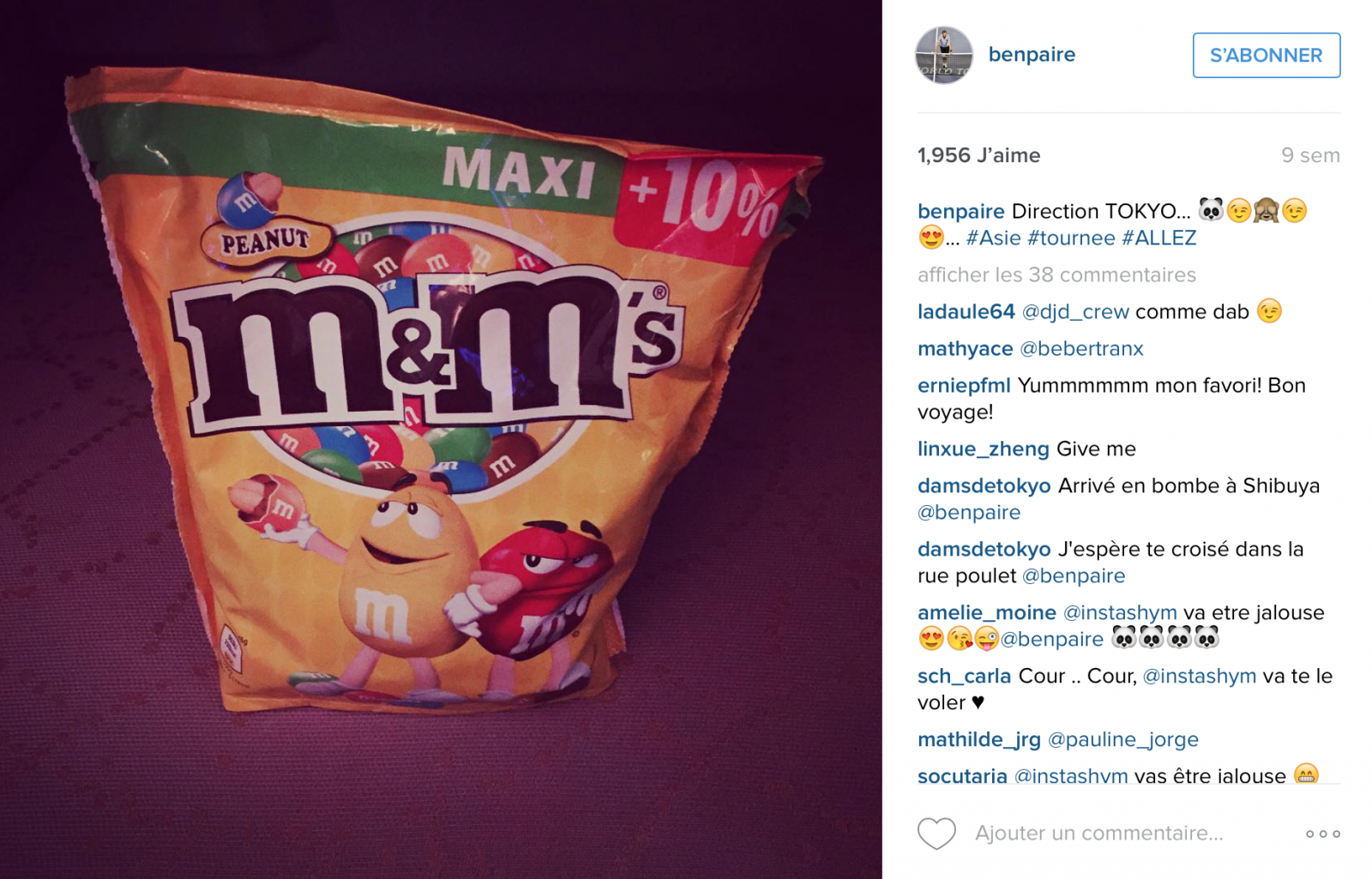 A professional's diet.
9- Garbine Muguruza
She simply is the revelation of the season on the women's circuit. World number 20 a year ago, Garbine stands on the podium today (3rd). She owes her light speed progression to surprising results, notably at Wimbledon, where she reached the final, only to be beaten by Serena Williams in a match which was more disputed than the final score would say (6-4, 6-4)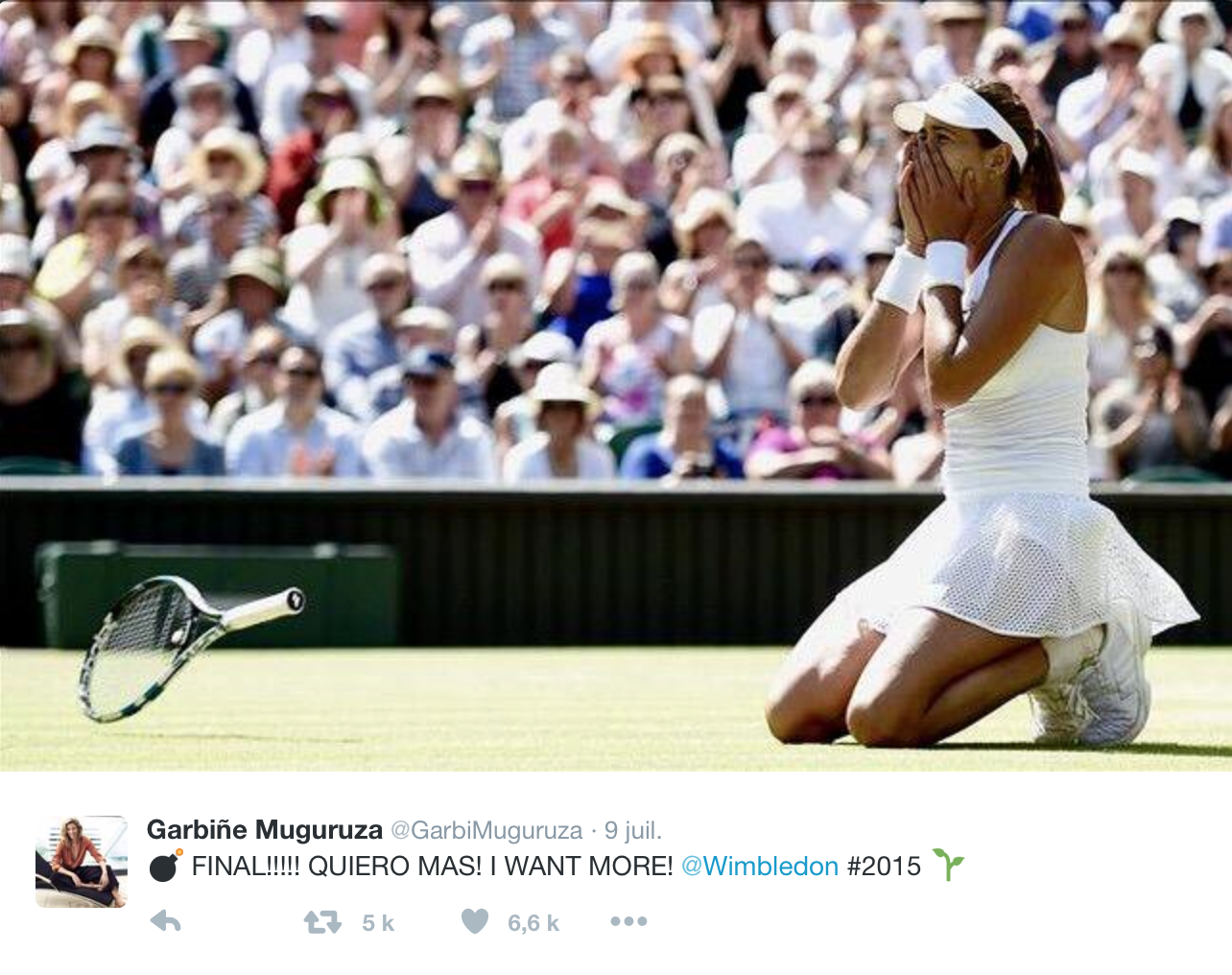 She has also won the Beijing tournament in October, her only singles title this season.
The Spaniard has also shown her skills in basketball.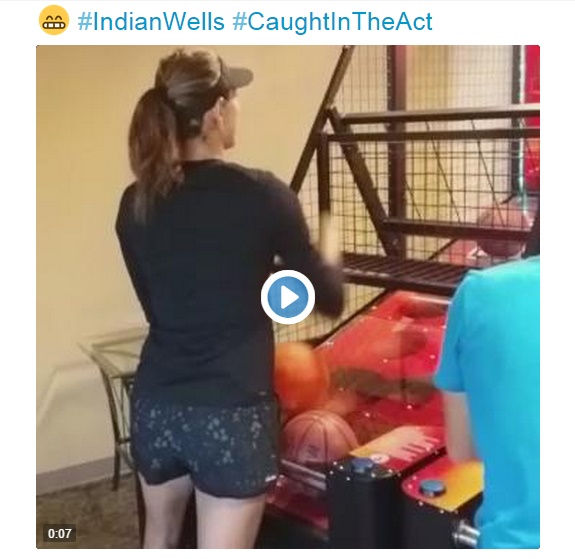 10- Dustin Brown
Because he's put on a show all season, especially on grass…
…because he's beaten Rafael Nadal in the second round at Wimbledon…
…because he's managed a wonderful dropshot while returning a serve at Wimbledon, against Viktor Troicki this time…
…and because he hasn't cut his hair in twenty years, the German Dustin Brown gets a spot in our ranking.
11- Kei Nishikori
Kei Nishikori has had a slightly less prolific season than the precedent : three titles against four in 2014, no Grand Slam final after the one at the US Open the past year, and a light downfall at the ATP Ranking (8th against 5th in 2014)…But the Japanese can console himself as he has probably scored the point of the season against David Goffin, in Montreal, in August.
12- Maria Sharapova
After a booming start to her season, marked by a final at the Australian Open lost against Serena Williams, Maria Sharapova has had a few troubles, linked to ceaseless injuries. The Russian has « only » played 49 matches this season (for 40 wins), which hasn't stopped her for winning two titles in Brisbane and Rome. However, she has failed to win the BNP Paribas Fed Cup final against Czech Republic (3-2), despite winning her two singles.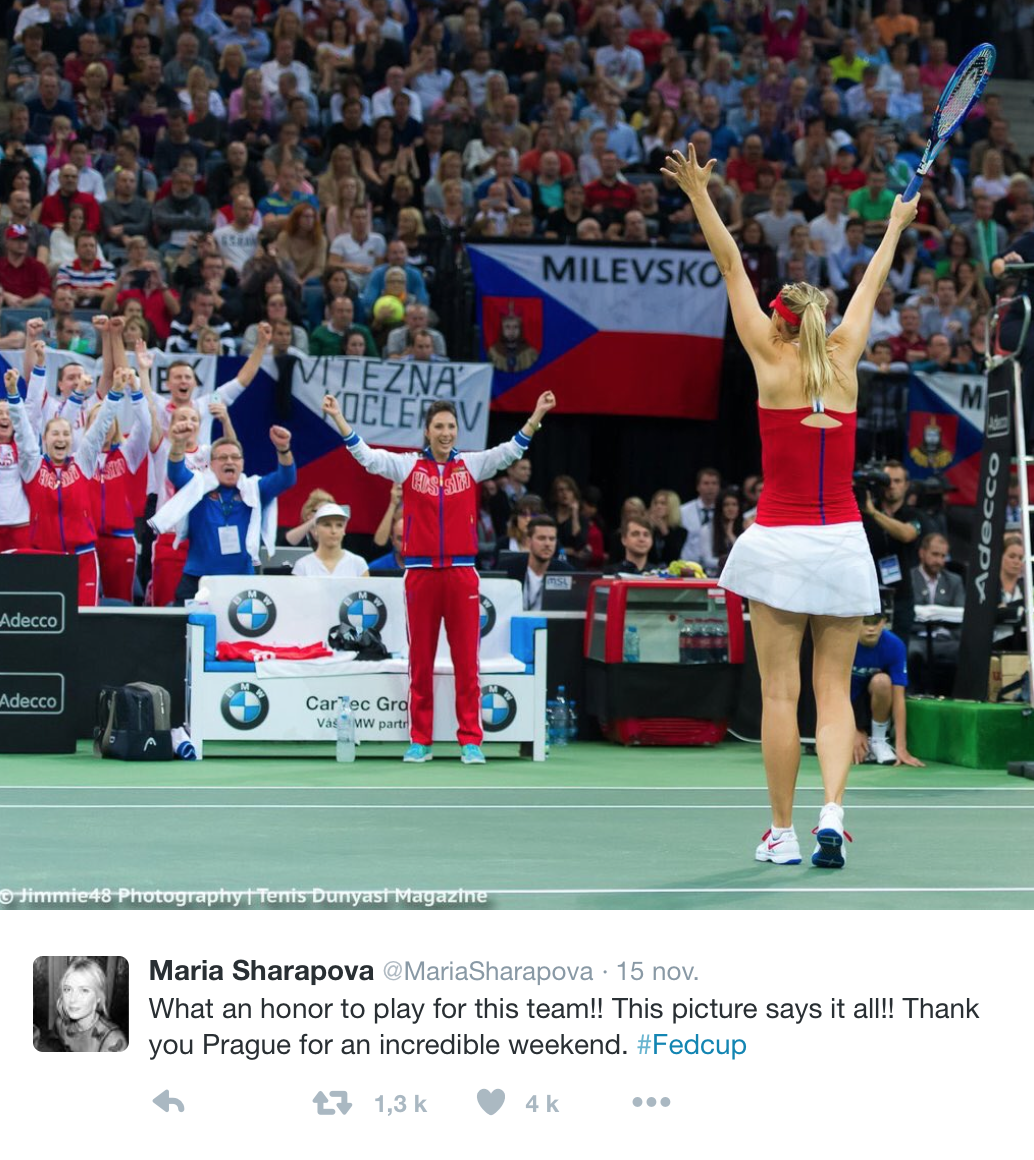 Sharapova still has a lot of admirers, with even policemen stopping her in the middle of the street to take a picture with her.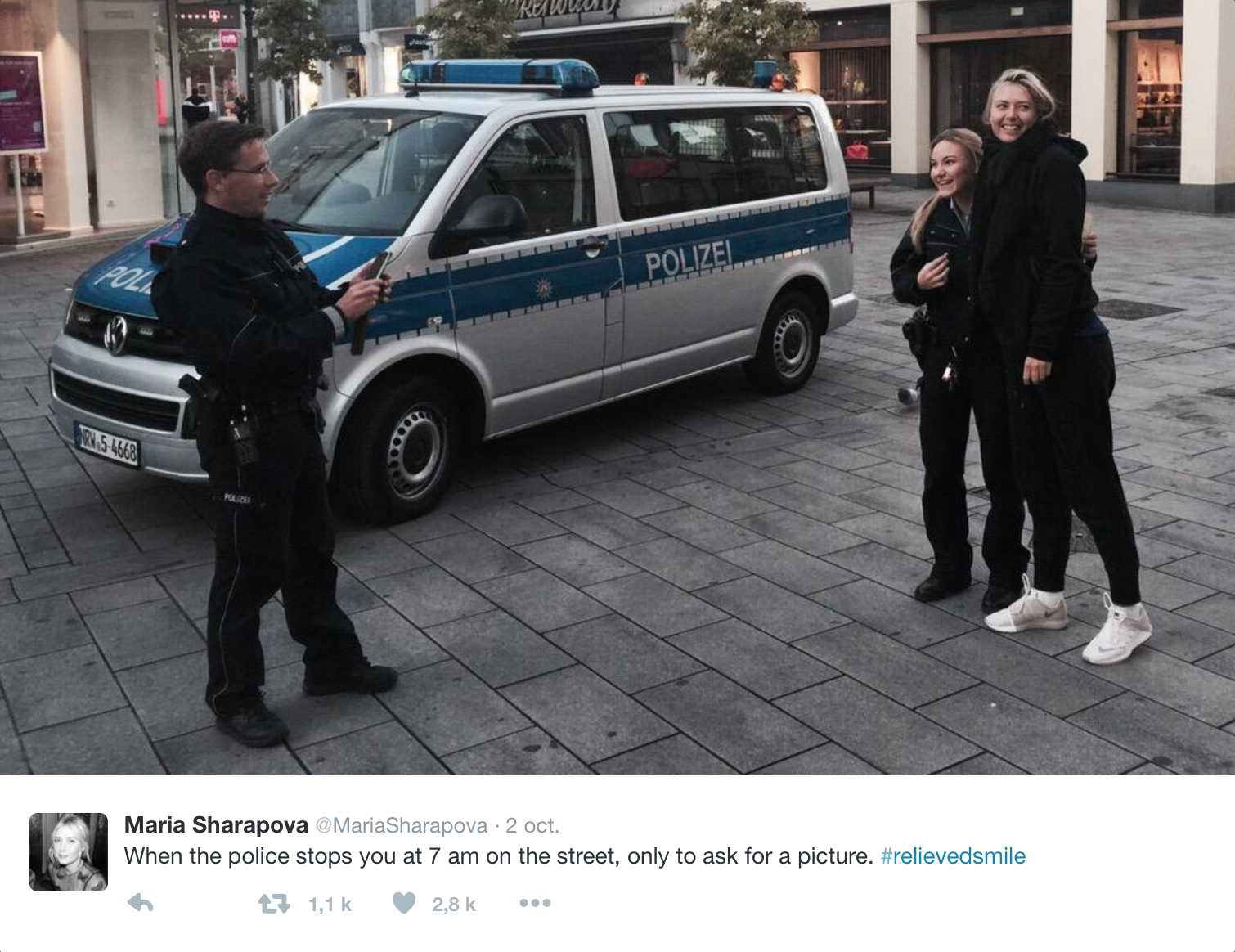 In the end of the season, the world number 4 seemed exhausted by all her travels. Her holidays came on point before the start of the new season in January.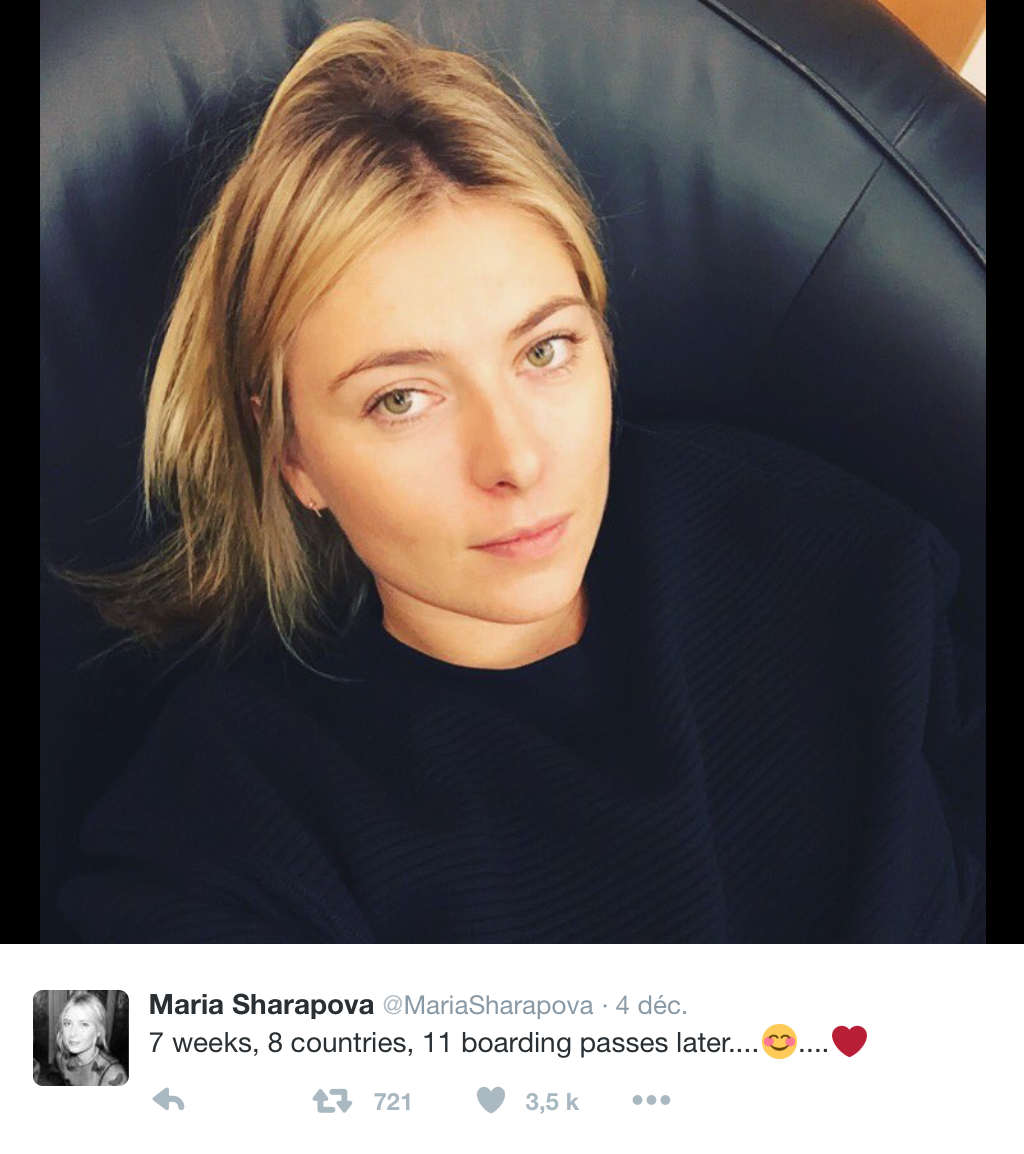 13- Nicolas Mahut
Wine gets better with time, Nicolas Mahut as well. At 33, the Frenchman has discovered the BNP Paribas Davis Cup in March against Germany. A very good first, as he managed to win the double, together with Julien Benneteau.
The Angers-born player has also won two singles titles this year, in Saint-Brieuc, and s'Hertogenbosch !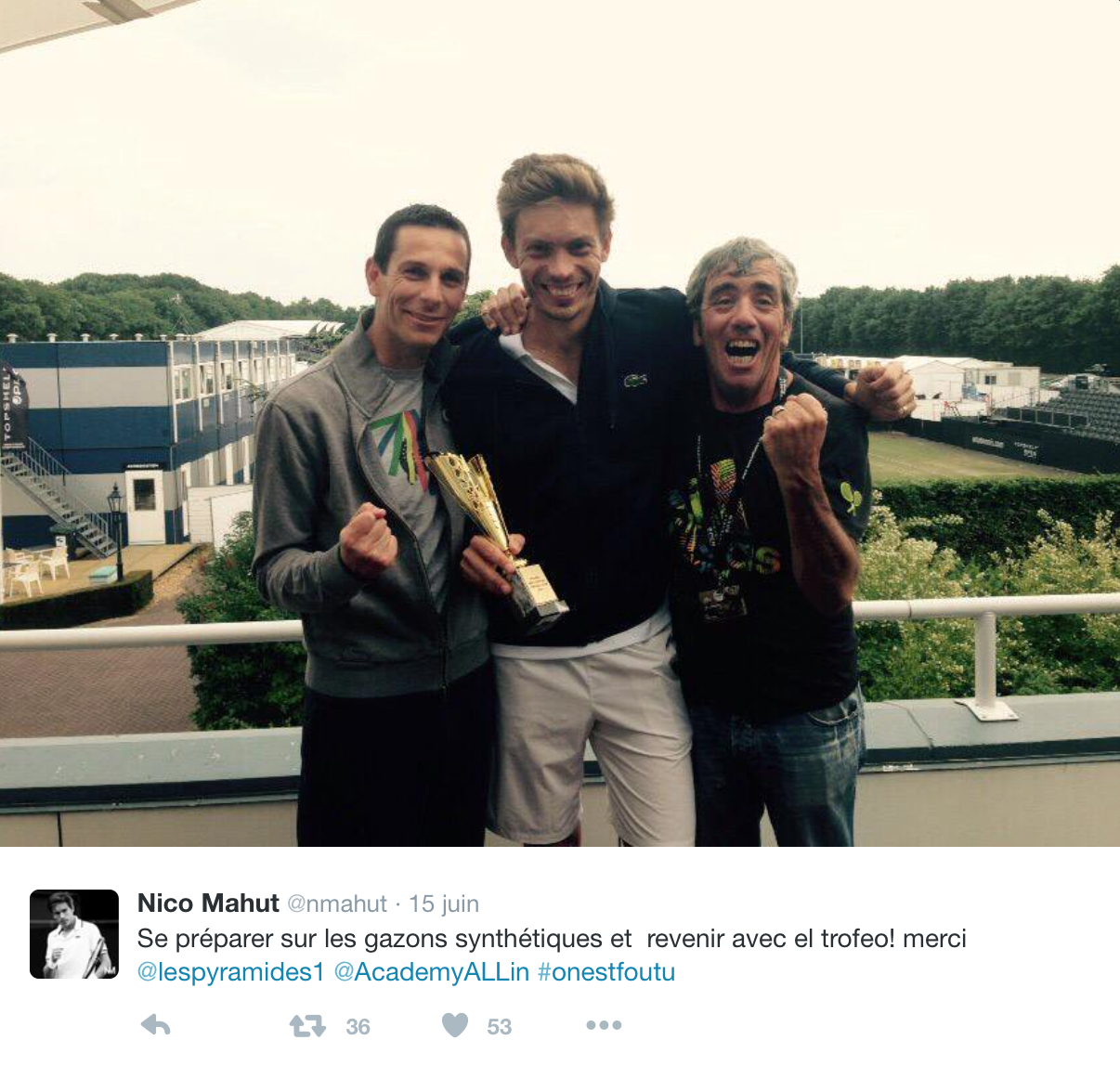 But without a surprise, it is in the doubles that he has shown himself, as along with his buddy Pierre Hugues Herbert, he's won two major trophies : the Queens, and mostly the US Open.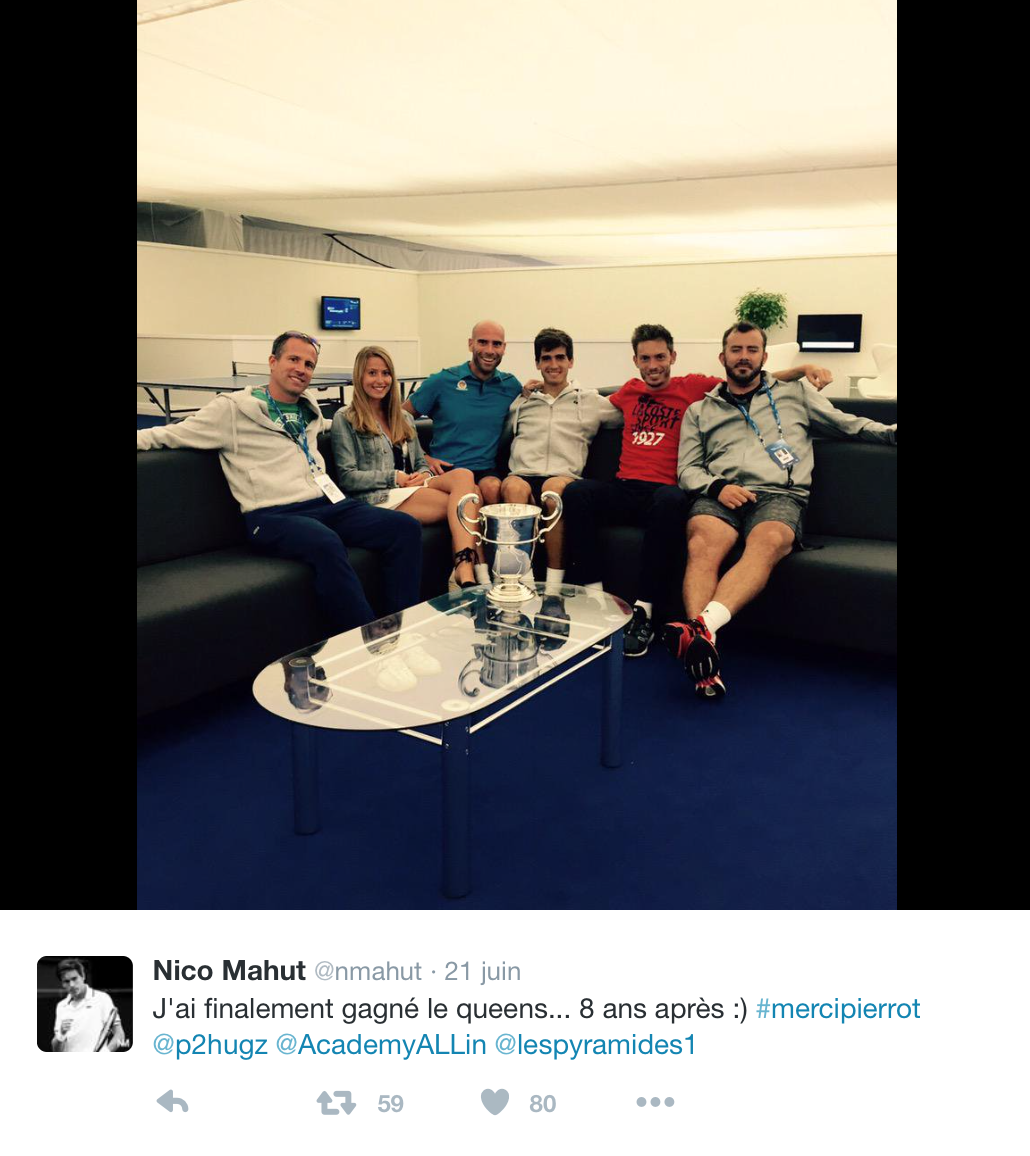 Supporter of both PSG and Angers, Mahut has also had a very good football season, with Paris winning the treble, and the SCO d'Angers being promoted to Ligue 1.
14- Simona Halep
Simona Halep has won three tournaments this year, one of them being the BNP Paribas Indian Wells. But the Romanian, world number 2, appears in this ranking as she has scored one of the points of the season on the women's circuit, in the Canada Open semi-final against the Italian Sara Errani.
15- Lleyton Hewitt / Jarkko Nieminen
It's over for them ! Lleyton Hewitt and Jarkko Nieminen have decided to retire this year. The first one after the BNP Paribas Davis Cup semi-final lost by Australia against Great-Britain. Before that, the ex world number one had said his goodbyes to the US Open, where he won his first Grand Slam title, in 2001, at the tender age of 20.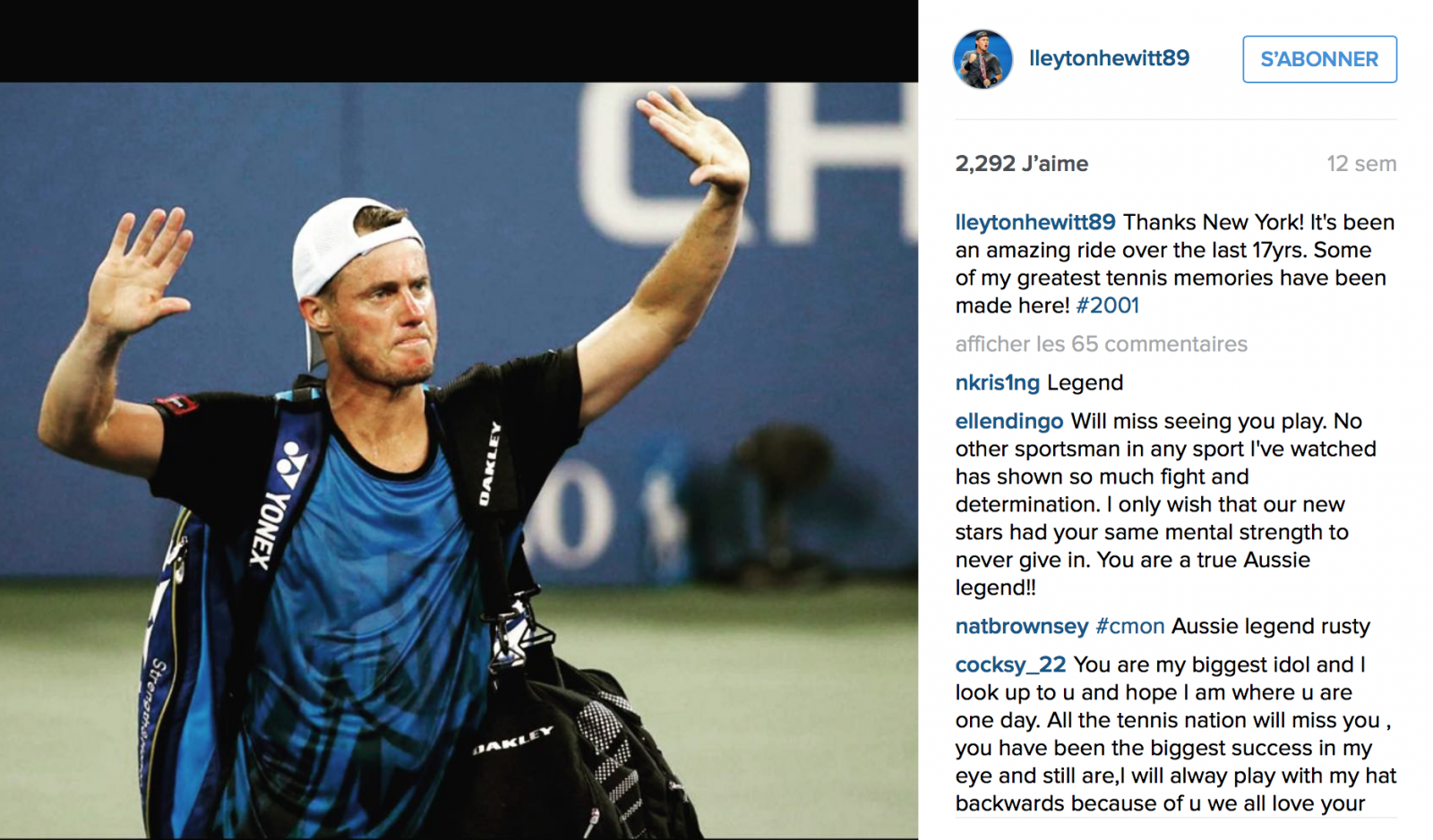 Hewitt has since become the new captain of the Australian Team in the BNP Paribas Davis Cup.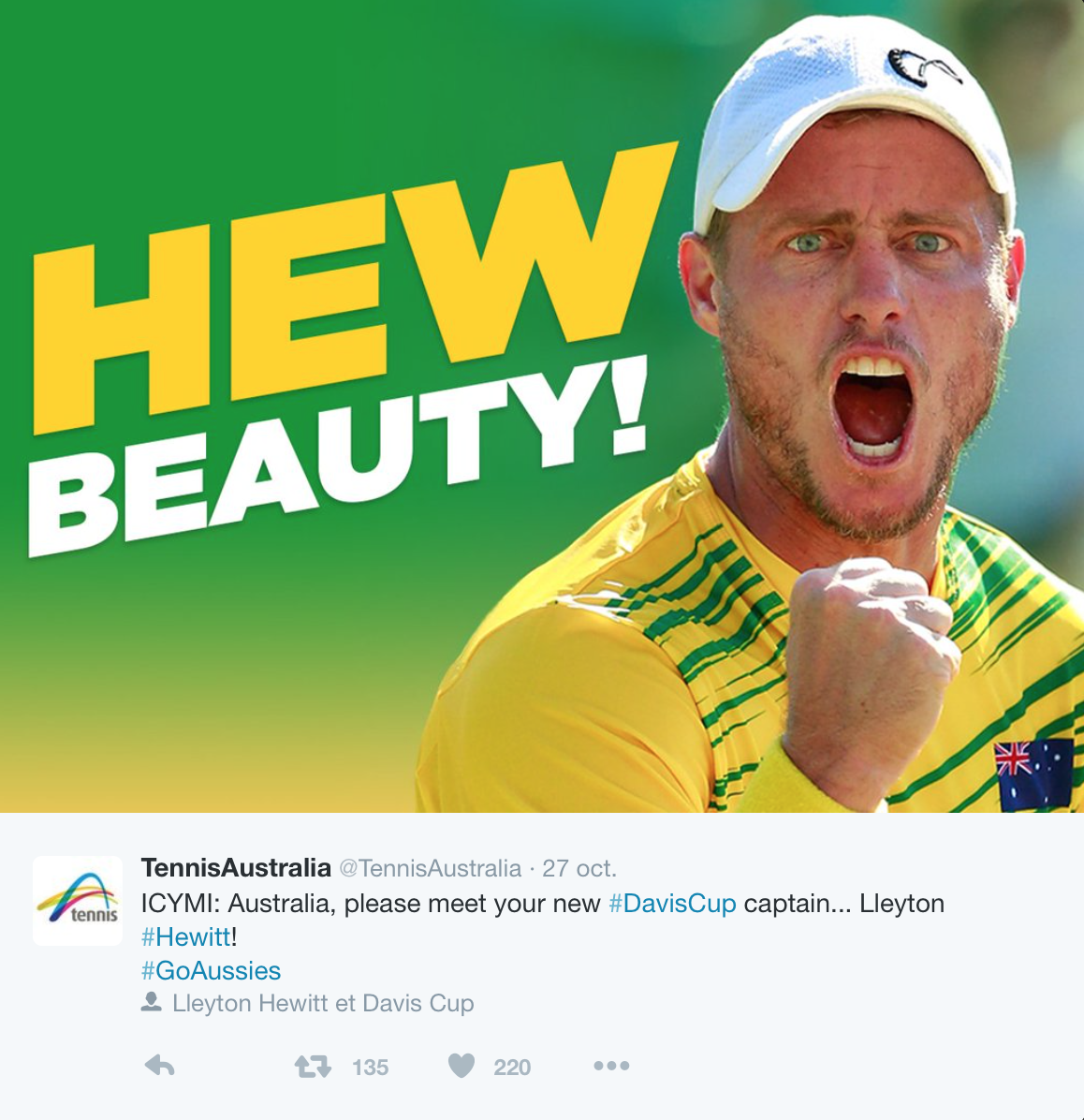 A role he takes very seriously, as he doesn't hesitate to train with his players Kokkinakis and Kyrgios before the beginning of the new season.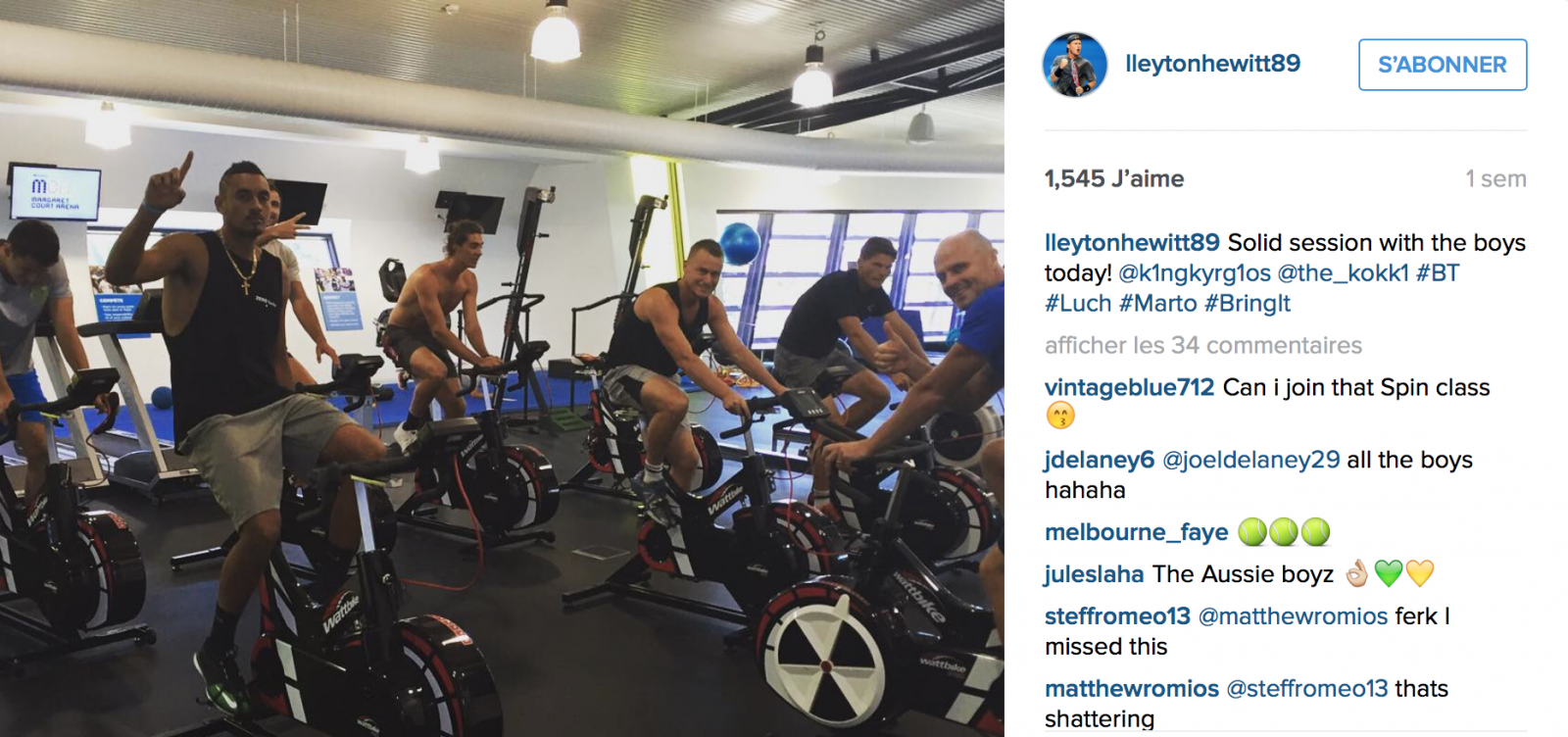 Nieminen hasn't done better than a Grand Slam quarter-final and has never entered the world top 10 (13th was his best ranking in 2006). But the Finn was highly appreciated on the circuit, notably by Roger Federer, with who he played a gala match in Helsinki on November 9th, to celebrate his remarkable career.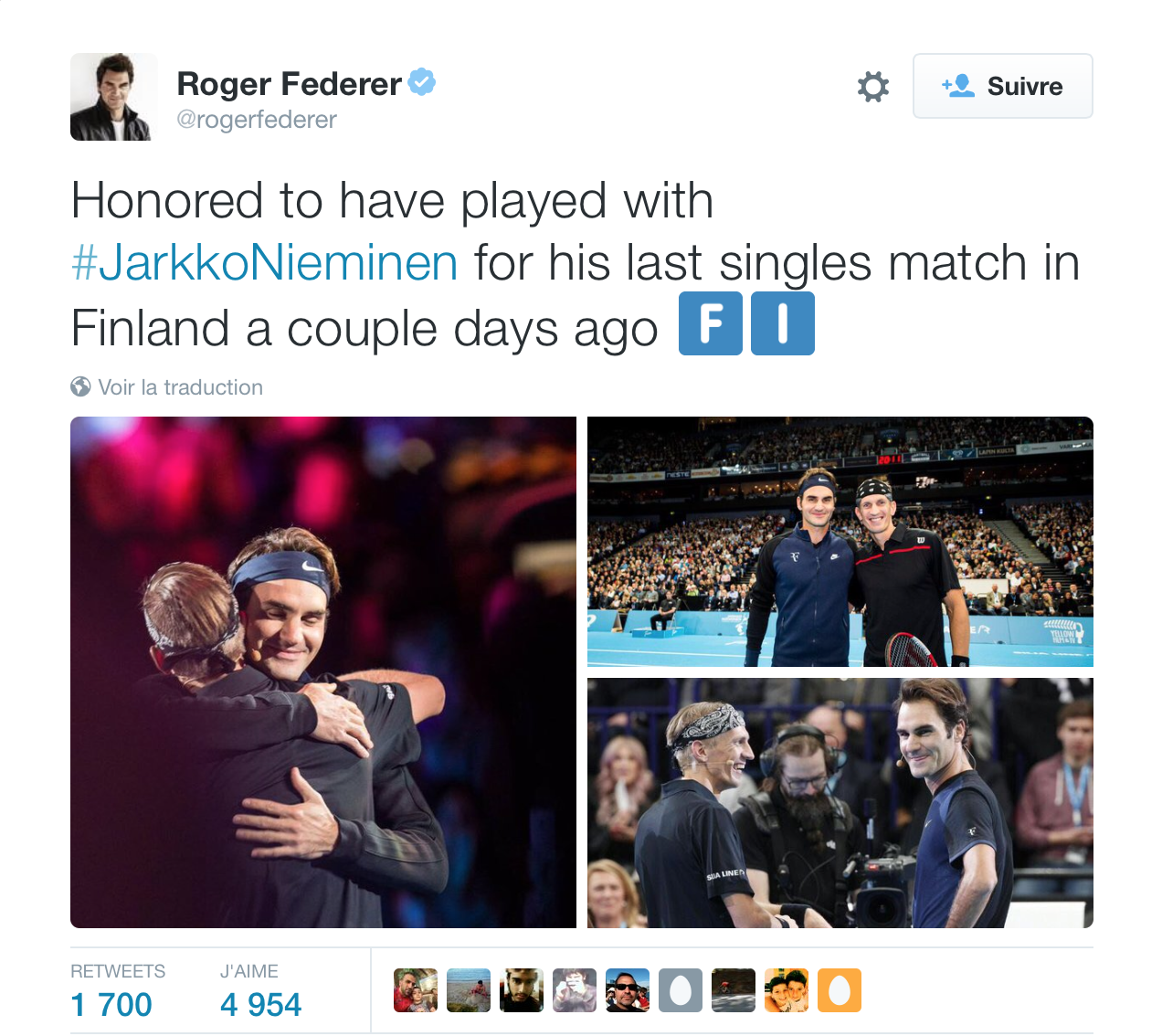 By Quentin Moynet