It's after defeating his old rival nearly two years after their last confrontation that this tennis player took the lead in the funny ranking of WeAreTennis this week.
It took 646 days to see yet another a duel on the ATP Tour between the two old rivals Roger Federer and Rafael Nadal. Federer's victory allowed him to take first place in our ranking before the second. In third place, a great Agnieszka Radwanska, winner of the BNP Paribas WTA Finals in Singapore.
1- Roger Federer (+11).
And at the end, it's Federer who won in Basel. At home, the Swiss won his tournament for the seventh time by dominating his old rival Rafael Nadal. The outcome of the final was pretty doubtful with a catchy Spanish as in the heyday who won the second set. The result: 6/3 5/7 6/3.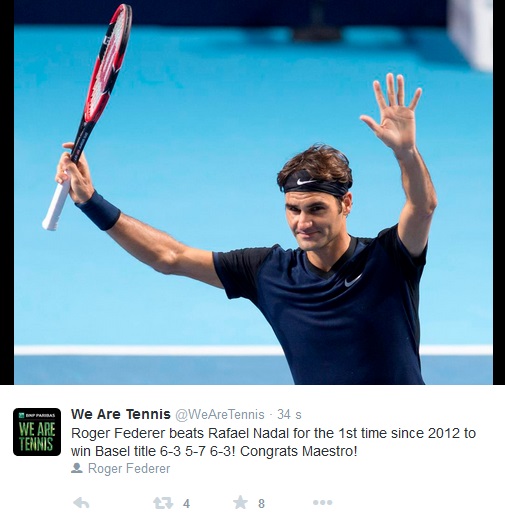 With this title, the sixth of the season, King Roger gets back to the 2nd place in the world. What pleased his over excited fan club... Or almost.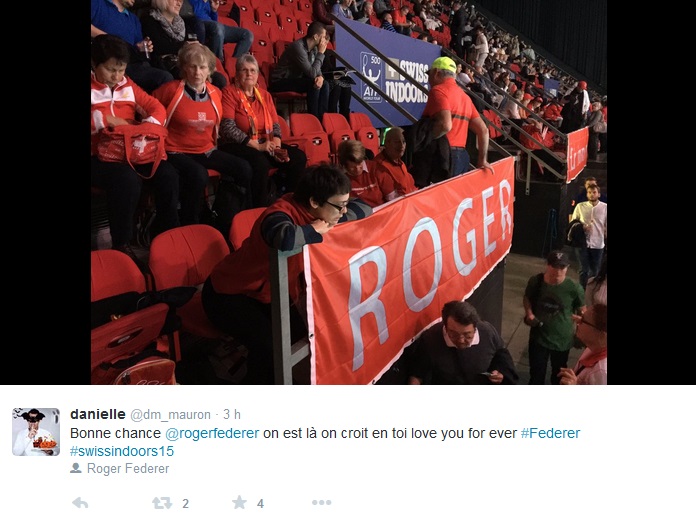 It's always emotional for Federer to get back to a tournament that he knew as a teenager as... A ball boy!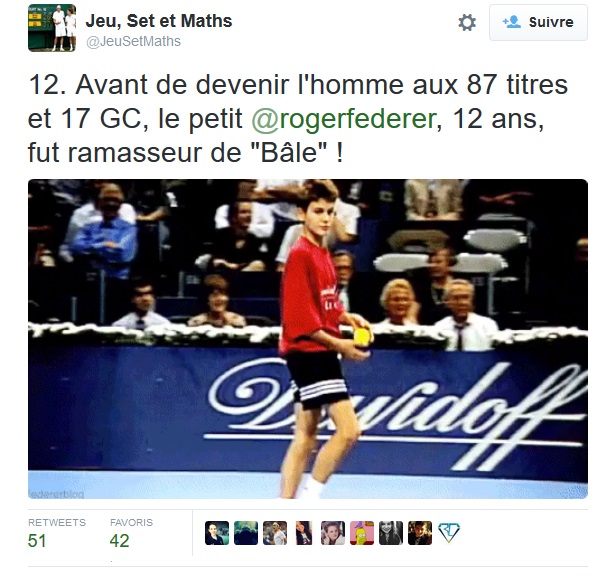 Unstoppable, "RF" still blown everyone away with his talent all week in Basel, with some shots that only he can do, and a total control of the little yellow ball!
We can't wait for 2016!
2- Rafael Nadal (+6).
Oh, it's nice to see Rafael Nadal back on top level. His 2015 season was very complicated but it ends in a really encouraging way with a second final played - and lost - after the Beijing Open. It's great to see the Spanish as in the good old days, with the fighting spirit that characterizes him...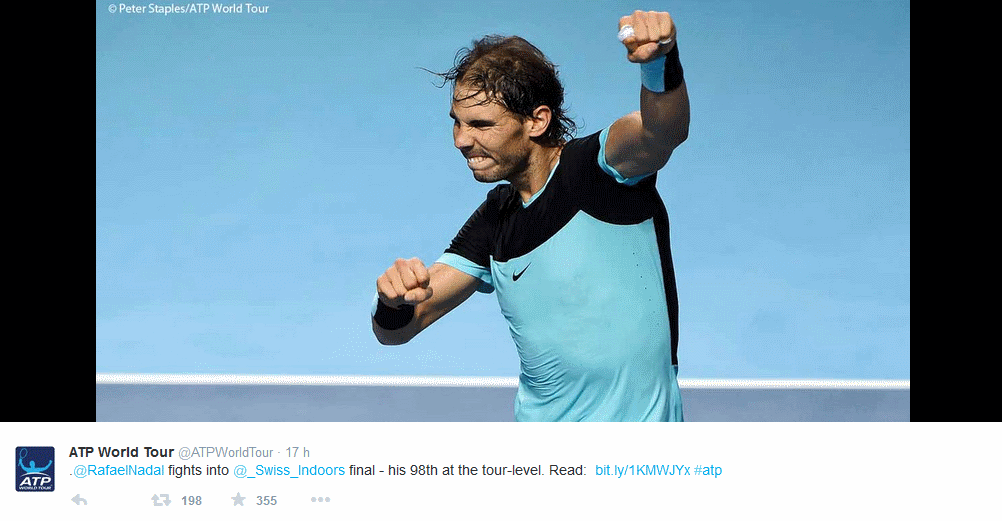 …And crazy shots!
Hey, it was well worth a little smile when posing with the winner of the Basel tournament!
3- Agnieszka Radwanska (NE).
Royal Radwanska! At 26, the Polish player won the best tournament of her career: the BNP Paribas WTA Finals in Singapore. She started by eliminating Garbine Muguruza in semi-finals before winning the final in three sets against Petra Kvitova (6/2 4/6 6/3).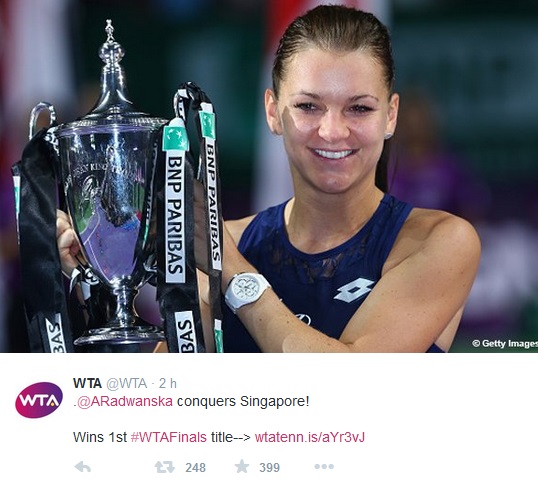 In top form, "Aga" made the show during the week which was almost closing the WTA season, and she clearly had fun on the courts...
...With her fans...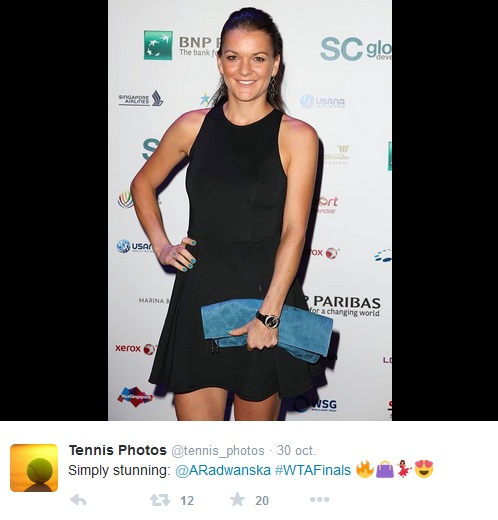 …And with the paparazzi.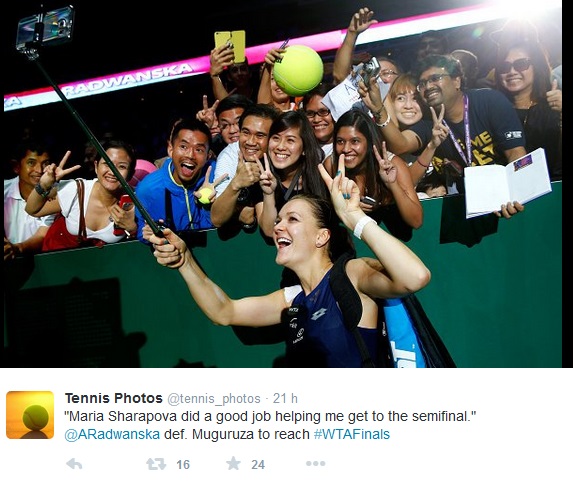 4- Petra Kvitova (NE).
The finalist of the BNP Paribas WTA Finals also deserves a mention, after a very solid week and a feat in semi-final against the ghost Maria Sharapova (victory in straight sets 6/3 7/6). It's not for lack of trying though.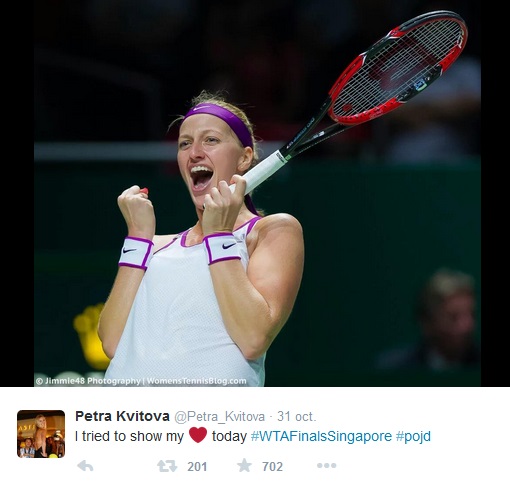 The Czech also took advantage of her stay in Singapore to prepare for the final of the Fed Cup by BNP Paribas and met with her Czech compatriot, Lucie Safarova, her twin in clothing style!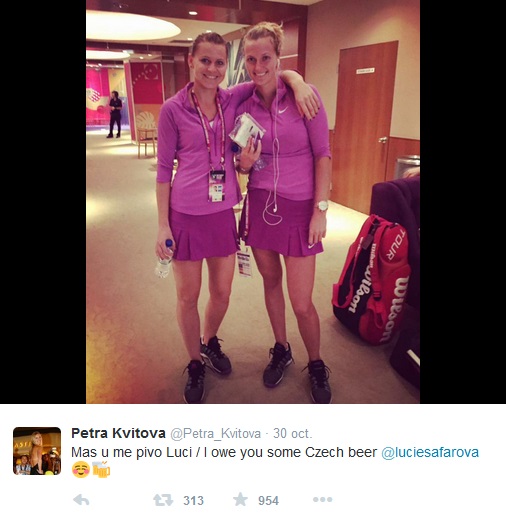 It was the fourth final of the 2015 season after Sydney, Madrid and New Heaven (three victories) for the doubles winner at Wimbledon. Hence her impatience to go on holiday.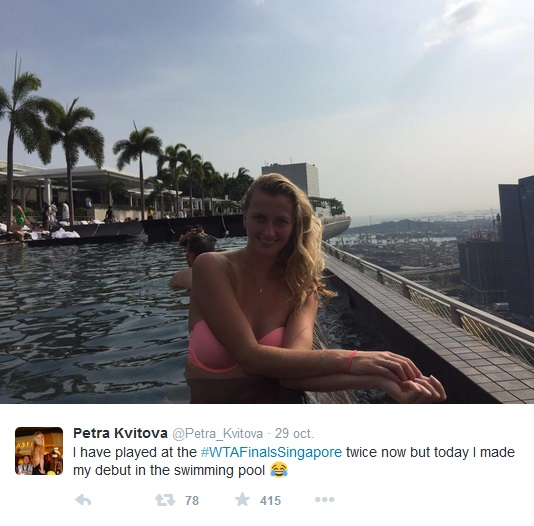 5- Serena Williams (NE).
No BNP Paribas WTA Finals for the American but a busy week as usual for the woman who celebrated this week her 20 years on the tour. Tremendous respect, of course.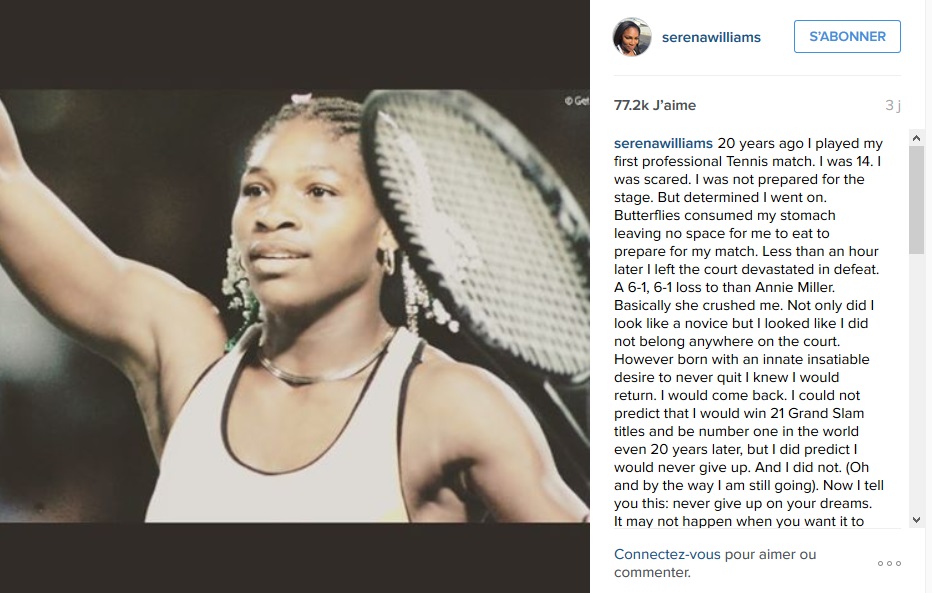 In 1996, Serena had a teenager face and very fashionable braids... At the time.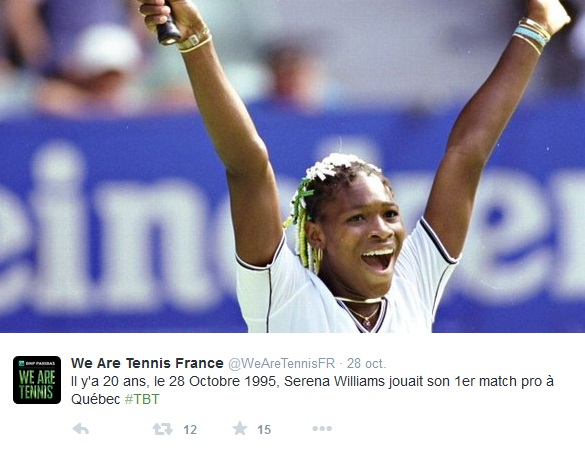 So, she decided to go on holiday and play Street Fighter with her family.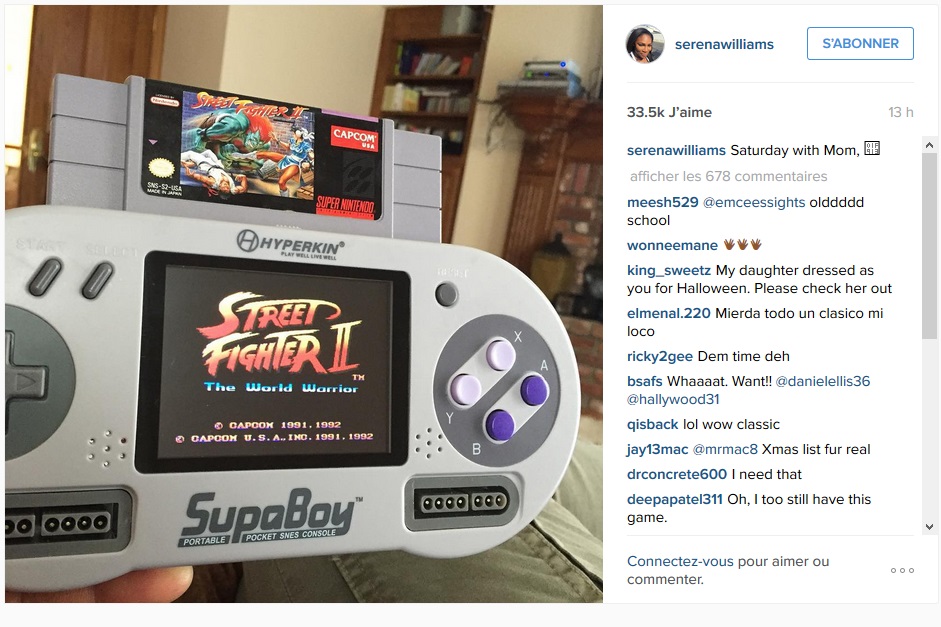 Spied upon by many paparazzi, as usual, Serena seemed to be alone, which didn't calm the crazy rumour of the moment: she would be pregnant with Drake's baby!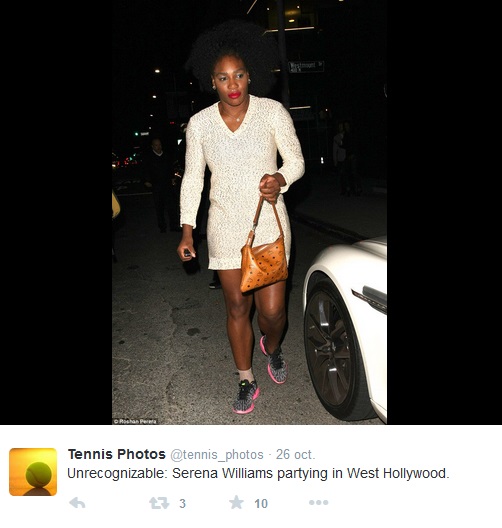 6- Flavia Pennetta (NE).
What a week for the Italian, who said goodbye to the professional tour at the BNP Paribas WTA Finals in Singapore. An emotional moment shared with her fans, more and more numerous since her recent victory at the US Open. Too bad the story ends now...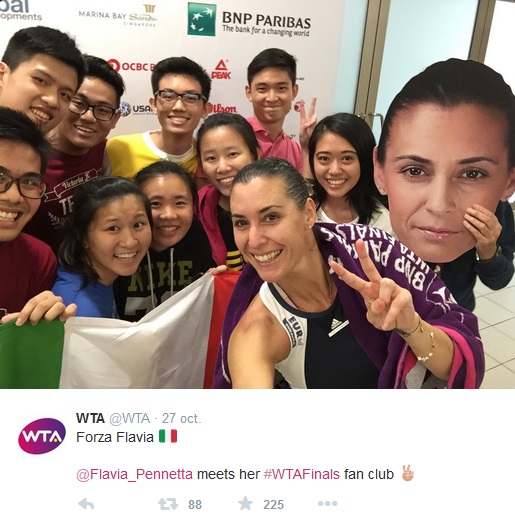 History will remember that it was Maria Sharapova who defeated Flavia Pennetta for her last game. A final match before receiving many tributes, including one from her compatriot and great accomplice Sara Errani.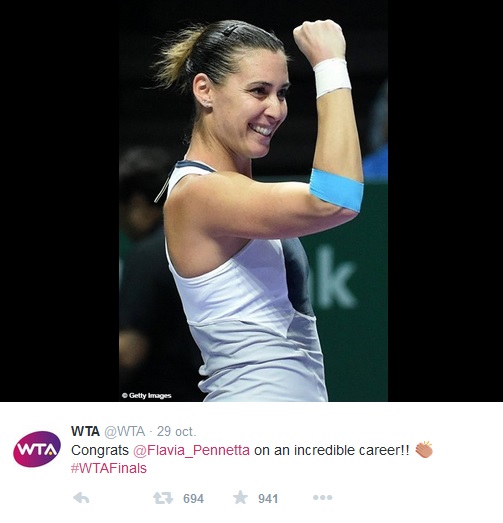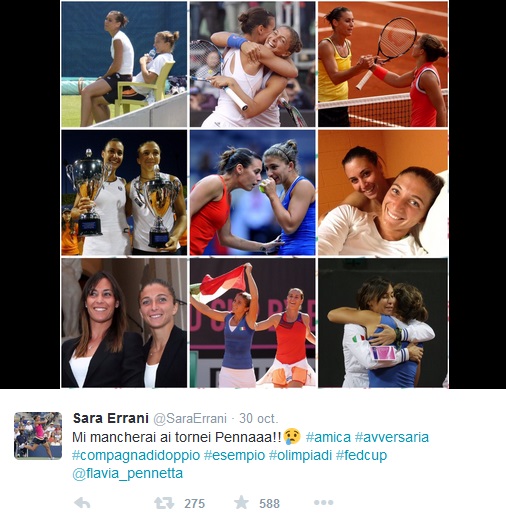 It's our turn to say goodbye. Flavia, we will miss you. Really.
7- Maria Sharapova (-6).
Back from injury, Maria Sharapova reached the semi-finals of the BNP Paribas WTA Finals, only defeated by Petra Kvitova. Polite, the Russian didn't leave Singapore without saying goodbye to her fans.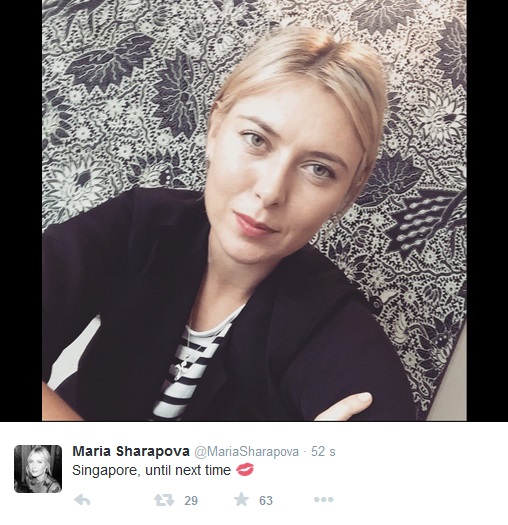 And maybe if she had really fought with a light saber, rather than pretending for the picture, she could have reached the final?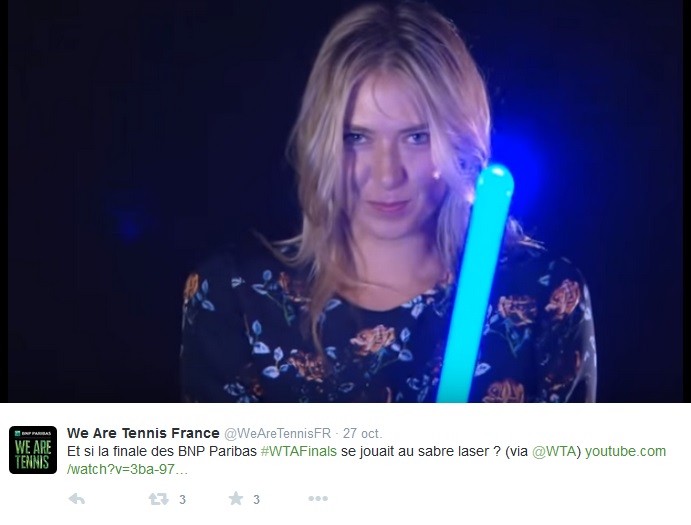 Nevertheless, it's good to see Sharapova back in shape at the end of the season, while the final of the Fed Cup by BNP Paribas is coming soon... And where she could meet Kvitova again with the Czech Republic team.
8- Richard Gasquet (NE).
From time to time, the Mozart of tennis remembers his nickname and plays fabulous tennis. This one's a treat, with Dominic Thiem also on top of his game.
Enough to fuel even further the frustration of a player with a rare talent but who still fails to successfully play a leading role on the tour. As a symbol, it was his old rival Nadal who prevented the French to play the final in Basel…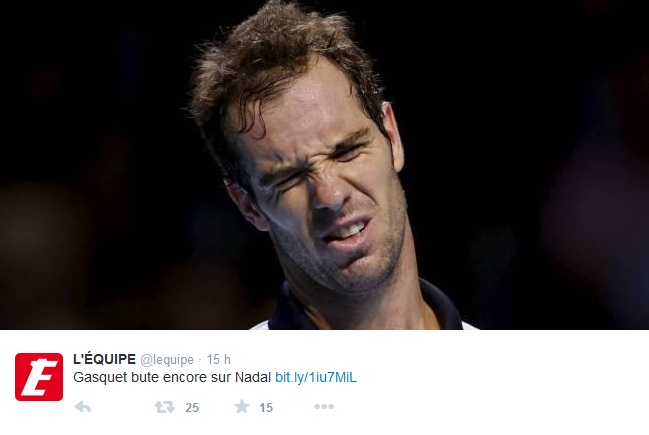 9- Grigor Dimitrov (NE).
The Bulgarian player isn't in great shape these days, the fault, obviously, to his breakup with Maria Sharapova. But we understand... He looked sad, almost everywhere, including in public transports.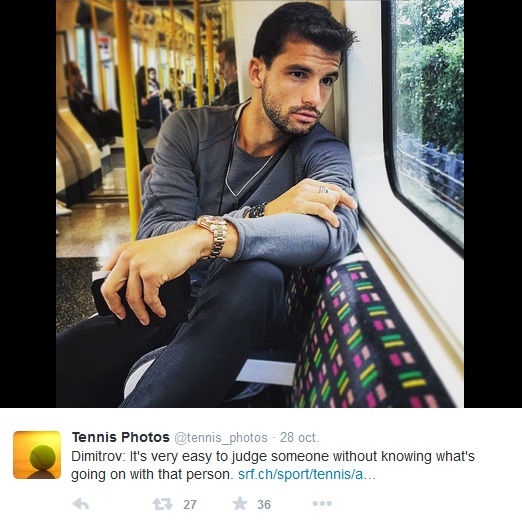 Result: it's also tough for him on the courts with a defeat in the second round of the Basel tournament against Nadal. Which didn't stop him from making the show.
10- Benoît Paire (-5).
He's the surprising revelation of this second part of the 2015 season: Benoit Paire, world 21st, the best ranking of his career, and one the biggest bad boy of the tour. Him and the Italian Fabio Fognini, met recently in Valencia, and made a strange duo.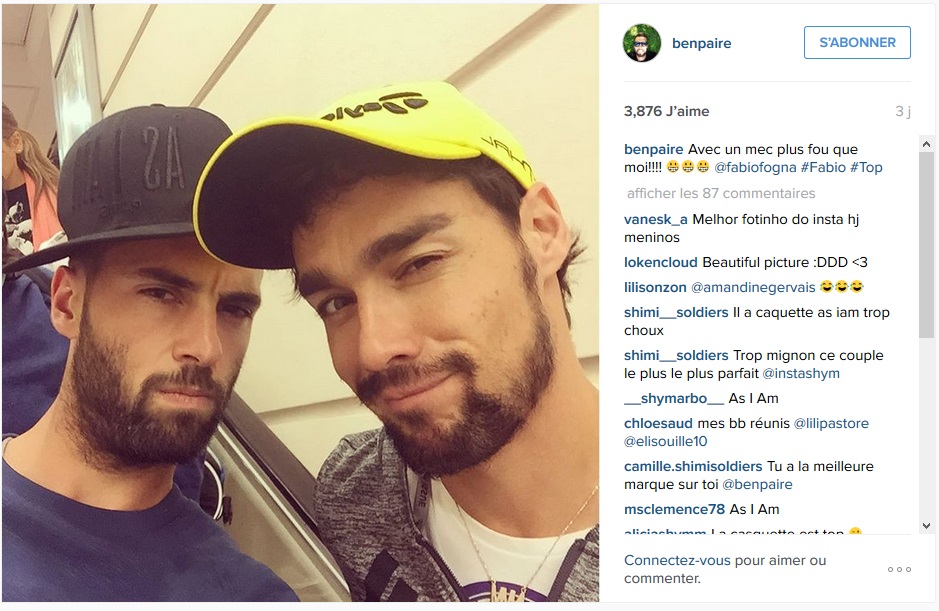 Paire was also entitled to honours in the French press this week with a long interview for L'Equipe Magazine. Well deserved.
Oh, and otherwise, he took advantage of this week without tournament to have fun.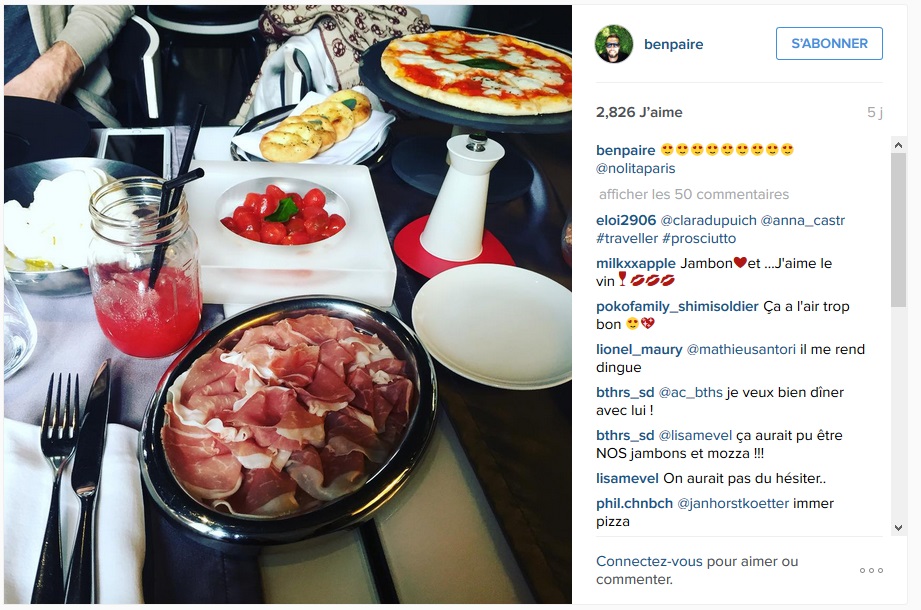 What an epicurean!
11- Garbine Muguruza (NE).
Week after week, the Spanish stands out as a key player on and off the courts, where she seems to be more and more comfortable and happy.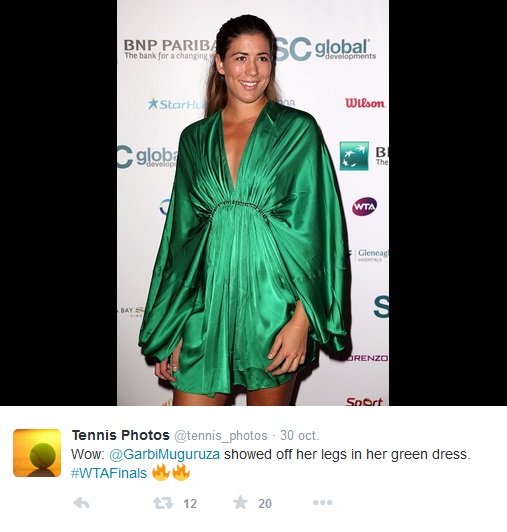 In sporting terms, Muguruza lost in semi-final in singles at the BNP Paribas WTA Finals against Radwanska, and in the doubles final with her compatriot Carla Suarez Navarro against the best pair of the moment, Martina Hingis-Sania Mirza.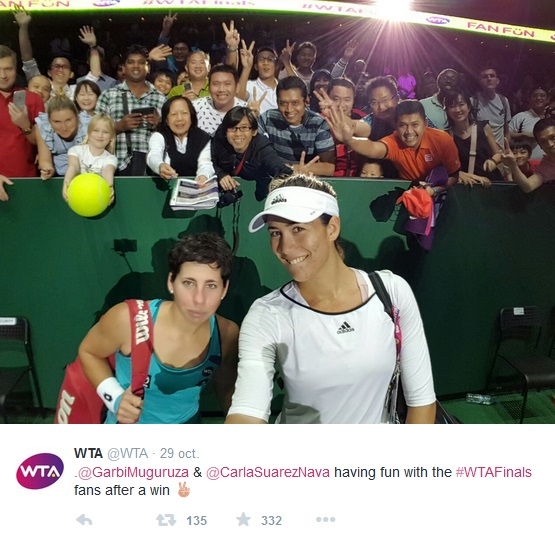 12- Joao Sousa (NE).
And the prize for perseverance is attributed to... Joao Sousa! After five lost finals in a row since July 2014, the Portuguese finally won in Valencia against the local Roberto Bautista Agut.
It's the second victory of Sousa's career after Kuala Lumpur in 2013 against Julien Benneteau. A good way to end 2015 and send a message to his opponents for next season.
13- Lucie Safarova (NE).
Remember that only a few weeks ago, Lucie Safarova was hospitalized for a fairly serious bacterial infection. So to see her on a court, at the BNP Paribas WTA Finals moreover, and winning a match (against Kerber) is already fantastic. The Czech enjoyed her time in Asia and had fun with her friend Bethanie Mattek-Sands and her coach.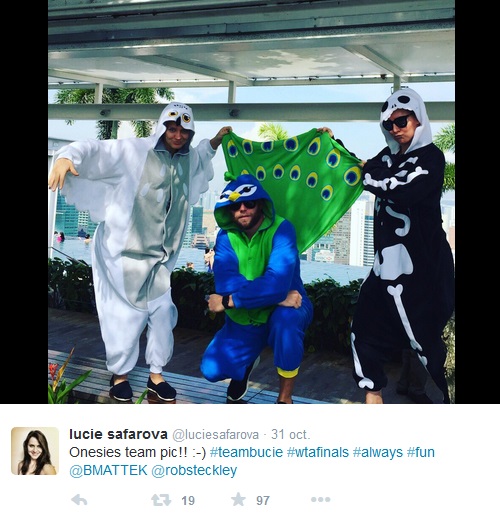 What a trio!
14- Lleyton Hewitt (NE).
It was expected, but it remains great news: just after retiring, Lleyton Hewitt will become the captain of the Australian team of Davis Cup by BNP Paribas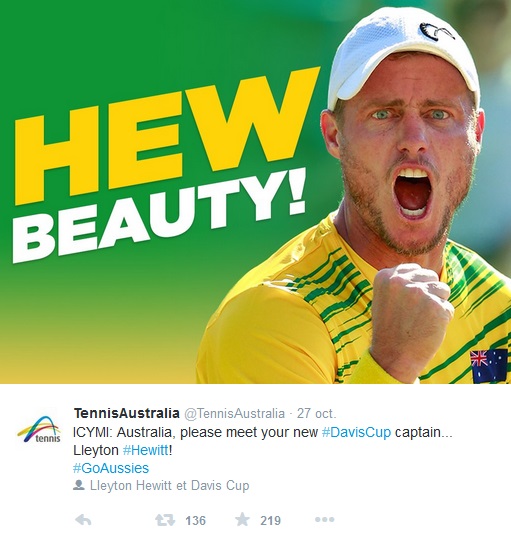 It's true that he already looks like a boss!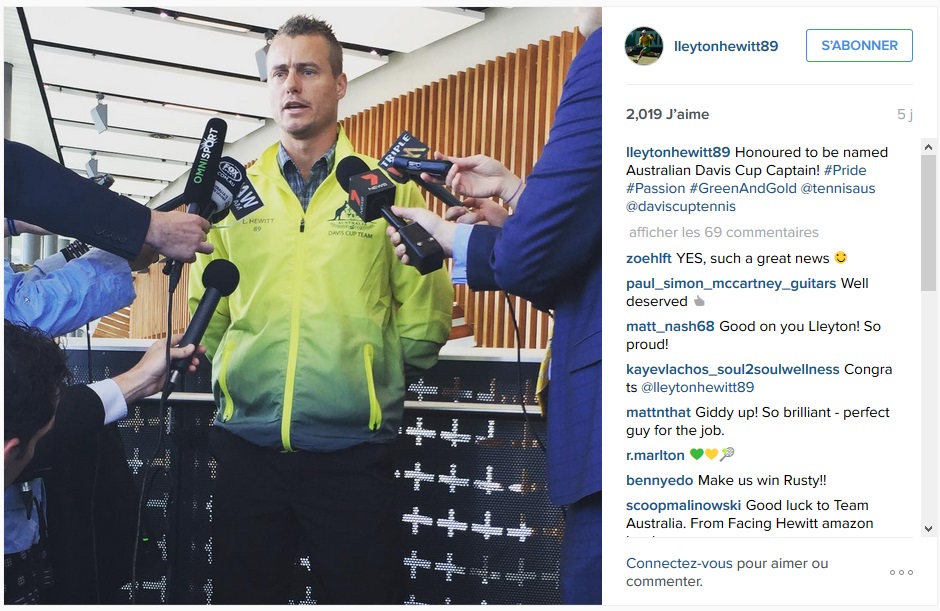 15. Andre Agassi (NE).
Who's the boss? At the game of the most beautiful Halloween costume, it might indeed be Andre Agassi, who had a blast at his Halloween party.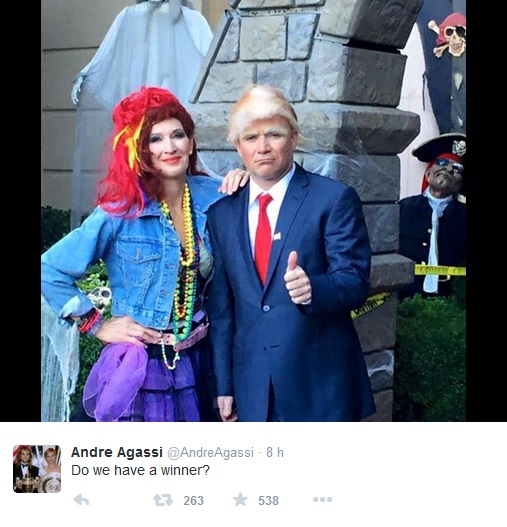 As a reminder, the Kid of Las Vegas and Steffi Graff had already made a splash with their costumes last year.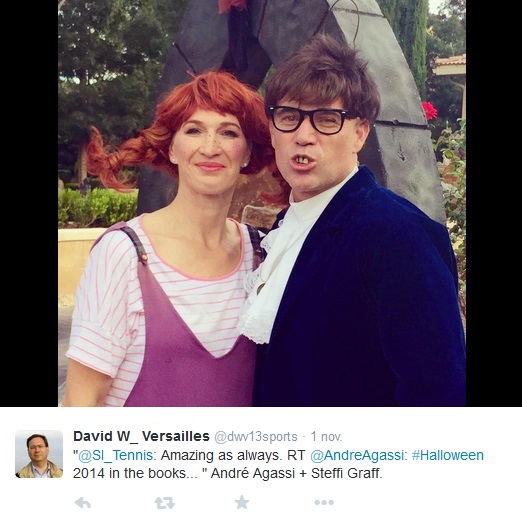 Out:
Monfils, Azarenka, Djokovic, Kuznetsov, Garcia, Ymer, Nieminen, Ferrer, Henin, Johnson, Seppi
By Régis Delanöe