Aga Radwanska wins her first BNP Paribas WTA Finals title.
"Unbelievable. I didn't really expect this at all, especially the beginning of the year it was not great (but) doesn't matter how you start, matters how you end. Definitely I think just no words to say what I was feeling on the court. Definitely I didn't expect it at all," Aga Radwanska explained.
There is no doubt she is the happiest and most excited woman in tennis right now having won the season-ending BNP Paribas WTA Finals in Singapore by defeating Petra Kvitova 6-2, 4-6, 6-3 in two hours five minutes. It is the 26 year-old's 17th career title.
It was a match that started one-sided as Radwanska went ahead by a set and a break, but ended up close. It is her first title at the event and before Singapore she had not beaten a top five player all year.
It marks the first time that a player who had a 1-2 record in the round-robin part of the competition has won the title and after dropping to 15 in the rankings in August. Radwanska will close things at five, and she can thank the post-US Open Asian swing for the good fortune even though while in China she said the tennis season should end with the US Open.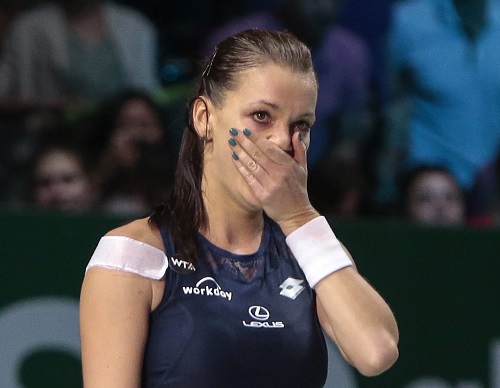 It might just be in her mind that she would not be where she without those tournaments and all the fans that gave her the support during those weeks.
Kvitova had a 6-2 record against Radwanska and this was the fifth time they were meeting at the season-ending event. The two occasions the Polish player has beaten the Czech was at this event and with this win she will bank (maybe with the title sponsor) over $2million.
The victory was emotional for Radwanska as tears trickled down her face. She said: "Well, definitely different tournament than any others. I think maybe because I didn't really expect it at all. First of all, to be here; secondly, that I went to the semis maybe with a little bit of luck as well. And then playing this incredible semifinal match against Garbine (Muguruza). And then the final and winning the trophy. That's something I didn't even imagine. Maybe that's why, yeah."
After her slow start that made her "frustrated" Kvitova, who could not get her game plan going, had to pull out all stops to stay in the championship match and certainly all the effort she put in to win the second set was a telling factor with the deciding set.
The seventh game of the final set was crucial and Kvitova just could not lift enough to get herself over the line.
"That was really kind of the key of the third set," she said. "I think I really played well in the second when I came back and tried to push her a little bit and tried to play a little bit my game and really not have the mistakes as I had in the first set. From that side was good, (but) I just couldn't really continue in the third, and I think Aga played a little bit better in the end of the third set as well."
With Kvitova though, most of the time in front of the stage, you would never know she was disappointed if there is a loss; she is always smiling. She is not unlike the legendary Australian Evonne Goolagong in that regard.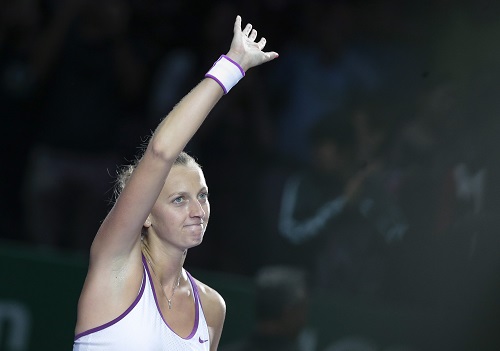 Radwanska's win marks the first time since 2011 that a name other than Serena Williams will be on the trophy – she won the title in 2012, 13 and 14. The Pole is the first one to win this title without having won a major. Amelie Mauresmo won this in 2005 and hadn't won a major but after that scored at the Australian Open and Wimbledon.
"This for sure give me more confidence, especially that in a Grand Slam you also to have win and beat couple of top players in a row," Radwanska said. " I think here it's even harder because just eight of us and you don't have any first rounds to get used to the courts. But definitely a good start. I'll definitely try to do that next year."
While Radwanska can now go shopping with that cheque and then take a rest, Kvitova's attention turns to the final of the Fed Cup by BNP Paribas at home in Prague when the Czechs take on the Russians led by Maria Sharapova, who Kvitova defeated en route to the final in Singapore. That can only add to what promises to be a good week-end 14th and 15th November.