He no longer concedes a single set and wins every tournament that he's playing. So of course, this player owns the top spot of the We Are Tennis funny ranking.
China suits him so well. After winning in Beijing last week, Novak Djokovic has just won the Shanghai Masters 1000, without losing a single set. The Serb therefore keeps the lead of the WAT ranking this week. Behind, the French Jo-Wilfried Tsonga and Caroline Garcia made it to the podium directly, for very different reasons.
1- Novak Djokovic (/).
He's insatiable. A week after his victory in Beijing, Novak Djokovic did it again in Shanghai. The Serb defeated Jo-Wilfried Tsonga in final (6-2, 6-4).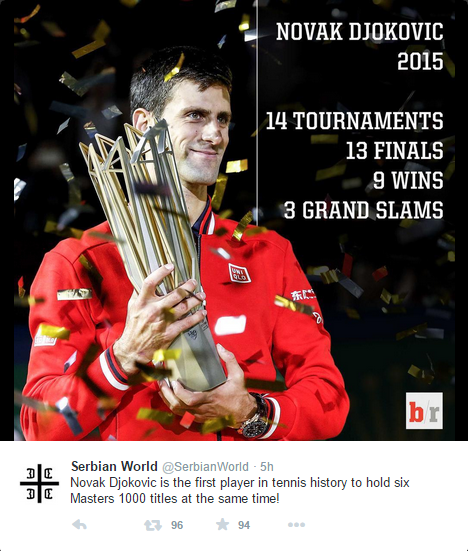 He didn't concede a single set during the week, not even in the semi-finals against Andy Murray, swept away in an hour (6-1, 6-3). A machine.
Djokovic also enjoyed playing FIFA with his staff between matches.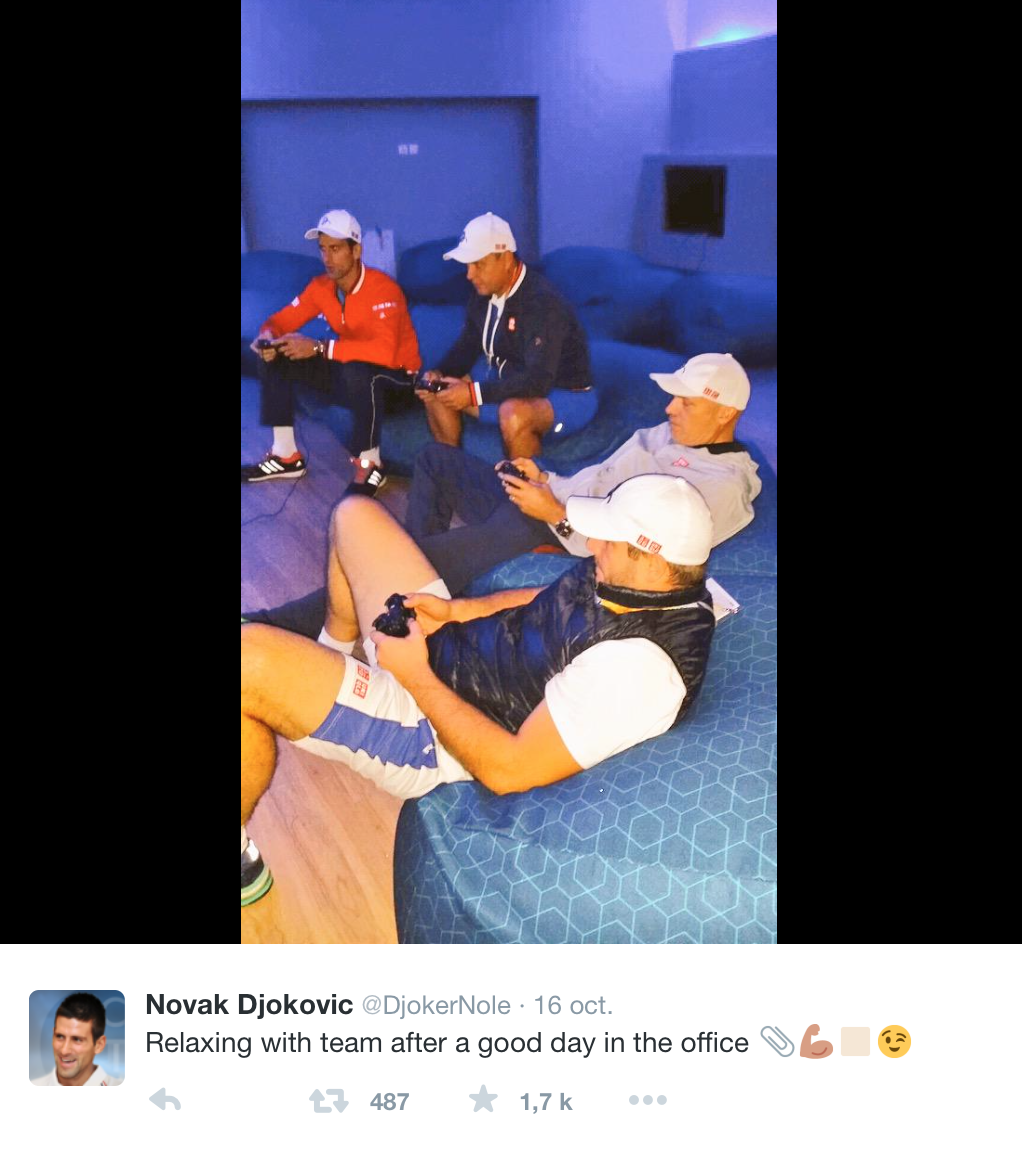 Nole made new friends in Shanghai: the ball boys.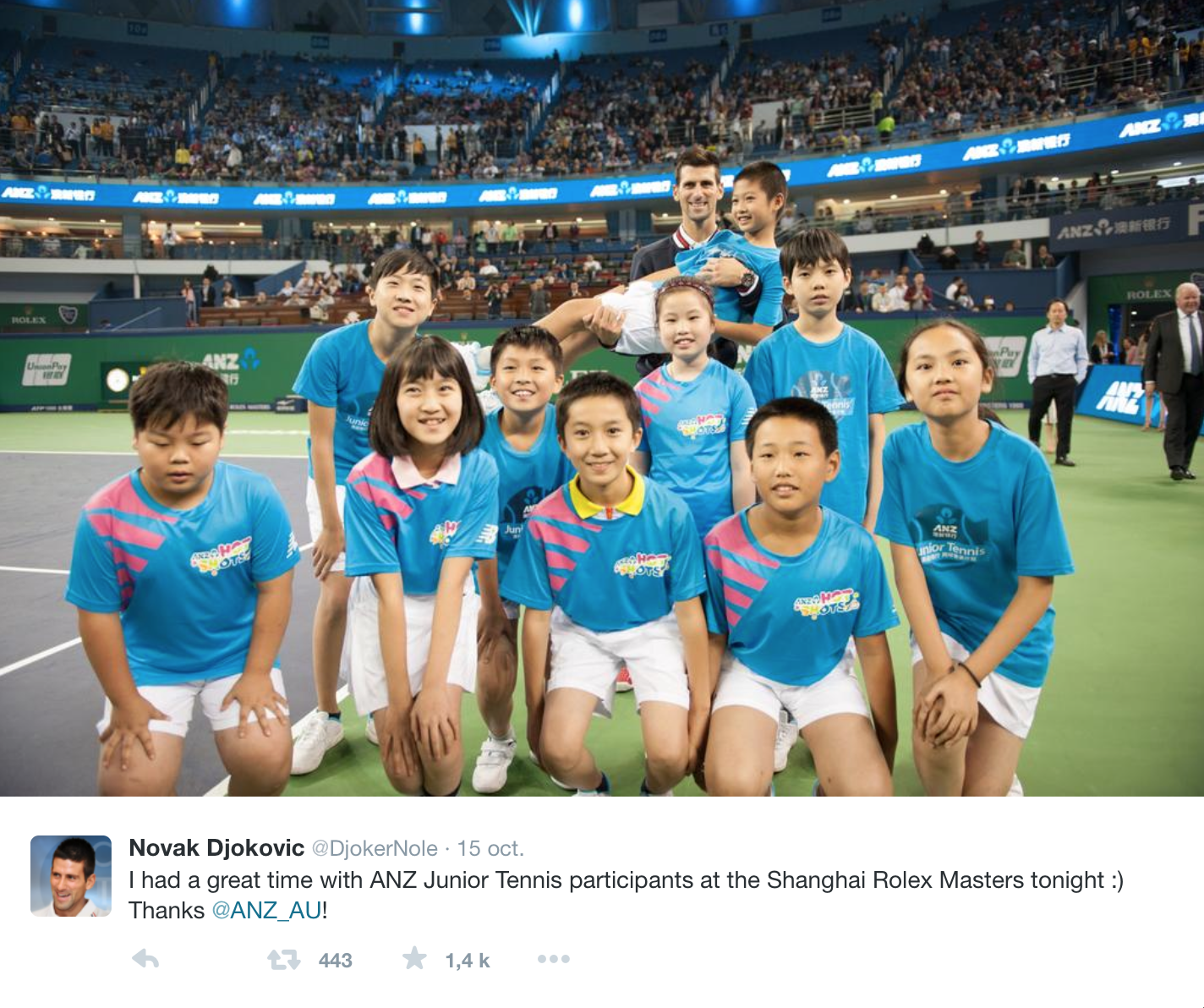 2- Jo-Wilfried Tsonga (NE).
Beautiful week for Jo-Wilfried Tsonga. Defeated from the first round in Beijing, the French reached the final in Shanghai, after defeating Rafael Nadal in semi-finals (6-4, 0-6, 7-5). This is the fourth time in his career that he reaches the final of a Master 1000.
Jo showed some great things, especially in the first round against the Spanish Tommy Robredo.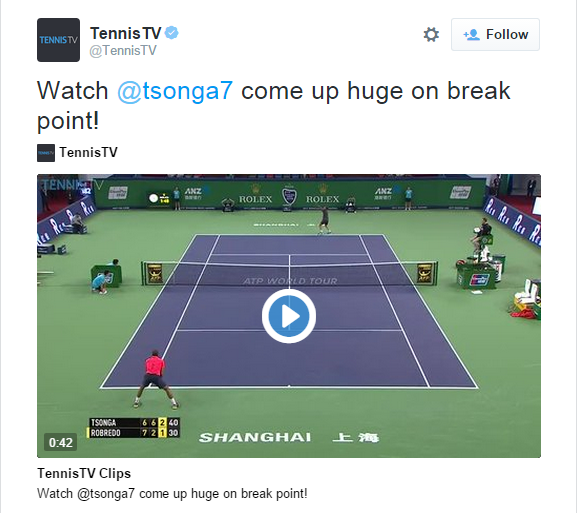 ...But also against the South African Kevin Anderson, 10th in the world, in quarterfinals.
Meeting Nicolas Batum brought him luck!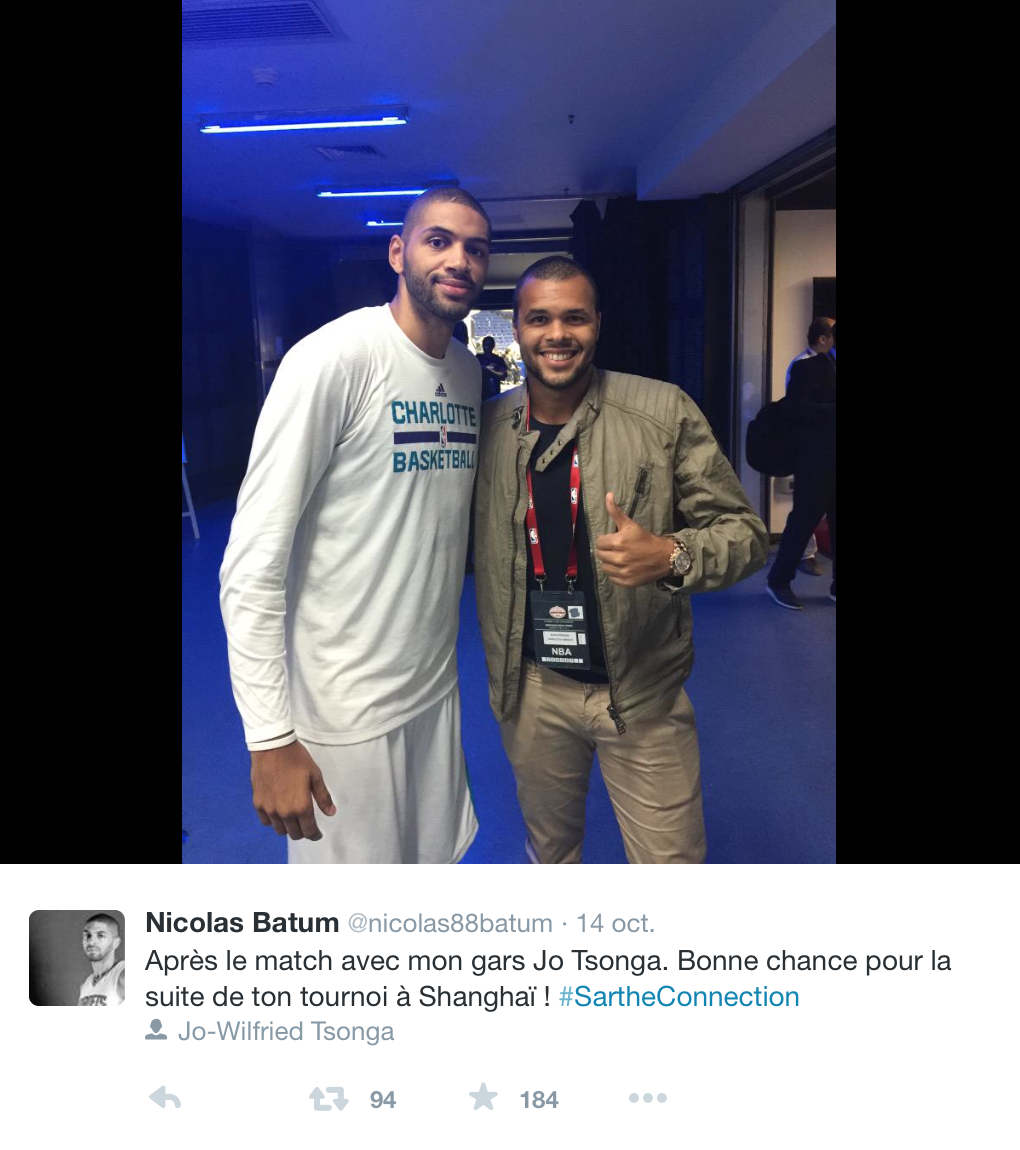 3- Caroline Garcia (NE).
Happy Birthday! Caroline Garcia celebrated her 22nd birthday this week in Hong Kong. The French received a nice gift.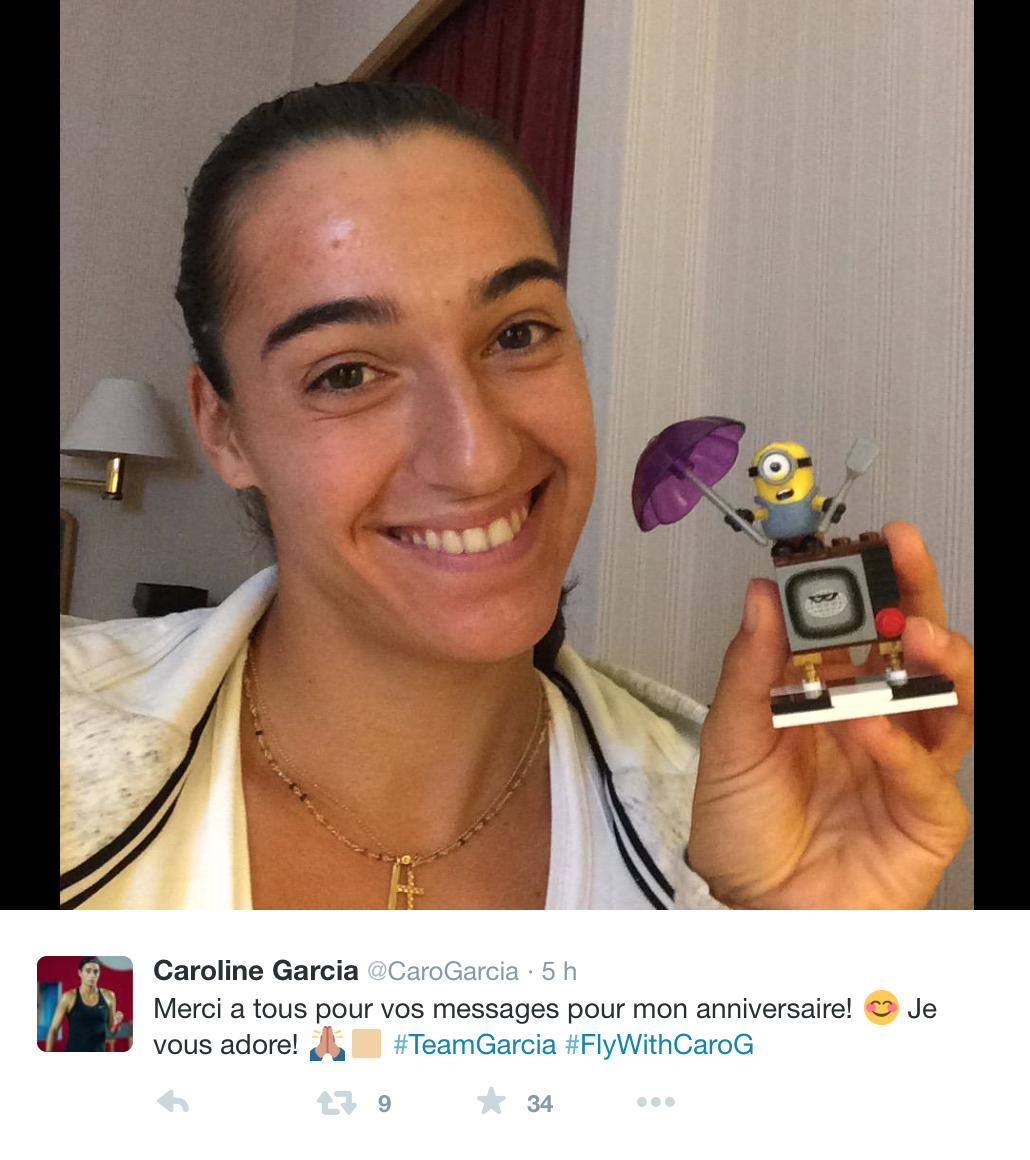 A gift, Angelique Kerber didn't however give her any. The German dominated her in quarterfinals (7-5, 6-3). But not enough for Garcia to lose her smile, after such a lovely birthday cake.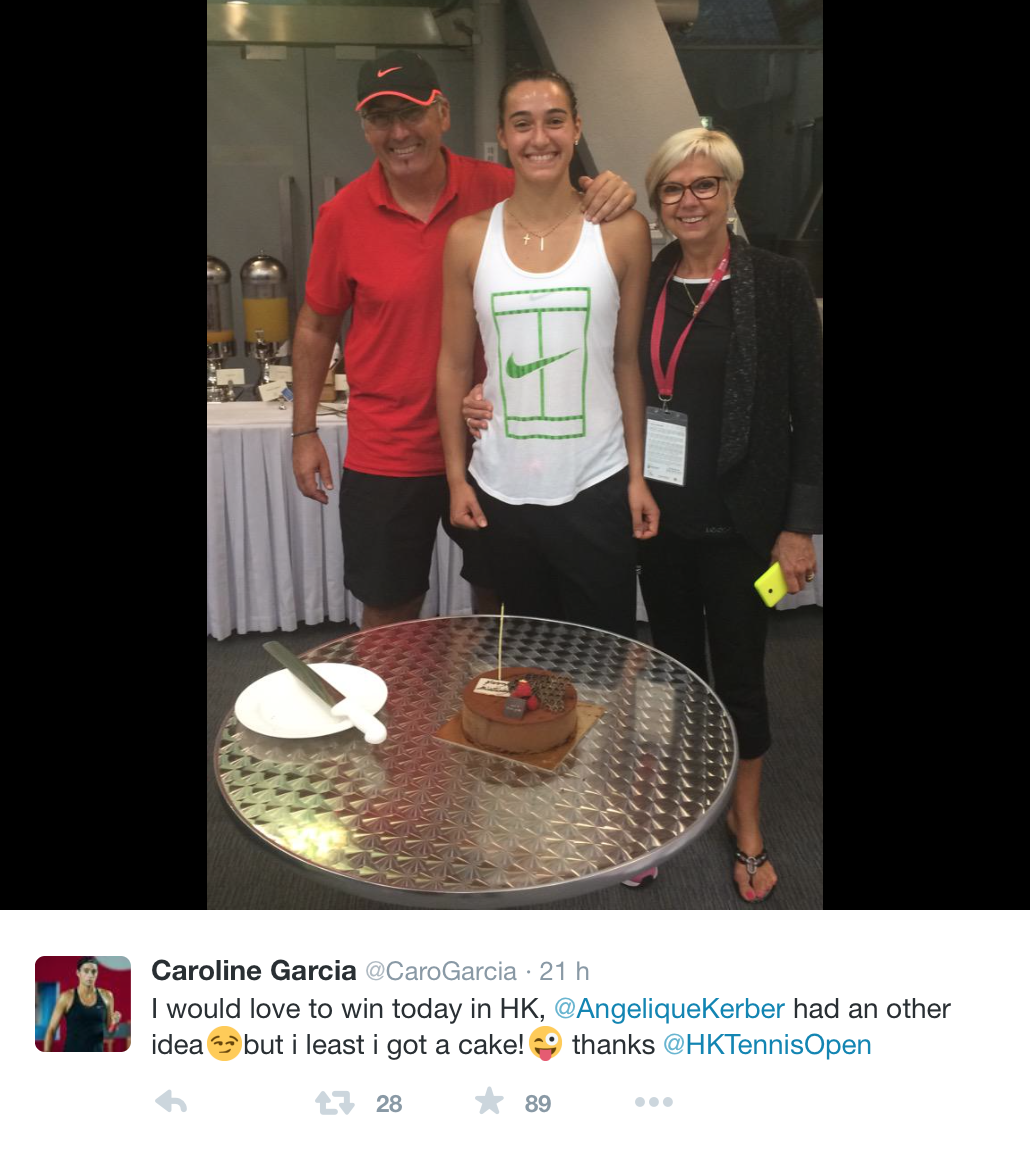 This week, Garcia also tried local outfits.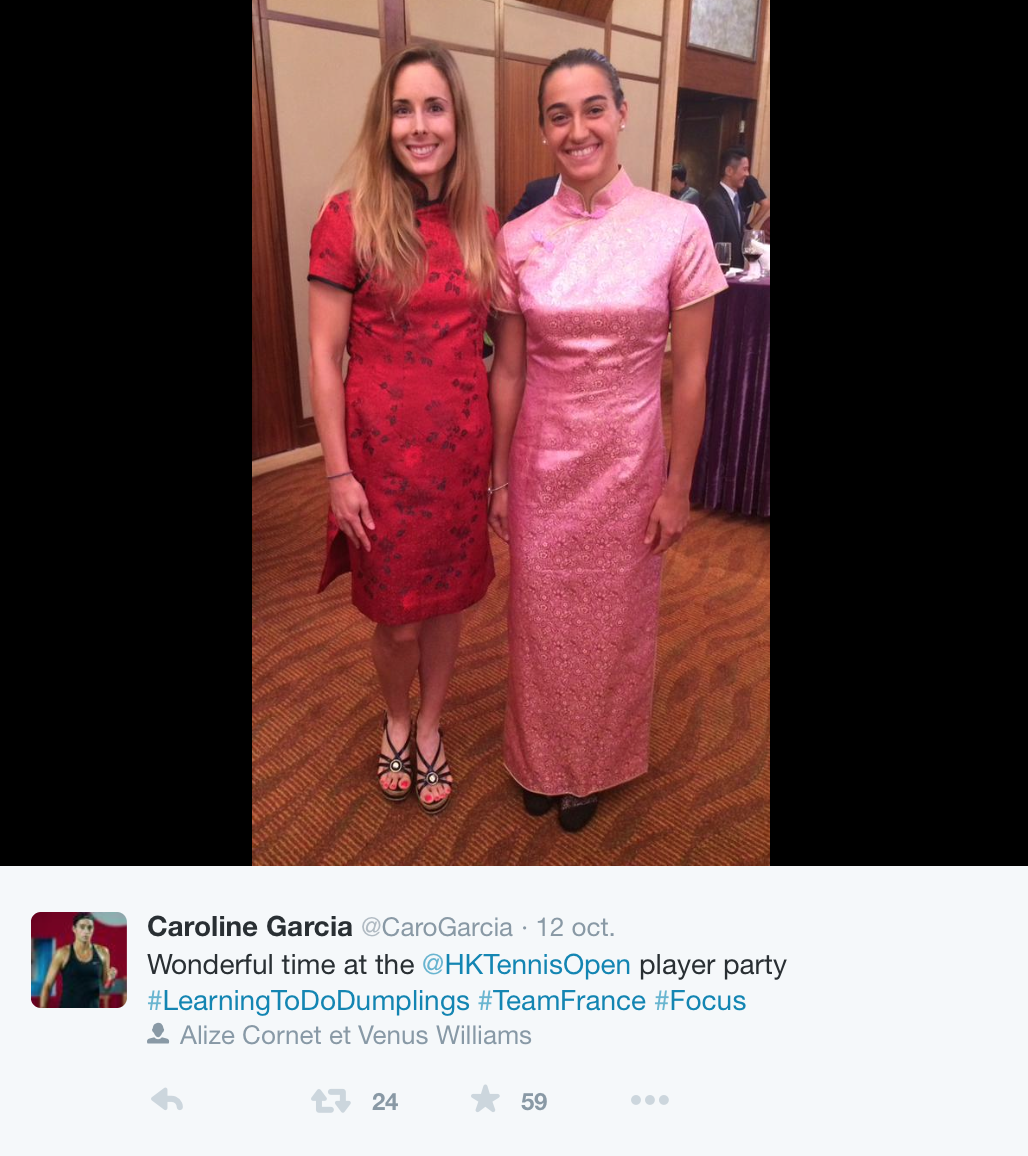 Finally, she tried the "Can challenge". The goal: to knock the most ball boxes in 30 seconds.
Not bad!
4- Maria Sharapova (-1).
Monday morning isn't anyone's favourite time of the week. But Maria Sharapova keeps smiling, even at eight in the morning.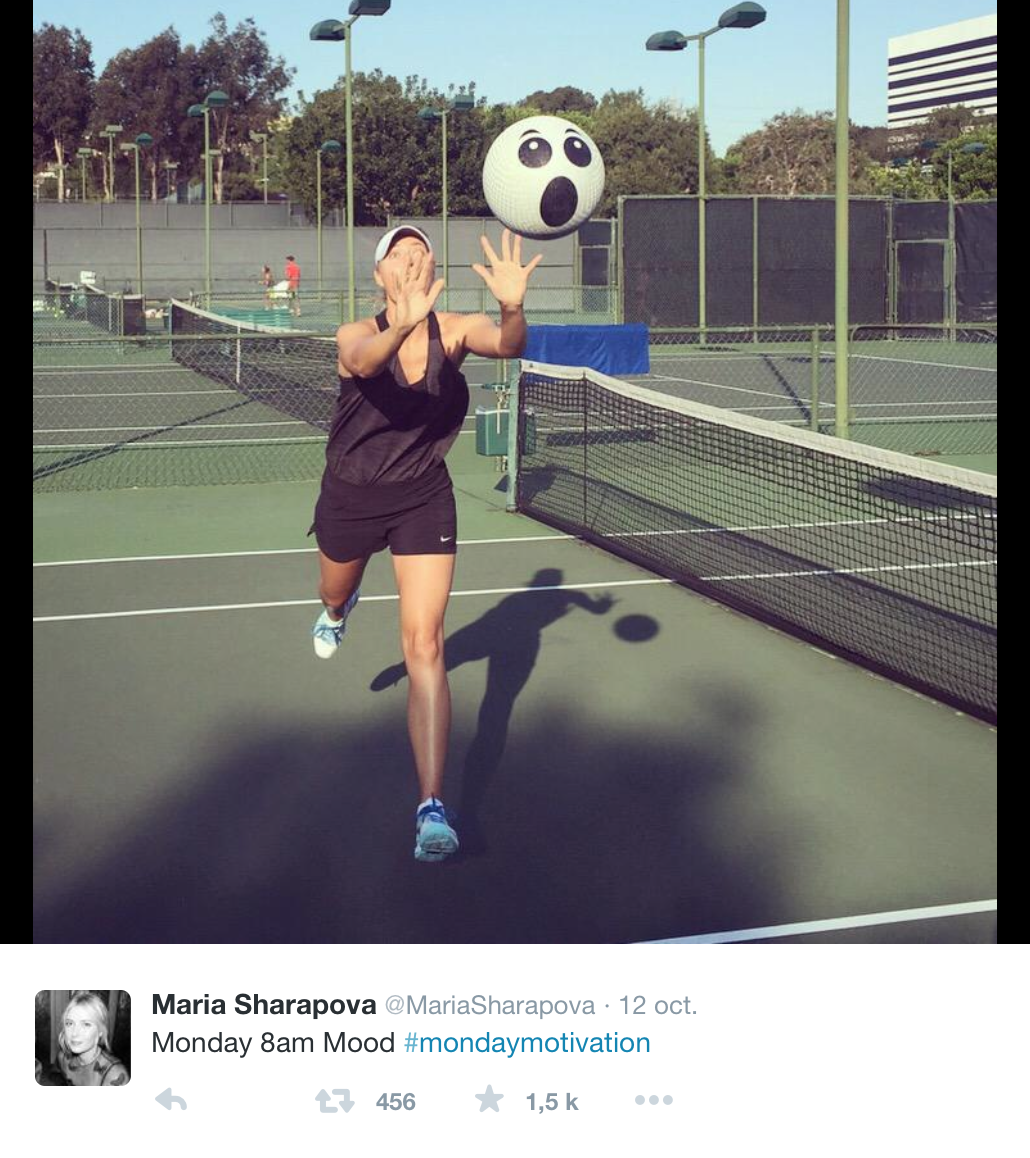 The Russian spent the week promoting the charity event "Maria and friends" that will be held at the University of California in LA on the 12th and 13th of December. Interview...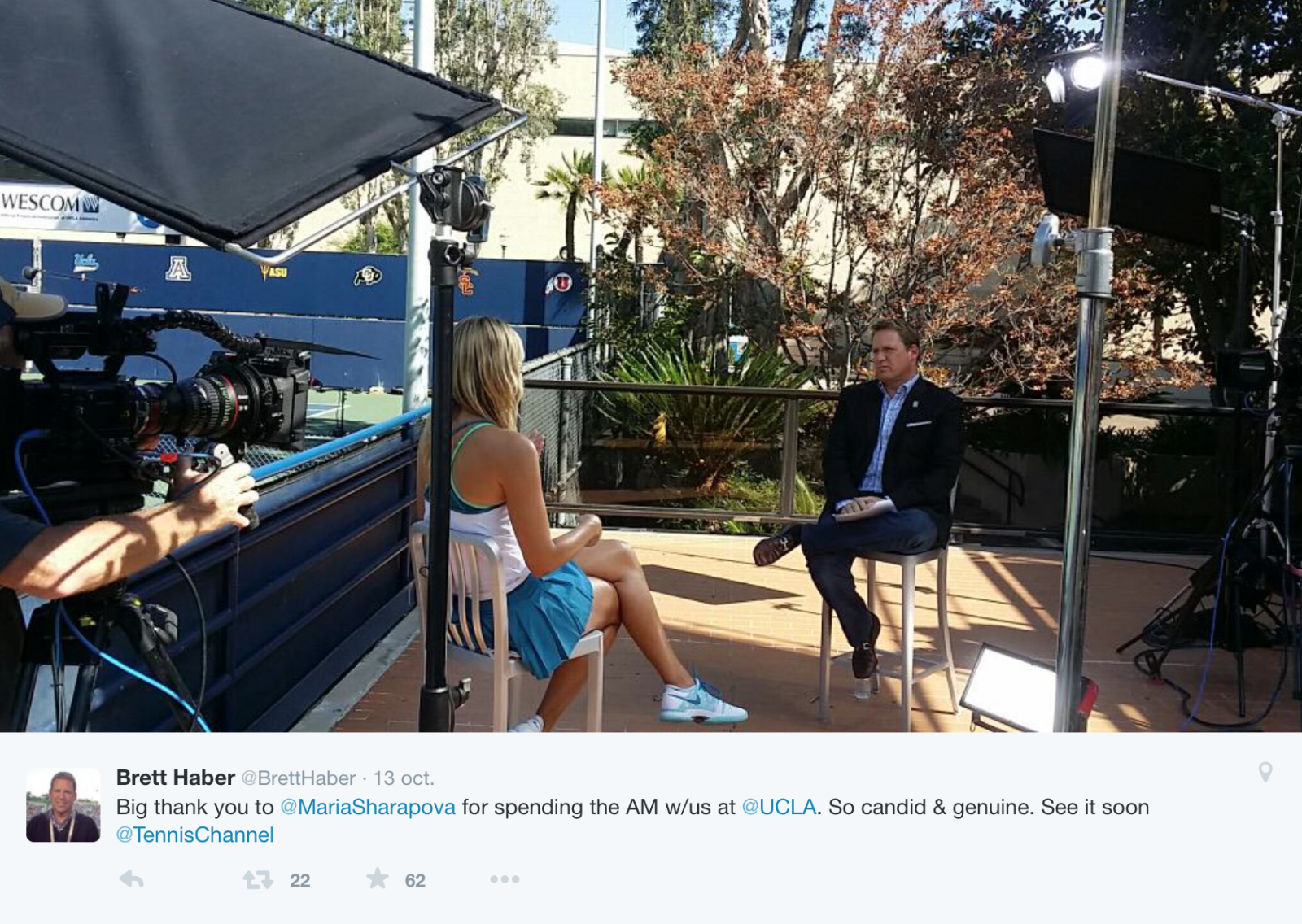 ...Pictures with the ball boys...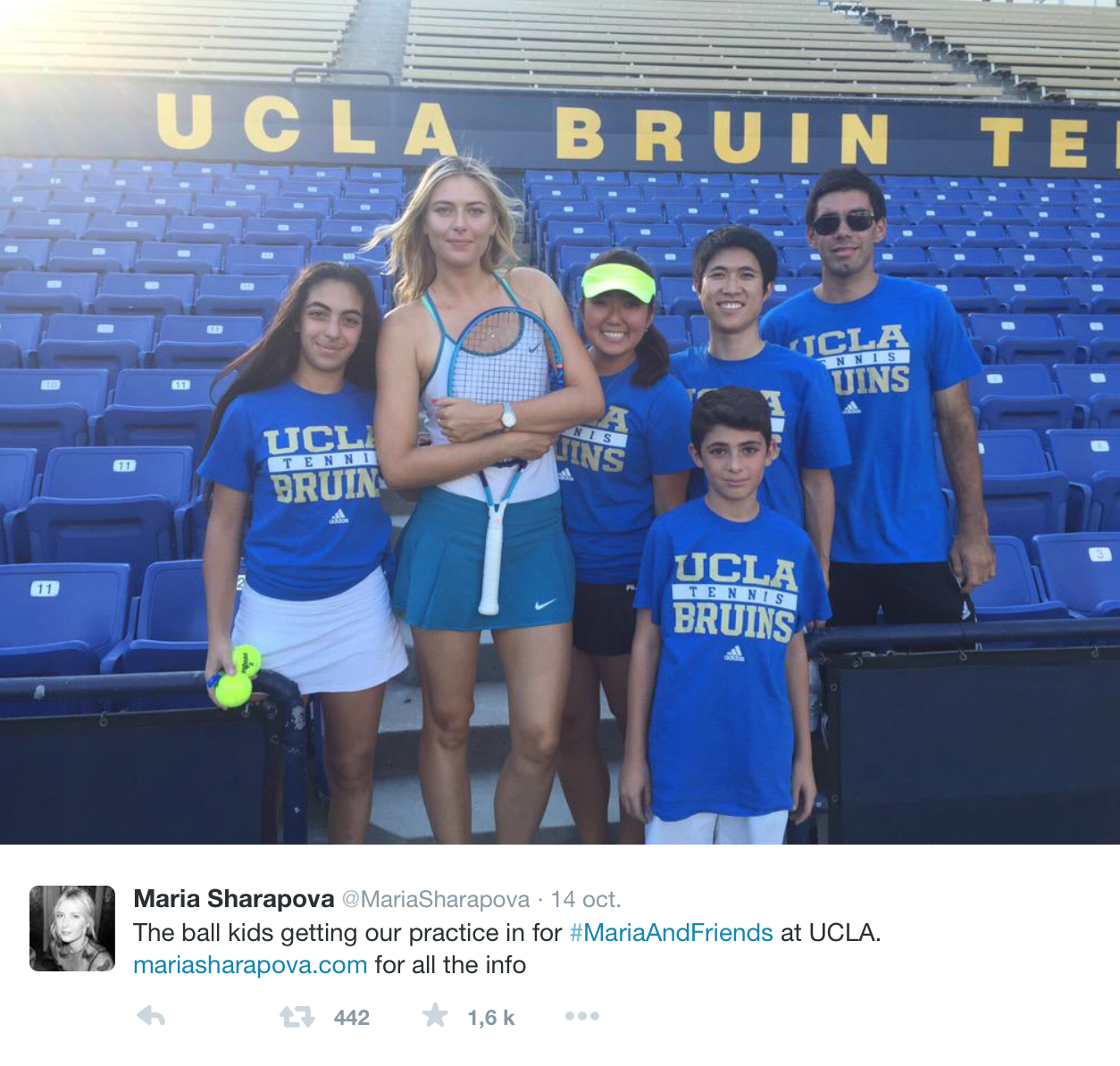 ...And a selfie with actress Chelsea Handler.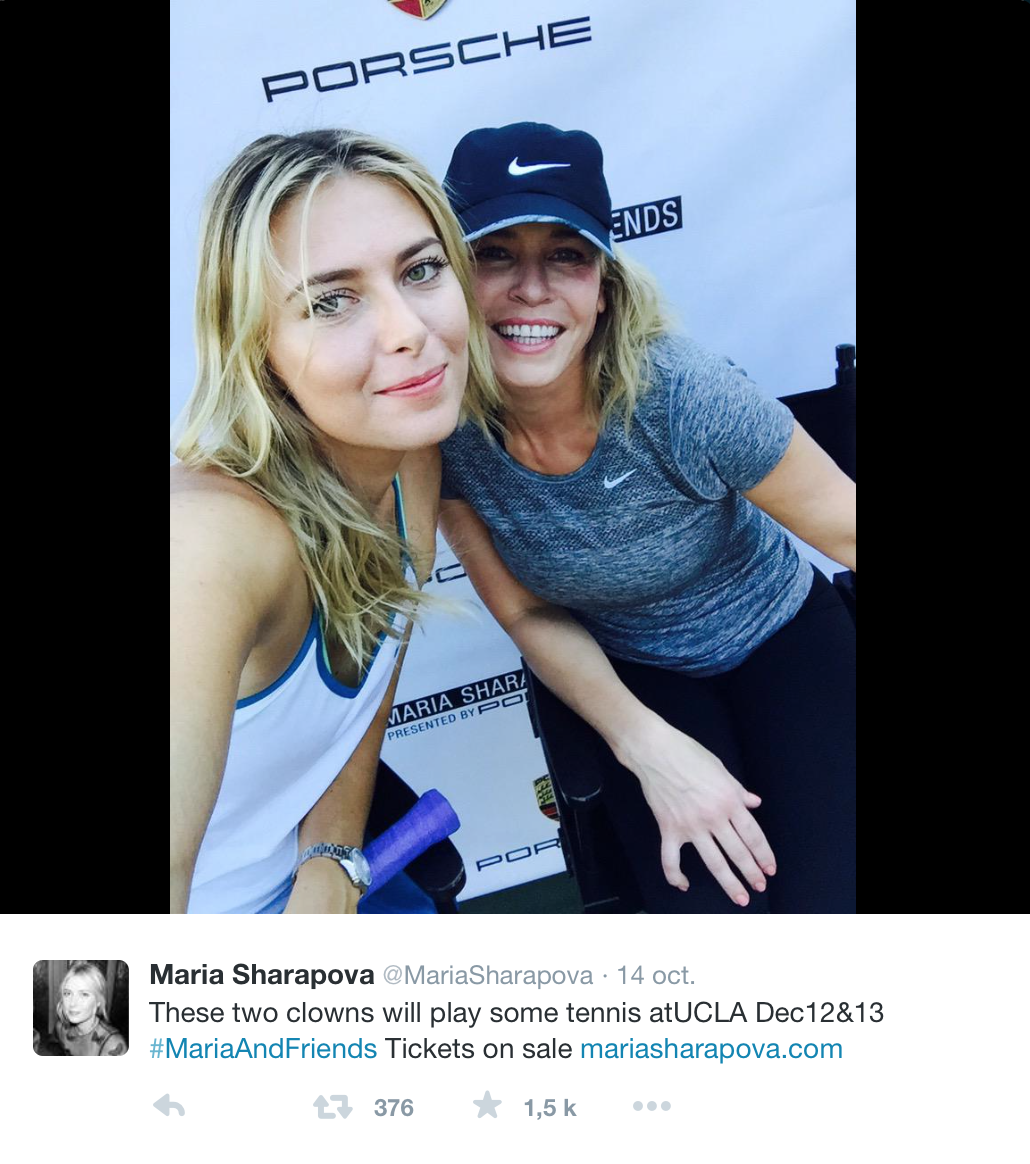 5- Rafael Nadal (-1).
Little setback for Rafael Nadal. After a final in Beijing, Nadal arrived in Shanghai with confidence. His very nice victory against Stan Wawrinka in the quarterfinals even seemed to promise a new duel with Novak Djokovic in final, but Tsonga suddenly stopped him in his tracks. Otherwise, Nadal took advantage of the Beijing and Shanghai tournaments to start learning Chinese. Slowly.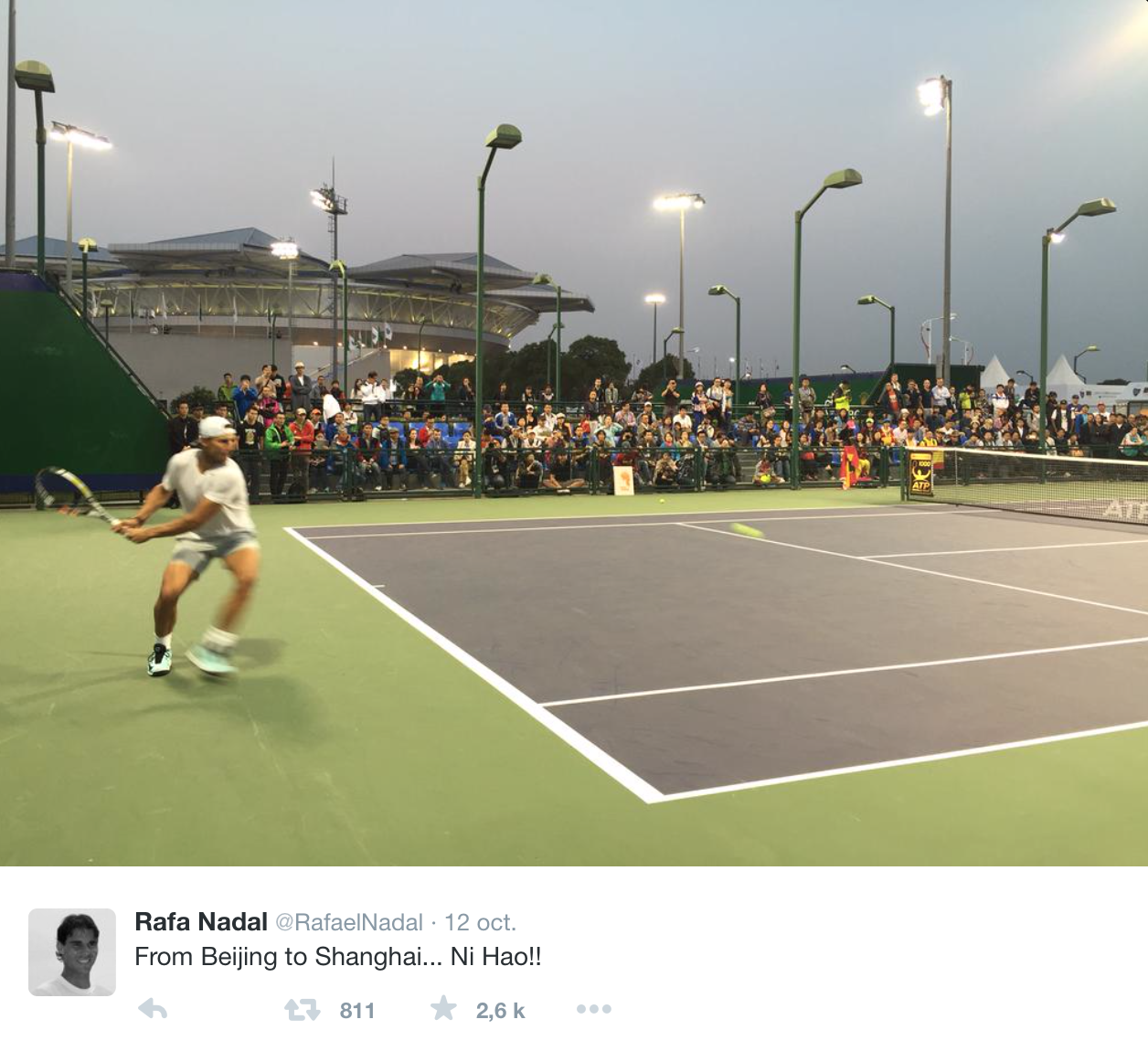 However, China or not, Rafa eats like at home: bread and Iberian ham.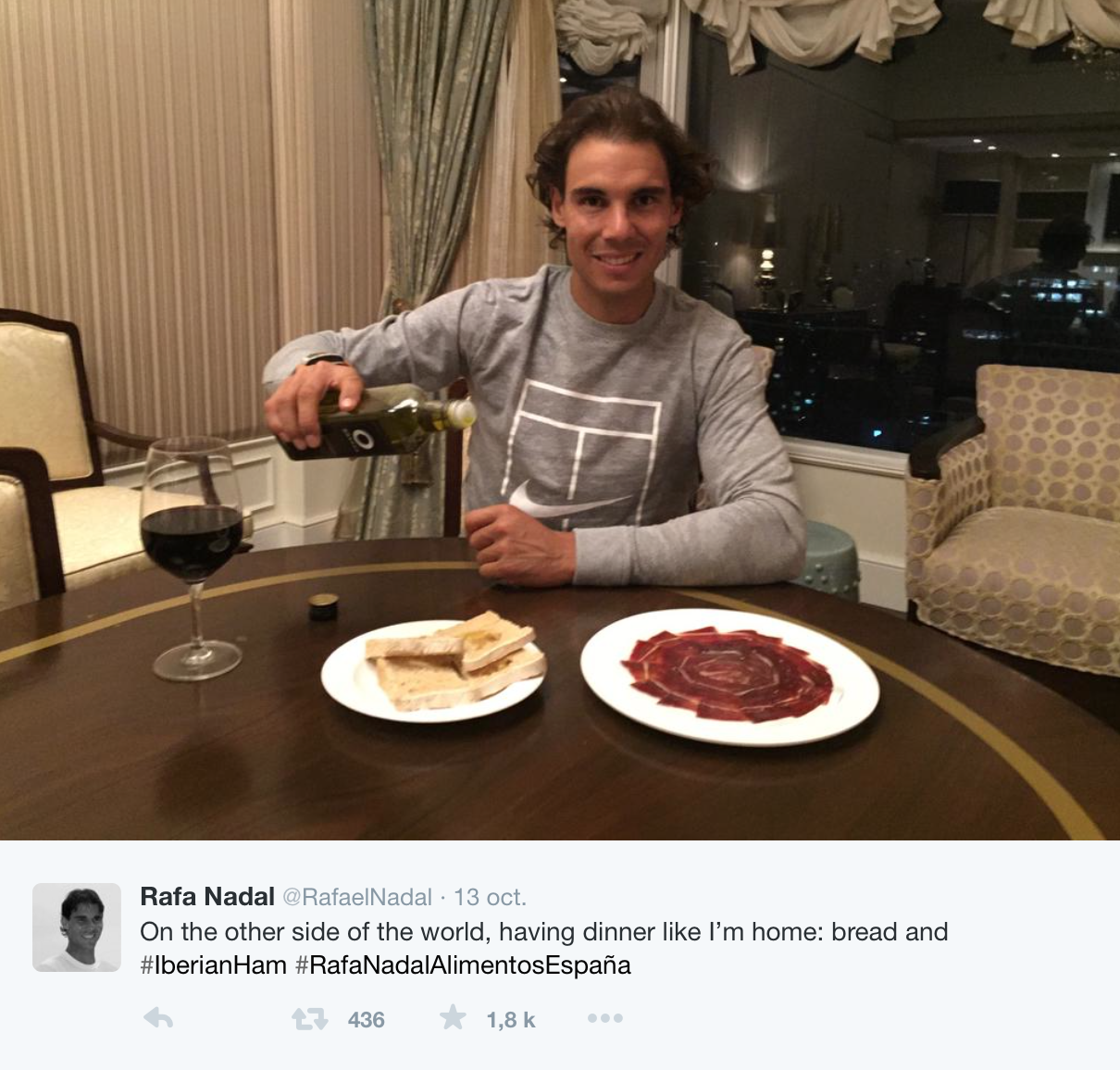 Despite disappointing results this year, Nadal is still as popular as ever. Requests for autographs are numerous.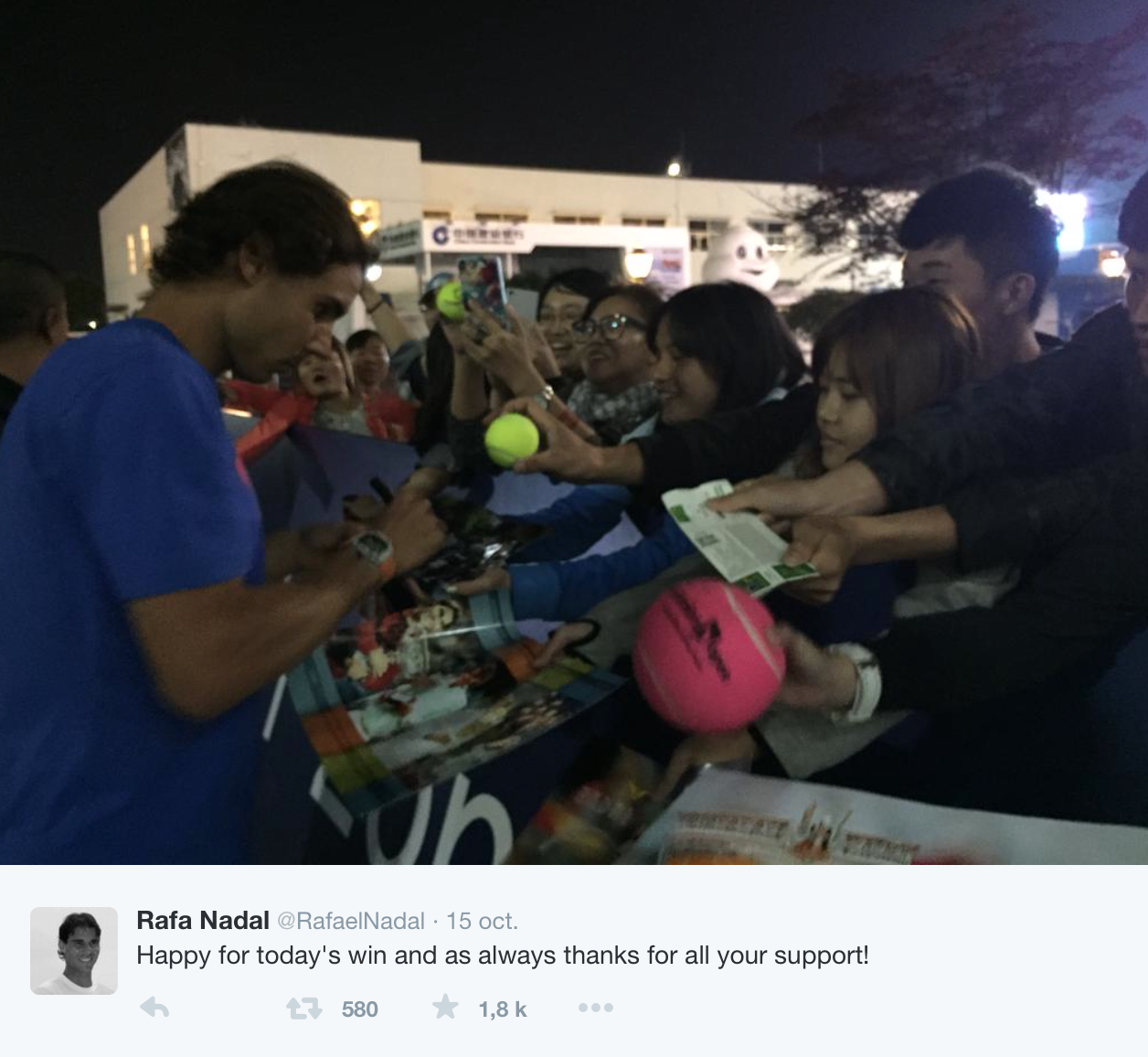 6- Nick Kyrgios (+3).
We've known it since last week, Nick Kyrgios is now supporting the Elena Foundation, which helps children from all backgrounds to play tennis. Whenever he scores an ace, he donates money. But most of this week was about the joke of the Australian, who laughed on Twitter explaining that if Ivo Karlovic (Mr aces) did the same, he would go bankrupt.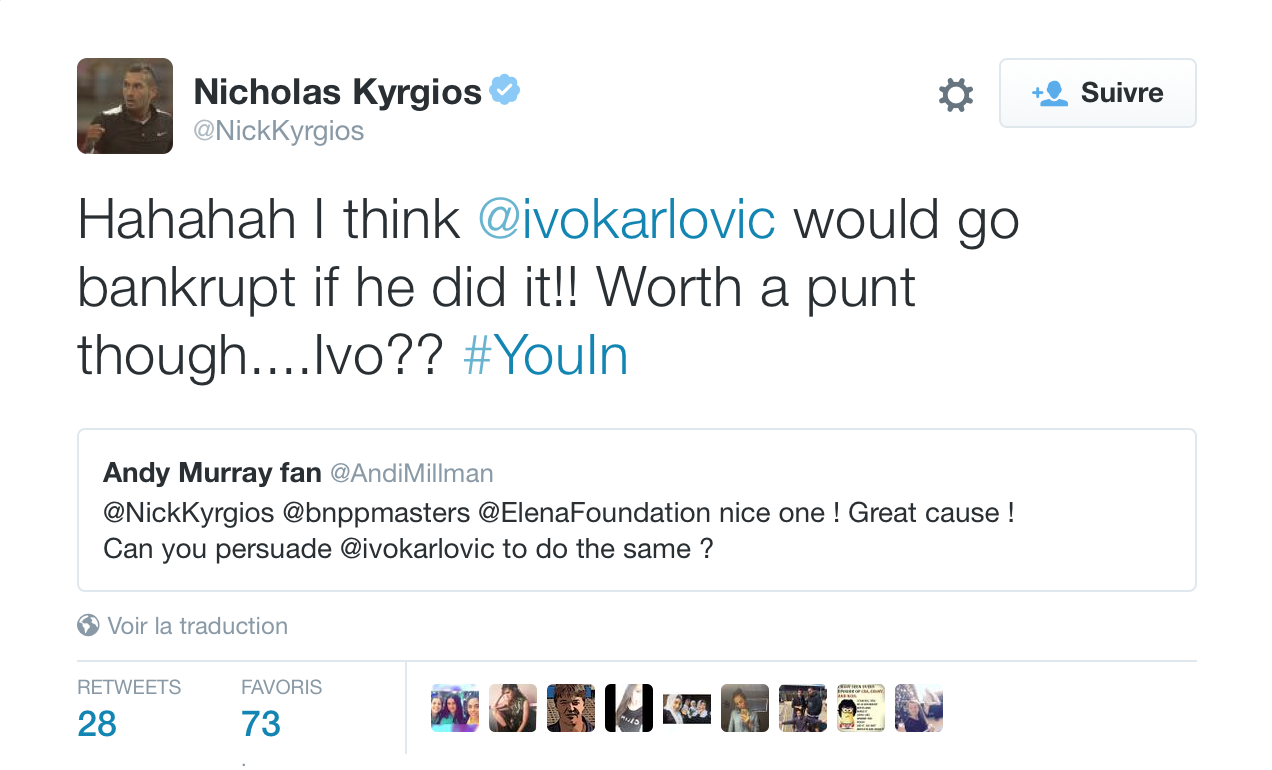 But a clash-free week is not a good week for Kyrgios. This time, it was with the Australian football player Taylor Walker that he argued. The latter called him an idiot on Twitter after the announcement of his 1500 euros fine (Kyrgios had criticized the quality of the surface in Shanghai). The 20-year-old replied with humour: "I don't even know who Tex Walker is."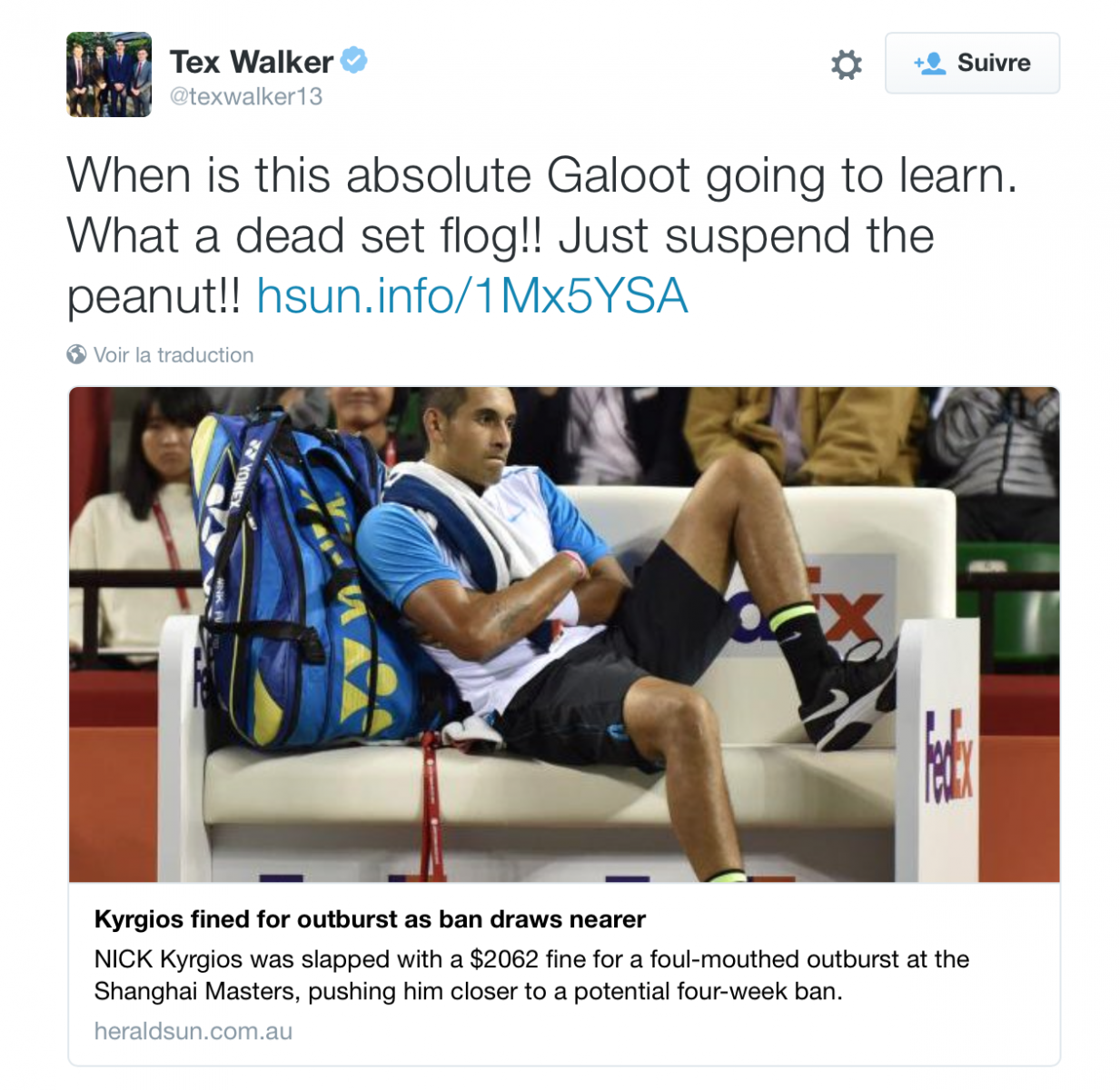 7- Roger Federer (+8).
A small tour and then goes away. Roger Federer was eliminated from his opening match in Shanghai by the Spanish player Albert Ramos (7-6, 2-6, 6-3). A big disappointment for the defending champion who at least had the pleasure to meet another legend, the great Michael Jordan.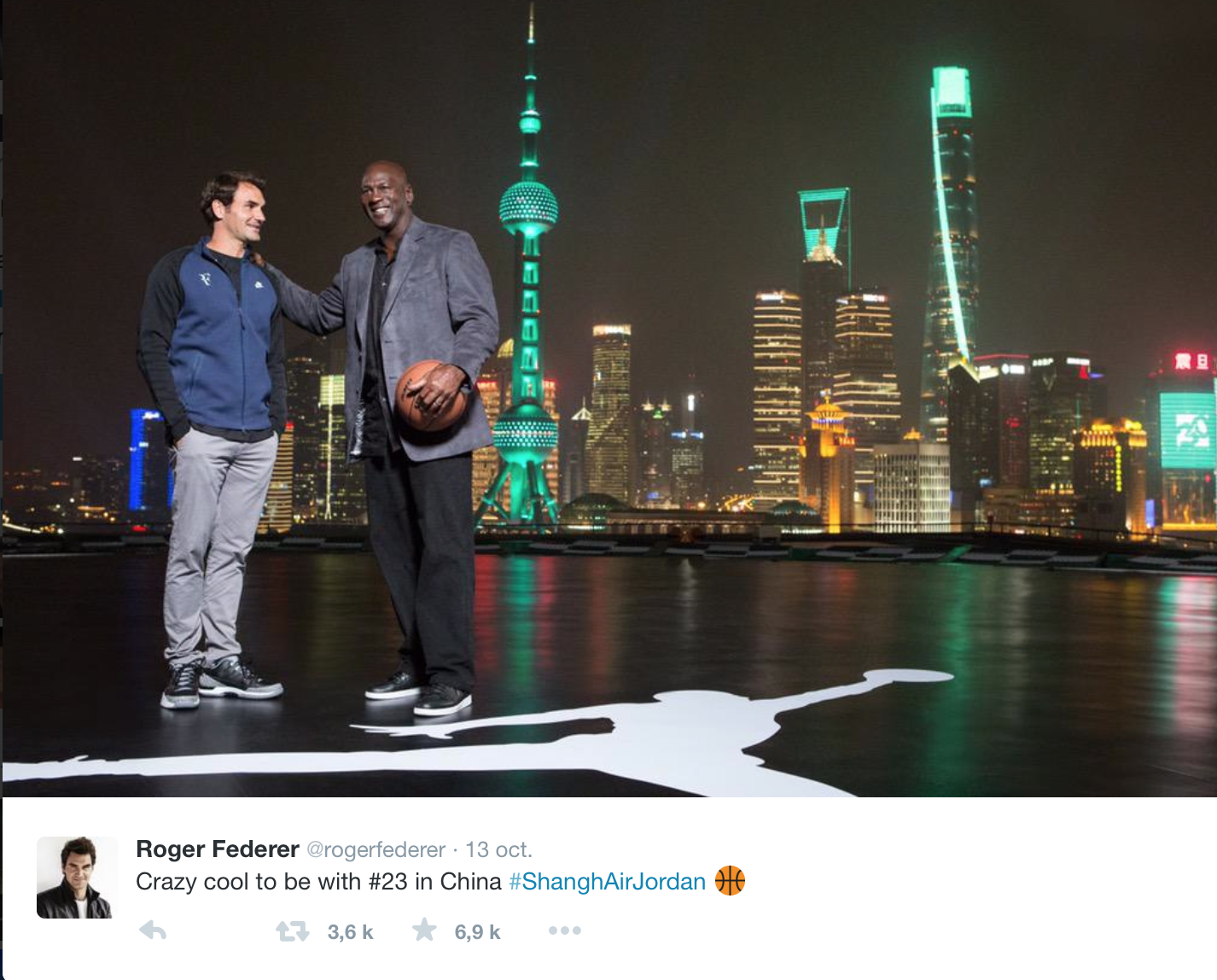 Despite his elimination, Federer was put to work by the organizers of the Chinese tournament, who proposed him to create his own pizza. The Swiss called it the Figalicious: fig, fresh cream, arugula, mozzarella and prosciutto.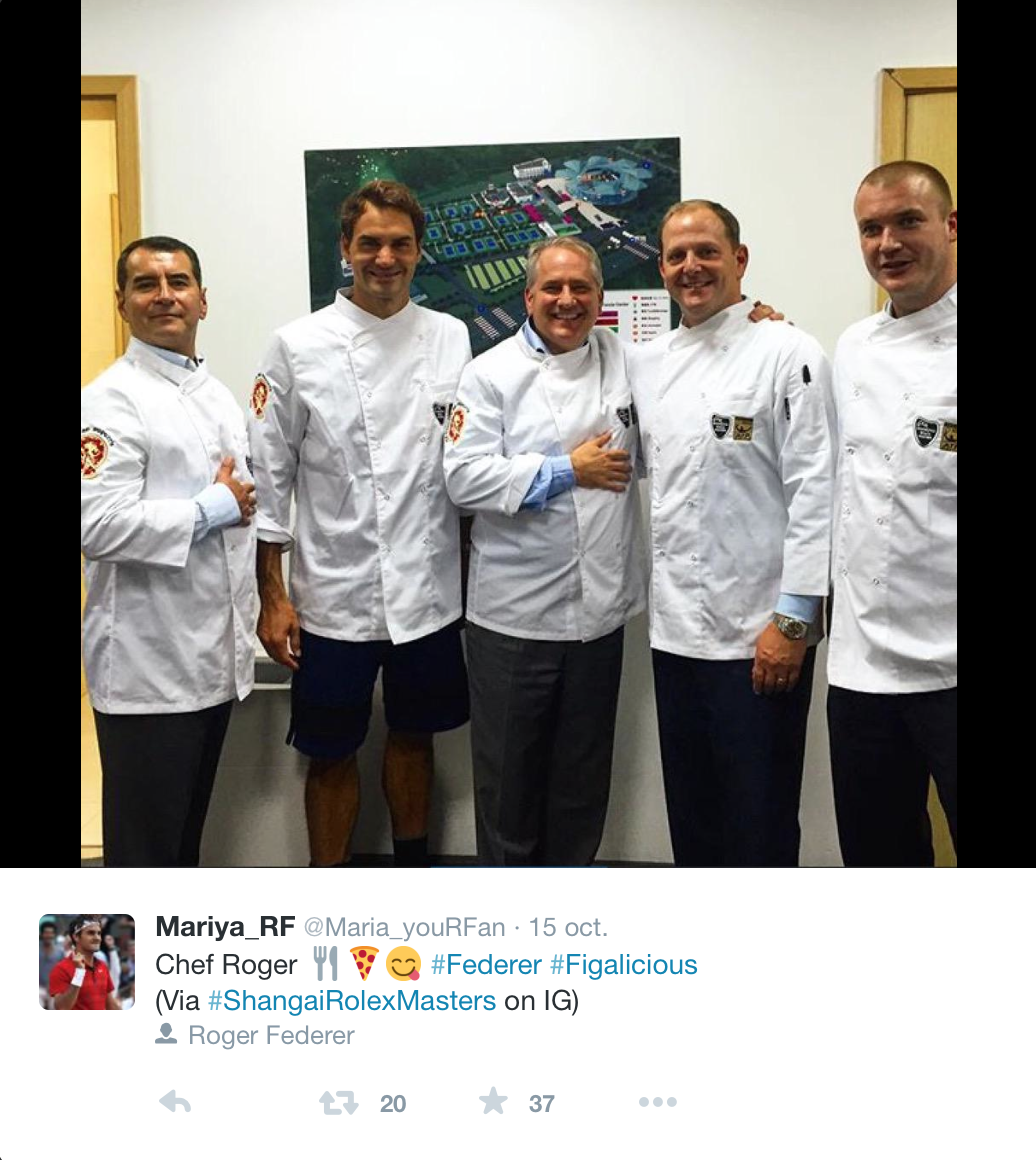 Finally King Roger seems to have found what he will do once his tennis career is over: pilot. He posted a picture of him on Facebook, with the comment, "ready for a new challenge."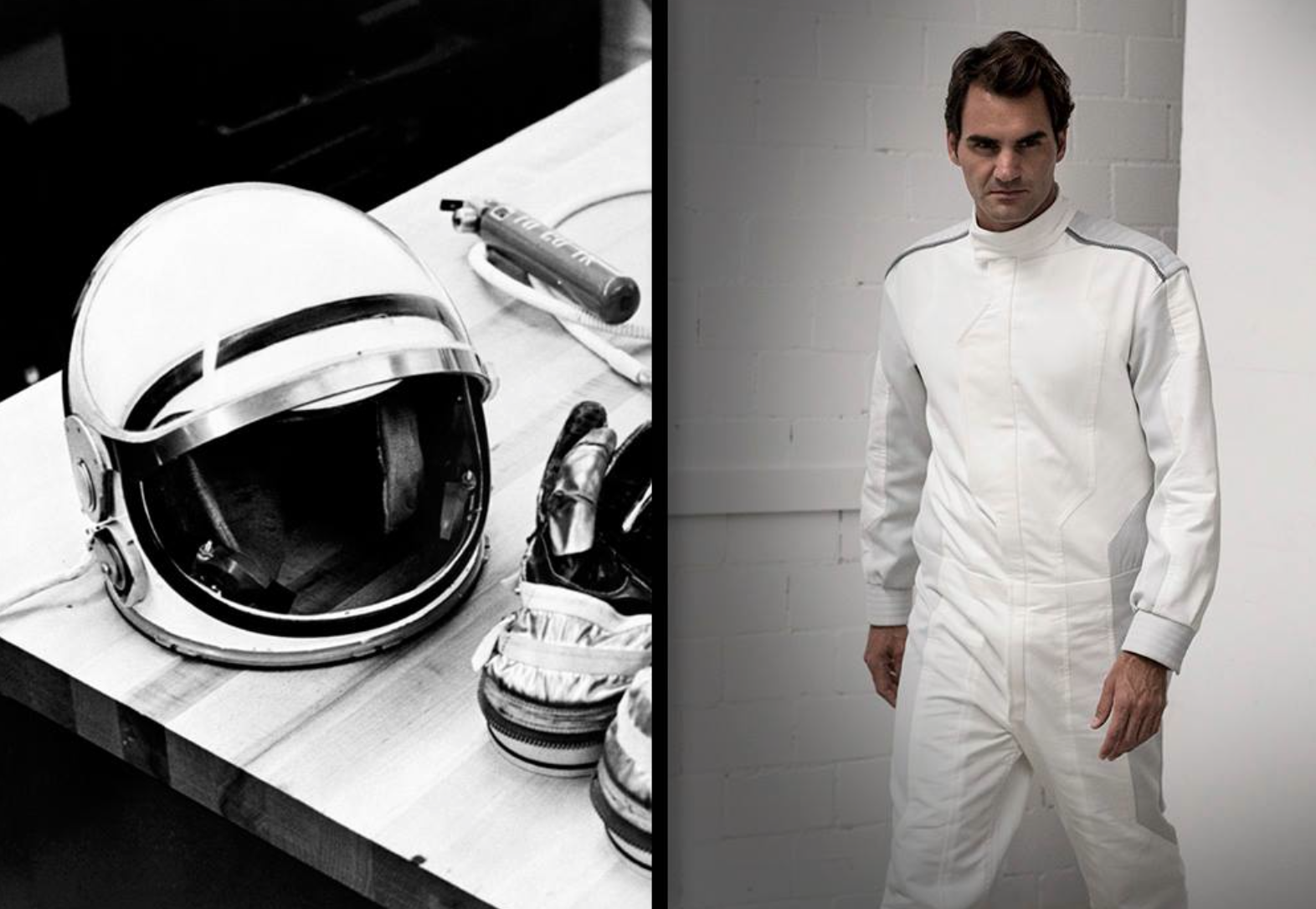 8- Ana Ivanovic (NE).
That's it, it's autumn, the sun goes away, the rain arrives. Ana Ivanovic decided to accept it with a smile. And an umbrella.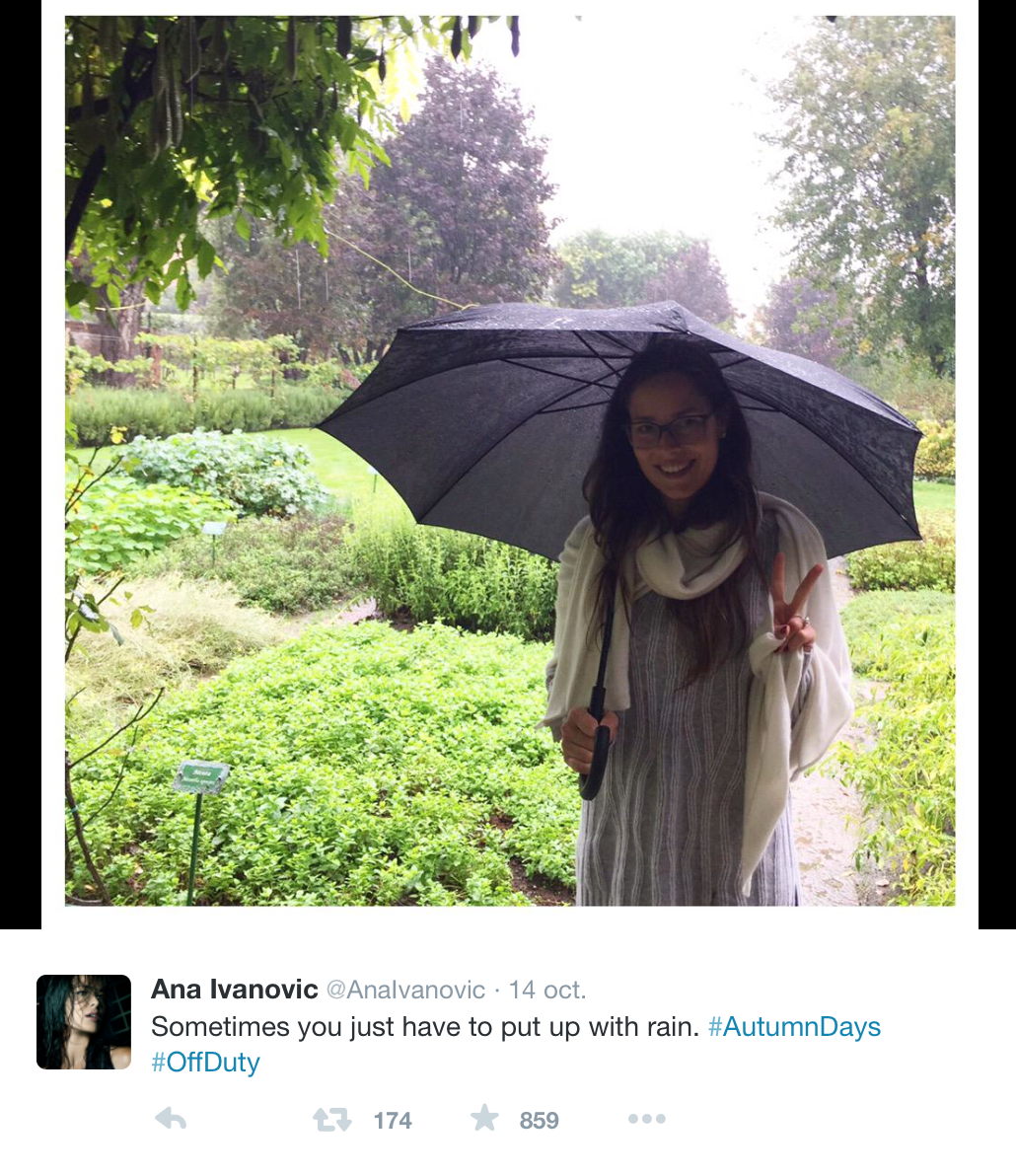 As every week or so, the Serb travels by plane, her second home.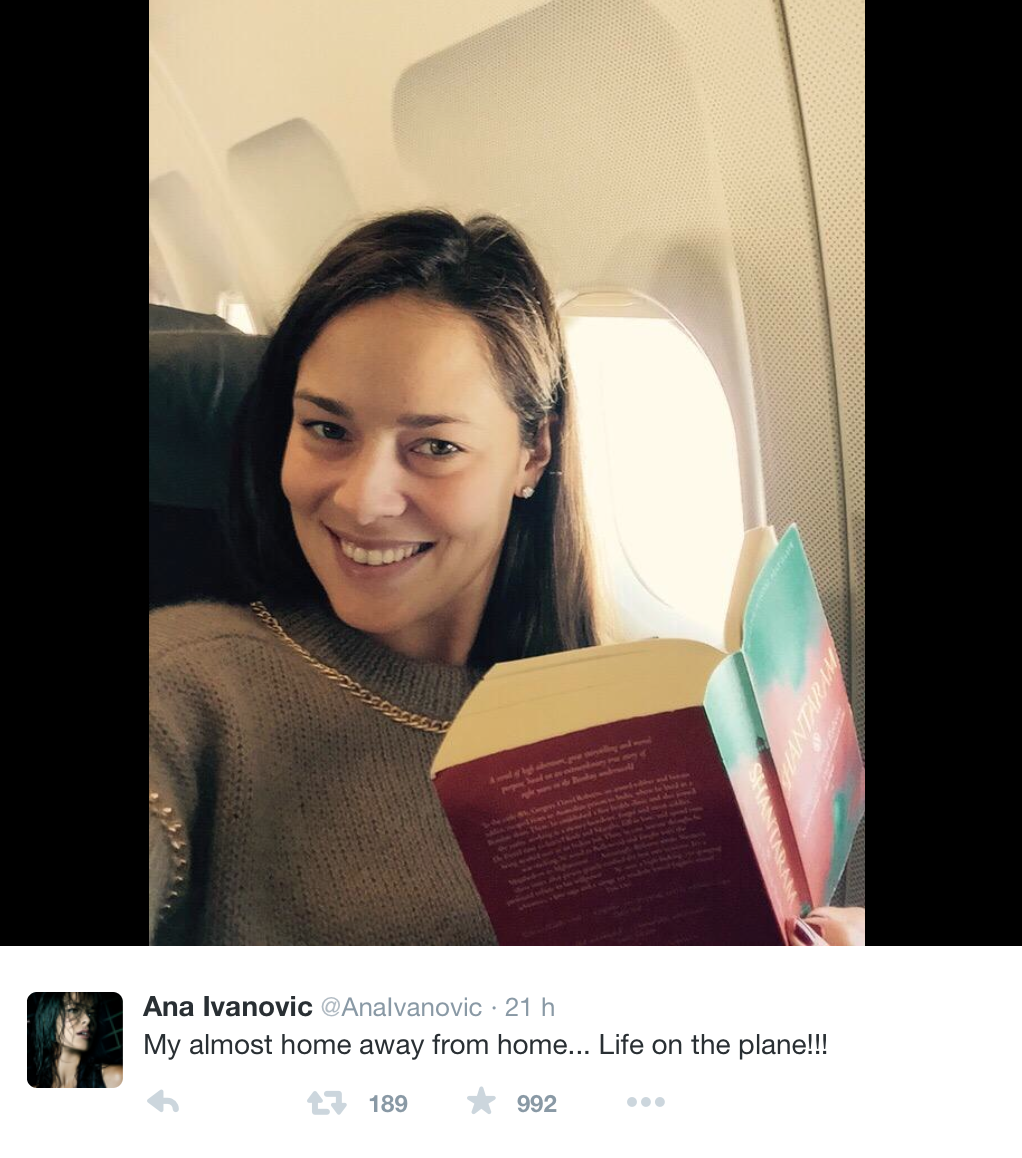 Ivanovic is apparently reading Shantaram, an excellent novel by the Australian author Gregory David Roberts.
9- Benoît Paire (-4).
He withdrew this week in Shanghai after a lost final in Tokyo against Wawrinka, but Benoit Paire passed reassuring medical exams for his ankle. "The results are good, so after an injection in the ankle and a few days off I'll be ready for Brest, Valencia and Paris Bercy!!!" He commented on his Instagram. It's also on Instagram that Paire officialised his relationship with French singer Shy'm.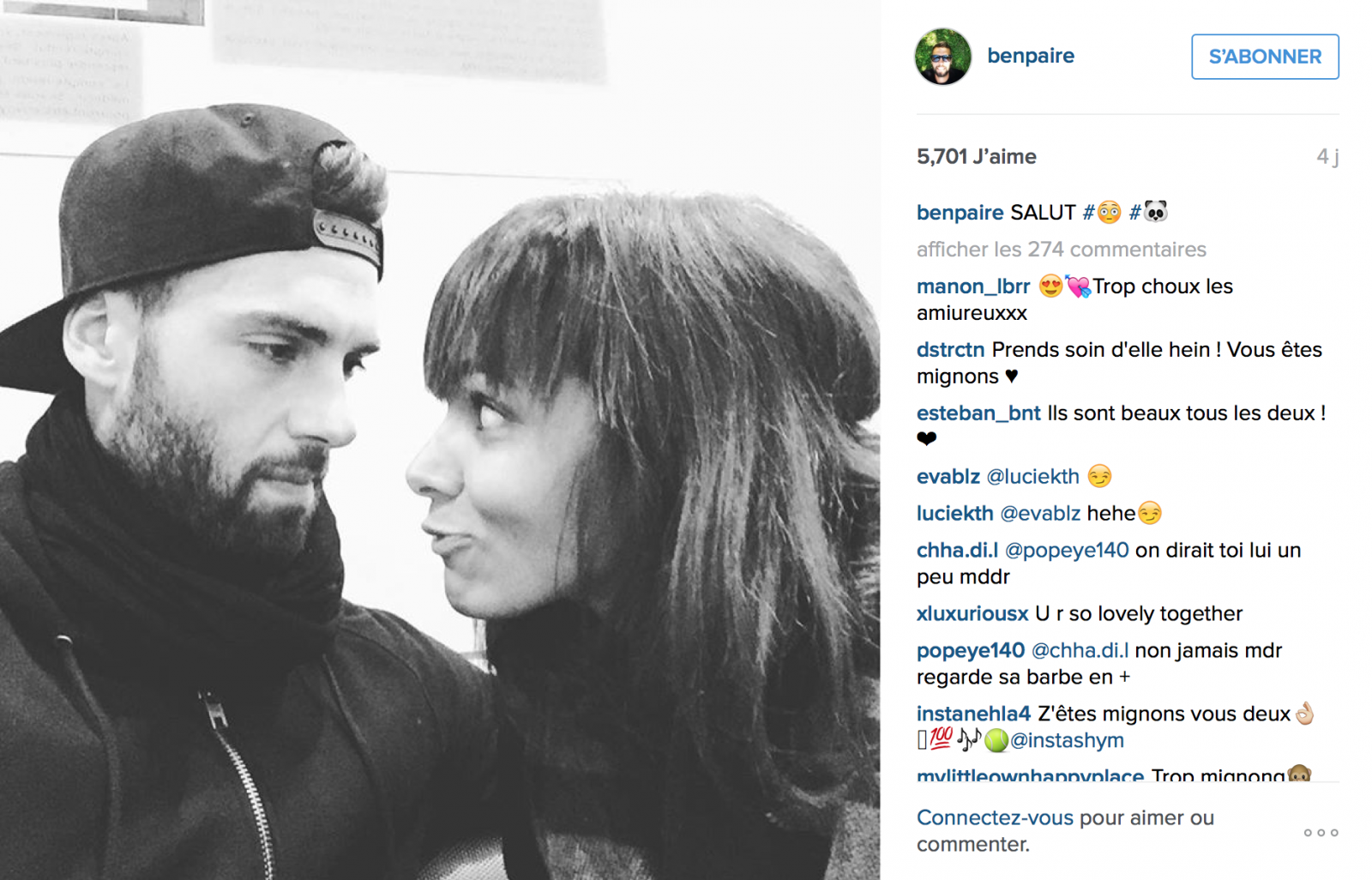 The French also enjoyed the week off to play FIFA like Djokovic.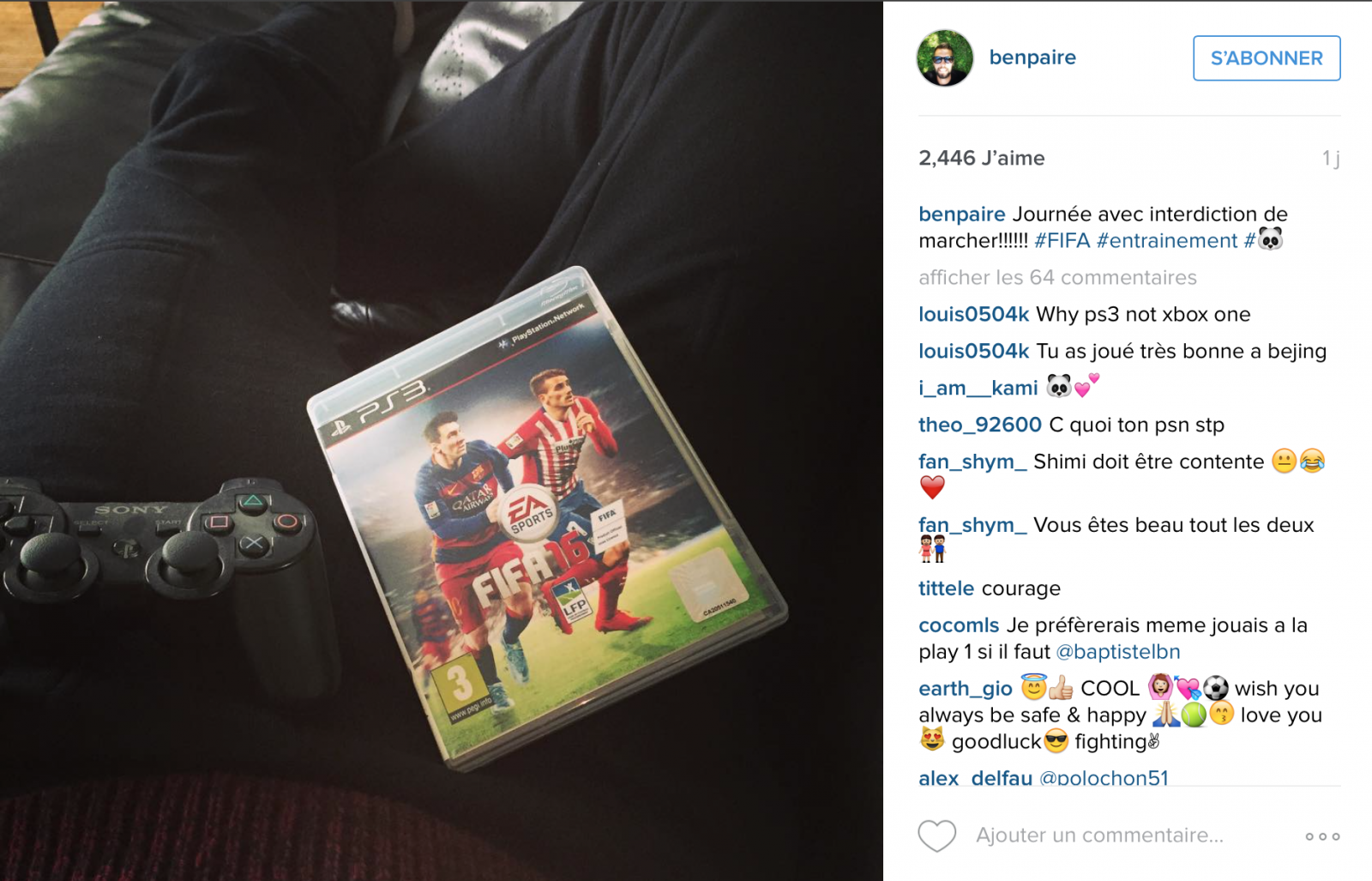 10- Juan Martin Del Potro (+1).
Juan Martin Del Potro continues his recovery program. The planning is simple: training session in the morning, lunch at the beach with friends, training session in the afternoon.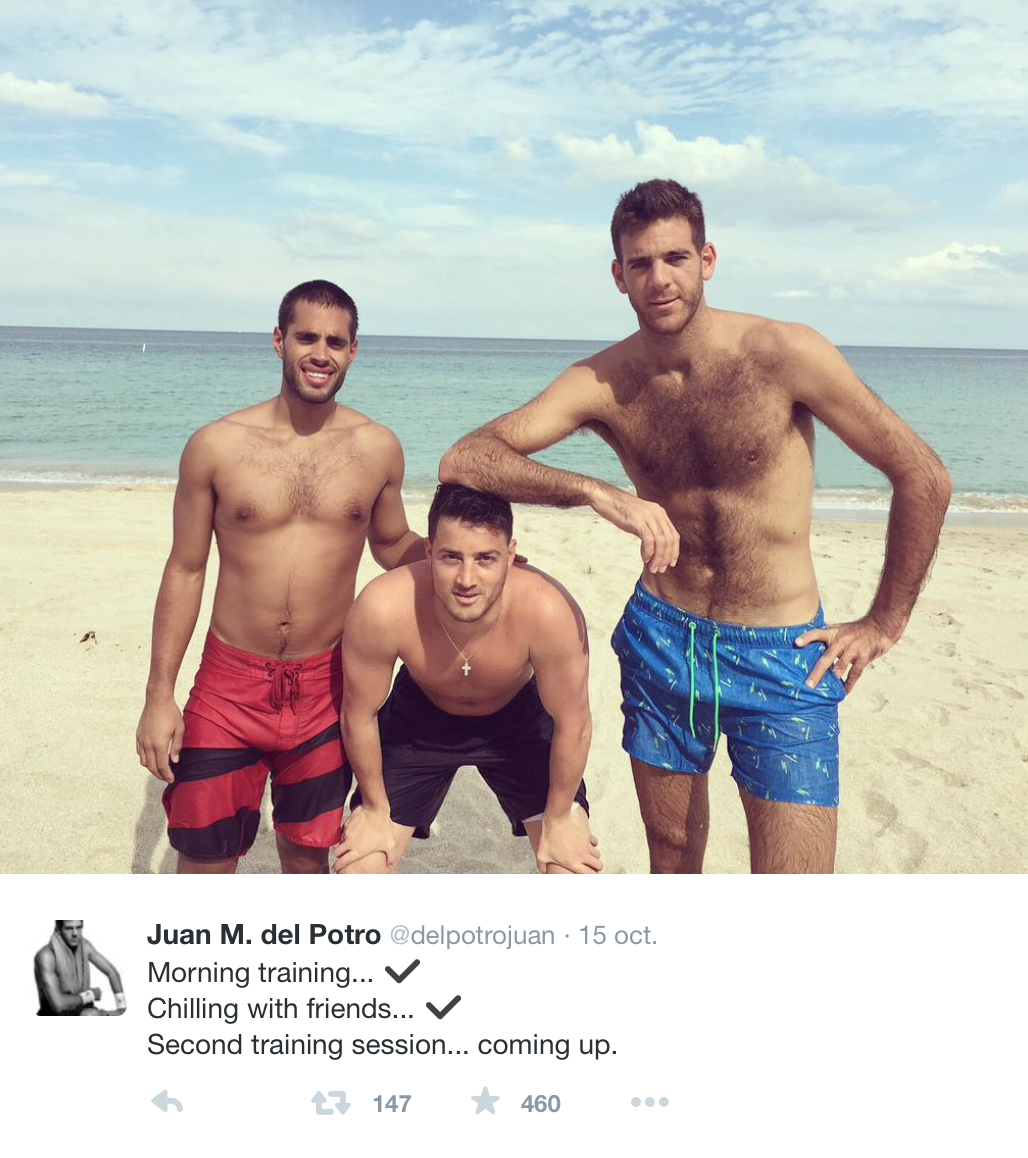 But the Argentinian player never trains alone, he always has a few young admirers.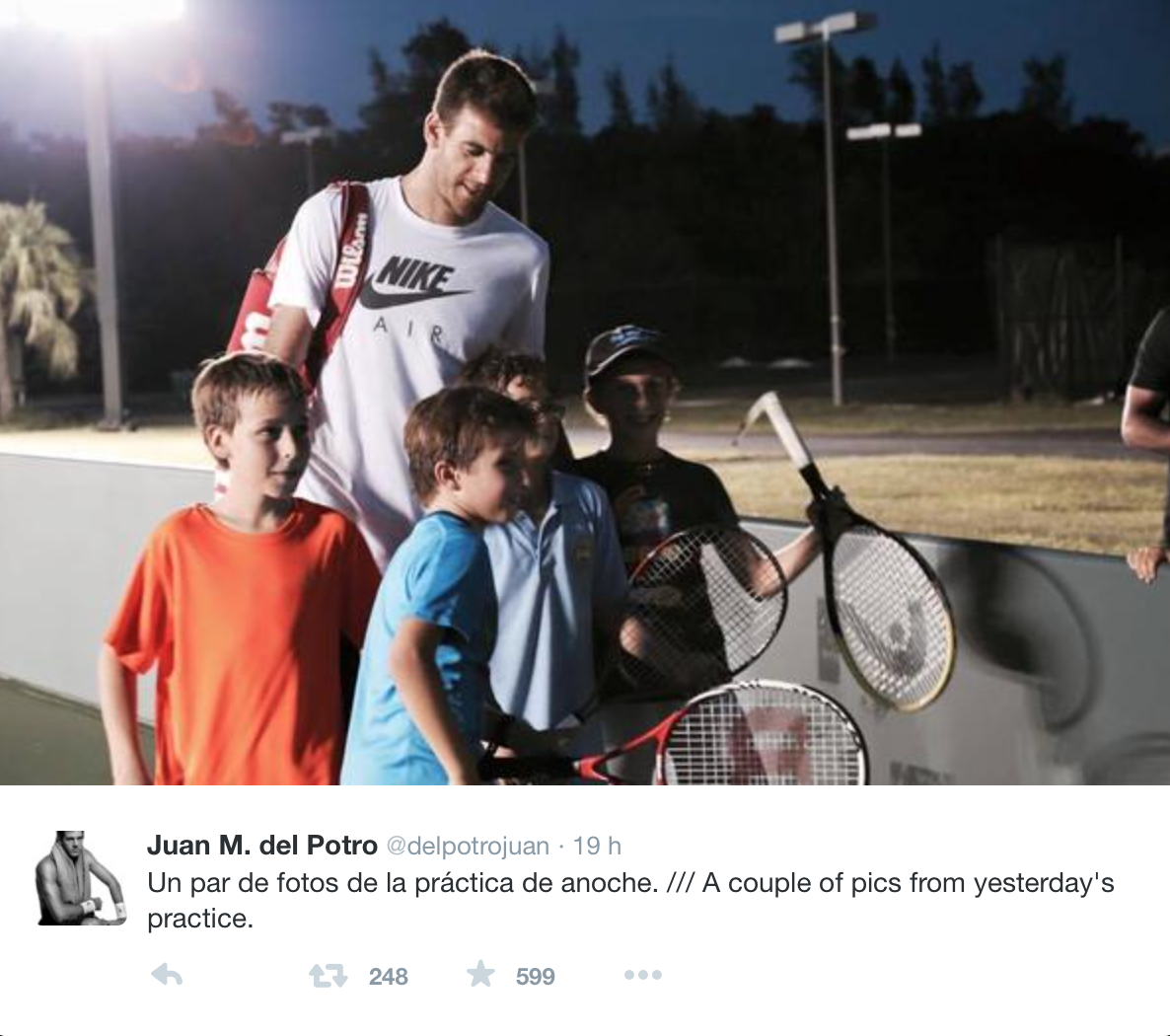 11- Serena Williams (NE).
Serena Williams, who wasn't playing this week, said on Instagram that she had a "new project." If you understand what it is...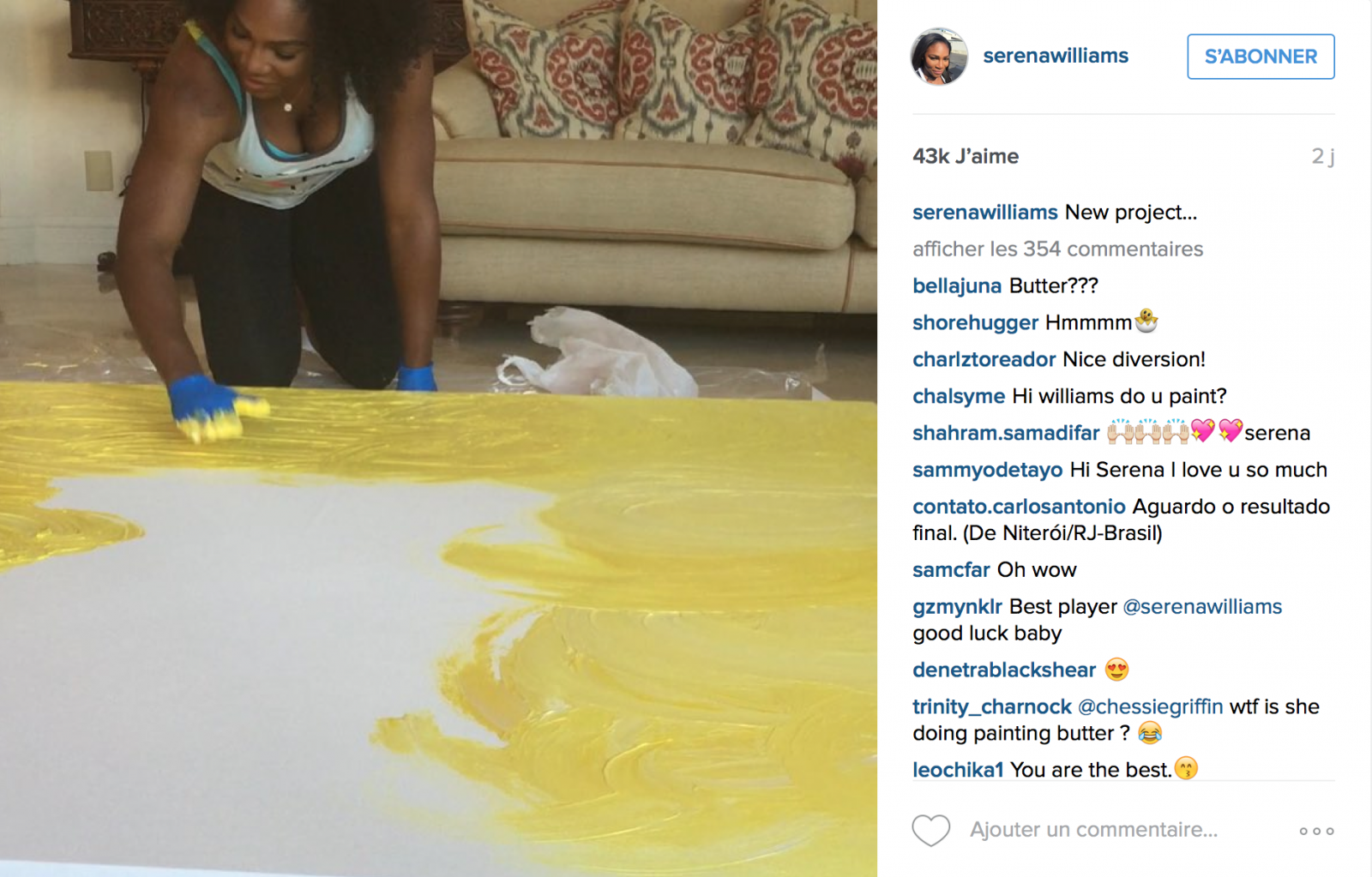 But that's not all. In Chicago, the American met a woman who, in her own words, "stole her style."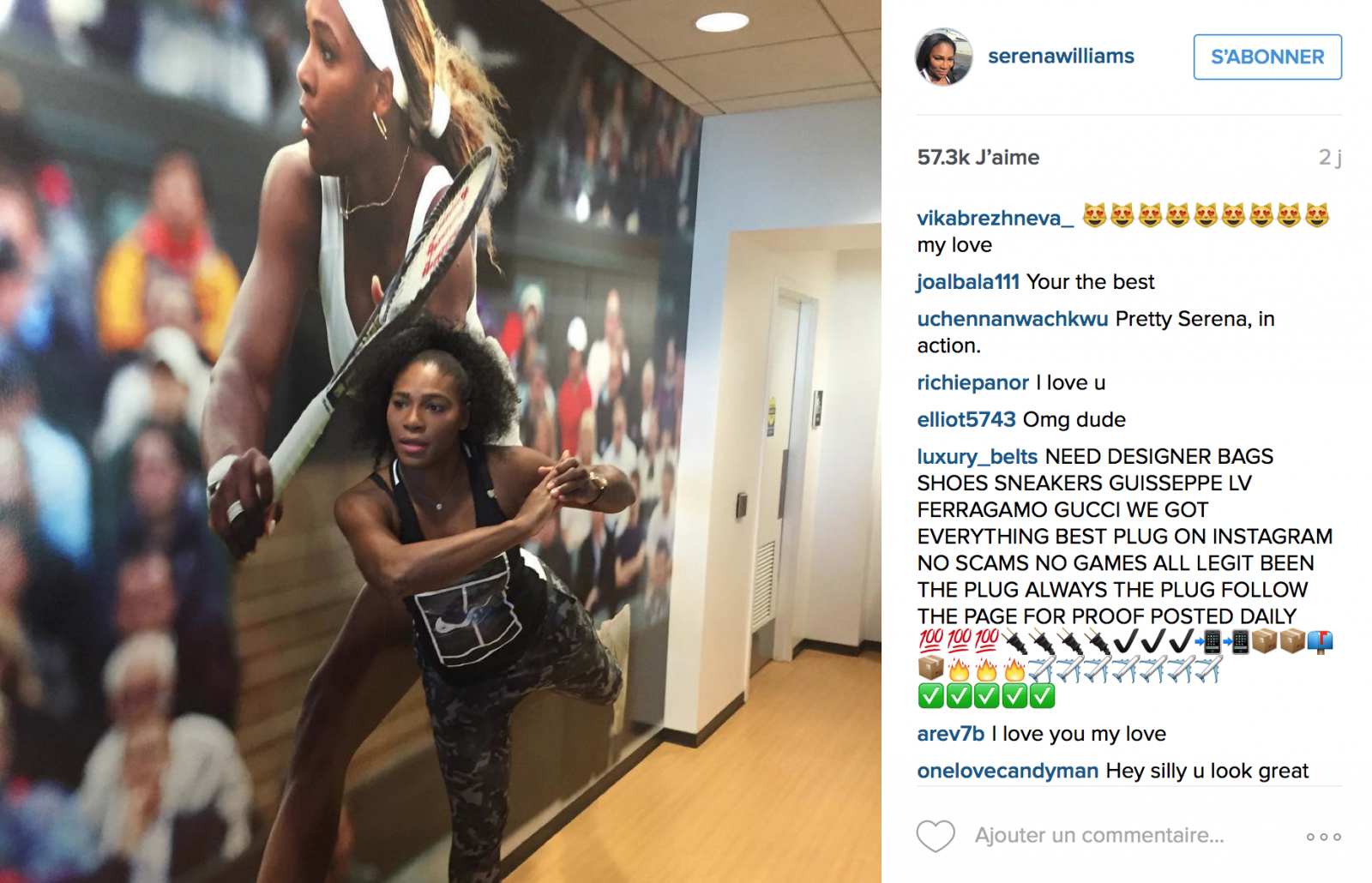 American humour?
12- Kei Nishikori (+1).
Before being eliminated in the third round of the Shanghai tournament by Kevin Anderson (7-6, 7-6), Kei Nishikori defeated the Australian Nick Kyrgios with some great shots...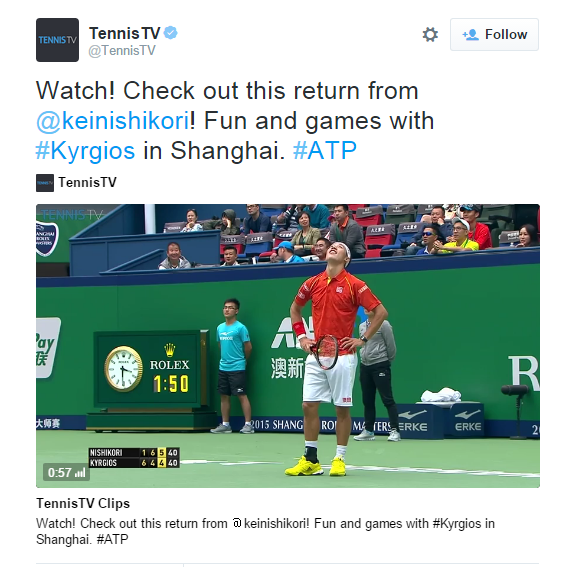 Nishikori who showed us a beautiful style of dress at the Asian tournament party.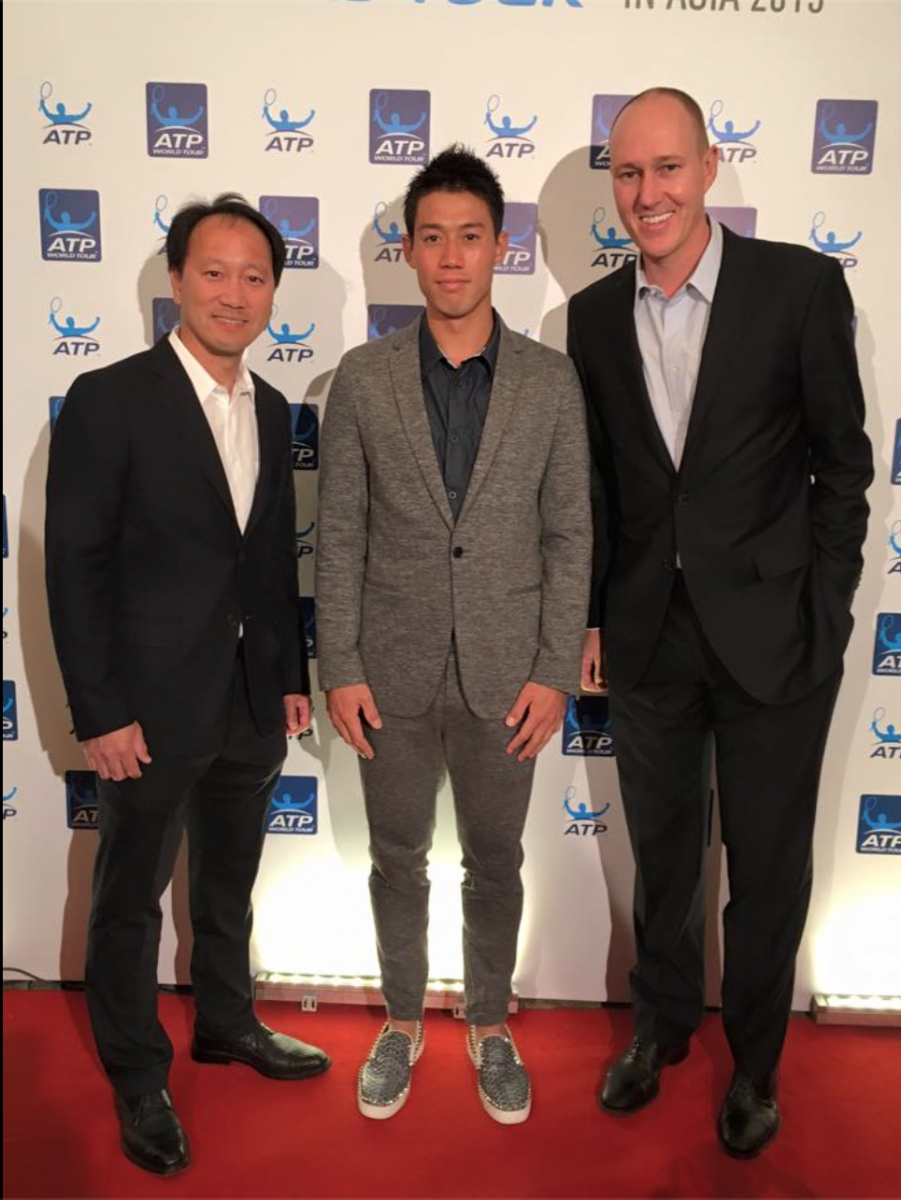 13- Stan Wawrinka (-11).
Stan Wawrinka celebrated his title in Tokyo by eating a pancake with some Nutella, the day after his victory against Benoit Paire.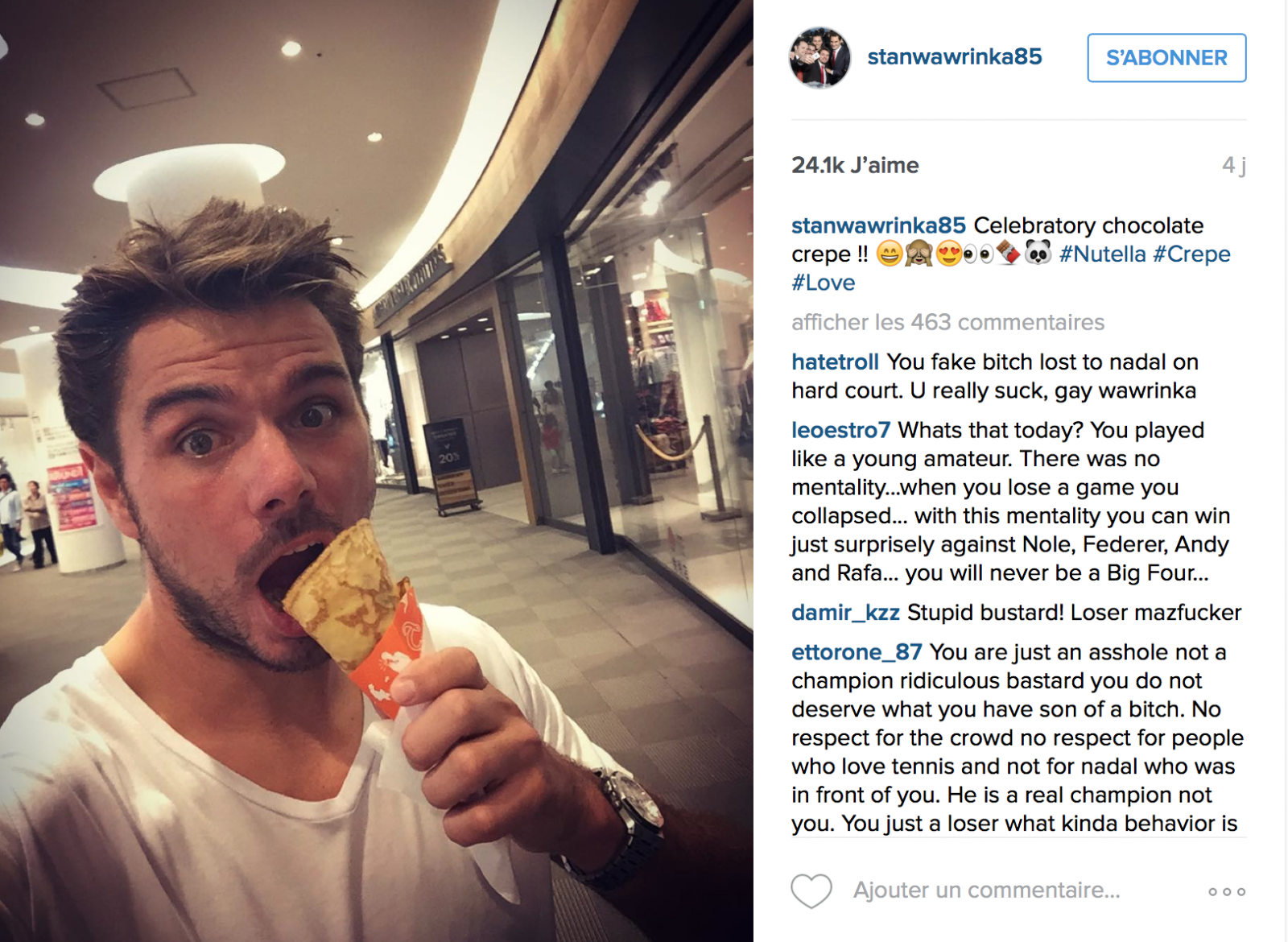 The Swiss won't have anything to celebrate this week, after being defeated by Rafael Nadal in the quarterfinals of the Shanghai tournament (6-2, 6-1). Note that he will begin his 2016 season in Chennai, India. It's already there that he started the year 2015 with a first title.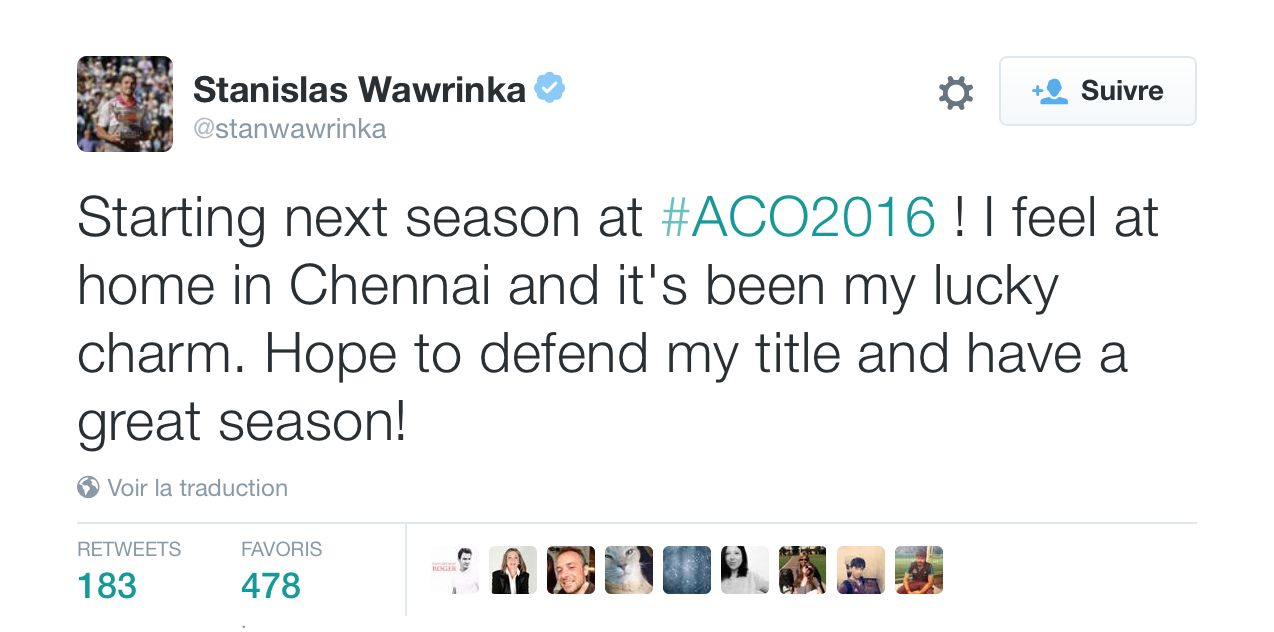 14- Victoria Azarenka (NE).
Victoria Azarenka didn't play this week, but she fought against the cold.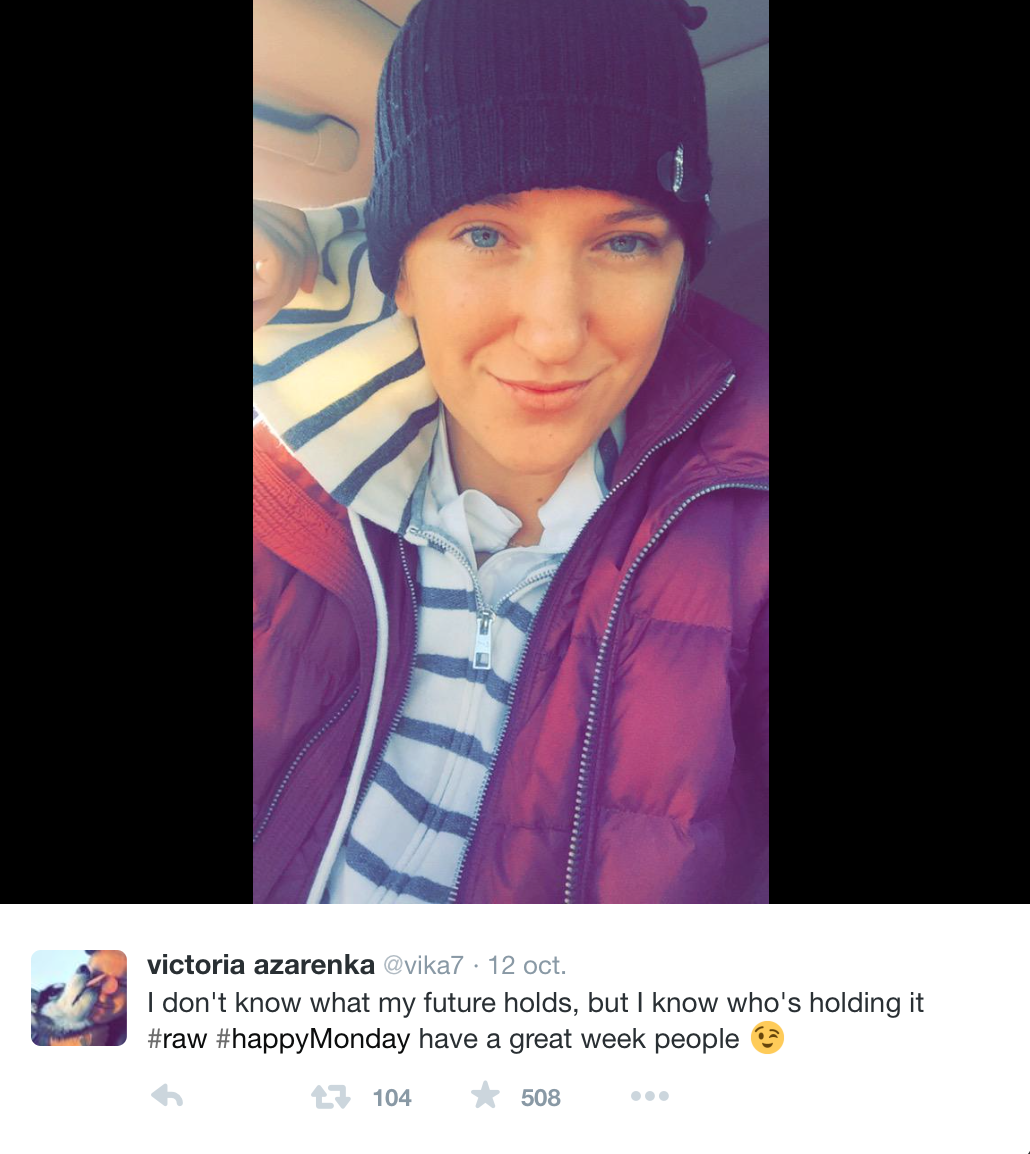 The Belarusian likes Tupac. Or perhaps above all the message of this song: "Keep your head high."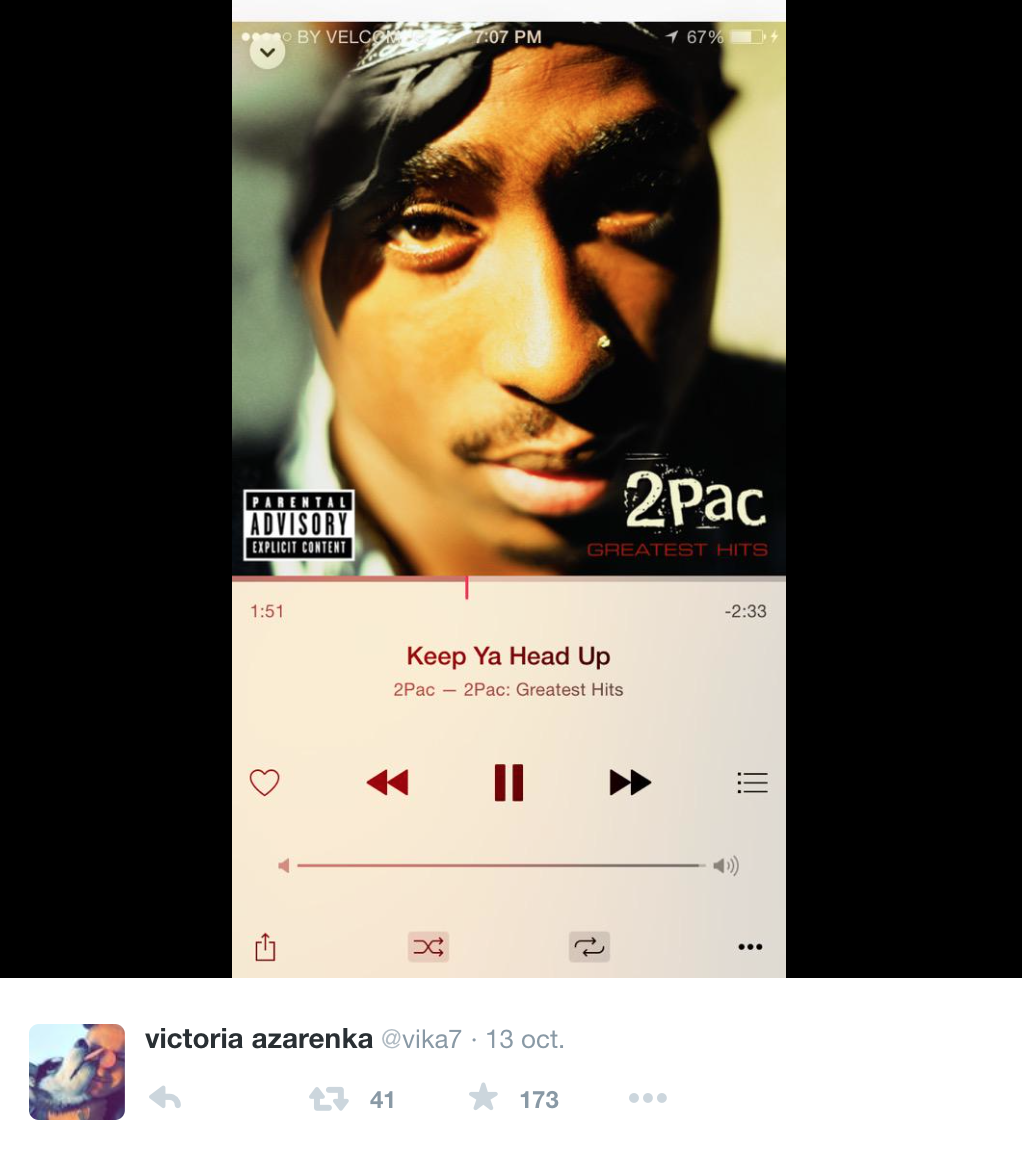 15- Milos Raonic (NE).
China doesn't really suit Milos Raonic. Eliminated in the first round in Beijing, the Canadian did slightly better in Shanghai by reaching the third round, where he came up against Rafael Nadal. In the first round against the Brazilian Thomaz Bellucci, he used his qualities on the volley.
This week we also learned that Raonic was a big fan of the Blue Jays, Toronto's baseball team where his friend Jose Bautista is playing.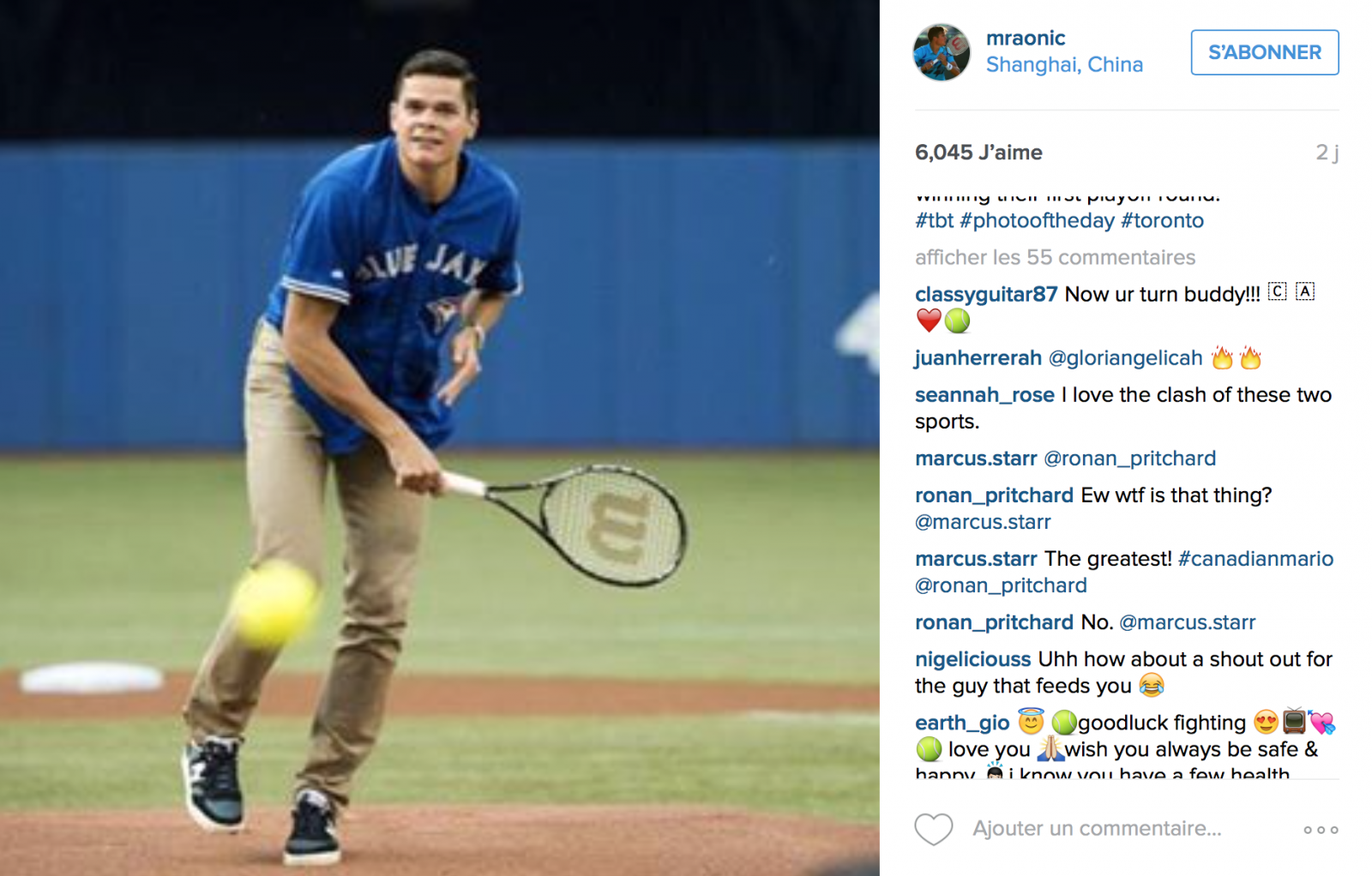 Out:
Muguruza, Bacsinszky, Karlovic, Wozniacki, Fognini, Cilic
By Quentin Moynet