It is thanks to an eighth title this season and a very important activity on social networks that this tennis player took the lead of the funny WeAreTennis ranking this week. Who is it? Just click to discover.
He might have already dominated outrageously this 2015 season and be sure to start the next one as world number one, it's still not enough for him: Djokovic won again, like all the time lately, and takes logically the top spot of the WAT ranking before the other great winner of the year, Wawrinka, and Sharapova in fashion week mode.
1- Novak Djokovic (+1).
Oh how surprising, Djokovic won again! This time it was at the China Open with the anticipated final against Nadal. Except that there was never really match between the two. The match was done and dusted in two small sets (6/2 6/2). Next.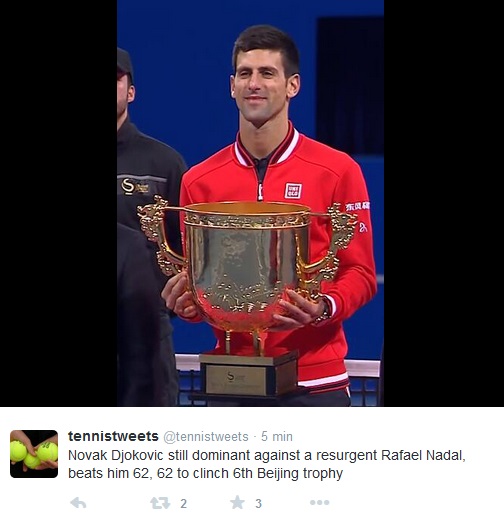 In any case, the "Djoker" seems to enjoy China and didn't forget to pay tribute to his help on site.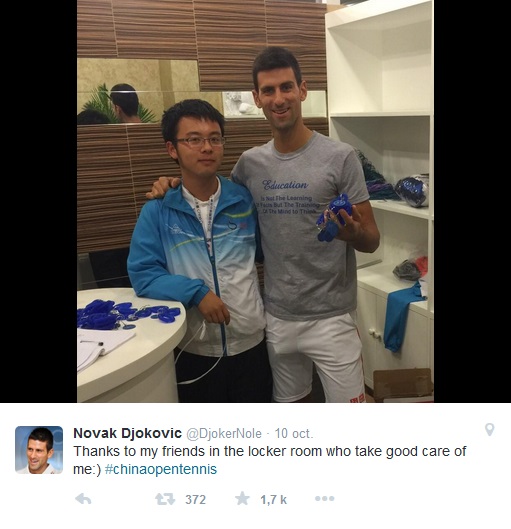 This week in the wonderful world of Nole, we also saw that he was wearing shoes in his image....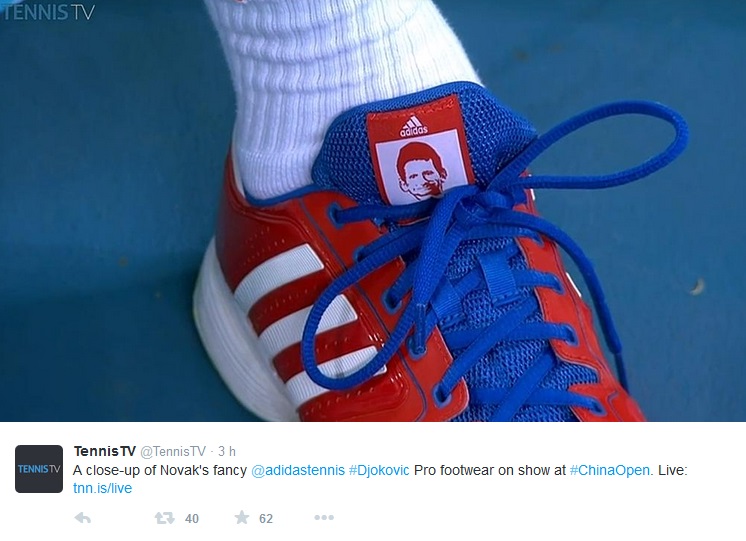 ...That his wife arrived on social networks...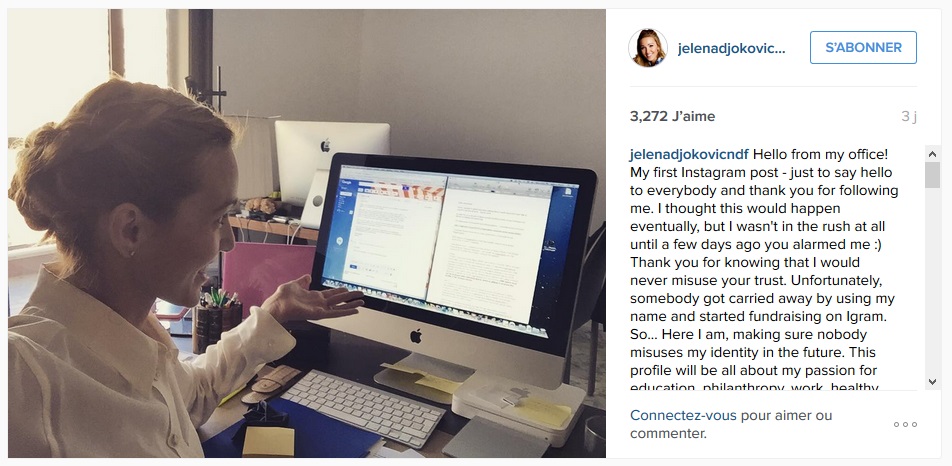 ...That he had had time to visit the Great Wall of China...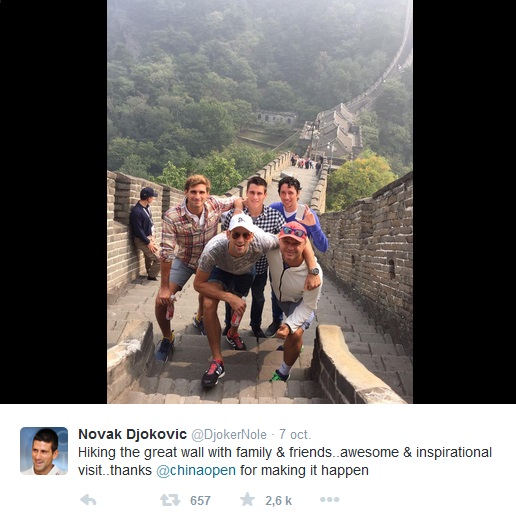 ...And that he had fun playing with his brother in a doubles match.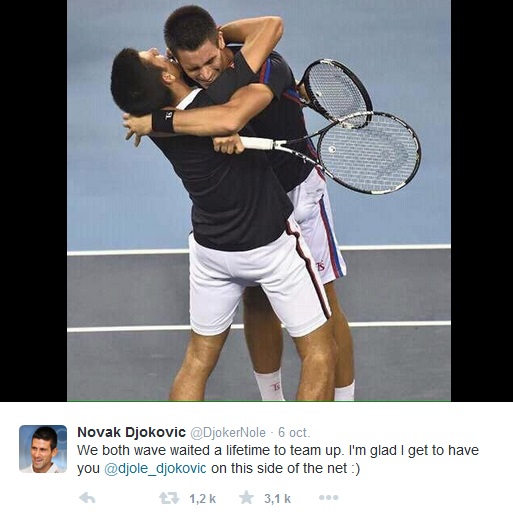 Djokovic's life >>>> All the others.
2- Stanislas Wawrinka (NE).
Here it is! Fourth title this season for Stan The Man in Japan, with an easy victory (6/2 6/4) in final against his mate Benoît Paire.
And obviously the two friends were delighted with this friendly match at the top.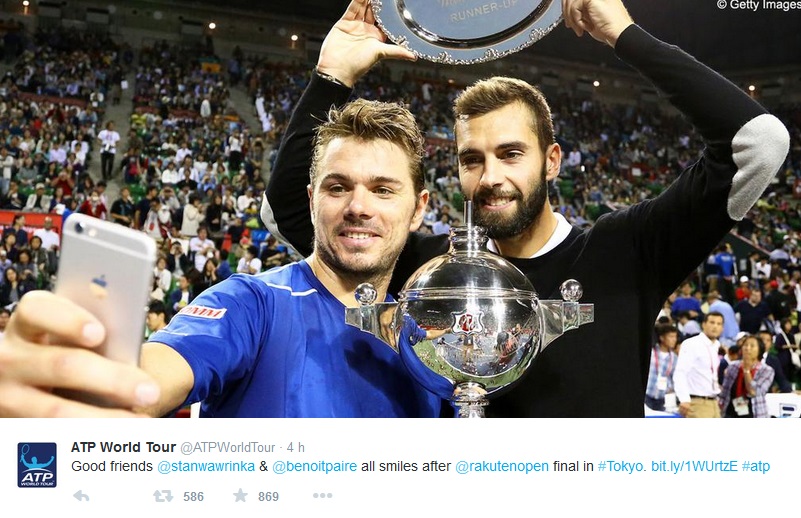 A crazy statistic for the Swiss: it is now his seventh straight final won on the ATP tour. His last defeat in final goes back to June 2013 on Rosmalen's grass against Nicolas Mahut.
3- Maria Sharapova (+1).
How can Sharapova be on the podium this week without touching a single yellow ball? Oh, simply because the beautiful Russian was at the Paris Fashion Week and that she remarkably represented the tennis world. As she knows how to do: with class.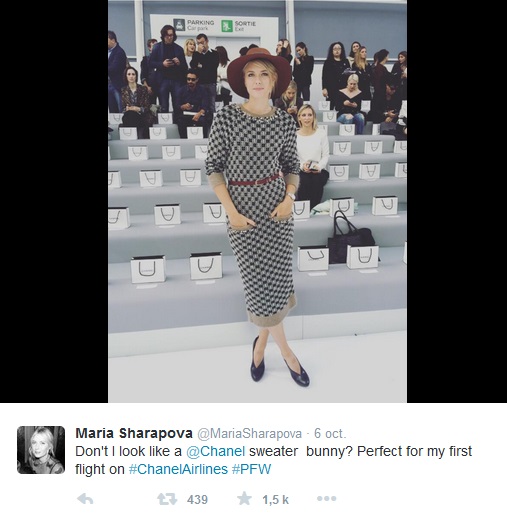 And hey, now she knows what she will wear this winter!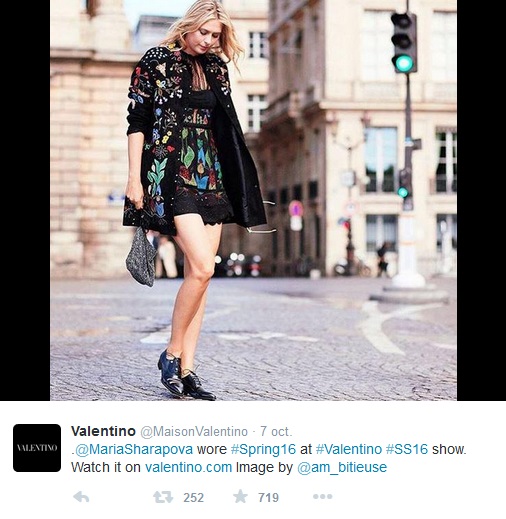 4- Rafael Nadal (+3).
The journey of Nadal at the China Open ended sadly, without sufficient weapons to beat Djokovic. Nevertheless, the Spaniard that everyone buried a little quickly rediscovered the taste of victory in China, including this beautiful battle won in quarterfinal against Jack Sock, while he had one set to make up to.
And see our dear Nadal regain contentiousness and after-match smile feels really, really good.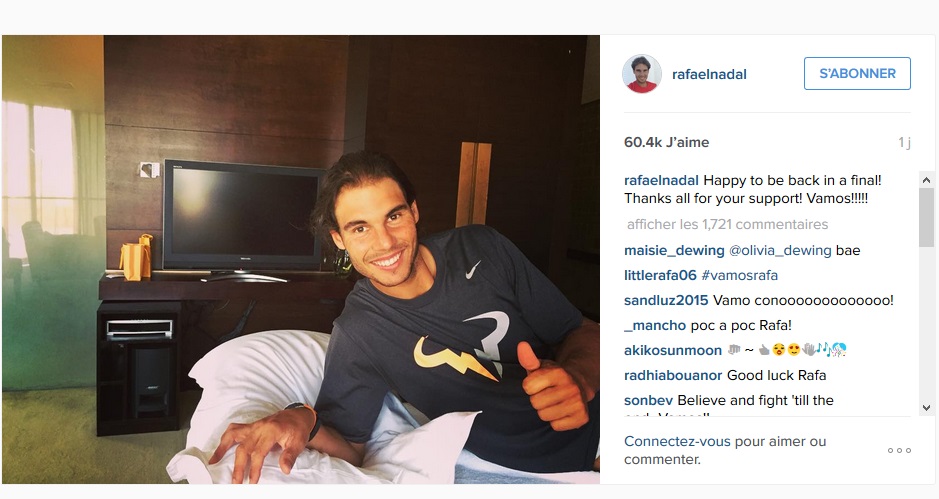 5- Benoit Paire (-2).
Amazing 2015 season for the French, not so unlucky finalist of the Japan Open, defeated by his friend Stan Wawrinka after a fantastic journey and victories against Dimitrov, Baghdatis, Kyrgios and Nishikori at home. Just that.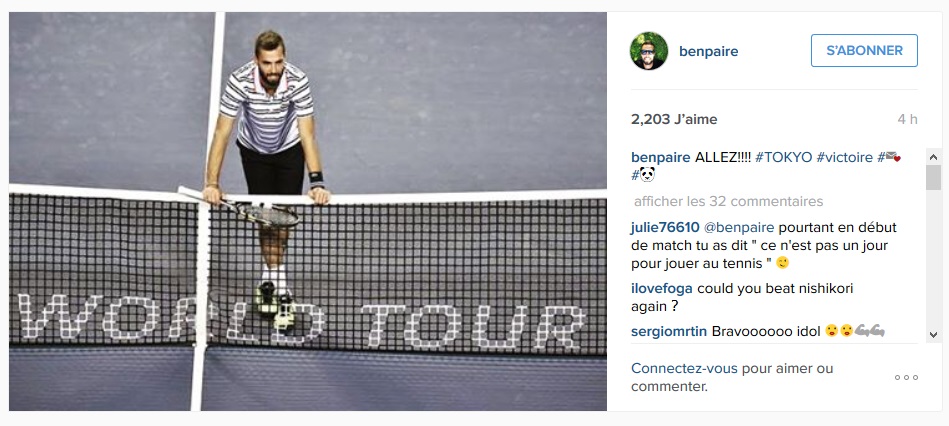 And all this while continuing to make the show, like when he took a little nap on the side of the court at the middle of a match!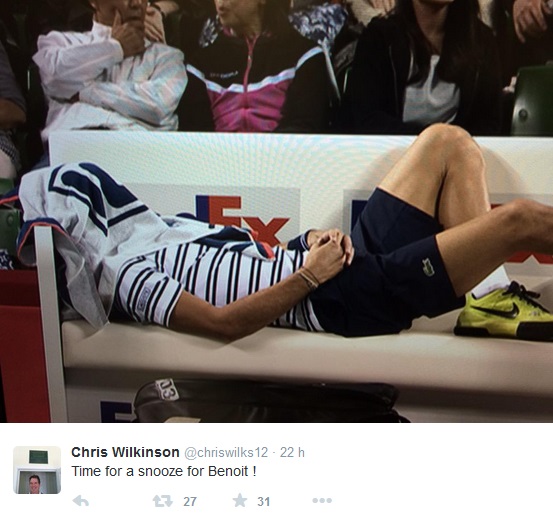 2015 for Paire? A first ATP title in July (Bastad), a first 4th round in a Grand Slam tournament (US Open) and then a first final in a 500 tournament. Result: after having to go through the qualifying to compete at the Australian Open a few months ago, he's already certain to start the next edition as a top seed. Well done.
6- Garbine Muguruza (NE).
For the girls this week, there was only one WTA tournament on the program and it's one of the girls of the moment, Garbine Muguruza, who won it.
This is the first title of the 22-year-old Spanish player, also finalist at the Wuhan Open the previous week and surprise finalist at Wimbledon this summer. Beware: she might try and be world number one in the next few years.
7- Timea Bacsinszky (NE).
What a progression for the Swiss this season, whose journey at the China Open only ended in final against Muguruza. It was Bacsinszky's fourth final in 2015 (for two victories in Acapulco and Monterrey), whereas she had only played two finals in her whole career before. Obviously she smiled a lot and signed on many cameras.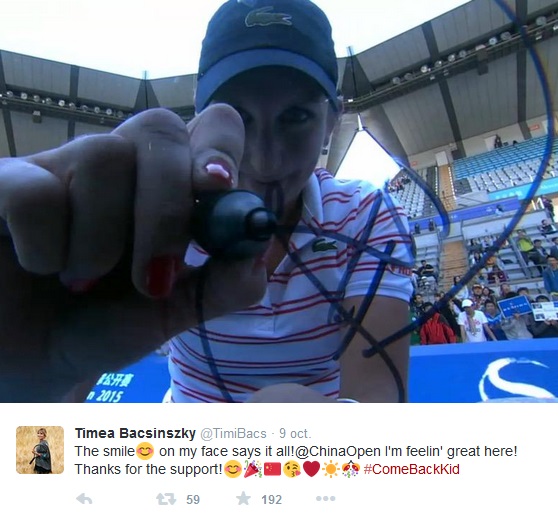 8- Ivo Karlovic (NE).
The record holder of the week is a tall Croat who defeated his compatriot Goran Ivanisevic in the competition of who will manage the highest number of aces: 10,247 exactly for "Karlo". This is the total he reached in order to become number one of all generations in the specialty.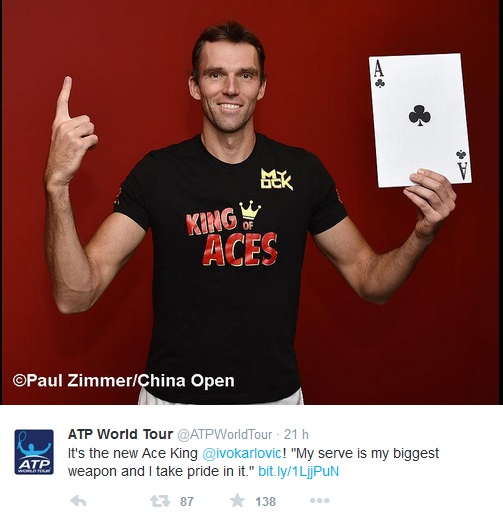 However, it didn't allow him to win against Pablo Cuevas in the second round of the China Open. Oh, and Karlovic is still as good with his fans on social networks with a very simple and honest game of Q & A.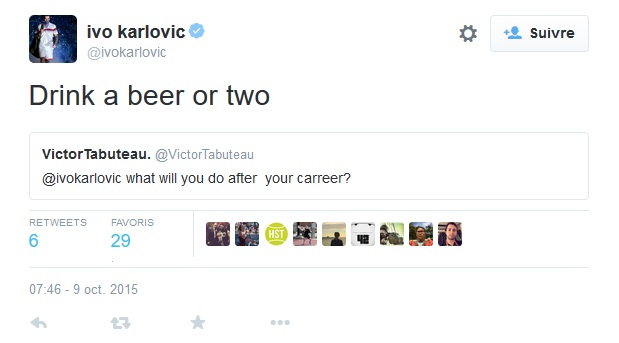 9- Nick Kyrgios (/).
Contrary to appearances, Nick Kyrgios worked hard at the Japan Open, even though he's been eliminated after a thrilling quarterfinal against Benoit Paire, the man of the moment. What is sure however, is that the Australian loves making the show. Yes, like a kid!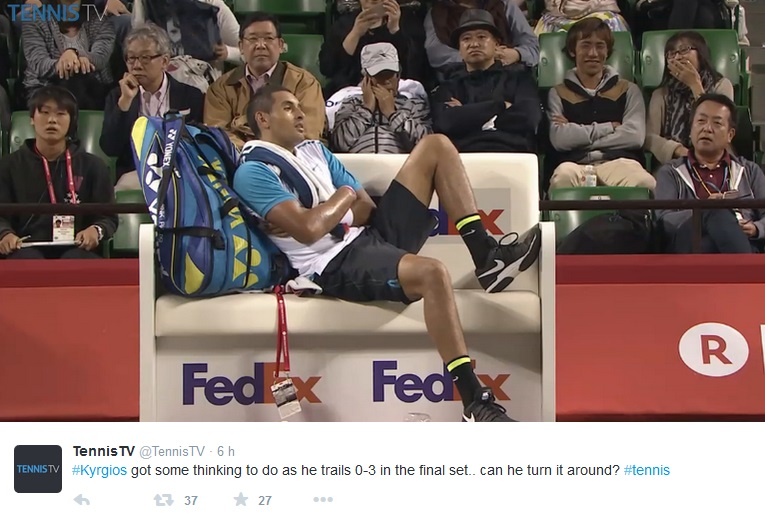 But the controversial Nick Kyrgios, it's not only an attitude and a bad boy behaviour, it's also pure talent...
And a heart of gold as evidenced by the decision to help in his own way a foundation that helps develop tennis in underprivileged families. In his own way means that he will be offering 50 $ for each ace succeeded by the end of the season.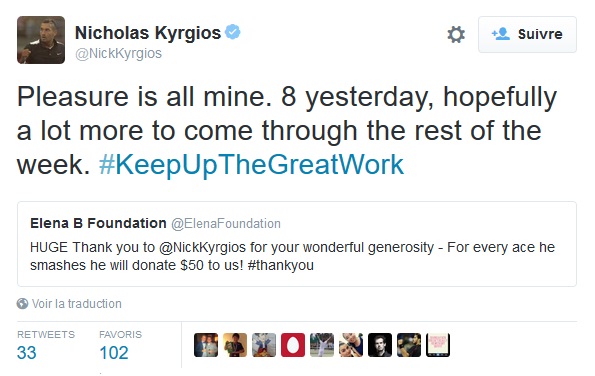 But the Australian isn't only that, he's also a capillary inspiration apparently…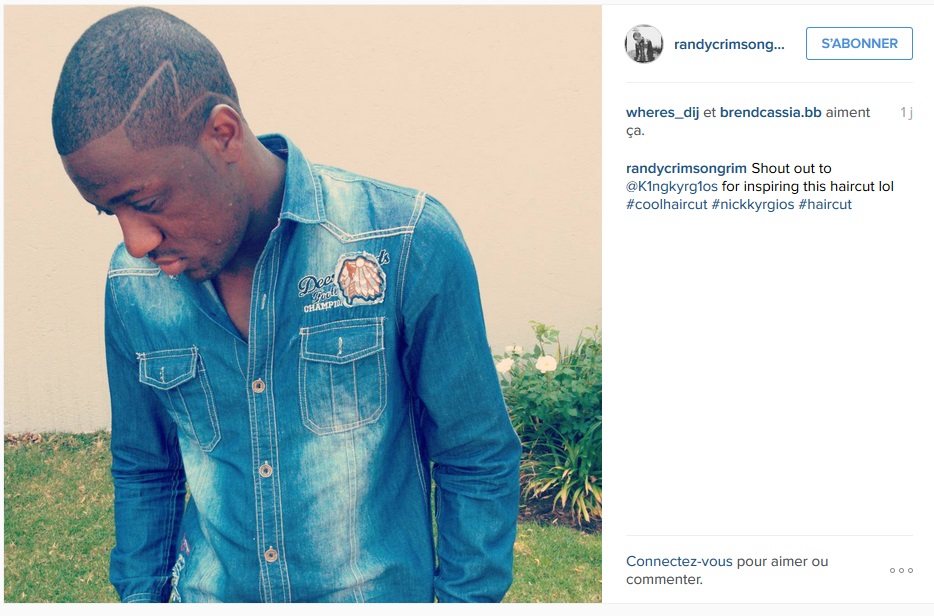 10- Caroline Wozniacki (+2).
Let's be honest, we expected a little more from the Dane at the China Open. Better than this elimination in the third round at the end of a poor match against Angelique Kerber. But Wozniacki won't keep such a bad memory of this week since in football news, the German Jürgen Klopp arrived on the bench of her favourite club, Liverpool. And this kind of news, it's obviously nice for the fan that she is. A supporter who loves a good pun.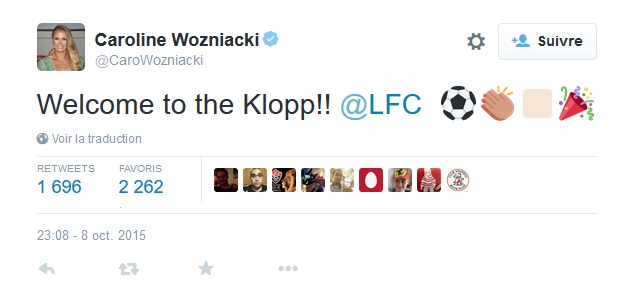 And this premature elimination allowed Wozniacki to go home a little earlier. At Odense? No, the Dane now lives in Monaco!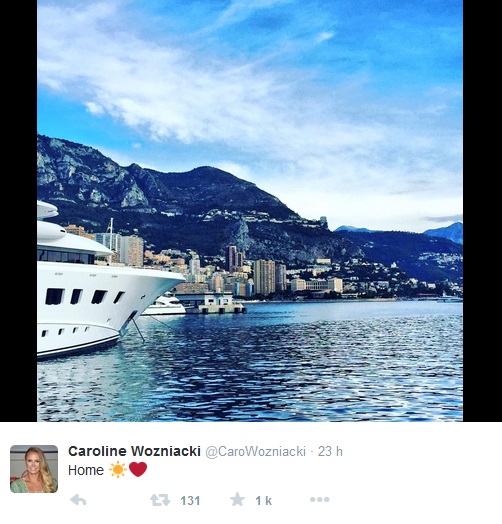 11- Juan Martin Del Potro (NE).
Oh yes, here's the good news of the end of season: Juan Martin Del Potro won't give up despite the cruel series of physical problems he suffered and continues to prepare like a madman in an attempt to complete his career on a better note than on the current feeling of frustration. And he wants people to know.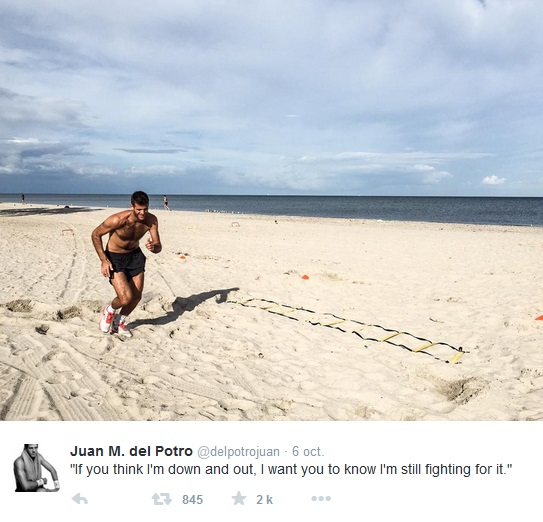 Come back soon John Martin of the Beam. We miss you madly.
12- Fabio Fognini (NE).
The journey of the Italian at the China Open in Beijing stopped in the semifinals with a defeat against Rafael Nadal after a hotly contested game. Sad? Yes a bit, but Fognini is already over it and is now focused on the second Chinese big tournament in Shanghai. Hop, hop, hop!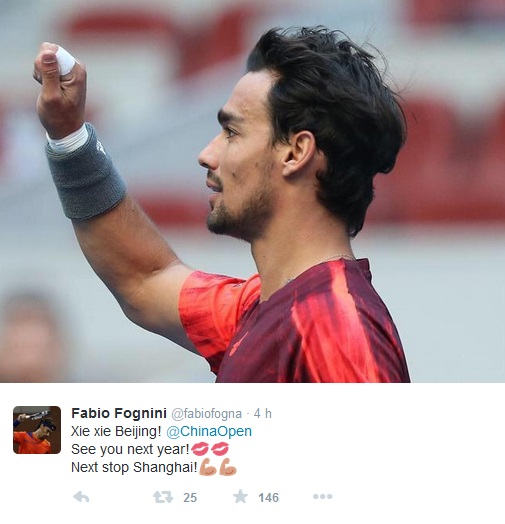 And the Italian doesn't care for the glitter and glamour, he knows that he's world number one with the couple he forms with his compatriot Flavia Pennetta.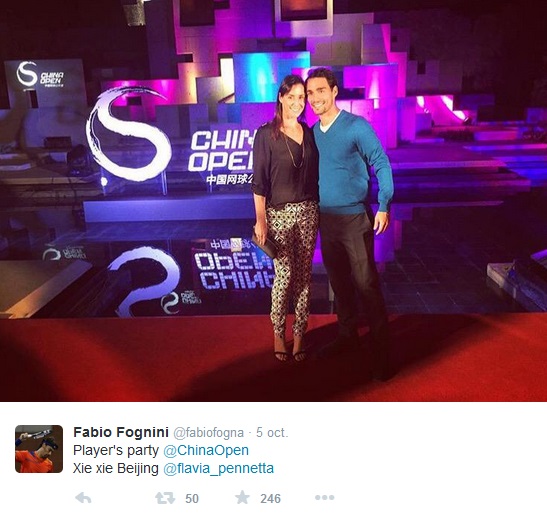 13- Kei Nishikori (NE).
He was the local star of the Japan Open, obviously. Kei Nishikori is a God at home and popular pressure around him is pretty mad. See for yourself.
A pressure which is hard to handle, since he's been eliminated in the semi-finals by Benoit Paire, from a tournament of which he was seeded number two (behind Wawrinka). Crafty, Nishikori still managed to dodge some of the solicitations from his compatriots by using... a double.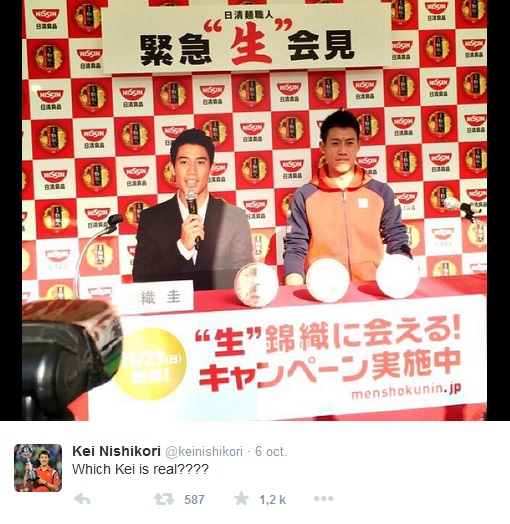 14- Marin Cilic (NE).
The statistic of the week: 28 matches in a row that Marin Cilic hasn't lost against an American tennis player. The last Yankee to defeat him was James Blake in 2008. And his last victims this week are called Donald Young and Steve Johnson at the Japan Open. A Japanese tournament which ended in the quarterfinals for the Croat but that he still thoroughly enjoyed, at least for the quality of the local cuisine.

15- Roger Federer (-9).
A week of tennis wouldn't really be a week of tennis without news from the king. He's fine apparently, he arrived in China for the Shanghai Rolex Masters, which take place this week.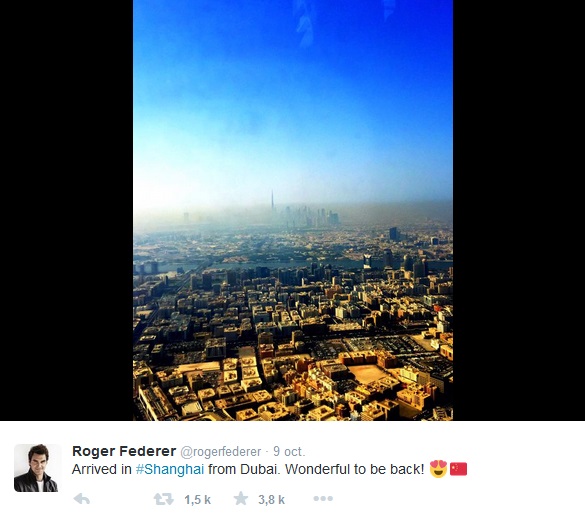 And good news for him, his fan club seems to be already going full throttle.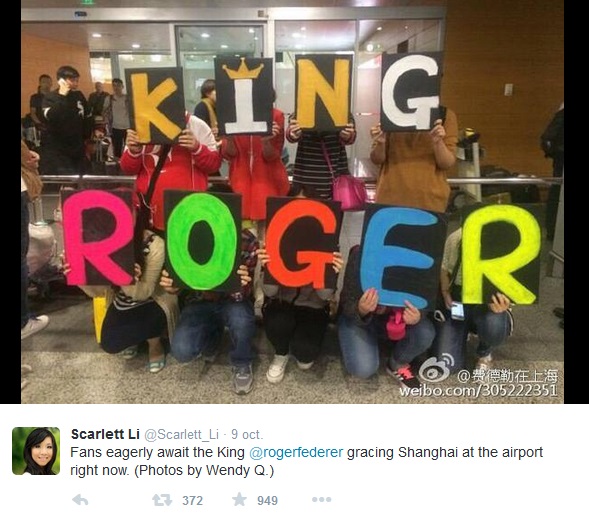 Out:
Venus Williams, Mannarino, Konta, Ivanovic, Berdych, Ferrer, Bangoura, Kudla
By Regis Delanoë