This week, the second fiddles made the show in Flushing Meadows. And even the ones who lost since it's a player that has already been eliminated that takes the lead of the funny We Are Tennis ranking.
This week, the second fiddles made the show in Flushing Meadows. Nick Kyrgios and Coco Vandeweghe were all over while the top seeds were experiencing mixed fortunes: defeats in the first round, easy victories, but also funny press conferences, a few rants and a training with Redfoo from LMFAO.
1 - Nick Kyrgios (NE).
A nap at the end of the first set…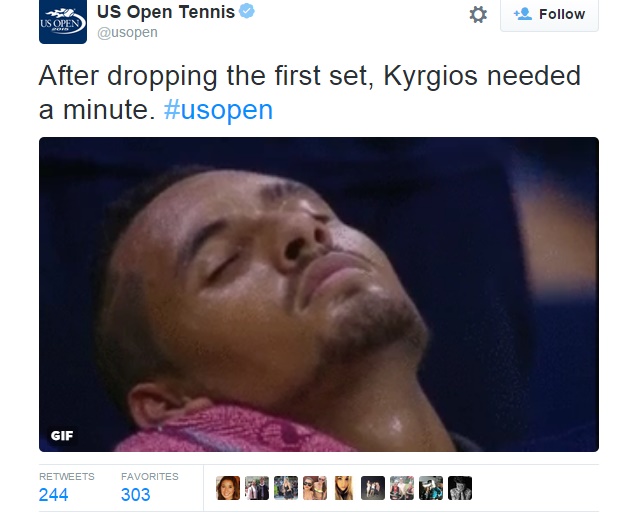 …A shot between the legs followed by a winning point…
…A racquet flying away…
…A fight with the umpire…
…Nick Kyrgios lost in four sets against Andy Murray in the first round but he's already the man of the week!
2- Coco Vandeweghe (NE).
Tennis experienced an historical moment on Tuesday 1st of September when Coco Vandeweghe, 45th in the world rankings, was interviewed for ESPN by former player Pam Shriver at the end of the first set of her match against Sloane Stephens.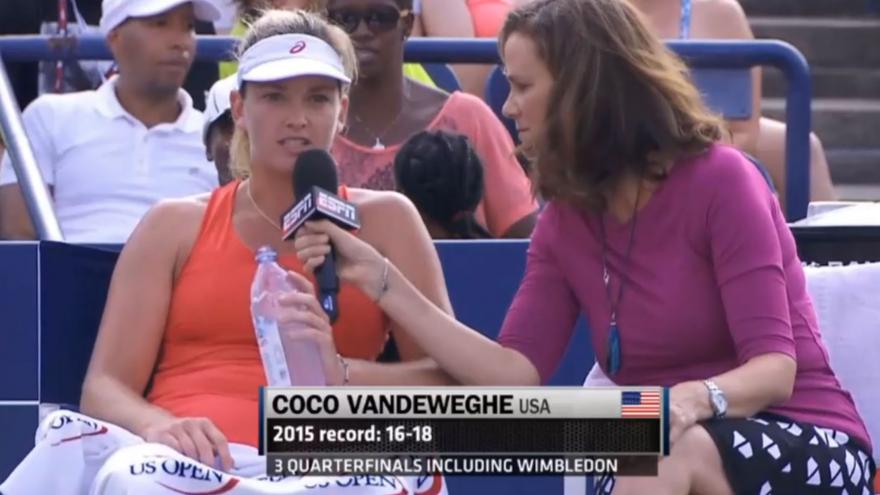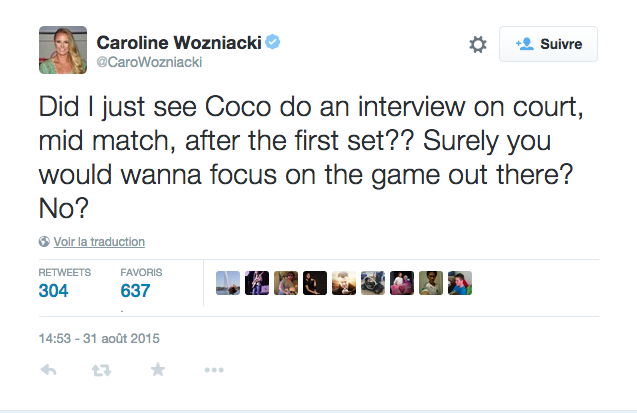 If Carole Wozniacki was quick to express her astonishment on Twitter...

... The young American didn't seem disturbed by this break in her match, since she won against the top seed number 29, 6-3, 6-4. Before of course collapsing in the second and smashing down her equipment.
3- Roger Federer (-2).
Winner without losing a set in Cincinnati, King Roger continues to walk on the tennis world, at 34 years old. At the US Open, he started smoothly against the Argentine Leonardo Mayer for an expedited conclusion: 1 hour and 17 minutes in three straight sets (7-6, 6-3 6-2). The Swiss even said to have taken this match "too seriously": "I wasn't that confident. I took this match very seriously. I think that sometimes I even took it too seriously. I am happy to have played as well as I did." What else? Roger hit some winning returns.
4- Caroline Wozniacki (NE).
Caroline Wozniacki: « Just because you have been playing really well leading up to the U.S. Open, you're close to the top 10 again, doesn't mean that you should push my press conference out…» Answer of John Isner: « Now that I'm close to the top 10, Caroline is actually talking to me again. When I was ranked like 90 she would walk right by me. If I could get in single digits I think I can get some of Caroline's attention. That's my goal.» Caroline Wozniacki: «I was standing in the hallway and you walked straight past me…» John Isner: «I didn't see you». Caroline Wozniacki: « He says, I didn't see you. It happens twice in a row and I said, well, then look down.» John Isner: « I have to get in single digits. This is my incentive. Caroline talks to me if I get in single digits.» Caroline Wozniacki: « will you be on time then?» John Isner: «Yes, I apologise. That's my bad." The best press conference of the fortnight was held after the John Isner's match, easy winner of Malek Jaziri (6-2, 6-3, 6-4). In the role of the journalist: his friend Caroline Wozniacki, also easy winner against Jamie Loeb (6-2, 6-0).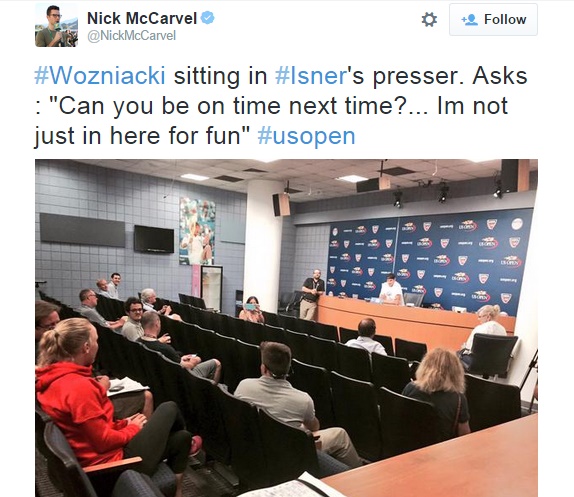 5- Novak Djokovic (-2).
Two small rounds, ten lost games, the first week of Novak Djokovic went really fast. Then the Serb had time to pose at a press conference with Mickey Mouse...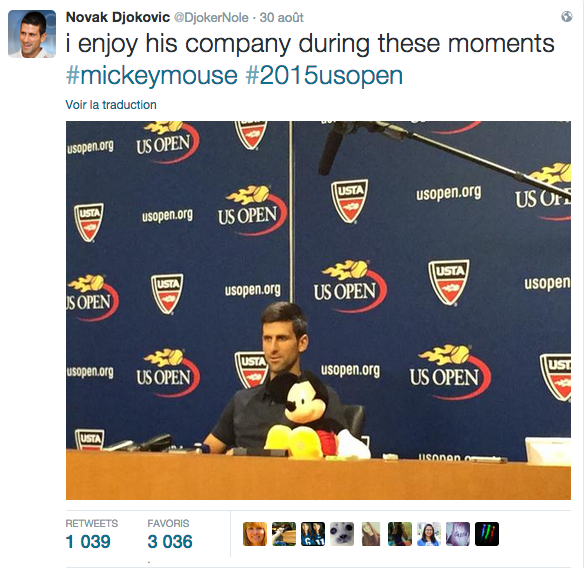 ... And (not very discreetly) plug a watch brand...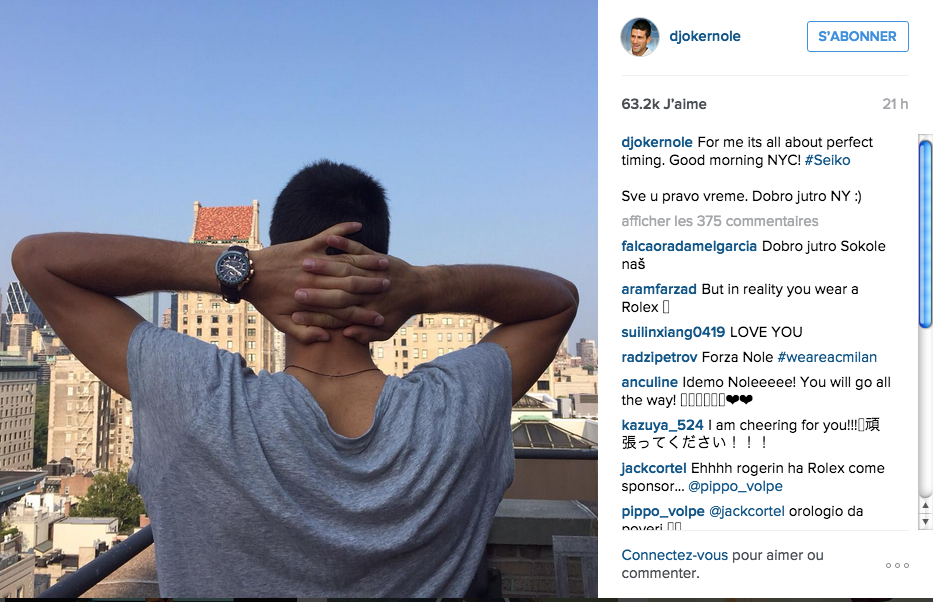 …And dance on country music.
6- Benoit Paire (/).
Even if he almost broke another racquet…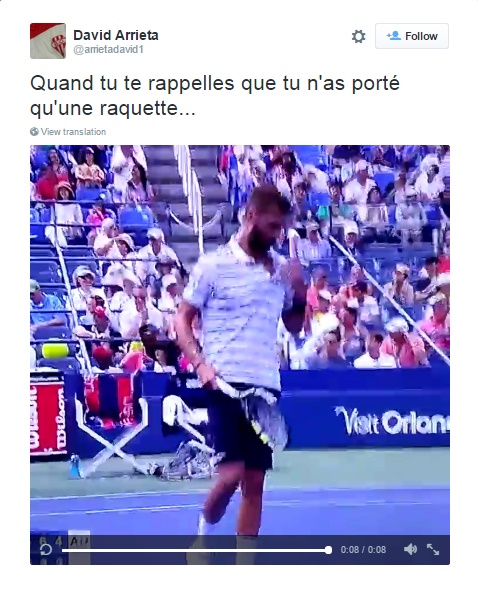 ...Benoit Paire made the show early in the week by winning against Kei Nishikori in five sets in the first round. Moreover, he hasn't been talking alone on the court only but also on social networks.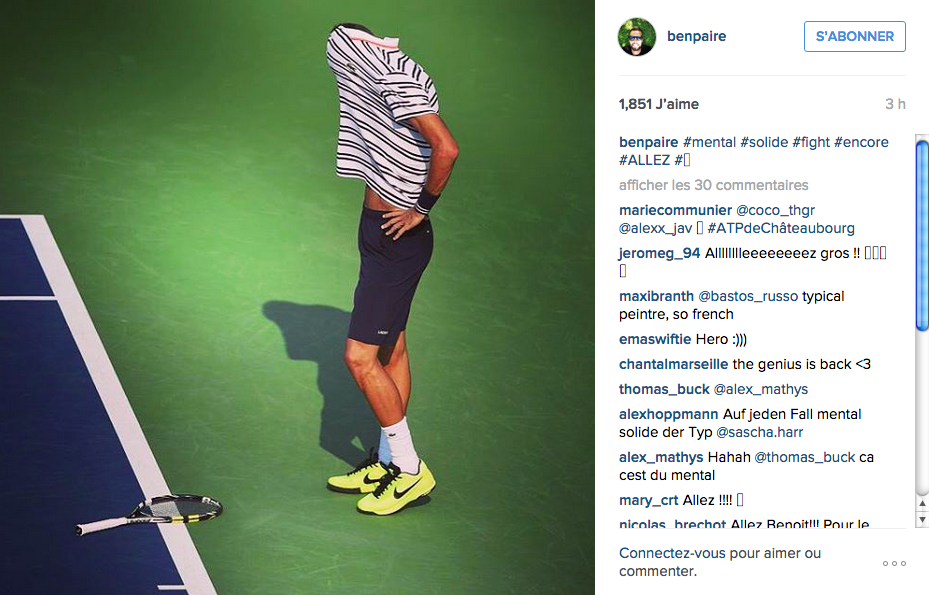 7- Lucie Safarova (NE).
The last finalist of the French Open, seeded No. 6, was defeated in the first round Monday by the Ukrainian Lesia Tsurenko (6-2, 6-1). She posted an explanation in the wake on her Instagram.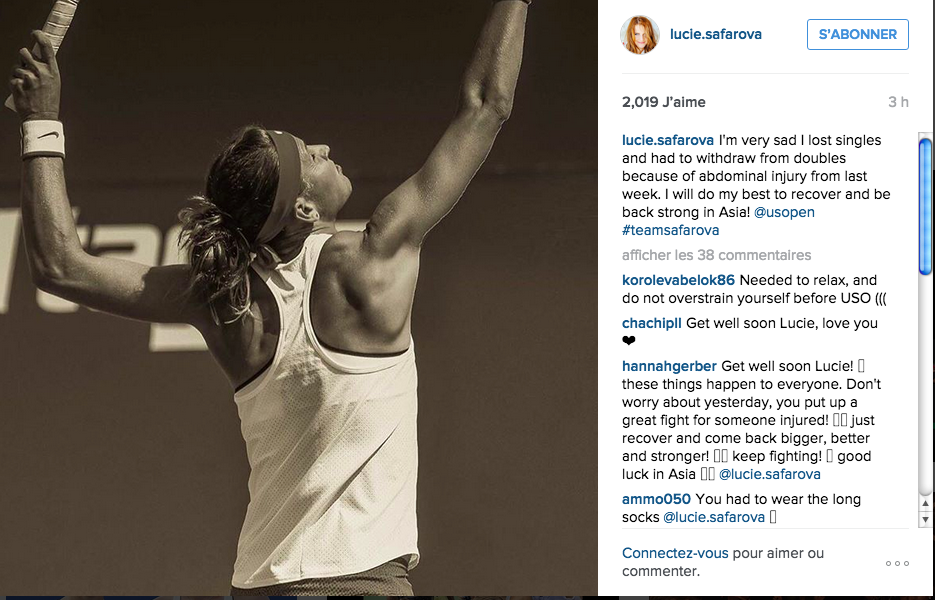 But the truth might be elsewhere. On Sunday, Lucie Safarova was training with Redfoo…
8- Andy Murray (-3).
Andy Murray had an intense week to say the least. He passed the trickiest first round of the tournament against Nick Kyrgios…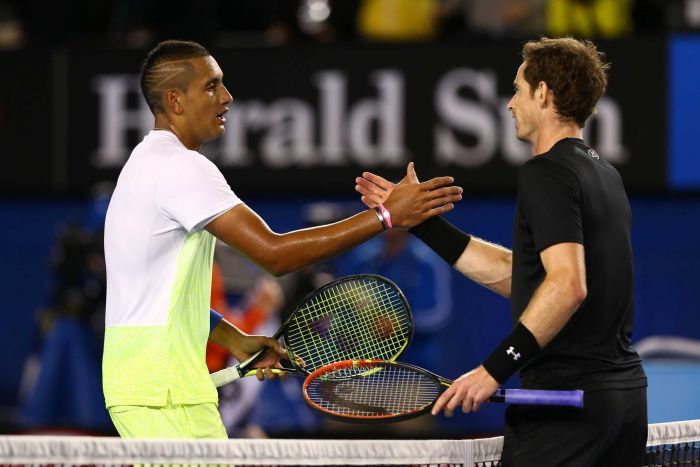 …. And talked about his wife Kim Sears to the New York Times. «Fame is not something she wants. She doesn't like being in the newspapers and that people comment on what she's wearing and her appearance," he said, before adding that she had "a very good sense of humour" and that she was "very protective and very loyal." We are reassured.
9- Rafael Nadal (-2).
7th in the world with 1200 points behind Tomas Berdych, Nadal is experiencing the worst season of his career. To the point that he erupted with joy as a young kid after winning the first round against the Croat Borna Coric, 33rd in the world (6-3, 6-2, 4-6, 6-4)...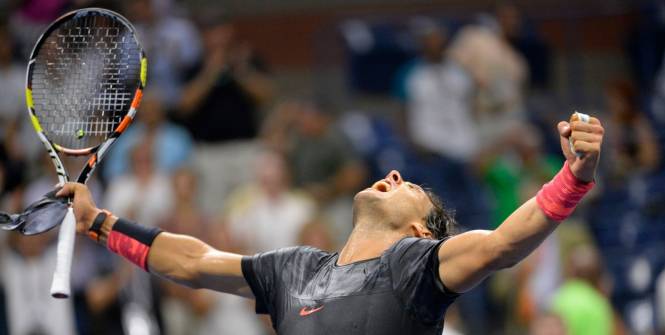 ...And all the pictures he posts on Instagram are an opportunity for a moment of introspection.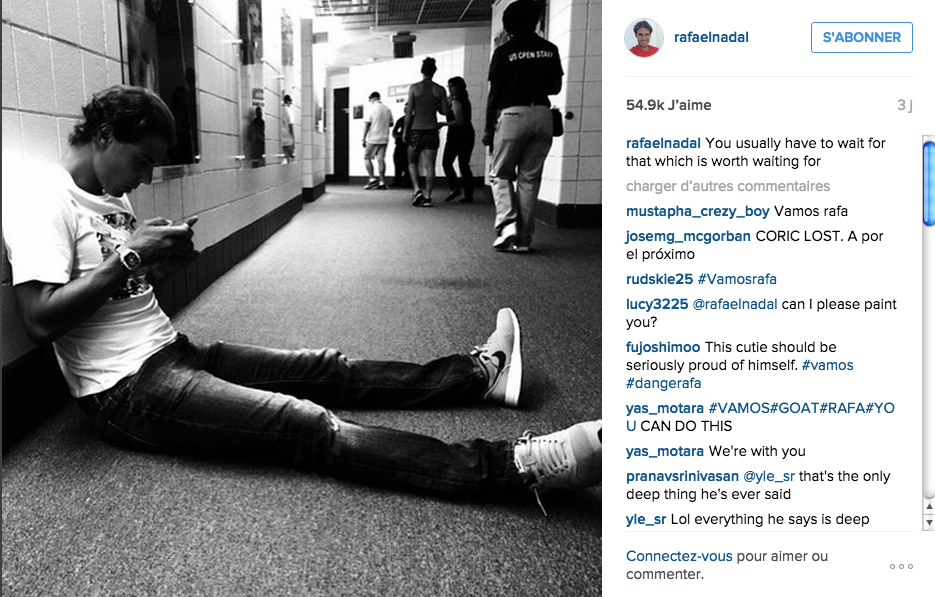 10- Océane Dodin (NE).
She hits hard, she makes the show, Oceane Dodin, 18, had everything to become the new hype of the New York fortnight. But after an incredible victory in the first round against Jelena Jankovic, seeded No. 21 and former world number one…
… The French collapsed in the second round against the Colombian Mariana Duque-Marino (6-1, 5-7, 6-2). Too bad.
11- Ana Ivanovic (+1).
While she said that she was in top shape live from Central Park the day before the beginning of tournament, the Serb lost in the first round against the Slovak Dominika Cibulkova (58th) in three sets (6-3, 3- 6, 6-3). Which didn't seem to scare her, because Ana Ivanovic takes things philosophically.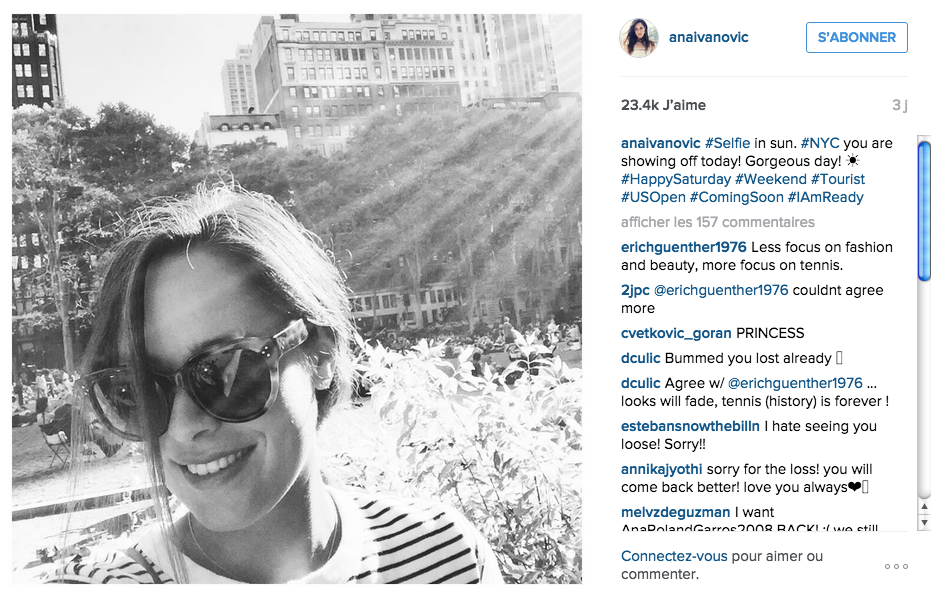 Besides, she's already back at her Spanish training camp...

12- Serena Williams (+10).
In the wonderful world of Serena Williams, the first rounds of Grand Slam tournaments are usually won without forcing too much. Two or three good shots, a battered opponent and the match is in the bag. Once the problems Vitalia Diatchenko and Kiki Bertens set aside, the American then had time to prepare her new Nike collection...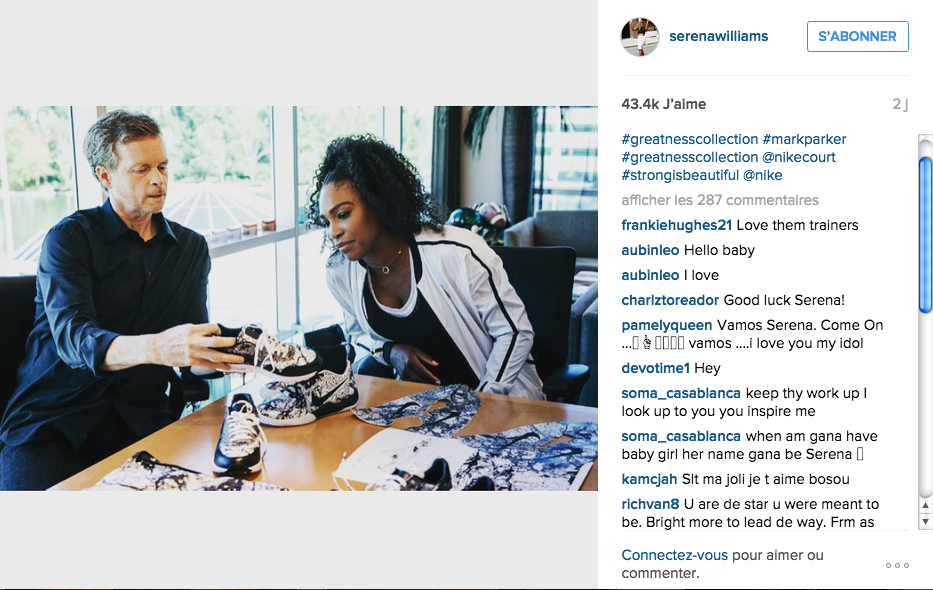 …To discuss with her fans on social networks…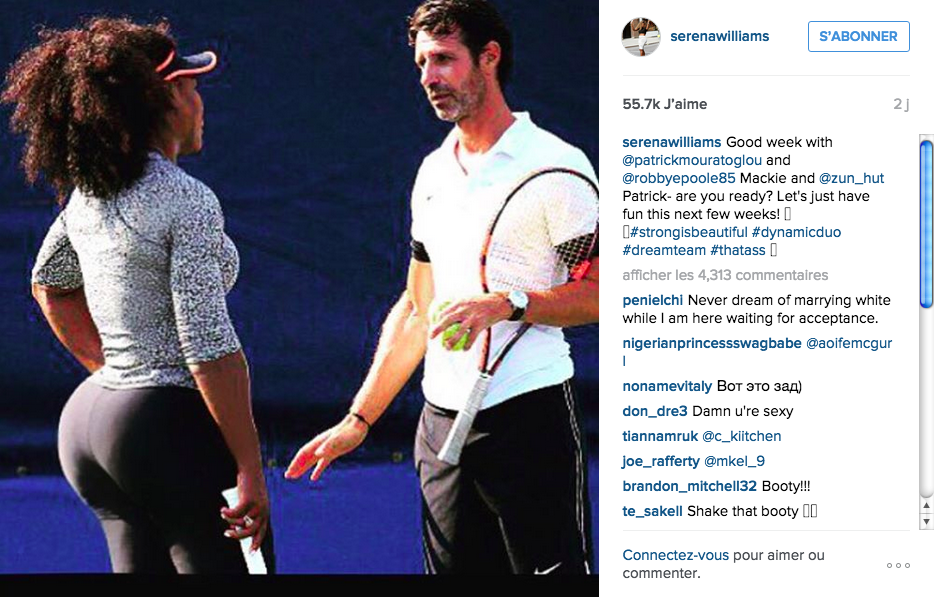 …And to present her new ad for BeatsbyDre.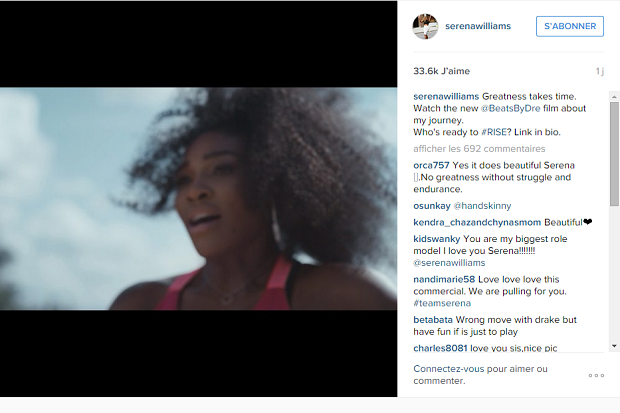 13- Tommy Robredo (NE).
A few classy shots…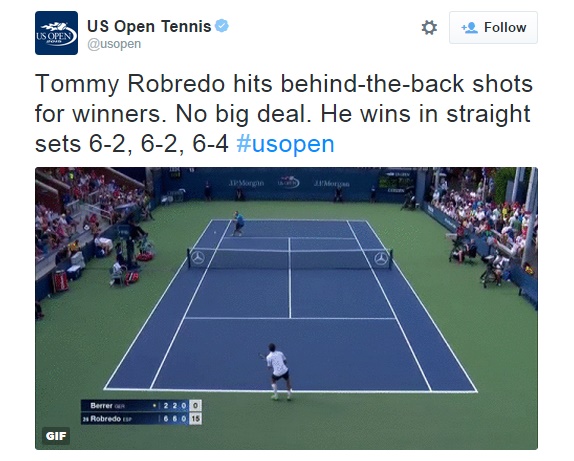 …. And an empty press conference, no doubt, the Spaniard is ending his career freewheeling.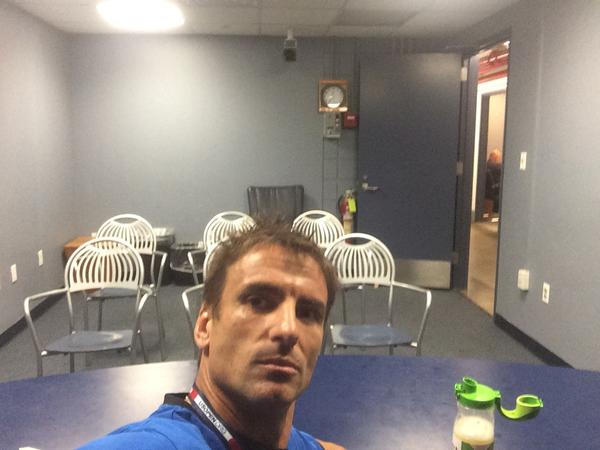 14- Fabio Fognini (NE).
A few fashion shots…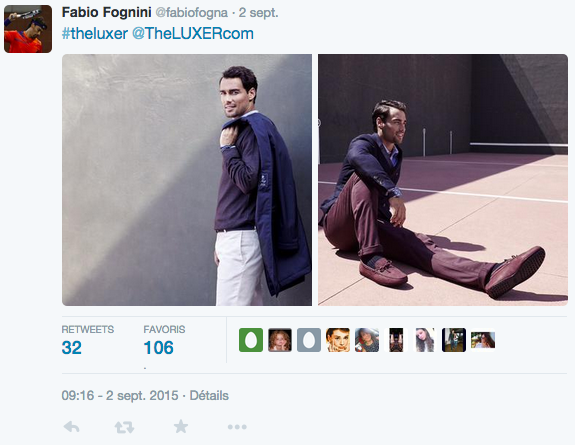 …And a big rant…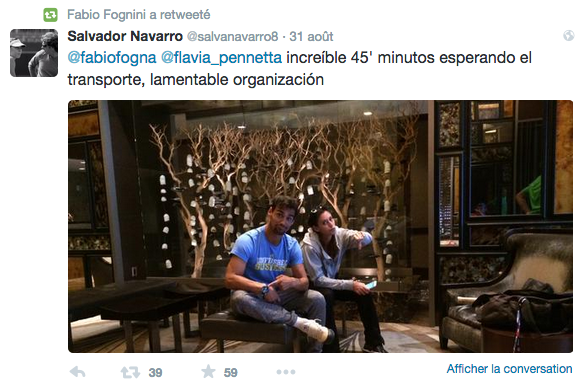 Fabio Fognini is a busy man.
15. Eugenie Bouchard (NE).
Qualified for the third round and aggressive after a few complicated months...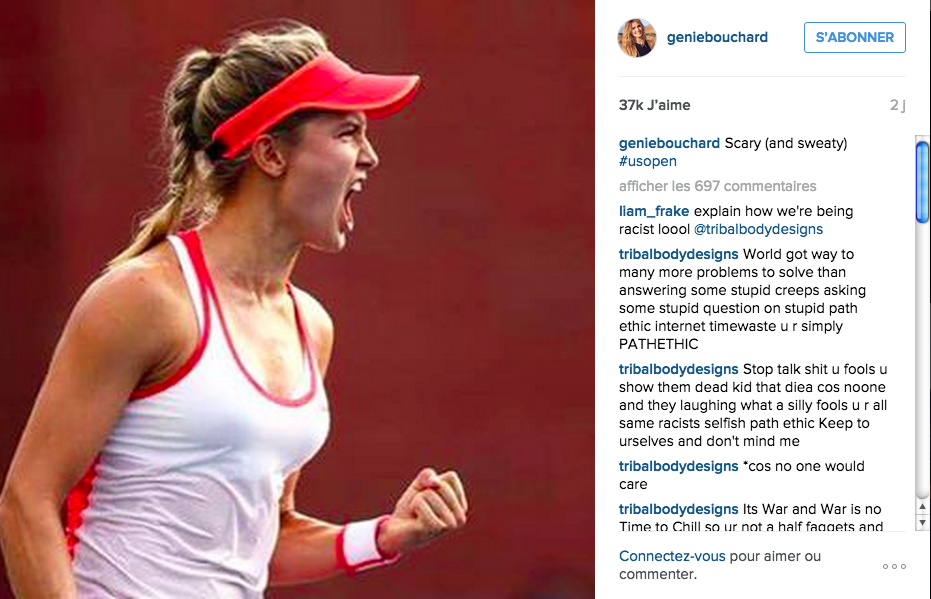 …Eugenie Bouchard seems to be inspired by Al Pacino.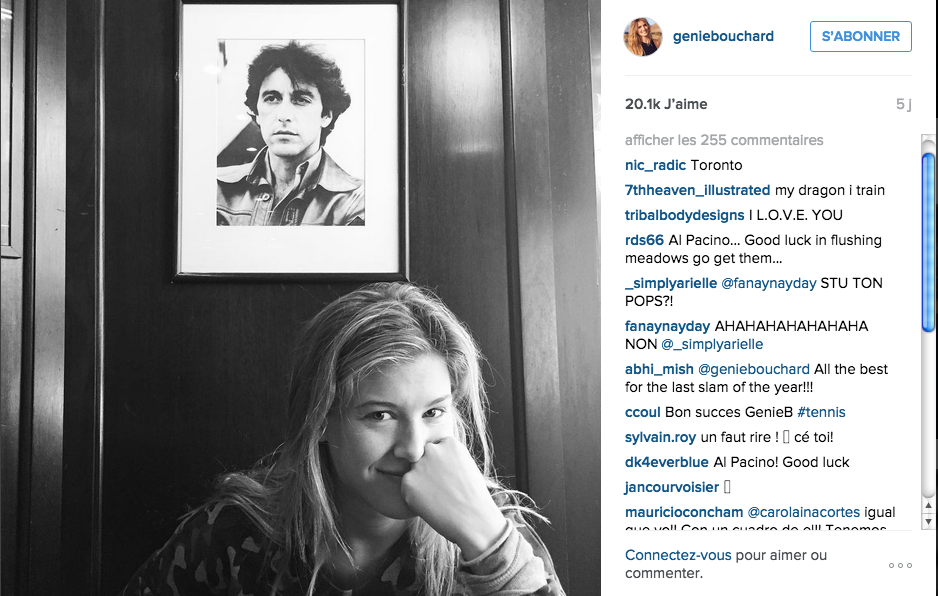 Out:
Simona Halep, Jeremy Chardy, Alexander Dolgopolov, Maria Sharapova, Richard Gasquet, Milos Raonic, Caroline Garcia, Gaël Monfils
By Antoine Mestres