For the third time in five years, Novak Djokovic won Wimbledon. Like last year, the Serb won against Roger Federer and like last year, he also won the first place in the WAT ranking.
For the third time in five years, Novak Djokovic won Wimbledon. Like last year, the Serb won against Roger Federer who had yet achieved an anthology match against Andy Murray in the semi-finals. In the ladies table, it was no surprise to see Serena Williams triumph against the very surprising Garbine Muguruza. The American is on course for a historic Grand Slam.
1- Novak Djokovic (/).
And nine! By winning the Wimbledon final against Roger Federer (7-6, 6-7, 6-4, 6-3), Novak Djokovic won his ninth Grand Slam title, the third (in five years!) in London. The Serb was impressive throughout the fortnight despite a scare against Kevin Anderson in the fourth round (he was led two sets to none). Nole had however not played a single match on grass before Wimbledon. This could explain his mood swings early in the tournament. And unfortunately, this is a young ball girl that suffered from the impatience of the world number 1.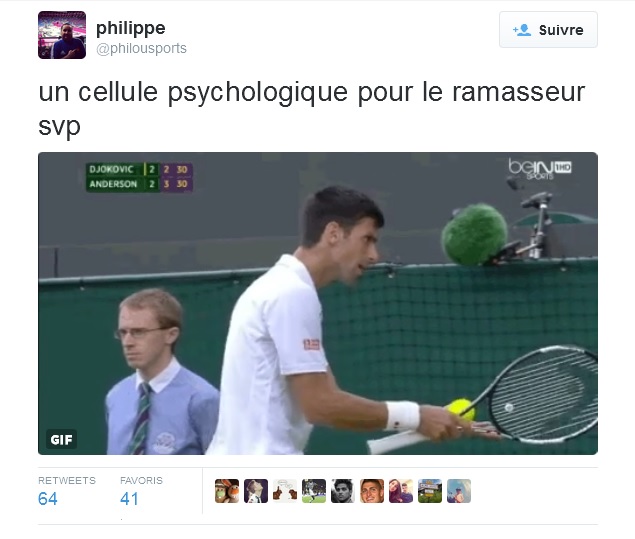 We can read on Djokovic's lips, who is asking - or rather ordering – for his towel. The Serb has besides apologized a few hours later: "I'm sorry. It wasn't against her. She may have been frightened by my scream, I was very close to her. I will of course make every effort to apologize to her if I behaved badly." When he doesn't scream on ball girls, Djoko goes out with his wife, his son and his dog. In tennis clothes, always.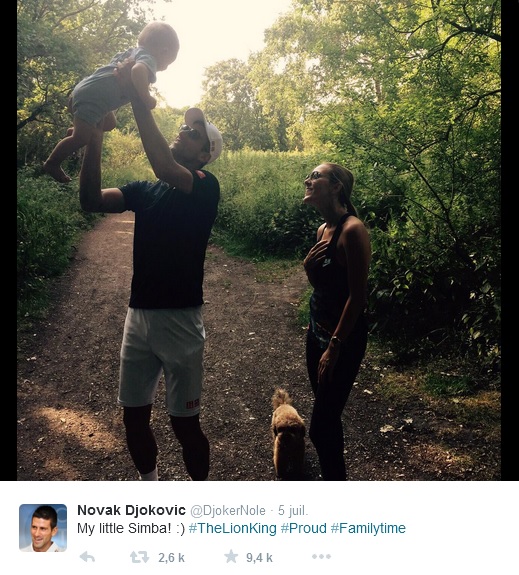 Finally Djokovic paid tribute to a certain Nikola Tesla, Serbian inventor and engineer of the twentieth century, born on a 10th of July.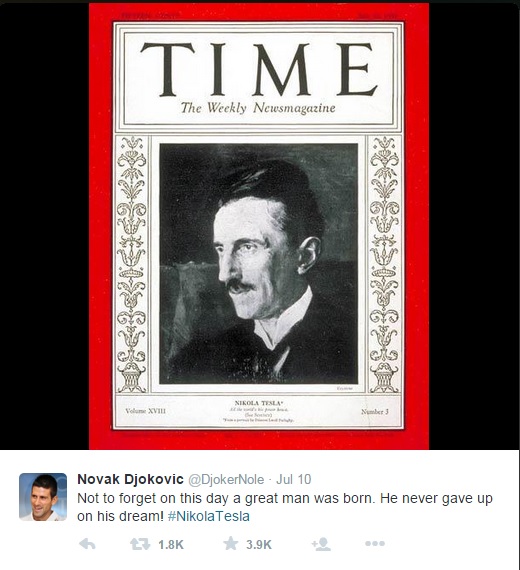 The winner of Wimbledon is an educated man.
2- Serena Williams (NE).
2015 is HER year. Since January, Serena Williams has won everything. The Australian Open, Roland Garros and Wimbledon then.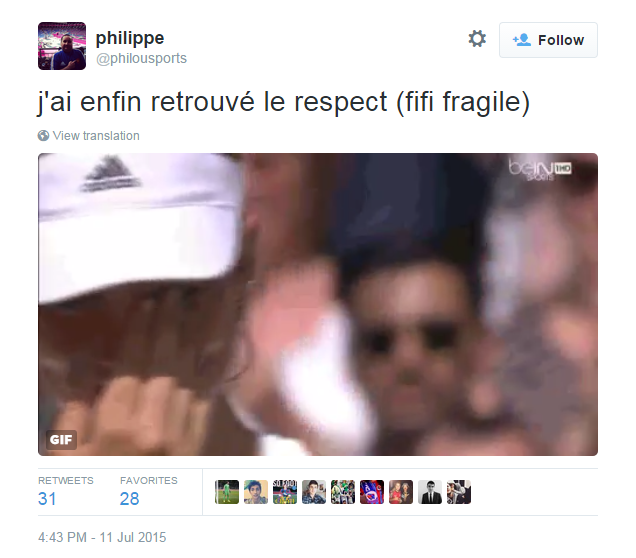 The American defeated the Spanish Muguruza in the final (6-4, 6-4). In seven matches, she has lost only two sets, proof of her dominance. This is the 21st Grand Slam won by The World Number 1, the sixth at Wimbledon. In the fourth round, Serena had to face her older sister, Venus. Victory of the youngest (6-4, 6-3), but it takes more to create tension between the two women.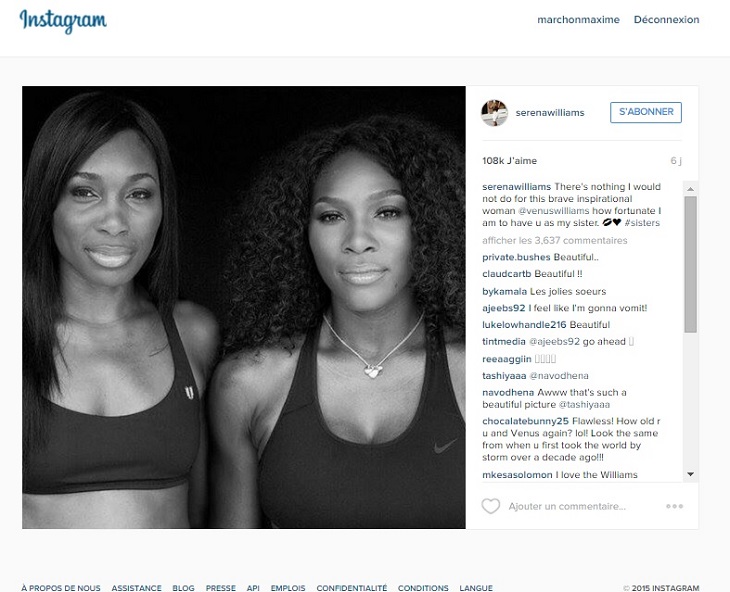 The goal is clear now for Serena Williams: to win at home at the US Open...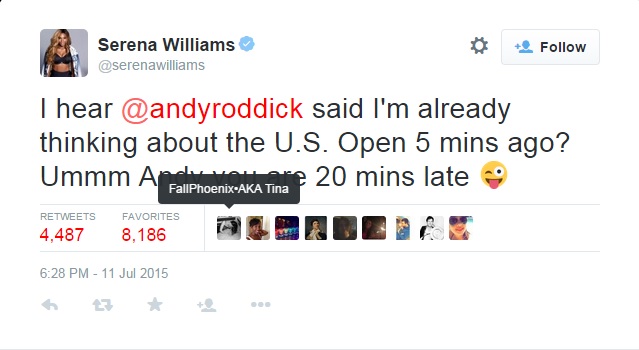 ...To succeed an incredible Grand Slam, something that hasn't been done since Steffi Graf in 1988.
3- Garbine Muguruza (NE).
She never ceases to surprise. Recent quarter-finalist at Roland Garros, Garbine Muguruza has defied the odds by reaching the final at Wimbledon, her who had never passed the second round of the British tournament. She's the first Spanish player to reach a Grand Slam final since Conchita Martinez at Roland Garros in 2000.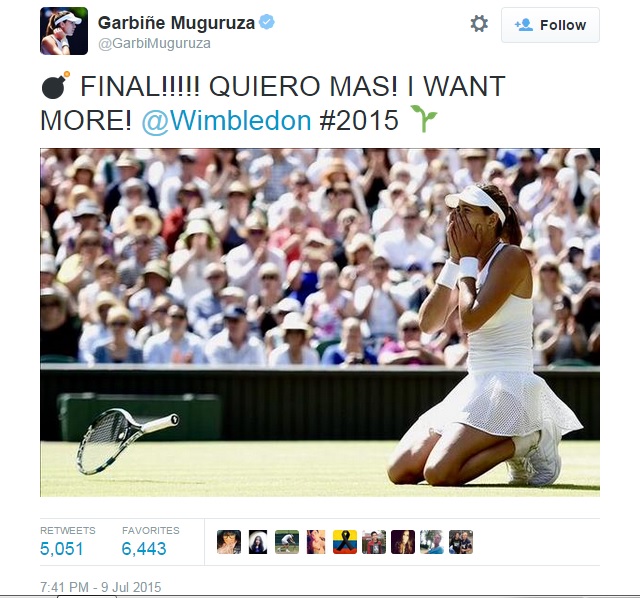 The 21-year-old player achieved impressive performances, beating successively Kerber, Wozniacki, Bacsinszky and Radwanska, all with better rankings than her.
But she couldn't do anything against Serena Williams in the final, despite a superb return from 5-1 to 5-4 in the second set. But this experience allowed her to enter the World Top 10 and the Top 3 of We Are Tennis.
4- Roger Federer (NE).
Big disappointment for Roger Federer. Incredible in semi-finals against Andy Murray, the Swiss failed to confirm in the final against Novak Djokovic, him who had lost only one set in his first six matches.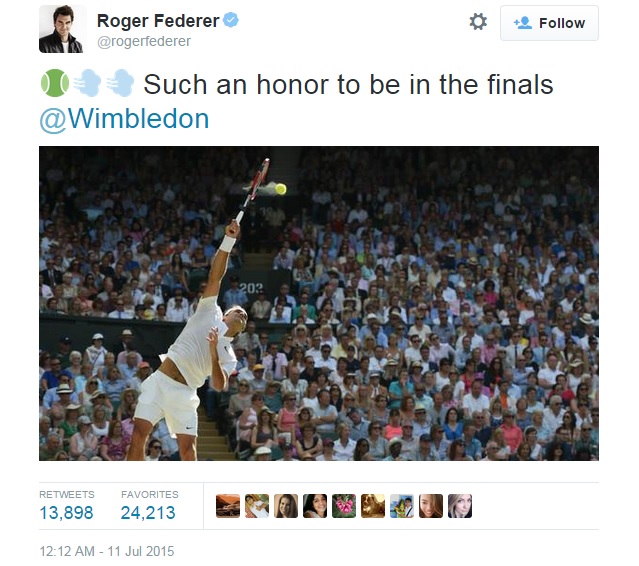 This defeat reminds us of a statistic: the Swiss hasn't won any Grand Slam tournament since Wimbledon in 2012. Three years of scarcity, and yet, King Roger's records on the London grass are impressive.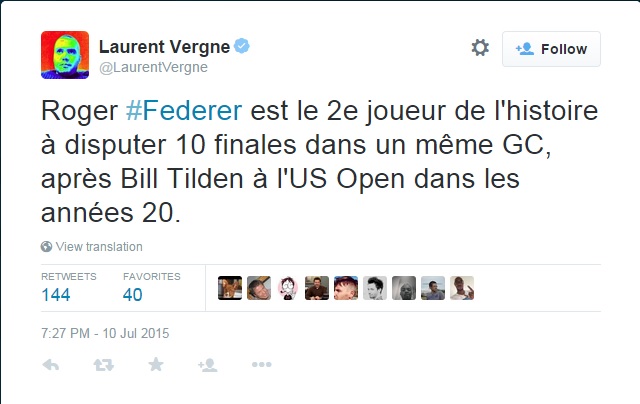 Federer's defeat probably disappointed David De Gear. The Manchester United goalkeeper is indeed a big fan of the Swiss that he met this week in London.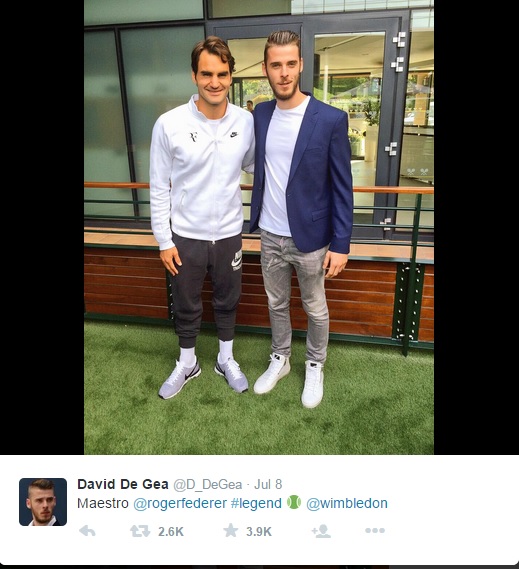 But Federer can dry his tears, he had found his future job: creator of emoticons.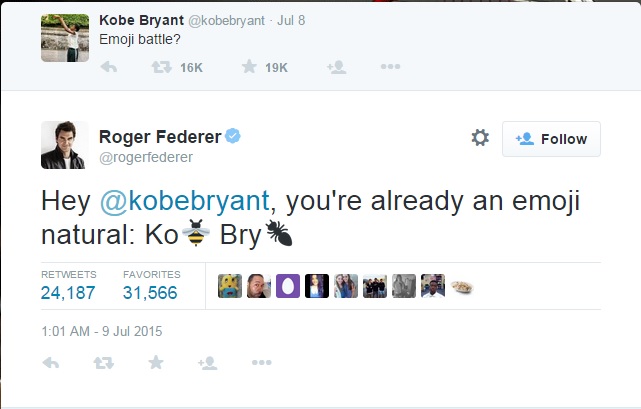 5- Richard Gasquet (NE).
Great fortnight on the London grass for Richard Gasquet. The French reached the semi-finals of a Grand Slam for the third time in his career, after Wimbledon in 2007 and the US Open in 2013. But still no final for Richard, who lost against Novak Djokovic (7- 6, 6-4, 6-4). We particularly note the splendid victory of Gasquet against Stan Wawrinka in the quarterfinals at the end of the suspense (6-4, 4-6, 3-6, 6-4, 11-9).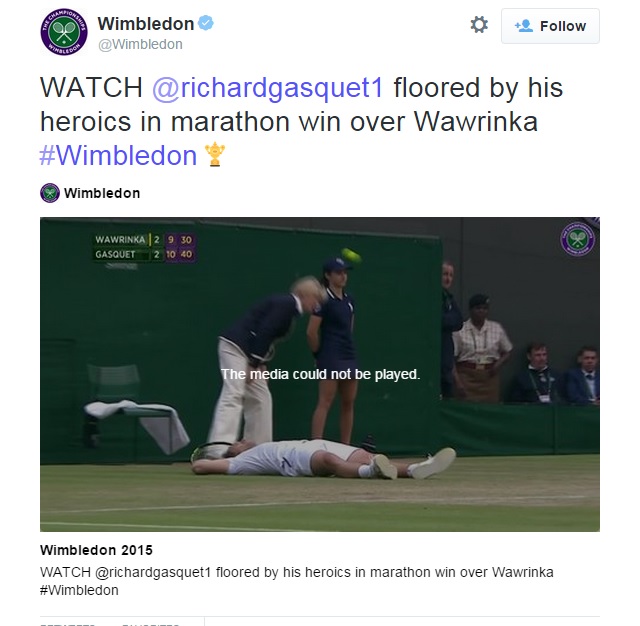 Before his lost semi-final, Richie met Drake.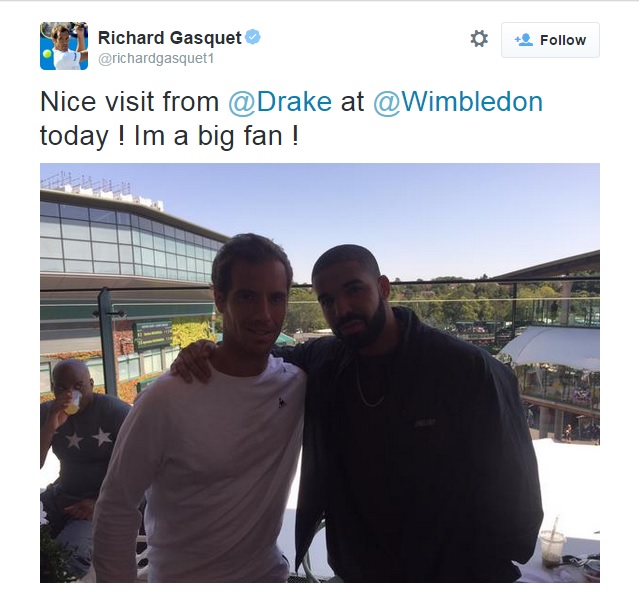 Who didn't bring him luck.
6- Andy Murray (/).
New setback for Andy Murray at Wimbledon. Two years after his consecration on English soil, the Scot failed in the semi-finals against an immense Roger. The day before, Murray had made fun of Andy Roddick running style, who, according to the world number 3, wasn't in great shape.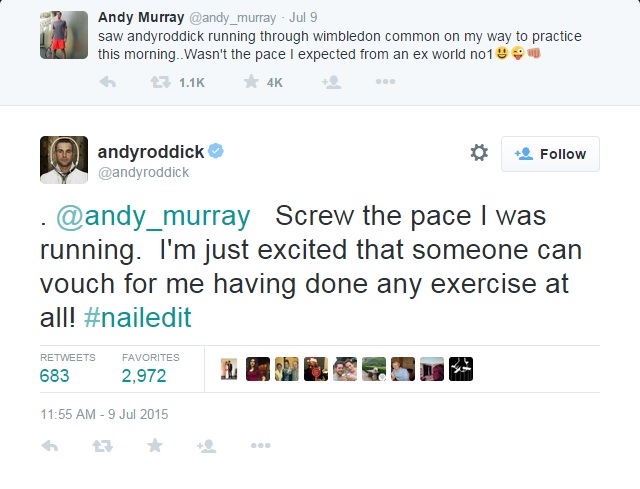 7- Coco Vandeweghe (NE).
She had never gone beyond the third round of a Grand Slam tournament. At Wimbledon, Coco Vandeweghe reached the quarterfinals, only defeated by Maria Sharapova (6-3, 6-7, 6-2). The 23-year-old American passed near the feat against the Russian. She even thought that she was gaining the upper hand when she won the tiebreak of the second set. Her reaction was really amazing.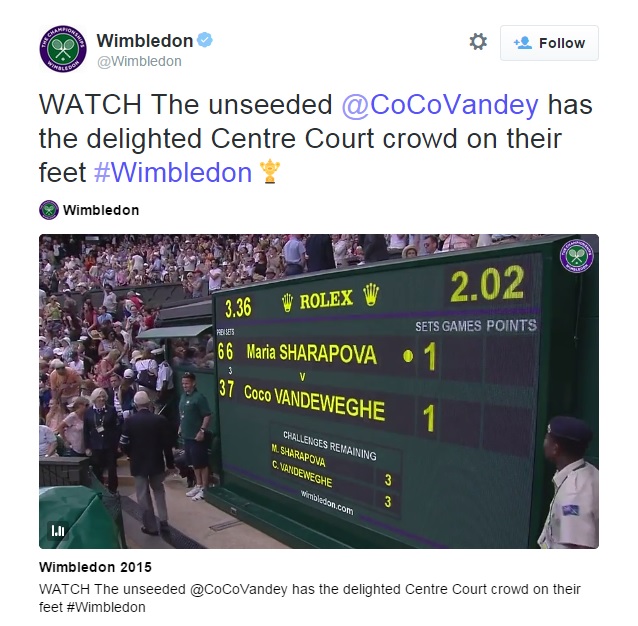 Before her elimination, Vandeweghe achieved incredible performance, getting rid of Pliskova, Stosur and especially Safarova without losing a single set. So naturally, she discovered many new fans.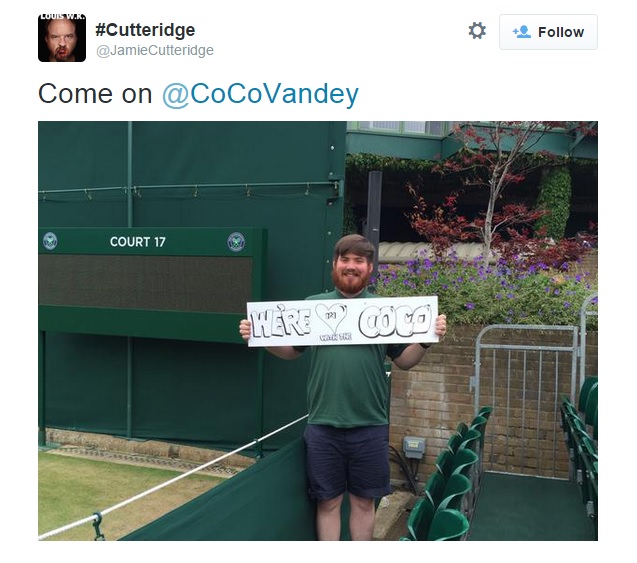 Amongst them, Kobe Bryant, no less.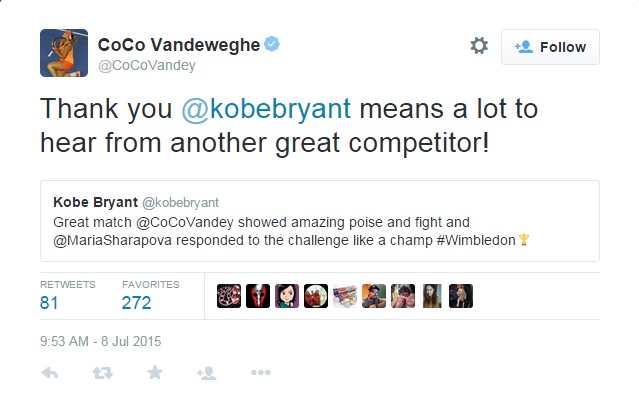 8- Nick Kyrgios (-4).
If he didn't do as well as last year - fourth round against quarterfinals - Nick Kyrgios still made a lot of noise. First on the courts, during his defeat against Gasquet (7-5, 6-1, 6-7, 7-6). The Australian has completely squandered the second set, multiplying the mistakes, sometimes intentionally.
He then hugged a ball boy.
His attitude earned him many criticisms, particularly those, borderline, of Dawn Fraser. Kyrgios' reaction wasn't long in coming.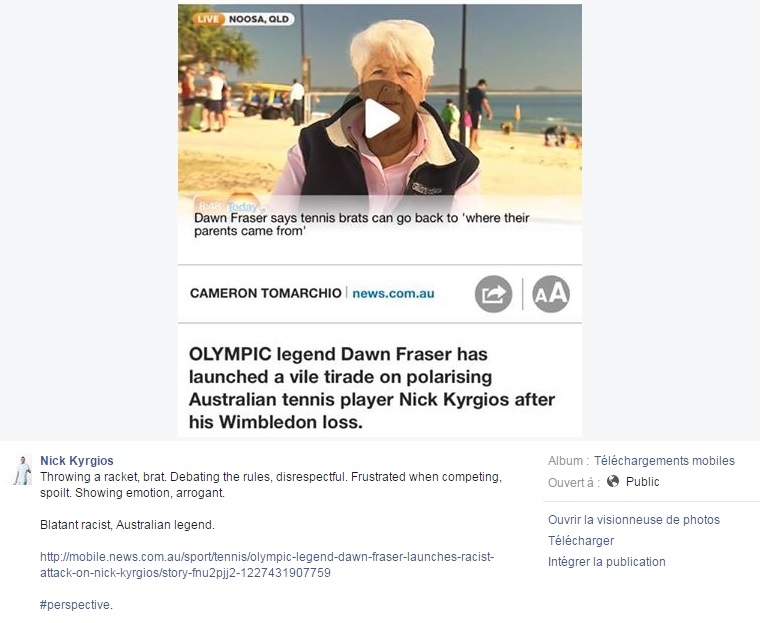 Kyrgios was however particularly pleased to get back home in Australia.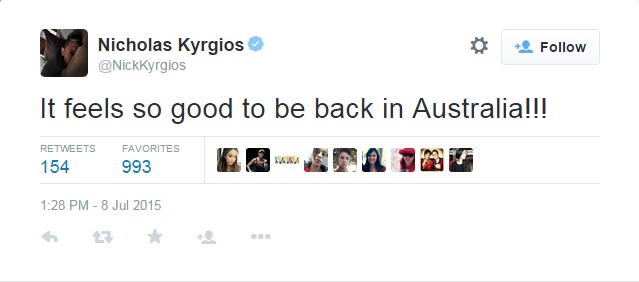 9- Timea Bacsinszky (/).
Definitely, this is the year of revelations on the women's tour. Muguruza, Vandeweghe but also Timea Bacsinszky. Surprise semi-finalist at Roland Garros, the Swiss confirmed by reaching the quarterfinals at Wimbledon, losing precisely against Muguruza (7-5, 6-3). Bacsinszky managed another incredible performance this week: to compete with Sharapova for the loudness of their screams. The one following her victory against Niculescu in the fourth round was particularly impressive.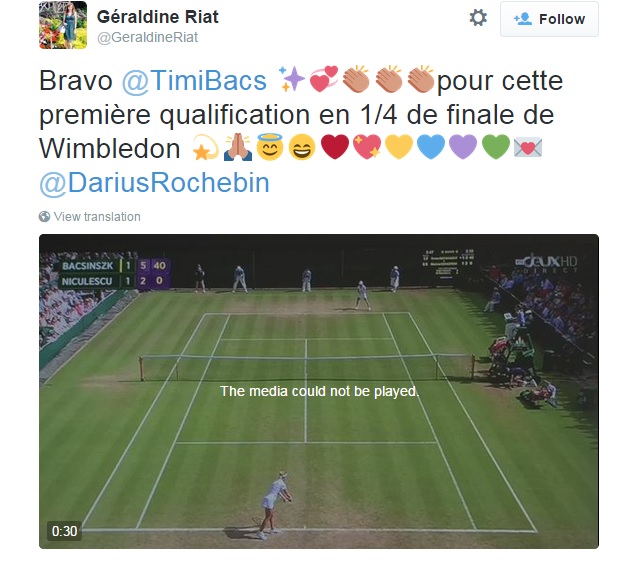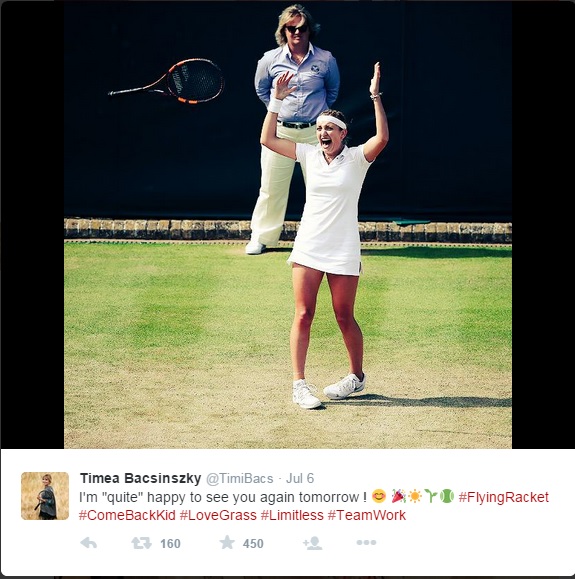 Just after returning home, Bacsinszky rushed in front of her TV to watch the quarterfinal between her compatriot Wawrinka and Richard Gasquet.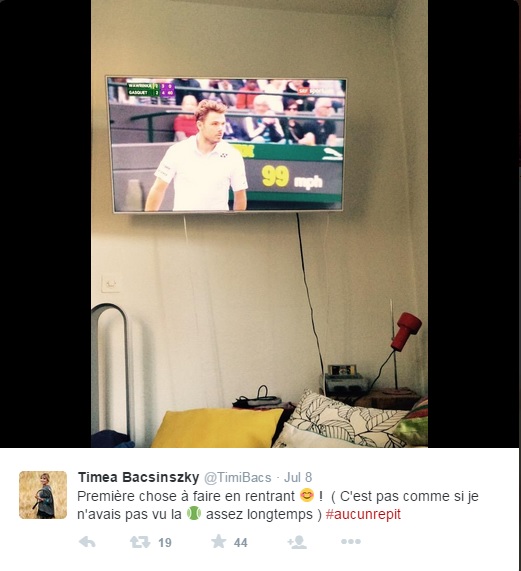 Ah yes, the Swiss is also a big fan of video games. Mario Kart in particular.
Purists will appreciate.


10- Tomas Berdych (NE).
No great performance for Tomas Berdych, but a mind-blowing news conference. Defeated from the fourth round by Gilles Simon in straight sets (6-3, 6-3, 6-2), the Czech has been treated to a surprising question. A journalist actually asked him about his victory. While he had just lost… A bad joke or a poorly informed journalist?
After his early elimination, Berdych quickly went back to training to prepare for the American summer.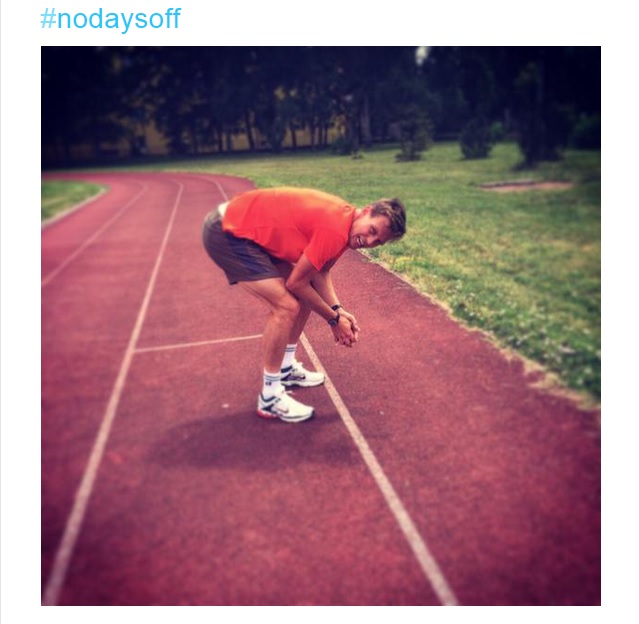 11- Stan Wawrinka (-9).
He prefers clay to grass. Recent winner of Roland Garros, Stan Wawrinka was stopped in the quarterfinals at Wimbledon, defeated in five sets by Richard. This is still the best result of the Swiss in this Grand Slam tournament. The Swiss who indulged to a little barbecue on the eve of his match against the French.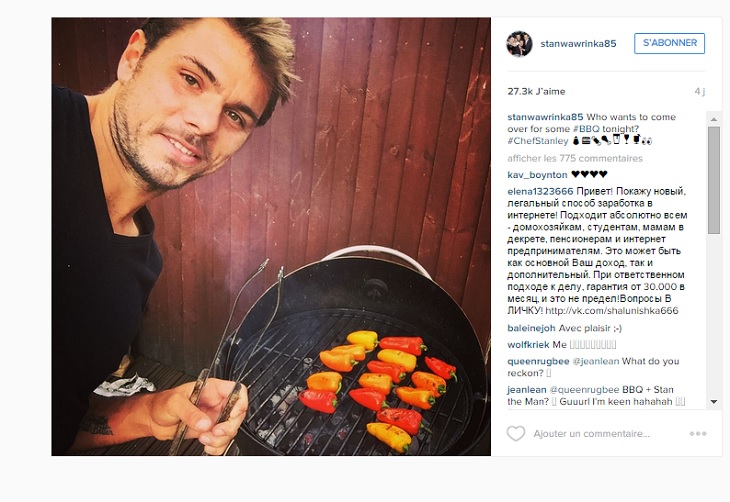 Forced to wear white to respect the tradition of the English tournament, Wawrinka has found a way to have his favourite shorts on him, almost constantly.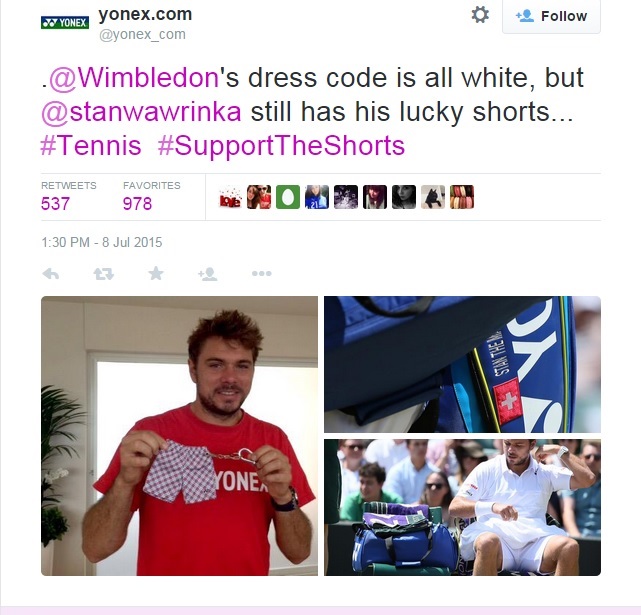 12- Victoria Azarenka (NE).
She's the one that has worried Serena Williams the most. Victoria Azarenka shook the American in the quarterfinals, before losing a top-level match (3-6, 6-2, 6-3).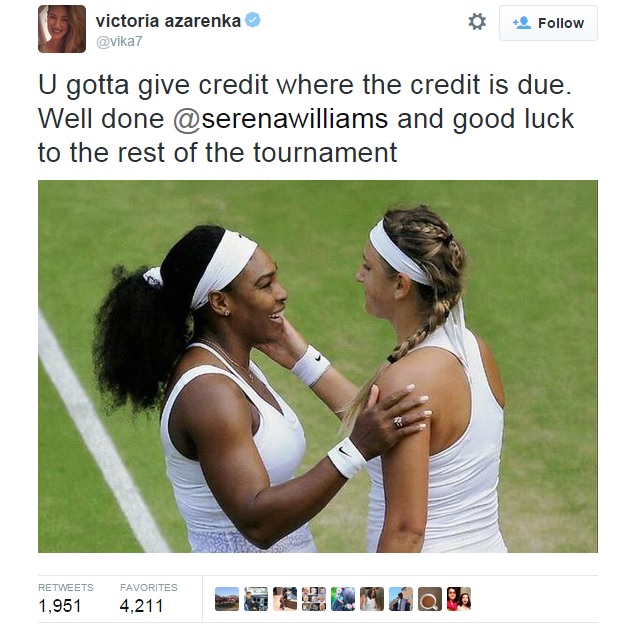 Despite her elimination, Azarenka stayed a few days in London to visit.
And yes, the Belarusian is crazy.

13- Nicolas Mahut (+1).
Rapidly eliminated in singles and in the fourth round in doubles with Pierre-Hugues Herbert, Nicolas Mahut returned to France and went back to training. He met Jimmy Vicaut, France new record holder in the 100 meters.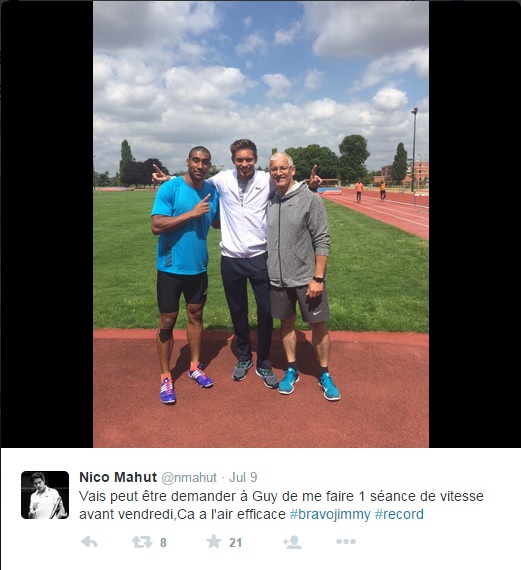 Mahut took advantage of his free time to read a few newspapers. And the least we can say is that the French didn't really appreciate the remarks of Julien Pinot, brother of the cyclist Thibault, about Richard Gasquet's infiltrations.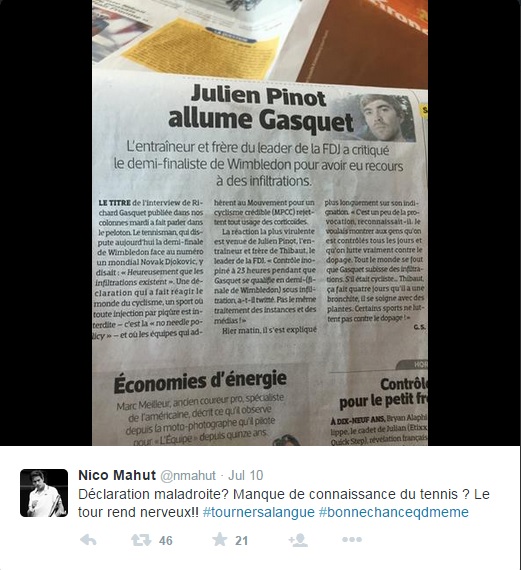 14- Agnieszka Radwańska (NE).
She's back. After an unsuccessful start to the season, Agnieszka Radwańska managed an excellent Wimbledon, reaching the semi-finals where she lost against the revelation Muguruza (6-2, 3-6, 6-3). The Polish congratulated her on Twitter.
If she didn't win Wimbledon, Radwanska finished first of the BBC challenge.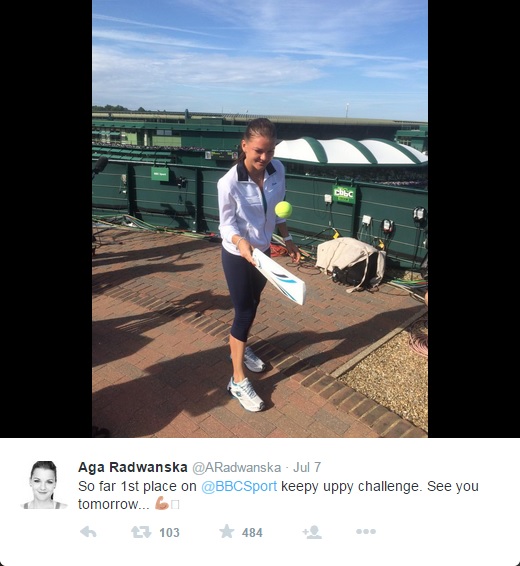 A picture sometimes means more than a thousand words.
15- Pierre-Hugues Herbert (NE).
Despite his defeat in the fourth round of Wimbledon, Arnaud Clement called Pierre-Hugues Herbert for the quarterfinal of the Davis Cup by BNP Paribas against the United Kingdom. The French coach appreciates his complementarity in doubles with Nicolas Mahut, with whom he recently won the Queens.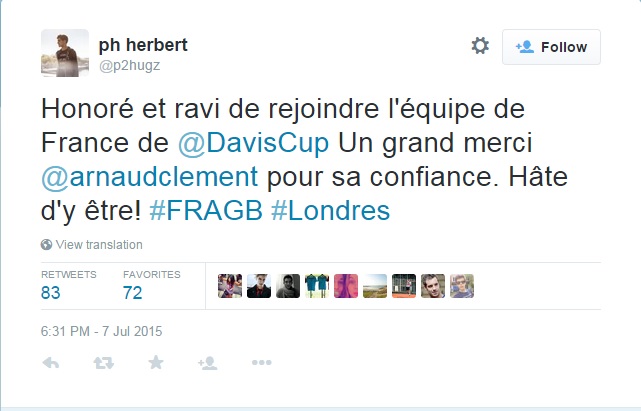 Out:
Sharapova, Raonic, Brown, Monfils, Sampras, Mladenovic, Nieminen, Hewitt, Sock.
By Quentin Moynet