He's not certain to be invited at Wimbledon, but he won the first place of the WAT ranking thanks to a beautiful victory on the grass courts of the tournament with an unpronounceable name: 's-Hertogenbosch.
When the grass courts season starts, Nicolas Mahut is in heaven. Winner of the third tournament of his career, the French has just taken the lead in our ranking. Behind, Nadal has been seen smiling again after Roland Garros, and Stan Wawrinka, still on cloud 9, completes the podium.
1- Nicolas Mahut (NE).
Grass suits him so well. Nicolas Mahut has just won the third tournament of his career this week, also the third on grass courts. At 's-Hertogenbosch, where he had already won in 2013, the French dominated the Belgian David Goffin (7-6, 6-1). The day before, he had lost the doubles event final.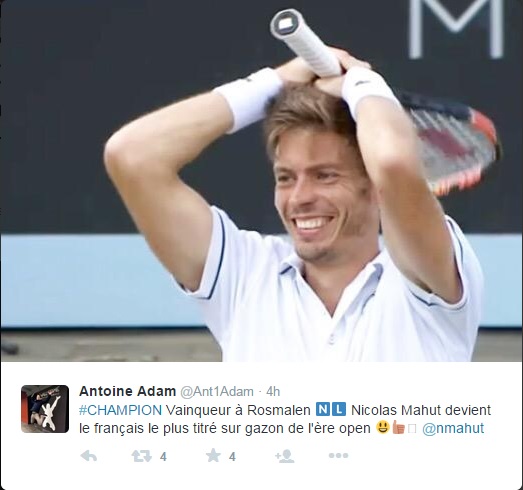 At 33, Mahut becomes the French with the most titles on grass courts in the Open Era.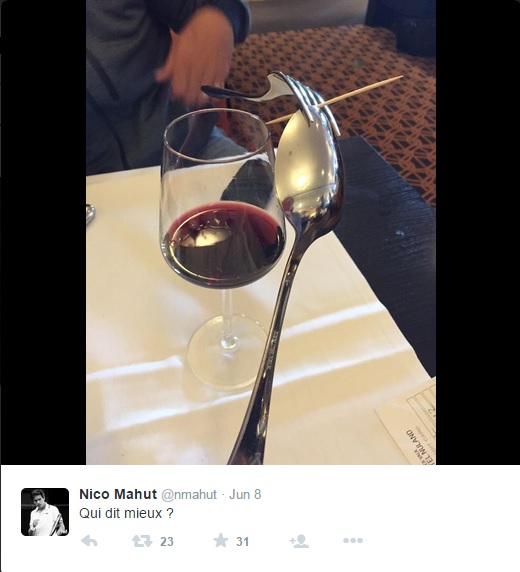 Despite this success, Mahut isn't sure yet to be part of the main table at Wimbledon. He could however receive a Wild Card… Oh and by the way, Mahut is having fun as he can while waiting for his order at the restaurant.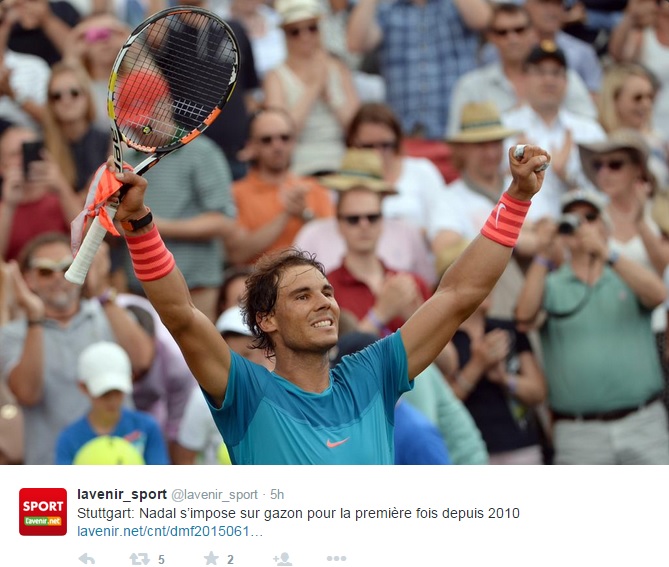 2- Rafael Nadal (+7).
Rafael Nadal is feeling better. On Stuggart's grass, the Spaniard won his second tournament of the season after a victory against the Serb Viktor Troicki (7-6, 6-3). Rafa had not won a trophy on grass for five years, since his success at Wimbledon.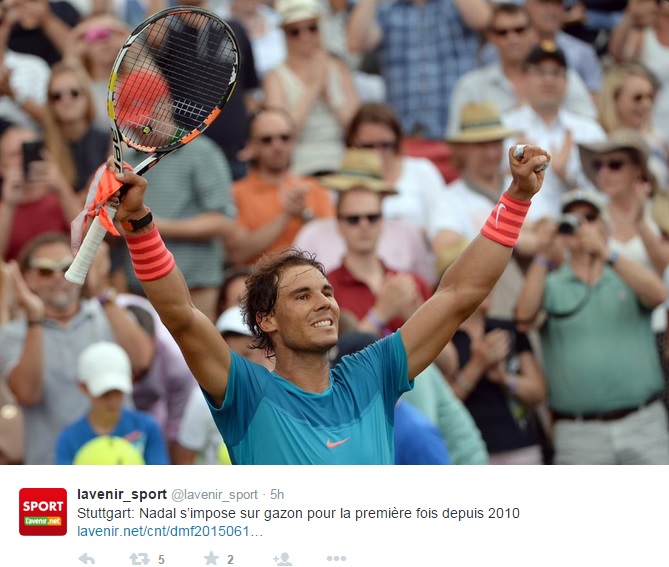 Nadal has however only discovered German grass the day before the start of his tournament.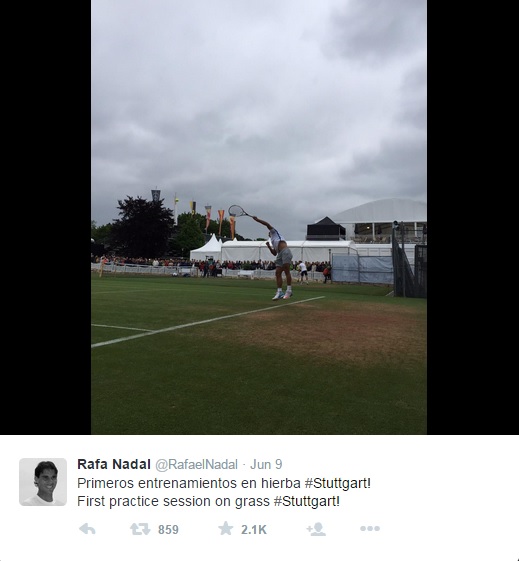 Enough to win it though.
3- Stan Wawrinka (-2).
Stan Wawrinka is on cloud 9. Since his victory at the French Open last Sunday against Novak Djokovic, the Swiss is having a fantastic time. And contemplates his trophy.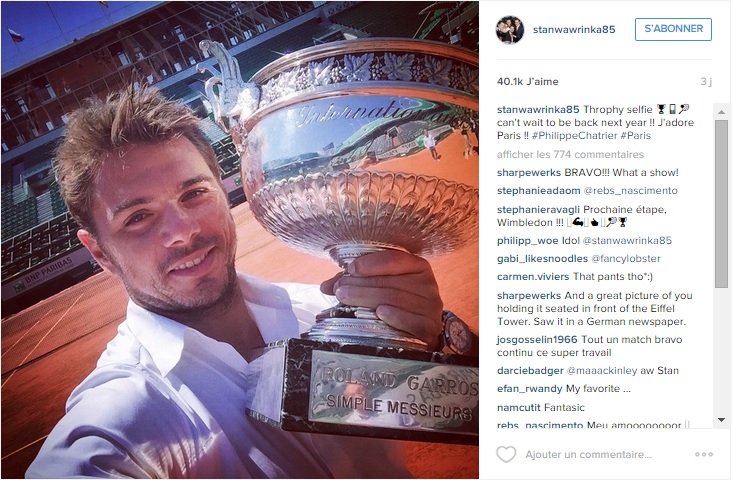 Mocked for the design of his shorts throughout the Parisian fortnight, the Swiss offered his outfit to Roland Garros' Museum.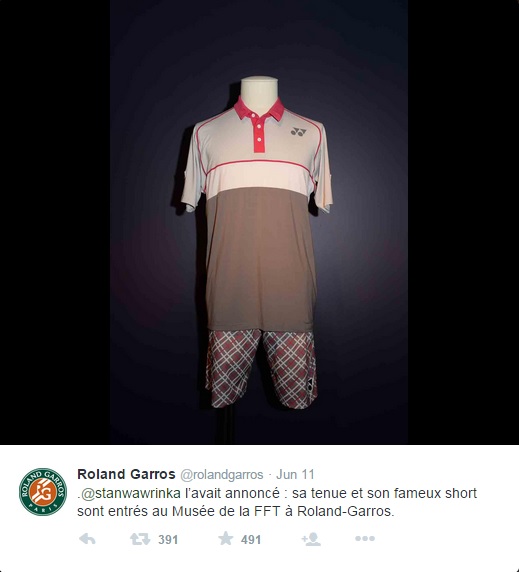 The brand Evian has taken advantage of the buzz created by the infamous shorts. Funny.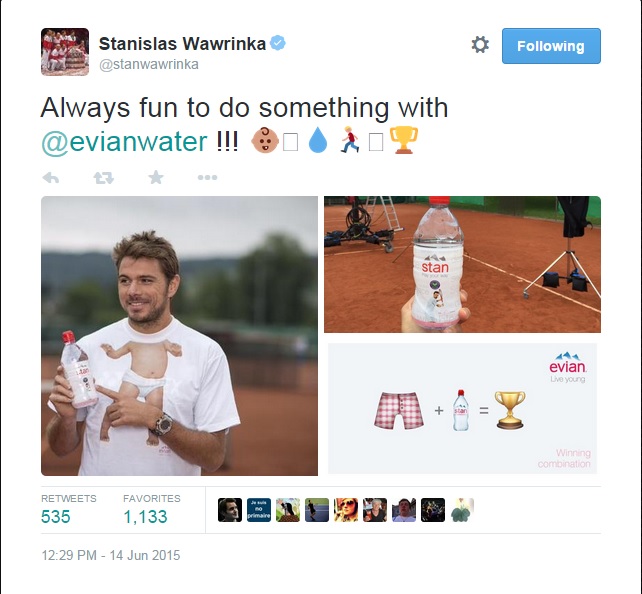 4- Serena Williams (-2).
Serena also took full advantage of her post-Roland Garros victory week. How? First, the American posed with her trophy and… her dog.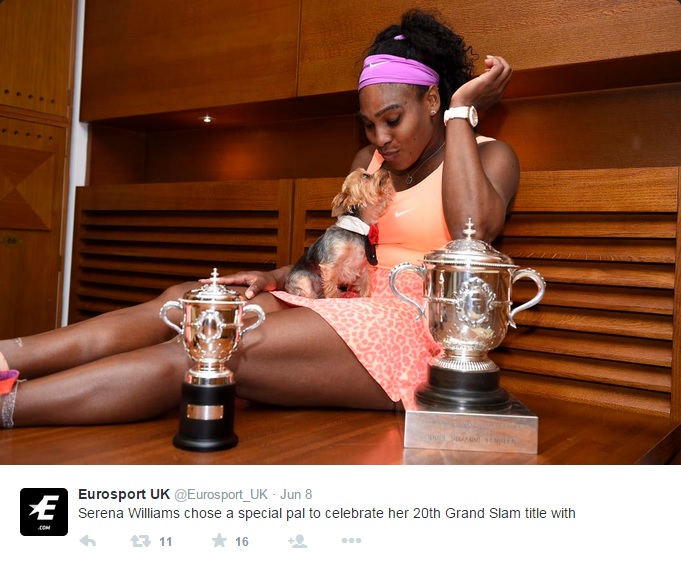 The World Number 1 then went back home in the US. And obviously, she was eager to get back.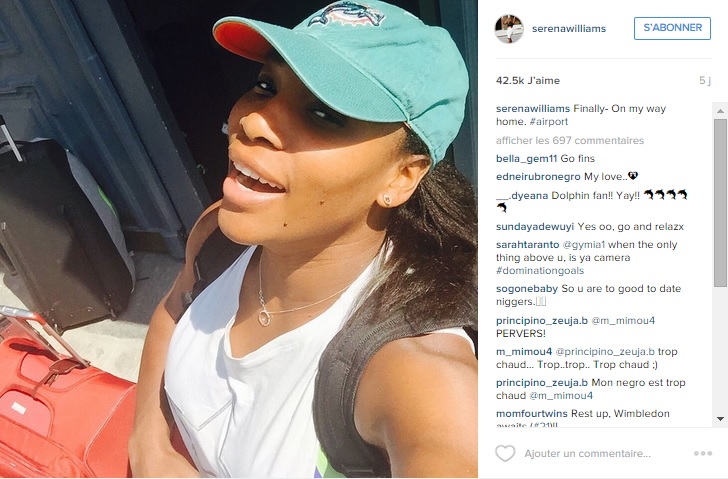 At home, a tough decision was awaiting her. What colour for her living room's floor?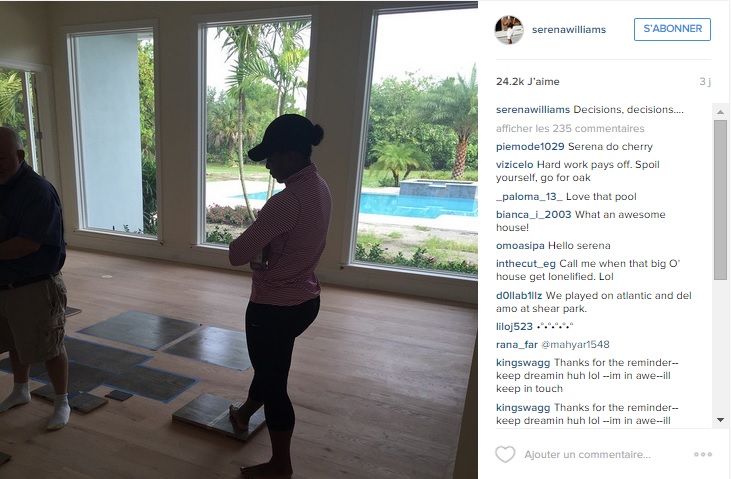 Finally, the American posed for her friend, the famous photographer Annie Leibovitz.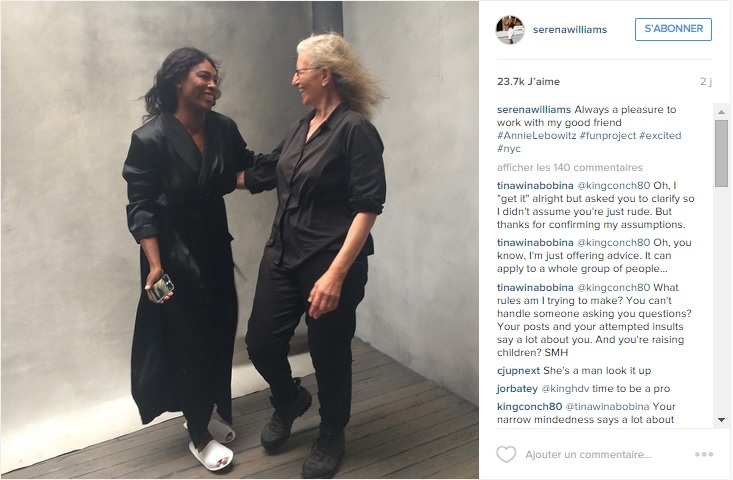 5- Lucie Safarova (-2).
Finalist of Roland Garros last week, Lucie Safarova also went back home in Brno. In private jet. Yes please.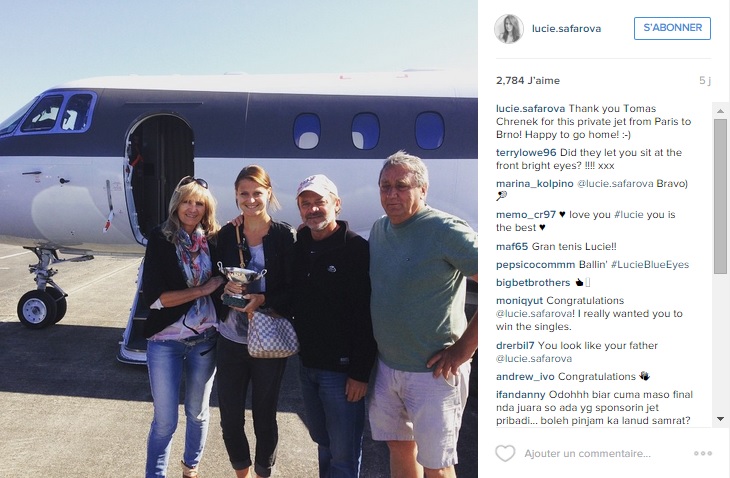 Upon her return, the Czech player has been welcomed by the kids of a local tennis club.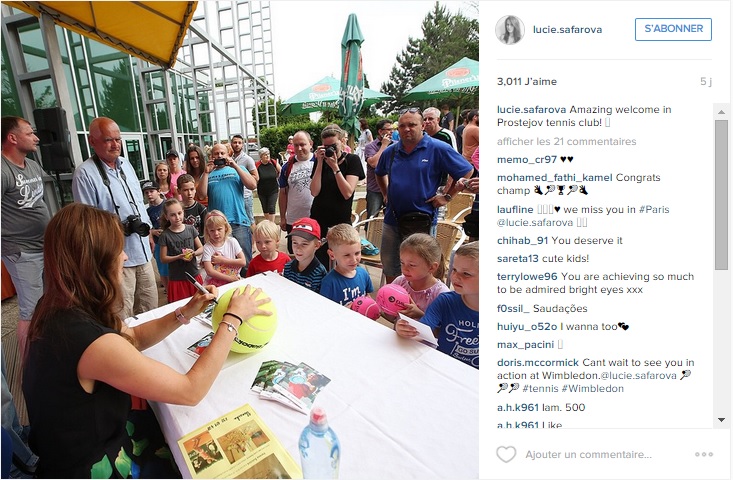 Her wonderful journey allowed her to be featured in many local medias.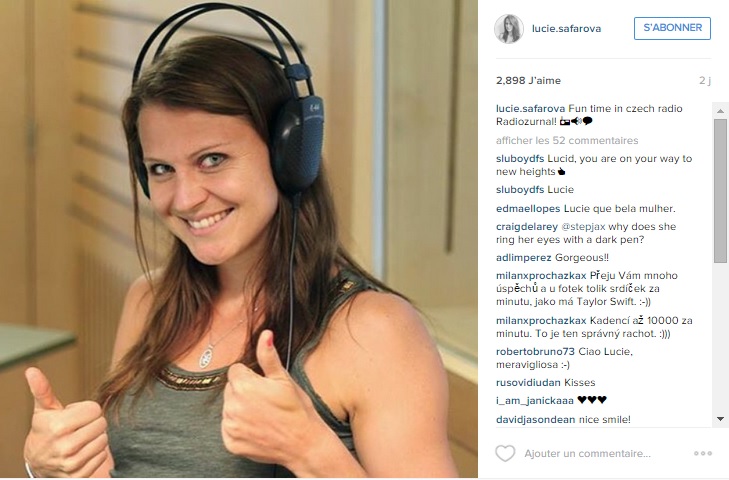 Once her media duties completed, Safarova took some good time.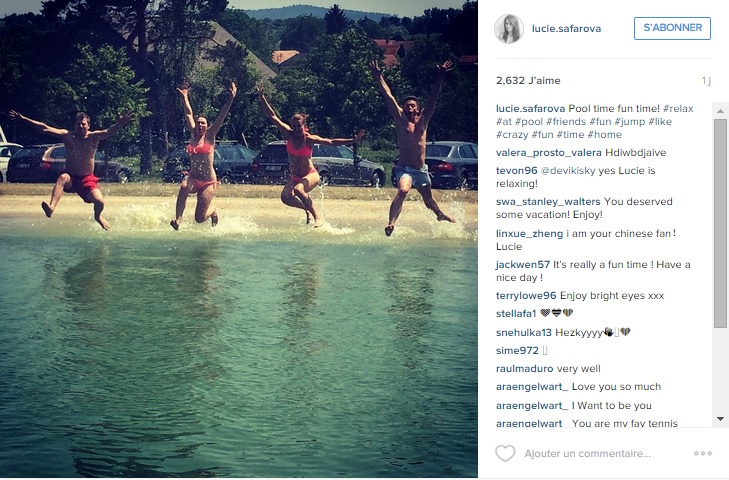 6- Gaël Monfils (NE).
Of course, Gael Monfils doesn't like to play on grass courts – which don't allow him the same sideslips than clay courts – but this didn't prevent the French to put on a show, just like after this point lost against Andreas Haider-Maurer that he finally eliminated (7-6, 7-6).
The Monf still reached the semi-finals of the Stuttgart tournament, only defeated by Rafael Nadal (6-3, 6-4).
7- Dustin Brown (NE).
The show, Dustin Brown knows how to do it too. And very well. Against his compatriot Berrer, the German managed a wonderful dive to win a point.
Brown finally lost in the first round of the big table against the Pole Janowicz but this wonderful point allowed him to take the 7th place in the WAT ranking.
8- Roger Federer (+2).
Resting this week, Roger Federer went to Halle this weekend. Which is a bit like a second home to him. Seventh time winner of the German tournament, including the last two editions, the Swiss even has an alley to his name.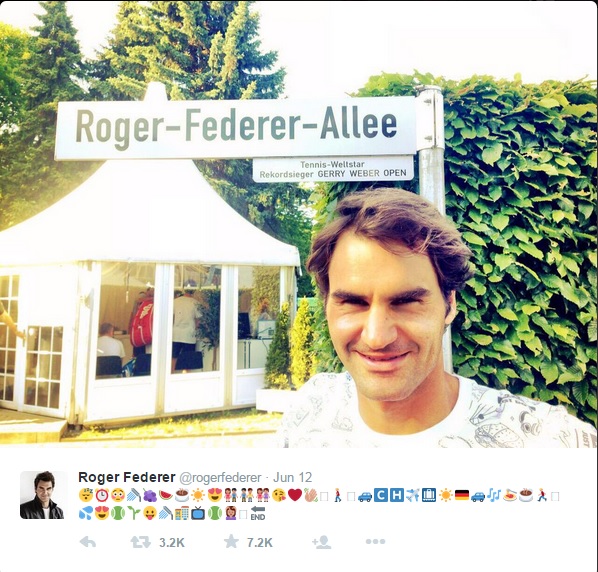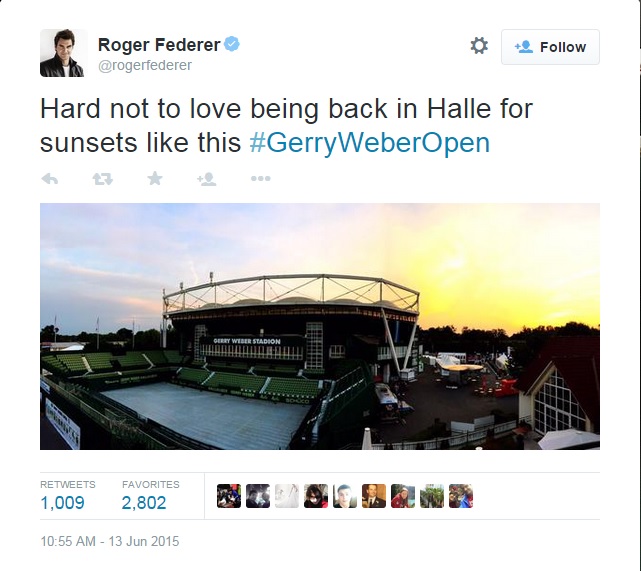 Federer also enjoyed the announcement of the arrival of a new commentator for the upcoming Wimbledon: Andy Roddick himself! A player that he defeated many times on the London grass, especially in final.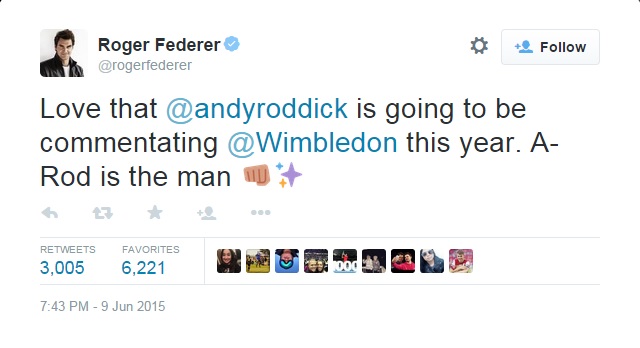 9- Andy Murray (-4).
He's already thinking about what he will do after retiring from tennis. The Scot has just signed a contract with British crowdfunding company Seedrs: « I've always been interested in finance » said the player to the BBC. « To be able to invest and support small British companies, especially in an original manner is really inspiring to me. What matters to me the most is to work with people who are conscious of the huge responsibility that it is to handle their clients' money » Great tennis man, future great businessman, Murray can do everything. Or almost. He failed (badly) the Half Court Challenge. Try again.
For comparison, the footballer Gareth Bale had scored three times out of five. Watch and learn Andy.
10- Sara Errani (NE).
Semi-finalist at Roland Garros, Sara Errani was off this week. Well, off… The Italian still took a few balls and her racquet to train… In her garage.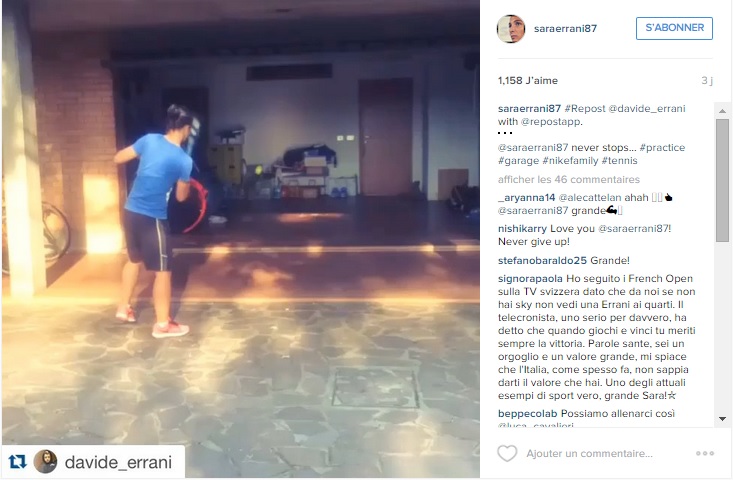 11- Ana Ivanovic (-4).
Back on form this season, Ana Ivanovic will have to confirm her progress on grass, a surface that she never really liked. The Serb still looks very happy to leave clay courts for grass courts.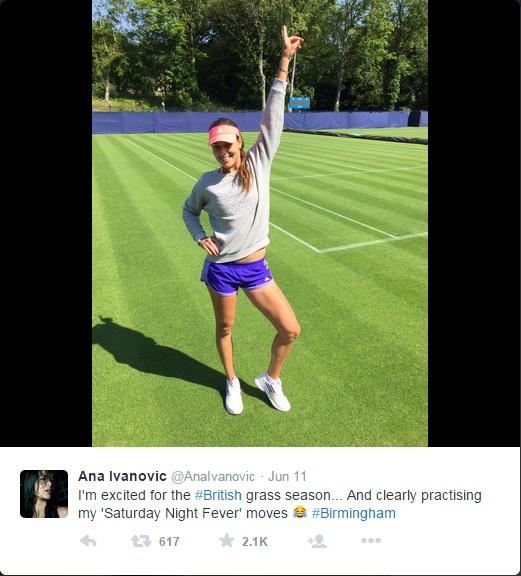 In England to prepare for the Birmingham tournament, Ivanovic spent a few hours signing autographs and taking pictures with her fans.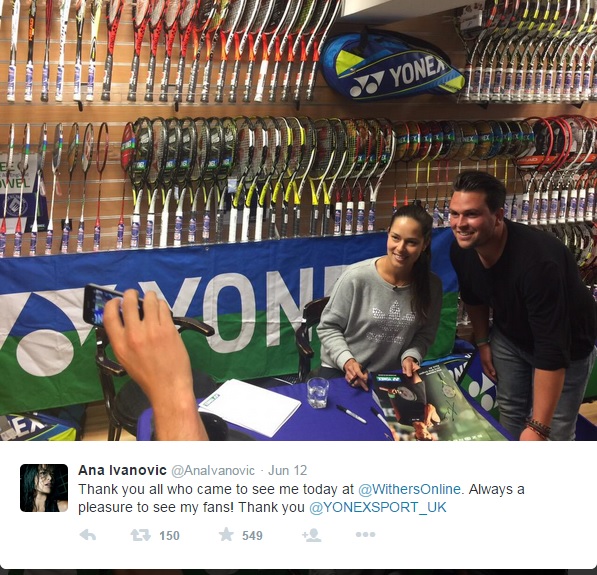 She also took advantage of being in London to go to a hairdresser. A success according to her.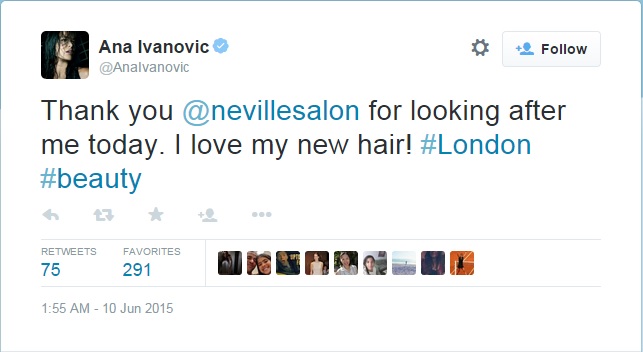 12- Jonathan Eysseric (NE).
He fulfilled a childhood dream. Jonathan Eysseric met his hero, the former Russian player and World Number One Marat Safin.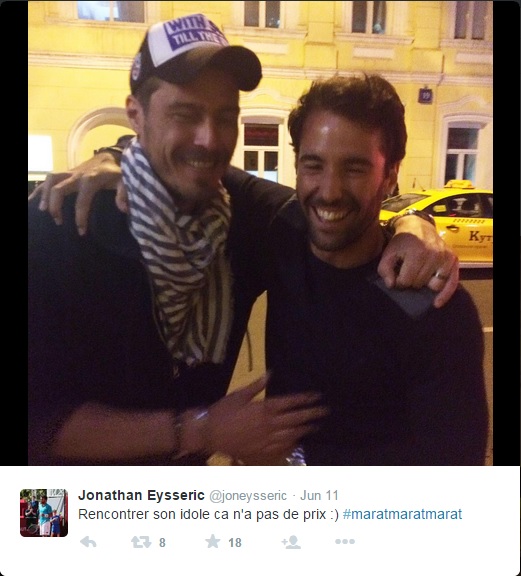 The beginning of the week wasn't as nice for the French who would have preferred not to wake up…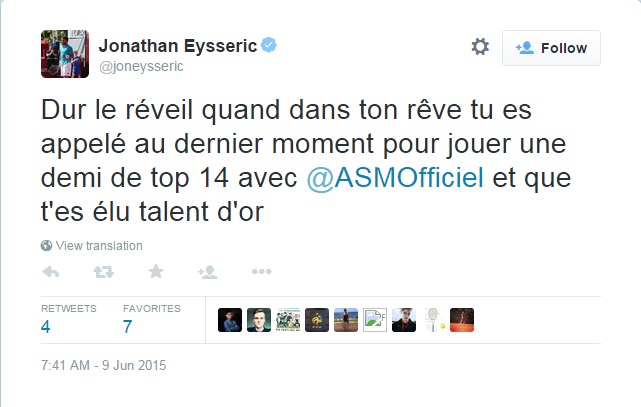 Eysseric ended his week by congratulating the Stade Français, French Rugby Champion after a victory in final against Clermont Ferrand (12-6)…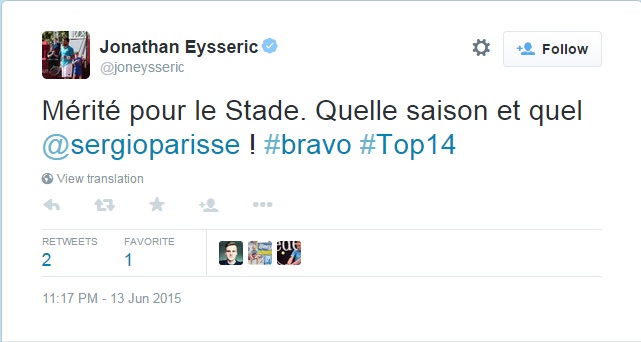 …And his mate Nicolas Mahut.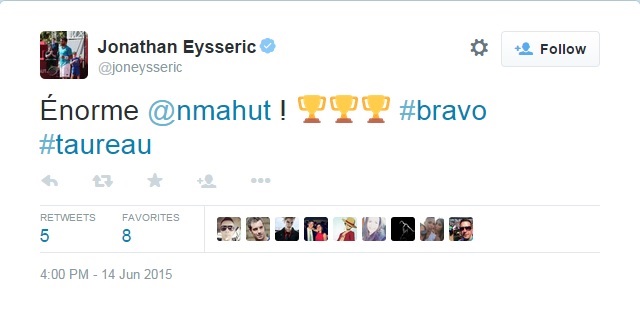 13- Nick Kyrgios (+2).
He was revealed on Wimbledon grass last year and he's back: Nick Kyrgios has just arrived in London to prepare for the grass courts season.
​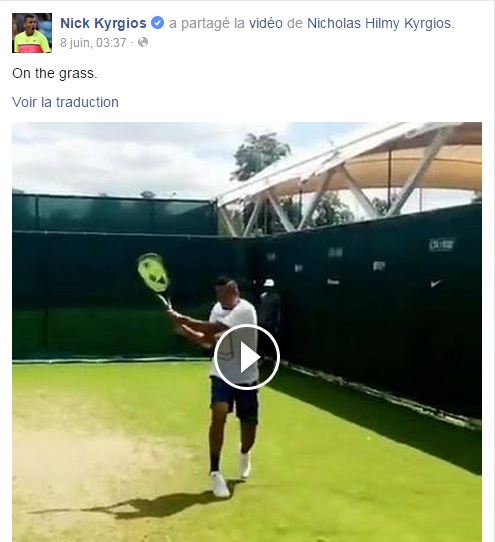 Kyrgios isn't alone in the English Capital since he came with other young Australian players.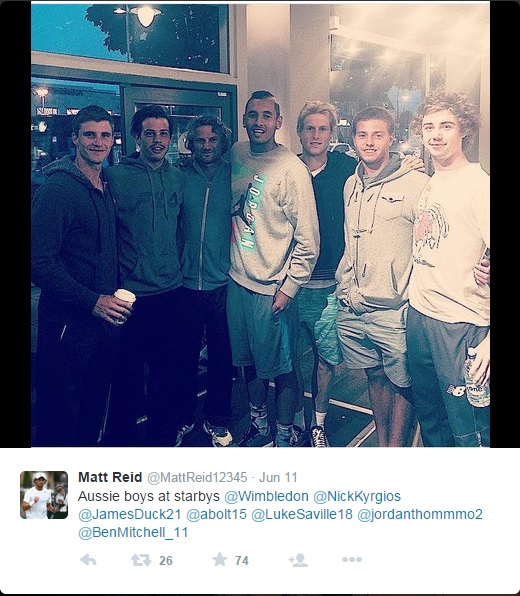 To go on the training courts, Kyrgios has found some rather original means of transport.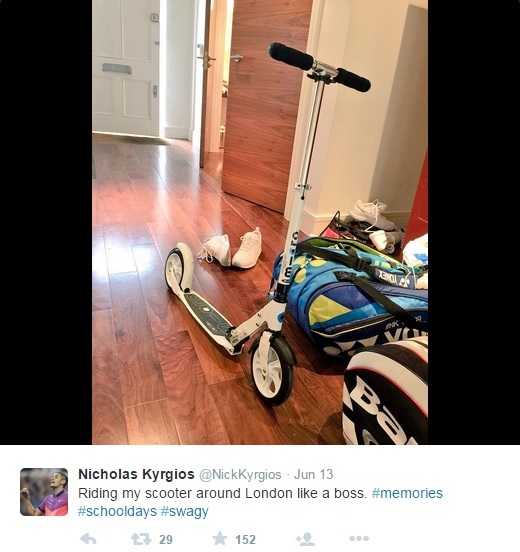 Probably to work his footwork.
14- Victoria Azarenka (NE).
She was in a mocking mood this week. In full preparation for the grass courts season, Victoria Azarenka made the show during a training session by imitating her friend Gael Monfils.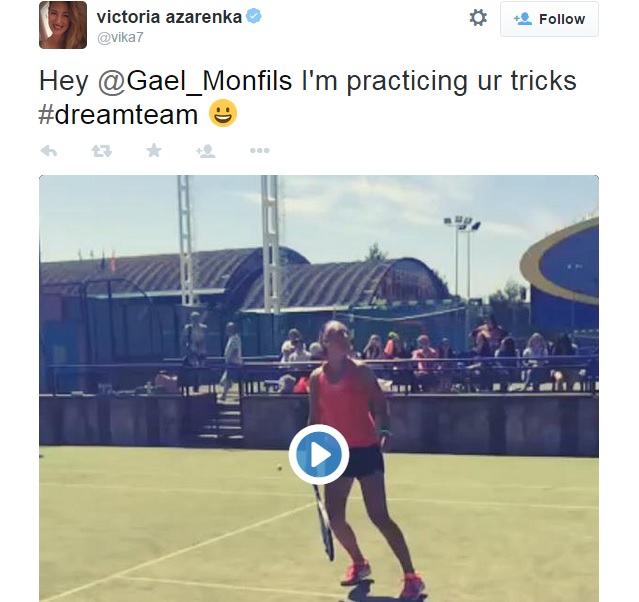 But don't be mistaken, the Belarusian is working hard in Birmingham.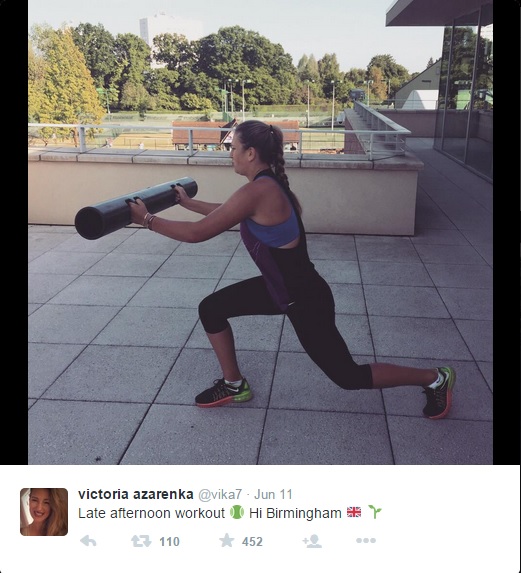 And since she's in the UK, Azarenka started drinking tea.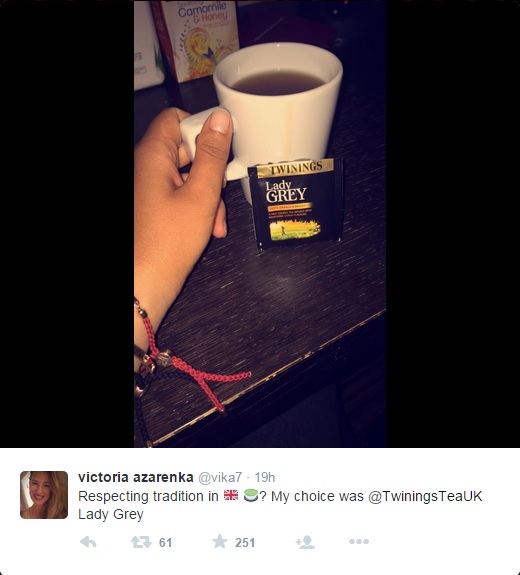 She also spent an evening with her father to celebrate her birthday.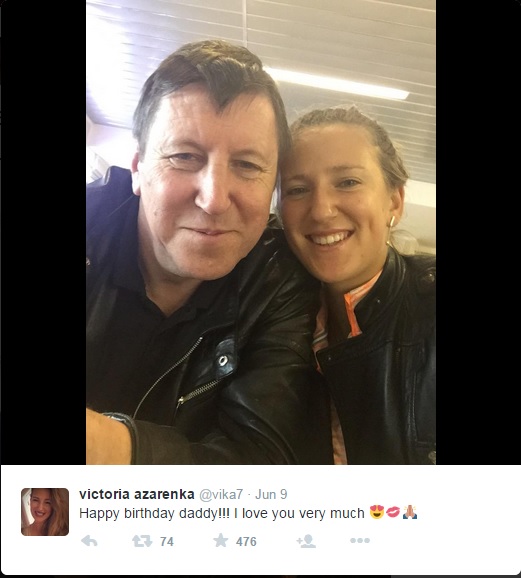 15- Bernard Tomic (NE).
Nice week in Stuttgart for Bernard Tomic who defeated two German, Struff and Haas, before losing against the eventual winner Rafael Nadal, not without a fight (6-4, 6-7, 6-3). Like this wonderful passing that allowed him to debreak in the beginning of the second set.
Out:
Djokovic, Tsonga, Bacsinsky, Nishikori, Chardy, Mauresmo, Li Na
By Quentin Moynet