After Monte Carlo, Novak Djokovic won the Rome Masters and logically took the lead in our ranking a week before the start of Roland Garros.
After Monte Carlo, Novak Djokovic won the Rome Masters and logically took the lead of our ranking a week before the start of Roland Garros. Maria Sharapova, who has finally started her clay court season with emoticons, and Roger Federer, who's been impressive on Italian ochre until the final, and despite his orientation difficulties in Rome, complete the podium.
1- Novak Djokovic (+14).
He's the king of clay. Returning to competition after choosing to overlook Madrid, Novak Djokovic won the Rome Masters by defeating Roger Federer in the final (6-4, 6-3). This is the second tournament won by the Serb this year on clay after Monte Carlo.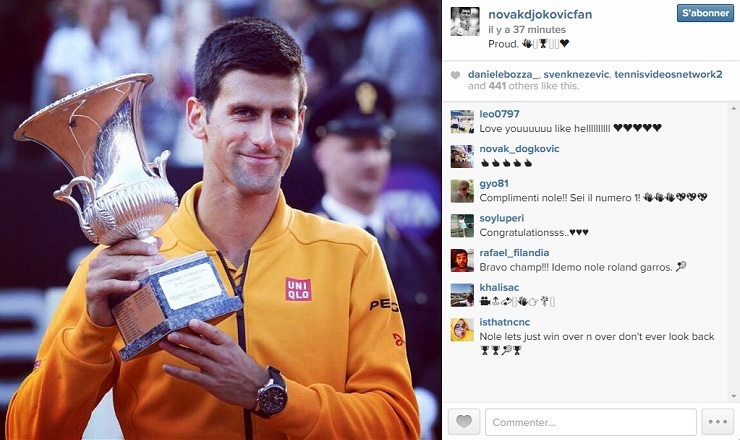 Nole now looks like a very serious contender for Roland Garros. This superb point against David Ferrer in the semi-finals is just one example amongst many others.
<iframe width="560" height="315" src="https://www.youtube.com/embed/c3QplxO7exU" frameborder="0" allowfullscreen></iframe>
Before that, Djokovic had played an exhibition match with Caroline Wozniacki, but also with the Italian footballers of AS Roma Francesco Totti and Alessandro Florenzi.
Djoko also took some time with his brother to visit Rome, whose charm has not left him insensitive.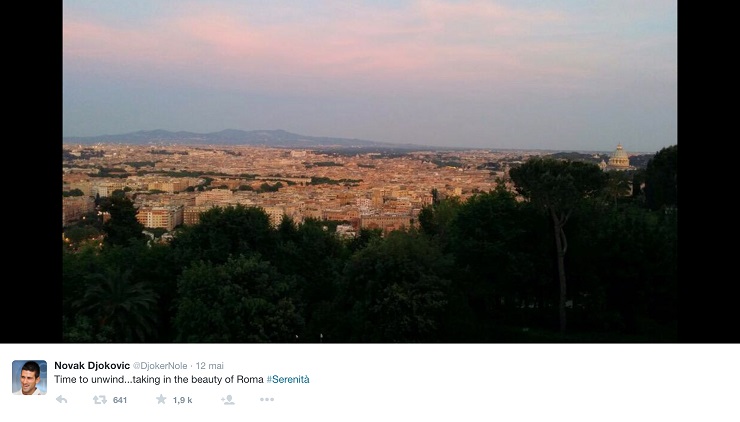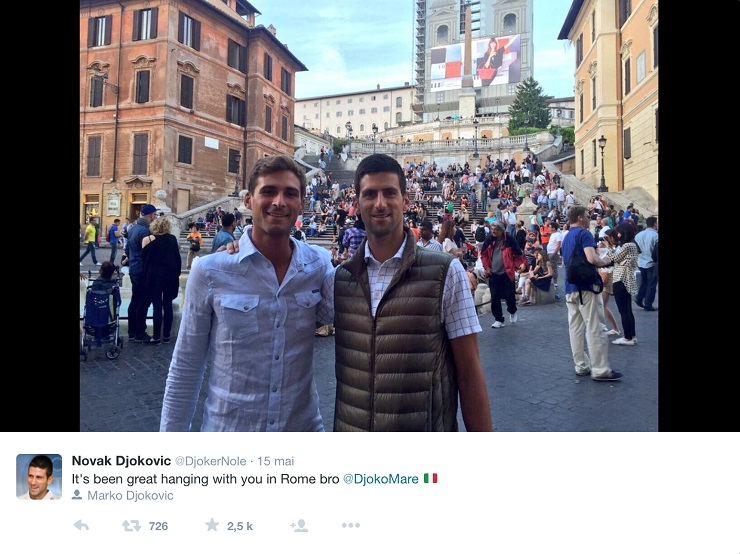 However, the sleeveless jacket is never a good look. Never.
2- Maria Sharapova (+9).
She finally properly started her clay court season. After some disappointing performances, Maria Sharapova won the Rome Masters by defeating the Spanish player Suarez-Navarro in the final (4-6, 7-5, 6-1). The Russian has not lost a single set of the week.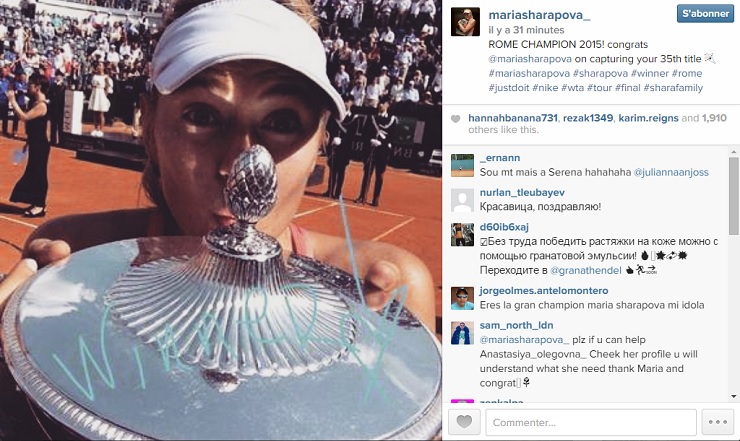 Sharapova apparently enjoyed her Roman trip, including the central court where she trained a few days before winning the title.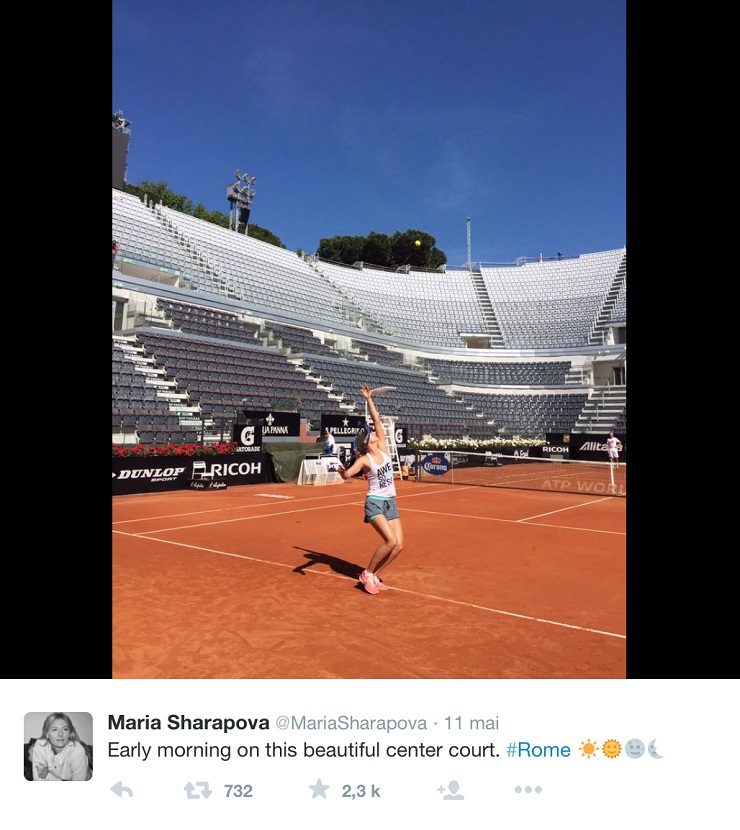 A week placed under the sign of good mood for the world number three who had fun reproducing emoticons.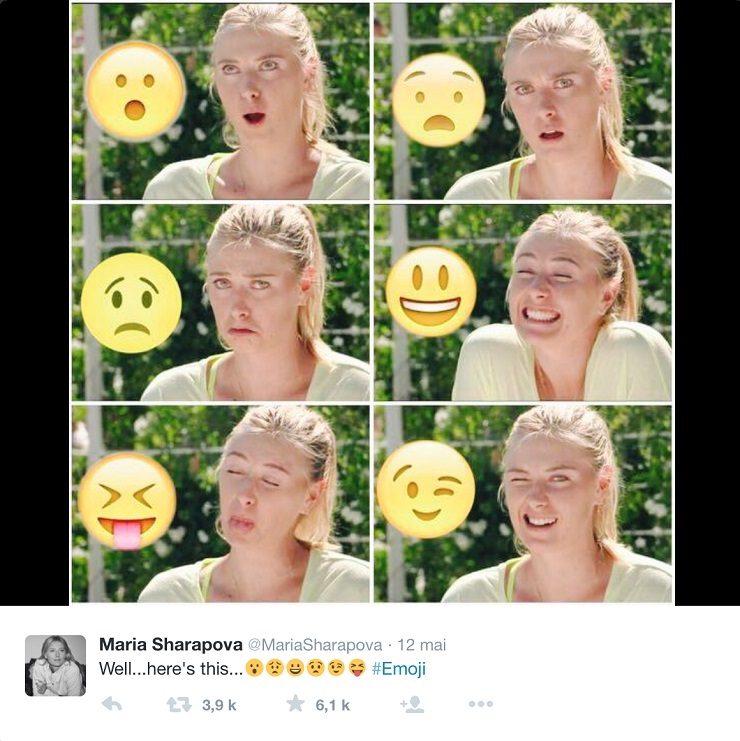 Slight preference for the one on the top left.


3 - Roger Federer (+6).


He's now reassured. Defeated from his opening match in Madrid, Federer reached the final in Rome, only defeated by Novak Djokovic. Before that, he had not conceded a set, beating very easily two members of the top 10, Tomas Berdych (6-3, 6-3) and his compatriot Stan Wawrinka (6-4, 6-2). The Swiss disgusted both players, thanks to incredible winning backhands.
Like his executioner in the final, Federer took advantage of this week to visit the Italian capital. The Swiss who should consider buying a sat nav.
Which didn't prevent him to see beautiful things in the Roman city.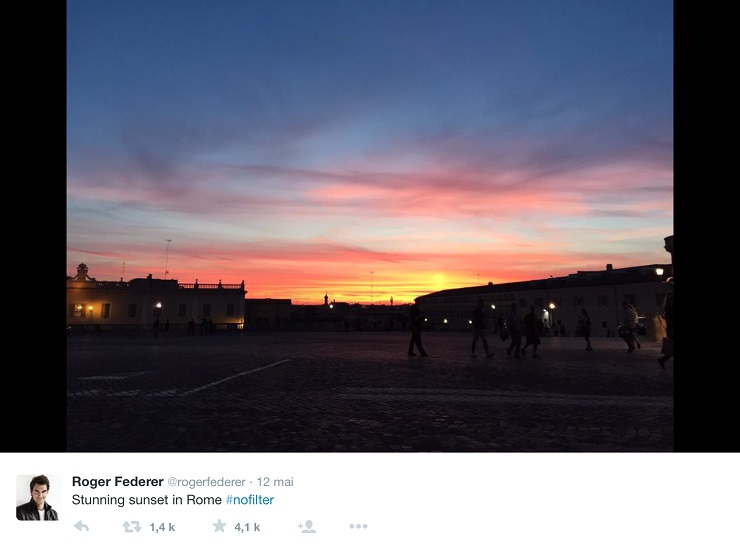 4- Stanislas Wawrinka (NE).
Eliminated from the knockouts in Monaco and Madrid, Stan Wawrinka completed his first full week on clay this season. With a great performance, a victory against Rafael Nadal in two straight sets in the quarterfinals (7-6, 6-2), having saved four set points in the first set tiebreak. And then unwind, just like in this point.
After this success, the Swiss had to meet his compatriot Federer in the semi-finals.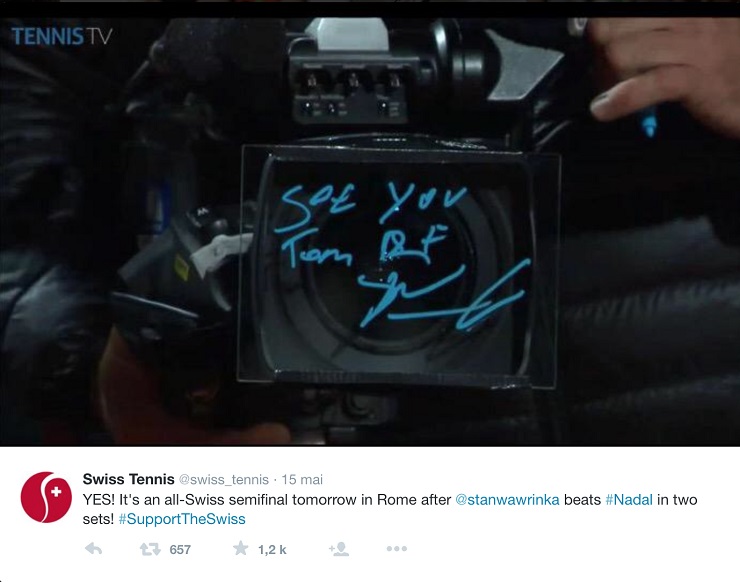 But the meeting did not go well for Wawrinka who was thwarted by his elder after leading 3-0 in the first set (6-4, 6-2). Stan was comforted with the view from his Roman hotel.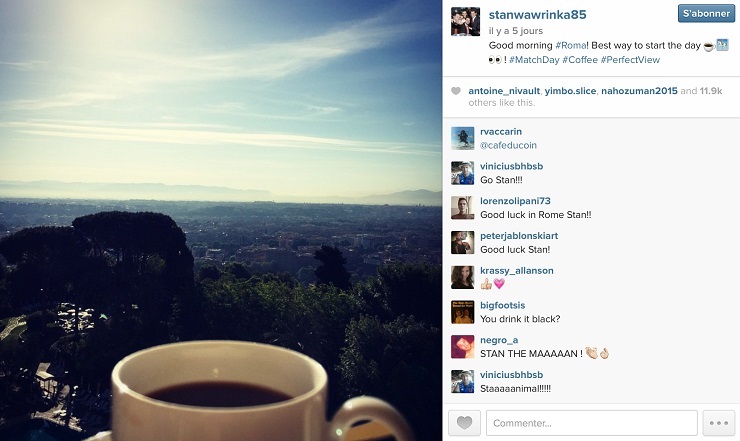 5- Andy Murray (-4).
He was exhausted. Winner of two tournaments in two weeks in Munich and Madrid, Andy Murray had to withdraw before his knockout match against David Goffin in Rome. The Scot had played ten matches over the last twelve days.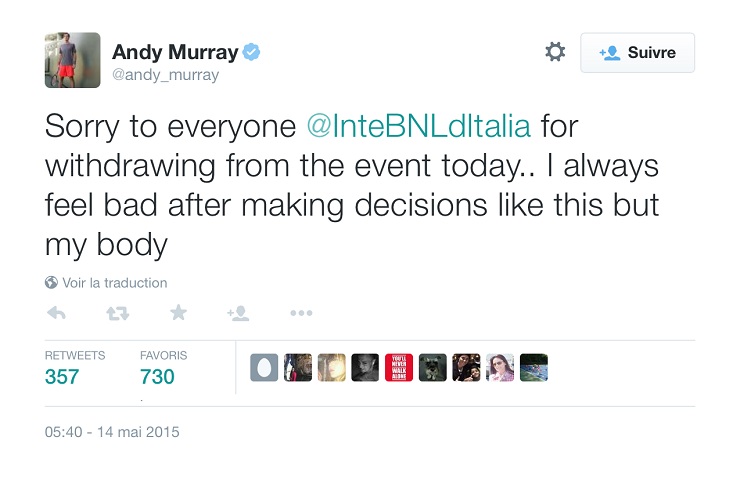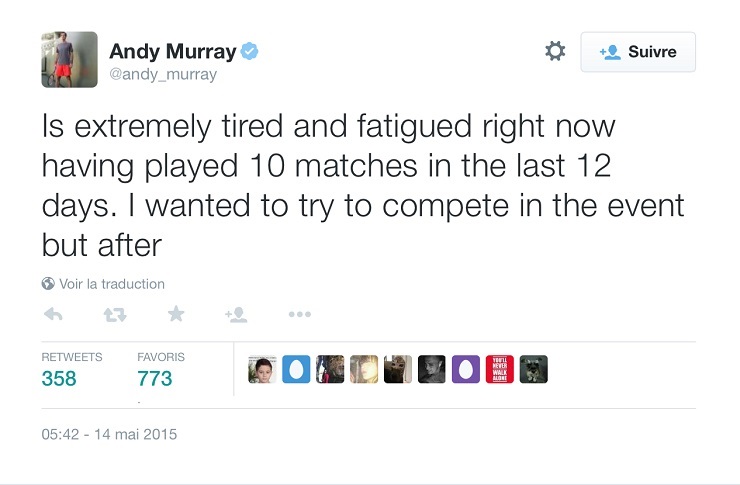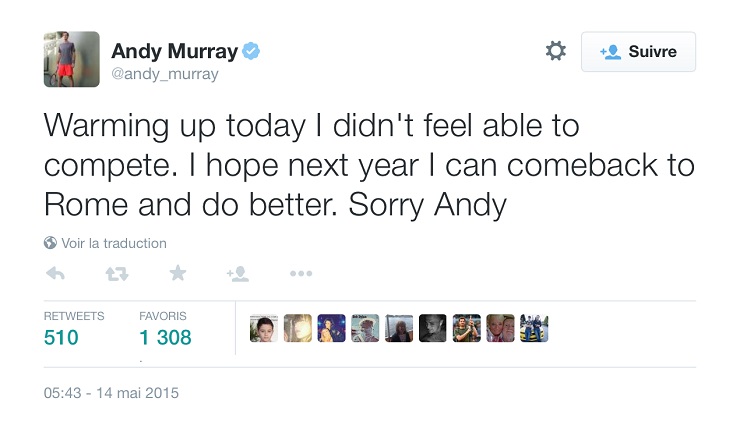 Murray doesn't lack humour though. So when the BBC asked him, just before his withdrawal, if he could win a third title on clay in two weeks, here's what he answered: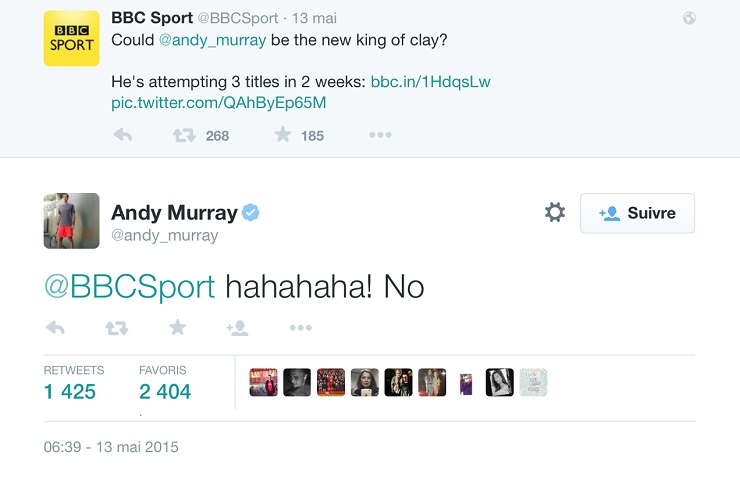 The Scot needed to rest, but that didn't stop him from playing table tennis with his brother.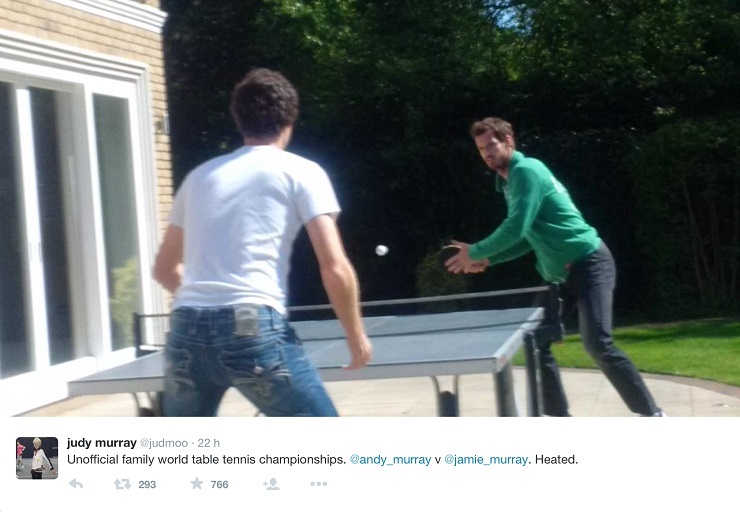 Murray also celebrated his 28th birthday this week. The British player Katie Swan, big fan, didn't forget to send him a little message.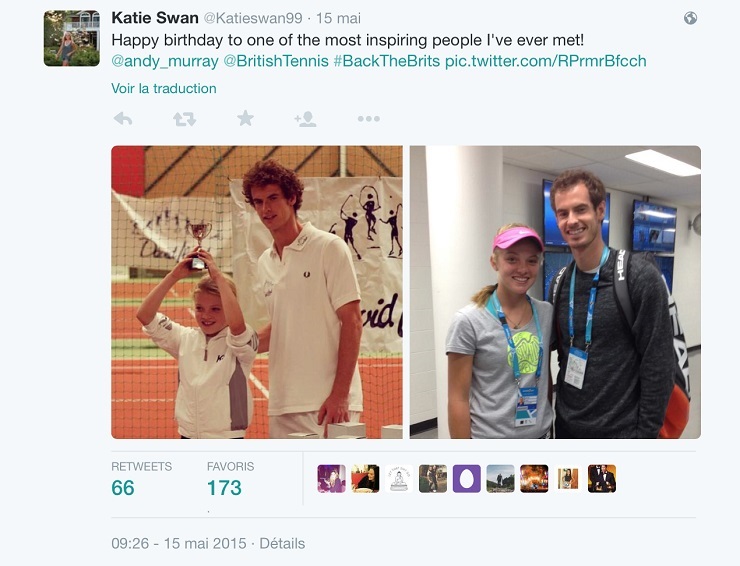 But Murray seems to have some hair problems.
6- Serena Williams (+6).
Like Andy Murray, Serena Williams has withdrawn before her knockout match in Rome against her compatriot Christina McHale. The American has been suffering from an elbow injury since Madrid. The world number 1 was nevertheless able to take advantage of her spare time to announce that she would give online tennis lessons. The Masterclass website offers lessons with stars in their respective fields, the actor Dustin Hoffman, the writer James Patterson and therefore Serena Williams. 90 euros for a class though.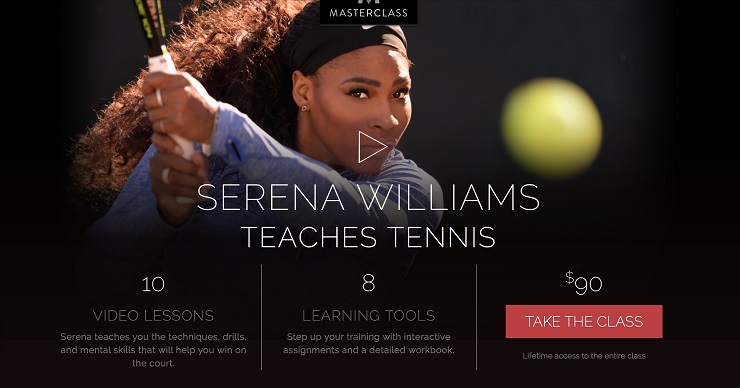 First lesson, backhand.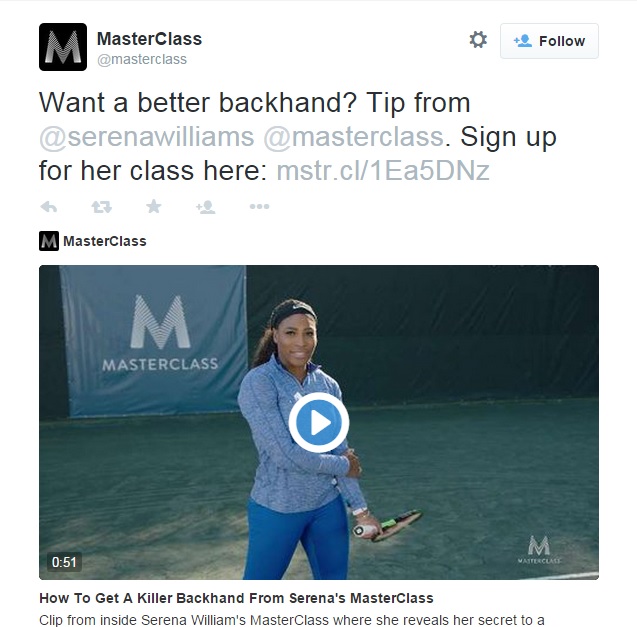 Serena Williams also did a little advertising for the book of her coach and lover Patrick Mouratoglou.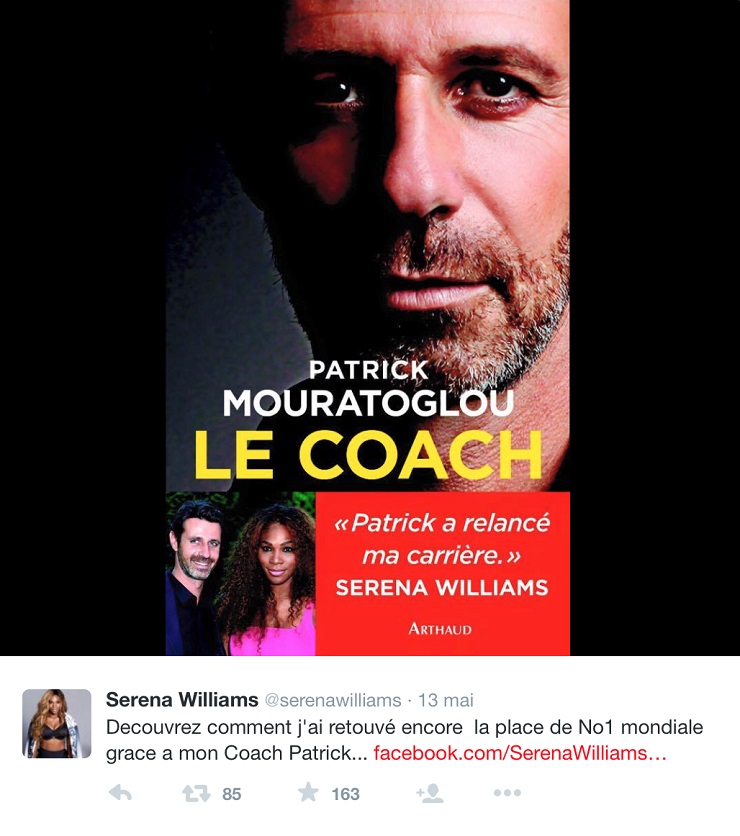 7- Fabio Fognini (NE).
He was one of the attractions of the Roman week. In front of his public, Fabio Fognini made the show once again. Defeated at the end of suspense in the knockout rounds by Tomas Berdych (6-3, 3-6, 7-6), the Italian stir up the crowds' enthusiasm during his first two rounds, winning unbelievable points against the American Steve Johnson...
And the Bulgarian player Grigor Dimitrov.
Unsurprisingly, Fognini was one of the most popular players during autograph sessions.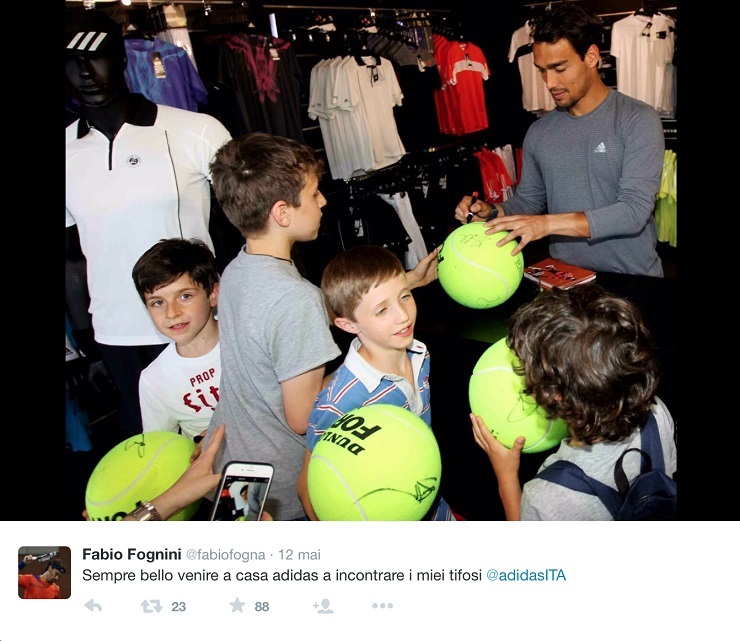 After his defeat, the Italian promised to return next year.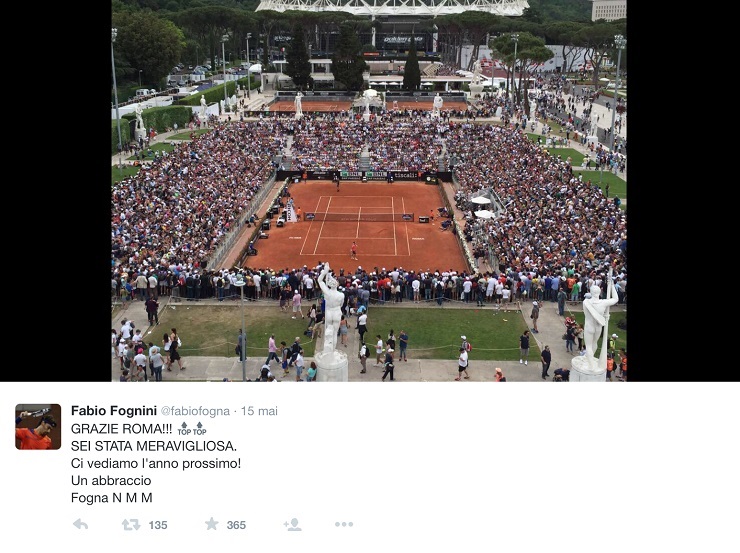 8. Caroline Wozniacki (NE).


She will make a lot of jealous in Rome. Caroline Wozniacki took a selfie with Francesco Totti, the football legend. Ashley Cole, too, but that's a detail.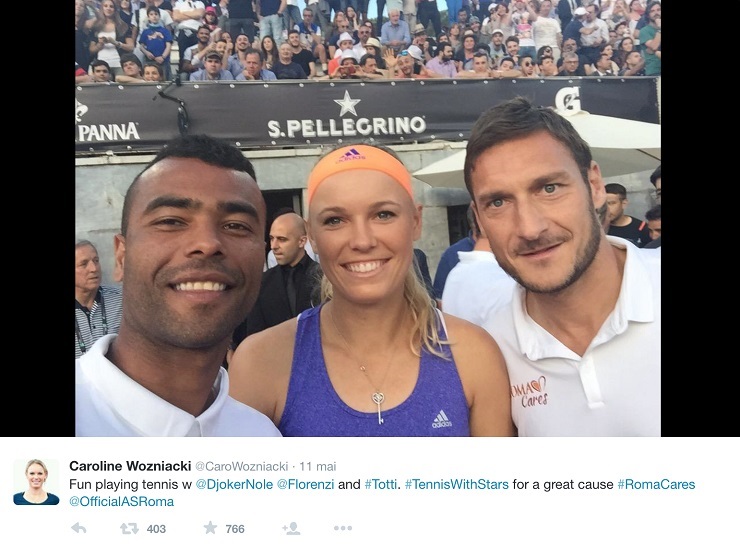 Despite her early elimination in the second round against the Belarusian Victoria Azarenka (6-2, 7-6), the Dane continued to train hard at the gym all week.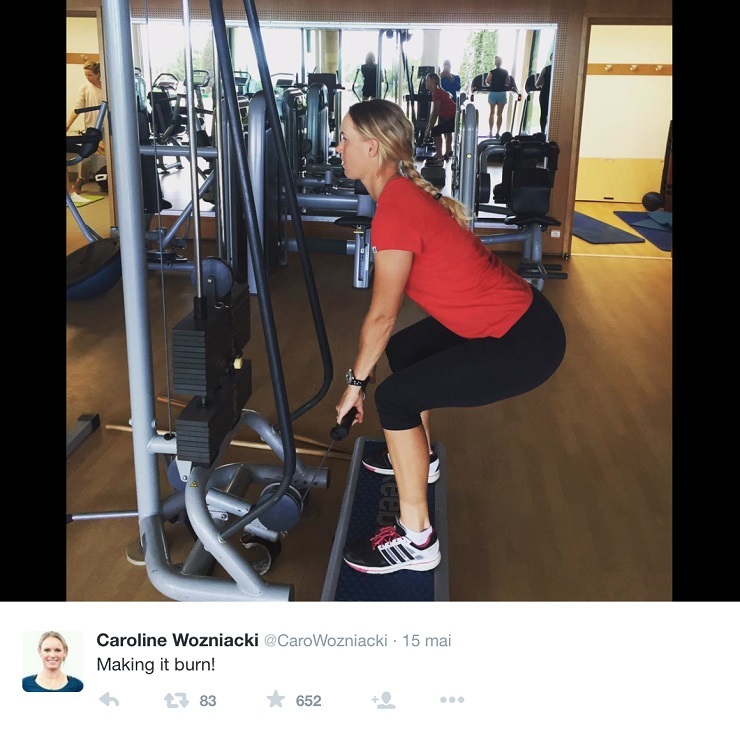 However, on Saturday she left bodybuilding tools to catch her remote control and watch the final game of Steven Gerrard at Anfield.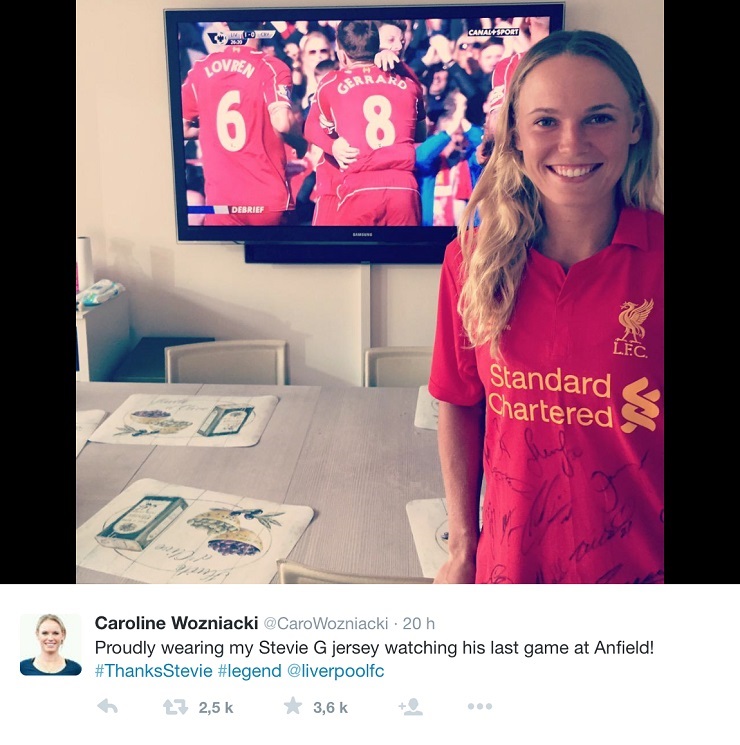 9- Rafael Nadal (-6).
For the first time in his career, Rafael Nadal will arrive at Roland Garros without having won any tournament on clay before. Very disappointing in the final in Madrid. Against Andy Murray, the Spaniard has shown his limits against Stan Wawrinka (7-6, 6-2). In the previous rounds, Nadal proved that he had not lost all his tennis on clay nor his reflexes, in the image of this point against John Isner.
Despite this new underachievement, Nadal was all smiles this week in Rome, in a place he likes.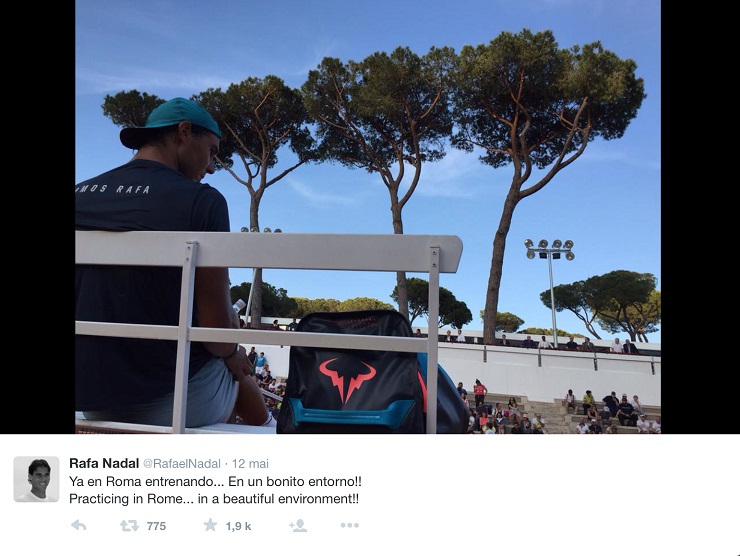 Otherwise, funny mimicry between Nadal and his uncle/coach Toni Nadal.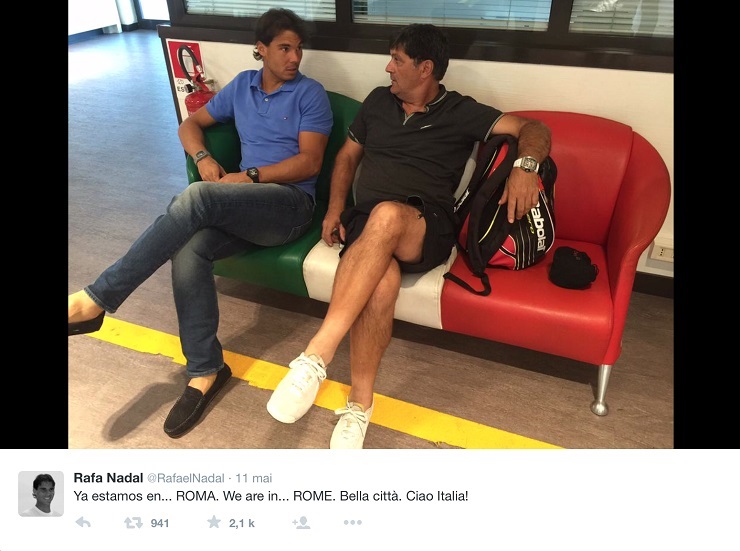 Is Rafa already working on his after career plans? Anyway, he's working on a restaurant project with the basketball player Pau Gasol and the singer Enrique Iglesias. Just that.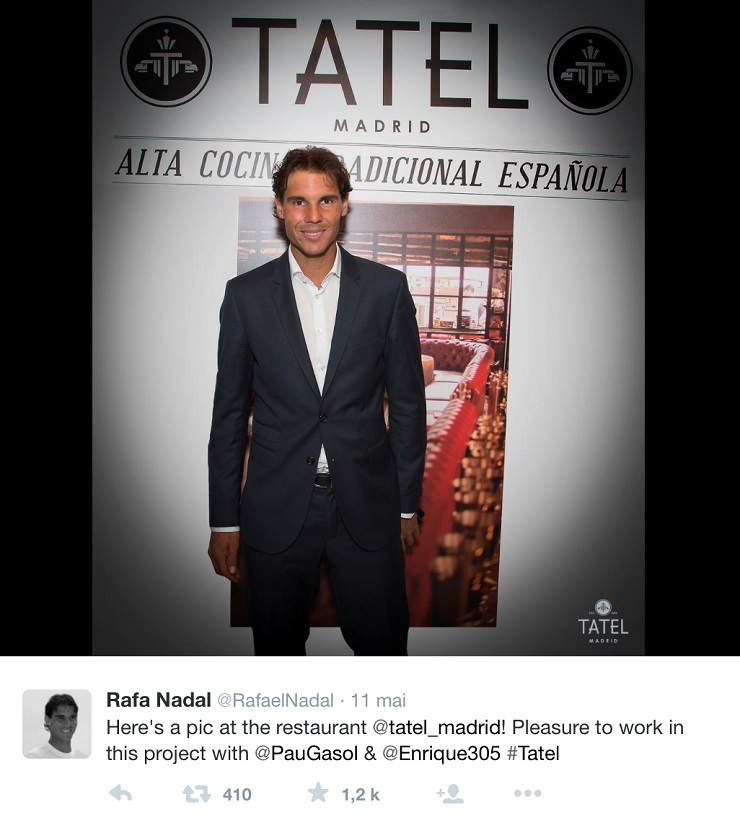 Gasol in the kitchen, Iglesias washing dishes and Nadal serving?
10- Carla Suarez-Navarro (NE).
She never ceases to surprise us. Carla Suarez-Navarro is having the best season of her career. Already finalist in Antwerp and Miami, the Spaniard has once again reached the final in Rome, only defeated by Maria Sharapova. Better, by beating Simona Halep in the semi-finals (2-6, 6-3, 7-5), she won her 31st match in 2015, making her the player with the most successes this season. This strong performance also ensures her a place in the top 8 for Roland Garros.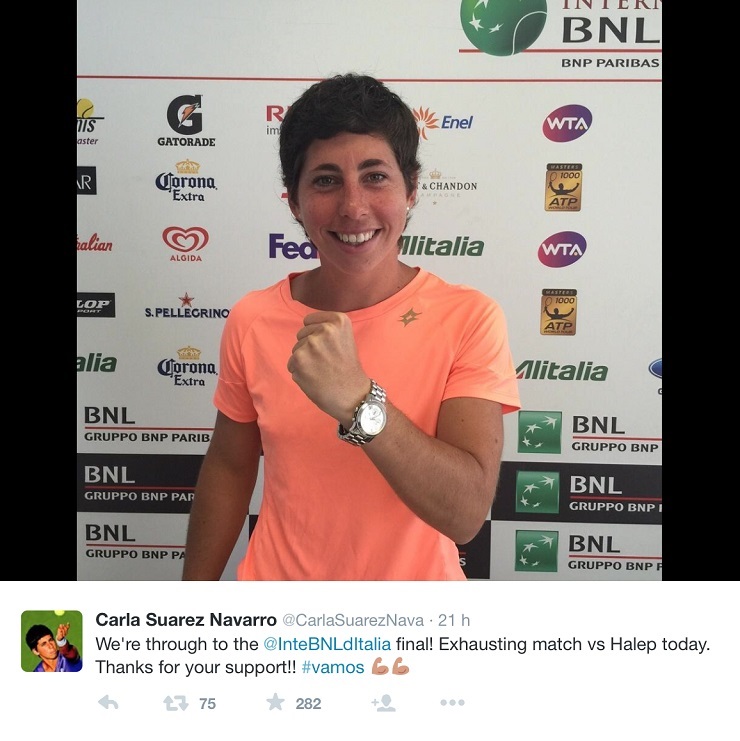 Throughout the week, Carla Suarez-Navarro has been very effective on important points, such as on this match point against Petra Kvitova in the quarter finals.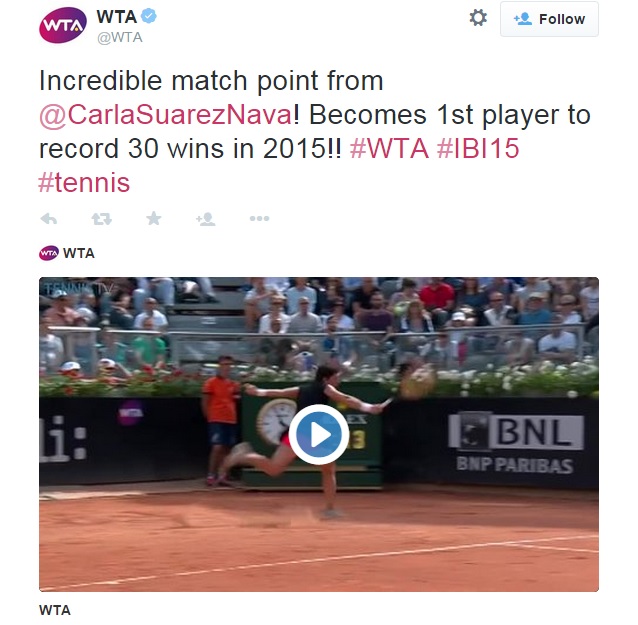 11- Nick Kyrgios (-1).
Despite losing in the first round against Feliciano Lopez, Nick Kyrgios reached the highest ranking of his career: he's now 30th in the ATP ranking. So in the end, the biggest problem of the Australian this week was his defeat at table tennis against Jack Sock.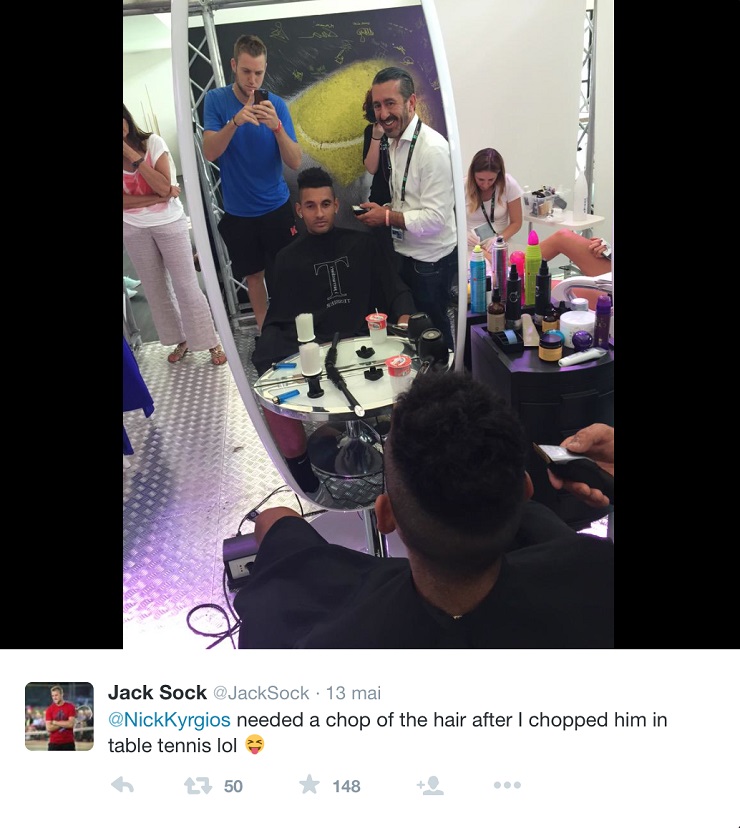 Despite this disappointing result, Kyrgios has more and more fans every week. Some even send him drawings.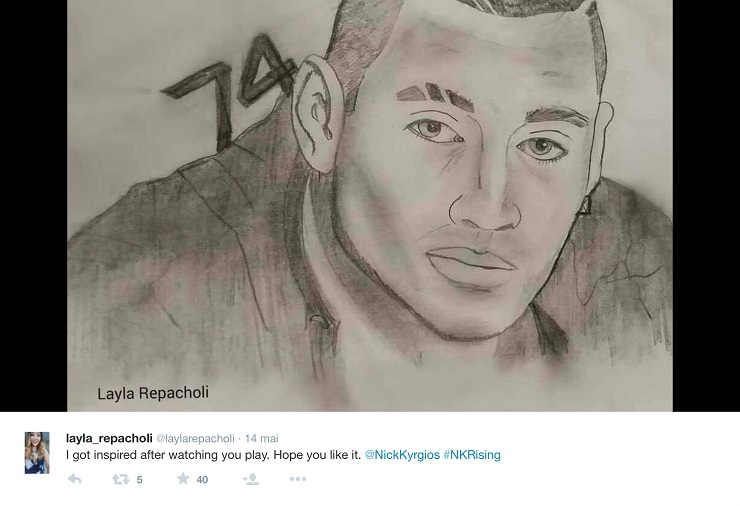 Ah yes, Kyrgios is in Nice this week, the last tournament before Roland Garros.
12- Elena Vesnina (NE).
Elena Vesnina took up a challenge proposed by the WTA website: the Can Challenge. The goal? Knock out as many tubes as possible with a service in 30 seconds. Good performance of the Russian who knock two tubes down.


Otherwise, Vesnina is playing the Strasbourg tournament this week to prepare for Roland Garros. She arrived in France a few days ago and was able to train with Samantha Stosur.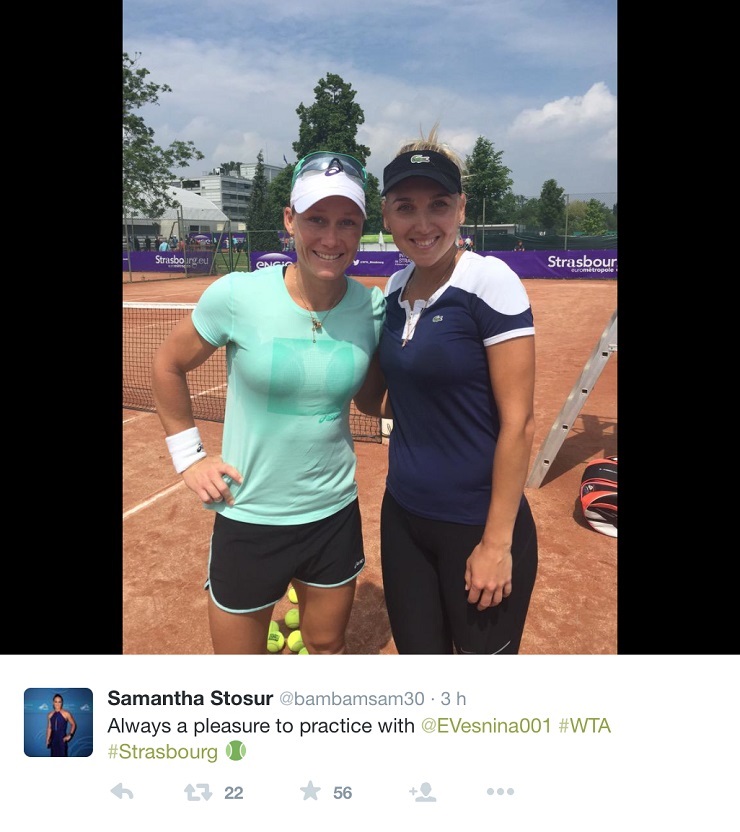 13- Tomas Berdych (-6).
Tomas Berdych was out of his league in the quarterfinals in Rome against Roger Federer (6-3, 6-3), but the week was still positive for the Czech. How could it be otherwise with that view?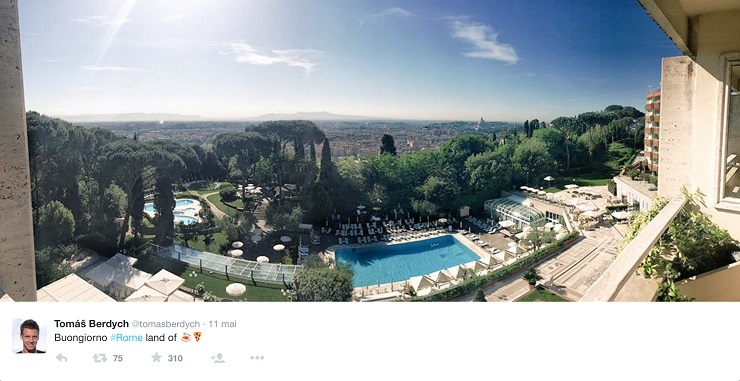 Invited on Sky Sports, Berdych had a good laugh. Which didn't seem to amuse Ivan Ljubicic on his left.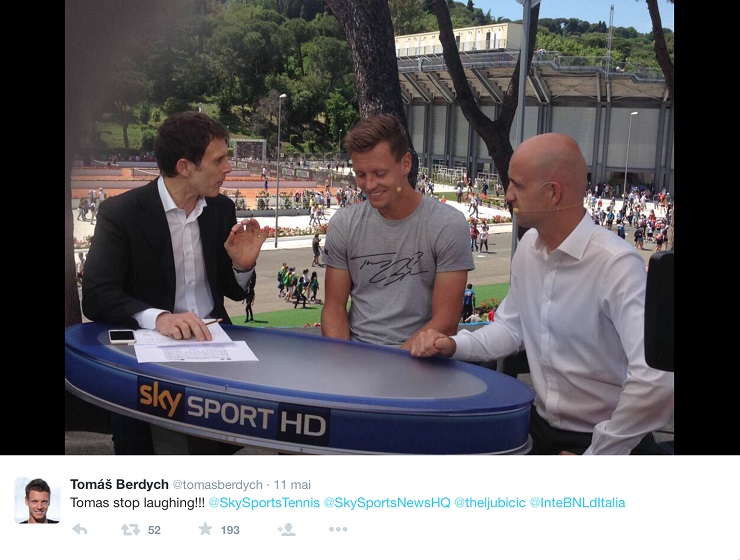 Berdych then returned to his home in Monaco. To enjoy the sea.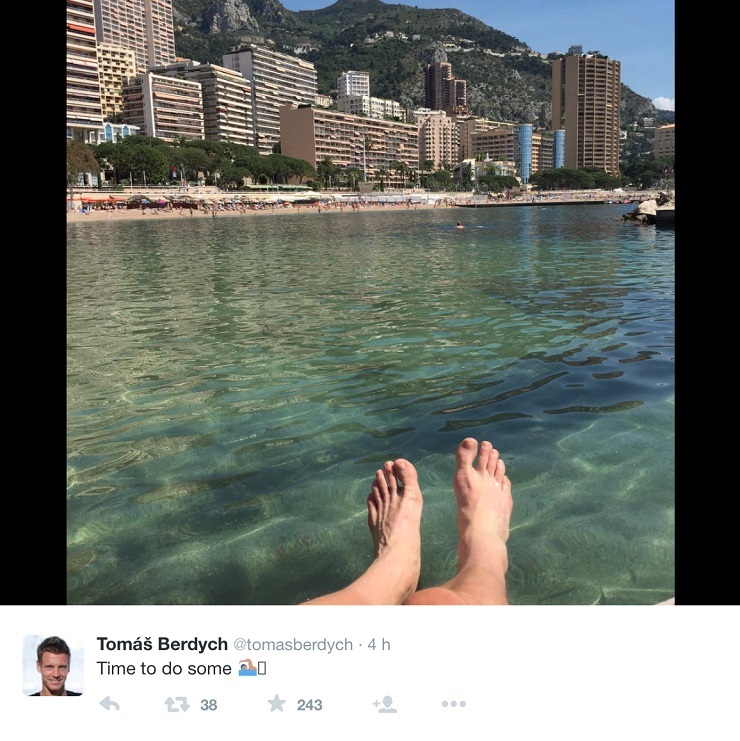 14- Na Li (NE).
Li Na will have her biopic in theatres soon. If the Chinese player, who ended her career last year, has already published an autobiography, her story will be adapted for the big screen next year. The film will be made by Hong Kong director Peter Ho-sun Chan. Na Li should have a consultant role on film. "I am honoured to have this unique opportunity to tell my story through a movie," she said.
15. Marcos Baghdatis (NE).
Absent in Rome, Marcos Baghdatis returned to the competition this week in Geneva. Meanwhile, the Cypriot is doing very special training sessions.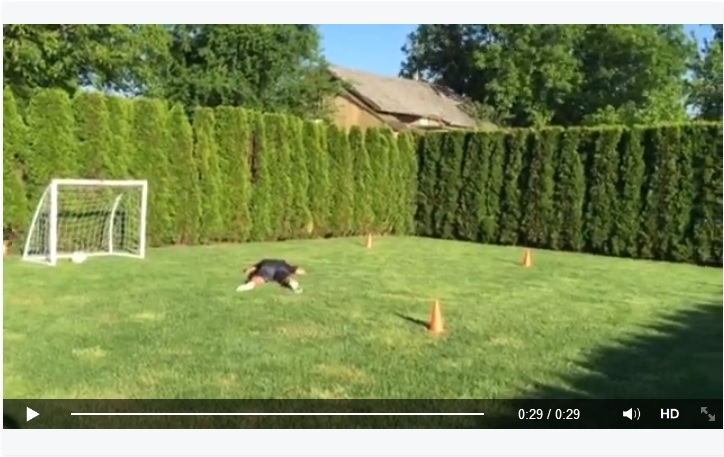 Nice left foot Marcos.
Out :
Kvitova, Kuznetsova, Dimitrov, Kokkinakis, Safarova, Safina, Nishikori
By Quentin Moynet