Beautiful winner of Rafael Nadal in Madrid Sunday, Andy Murray takes the top spot of our ranking and wins his second tournament in a row and his first Masters 1000 on clay courts. The Scot dominates Petra Kvitova, who won the women's draw, and Nadal somewhat reassured about his level on clay.
1- Andy Murray (NE).
Ten days ago, Andy Murray had not raised a single trophy in 2015. After Munich last week, he won another tournament, and not just any tournament: Madrid, a Masters 1000 on clay courts, the first of his career. The Scot dominated in final the master of the surface, Rafael Nadal, 6-3, 6-2. Even if the latter hasn't been in top shape recently, it's still quite the feat.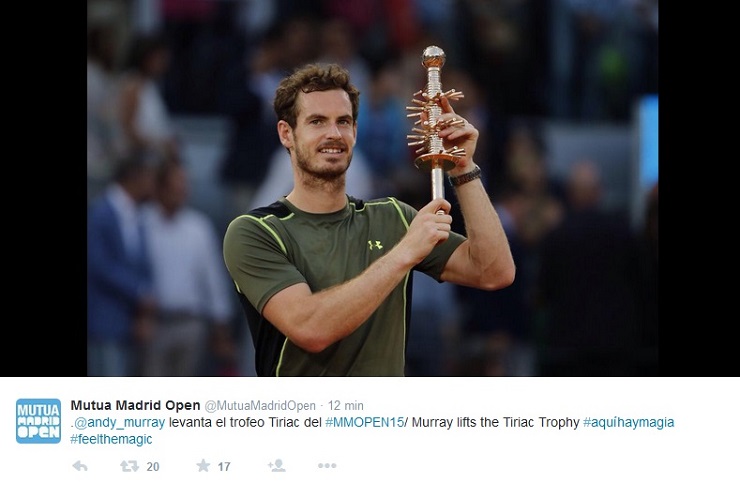 Murray may inevitably be thrilled to add a beautiful line to his record by having played, moreover, very good tennis all week.
It must be said that the Scot had a secret weapon: his newlywed ring that he kept hidden… In his sock!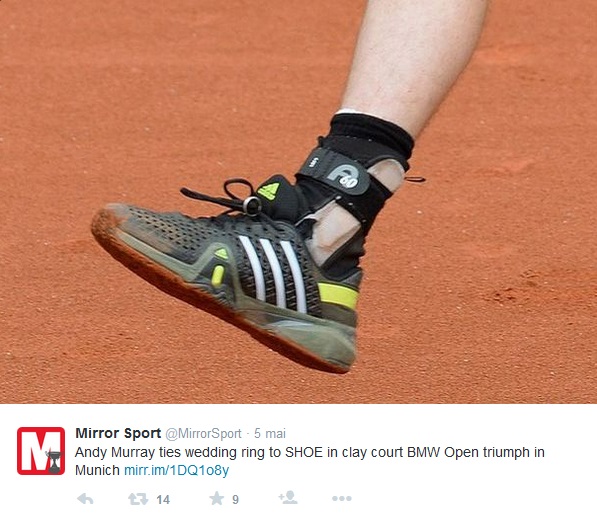 We also saw Andy discussing his own performances on British TV this week...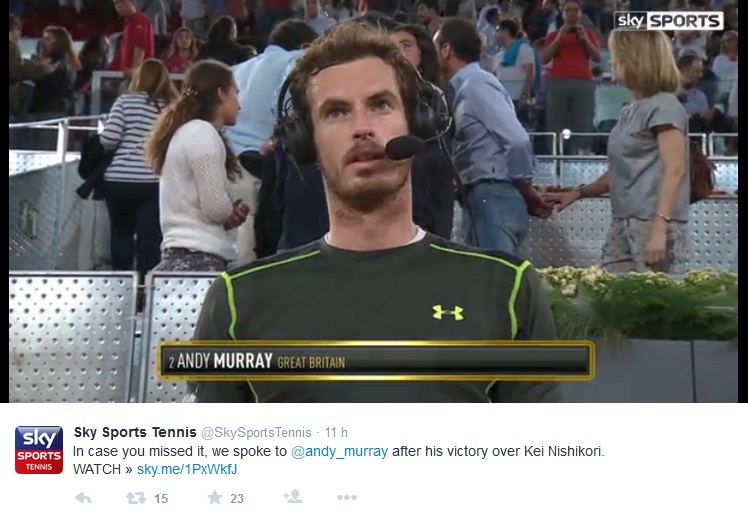 And supporting the young generation of British tennis! Perfect man.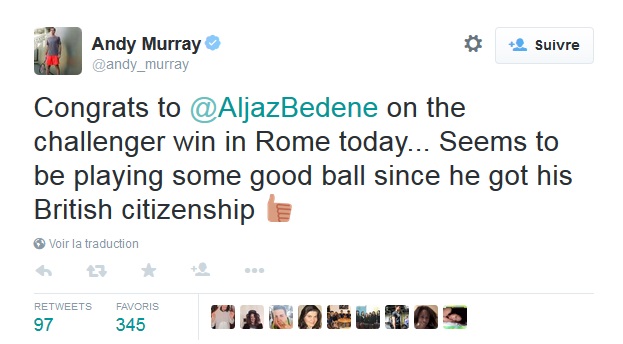 2- Petra Kvitova (NE).
Among girls, honour to the winner of the week, Petra Kvitova, who won the Madrid Open for the second time in her career. The first time was in 2011 against Victoria Azarenka.
This time it's Svetlana Kuznetsova who has been largely defeated in the final (6-1, 6-2). In the previous round, the Czech had dominated the World No. 1 Serena Williams with great mastery, thanks to some remarkable shots, like this one.
As soon as the tournament was over, Kvitova headed to Rome to confirm and continue building momentum before Roland Garros.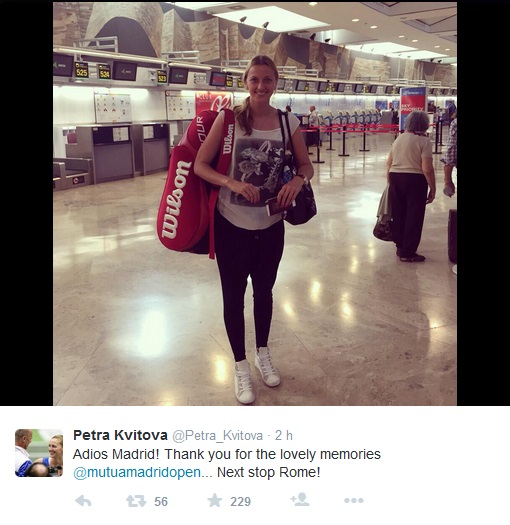 In Madrid, Kvitova also had some good moments, like this evening at the start of the tournament where she met the young retiree Dinara Safina and her strange dress which looked a bit like an old wallpaper...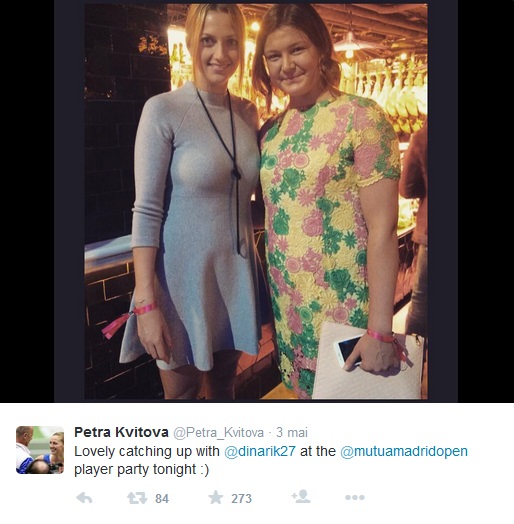 3- Rafael Nadal (+2).
Defeated in final at home, Nadal still enjoyed Madrid and its local food.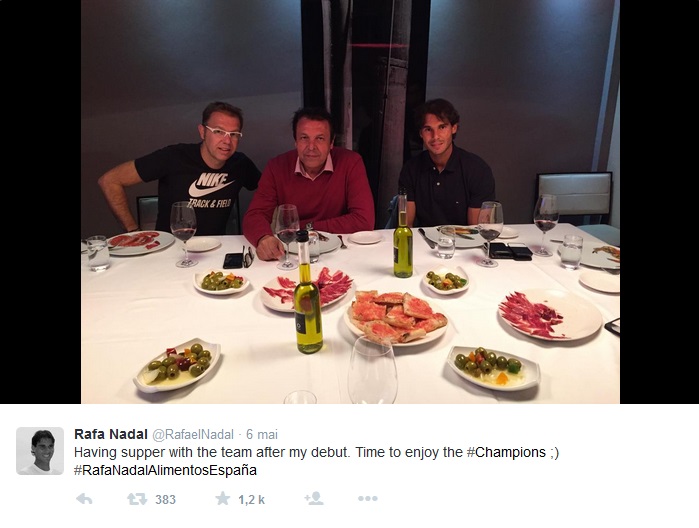 But especially, he reassured on his level of play and can once again dream of great things on HIS clay.
Otherwise, Nadal also took advantage of his visit to Madrid to be honoured by the European university of the city...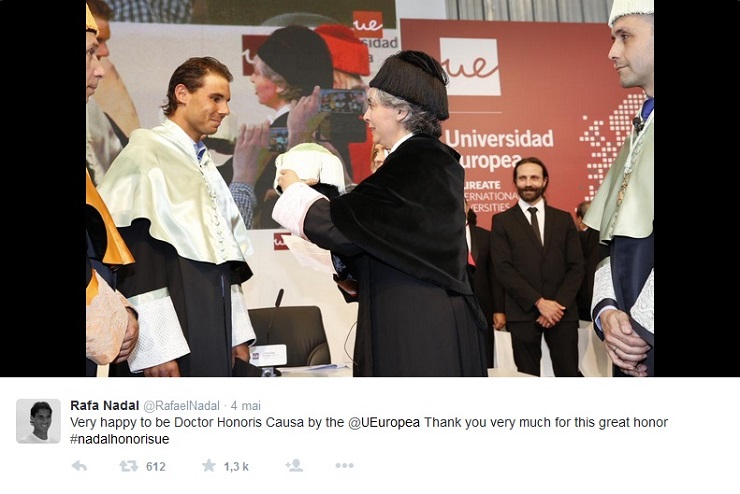 ...And left with a nice disguise as a bonus!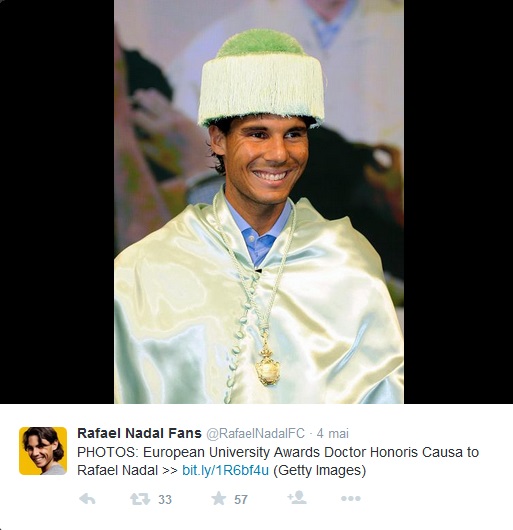 He was also supported by local footballers...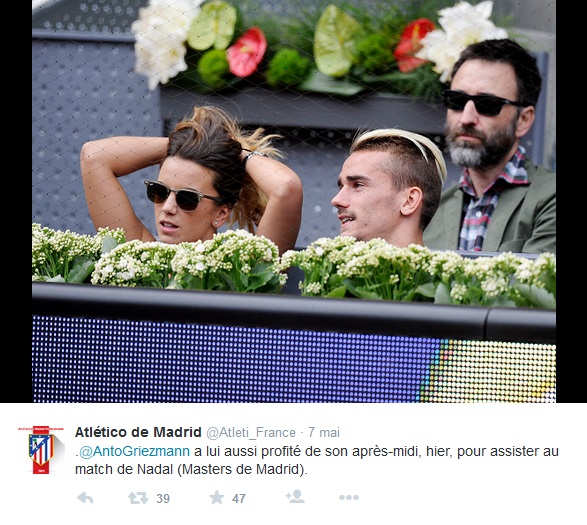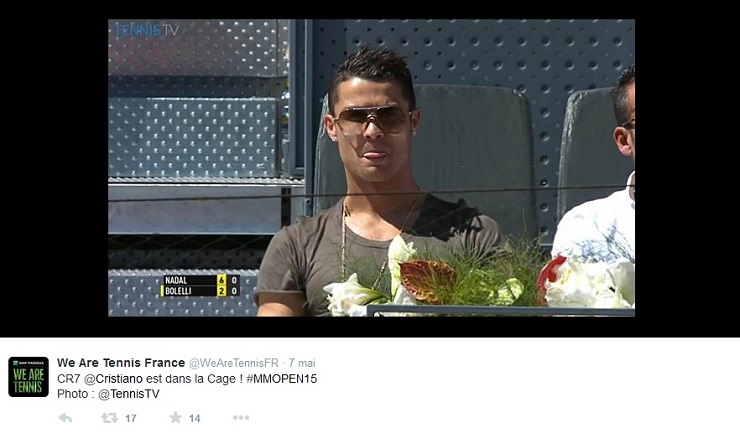 4- Svetlana Kuznetsova (NE).
Kuznetsova's week in Madrid started well, she seemed very happy to pose with the ball boys of the tournament.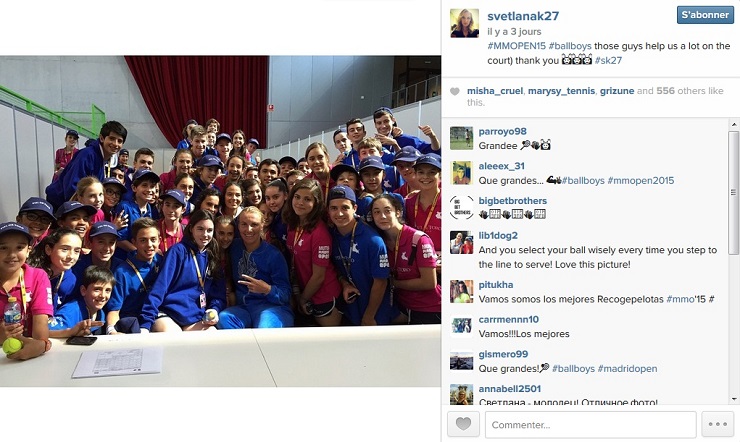 An overall very positive week for the Russian player, with a good level of play and a prestigious victory in the semi-final against her compatriot Maria Sharapova (6-2 6-4).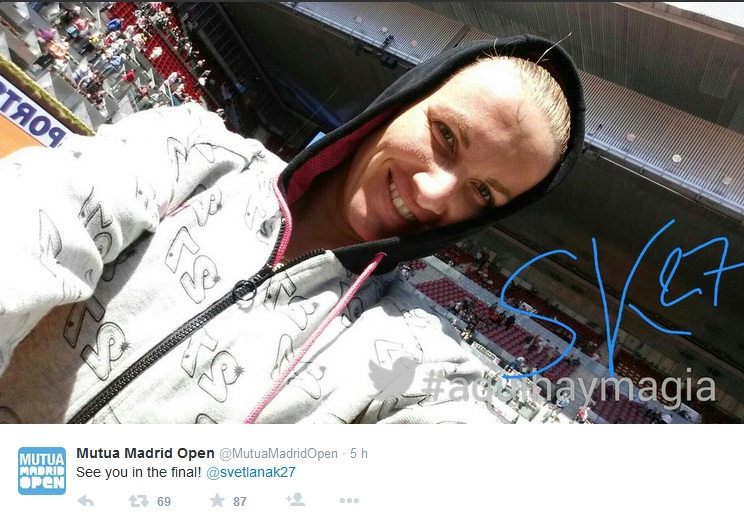 Her dreams of victory were nevertheless stopped in the last game of the week, abruptly lost in straight sets against Kvitova. Too bad for Kuznetsova, who has never won this tournament but who can nevertheless leave satisfied. She will definitely be among the favourites at the French Open, that she already won in 2009.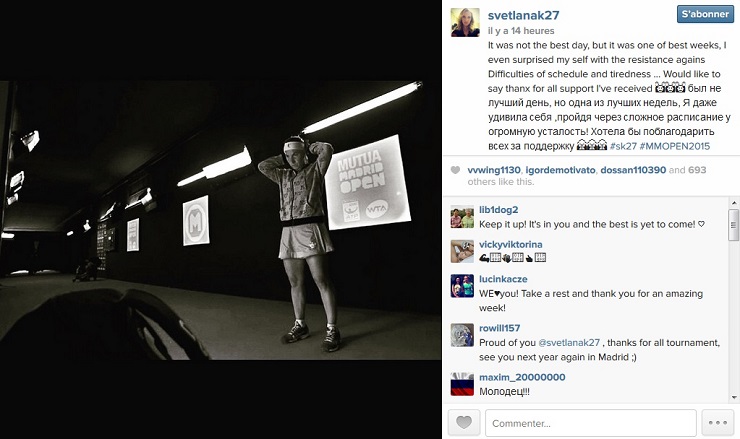 5- Grigor Dimitrov (NE).
How do you prefer Grigor Dimitrov? Lover? Ok, let's go for the pose.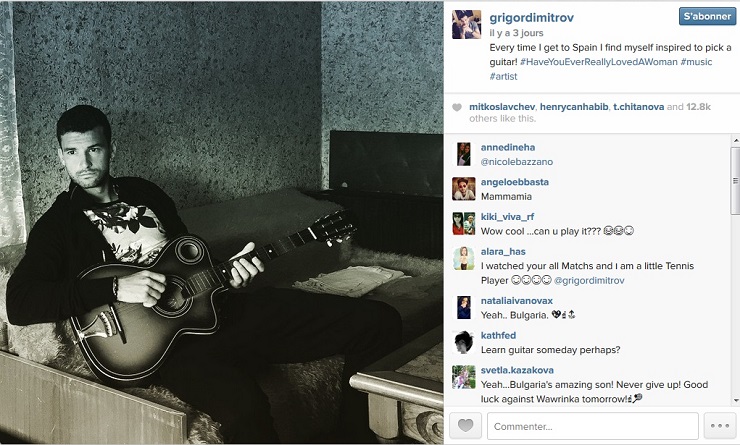 Unless you prefer him prankster? The Bulgarian can do it too, as demonstrated by these two photos, one with a giant suitcase...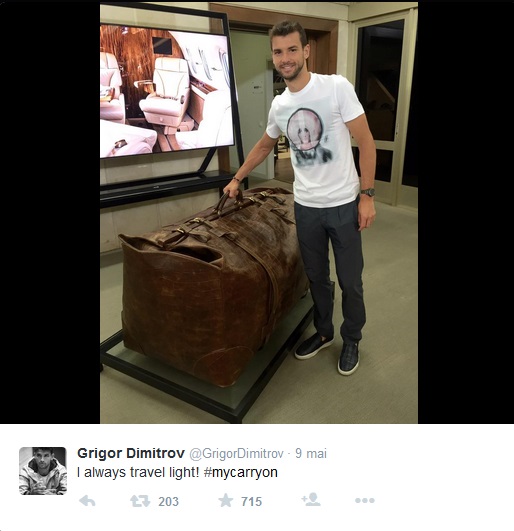 …The other with this funny arrival in Rome!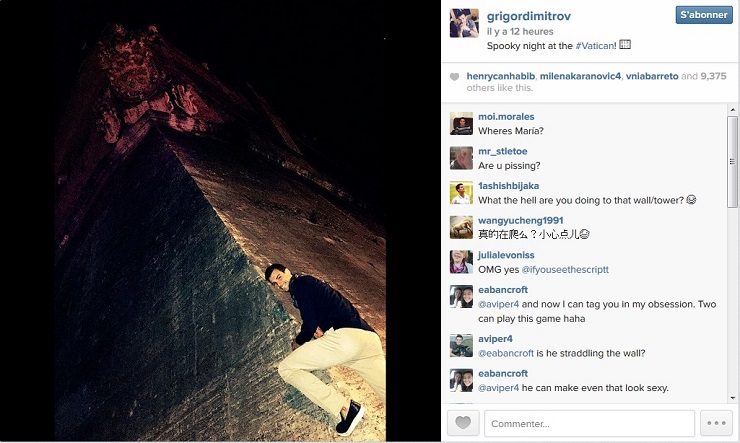 Oh, and if it's still as a player that you like your Dimitrov the most, no problem, it's also possible. So Grigor, a game of petanque?
6- Thanasi Kokkinakis (NE).
Another young seducer of the tour, the Australian hasn't shown his gorgeous physique very long in Madrid, losing from the first round of the tournament against Sam Querrey, after qualifying.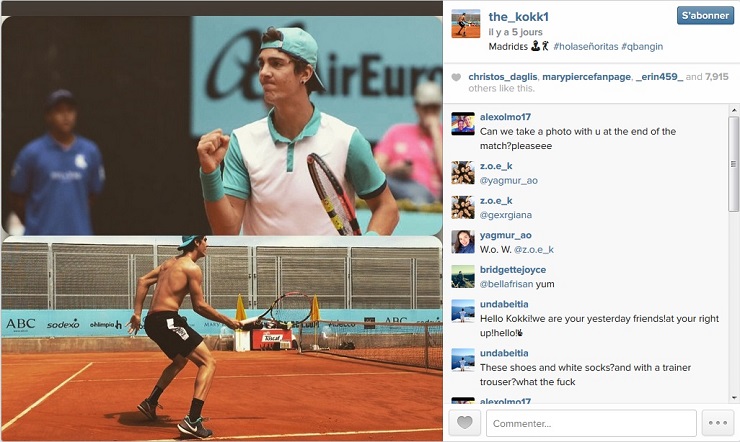 Kokkinakis was also supposed to go through the qualifications in Rome this weekend but had to withdraw because of an incident at the Roman airport, causing multiple delays and plane cancellations. He has thus been forced to spend an entire night in Madrid's airport!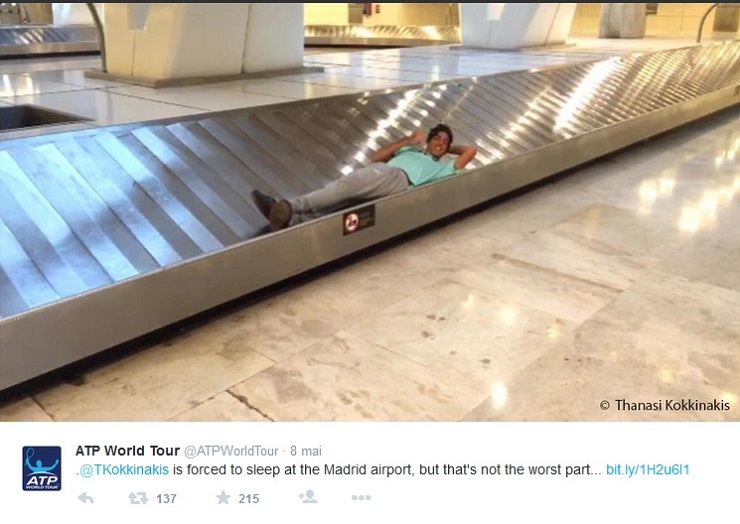 Result: a nice buzz on social networks about his misadventures and a change of plan, leaving Rome for France and the Bordeaux Challenger. There he took the time to wish a happy mother's day to his beloved mom. Charming and role model...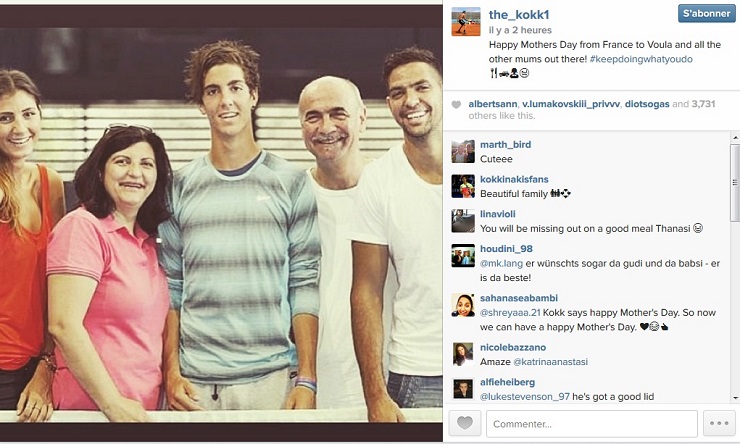 7- Tomas Berdych (+7).
The weeks go by and are very similar for Tomas Berdych, always placed, yet never winner of a tournament in 2015. The Czech was defeated in the semi-final against Nadal. It must be said that his training racquet didn't look very conventional...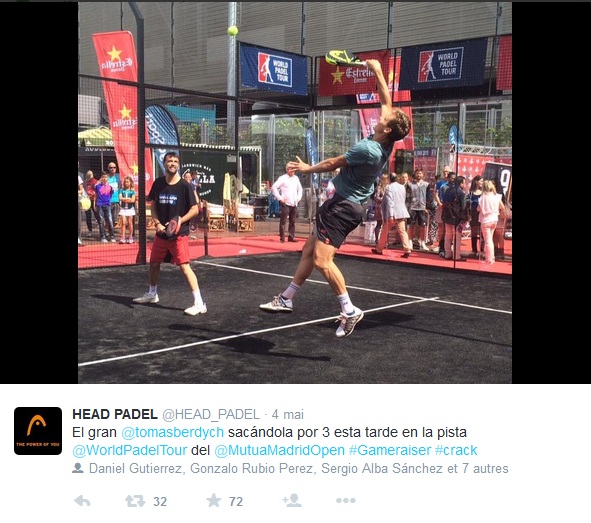 On a nutritional point of view too, there is room for improvement!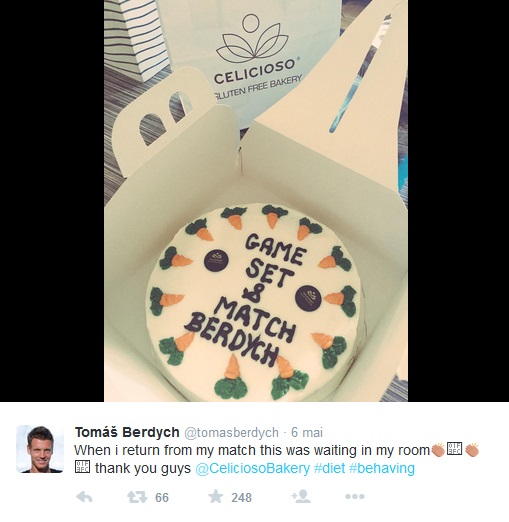 8- Lucie Safarova (NE).
Safarova's week in Madrid stopped in the quarterfinals, defeated by the finalist Svetlana Kuznetsova. No problem for her Canadian coach, happy of the victory of his compatriots in ice hockey at the world championship against the Czechs. He even teased his student at the middle of her opening match!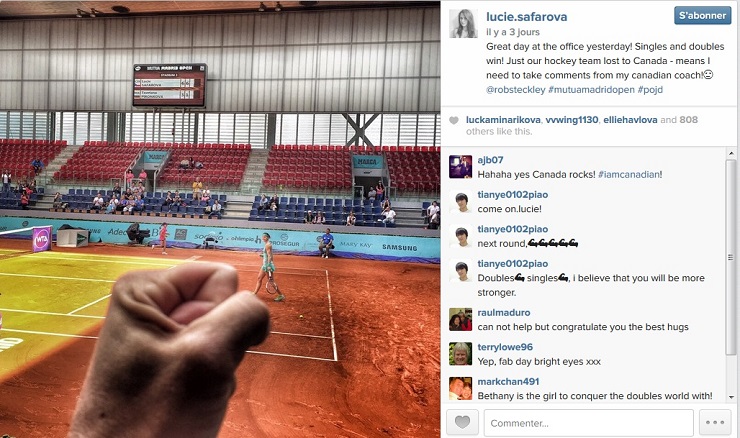 Madrid was also an opportunity for Safarova to have her picture taken with young fans and her friend Bethany Mattek-Sands.
But also the occasion to play the saleswoman in a cosmetics store for one of her sponsors.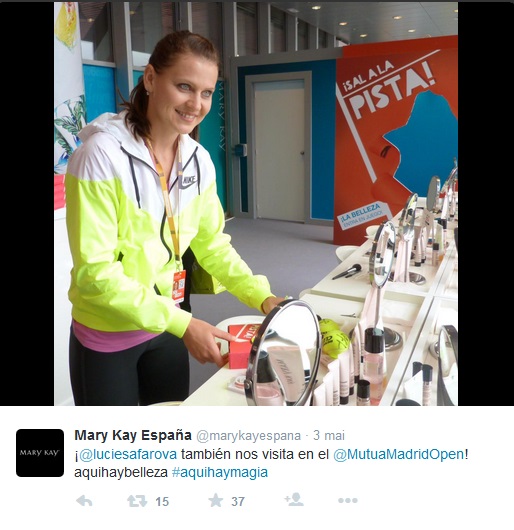 But that's not all. The Czech player has also found time to make fun of the owner of this car, strafed by Madrid's pigeons!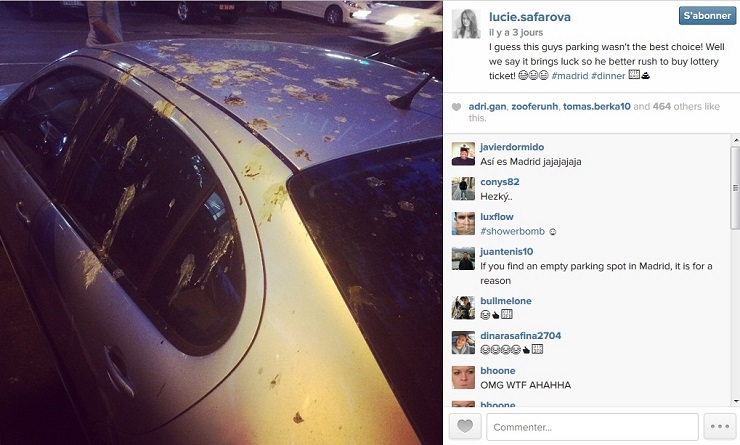 9- Roger Federer (-7).
Idea of conversion for Roger Federer: to become an aerial photographer. Take that Yann Arthus-Bertrand!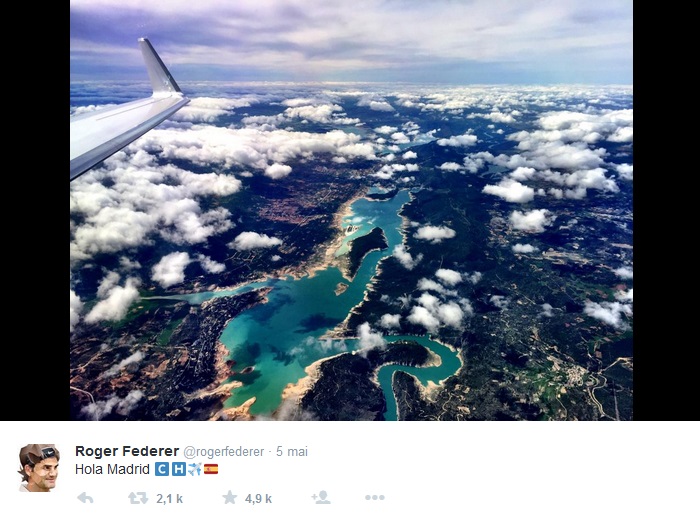 Meanwhile, the return on clay courts has been complicated, despite the support of his family.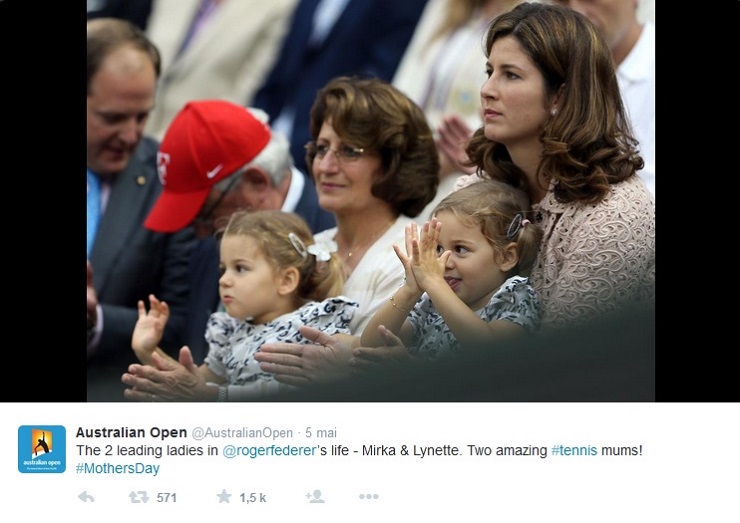 Defeated by nick kyrgios, his junior by 14 years (!), the Swiss seemed unusually upset and annoyed, and quite inelegantly discussed arbitration decisions, even saying to the chair umpire: "We need a clown for the circus."
Not cool Roger, not cool at all!
10- Nick Kyrgios (-6).
The winner of the Swiss is called Nick Kyrgios, a young lad who was only 3 years old when Federer made his debut on the professional tour! Other generation and other trends for the Australian, capillary speaking at least, with this cool-kid haircut that brought him luck!
Note this funny stats: Kyrgios, generation 1995, succeeded with this victory against Federer what any player of the generations 1991, 1992, 1993 and 1994 never succeeded. The Swiss remains undefeated by all the players of these age categories.
11- Maria Sharapova (-3).
As often, the Russian knows how to be glamorous when it comes to posing for photographers.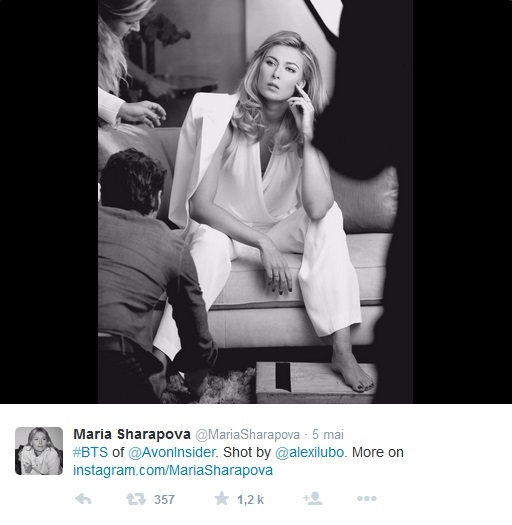 Less glamorous however, what she remembers of Madrid and its sausage specialties!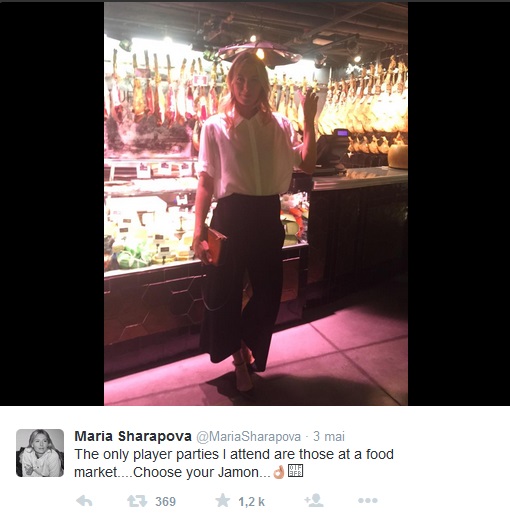 One thing is certain: the Russian is ready for the outdoor tennis season.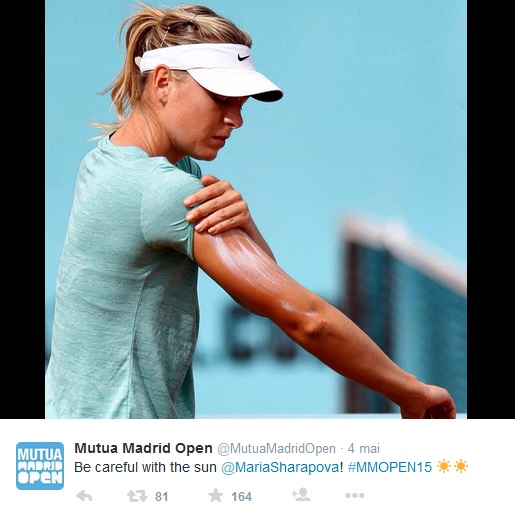 12- Serena Williams (+3).
No third victory in Madrid for Serena Williams. The American was eliminated in the semi-finals but still showed in the previous round that her legs were still there, ready if necessary for long rallies on clay.
She will nevertheless have to continue training hard to target a third victory at Roland Garros, after 2002 and 2013.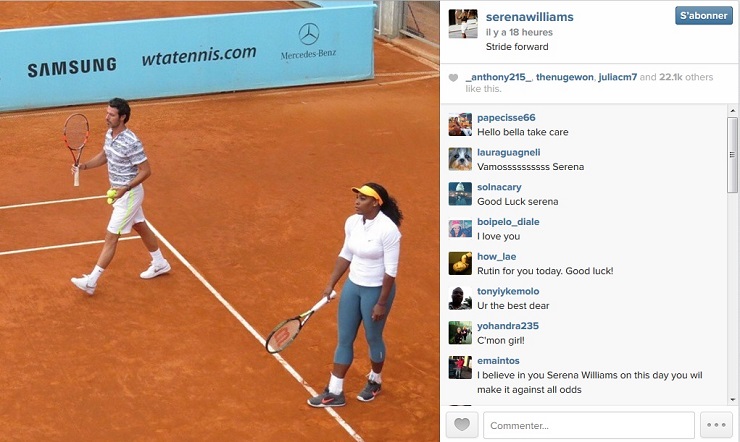 13- Dinara Safina (NE).
Retirement really seems amazing for Dinara Safina.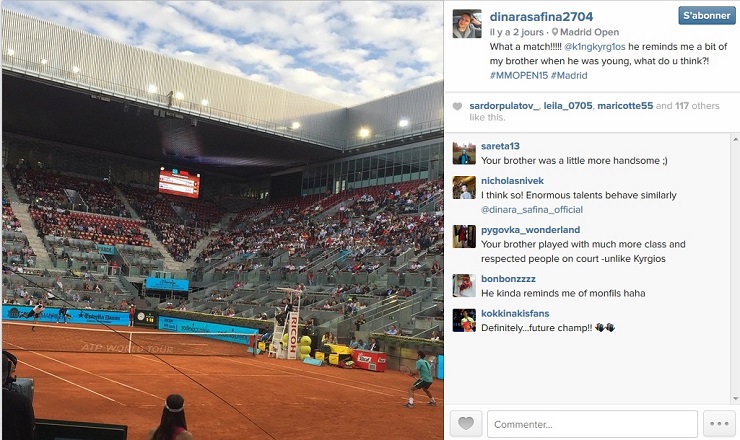 The Russian took the opportunity to play the advised spectator and thus seemed to have fallen in love with Nick Kyrgios. The Australian's style of play reminds her of a certain... Marat Safin, her brother!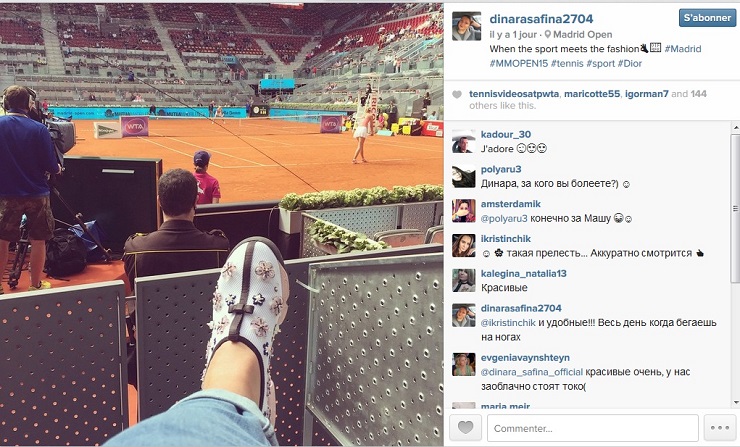 14- Kei Nishikori (NE).
Semi-finalist in Madrid, Kei Nishikori can leave Spain with confidence in his game. He is definitely an outsider of choice for the final victory at the French Open, with a game always more consistent on clay.
The Japanese also brought back from Madrid a nice little picture with Chicharito Hernandez, the Mexican striker of Real Madrid.
15- Novak Djokovic (-6).
Djoko had chosen to overlook the Madrid tournament, to better prepare for Rome, where he is obviously eagerly awaited...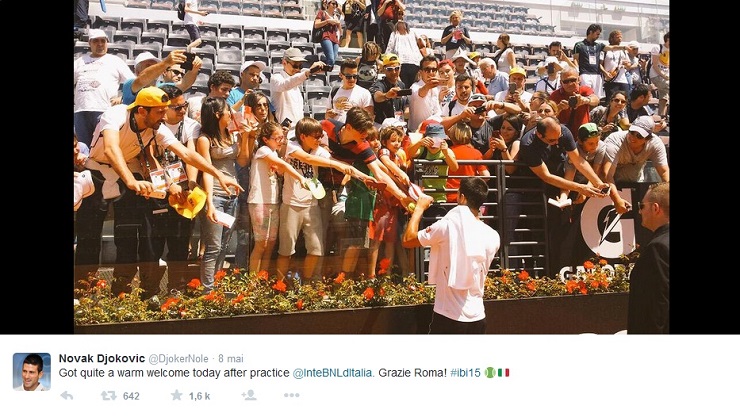 Among the many fans of the world number 1, there are two Italian, Francesca Schiavone and Flavia Penetta. 3, 2, 1: cheeeeese!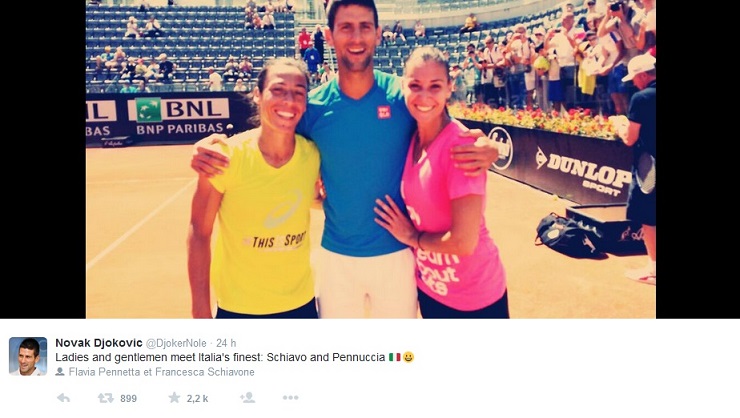 Out:
Gasquet, Wozniacki, Cornet, Fognini, Ferrer, Anderson, Azarenka, Chirico
Par Régis Delanöe