It is thanks to an incredible series of victories that this tennis player took the lead of the funny WeAreTennis ranking. Who is it? Just click to find out.
By winning the Monte-Carlo Masters, Novak Djokovic establishes his a hegemony a little more in the big tournaments, and - justifies-in the best manner his Sportsperson of the Year trophy. Behind him, Monfils made the show in his pyjama while Nadal regained his bearings.
1- Novak Djokovic (+6).
We'll have to call him the monster. As expected, the ogre Djokovic has won in this Masters 1000 Monte-Carlo, continuing an impressive series of victories in major tournaments.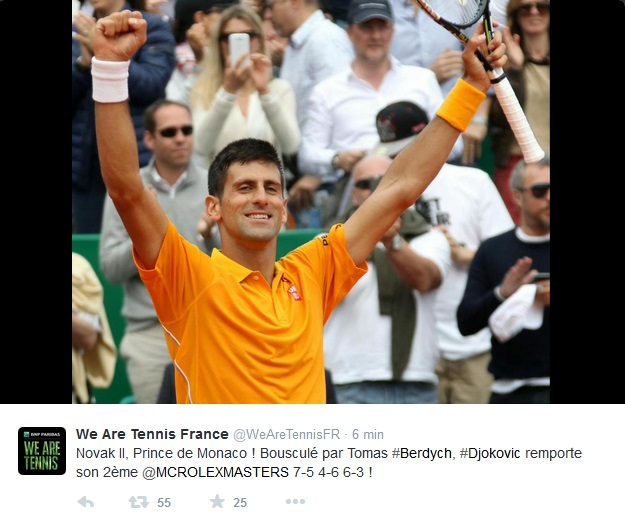 A series started at Bercy at the end of last season and continued with the Barclays ATP World Tour Finals, the Australian Open, the BNP Paribas Open in Indian Wells, Miami and Monaco now!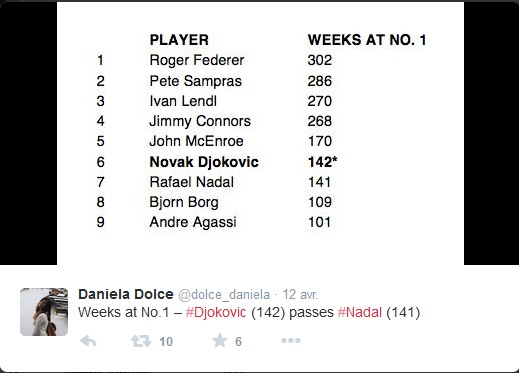 Enough to take the lead in the rankings a little more, he who has just surpassed Rafael Nadal in number of consecutive weeks spent as world number 1.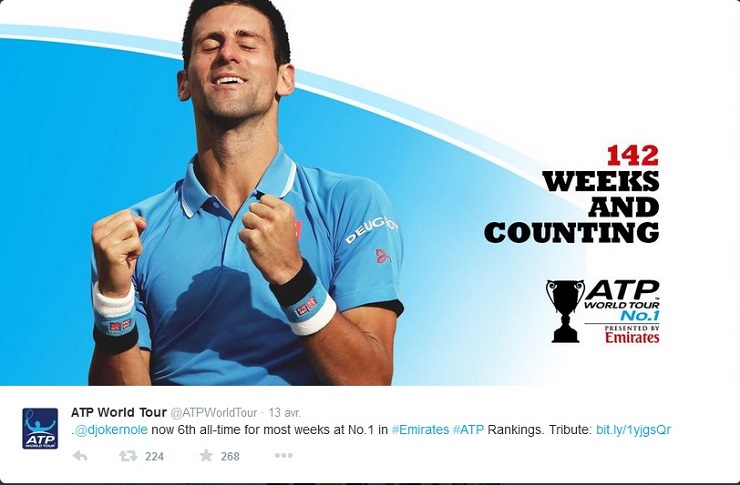 Difficult winner of Berdych in the final, the Serb impressed everybody all week, especially in the semi-finals, won brilliantly against the master of clay Rafael Nadal.
This week, Djokovic also won the Laureus award, which rewards the sportsperson of the year.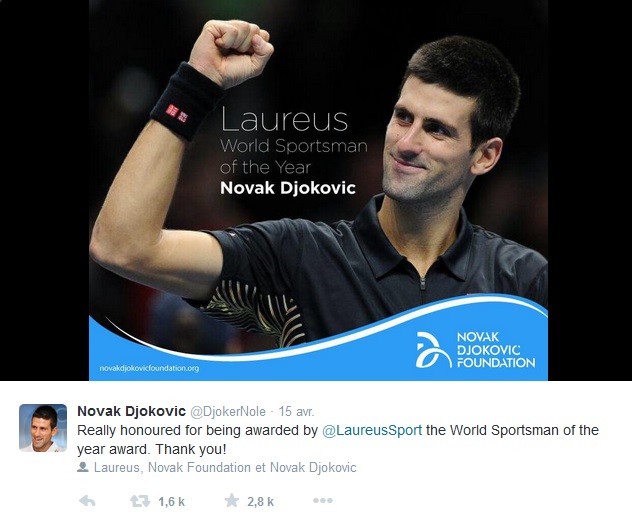 2- Gaël Monfils (NE).
Monfils is always where he's the least expected! At the Monte Carlo tournament, he wasn't supposed to be the one who was going to shine, yet the French reached the semi-finals, all with funny pyjamas.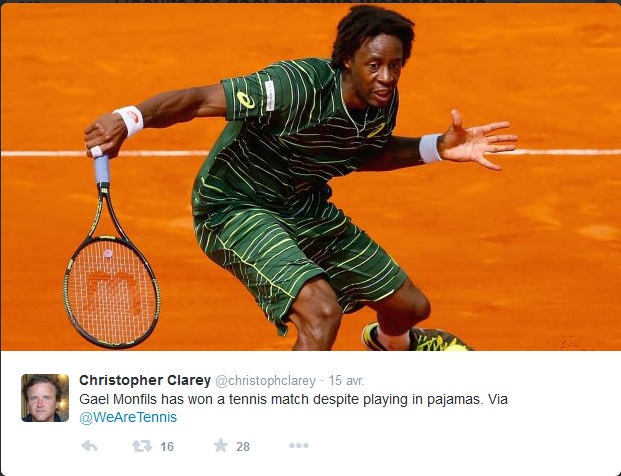 Nevertheless, he lost against Berdych (1/6 4/6), his nemesis, despite significant support in the stands.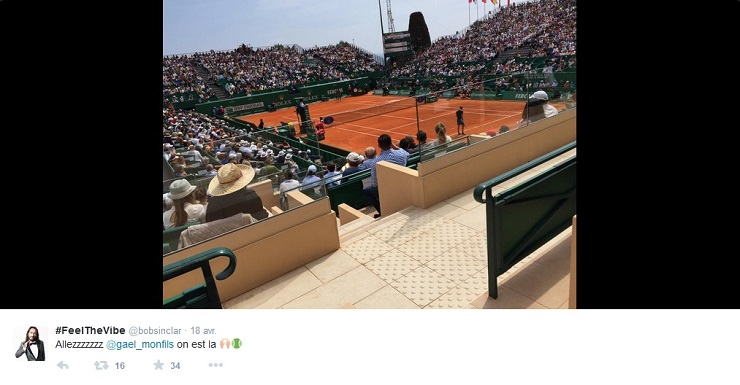 Too bad for the semi-finals where he fell on stronger than him, as he has rightly admitted after the match. But the "Monf '' was definitely impressive in Monaco, knowing how to vary the shots, sometimes destructive...
...Sometimes more trickster.
3- Rafael Nadal (+8).
Good week as well for the other semi-finals loser, Rafael Nadal. The Spaniard has generally regained his bearings on "his" clay. This Rafa is a miracle...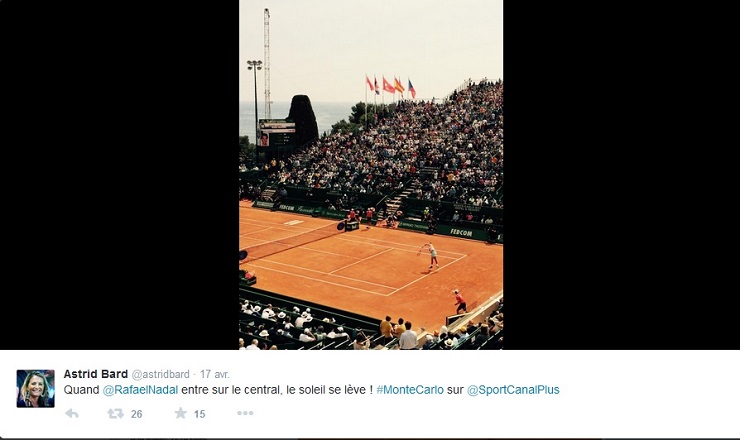 Logically dominated by Djoko, the former world number 1 was not disappointed either. "I think I was not that far," said Nadal afterwards. "For moments I was playing at very high level. Him, I think he played great. I just congratulate him for the way that he's playing, the way that he's winning almost every match of the year. For me, it is a very positive week, the most positive week of the season, without any doubt. I think if I am able to keep doing that in the next tournament in Barcelona, that I have a tough draw, I will say that I am very well again."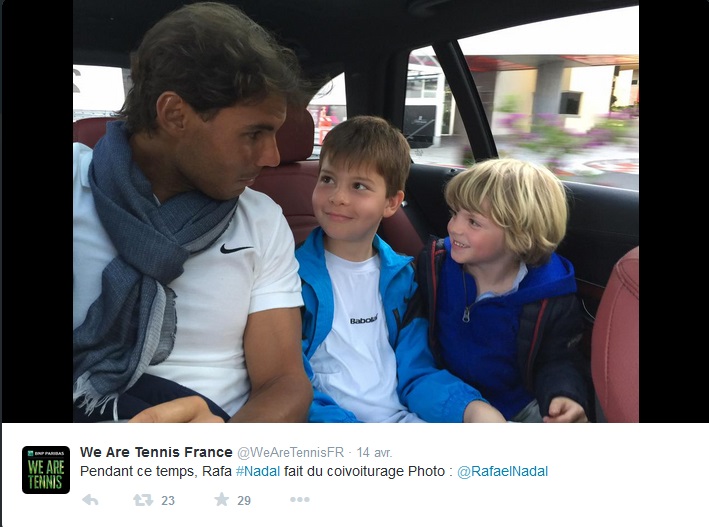 Against the Serb, Nadal actually showed positive signs to his fans, as evidenced by this nice shot.
We can't wait for Roland Garros to see them at it again!
4- Tomas Berdych (+11).
This week, Tomas Berdych amused himself by playing "Where's Waldo?" with his fans on Twitter.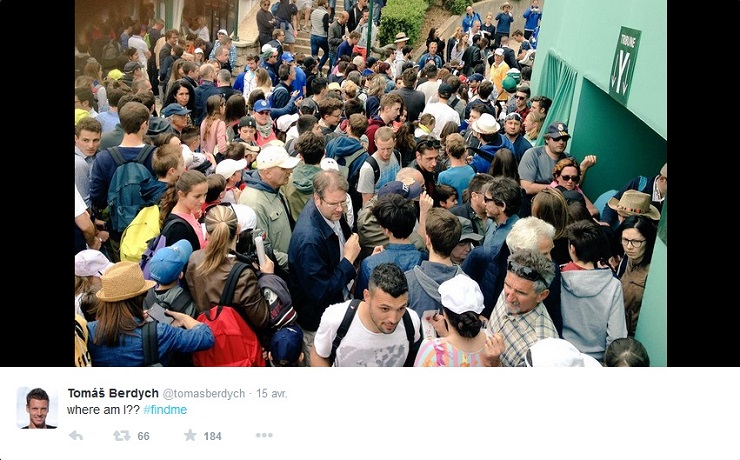 Not easy, isn't it? Especially since the Czech opted for a camouflage outfit in Monte Carlo.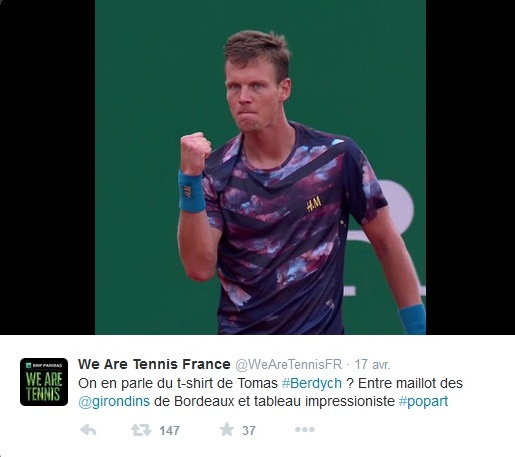 On the sporting side, Berdych had a wonderful week by reaching the final, where he managed to take a set to the master Djoko. It was his third final of the season after Doha and Rotterdam, for as many defeats...
5- Alexandra Dulgheru (NE).
Amongst girls, it was a Fed Cup by BNP Paribas weekend. The playoff Pre-match between Dulgheru and Bouchard was marked by the refusal of the Canadian to shake hands with the Romanian. Question of principle according to Bouchard, who did this before.
An attitude inelegant to say the least that Dulgheru took with a forced laugh. Her response, the World 69th brought it on the court by dominating Bouchard on Saturday (6/4 6/4) to allow her country to equalize. After winning the match point, she ran to her coaches and close relatives with an outstretched hand, as they pointedly refused to shake it.
A joke that made everybody laugh except the Canadian of course!
6- Serena Williams (-3).
Fed Cup by BNP Paribas still with Serena Williams at work to help the US remain in the elite, during a playoff on hard courts held in Italy.
The sobriety of the American Fed Cup by BNP Paribas team outfit wasn't apparently to the taste of Serena, who shared a small souvenir picture of her with some friends.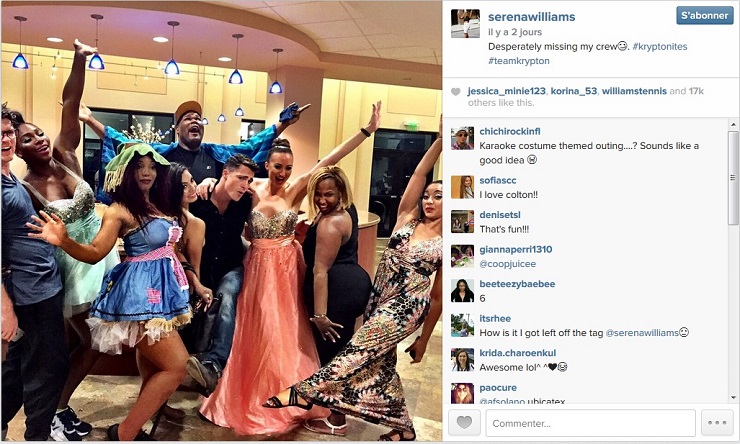 You have good taste? Then run away. Fast.
7- Martina Hingis (NE).
At 34, decidedly hardwearing, Martina Hingis came roaring back in singles to compete in the Fed Cup by BNP Paribas. She had not played a singles match in the tournament after her defeat against Shuai Peng in Beijing in September 2007. Yes it's been a while indeed...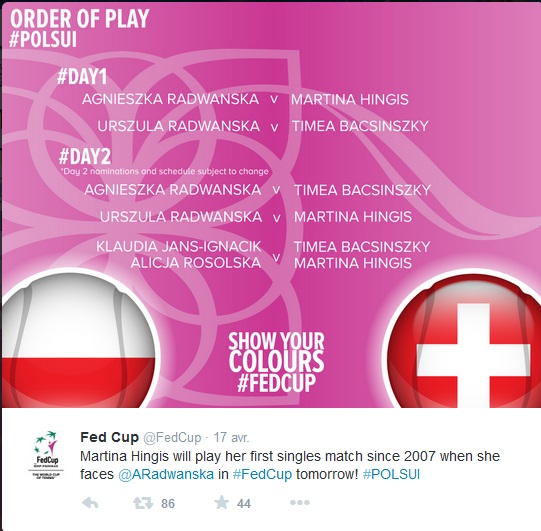 This comeback was however a failure since she was first defeated by Agnieszka Radwanska (4/6 0/6) and then a more frustrating one against Urszula Radwanska, the little sister. A match lost 4/6 7/5 6/1 while she served twice for the match. Hingis finished with cramps.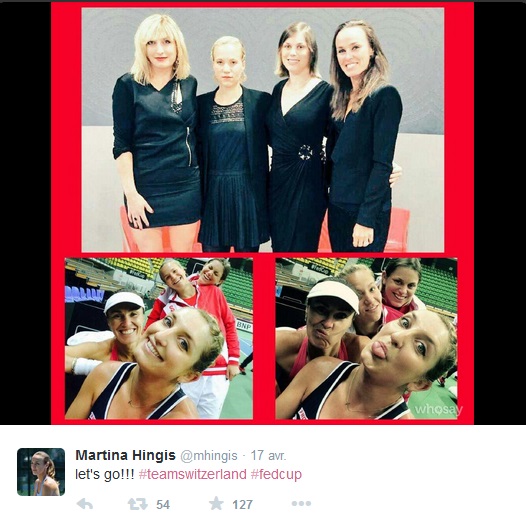 It's not always easy to get older...
8- Lucie Safarova (NE).
In Fed Cup by BNP Paribas still, Lucie Safarova was the executioner of France and especially Caroline Garcia, who missed five match points in the first match of the weekend.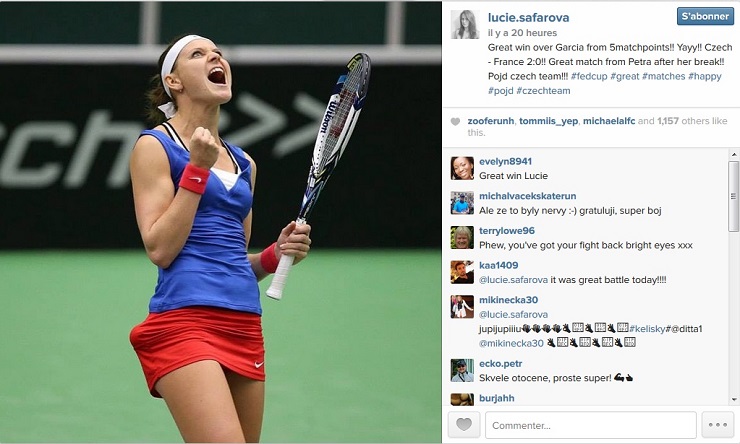 A match that proved decisive to the outcome of the opposition between the two nations, the French never managing to recover from this bitter defeat. After Safarova, it was Kvitova who prevailed twice against Mladenovic and Garcia for whom it was a black weekend.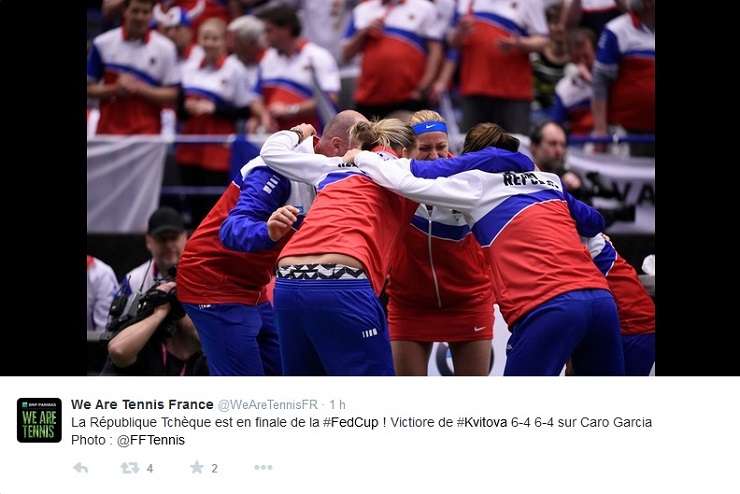 9- Maria Sharapova (+5).
While she had to withdraw for the Fed Cup by BNP Paribas this weekend, Maria Sharapova trained this week. Under the sun and on the grass, as you can see on this nice photo.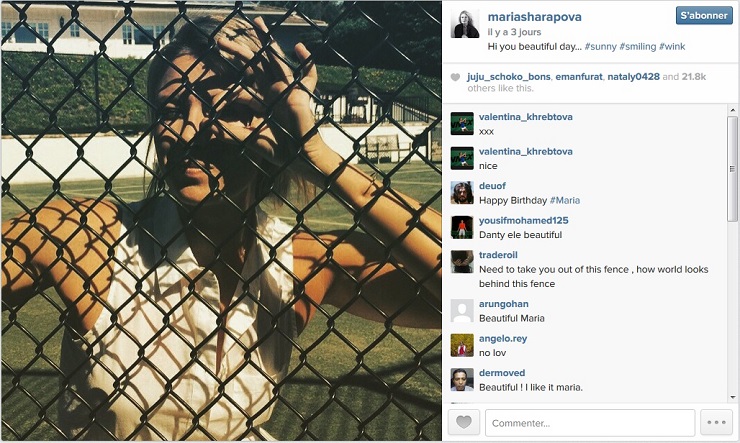 The Russian celebrated her 28th birthday on Sunday. 28 years, including 14 spent on the professional tour!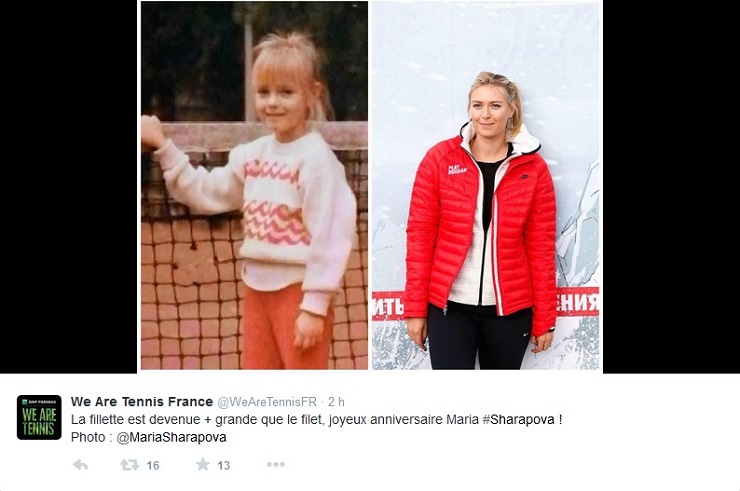 10- Roger Federer (-6).
Roger Federer arrived in Monte Carlo with ambitions and always an impressive number of fans willing to do anything to see him play. Even in training, even if they have to try really hard to see only a little piece of the legend in action.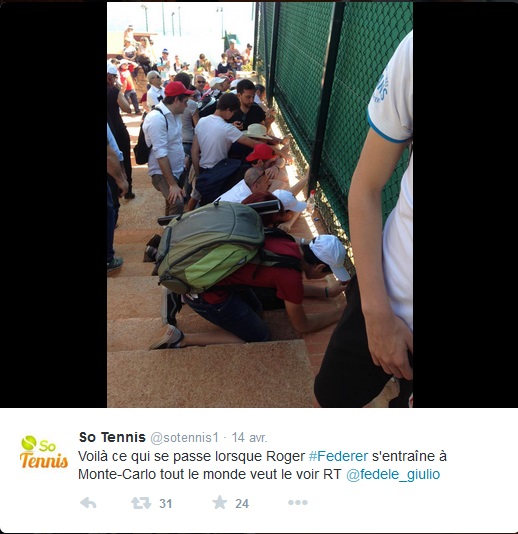 The Swiss has nevertheless lost from the quarterfinals, defeated by an impressive Monfils in straight sets: 6/4 7/6. Enough go back to the dressing rooms head down.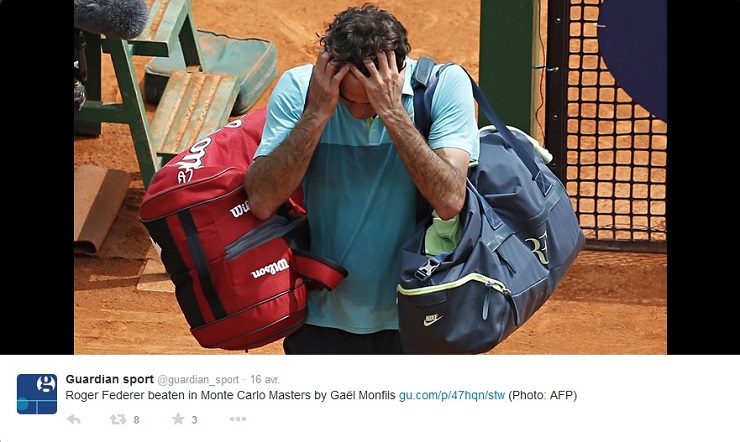 A rare image…
11- David Ferrer (+2).
Another good week in Monte Carlo for the Spaniard despite very nasty feet.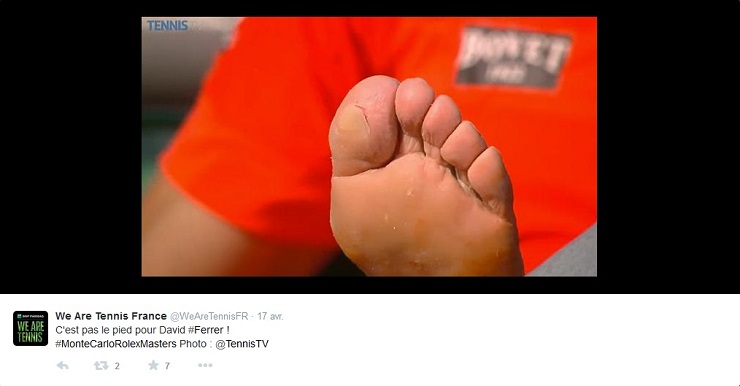 This is what happens when you enjoy marathon rallies from the baseline! Eliminated in three sets by compatriot Rafael Nadal in the quarterfinals (6/4, 5/7, 6/2), Ferrer wasn't ashamed of his performance and that picture showed that he left Monaco rather pleased with his week.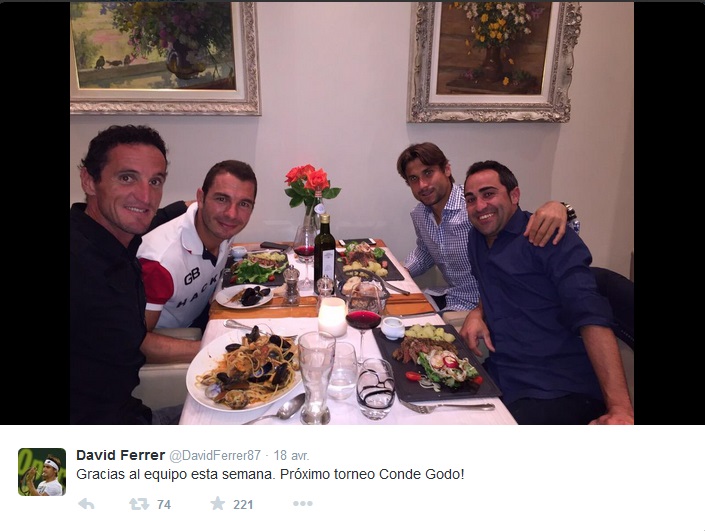 He will undoubtedly be a candidate for the last four at Roland Garros, at a minimum...
12. Juan Martin Del Potro (NE).
If the Argentine chose to overlook the Monte Carlo tournament, acknowledging that he still had discomfort in his left wrist, he didn't rest and opted for a week of intensive training. The proof? This nice little Selfie with his pals at the gym.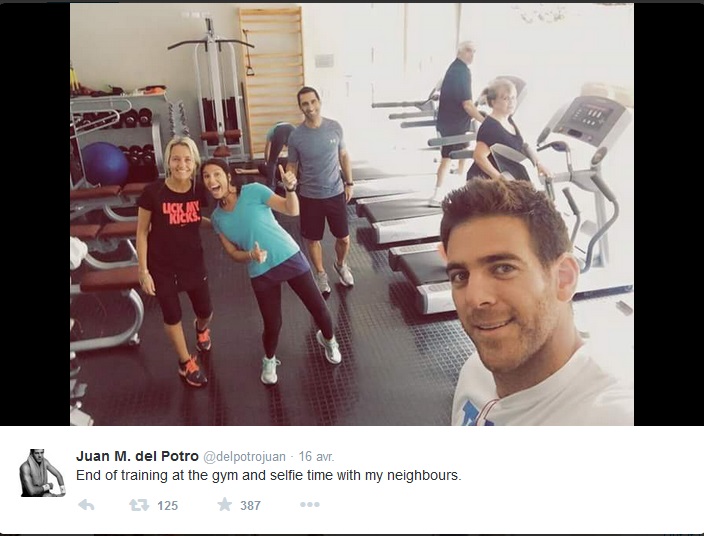 Del Potro also had a very nice surprise on social networks this week: a picture of him with an unlikely haircut, taken to immortalize his encounter with the legend Diego Maradona.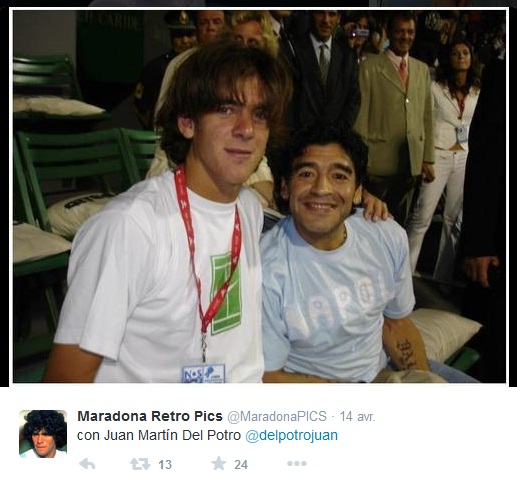 This picture is a beautiful hope for all teenagers with a challenging skin.
13- Sania Mirza (NE).
She did it! By winning back-to-back tournaments in Indian Wells, Miami and Charleston last weekend, alongside Martina Hingis her doubles partner, the Indian became the first tennis world number 1 of her country in the specialty.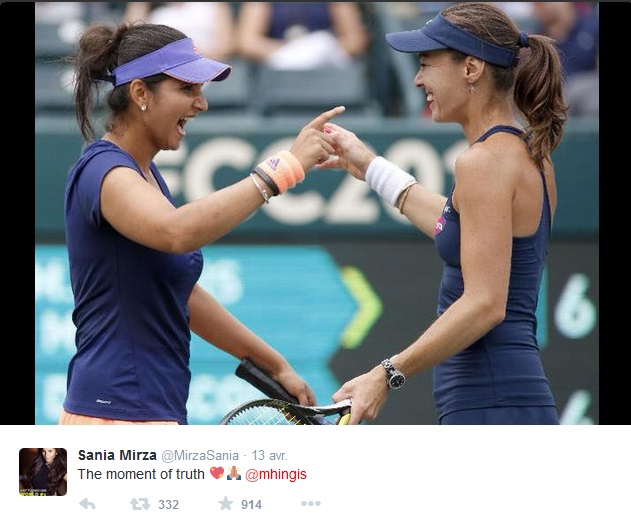 Sania Mirza didn't always have an easy time by getting regular criticism and even threats in her country. Once because of a picture showing her bare feet behind an Indian flag, another time for wearing an outfit judged provocative.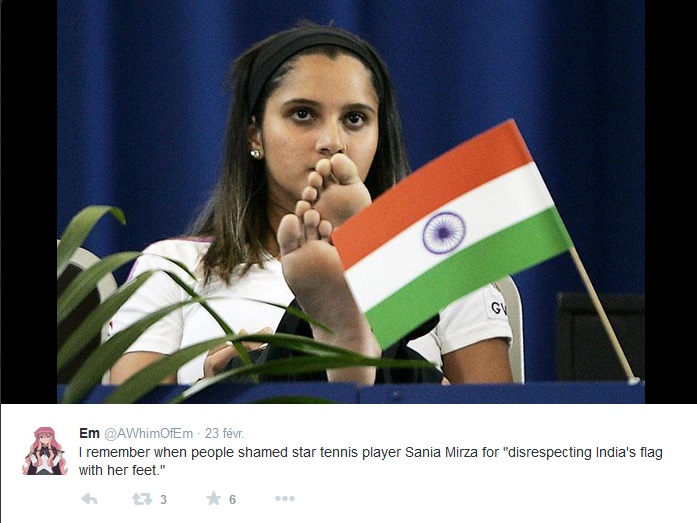 By managing to remain focused and not allowing religious extremists of her country to disrupt her, she became an example for the Times of India, which just elected her woman of the year.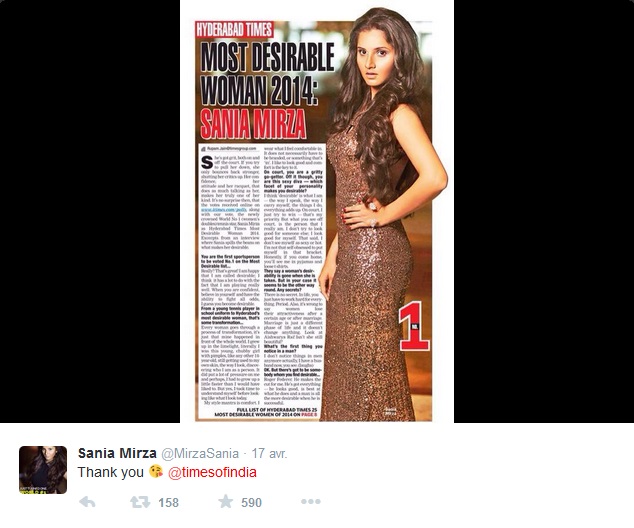 Another beautiful reward in addition to that place of world number 1.
14- Li Na (NE).
Another Asian woman rewarded: the young retiree Li Na, who also received the Laureus award. The Chinese took this opportunity to declare that she wanted to open in the near future a tennis academy to help her compatriots improve racquet in hand.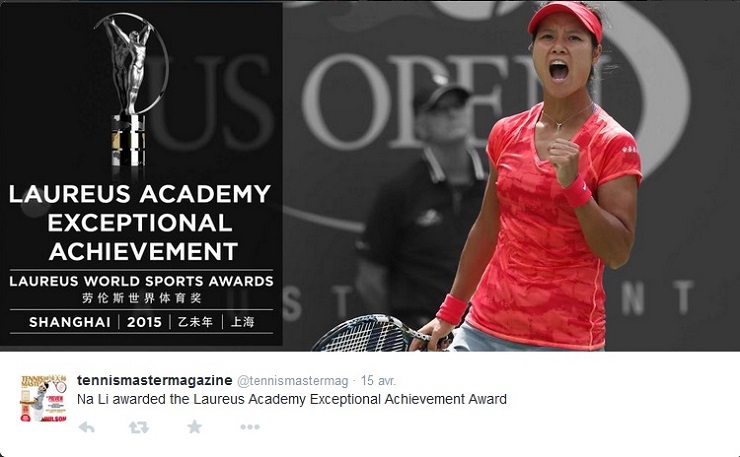 While waiting to make this project happen, Li Na goes around, like here in the paddock of the last Chinese Formula 1 Grand Prix.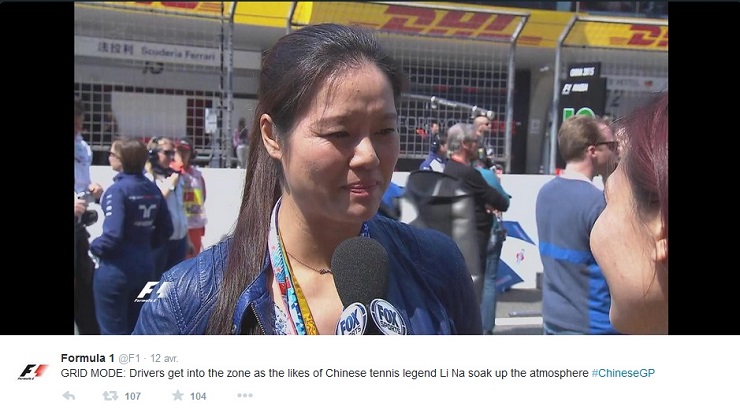 15- Andy Murray (-14).
The Scot, newly married, received congratulations from good old Lleyton Hewitt. Nice gesture from the Australian, while there were very few tennis players amongst the guests of the wedding. Blame it on a busy schedule...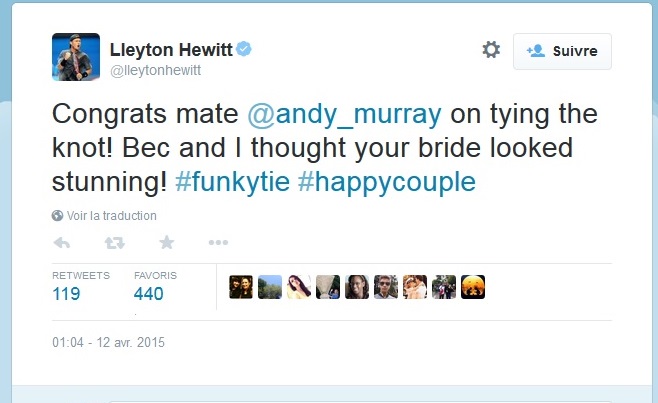 Absent in Monte Carlo, Andy Murray will quickly return to the courts. He still used his few days off to take some good time. He was then at the Camp Nou to watch Barcelona win against Valencia (2-0) this weekend.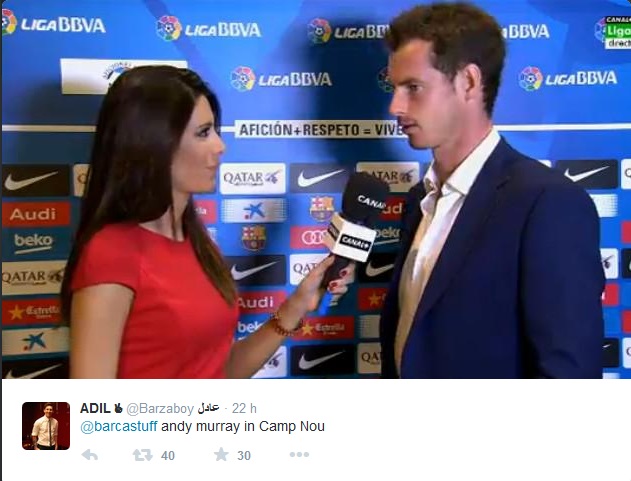 Out:
Wozniacki, Tipsarevic, Mauresmo, Mahut, Gasquet, Keys and Wawrinka.