It is thanks to an original performance that this tennis player took the lead of the funny WeAreTennis ranking this week. Who is it? Just click to find out.
By winning the Miami Masters, Novak Djokovic has achieved an unprecedented performance that allowed him to take the lead of our funny ranking. Behind him, Serena Williams is still running by multiplying records while Andy Murray keeps proving year after year that he might be the greatest player in the history of British tennis. Even though he still concedes superb points against his opponents…
1- Novak Djokovic (+2).
He enters a little more into the history of tennis. By winning the Miami Masters against Andy Murray (7-6, 4-6, 6-0), Novak Djokovic has successfully won the double BNP Paribas Open-Miami for the third time since 2011. The Serb is the first player to succeed this performance, since Federer was stopped after only two (2005 and 2006).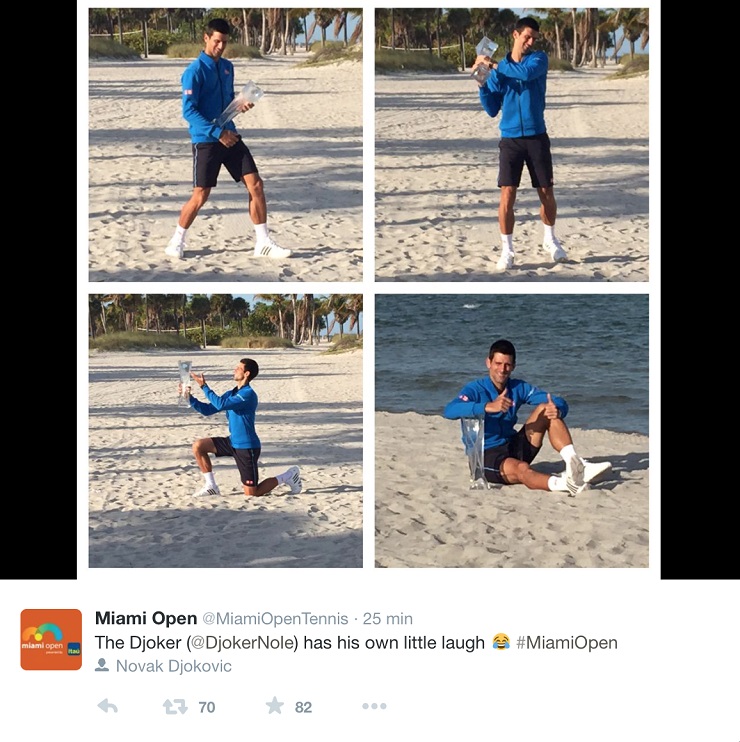 In the final, Djokovic disgusted Murray, especially on this superb point early in the third set.
But Djokovic felt a little old this week when a reporter described him as "veteran" on the tour.
Not enough for Nole to lose his smile. He then met Colton Haynes, the American actor who plays in the Arrow series.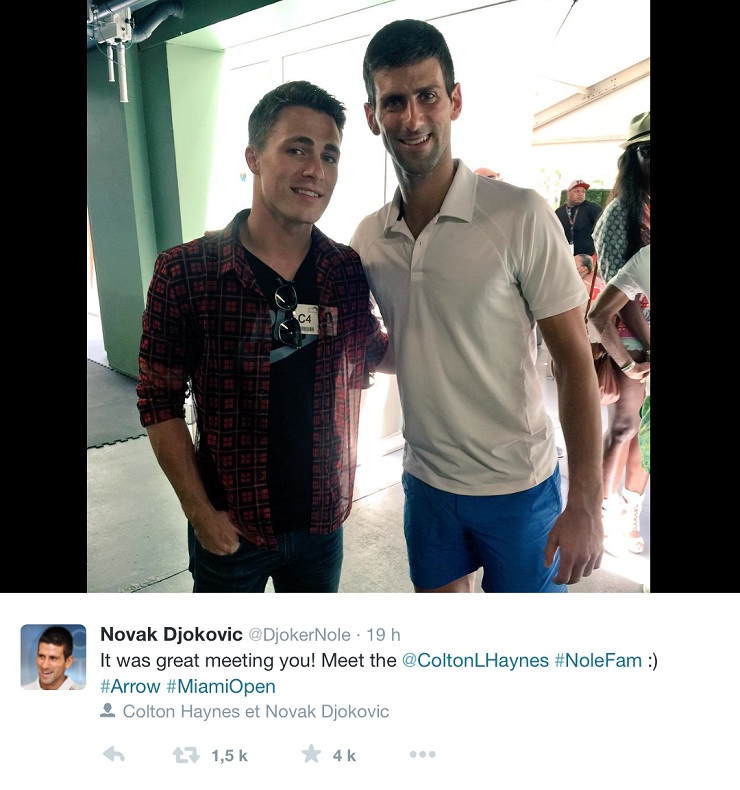 2- Serena Williams (-1).
She crushes everything in her way. After a tough semi-final won against Simona Halep (6-2, 4-6, 7-5), Serena Williams left only crumbs to the Spanish Suarez Navarro (6-2, 6-0) and won her eighth title in Miami. The American is now just four victories away from the record of titles in the same tournament, held by Martina Navratilova in Chicago with 12 successes. "Twelve titles here, I hope not! That would mean that I would be what age? Not really, let's hope that this doesn't happen," she joked.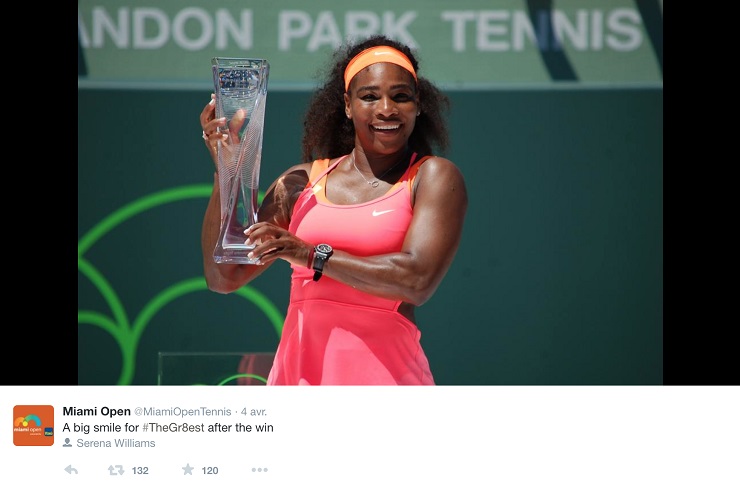 Williams was also treated to a big cake this week. Not for her birthday, but for her 700th victory on the professional tour after her victory in the round of 16 against Sabine Lisicki.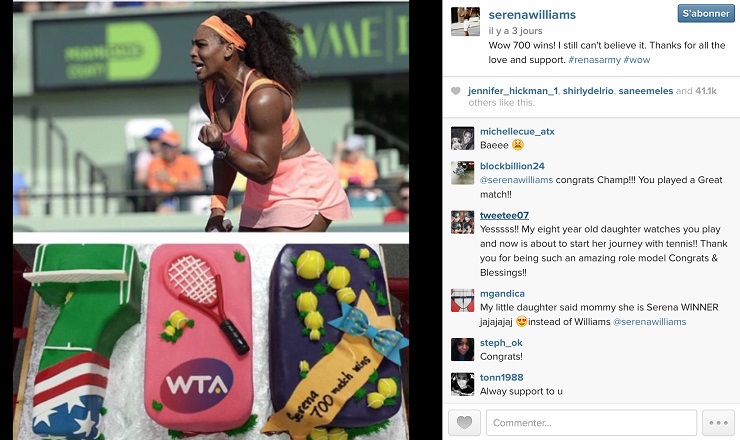 But this time it's for sure, the world number 1 will not be able to beat the victories' record holder, Navratilova and her 1442 successes.
3- Andy Murray (NE).
He was also treated to a beautiful cake. By winning in the second round against South African Kevin Anderson (6-4, 3-6, 6-3), the Scot won his 500th match on the ATP Tour. He's the first Briton to reach this symbolic mark since Tim Henman got stuck at 496 victories.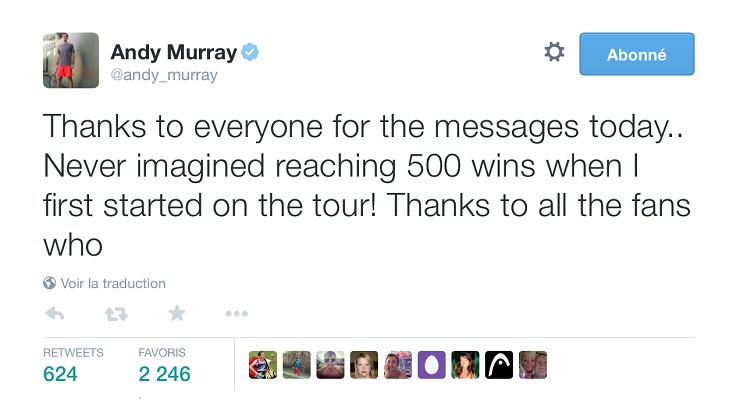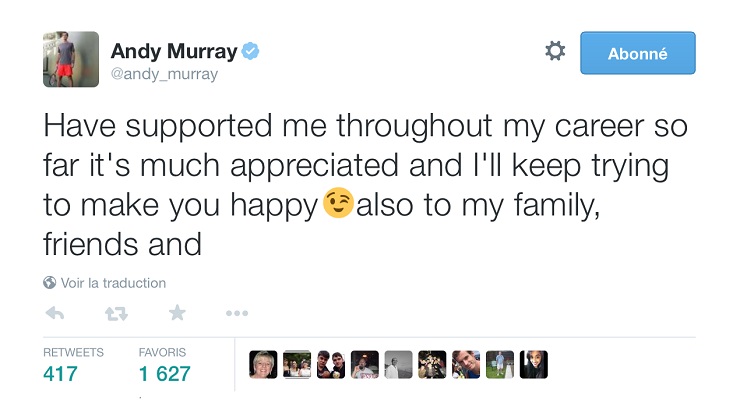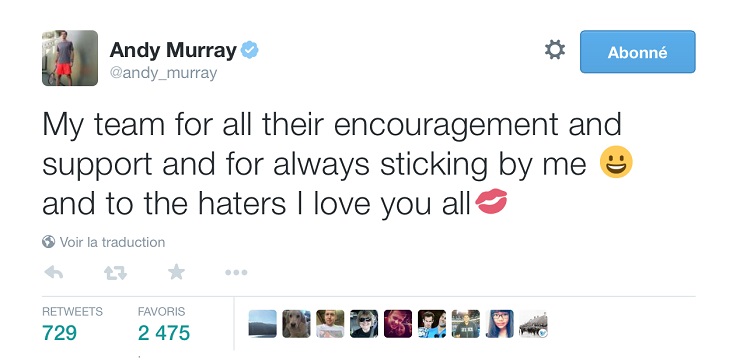 Murray joined the club of the eight active players to have reached those 500 victories: Roger Federer (1012 victories), Rafael Nadal (721), Novak Djokovic (625), David Ferrer (623), Lleyton Hewitt (612), Tommy Haas (561), Tomas Berdych (507) and Tommy Robredo (505). A really nice week for Murray who still reached the final of the Miami Masters, only losing to Novak Djokovic.
4- Caroline Wozniacki (-2).
She pulled it off! For April 1st, Caroline Wozniacki said that she had decided to end her career after losing against Venus Williams in the round of 16 in Miami (6-3, 7-6).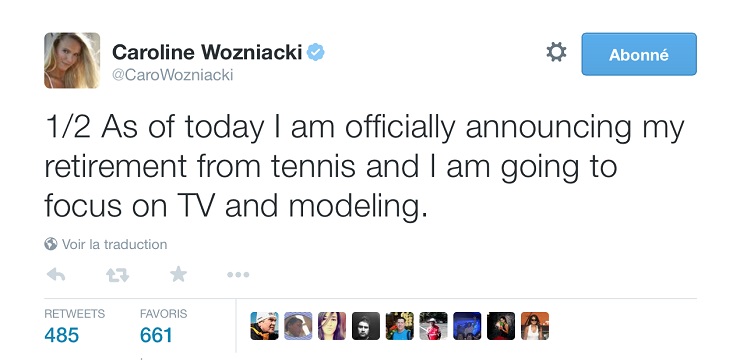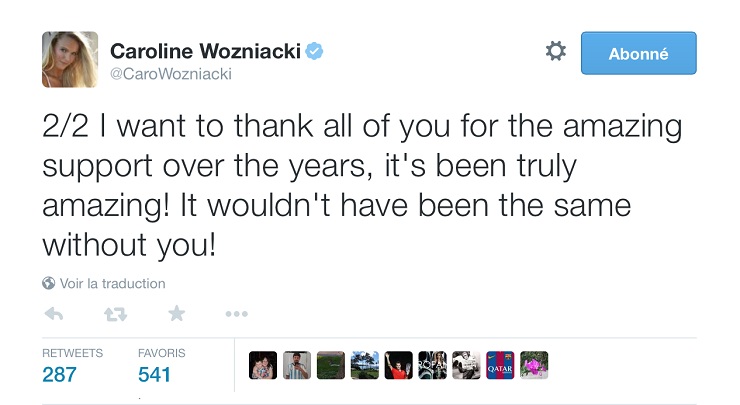 An announcement that visibly panicked the Dane's agents. The player therefore had to quickly end the prank.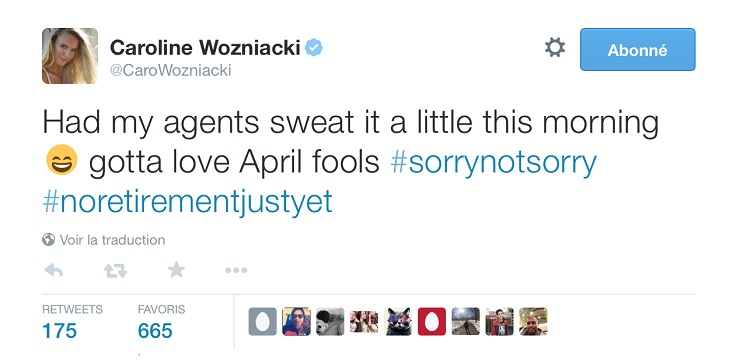 Wozniacki actually had no plans to end her career, phew! She will also continue to support the Reds of Liverpool, her favourite team. She's currently looking for a way to attend an exhibition game of her team in the US.
If someone can help…?
5- Tomas Berdych (+7).
Tomas Berdych left Miami Saturday after a busy second week, the Czech only lost in semi-final against Andy Murray (6-4, 6-4), despite this amazing passing.
Before that, Berdych made fun of a member of his staff, who had made the mistake of falling asleep on the massage table.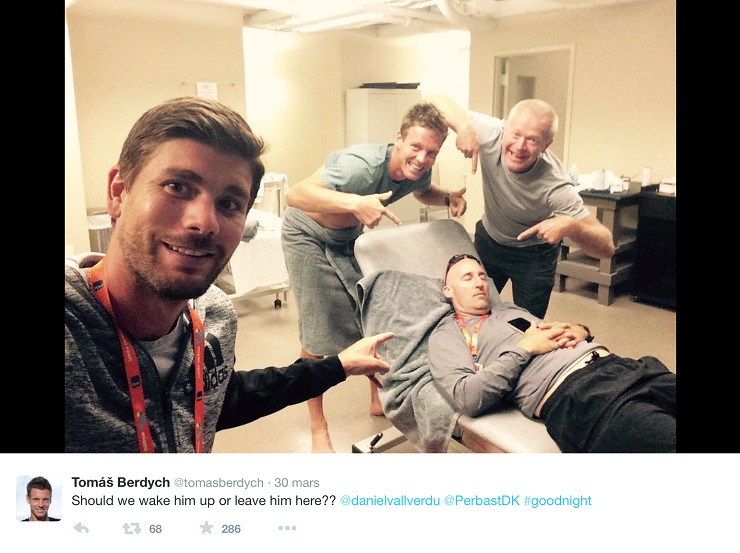 But Berdych can also show fair play, as when Gael Monfils fell.
6- David Ferrer (NE).
Nice week in Miami for David Ferrer. He reached the quarterfinals of the Masters, only defeated by the eventual winner Novak Djokovic in straight sets (7-5, 7-5). Once eliminated, the Spaniard didn't return home immediately. He made a detour through the American Airlines Arena for two games of the Miami Heat in the NBA.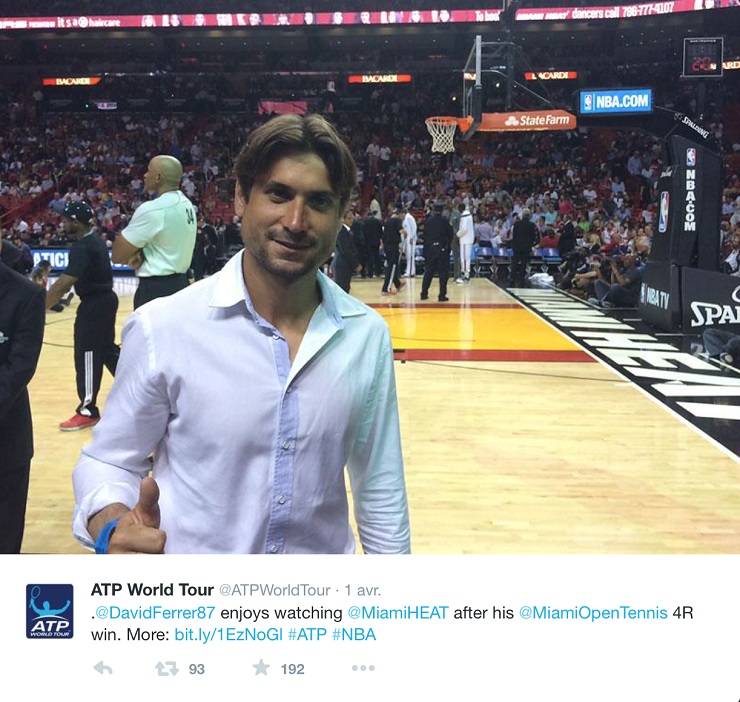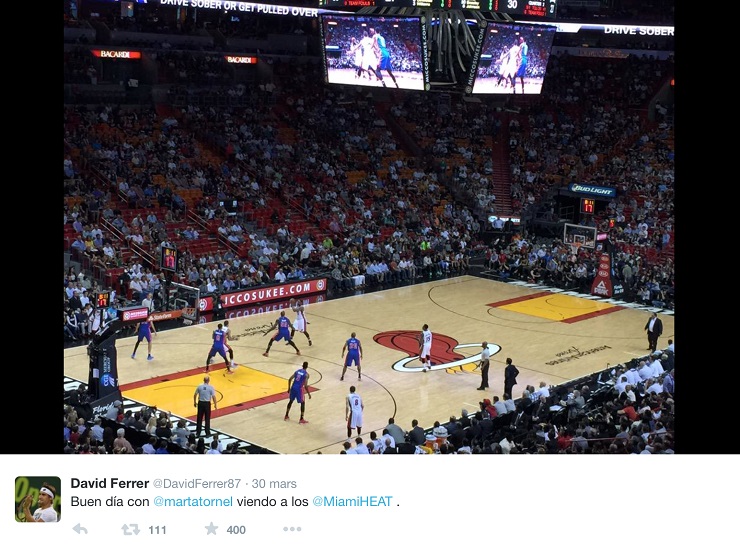 Ferrer first brought luck to the Heat, winners against the Pistons (109-102), before seeing Dwyane Wade's teammates lose against the Spurs (81-95).
7- Alizé Cornet (/).
Eliminated from the third round of the Miami tournament by the eventual finalist Suarez Navarro, Alize Cornet returned home in Nice. The most beautiful city in the world according to her. Beauty is subjective, apparently.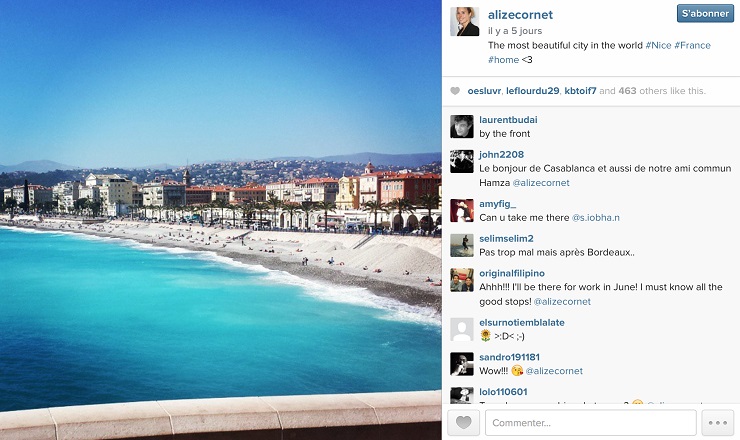 Once back in France, Cornet had some problems with transportation.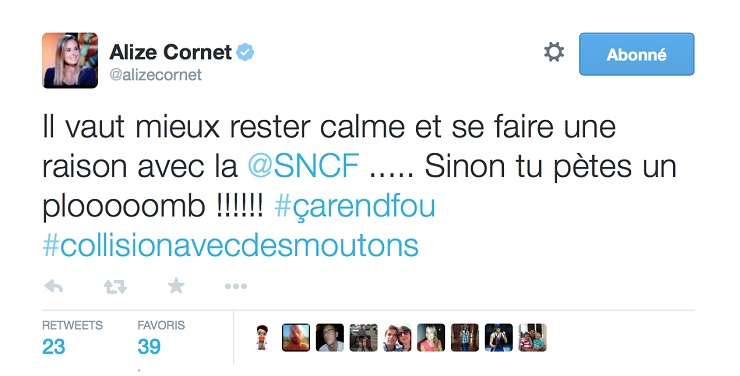 But she soon smiled again, discovering a survey according to which she is the fourth favourite athlete of French people.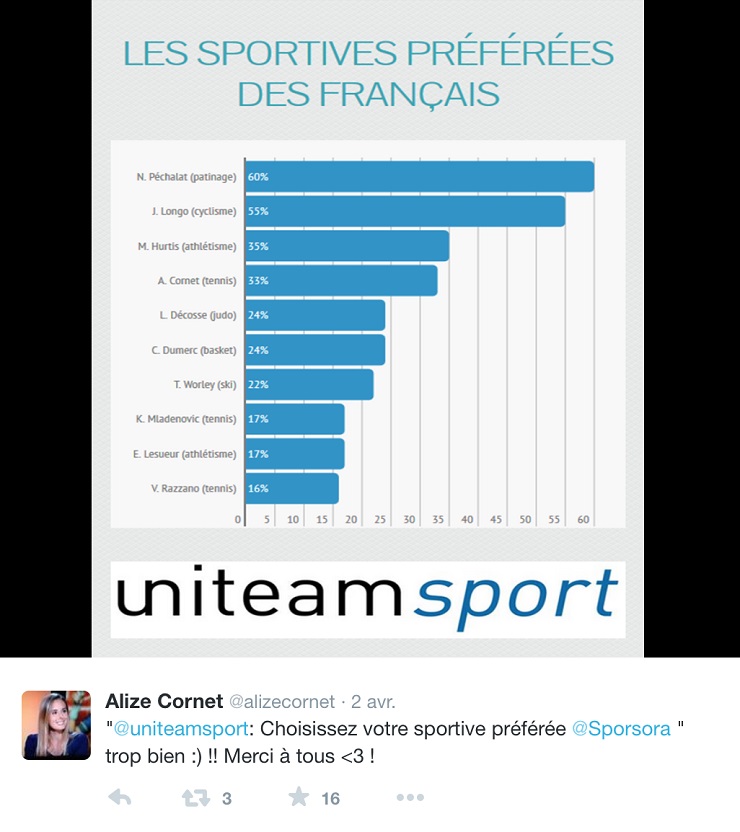 8- Feliciano Lopez (NE).
He will make a lot of jealous. Defeated in the second round, Feliciano Lopez had the chance to meet Ronaldo in Miami. The real one, the Brazilian legend. The Spaniard even exchanged a few balls with him.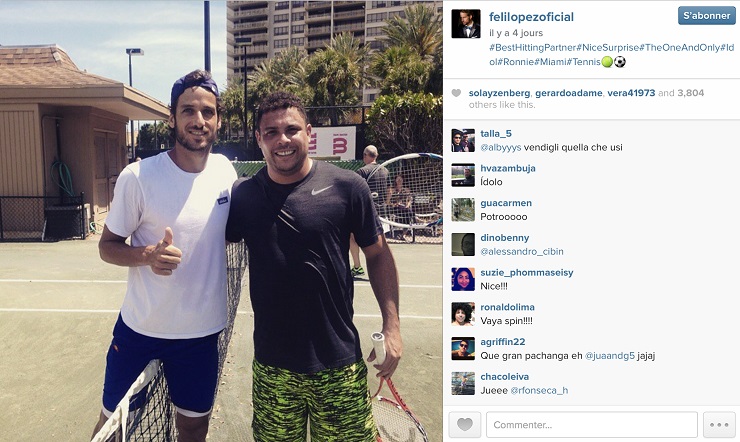 Despite his early exit, Lopez remained in Florida where he attended the great run of his friend Juan Monaco, defeated by Berdych in the quarterfinals. The two men also had dinner together and with their staff.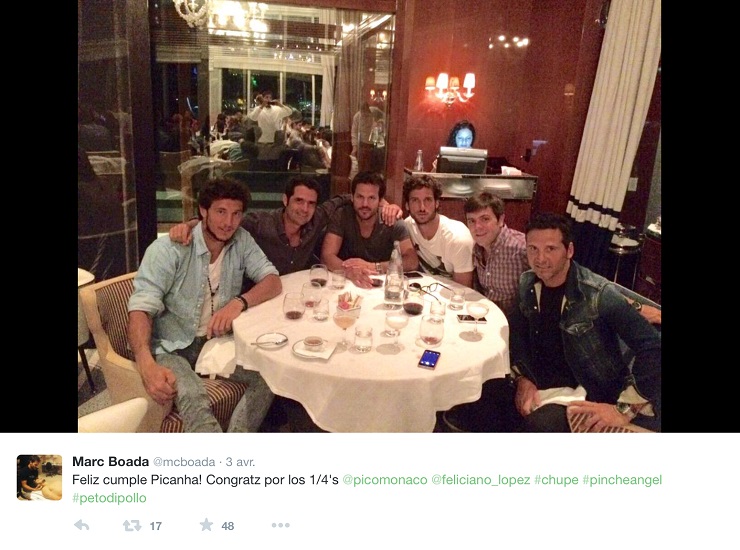 9- Dominic Thiem (NE).
Has Dominic Thiem invented a new shot? It would be presumptuous to say so, but his air backhand with one hand still made some noise this week.
A move that allowed this 21-year-old Austrian to outflank Andy Murray in the first set. Before losing the following two of this quarterfinal.
10. Rafael Nadal (-2).
Eliminated in the third round in Miami, Rafael Nadal returned home to prepare for the clay court season.
>
First match on clay for Rafa in Monte Carlo from the 13th of April.
11- Nick Kyrgios (NE).
He will miss the Monte Carlo Masters. After already missing Miami because of a foot injury, the Australian Nick Kyrgios was forced to withdraw of the first big clay court tournament of the season.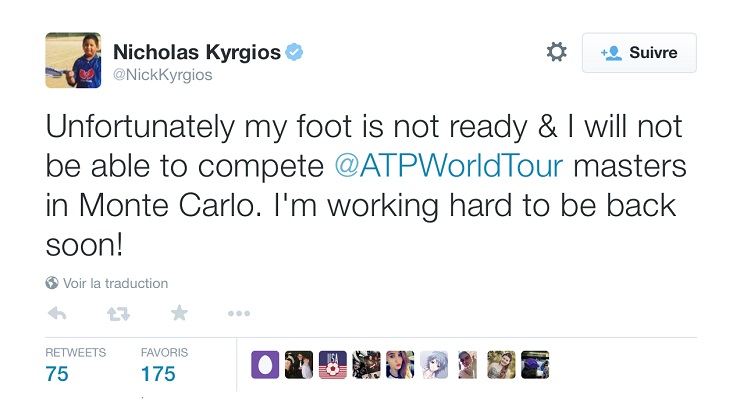 Otherwise, the Australian revealed a little secret: he's supporting Tottenham Hotspurs.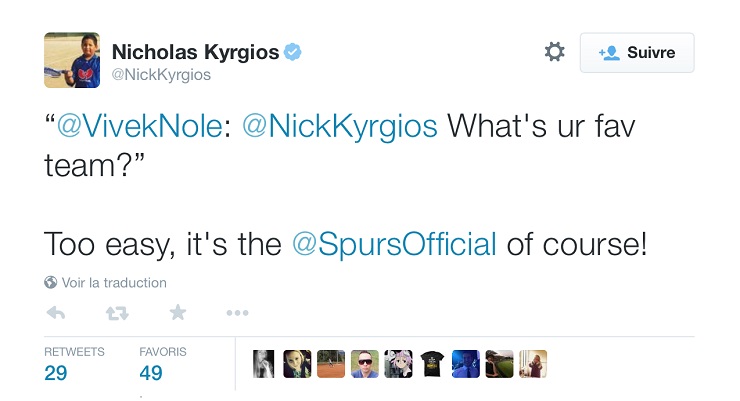 12- Roger Federer (NE).
While Nadal is already training on clay, Federer, who chose to overlook the Miami Masters for the second time in three years, has been training... on snow.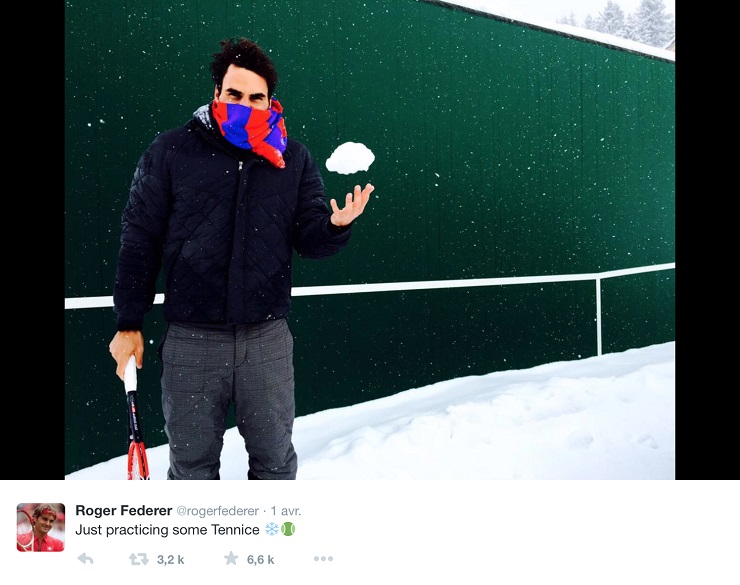 Has the Swiss finally found the solution to beat Nadal at Roland Garros?
13- Eugenie Bouchard (-3).
Clay wasn't only missed by Nadal. Eliminated prematurely in Miami, Eugenie Bouchard also started her clay court season, at training at least.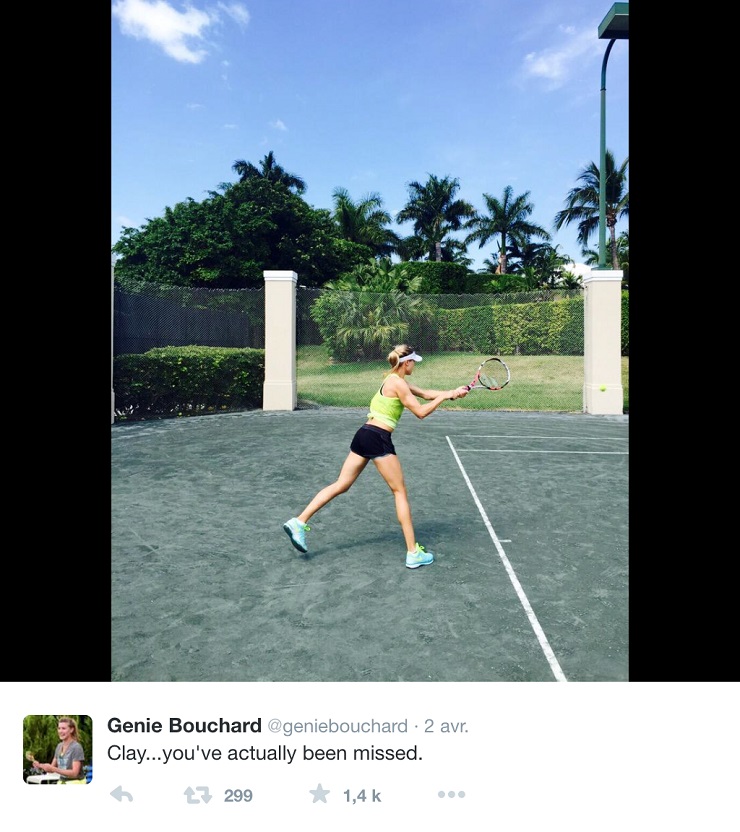 The Canadian felt a bit lonely on the 1st of April, nobody tried to prank her.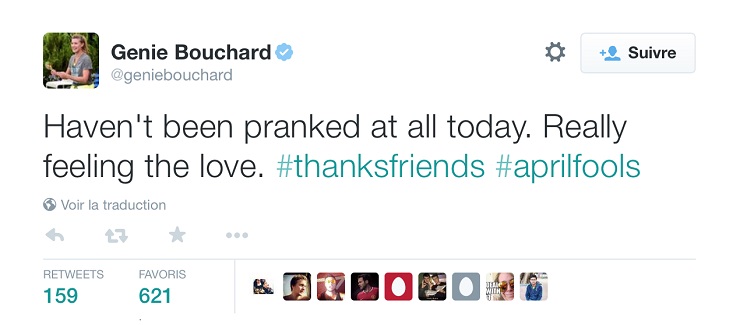 14- Nicolas Mahut (NE).
Nicolas Mahut had a great Sunday night. Not by watching Djokovic beat Murray, but by watching PSG win at the Velodrome against Marseille (2-3). Because the French is a keen supporter of Paris.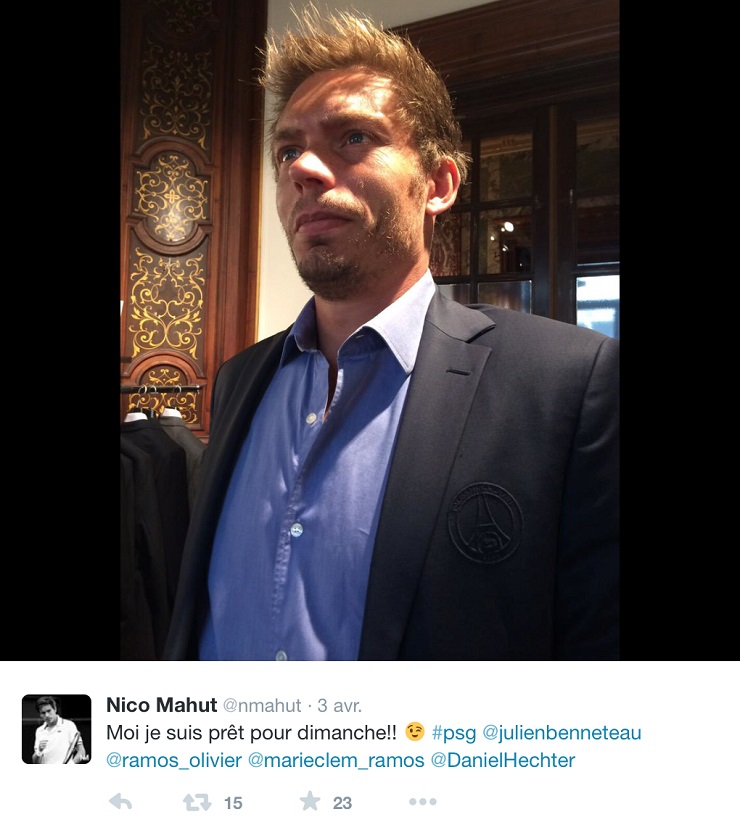 Mahut has certainly teased his friend Benoit Pair, fan of Marseille and with whom he had lunch this week.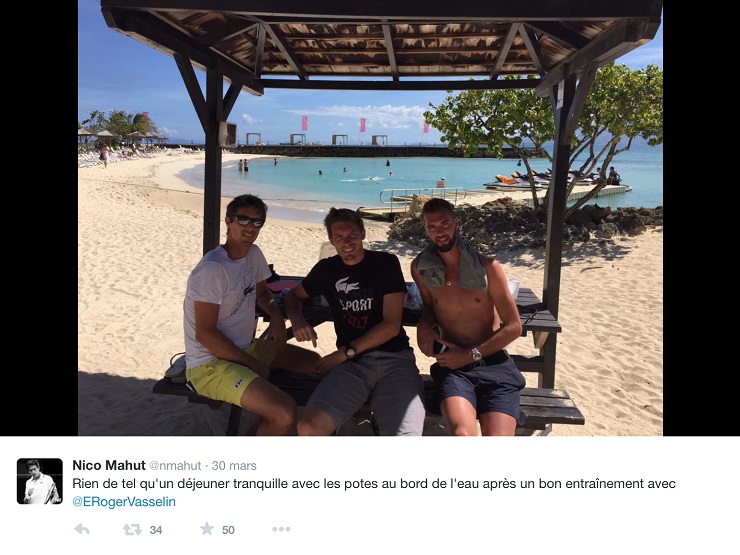 15- Maria Sharapova (NE).
Eliminated from her opening match in Miami, Maria Sharapova took advantage of her free week to go hiking. And the Russian didn't look very comfortable...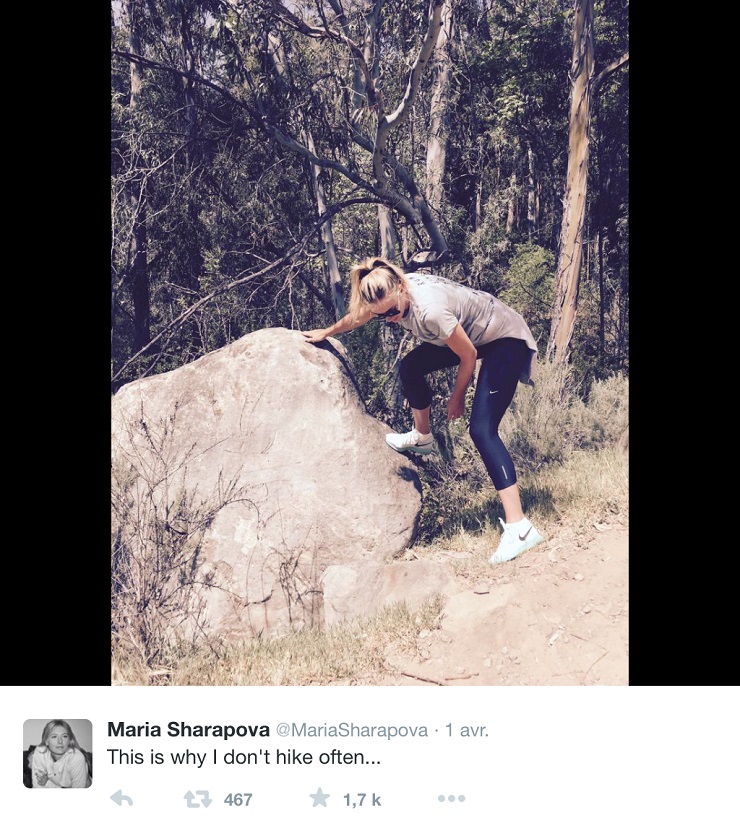 However, she wishes you a Happy Easter!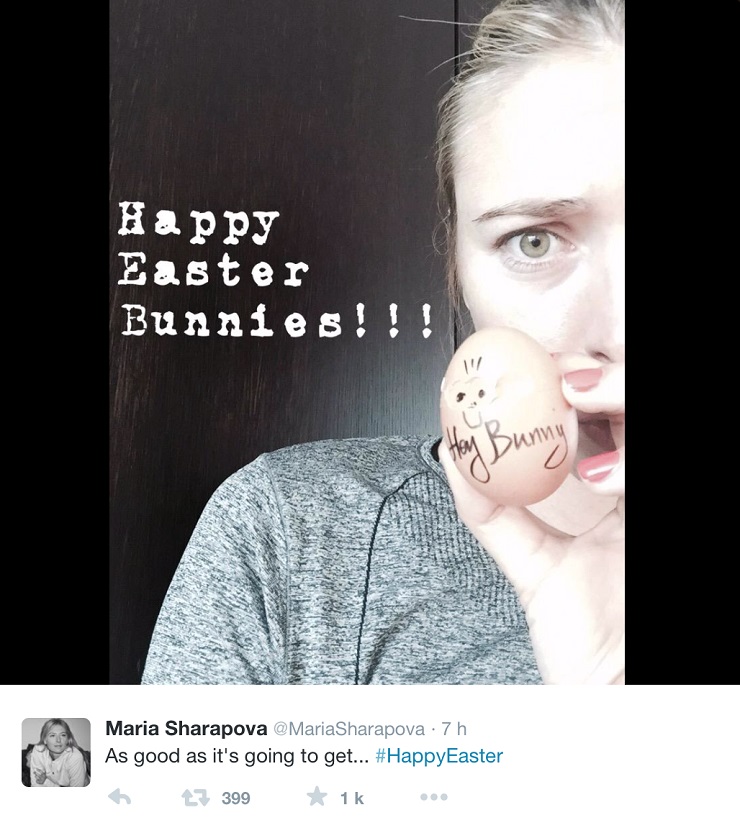 Out:
Azarenka, King, Maki, Tsonga, Raonic, Wawrinka, Benneteau, Ivanovic