Winner in Indian Wells last year after a victory in the final against Federer, Djoko did it again this year. Between homemade fruit juice, and... a haircut. To see the rest of the funny WeAreTennis ranking, click here.
Winner in Indian Wells against Roger Federer in final last year, Novak Djokovic did it again this year. In between love declarations, homemade fruit juice, a doping story and a Liverpool scarf.
1. Novak Djokovic (+9).
At Indian Wells, Novak has not only won the 50th Masters 1000 of his career...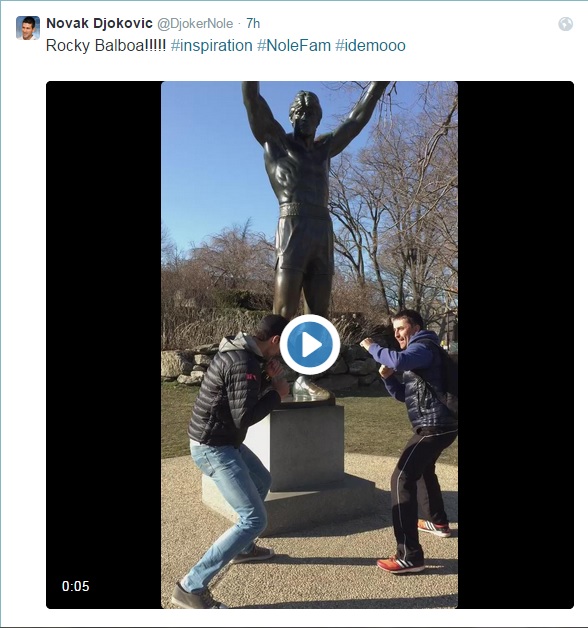 …He also cut his hair…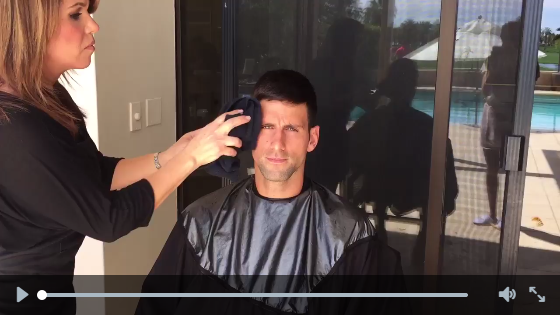 …And drank a homemade fruit juice.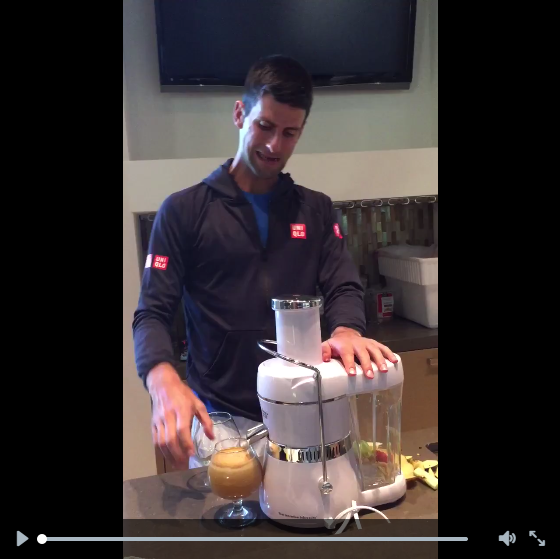 2. Roger Federer (NE).
Finalist in Indian Wells against Novak Djokovic, Roger Federer was, unfortunately for him, and despite winning a set against the Serb, unable to take his revenge on last year's final, but still reminds, that at 33 years old, that he's still on top. As demonstrated by those two points against Milos Raonic in the semi-finals, which speak for themselves.
And because Roger hasn't been rubing shoulders with ordinary people for a long time, here he is in the company of Wayne Gretzky, the former Canadian ice hockey champion.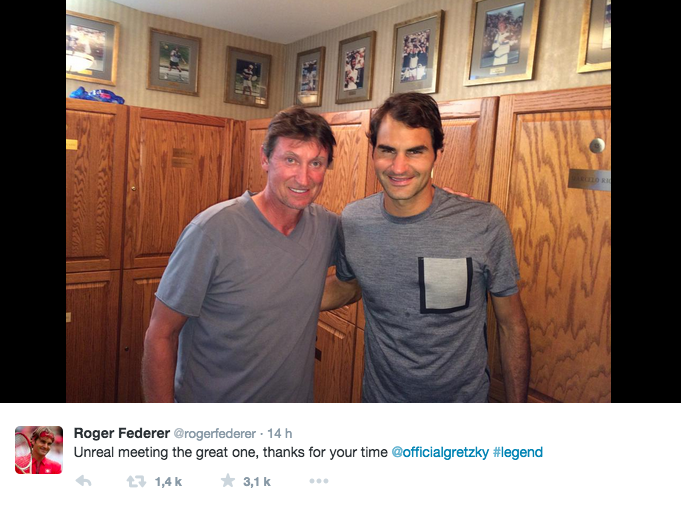 Beside that: the FedEx performance index, which assesses the best players of the past year on hard courts, celebrated once again King Roger, who, with 89.8% of victories, dominates the rankings. Even better, between matches, the Swiss still manages to be a thoughtful family man: "This trip was particularly brutal, because coming from Dubai was a 12-hour time change," Federer said. "So the first night was unbelievable. One of my daughters slept from 8 to 12 and then didn't sleep from midnight all the way through, and I was like, I can't believe it, we have a few just to make sure they don't overwork as well and that we have a good vibe, It seems like the right thing to do, so we can all stay together », he told the New York Times upon arriving in California.
3. Nick Kyrgios (+3).
At 19, Nick Kyrgios is still a teenager like any other. Defeated in the second round by Andy Murray at the BNP Paribas Open in Indian Wells, he quickly resumed his normal life with his girlfriend...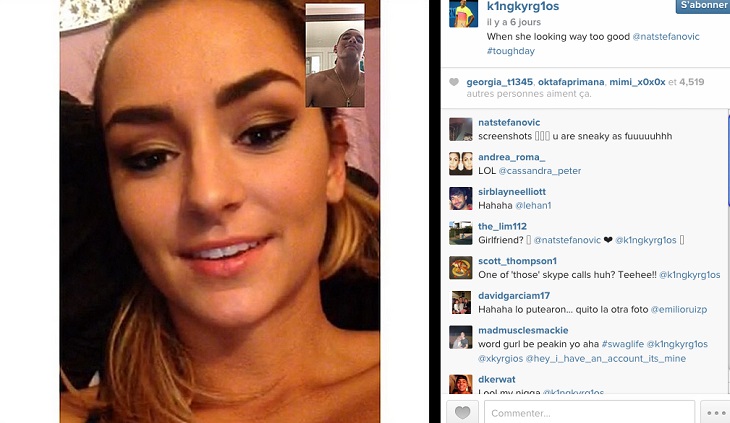 …. His PlayStation…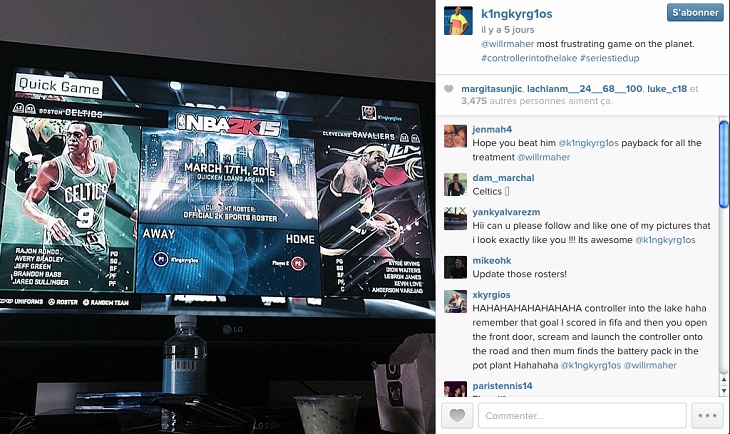 …His selfies…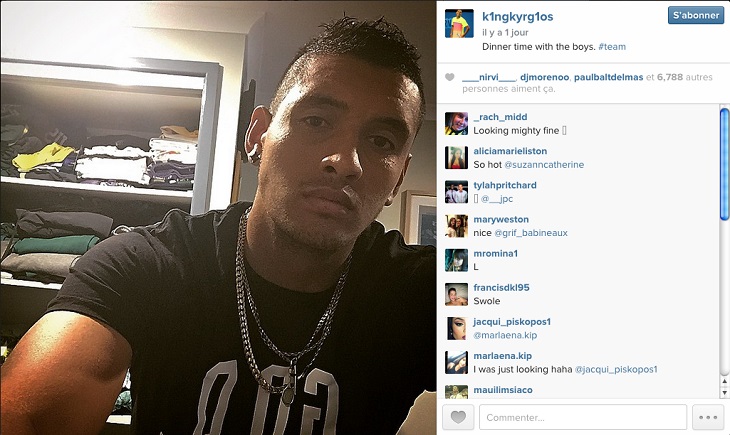 And his car.
4. Andy Murray (-2).
Unlucky semi-finalist in Indian Wells, Andy Murray had a heavy heart. In a few words, he lashed out violently at Wayne Odesnik, the 267th World and recently suspended 15 years for doping...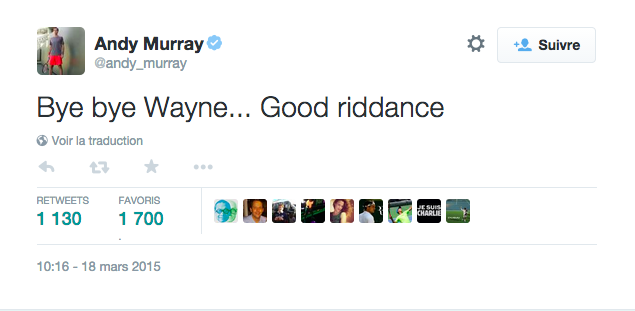 ...Between two tweets of Bob Marley and Banksy quotes.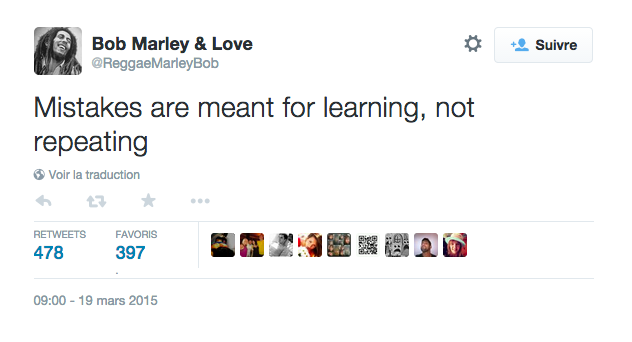 Yes, Andy Murray also needs to breathe.
5. Simona Halep (NE).
The world number three has certainly won in California the best tournament of his career.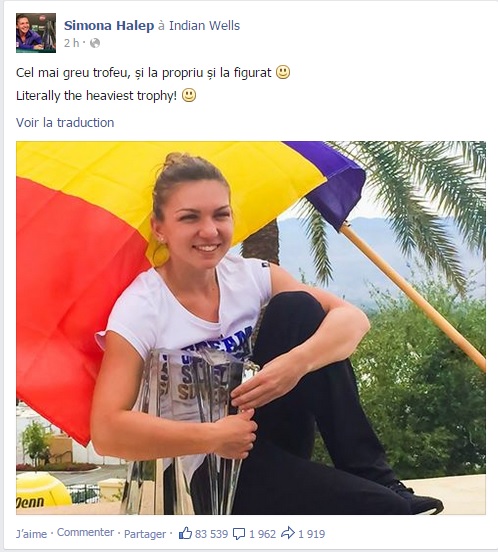 The proof: she directly changed the profile picture of her Facebook and replaced it with a picture of her with the Indian Wells BNP Paribas trophy at the press conference after the match.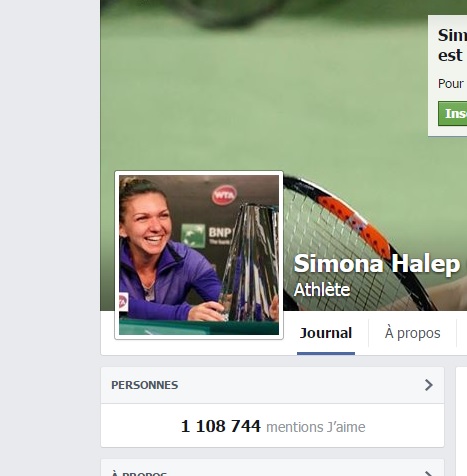 And for a player who isn't very active on social networks, you have to see it as a sign.
6. Serena Williams (-5).
It was a withdrawal that separated Serena Williams and the Indian Wells BNP Paribas Open for fourteen years. In 2001, Serena had to face Venus in the semi-finals, but Venus had to withdraw before the match. In the final, Serena was booed, and the public suspected the Williams clan to have fixed the match. After withdrawing in semi-final this year again because of a right knee pain, Serena Williams had something to say and some love to give: «It was really sad because just four months ago I decided to start this journey to come back here at a place I've had so much success. It's been a wonderful journey, and I have to say that I'm so excited to have been able to come back here and start to build so many new memories, and I can only promise to come back next year and play right here on this court in front of you guys. I think both myself and the crowd have a great appreciation for each other, and I have really enjoyed my four matches her. I didn't feel nervous about it at all. I feel like everyone is super understanding, and it's a wonderful thing for me to be back here. I feel honoured to play here.»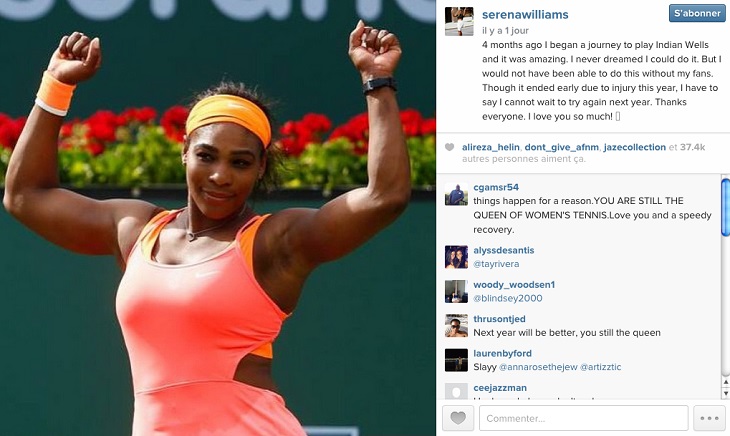 7. Martina Hingis (NE).
At 35, the Swiss is still alive, she reminded the world by winning the 42th title of her doubles career in Indian Wells with the Indian Sania Mirza.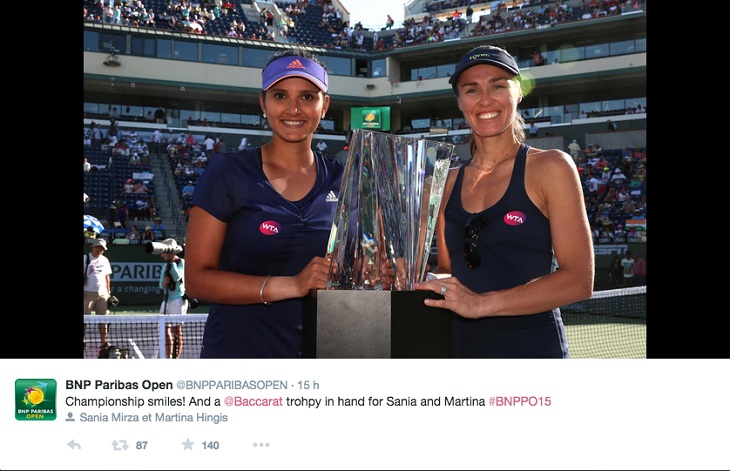 The secret of their success? They apparently know each other very well.
8. Milos Raonic (NE).
Milos Raonic hasn't only defeated Rafael Nadal in the quarterfinals, in California, he also saved three match points. Enough to greet the public...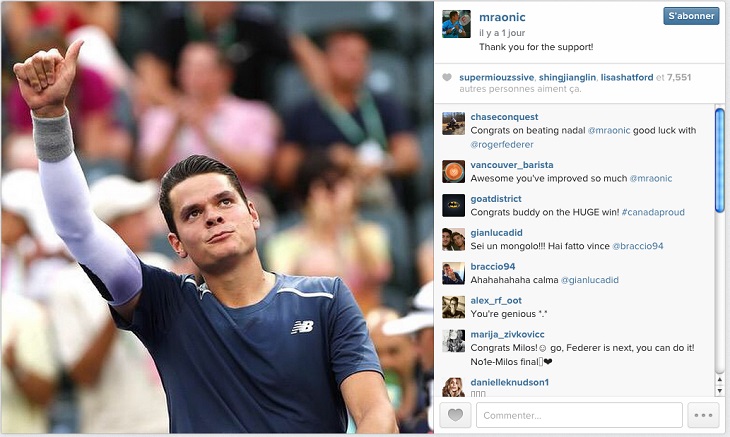 ...And remember to the good memory of his coach Ivan Ljubicic, still quite « hairy » at the time.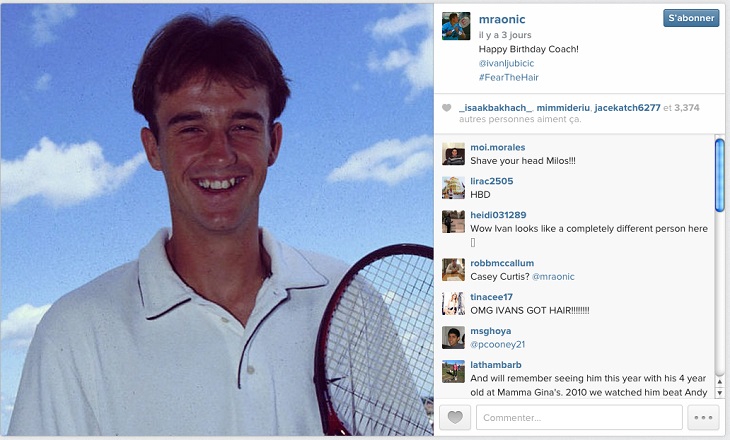 9. Caroline Wozniacki (+2).
Caroline Wozniacki has certainly lost quickly this week in the US but had much better to offer after: a match of the Miami Heat at the American Airlines Arena...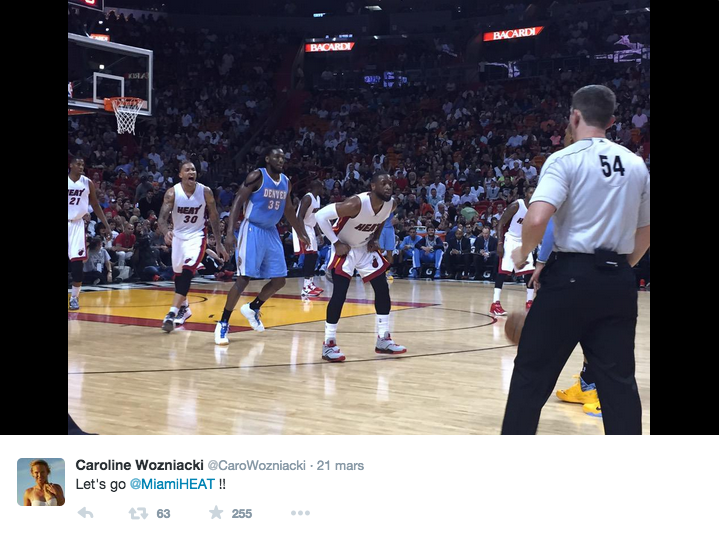 ... Her dog, that leads her in the streets of Miami...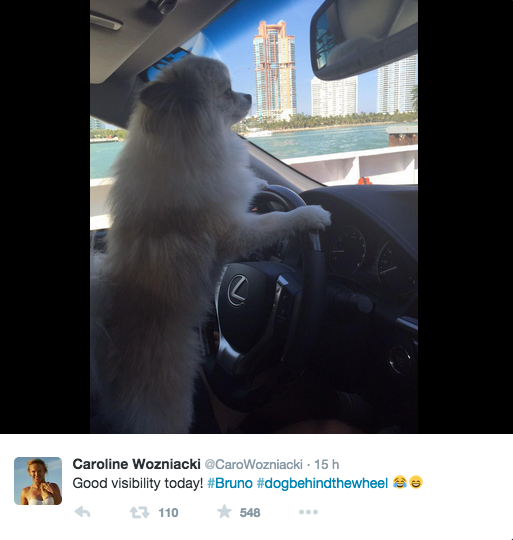 …And a Liverpool scarf.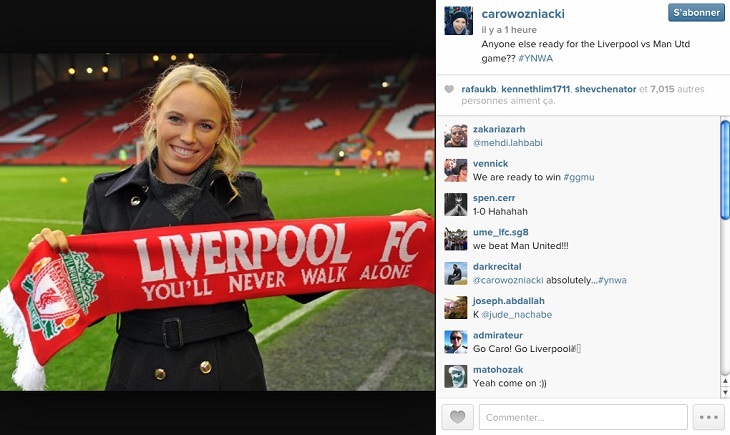 Unfortunately, she didn't bring luck to her favourite team, defeated 2-1 by Manchester United.
10. Ana Ivanovic (NE).
A premature defeat in a major tournament? Ana Ivanovic has the solution: quickly follow up to the next tournament...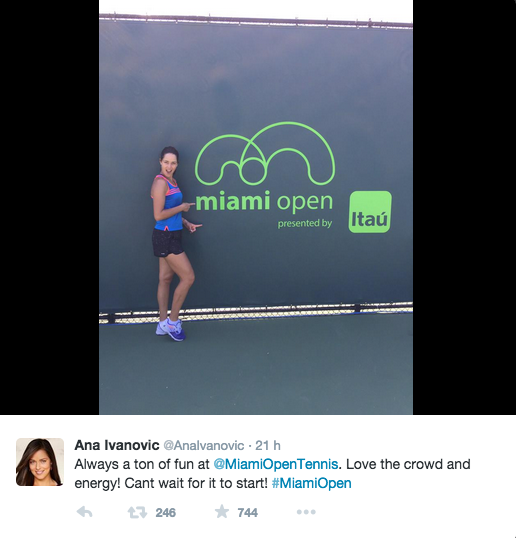 ...And pose to remind us how beautiful she is.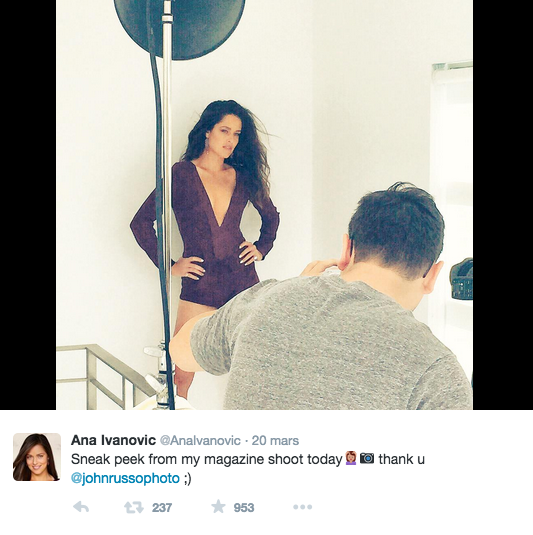 11. Feliciano Lopez (NE).
The Spaniard hasn't only defeated Kei Nishikori in California...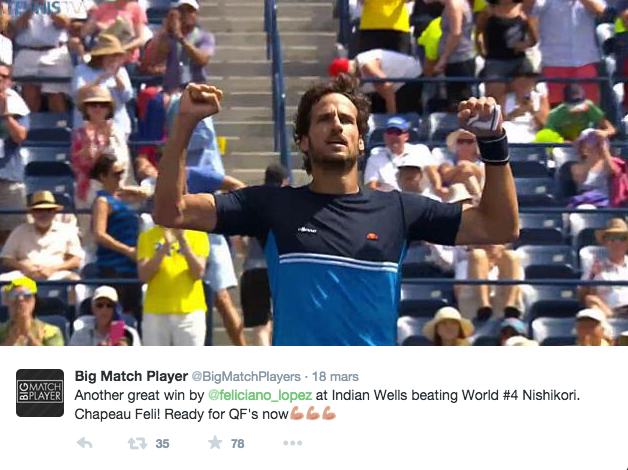 ...He mostly played with a very big racquet.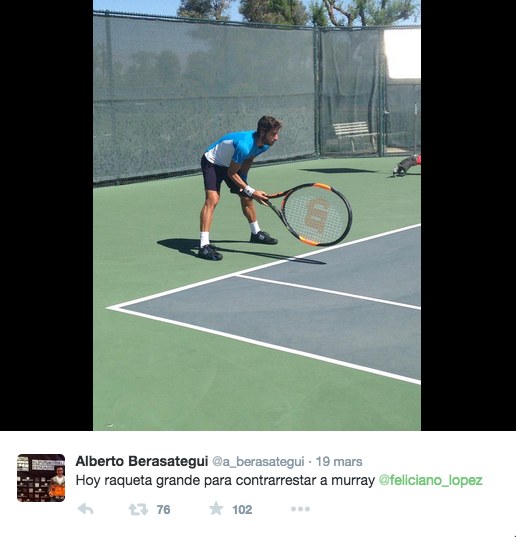 12. Flavia Penetta (NE).
The Italian player had a wall with her name on it in Indian Wells. But probably under the weight of history, she fell in the quarterfinals against Lisicki.
And couldn't retain her title.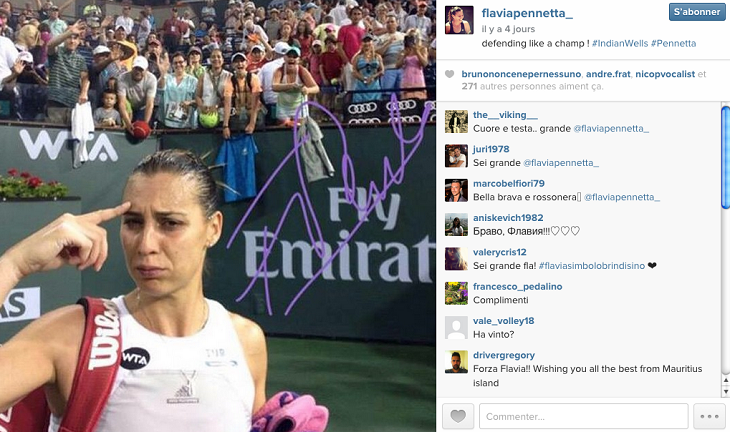 13. Maria Sharapova (-2).
When things aren't going strong for her on the tour, Maria Sharapova always has a solution. Like drinking (and advertising) a bottle of her sponsor: Evian.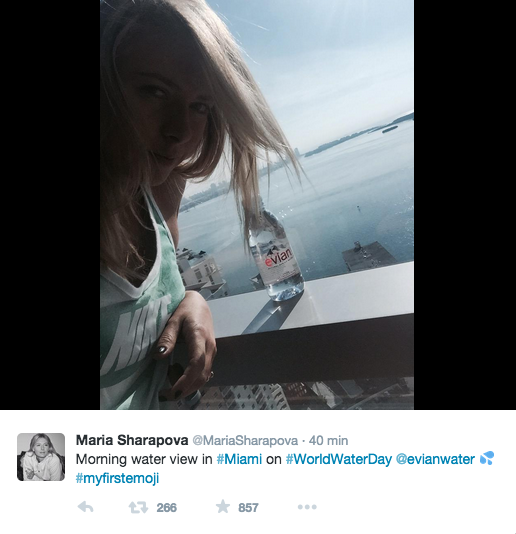 Or challenge Jeremy Lin, the point guard of the Los Angeles Lakers.
14. Tomas Berdych (+1).
If he suffered against Federer (defeated 6-4, 6-0) at the BNP Paribas Open in Indian Wells...
..Tomas Berdych is also a man who knows how to bounce back. He went straight to Miami.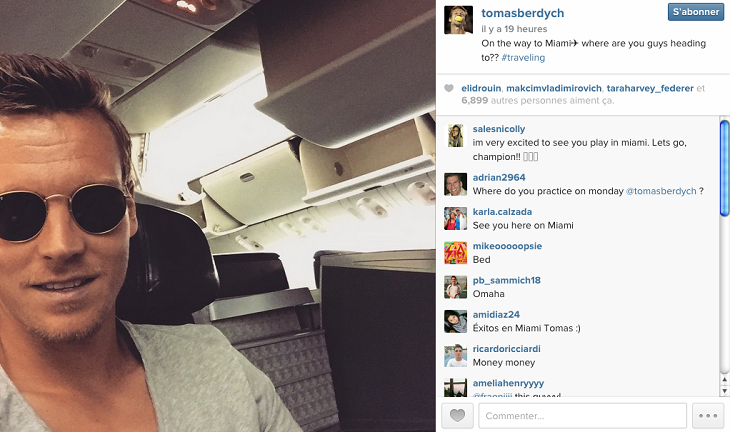 15. Anna Kournikova (NE).
News from Anna Kournikova. The Russian looks fine. She's in good company as she is jogging with her dog.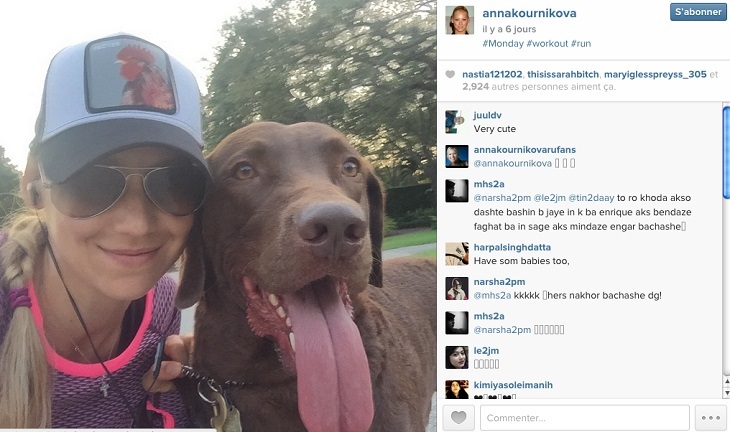 Brigitte Bardot has her heiress.
Out:
Jarko Nieminen, Victoria Azarenka, Timea Bacsinszky, Lleyton Hewitt, Eugenie Bouchard, Ernests Gulbis, Lin Zhu, Julien Benneteau