After fourteen years of absence, Serena Williams came roaring back in California. And it didn't happen without a huge emotional load.
This is the highlight of the beginning of the fortnight at the BNP Paribas Open in Indian Wells. After fourteen years of absence, Serena Williams came roaring back in California. So tears then but also laughter with Andy Murray and his improbable haircuts. Nieminen for his part celebrated his 400th victory on the ATP Tour. Hats off.
1- Serena Williams (NE).
A comeback filled with emotion. After a divorce that lasted fourteen years, Serena Williams made her comeback in Indian Wells. Upon returning on the court for her match against the Romanian Monica Niculescu (7-5, 7-5), the 33-year-old American failed to hold back her tears when she heard the standing ovation. Among the spectators were also observers like John McEnroe or billionaires like Larry Ellison and Bill Gates.
On the court, the world number 1 had to fight to get rid of her opponent, who scored the point of the match.
Winner with difficulties, Serena Williams is nevertheless proud to have replayed at the BNP Paribas Open for the first time since 2001. « Winning is not always about holding up a trophy. Sometimes you have to face your biggest nightmares head first, and conquer them. For the first time I don't need a trophy... because I have already won.»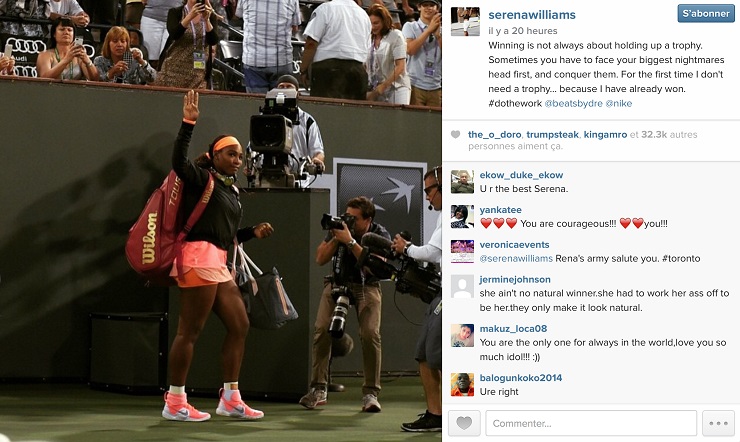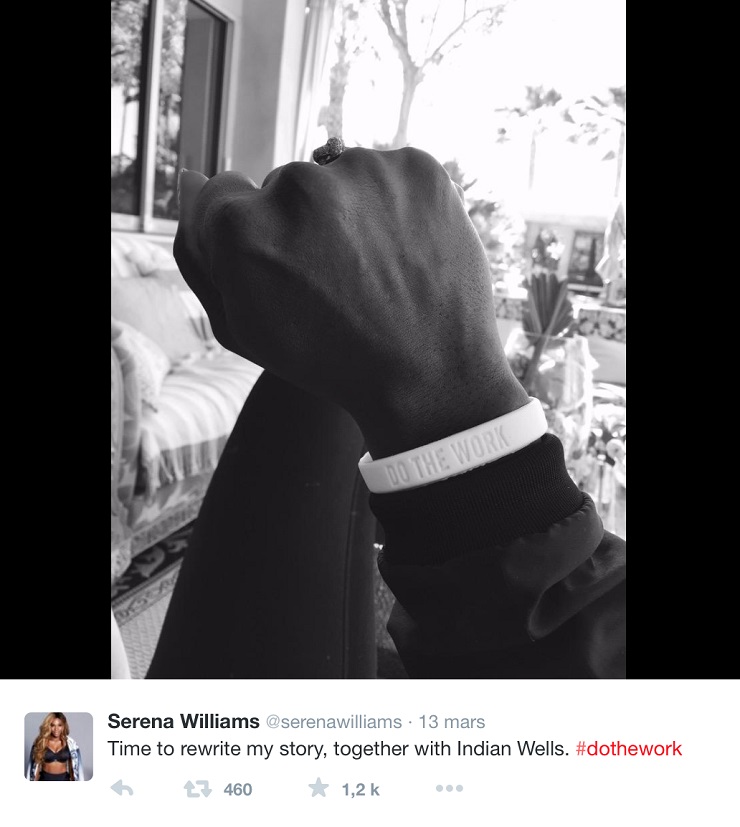 2- Andy Murray (+10).
Nostalgia. Andy Murray's mother found a picture of a tournament back in 2000. Andy Murray in on the top left, next to his mother. Should we talk about this blonde look?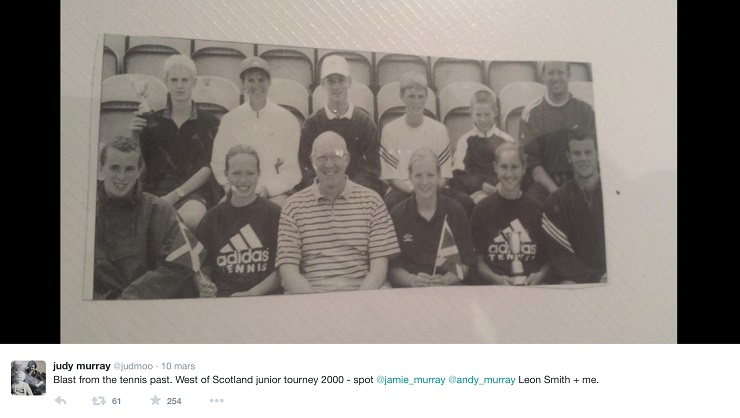 Chance or coincidence, the Scot also had a fascinating discussion on Twitter with Roger Federer about his hair.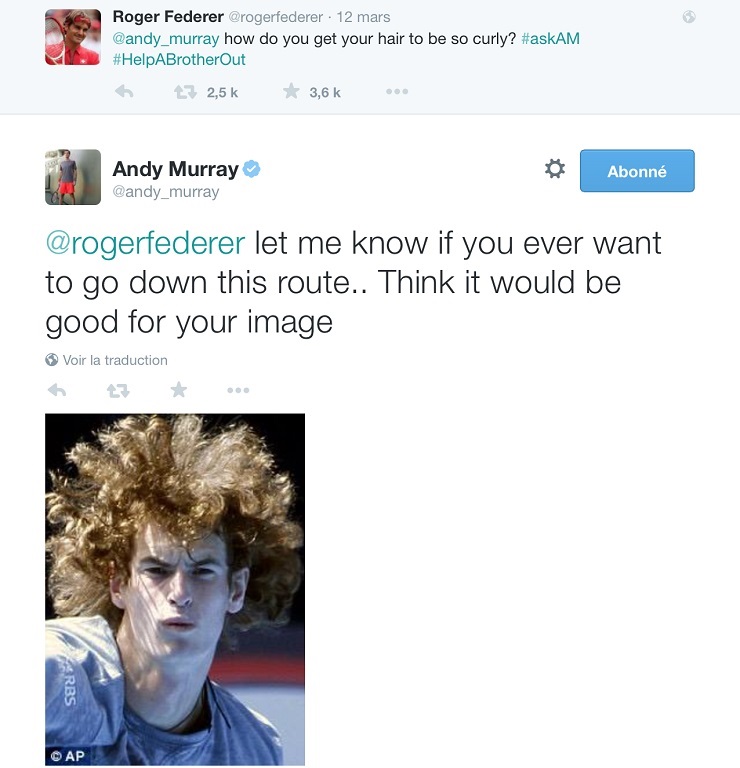 Finally this week, Andy fell in love with the young American tennis player Taylor Townsend's tennis.

3- Jarko Nieminen (NE).
By defeating the Dutch player Thiemo De Bakker in the first round of the BNP Paribas Open in Indian Wells, Jarko Nieminen won the 400th game of his career on the ATP Tour. Strong.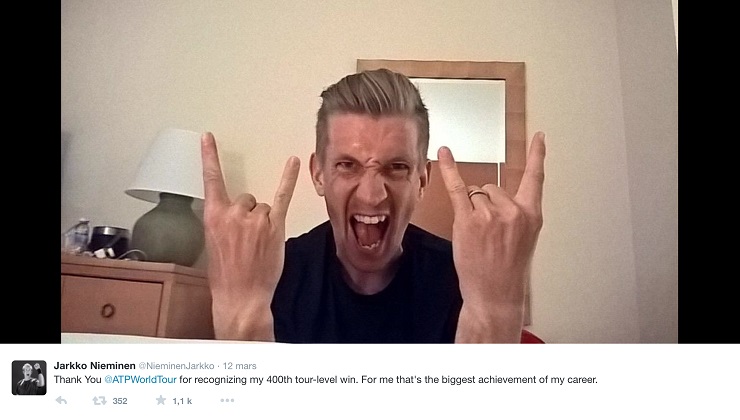 A moment that was worth a picture with two legends, the Finnish ice hockey player Teemu Selänne and... Roger Federer.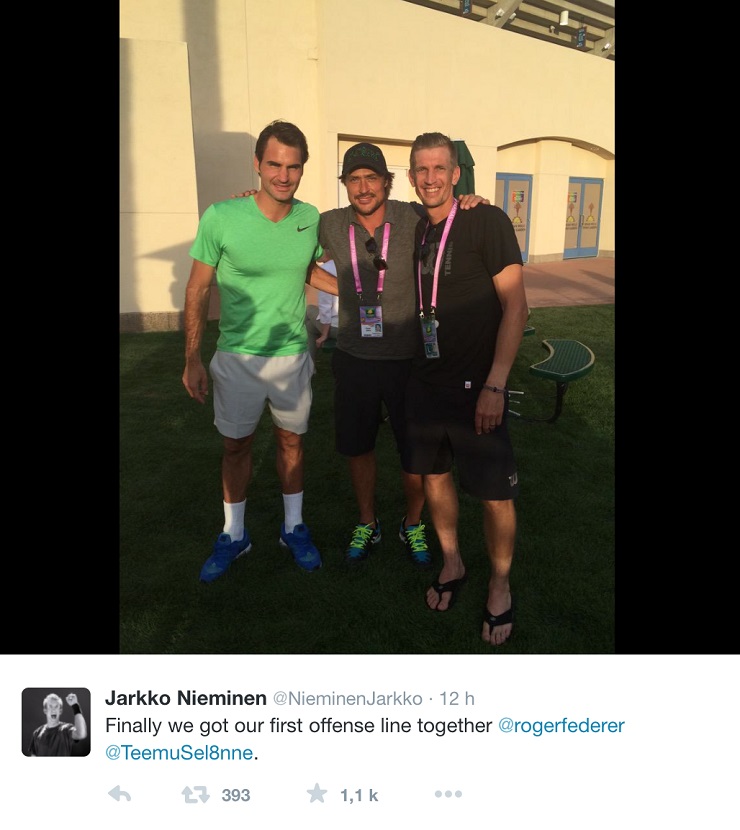 However, Nieminen had less success in the next round. The 33-year-old Finn was eliminated by the Argentine Pablo Cuevas (4-6, 7-5, 6-0).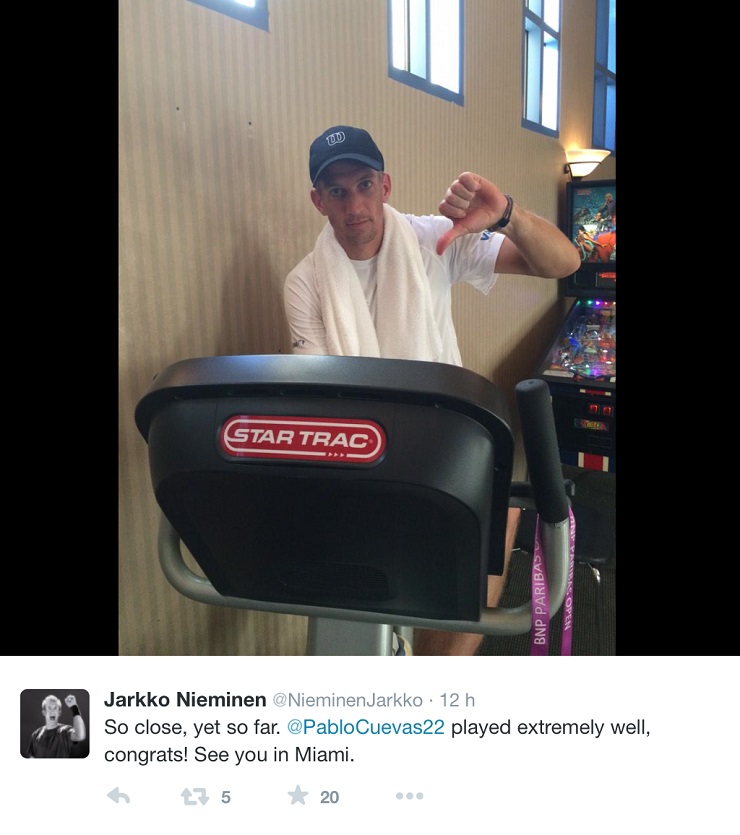 4- Victoria Azarenka (+6).
Victoria Azarenka experienced a complicated arrival in Indian Wells. The Belarus started to spill all the ice of her freezer...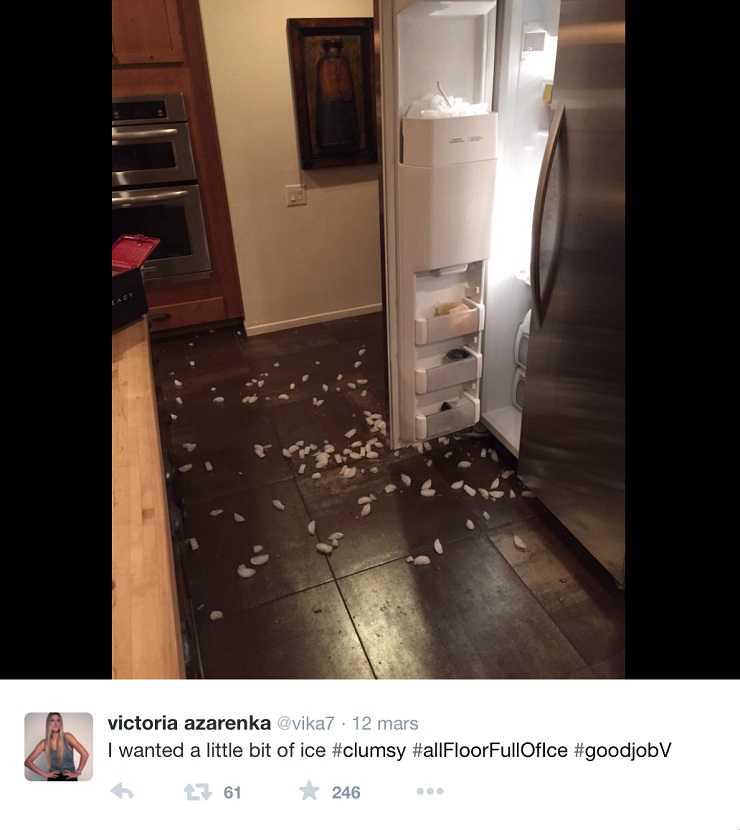 ... Before going (deliberately?) in the wrong way on the training court.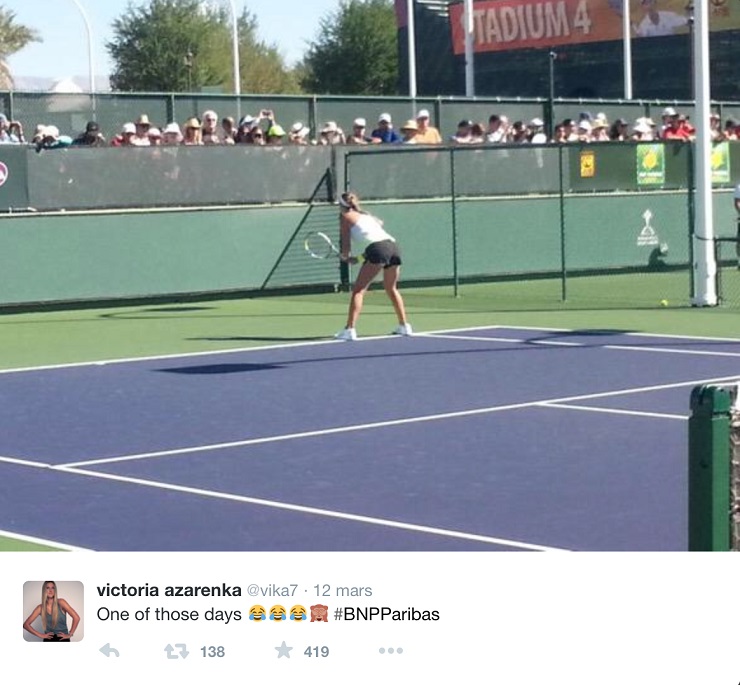 Fortunately, a good ice bath set her straight before the third round against Maria Sharapova.
5- Timea Bacsinszky (-3).
Timea Bacsinszky has changed dimension with her successive victories in Acapulco and Monterrey. It was time to learn how to properly write her name.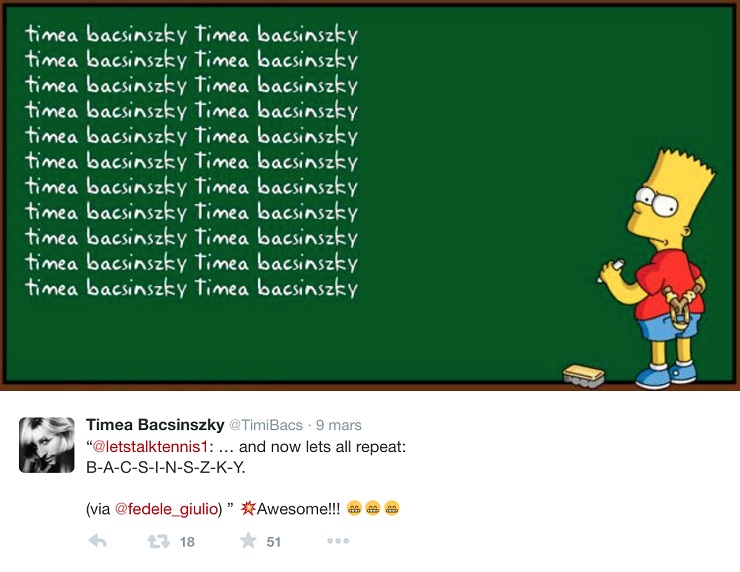 Winner of her second trophy in two weeks, the Swiss player will keep fond memories of Mexico. But not only for tennis.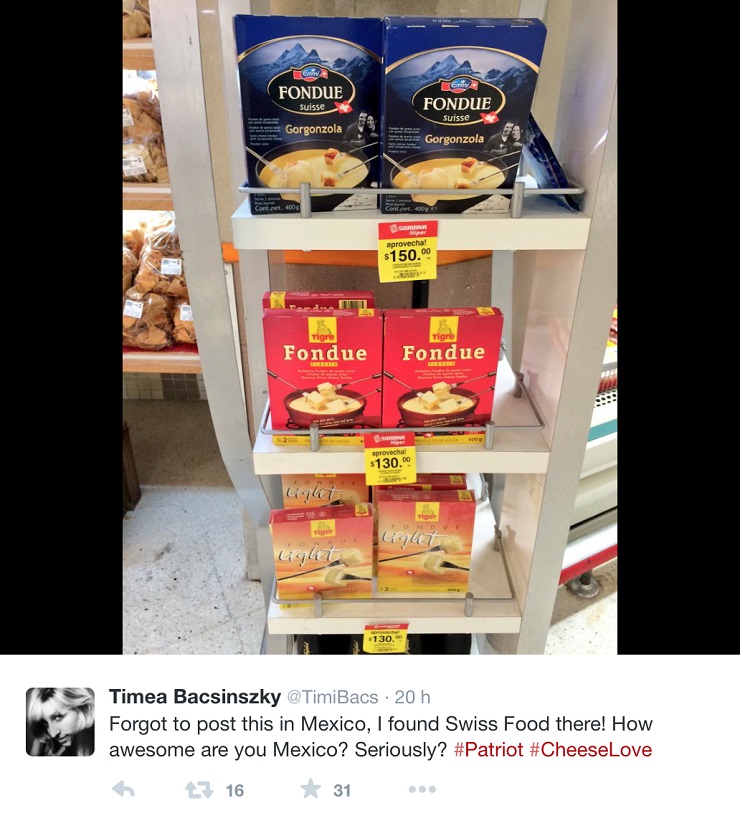 Bacsinszky then went to Indian Wells, where she defeated Erakovic in the second round (4-6, 6-3, 6-2).
6- Nick Kyrgios (NE).
For his return to competition, Nick Kyrgios has once again made the show. Against the American Kudla (6-4, 7-5), the young Australian multiplied high-class points. An incredible drop volley...
One point that should further increase his popularity. Such as the duration of his autograph sessions after his trainings.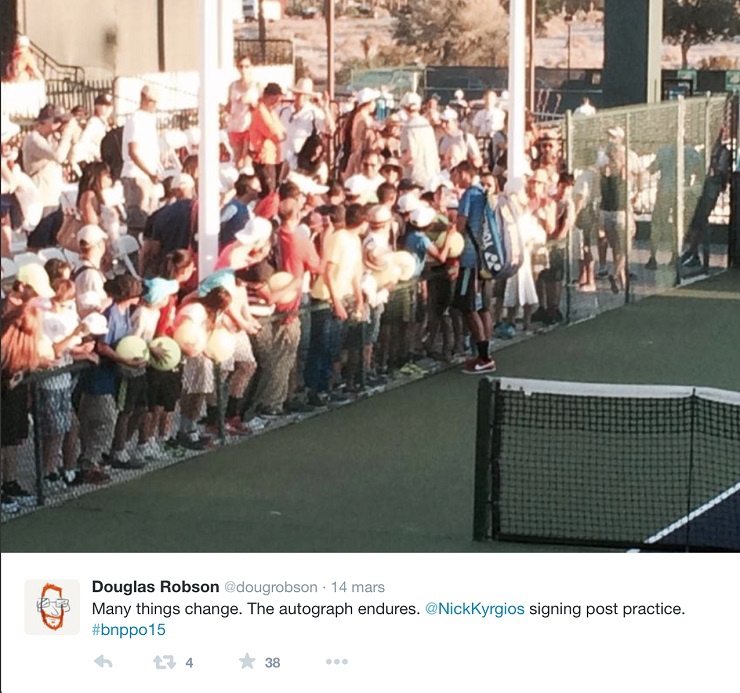 7- Caroline Wozniacki (+2).
Qualified for the third round after his victory against Jabeur (7-6, 6-4) at the BNP Paribas Open, Caroline Wozniacki wanted to set the record straight: no, there is no tension between the players on the pro tour.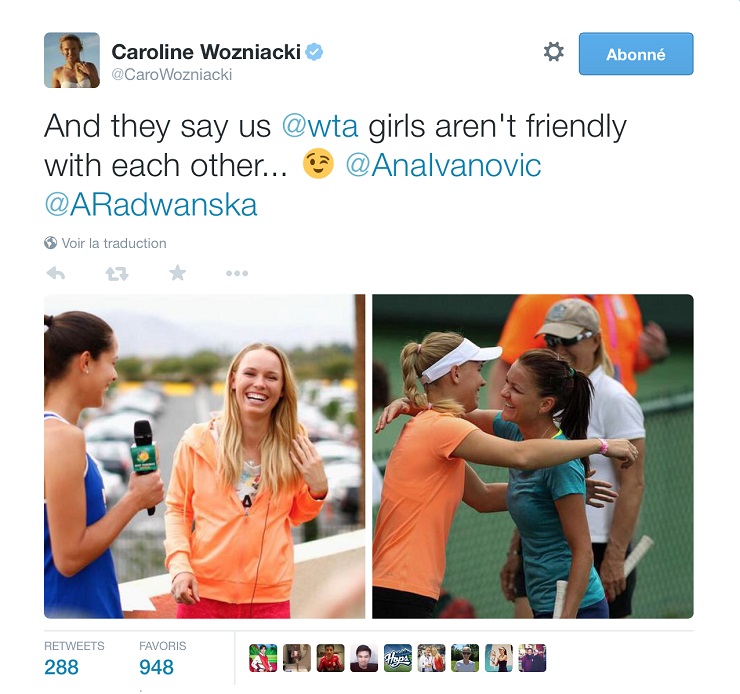 Accustomed to photo shoots, the Dane then took a Selfie with her two favourite doggies.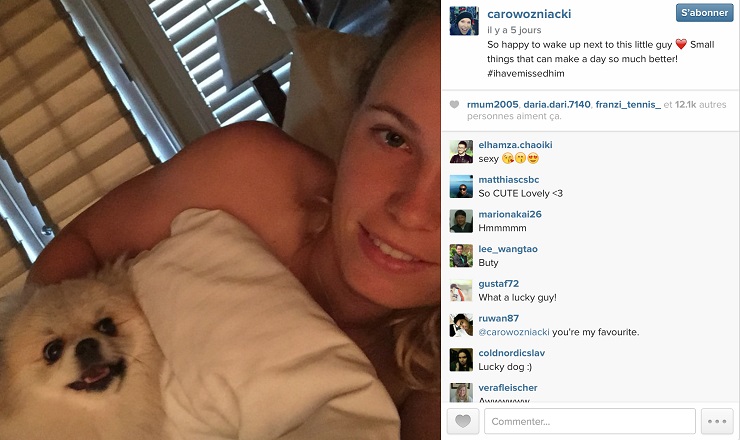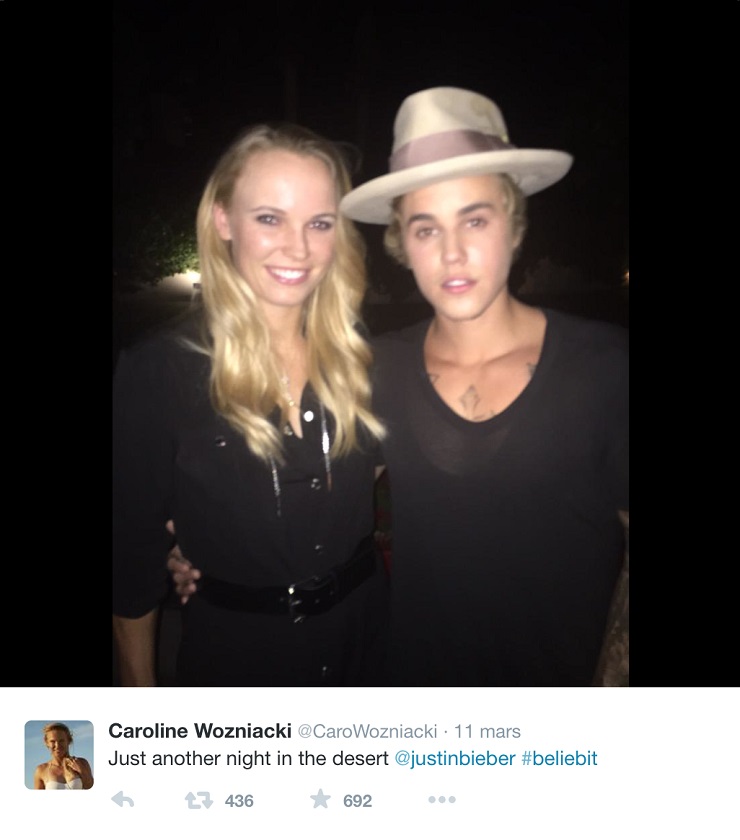 No comment on this odd hat.
8- Lleyton Hewitt (-2).
Lleyton Hewitt isn't in Indian Wells but in Australia where he attended the first F1 grand prix of the season. And met Terminator.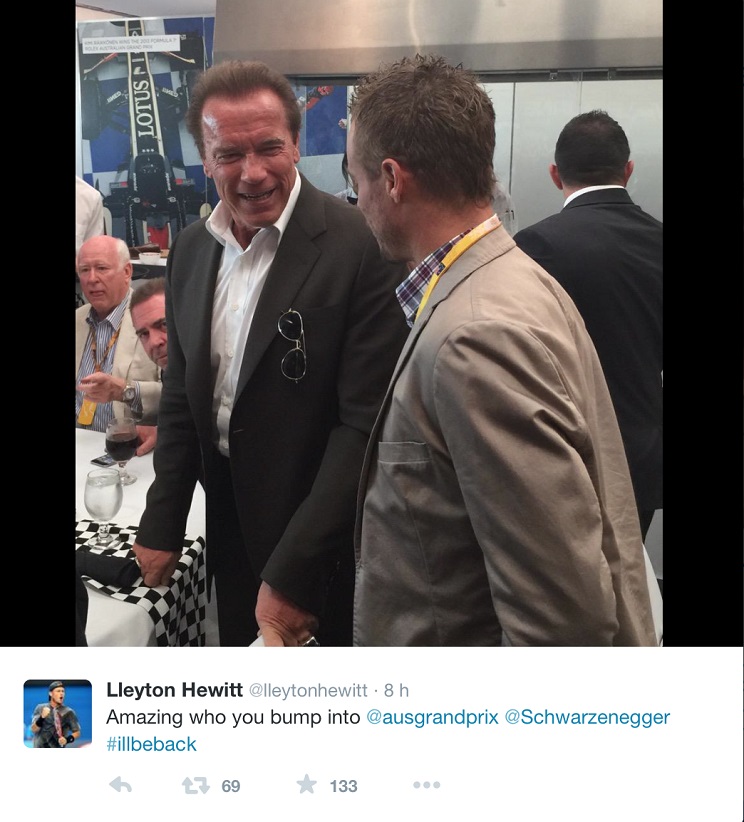 But that's nothing compared to the time he spent on the track driving an F1 car.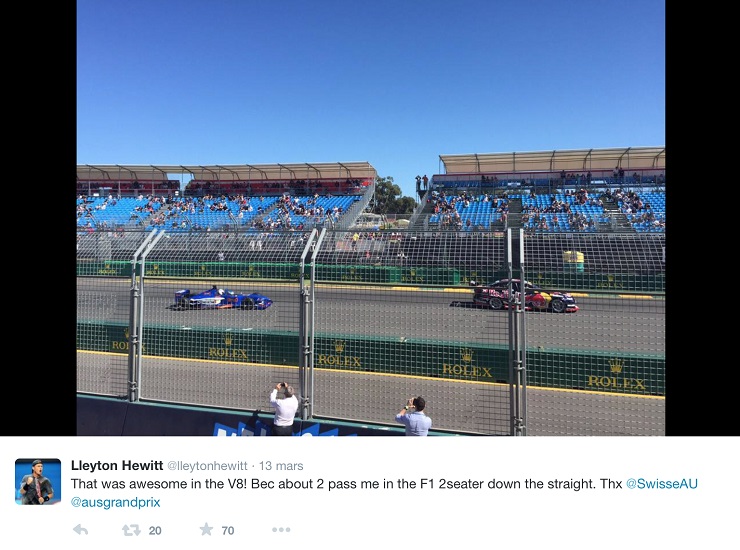 Apparently his wife Bec did better than him.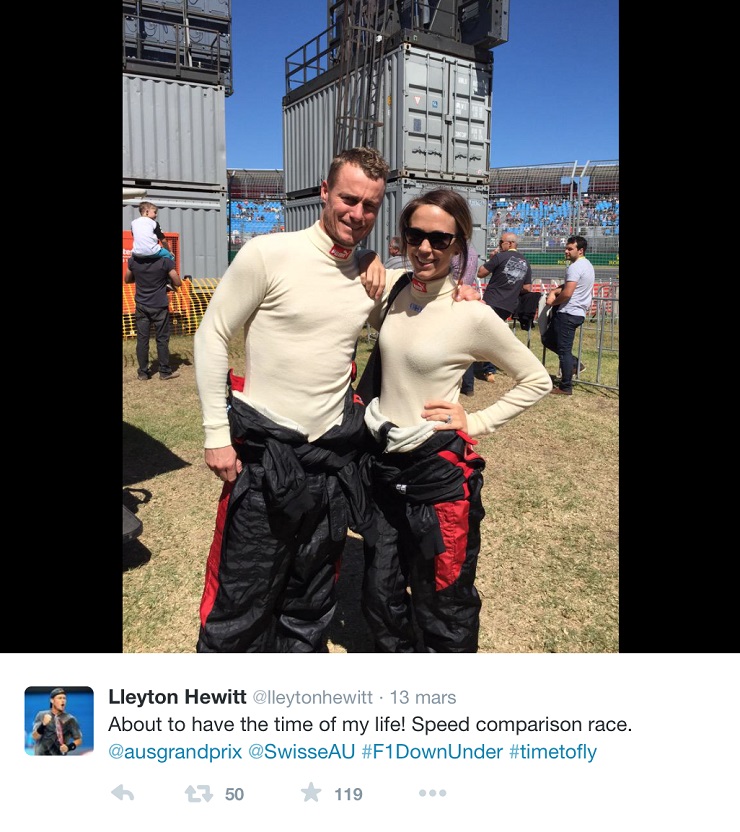 9- Eugenie Bouchard (-4).
On the sidelines of the BNP Paribas Open, Eugenie Bouchard played a few balls with Kevin Hart and Will Ferrell, as well as Justin Bieber of whom she's a big fan.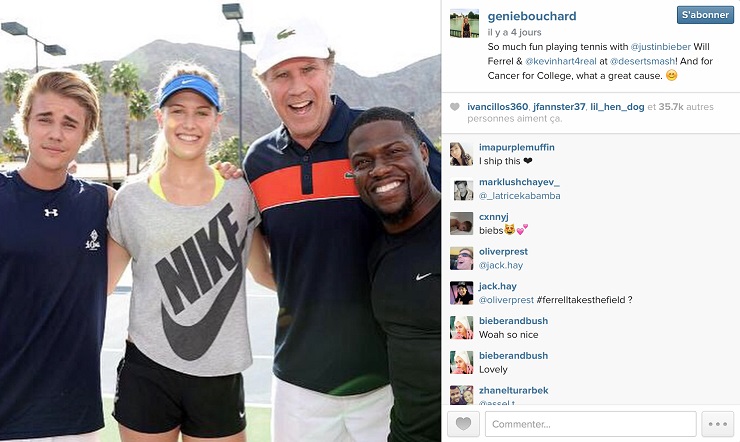 However, Bieber is probably better behind a microphone than racquet in hand. Actually… Maybe not.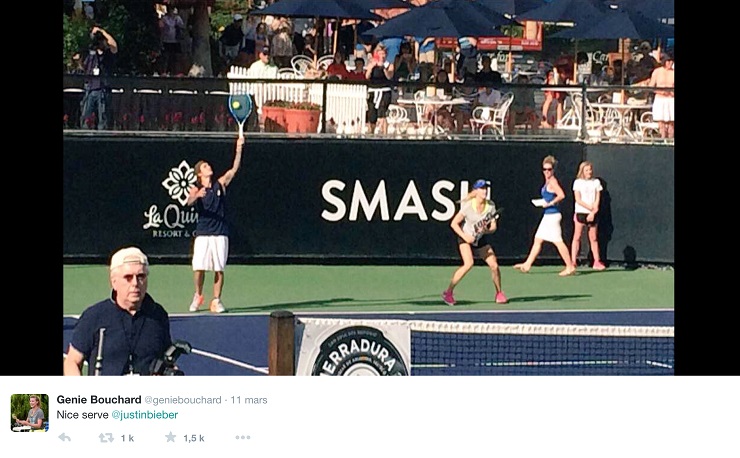 FYI, this meeting was organized for an association against cancer.
10- Novak Djokovic (-2).
Before an easy first match against Baghdatis (6-1, 6-3), Novak Djokovic unveiled a wall with his face on it in Indian Wells.
The Serb also played football with a group of kids.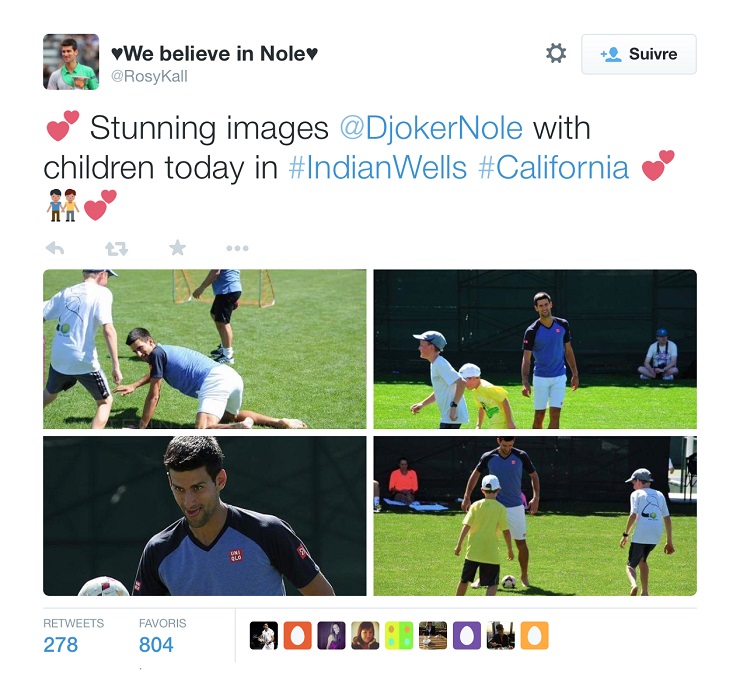 11- Maria Sharapova (-7).
Winner in Indian Wells in 2006 and 2013, Maria Sharapova posed with other former winners: Ivanovic, Wozniacki, Federer and Nadal. Just that.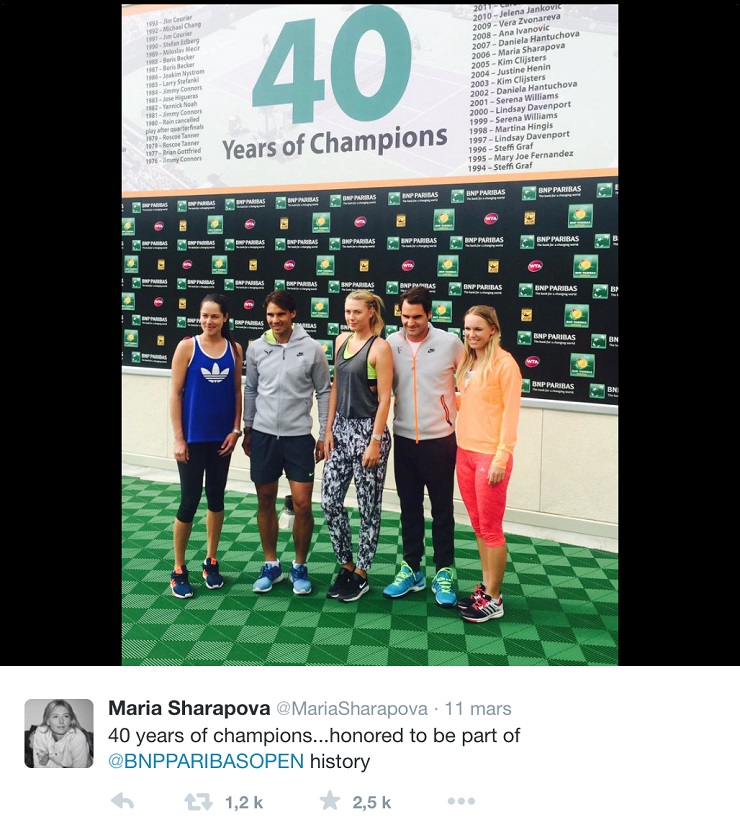 Otherwise, the Russian always seems to enjoy the training part of the tournament...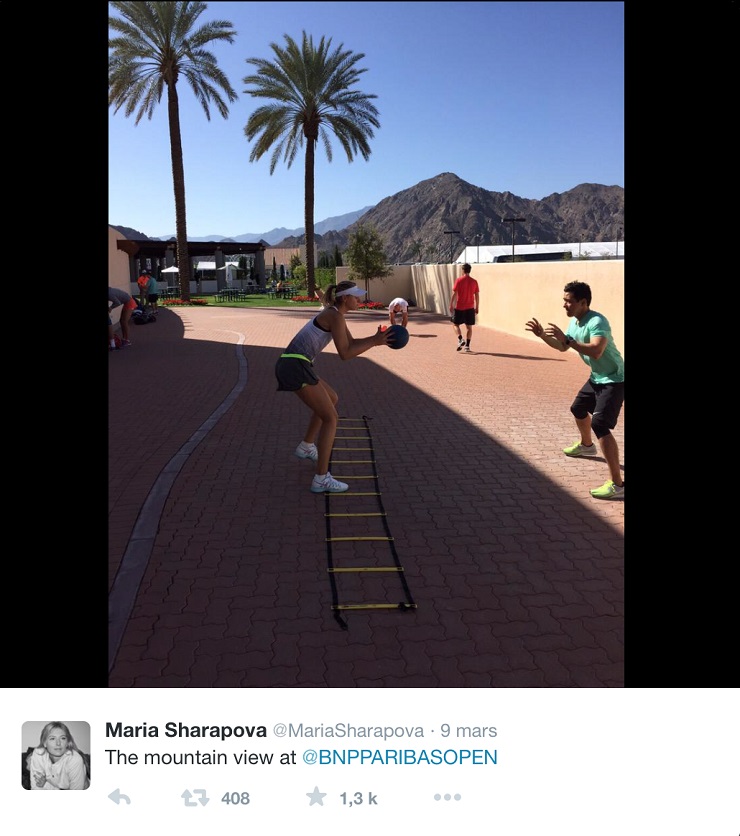 Which didn't prevent her of taking precautions. Good initiative Maria.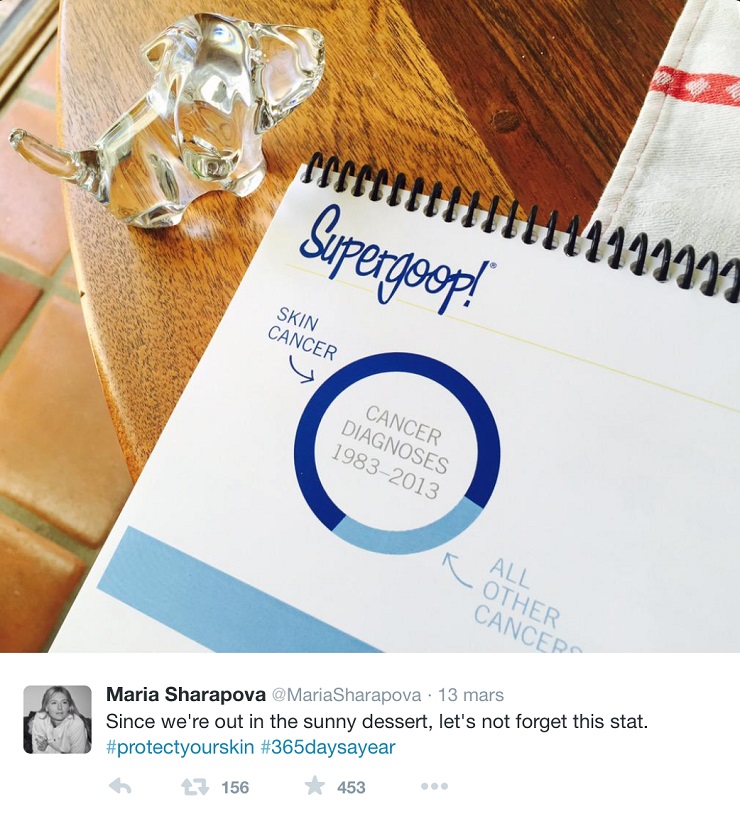 12- Ernests Gulbis (NE).
It was time! At Indian Wells, Ernests Gulbis won his first match in 2015. After five consecutive defeats in the first round (in Auckland, Melbourne for the Australian Open, Rotterdam, Marseille and Dubai), and only three small sets won since January, the Latvian finally found success against the Spaniard Daniel Gimeno-Traver. The whole thing ten days after his separation from his coach Gunther Bresnik.
13. Lin Zhu (NE).
Lin Zhu made her first entry in our ranking thanks to her tricks. Against the Italian Francesca Schiavone, the 21-year-old Chinese refused to admit that she had made a mistake, winning the second set on a refereeing error. "The game's on TV, it's sport. It's not good to lie, you're 18 (21 in fact, ed.)" then said Schiavone.
A point, which was important, since at the end, Lin Zhu finally won in three sets (0-6, 6-3, 6-3). Ugly.
14. Julien Benneteau (NE).
Julien Benneteau didn't only make friends this week. Like many French, he watched the beautiful qualification of PSG against Chelsea on Wednesday in the knockout stages of the Champions League. But while critics multiplied against the referee following the red card of Zlatan Ibrahimovic, Benneteau gave a dissenting opinion.

OM fan (PSG rivals), Benneteau was lambasted by some of his Twitter followers. The message passed, the French calmed everyone at the end of the match.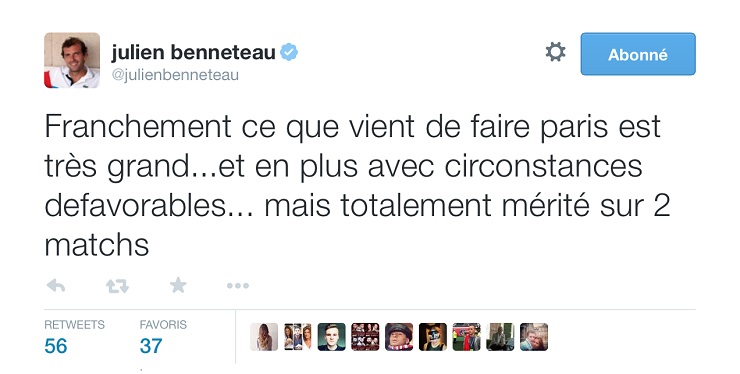 Quarter-finalist at Indian Wells last year, Benneteau has however been eliminated in the second round this year, defeated by the Spaniard Albert Ramos (6-2, 6-3). Worse, he got injured again.
15. Tomas Berdych (-4).
Shortly after arriving, Tomas Berdych discovered the joys of California traffic.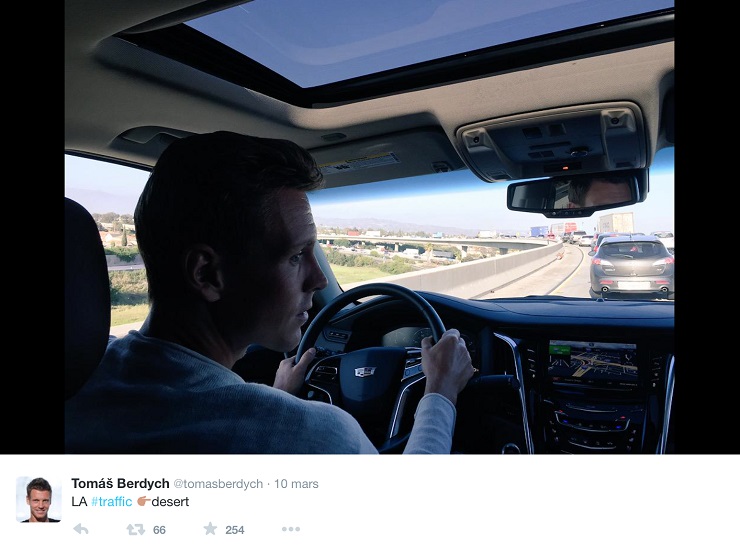 Which didn't prevent the Czech of taking the time to sign autographs and take pictures with his fans.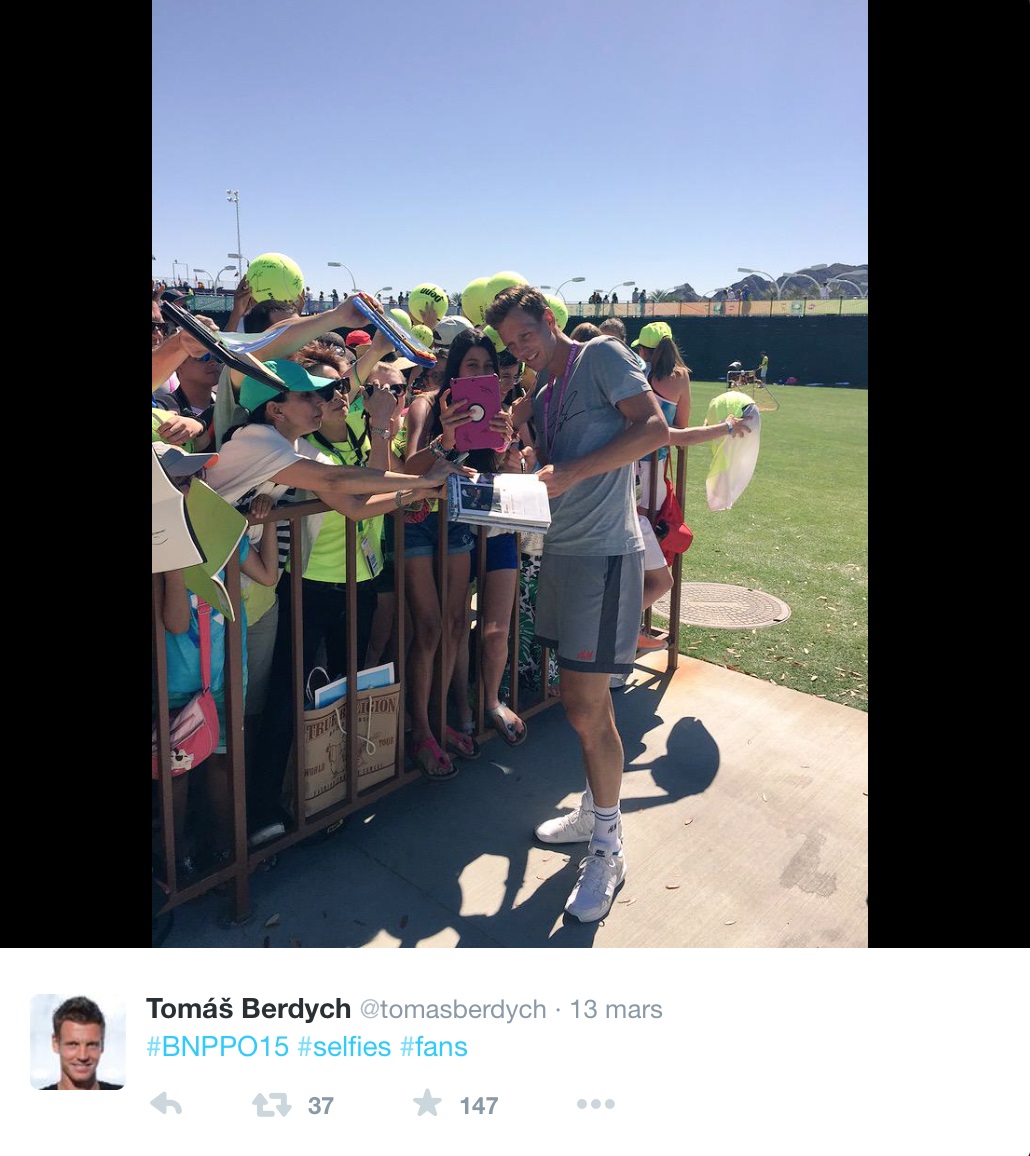 Out:
Nicolas Mahut, Caroline Garcia, Ana Ivanovic, Jonas Björkman, Marion Bartoli, Benoît Paire
By Quentin Moynet