Big first this week in the tennis journal with the first place of a player never honoured in this way. It must be said that it was a weekend of Davis Cup by BNP Paribas.
At 33, the French takes the first place in our ranking after his debut in the Davis Cup by BNP Paribas. Winning debut, of course. Behind, Novak Djokovic denounced corruption, Victoria Azarenka went boxing and Ana Ivanovic dressed as Catwoman.
1/ Nicolas Mahut (NE).
A career, it's not only titles. It's also feelings. Dreams. Nicolas Mahut didn't win any Grand Slam. And probably never will. But during this first round of Davis Cup by BNP Paribas between France and Germany, the 33-year-old fulfilled a dream: playing his first Davis Cup match with his long-time friend Julien Benneteau. The two men have known each other for over 20 years. When they were young, they even confronted each other in the final of several tournaments.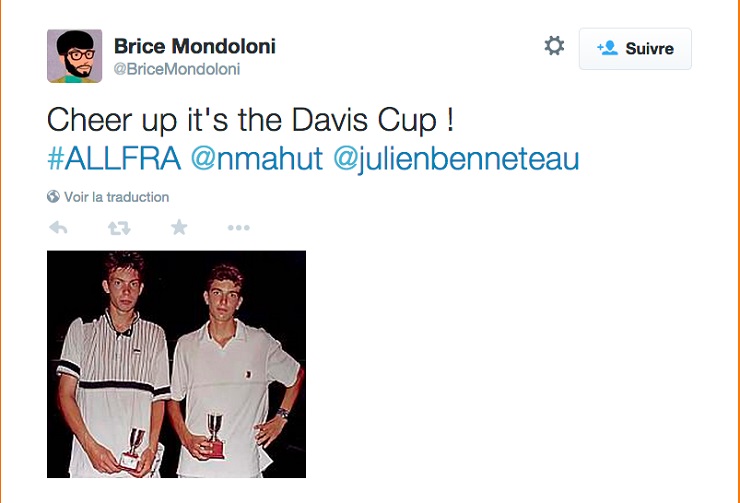 The two friends have also brought the decisive point to the France team during the doubles easily won in three sets. A victory that sent the Blues in the quarterfinals. A detail for this man, in love with a very special football team: the French Championship team, SCO Angers. And as Mahut dreams seem to come true in 2015, he has more in stock. Even crazier.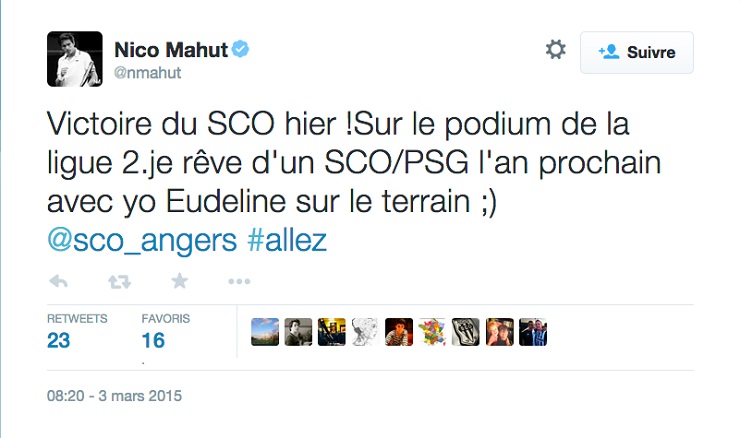 2/ Timea Bacsinszky (+4).
One week after her victory in Acapulco, the Swiss was once again ready to win a title but this time in Monterrey. Verdict: victory in three sets (4-6, 6-2, 6-4). Yet her mind was elsewhere since the lady sent personalized encouragement to the Swiss team that was facing Belgium in the chocolate derby.
One way to restore some truths.
3/ Caroline Garcia (NE).
The French is having an auspicious winter with this final in Monterrey, having defeated Ana Ivanovic in the semi-finals (6-1, 6-4), which is quite something. And the brunette didn't come to Mexico empty handed according to the preparations for her bags before taking off.
It does look like excessive luggage, right?
4/ Maria Sharapova (/).
We didn't see Maria on the tour this week. After her withdrawal in Acapulco ten days ago, the Russian is preparing quietly for the first Masters 1000 of the season, the BNP Paribas Open in Indian Wells. Her work method? Bavarian. No need to explain. A picture is enough.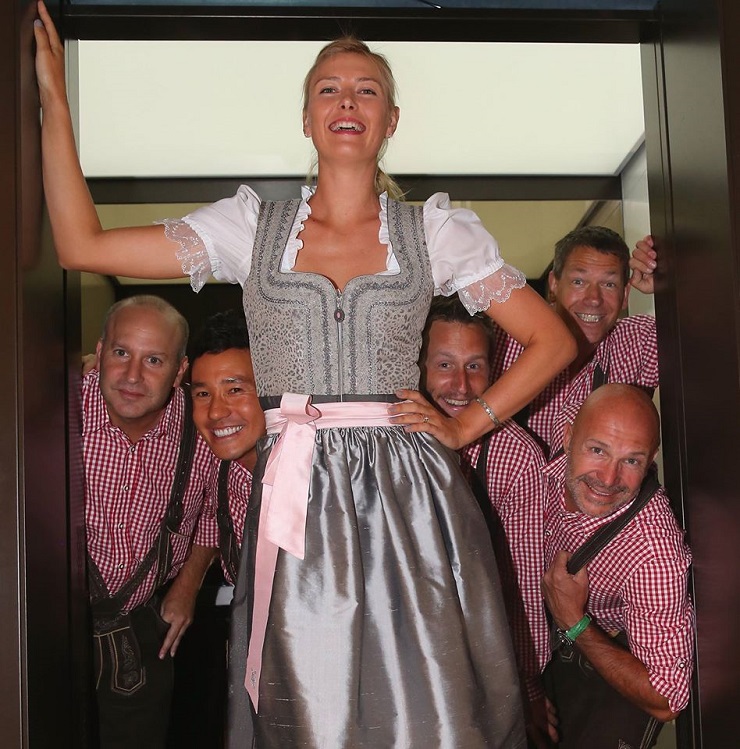 5/ Eugénie Bouchard (/).
Like Sharapova, the lovely Canadian is taking care of her body including her arm. This injury had prevented her from playing in Monterrey. So to pass the time, she had some good salads fit for Instagram.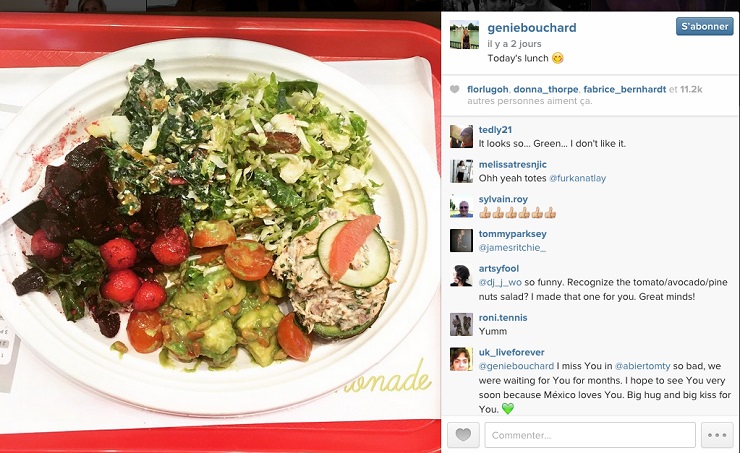 6. Lleyton Hewitt (NE).
New entry in our ranking, as new member on Twitter. This week, the former Australian world number 1 did as everyone else, he registered on the famous social network of 140 characters. It's his Davis Cup by BNP Paribas mate, Sam Groth, who managed to convince him. He even immortalized his registration.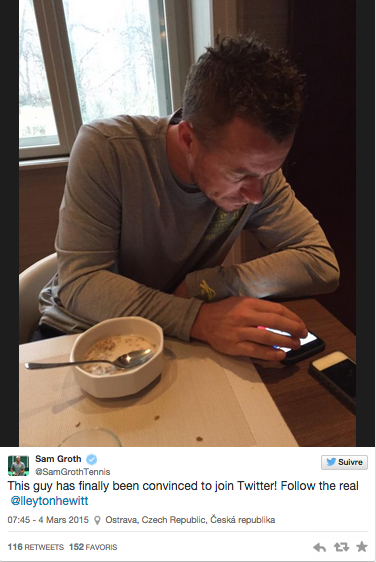 So what was Lleyton's first tweet? It looks like that: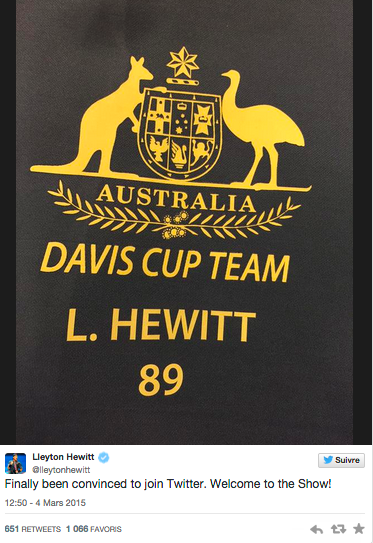 However, for his only Davis Cup by BNP Paribas match against the Czech Republic, Hewitt lost in five sets in the doubles. Too bad.
7/ Ana Ivanovic (NE).
Ok, Ana was defeated by Caroline Garcia in the semi-finals of Monterrey. And rather curtly (6-1, 6-4 in 55 minutes). Regardless, the point was elsewhere because at the occasion of the traditional players' party that usually takes place before the start of the tournament, the Serb was wearing the ultimate costume: Catwoman.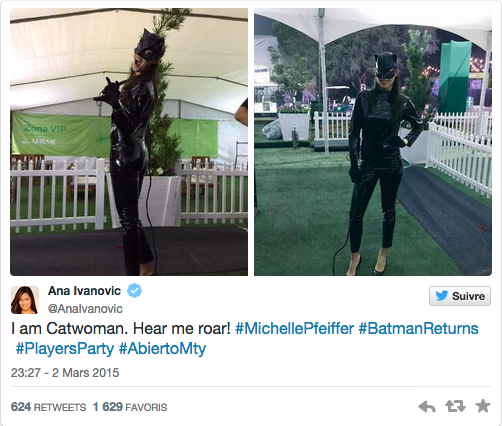 Meow.
8/ Novak Djokovic (/).
Easy qualification (3-0) against Croatia in the Davis Cup by BNP Paribas (Novak has also brought home two of the first three points of his team) but a very controversial week for the Djoker. It started when he arrived in Belgrade and publicly said to be surprised that all the tickets for the match scheduled in Kraljevo were sold in less than a fifteen minutes: "That is impossible, it is clear that someone committed a crime (...) that harms the national tennis Federation and the national team." Serious comments that prompted the Serbian federation to investigate the problem...
But that's nothing compared to the sports revelations of the Serb. In reality, Djokovic should have been skier. Yes, skier. Like Alberto Tomba. In any case that's what he said to the website TennisWorldItalia: So I do come from a family that nurtures a skiing culture. I grew up on a mountain. Before I hit my first tennis ball I was already on the slopes with the skis, so skiing today still stays my biggest passion, probably of all sports. Even though I love tennis with all my heart, it's number one sport, but I still feel that is no better feeling than when you are on the skis and go down the slope, down the mountain, it's such a powerful feeling. I love it but you know there was a time in my life when I was around ten, eleven, when I had to decide between the two sports because I was strongly considering skiing but my father, never pushed me really to do anything what he wanted me to do, but you know he allowed me to have the freedom to choose and I choose tennis and the end came up to be a good decision.» A decision that he perhaps partly owes to his first coach Jelena Gencic that he didn't fail to mention on his Facebook page for Women's Day.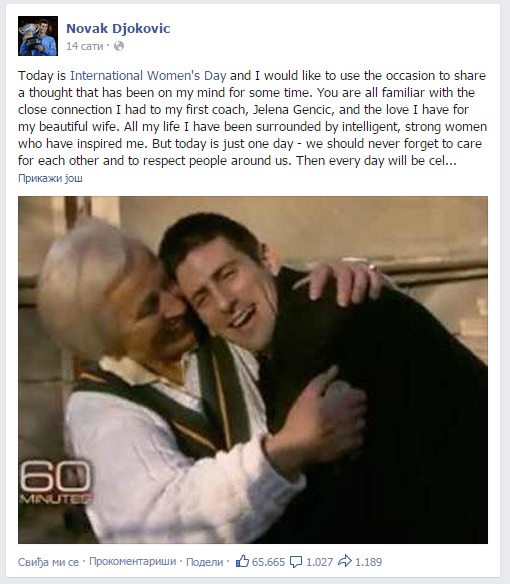 9/ Caroline Wozniacki (+1).
After swimwear, the Dane went back on the courts with a victory in Kuala Lumpur at the expense of the Romanian Alexandra Dulgheru in three sets (4-6, 6-2, 6-1). Her first title in 2015, but the 23rd of her career. A detail for the player who spent her week resting between games. A well deserved rest and photographed by her friends.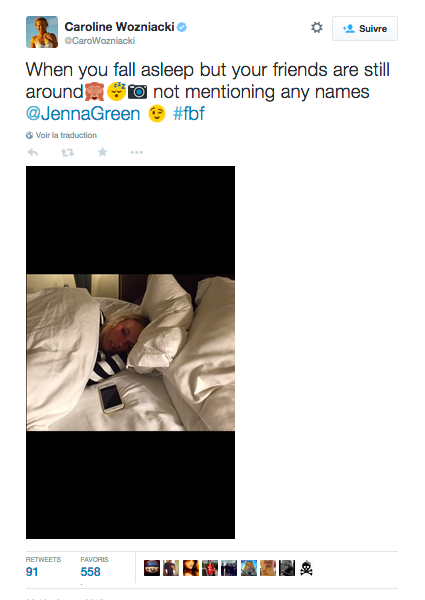 Wozniacki is still classy when she sleeps.
10/ Victoria Azarenka (-1).
Another busy week filled with everything and anything for the Belarus. Tennis? Not at all. It started with a little boxing training in anticipation of the fight of the century: Mayweather-Pacquiao.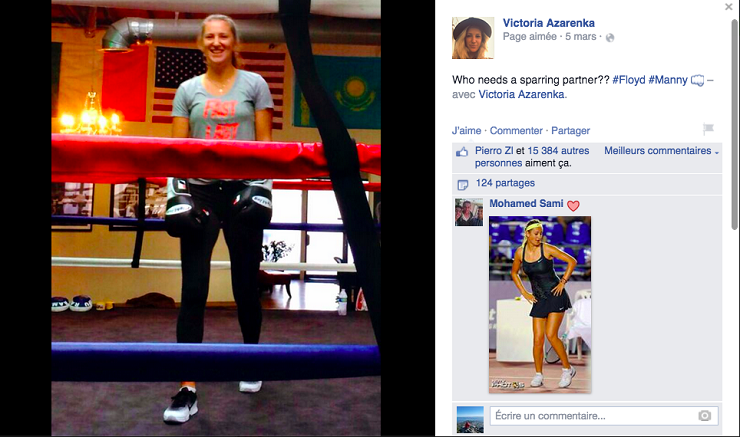 But also a little table tennis warm-up during a sports show on television...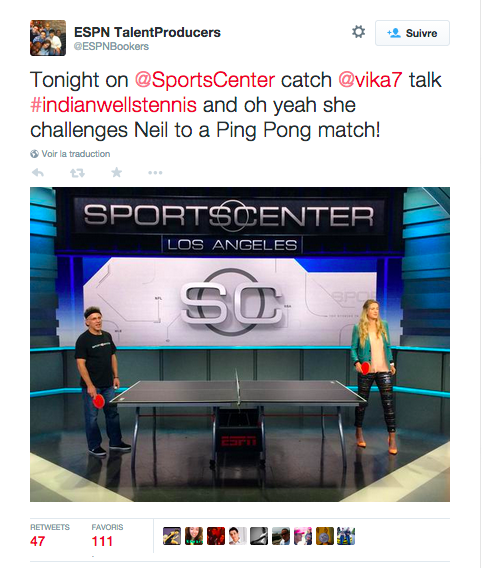 ...Added to a little joke on a tourist who apparently took the same flight as her. Phonetically, we can easily translate it by "moron." Fair play, though.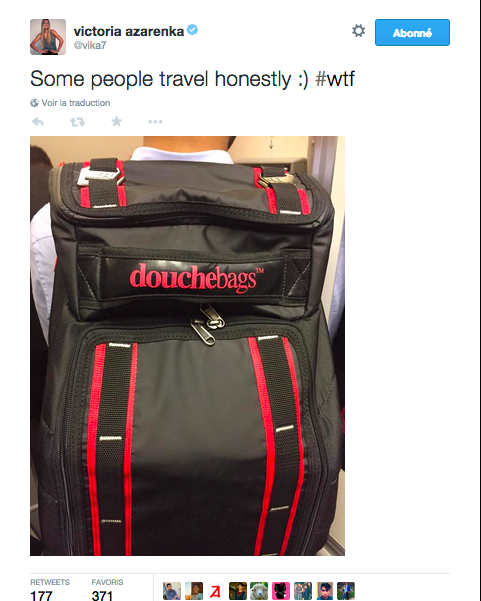 But where Victoria still feels the best is when she lays down on a beach towel, facing the sea and getting a nice tan on her thighs.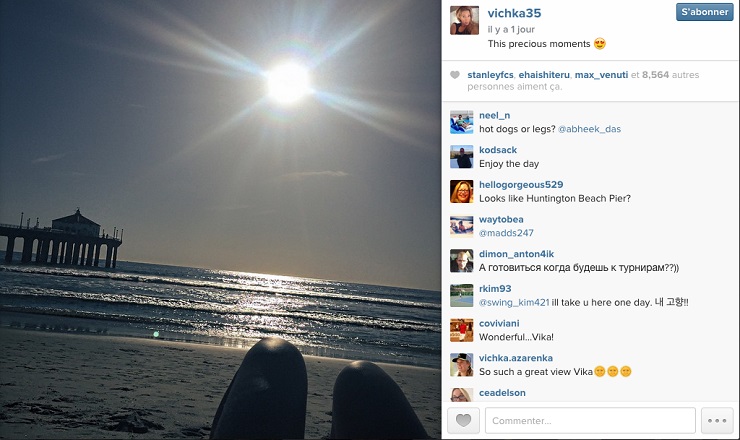 We told you it was a busy week.
11/ Tomas Berdych (/).
What's new for the Czech in full physical training in Miami before the BNP Paribas Open in Indian Wells? A very strange picture with his physical trainer where we can feel the complicity.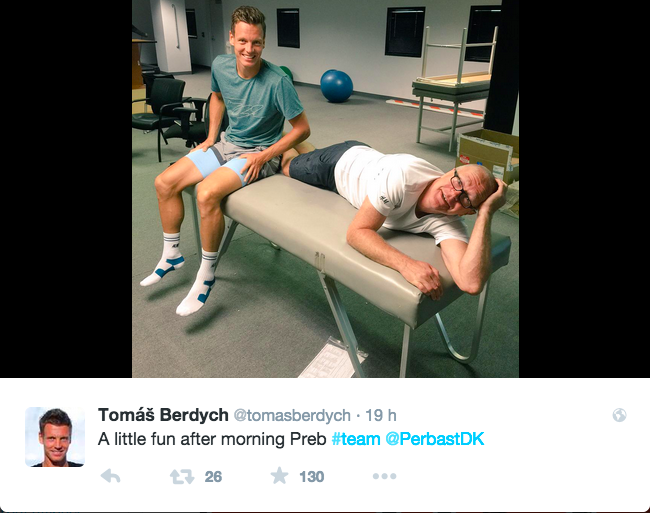 But Berdych remains primarily a workaholic who loves putting pressure on his future opponents. Like "I work hard, do you?"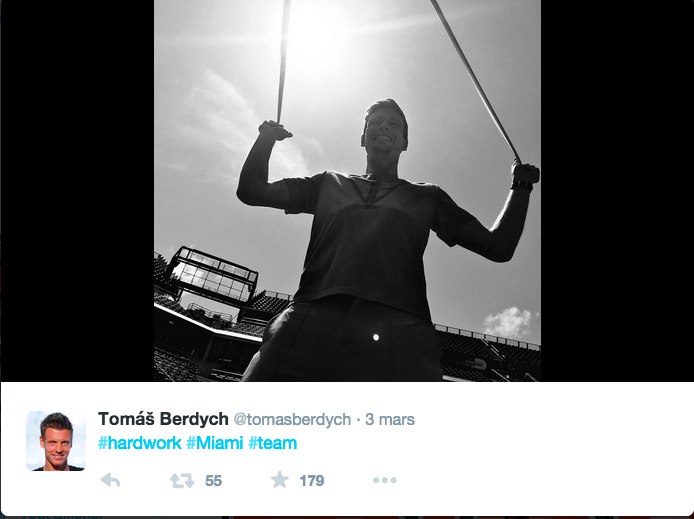 12/ Andy Murray (NE).
Before winning against Isner and Young in singles in the Davis Cup by BNP Paribas (Qualifying Britain against the USA), Andy Murray recharged his batteries in a mythical place of Scottish sport: Hampden Park, the home of the Scottish football team.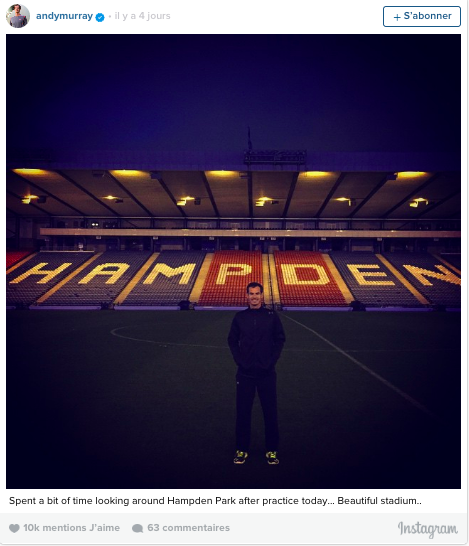 This little pilgrimage likely brought luck to Murray as he led Britain in the quarterfinals for the second straight year. Quarterfinals during which Murray and his teammates will face France. Without fear.
13/ Jonas Björkman (NE).
Yes, Björkman retired from the tour, but continues to be very popular. Fourth in the World in 1997, the Swede, who won six titles in singles and more than 50 in doubles, is now participating to the show "Dancing with the Stars" in Sweden.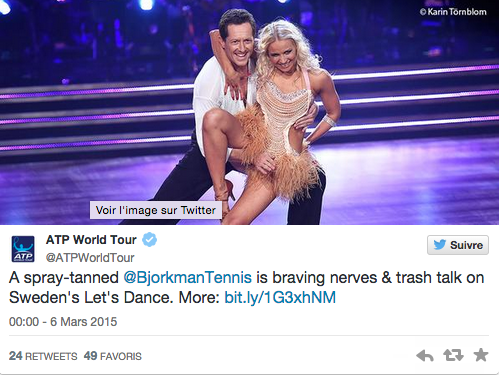 We can wait to see Andy Murray join his mother in Strictly.
14/ Marion Bartoli (NE).
«To come back or not to come back to tennis? What do you think? Should I do it? Give me your opinion." Here's the tweet posted by Marion Bartoli, 30, to her fans. The winner of Wimbledon in 2013 retired a few weeks after her only Grand Slam consecration. Since then, she has been working as a consultant for a few French media about tennis.
So buzz or bluff?
15/ Benoît Paire (NE).
The French is a man of simple pleasures. Sun, Drinks and cards. We almost want to bring him some crackers, pickles and white wine and have a good time with him.
Out:
Serena Williams, Juan Martin Del Potro, Juan Monaco, Lucie Safarova, Rafael Nadal, David Ferrer, Roger Federer, Fabio Fognini
By Mathieu Faure