Thanks to his victory in Dubai this weekend, Roger Federer entered history a little more. Yes it's once again a quantified record. But the Swiss isn't alone in this: Nadal also confirmed his place in the record books.
Federer went down in history even more this week. And so did David Ferrer thanks to a few withdrawals and Sheldon Cooper...
1. Roger Federer (+12).
Roger Federer won his 7th Dubai Open after a final in two sets against Novak Djokovic (6/3 7/5). And since Federer loves to play with history, he passed against the Serb the milestone of 9000 aces and thus joined a very exclusive club run by Goran Ivanisevic (10,183 aces), with Ivo Karlovic (9322) and Andy Roddick (9074 aces) as bodyguards. After the match, the Swiss said soberly: "I was better in the first set, Novak was better in the second but I managed to win the important points. It was a big game at 5 all, I came back after being led 40/00 then he finally cracked. This seventh title is just amazing. Since my first victory here, I feel like I've fallen in love with this tournament." With tweets of circumstance...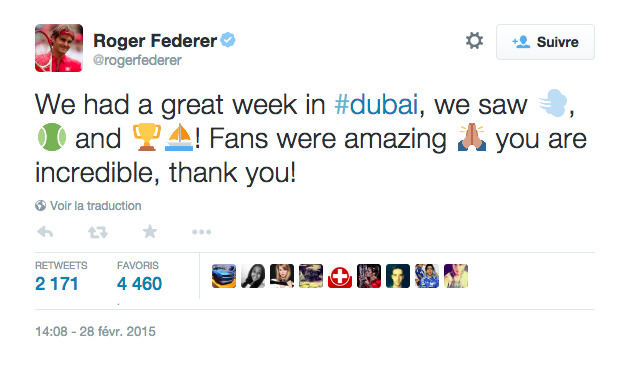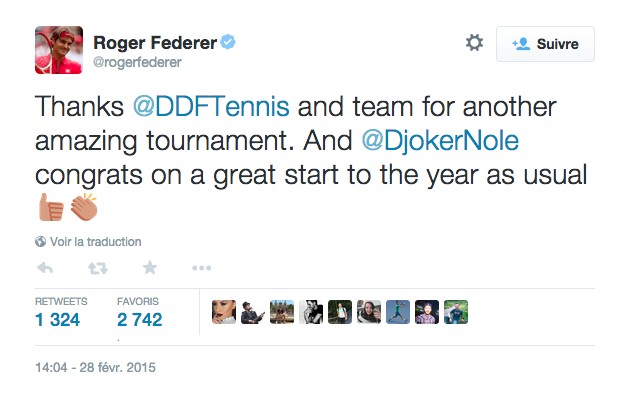 ...And on the farewell picture, sitting on the back edge of his car, with the trophy in the boot.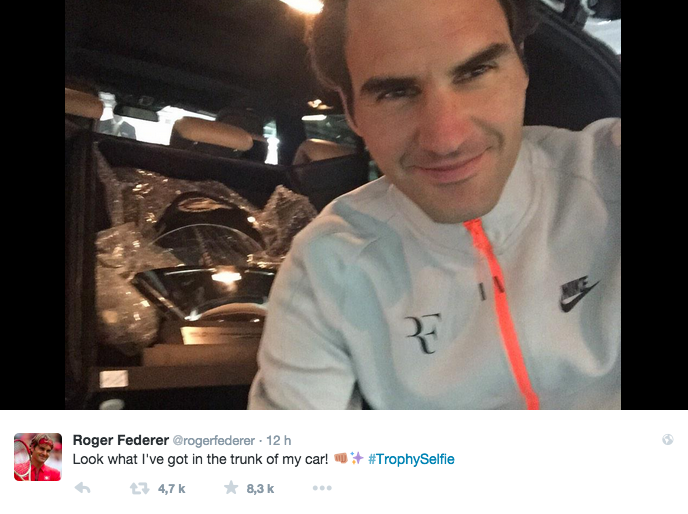 2. David Ferrer (NE).
Skilled worker of the tour, David Ferrer continues to rake in anonymity. After Rio last week, the Spaniard won in Acapulco...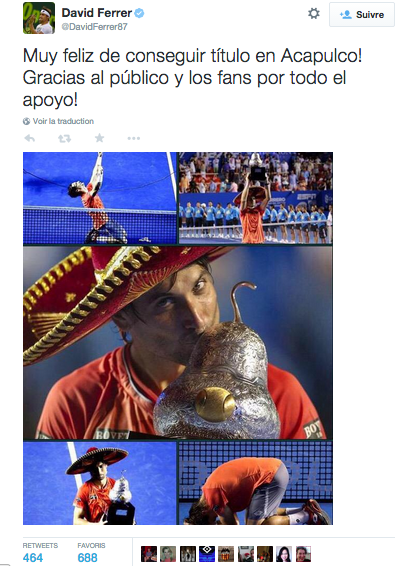 ... And quietly knocked on the door of history. The last player to have won two titles two consecutive weeks on two different surfaces was Ivan Lendl. In 1985.
3. Rafael Nadal (+6).
Eliminated by Fabio Fognini last week in Rio's semifinals, Rafael Nadal retaliated on his friend Juan Monaco in the final of the Buenos Aires tournament on Sunday (6-4, 6-1). He won his 46th trophy on clay and equaled Guillermo Vilas's record on the surface. News that should please the newest member of his staff who attended his victory in the first round...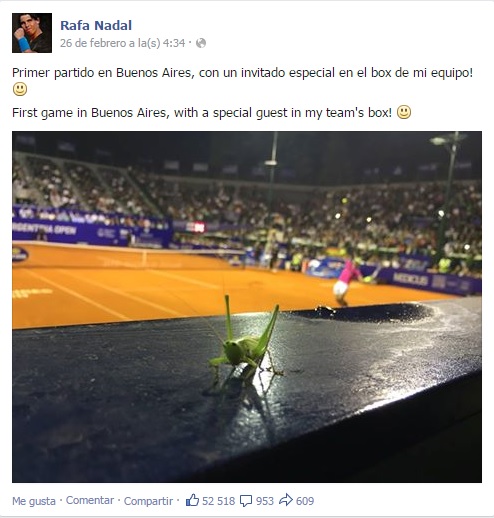 4. Maria Sharapova (+2).
A fashion cover…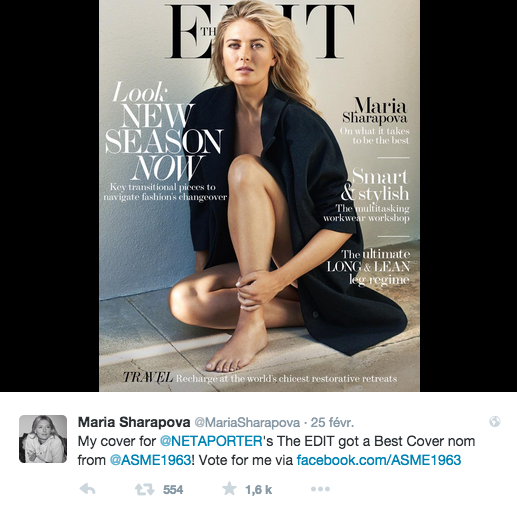 ... A few comments on the Oscars' dresses...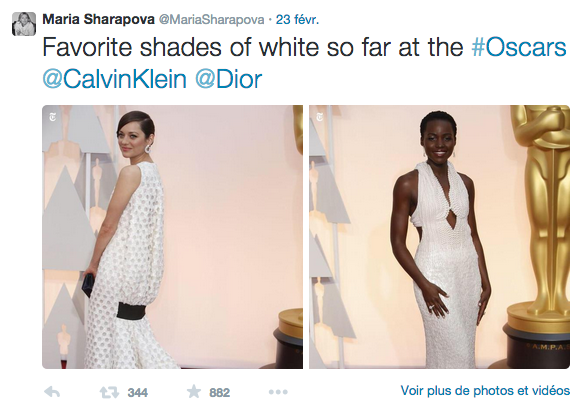 ...Beach pictures...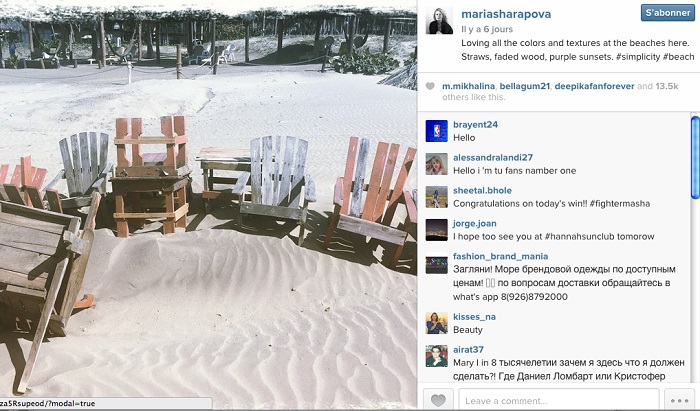 ...And rings...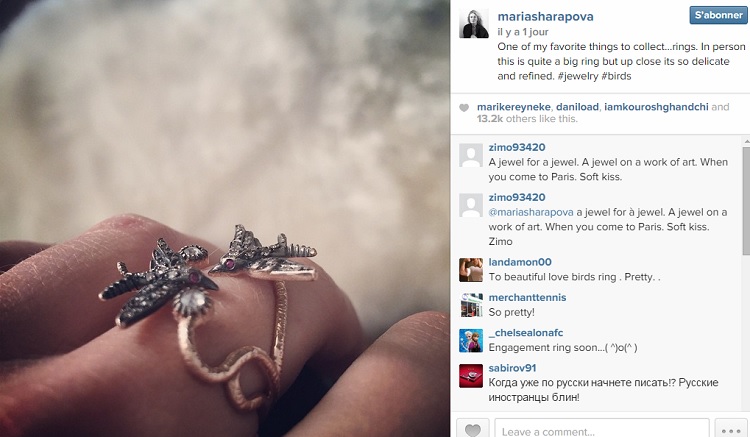 ... The wonderful world of Maria Sharapova is still alive and well. Nothing on her stomach virus and her withdrawal in Acapulco semi-finals…
5. Eugénie Bouchard (+7).
Off for the last two weeks because of an arm injury, Eugenie Bouchard still had a hectic week. On the agenda: her birthday...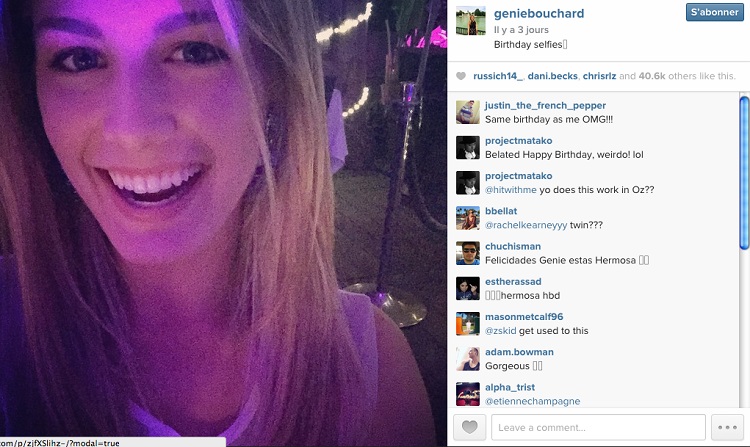 ...A picture with the legendary Big Bang Theory actor Sheldon Cooper...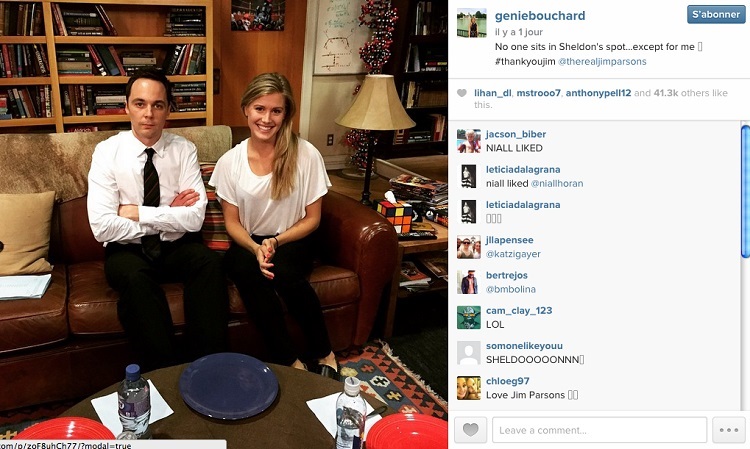 ...And a visit to the Staples Center for the Lakers-Celtics game.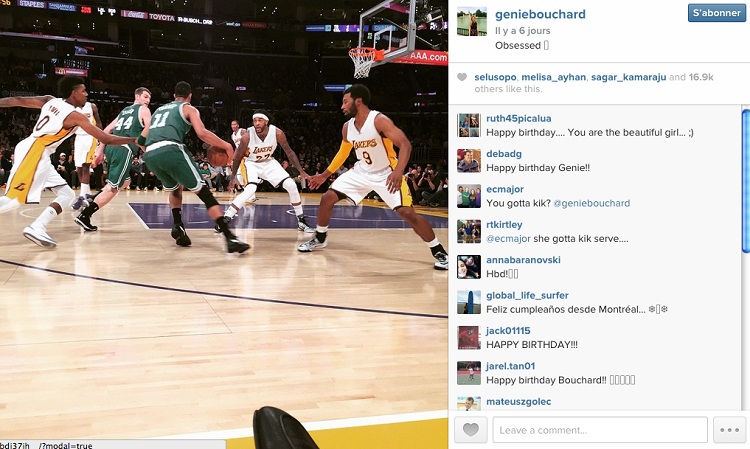 6. Timea Bacsinszky (NE).
A victory in Acapulco and only a few tweets...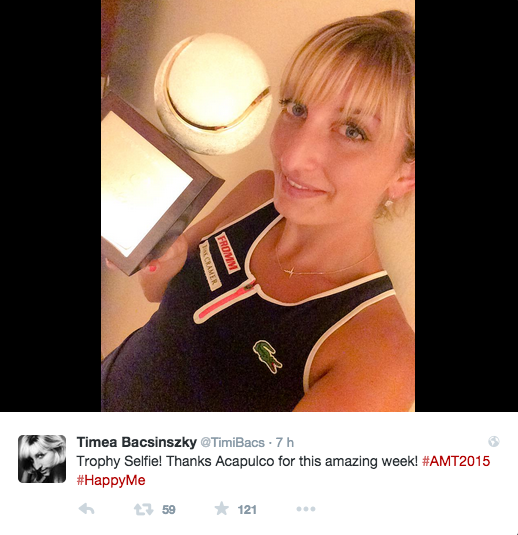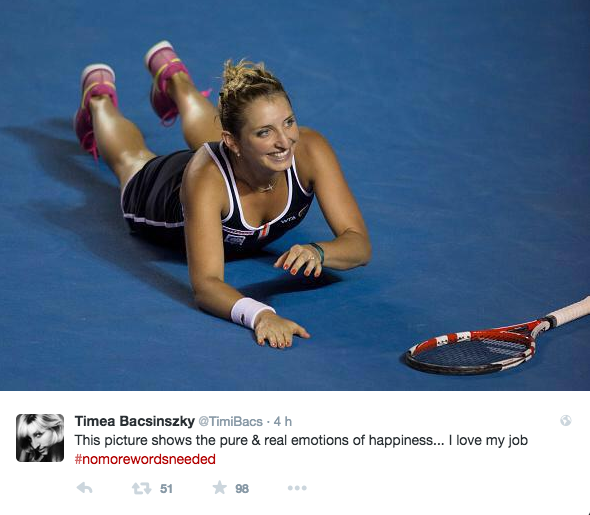 …Timea Bacsinszky is a modest winner.
7. Lucie Safarova (NE).
The Czech player, 15th in the world, won the Doha tournament in straight sets (6/4, 6/3) against Victoria Azarenka, yet twice winner of the competition. A sixth victory on the WTA tour for her and a picture posted on Instagram.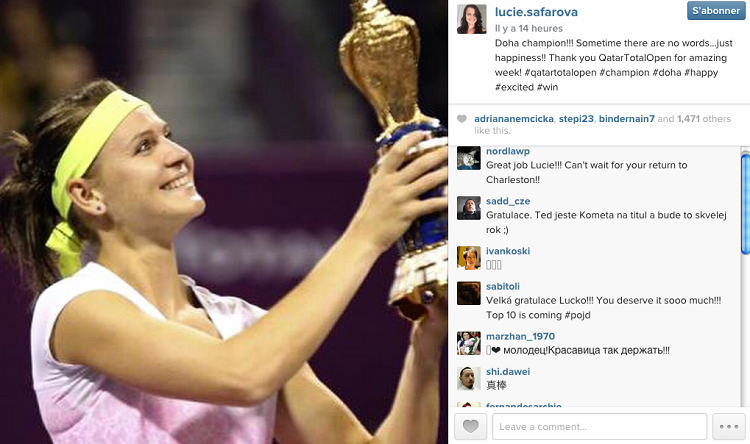 8. Novak Djokovic (-5).
Good player, Djoko acknowledged Federer's superiority in Dubai: "Roger deserved to win. He played as I expected him to play. I knew that he was going to play the offensive card, be aggressive, go to the net, do a lot of serve and volley... " And thus he tasted defeat in the final. But this week, the Serb hasn't lost everything. He still made the cover of the Wall Street Journal Magazine...

...And took this opportunity to advertise his very own merchandising.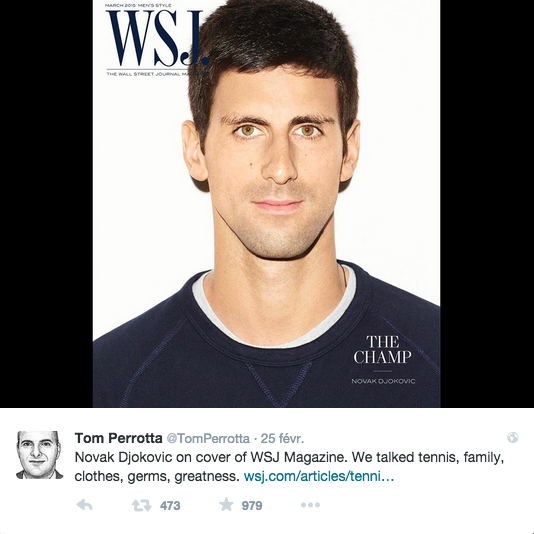 Before leaving to new horizons, Djoko gave his fans armchair philosophy to ponder.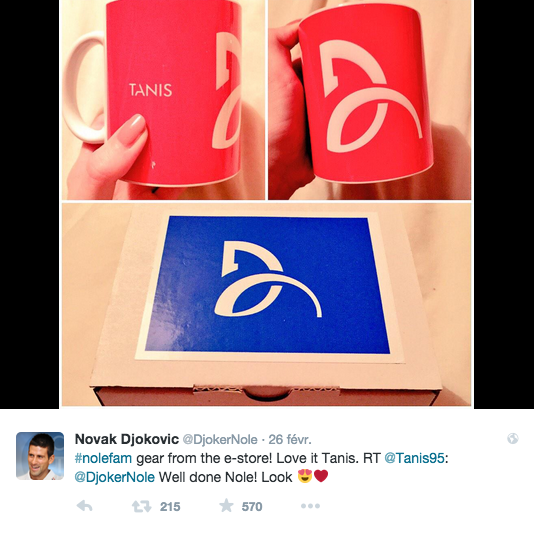 9. Victoria Azarenka (-4).
Defeated in Doha's final, Victoria Azarenka will be able to take comfort by remembering that this week, she met... David Beckham.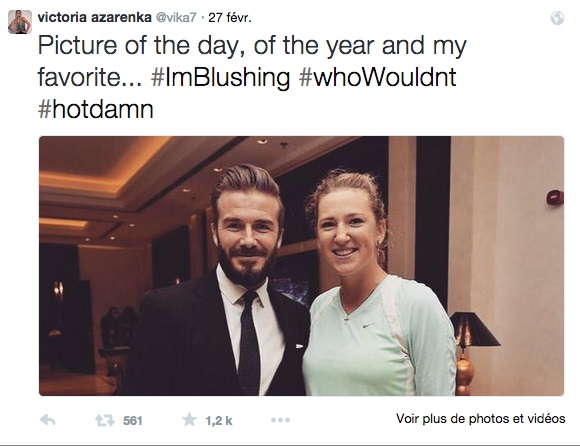 Fast-life.
10. Caroline Wozniacki (-8).
Caroline Wozniacki lost in the quarterfinals in Doha, so to divert attention she posted a picture on which she's as beautiful to two famous models: Irina Shayk and Nina Agdal.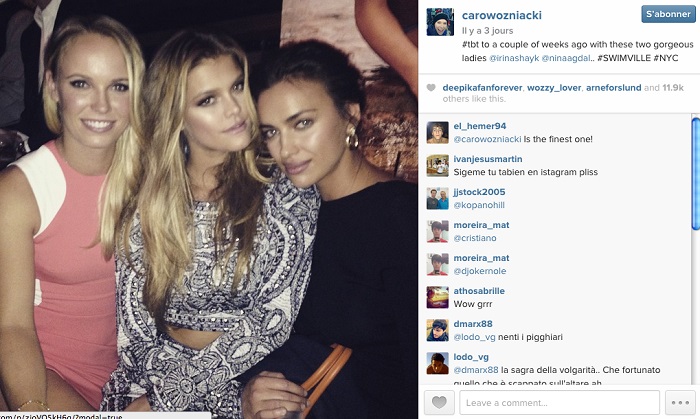 Well done.
11. Tomas Berdych (NE).
Losing in Dubai's semi-finals is nothing serious when one lives the life of Tomas Berdych, who celebrated his 500th victory this week on the tour...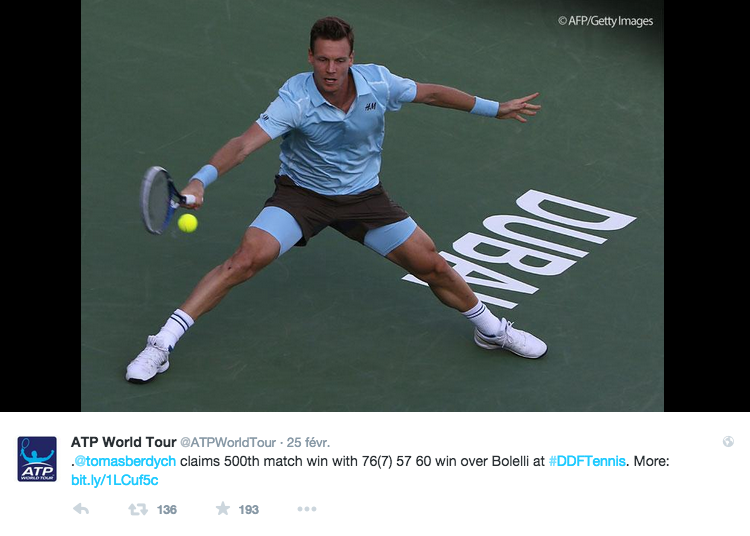 ...A flattering article about him...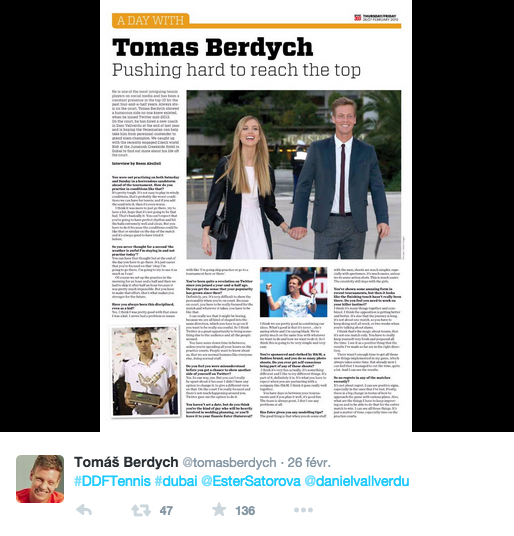 ...And highlighted his closest fans.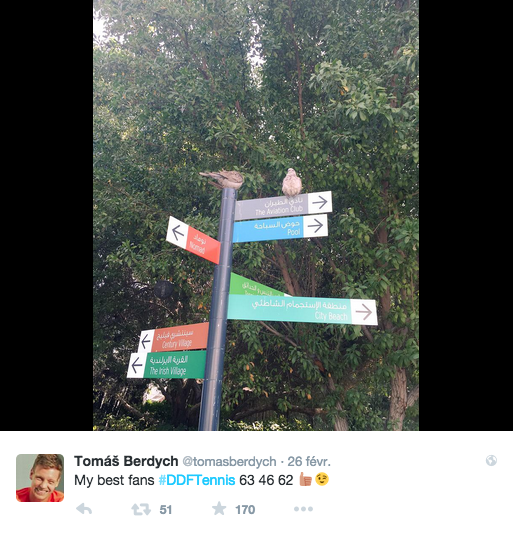 12. Serena Williams (-8).
Absent of the tour for some time now, Serena has been fairly active on social networks this week where she first hailed the Oscar for her ex, the rapper Common.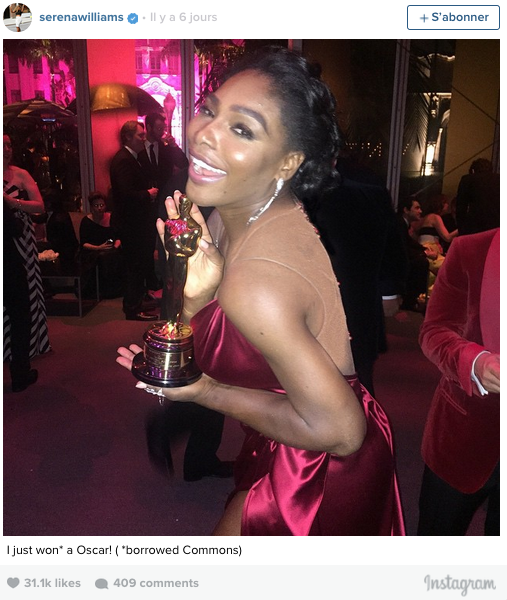 She also launched the countdown before the Indian Wells BNP Paribas Open, where she will make a comeback after 14 years of absence.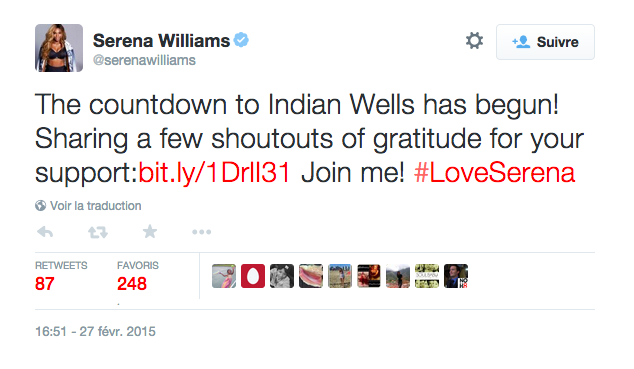 But that's not all: she tried on some Dresses...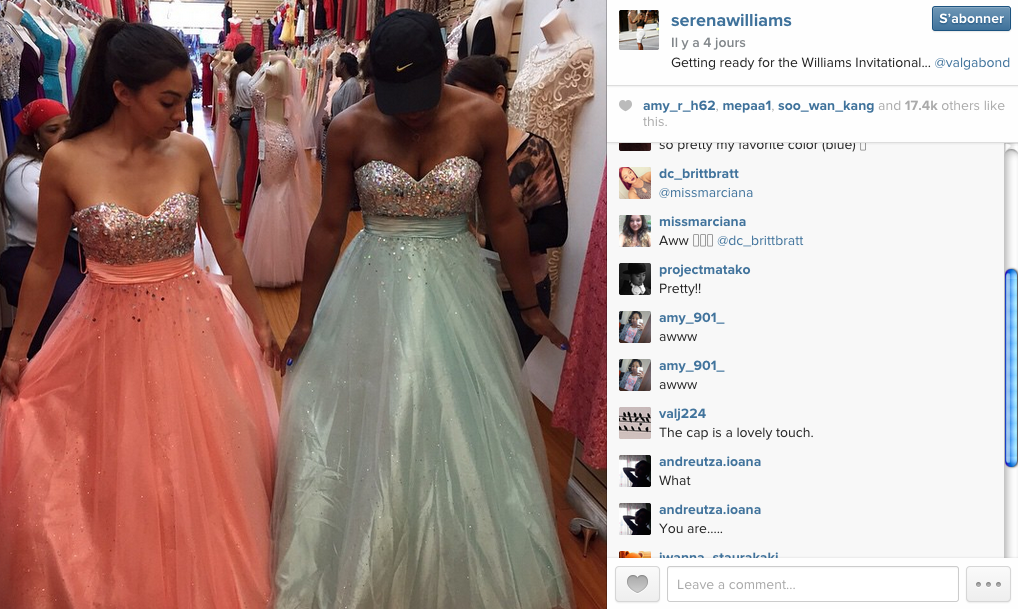 ...And remembered (again!) the time when her big sister was walking on the tennis world.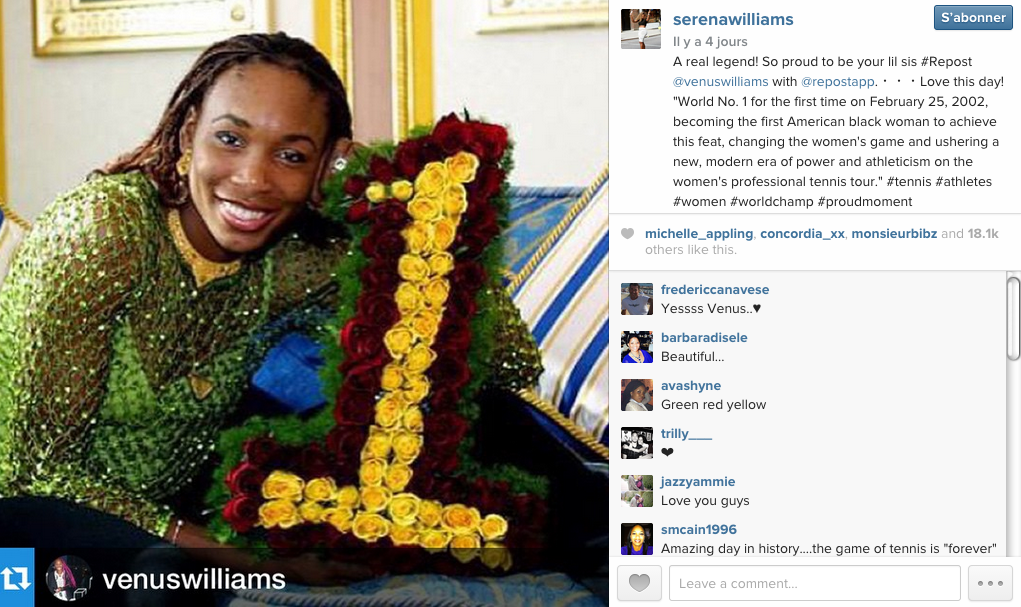 13. Juan Monaco (NE).
Always defeated in the first round on hard courts tournaments, Juan Monaco gets back to live with the start of the clay courts season. Quarter-finalist in Rio last week, he passed four rounds this week to reach the final against Nadal on Sunday. Despite the defeat, we can speak of a good week for the Argentine.
14. Fabio Fognini (-7).
Defeated in the second round in Buenos Aires, Fabio Fognini was obviously very happy to return from his South American tour to his home in San Remo, Italy.

It must be said that in terms of view, the Italian has it pretty well.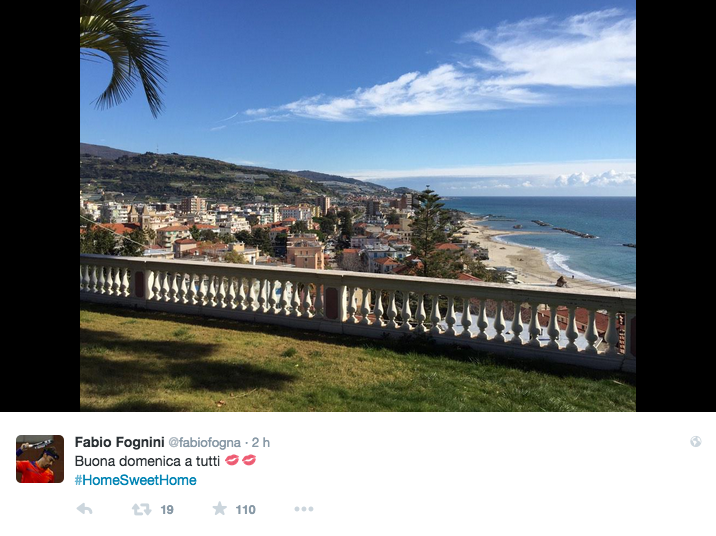 15. Juan Martin Del Potro (/).
After a season finished empty-handed because of a wrist injury, Juan Martin prepares his return. And the Argentine has no time to lose.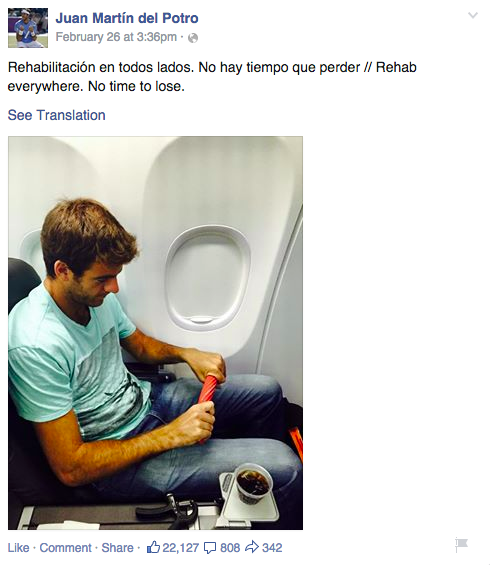 By Antoine Mestres