As time outs, changes of ends allow televisions to send advertising messages every three games. But also allowed players to shine in unusual scenes.
There was a time where it happened "standing". Then in the 70s, changes of ends passed to the "sitting" position to punctuate a time out, and thus allow televisions to broadcast advertisements every three games. Thanks to them, players became famous for unusual or unexpected scenes revealing their mental condition at the time. Between peroxidised wigs and dandelion achene.
1 / A book, a trade treaty and Jean-Luc Godard
"The dumber you are on court, the better you're going to play." Although the author of this aphorism, Jim Courier, wasn't someone you could ever call dumb. Rather the contrary. A man who loved reading, the American had the good idea to take a book when changing ends during a match of the Masters 1993. Its title? Maybe the moon, from famous American writer Armistead Maupin. The gesture shocked the muffled world of tennis "How could one blame him to read a book between two rallies? We should have, instead, signed a petition to support his action," even said French filmmaker Jean-Luc Godard. Better, during another change of ends, we saw Jim Courier, ask a question to his coach about the NAFTA agreement, a trade treaty which the US Congress was debating at the time.
2/ « Don't cheat Emilio »
In 1988, French televisions were broadcasting advertisements during change of ends for the first time, since they were moments of presumed inaction. Fortunately, the cameras didn't miss, that year, a scene during which Yannick Noah overwhelmed Emilio Sanchez by tilting his head behind the umpire's chair in the round of 16 of Roland Garros. Tired by the attitude of the Spaniard, who was discussing unnecessarily arbitration decisions, the French told him, "Bravo, bravo! We're good friends, keep going. It's a game. Don't cheat Emilio. Don't cheat. Don't cheat, otherwise you won't be able to sleep at night. "Sanchez pretended not to hear. Obviously...
3 / Marcos Baghdatis' broken racquets
For Marcos Baghdatis, the Australian Open has always been the tournament of all emotions. From the noblest - when he reached the final in Melbourne in 2006 - through the most embarrassing, when in 2012, the Cypriot lost one of his services during a match against Stanislas Wawrinka. At the change of ends, he broke his racquet and then took three others from his bag, still wrapped, and mechanically smashed them on the ground. All in only 25 seconds. World record.
4/ « I have feelings too, just like everybody else»
A little bit of emotion in this cruel world. On the 24th of January 1995, manhandled by Jim Courier in the quarterfinals of the Australian Open, Pete Sampras burst into tears at the beginning of the fifth set when changing ends. A spectator had just shouted: "Do it for your coach." Indeed, the American was lonely after the departure of his coach, Tim Gullikson, with whom he won six Grand Slam tournaments, forced to rush back to the US to be hospitalized after several serious dizzy spells (he would later be diagnosed with a brain tumour). Jim Courier, seeing his compatriot in tears, proposed to finish the match later. A proposition kindly refused, for a final victory of Sampras. Match after which the world No.1 declared: "I think people understood that I was normal (in reference to his usual coldness on the courts, ed.) I have feelings too, just like everyone else, I'm not a robot."
5 / Nadal's dandelion's achene
The obsessions of Rafael Nadal are known, recognized, even famous: he touches every part of his body when he's serving, he never walks on the lines during the change of ends and he carefully places his bottles in front of his bench. But not only that. In the semi-final of the 2009 Australian Open, "Rafa" pushed superstition as far as to catch a dandelion achene which was prowling on the court, before holding it in his hands: "I was sitting on the bench. And they say that it's good luck to make a vow holding it in the hand. So I picked up this stuff, I pulled it tightly, I closed my eyes and… I asked to win the tournament." Wish granted in five sets and 5 hours and 14 minutes against Fernando Verdasco... the longest match in the history of the tournament!
6/ Service's haircut
The famous German mullet, top of the head shaved and bushy sides, left parting hiding the forehead or hair back: on the haircut side, Boris Becker tried everything. Even to cut his fringe with a small scissor at the middle of a match, during a change of ends, for his semi-final of Wimbledon in 1988 against Ivan Lendl. Hair-raising!
7 / Agassi, the little girl and the autograph
A peroxidised wig. For his fourth French Open in 1990, Andre Agassi found nothing better than to enter his first match against the Canadian Martin Wostenholme with a wig on his head. It must be said that at only 20, the "Kid" of Las Vegas had to deal with premature baldness. Add to that the cigar smells he hated coming from the executive boxes, and the American was irascible to say the least. Icing on the cake: he refused to sign an autograph to... a 6-year-old girl who was invited on the court during a change of ends! Proof in pictures.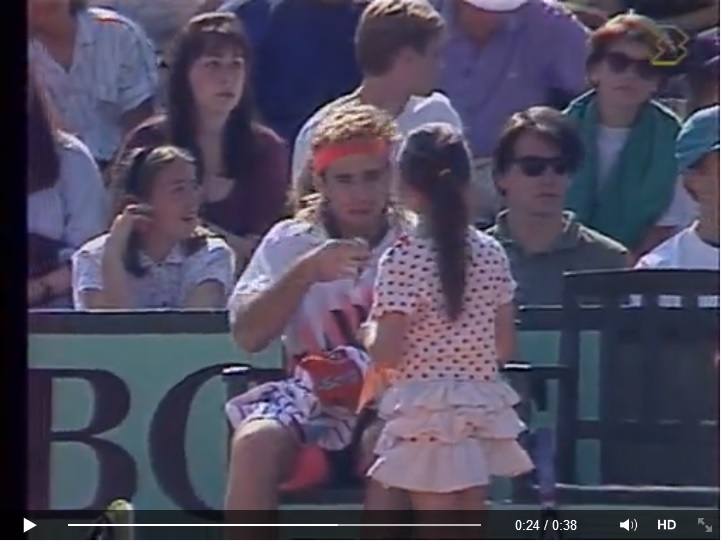 8/ Cell phone, Mexican wave and Twitter
"I don't know how I hold on but I do hold on." It was May 2013 and Gael Monfils had just come back on Roland Garros Central. After spending more than four hours against Tomas Berdych, the French needed more than three hours to get rid of Ernest Gulbis and get his ticket to the knockout stages. A challenging match during which he still found the energy to film with his cell phone the public doing a Mexican wave during a change of ends "I asked the referee if I was allowed to do it and he said yes."
9 / "Eddy Murphy's movies are shit"
Irina Spîrlea was a hot-headed player. After becoming, on the occasion of the Parma International in 1996, the first player in the WTA history to be disqualified for using abusive language towards a linesman, the Romanian relapsed the following year with Venus Williams. In the semi-finals of the US Open 1997, she violently pushed her opponent near the umpire's chair during a change of ends. After the match, in a press conference, the lady blamed Williams' arrogance, who, apparently refused to deviate from her way to go and sit. Despite the victory of his daughter, the Williams father condemn for his part Spîrlea's racism. The latter replied: "It's not because I don't like the Williams that I am racist. Eddie Murphy movies are shit but never made me want to join a racist organization."
10/ «I maybe went too far»
Temperamental, noisy and uncontrollable: Meet Jeff Tarango, a player more famous for his disciplinary sanctions than for his athletic performances. In 1994, at the Tokyo tournament, the American, led two sets to one against Michael Chang, put his shorts down to his ankles and ran towards his chair on one foot. The reason? "I felt that I was going to lose this match, so I wanted to draw light on me, so people could remember my gesture more than the victory of the little Chinese guy. But I might have gone too far..."
By Victor Julien Le Grand and Julien Pichené