After Andy Murray's Christmas sweater, sport has reclaimed its rights. With already a record for one of them. A performance which earned him the first place in the WAT ranking. Discover who it is by reading the tennis journal.
A short distance from the Australian Open, Roger Federer decided to make history once again. Before that: the Hopman Cup, some unexpected supporters, a little bit of surfing, a few candies, and even Rafael Nadal.
1 - Roger Federer (3).
In Brisbane, Roger Federer won his 1000th match on the ATP Tour at the same time than his 83rd tournament...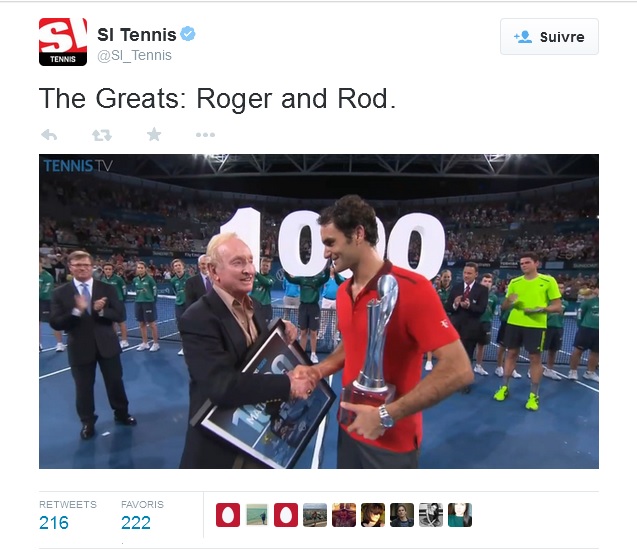 ...All this sixteen years after his first success against Guillaume Raoux at the Toulouse tournament. He was then 878th in the World, 16 and loved to break his racquets. To mark the occasion, it's Rod Laver who handed him the trophy.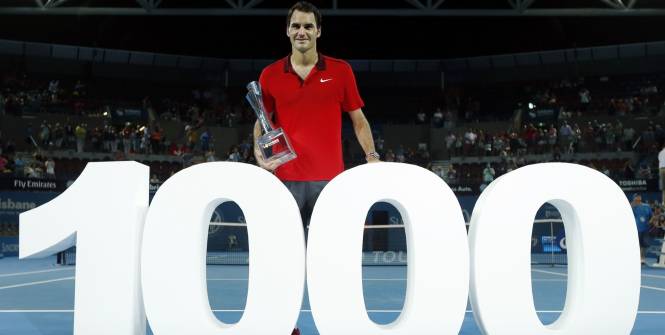 Winner of Milos Raonic in final in three sets, the Swiss is now only behind Jimmy Connors (1253) and Ivan Lendl (1071) on the number of victories. As usual, he expressed his joy in candid terms: "1000 victories, it means a lot to me, it is huge when you think about it! If I didn't had thought that I could win the Australian Open, I would have stayed home." Okay, Roger.
2 - Stanislas Wawrinka (NE).
Winner of the ATP Tournament of Chennai against the Slovenian Aljaz Bedene, Stanislas Wawrinka has not only retained his title, he mostly made a new friend in a restaurant...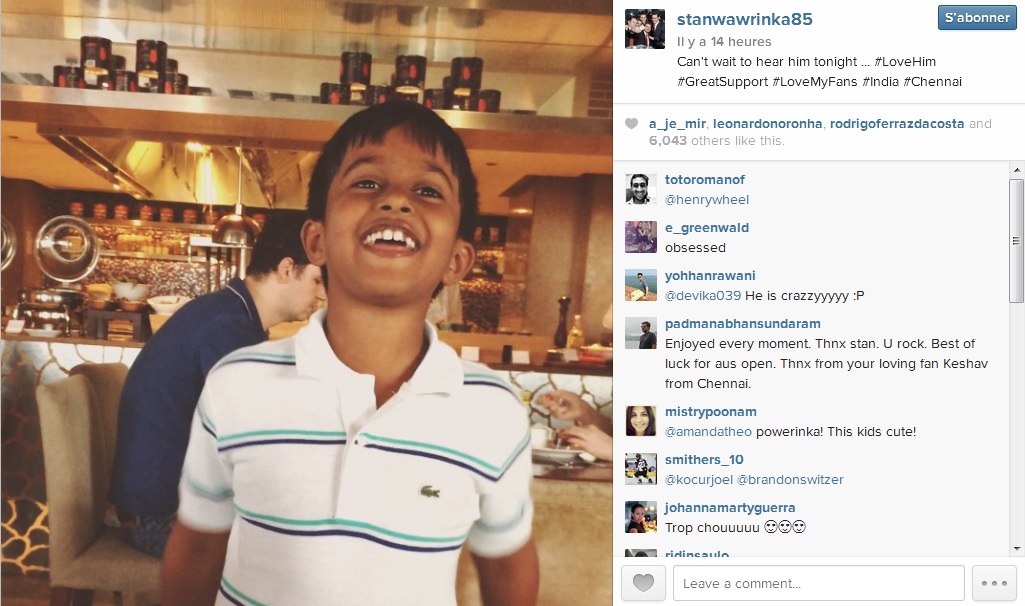 ...That his fan club found thereafter.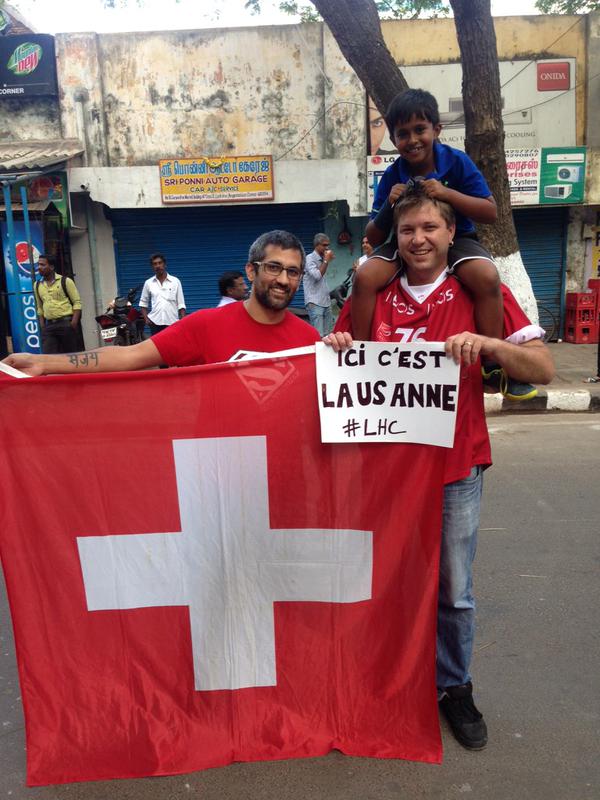 Some fans who had a wonderful time during the semi-final (7-5, 6-3) of their darling against the Belgian David Goffin.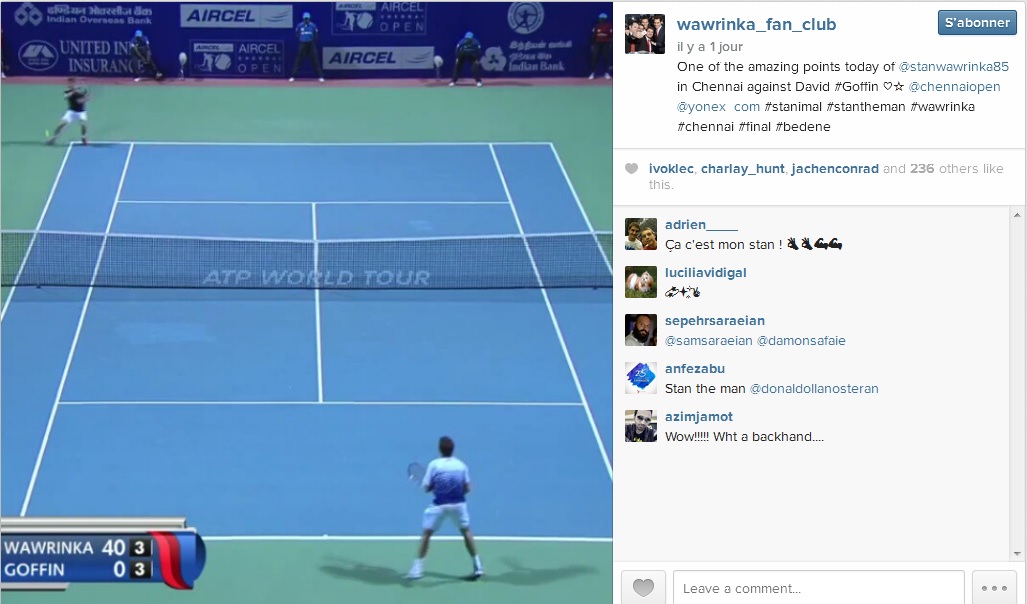 3. Agnieszka Radwanska (NE).
With her compatriot and teammate Jerzy Janowicz, the Pole Radwanska won the Hopman Cup in Perth, against the United States in the final. She even managed the feat of beating Serena Williams in straight sets with a 6-1 in the third.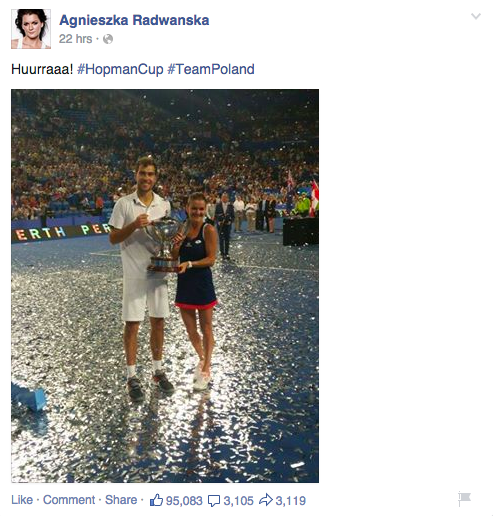 It must be said that Agnieszka Radwanska was ready to fight to get her way this week...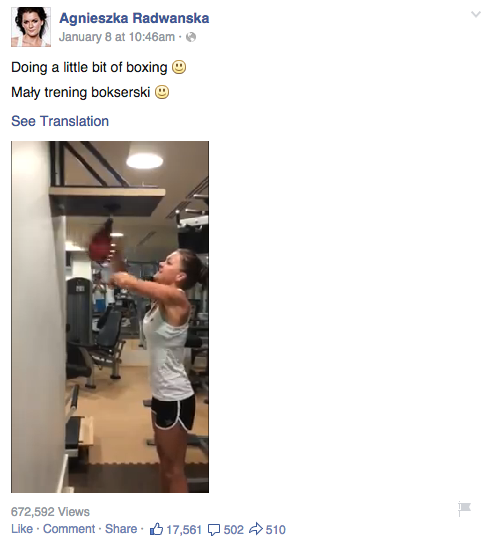 4 - Maria Sharapova (+8).
Maria Sharapova won the 34th tournament of her career in Brisbane, against Ana Ivanovic in the final (6/7, 6/3, 6/3) and is now getting closer of the World number one: Serena Williams. The first place will be played at the Australian Open. Good week then, with at the end a few pictures to celebrate her title. Alone...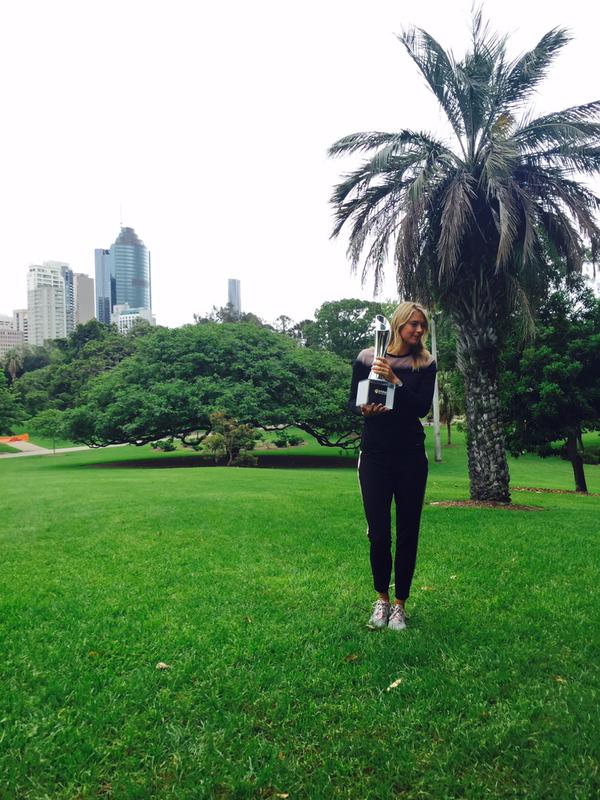 ...Or with her staff...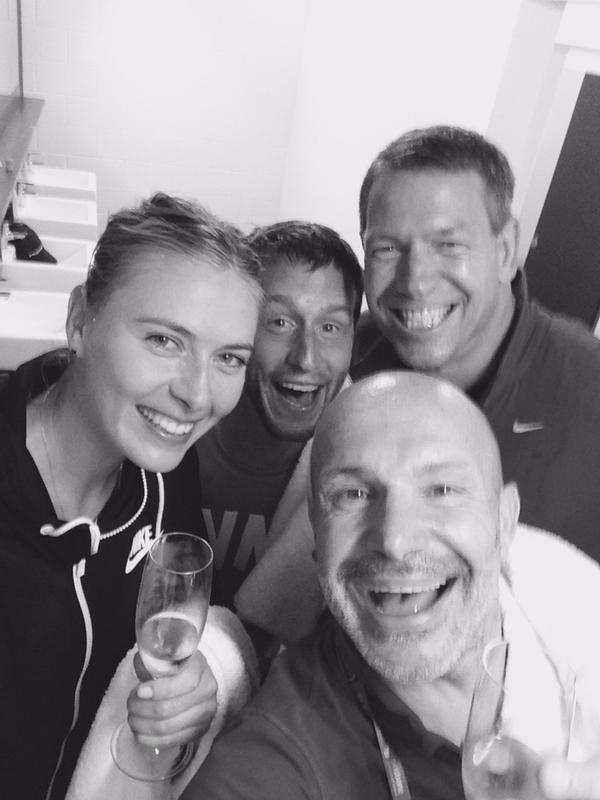 ...But never forgetting to promote her candy brand with an unequivocal name: Sugarpova.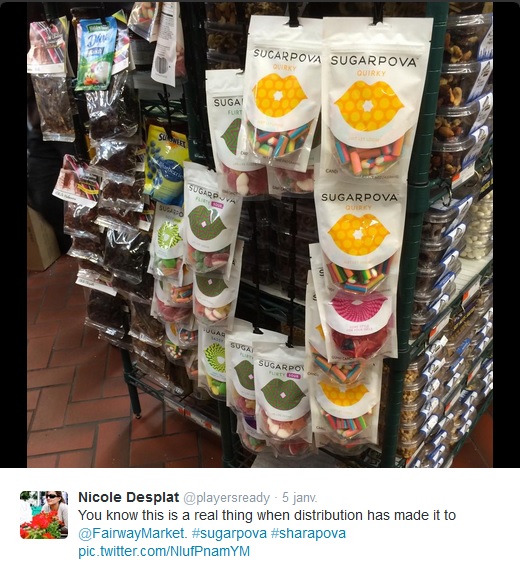 5 - David Ferrer (+3).
Winner of the Doha tournament, David Ferrer has ended his dry spell of almost a year by defeating Tomas Berdych in the final (6-4, 7-5). The anti-hero of the tour has quietly celebrated his trophy, as usual.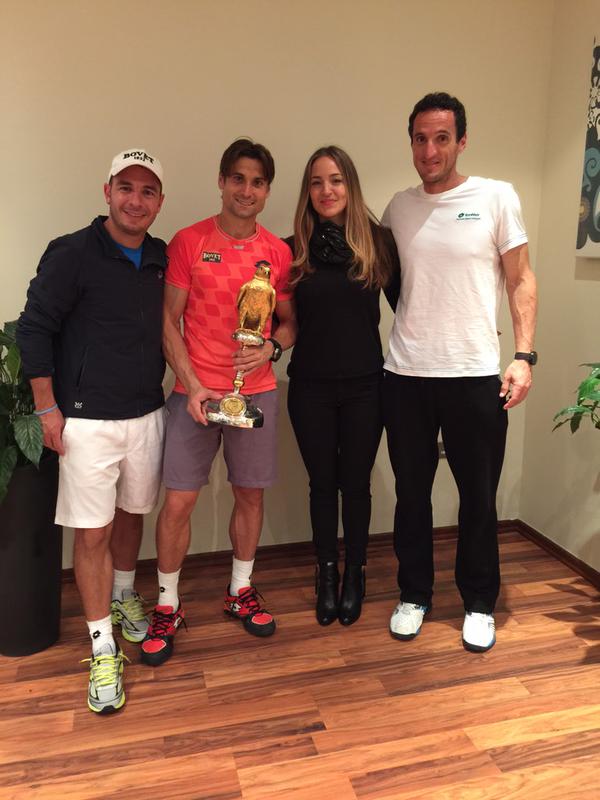 And supported Pau Gasol participation in the NBA All Star Game.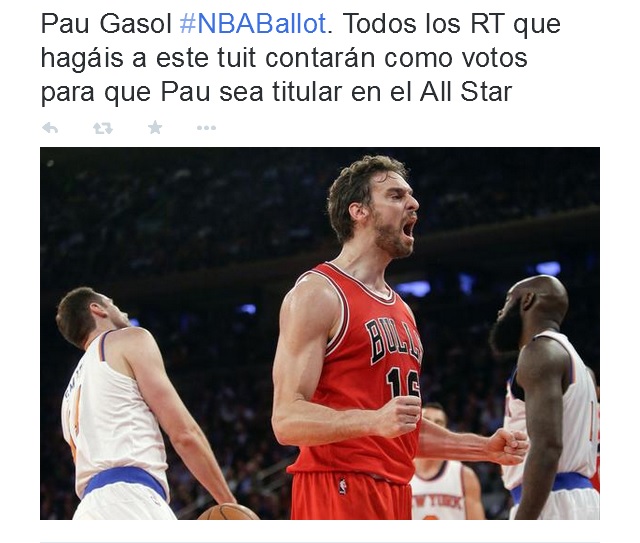 6 - Venus Williams (NE).
Venus Williams still exists. At 34, the American player proved it in Auckland by winning the 46th title of her career against Caroline Wozniacki in three sets (2-6, 6-3, 6-3). Enough to thank the city of Auckland and her dog Teddy.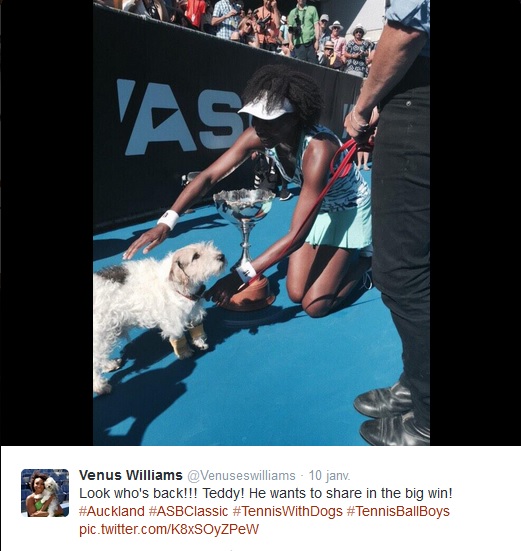 7. Jerzy Janowicz (NE).
It's an understatement to say that Agniezka Radwanska's Polish teammate was pleased with the title in Hopman Cup...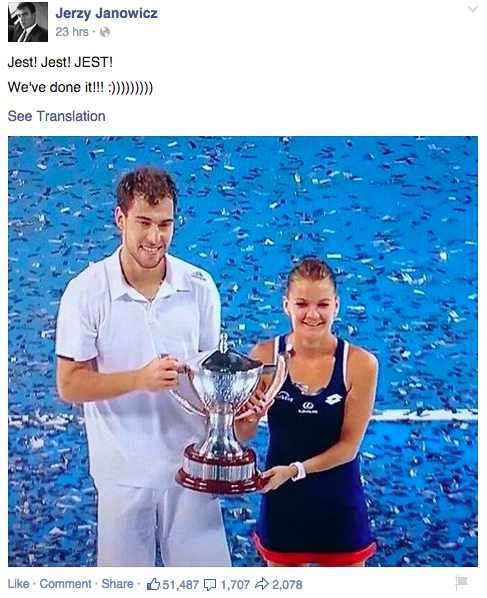 ...Since he was wearing a classy suit for the tournament's closing ceremony.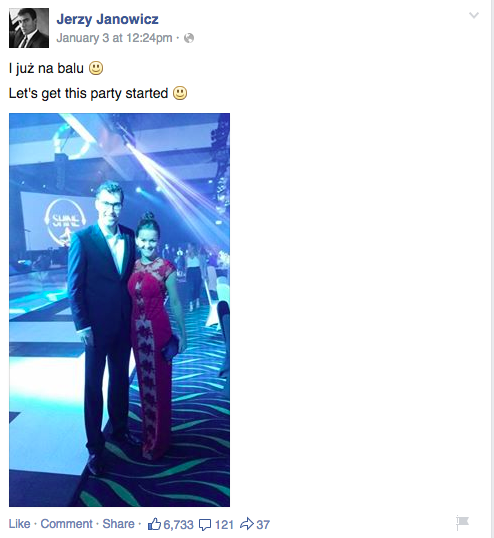 8 - Andy Murray (-7).
Second of his Hopman Cup table with the UK team and his teammate Heather Watson, Andy Murray has been teased by his own mother on Twitter...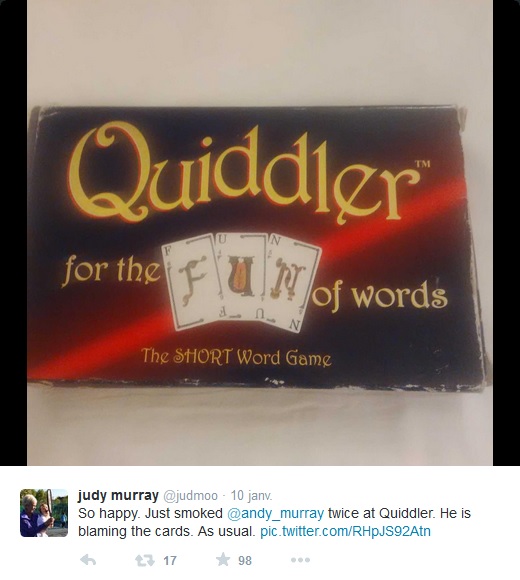 ...He then showed his racquets...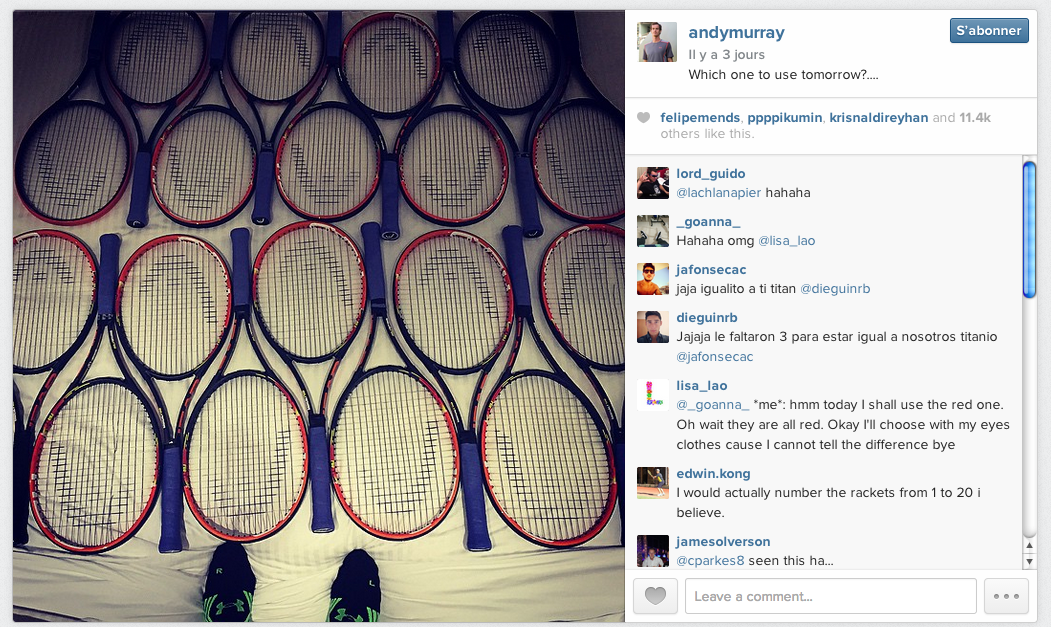 ...Took a few pictures of Perth...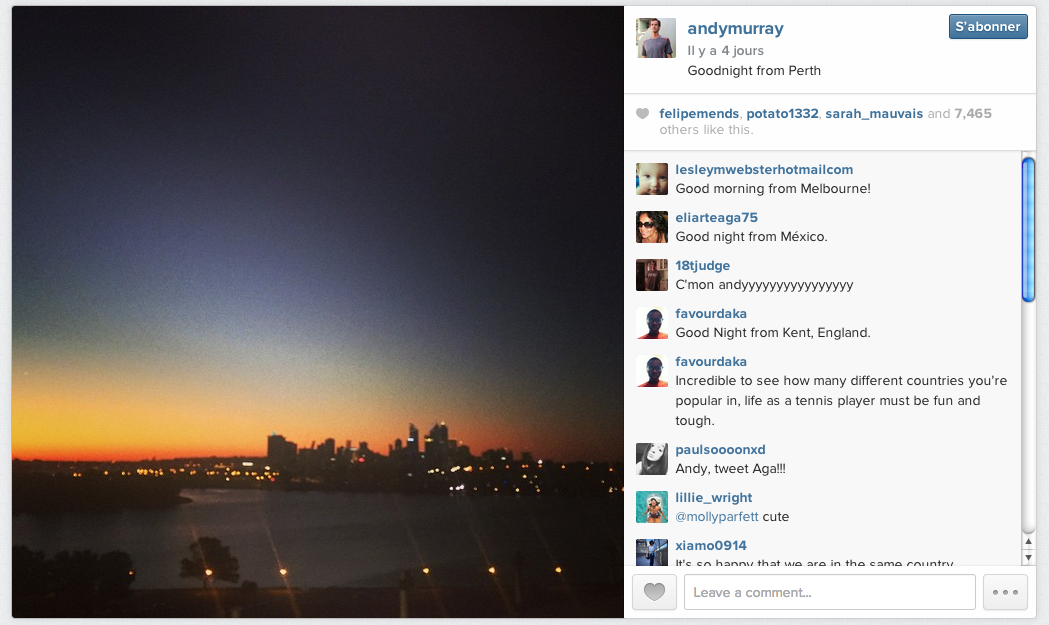 ...And congratulated his brother, Jamie Murray, who won the doubles in Brisbane.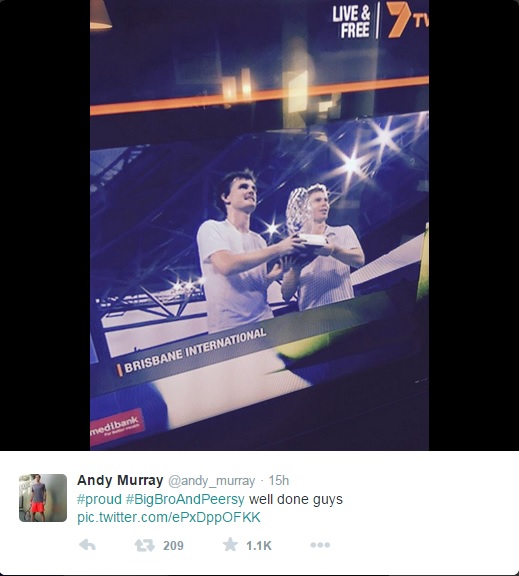 9- Eugenie Bouchard (-4).
The Canadian was eliminated in the group stage of the Hopman Cup especially after getting scared of John Isner's services...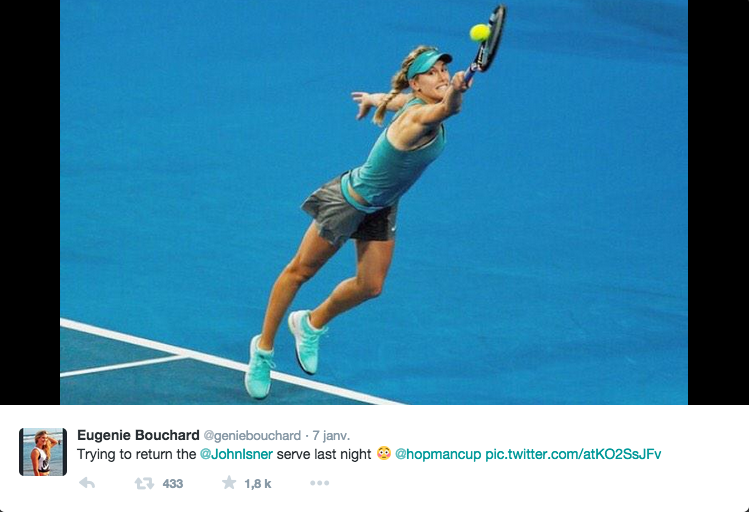 ...So to pass the time until the next tournament and the Australian Open, she took some good time in Perth and discovered surfing.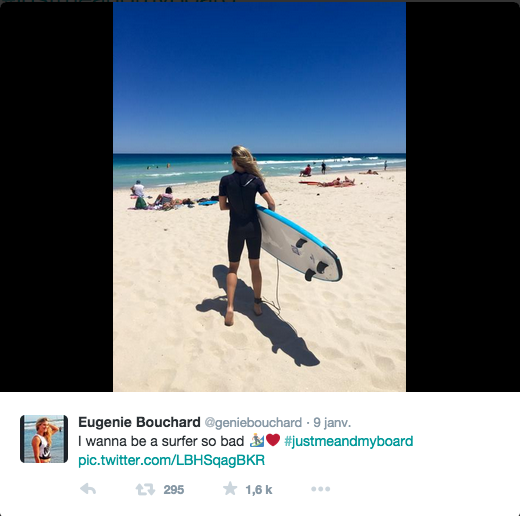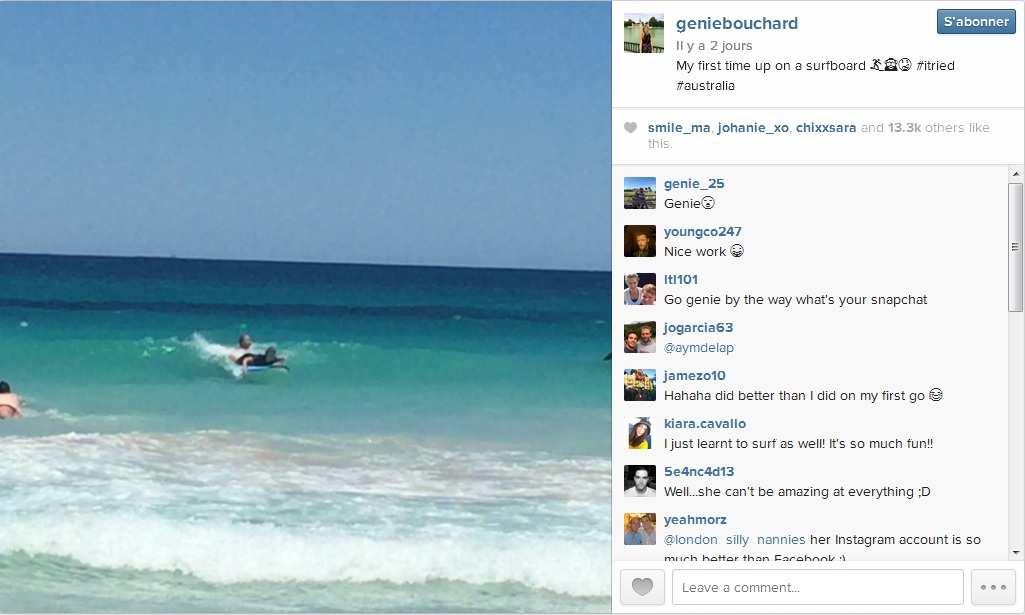 10 - Novak Djokovic (-4).
It was the first time since 2009 that Novak Djokovic was playing a tournament before the Australian Open. A decision that failed him since he was knocked out in the quarterfinals against Ivo Karlovic (6-7, 7-6, 6-4). He then returned to simple things: the love of his wife...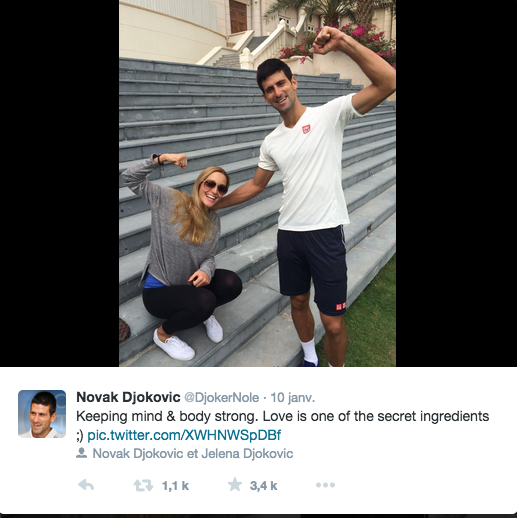 ...And of his fans.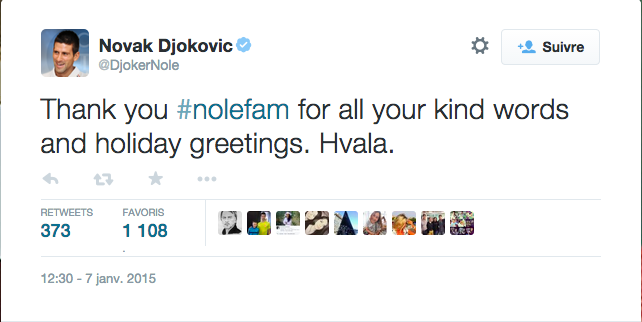 11 - Serena Williams (-4).
The world number one lost the final of the Hopman Cup under the United States banner against Poland. A tense final, according to her lively discussion with an umpire chair that she called him a "liar" after a contentious issue. Which didn't prevent her to thank her partner John Isner...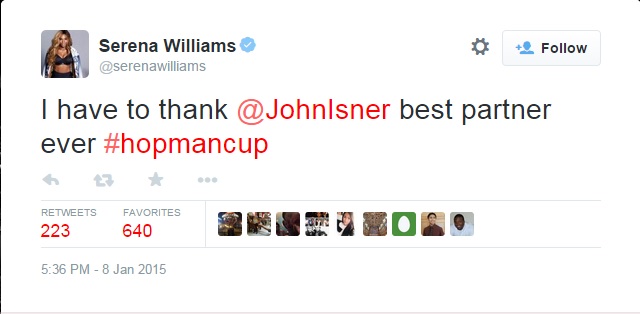 ...And to promote educational programs.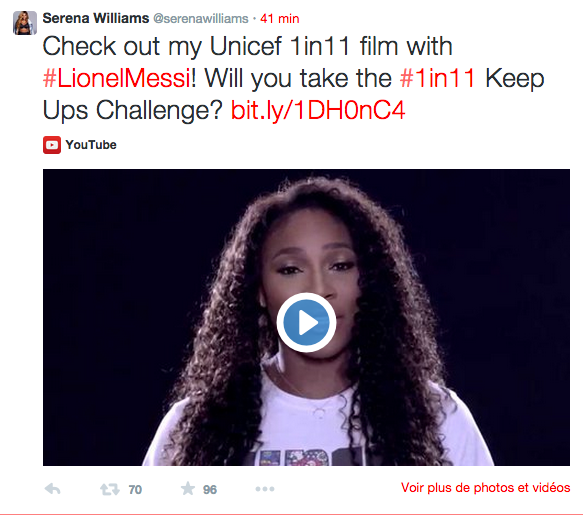 12 - Caroline Wozniacki (-3).
Venus Williams' opponent in the final, Caroline Wozniacki, has found an old picture of her...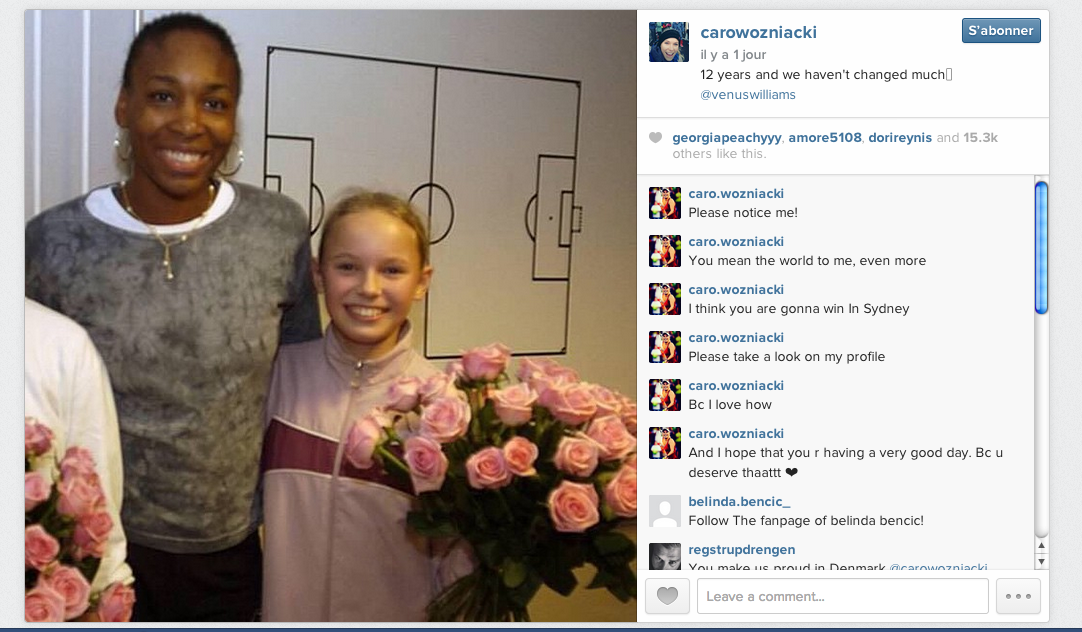 ...Took a Selfie with Bernard Tomic....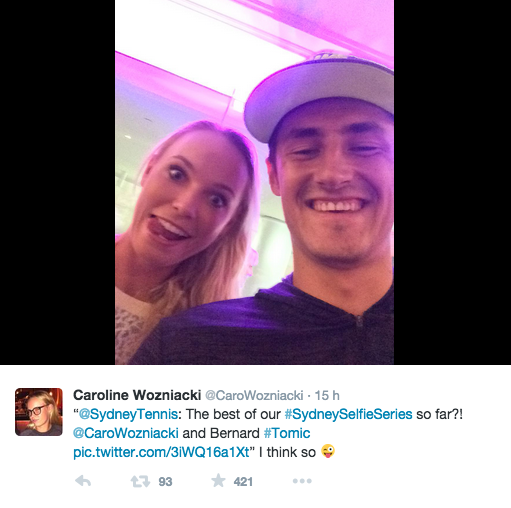 ...And thanked the city of Auckland.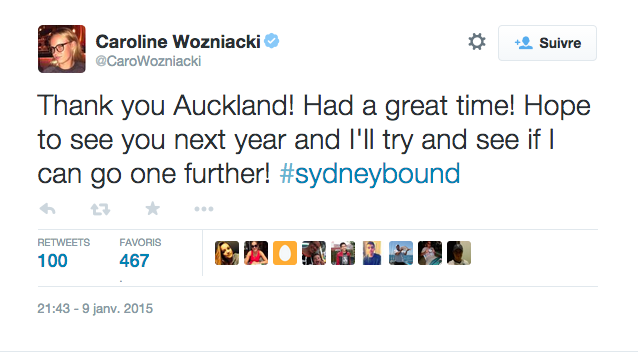 13. Rafael Nadal (+1).
Defeated in the first round in Doha for his comeback after a two-and-half month break, the Spaniard fell against the German Michael Berrer, ranked beyond the 100th place in the world in three sets (1-6, 6- 3, 6-4). He then took revenge by winning the doubles tournament with Juan Monaco and was able to leave with a trophy anyway.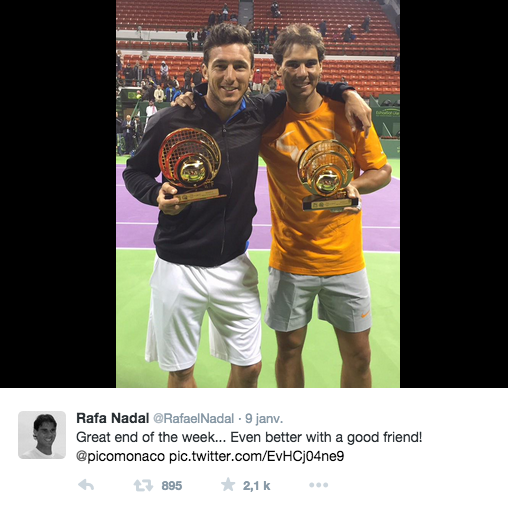 Rafael Nadal never admits defeat.
14 - Tomas Berdych (+1).
Defeated against David Ferrer in the final in Doha, Tomas Berdych thanked the tournament organization...

...Expressed his joy…

And gave... his phone number.

15 - Victoria Azarenka (-13).
After a season ruined by injuries, Victoria Azarenka was defeated in the first round in Brisbane by Karolina Pliskova (4-6, 7-6, 6-4) despite two match points. She therefore won't be top seed at the Australian Open that she yet won twice. But deep down, it doesn't matter: she is back in training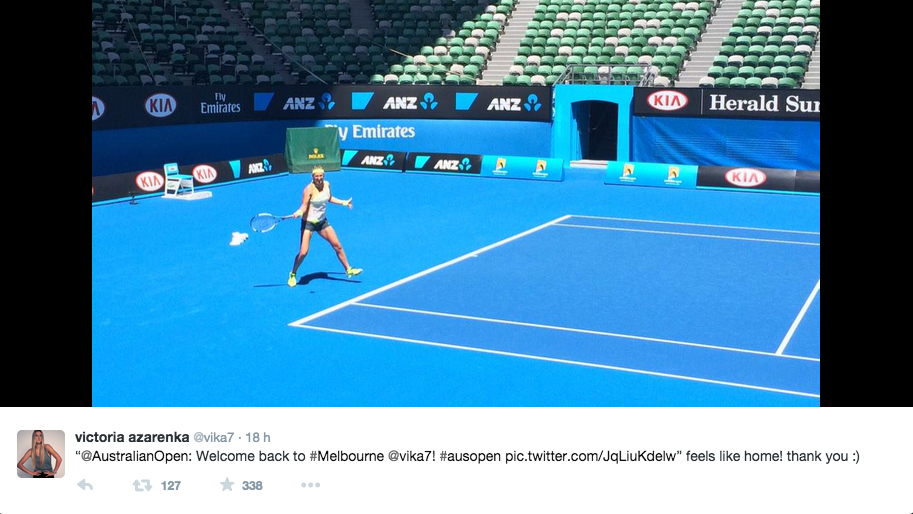 …And playing NBA 2K15.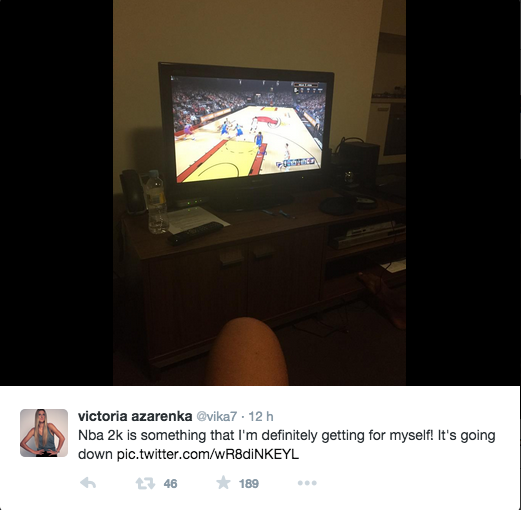 But above all, she showed her support for the victims of the attacks in Paris.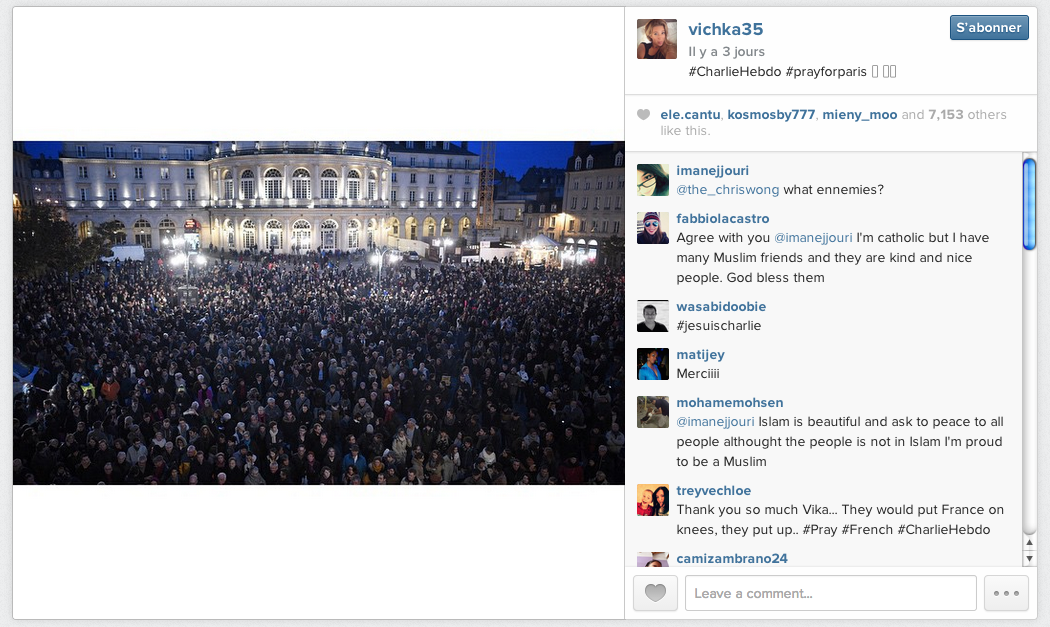 Out:
Alize Cornet, Benoît Paire, Richard Gasquet and Petra Kvitova
By Antoine Mestres