For Christmas and NYE, a player has hit hard in terms of clothing and logically took the lead in our ranking.
All the players of the tour have spent the holidays in their own ways. With family for some, at the gym for others. For this first WAT ranking of 2015, it's Andy Murray who takes the lead, thanks to a fabulous Christmas sweater. Runner up is Victoria Azarenka thanks to a lovely video, and finally Benoît Paire and his video games.
1- Andy Murray
Andy Murray took the first spot automatically with this superb Christmas sweater on Boxing Day. Truly magical.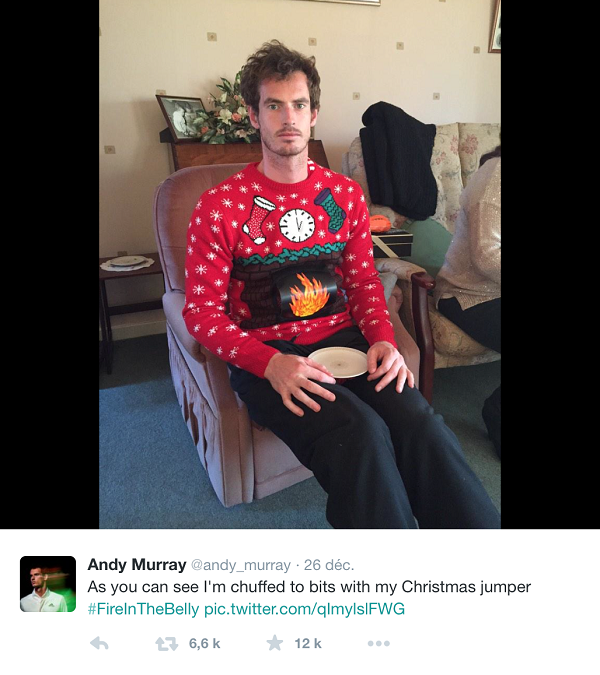 Murray did it again a week later for the New Year. The Briton obviously loves dressing up.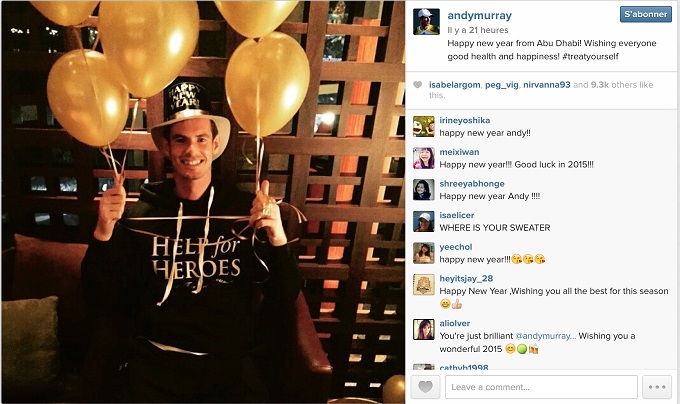 It must be said that the world number six has something to smile about: he has just signed a four-year contract with a new equipment manufacturer, Under Armour, for an amount of 15 million £. Sweet.
2- Victoria Azarenka
Victoria Azarenka has spent hours packing her Christmas gifts. Since this painful experience, she stated that she was considering participating to the gift-wrapping Olympics.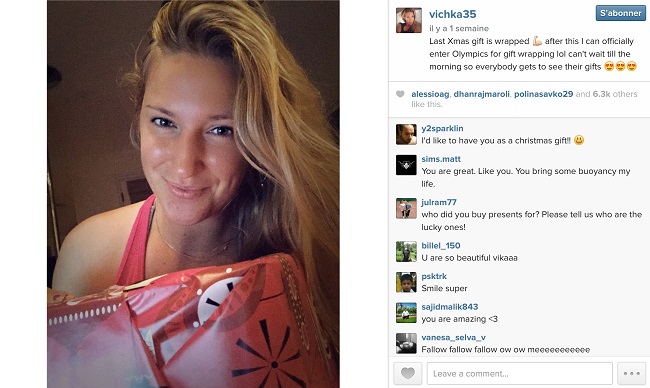 The Belarusian has posted a video in which she wished a Merry Christmas to her fans in a dozen languages. She's trying anyway. This lovely attempt earned her a place on the podium.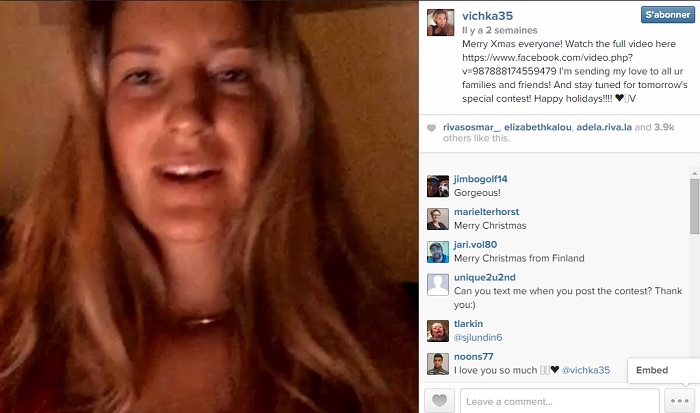 On Boxing Day, Azarenka attended a match of the Los Angeles Clippers...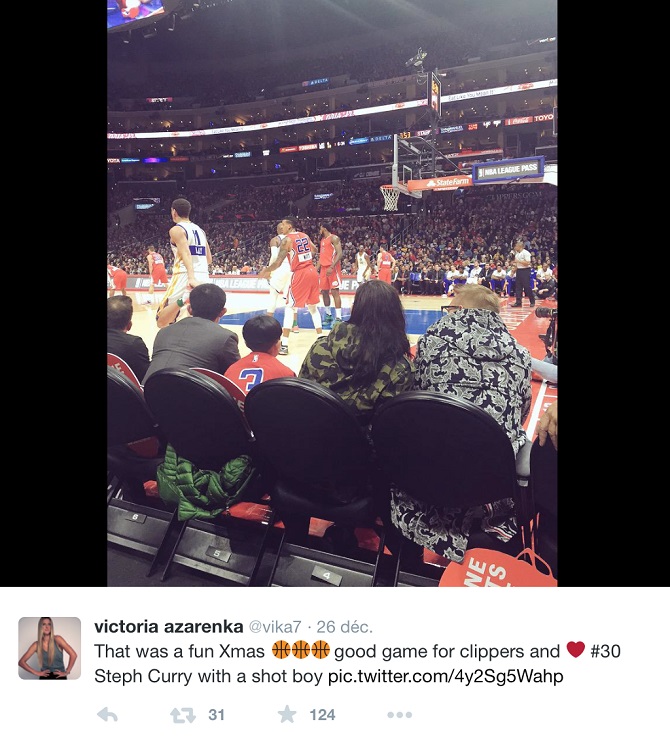 ... Before flying to Australia for the start of the season. On the program: local breakfast.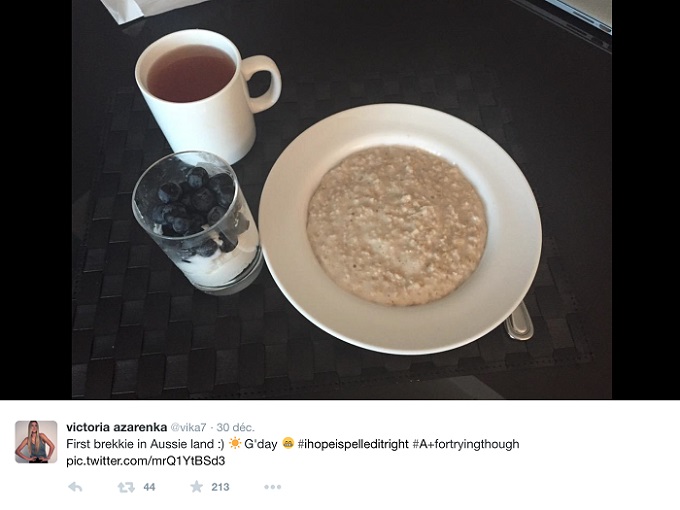 3- Benoît Paire
Benoit Paire clearly had fun on holiday. After watching PSG-Montpellier at the Parc des Princes in Paris, he spent Christmas with his grandparents where he found a first generation PlayStation.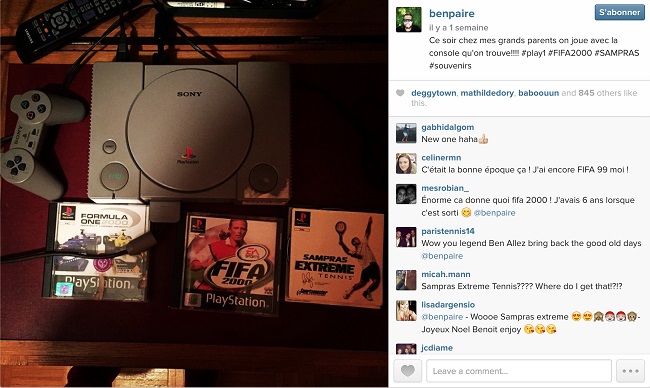 Result, an evening of nostalgia and blisters.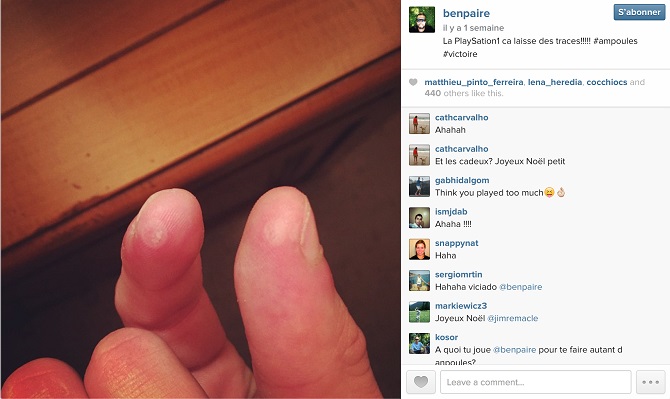 Pair then saw and enjoyed a French movie.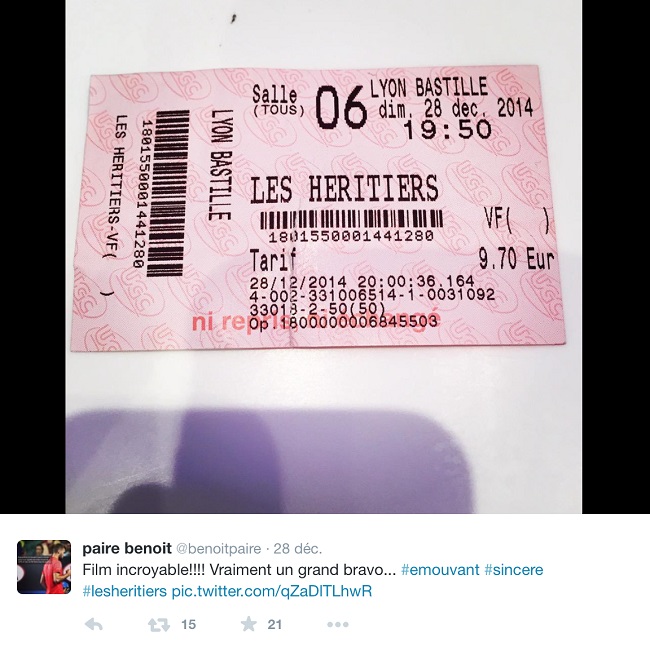 However, his evening of December 31st was quieter. Because yes, the competition resumes.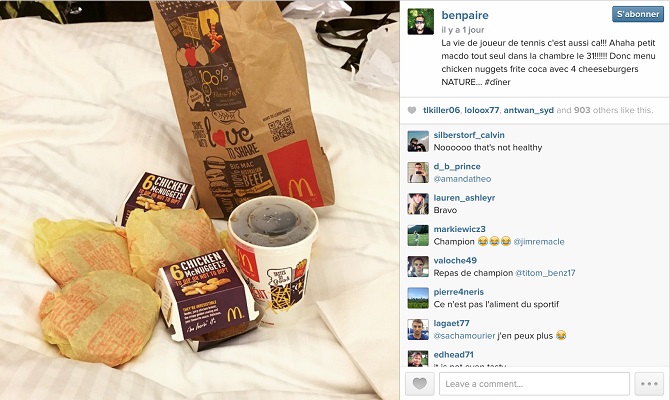 4- Roger Federer
Before going on holiday Roger Federer participated on the eve of the 24 December to a "match for Africa 2" for his association. He was able to count on the support of his friend and compatriot Stan Wawrinka.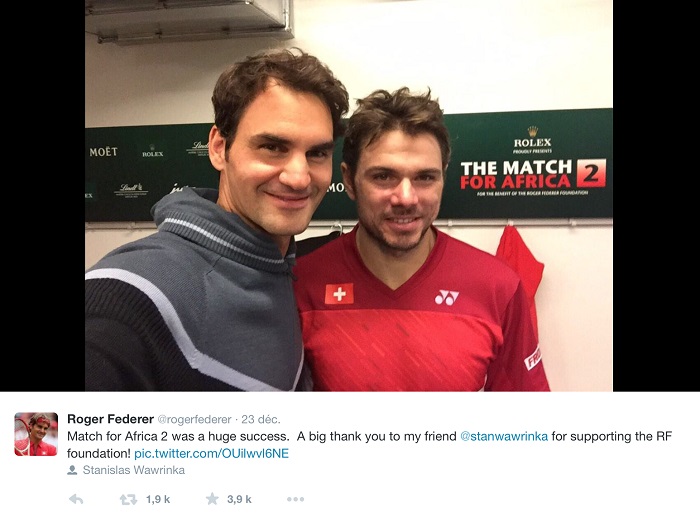 The Swiss then went home to enjoy the holiday season with his family in the snow.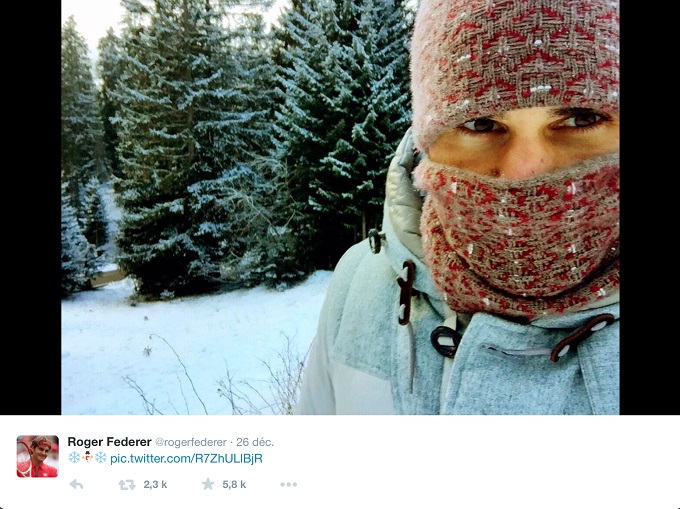 But the relaxing break was short lived for Federer who quickly had to go back to training after opening the presents. While the competition starts on January 5th with the Brisbane tournament, the world number 2 confessed that he might end his career if he cannot play on the centre courts throughout the season. « I definitely am fortunate to always be playing on Centre Court and very often prime time" he admitted to the BBC. "I must say - and this is honest - I don't know if I would still be playing if they put me on Court 4 every day. That would be difficult for me, having played on all these wonderful courts around the world and now playing in front of a fraction of those people - that would be rough.' »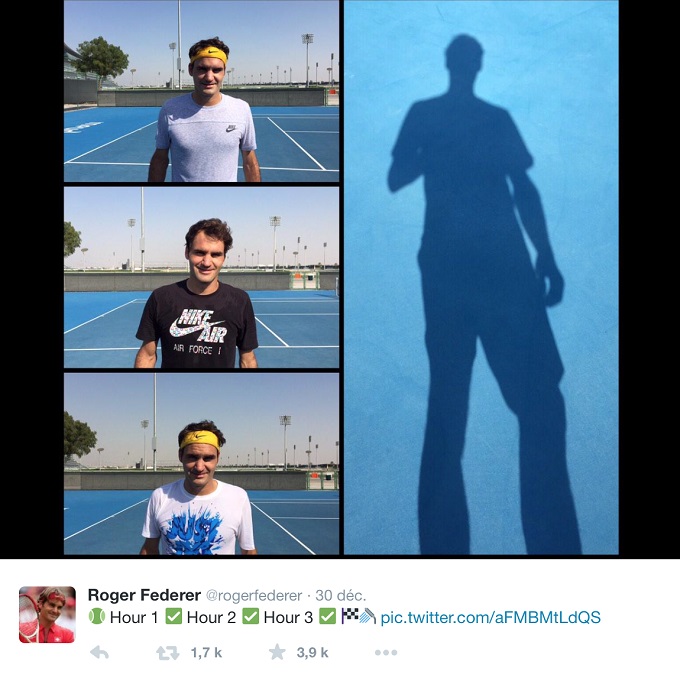 5- Eugenie Bouchard
The holidays had started badly for Eugenie Bouchard who suffered a sixth doping control during the holidays.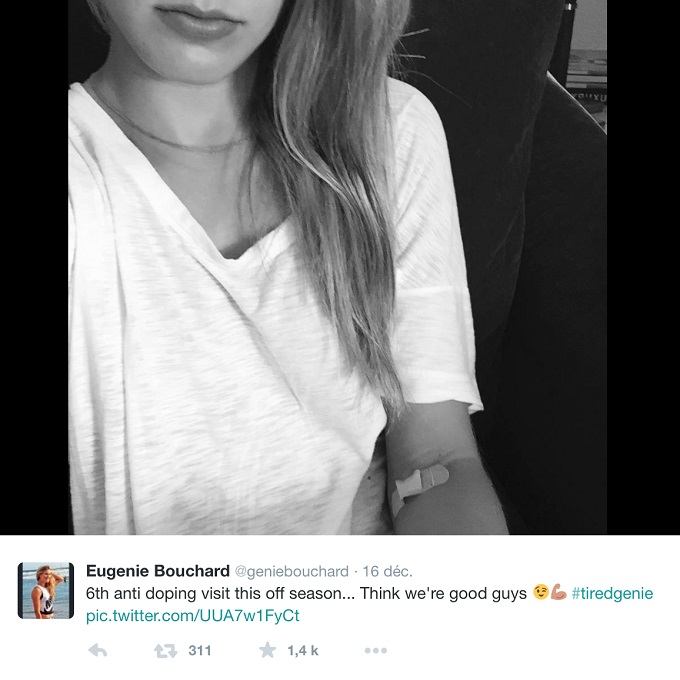 The Canadian then lived a very embarrassing moment in a taxi as she got caught by the driver taking a Selfie.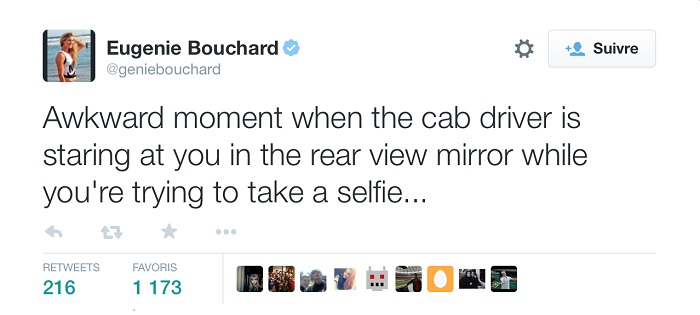 Fortunately, Bouchard also had a good news between two training sessions, when she found out that she had been named Athlete of the Year by QMI, an Agency which measures media coverage.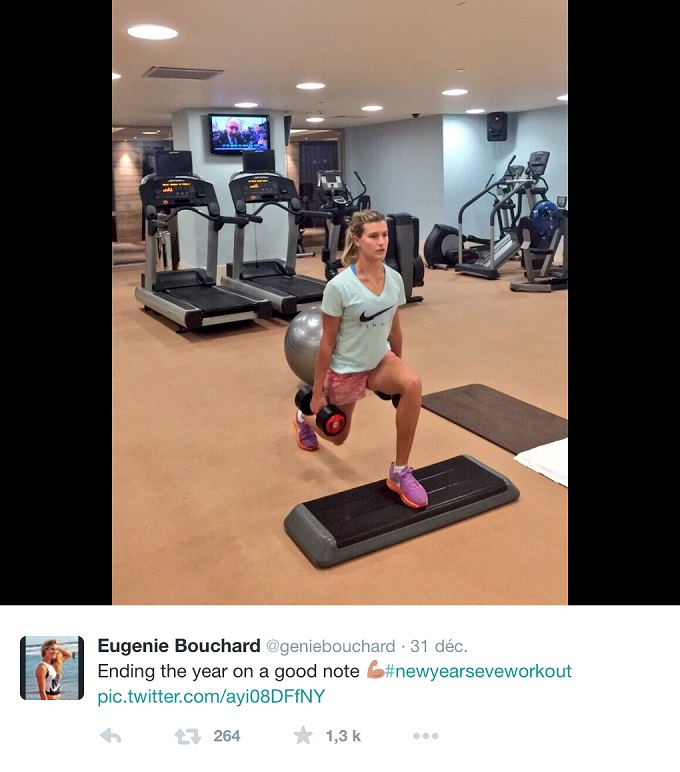 However, not sure Bouchard had been lucky enough to receive a kiss for the New Year since... she ate an onion soup.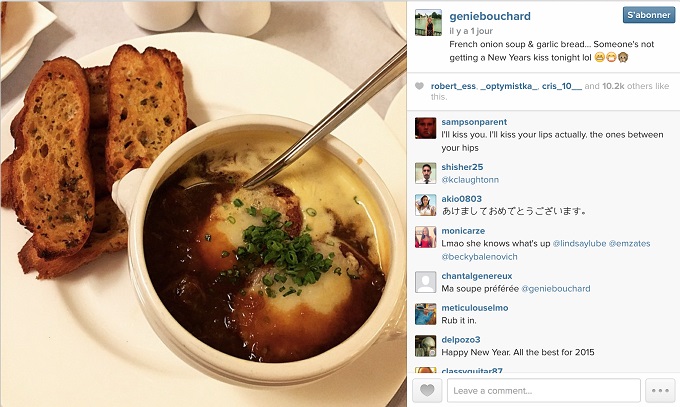 6- Novak Djokovic
Novak Djokovic spent the holidays in family with his wife and baby. The Serb was then invited to give the kick-off of a friendly match between Real Madrid and AC Milan in Dubai.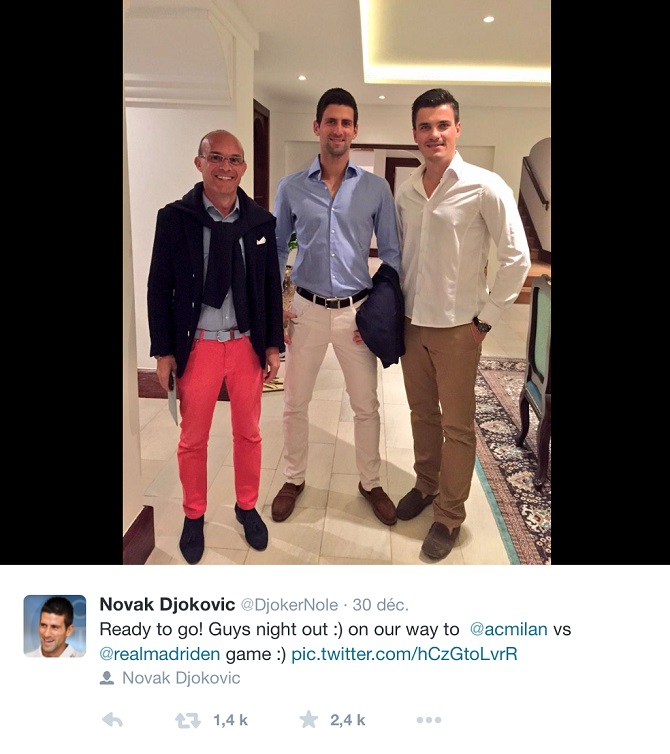 He managed some juggling before greeting the former striker and current coach of Milan Pippo Inzaghi.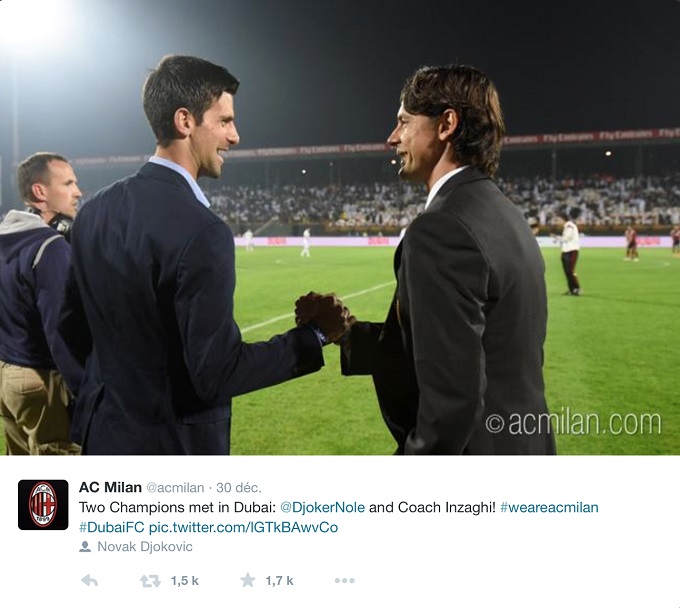 Nole obviously didn't forget to keep in shape. The world number 1 has also unveiled one the secrets of his success.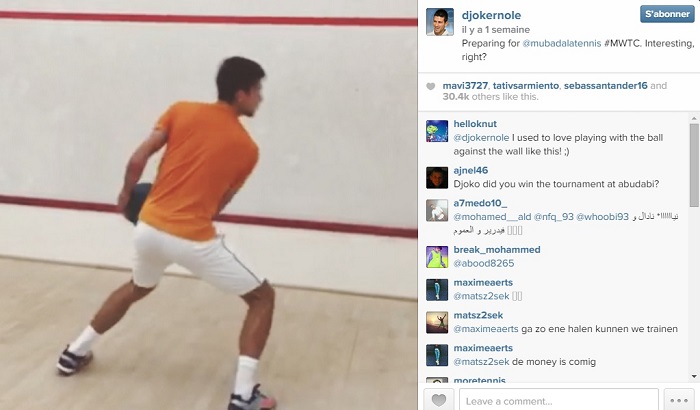 7- Serena Williams
Serena Williams met a woman who confused her with her sister Venus. Not a first for the youngest of the Williams sisters.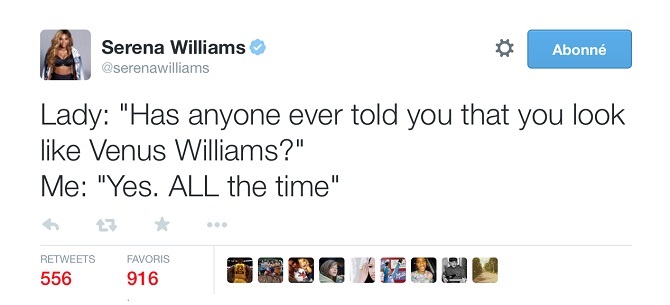 The American then took advantage of NYE to post on social networks a love message to her BFF Caroline Wozniacki.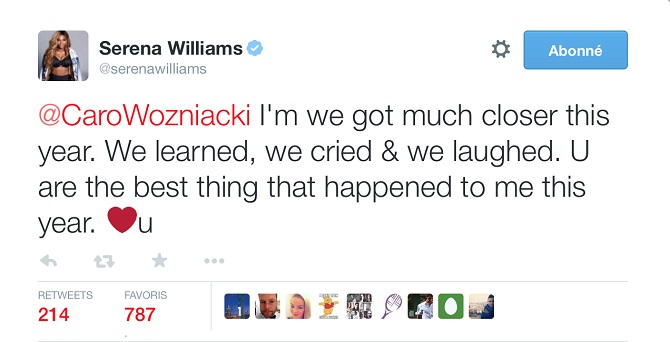 Besides, while she was recording a video message for her Danish friend, Serena Williams came close to falling. Almost a beautiful fail.
8- David Ferrer
David Ferrer is relentless. Even on Christmas Eve, he's training.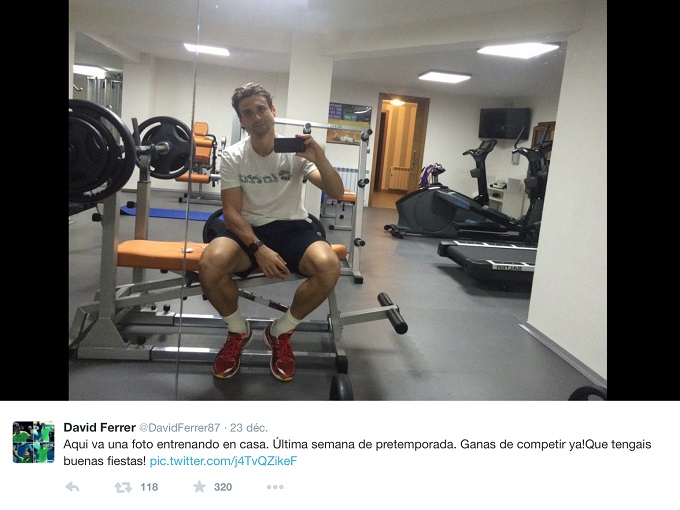 The Spaniard didn't made it into the world Top 10 by chance... So when he's not training, he's not resting either, but takes part in a photo shoot for one of his sponsors.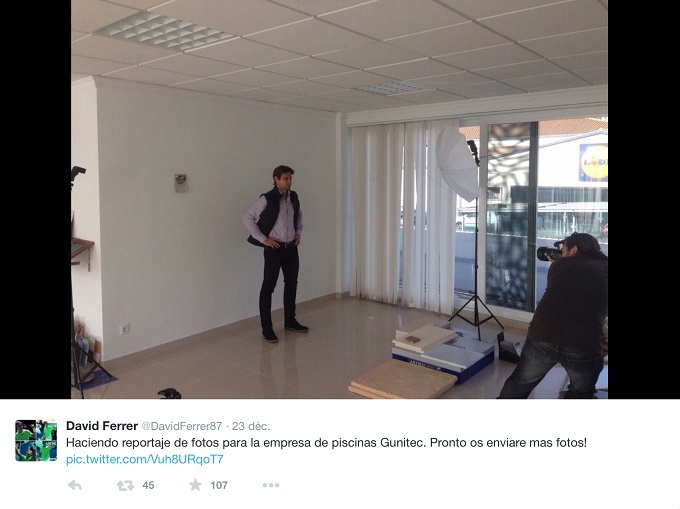 Someone to tell him that he's allowed to relax once in a while?
9- Caroline Wozniacki
At Christmas, the Wozniacki family enjoyed Miami to the fullest: jet skis, golf and drinks were on the agenda.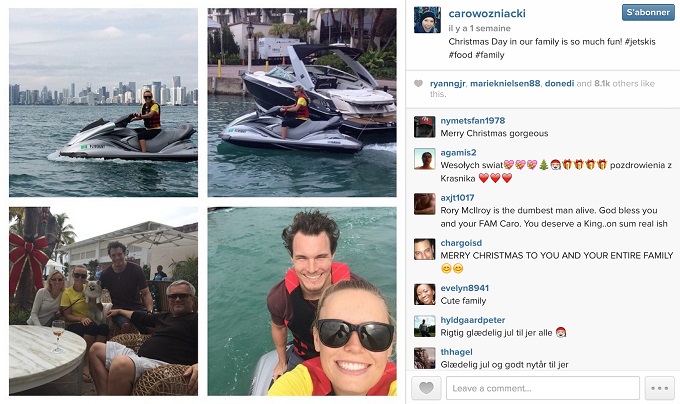 Caroline did pretty well for a first, driver in hand.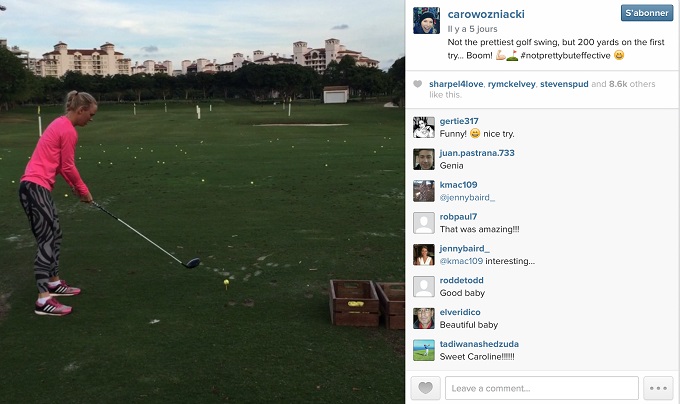 Finally, after Christmas shopping at the last minute with her brother the Dane was interviewed and posed for "Self Magazine".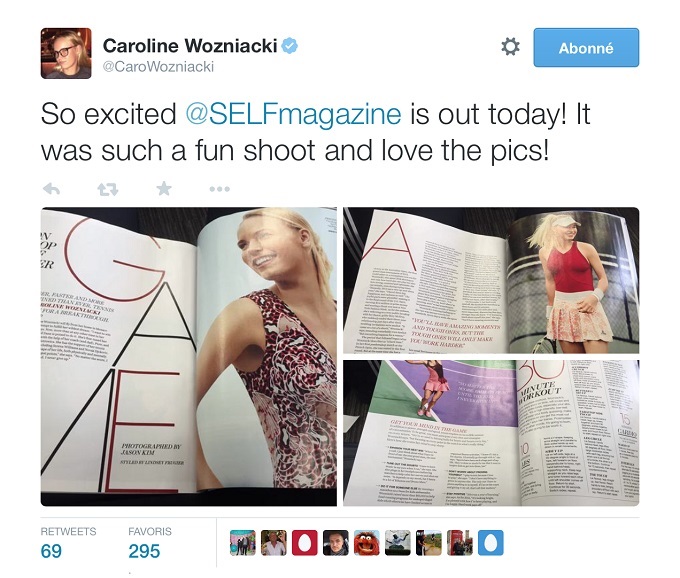 10- Alizé Cornet
Family Christmas for Alize Cornet.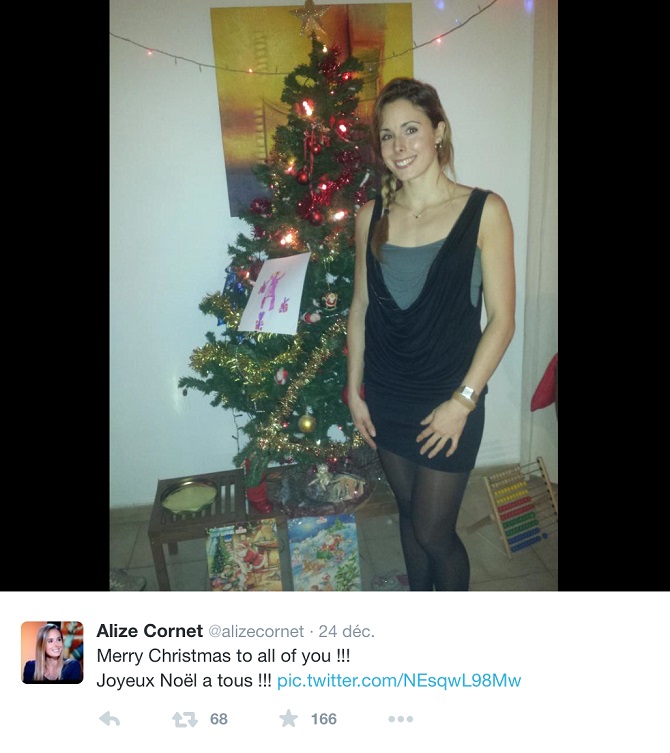 The French needed comfort after being mocked by tennis player Jonathan Eysseric on Twitter.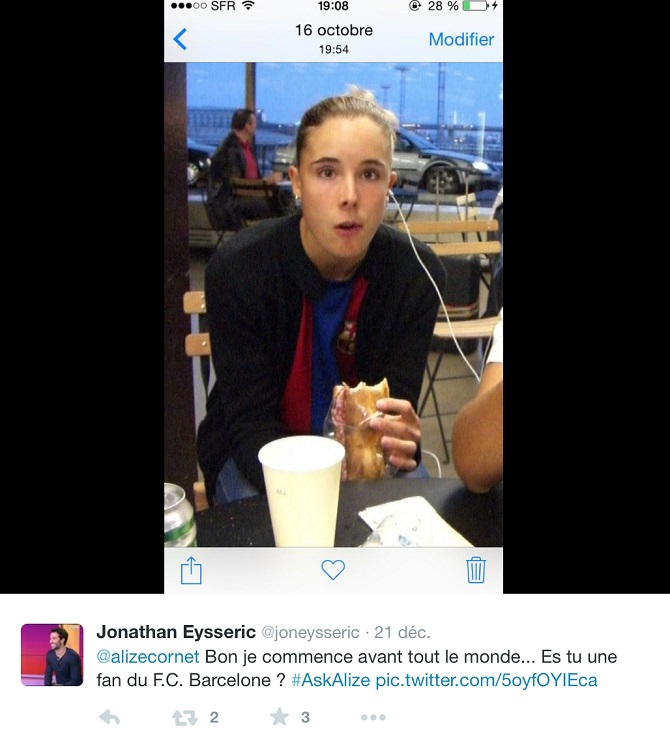 Cornet then left for Australia where she will be playing the Hopman Cup with Benoit Paire, having won it last year with Tsonga Jo-Wilfried.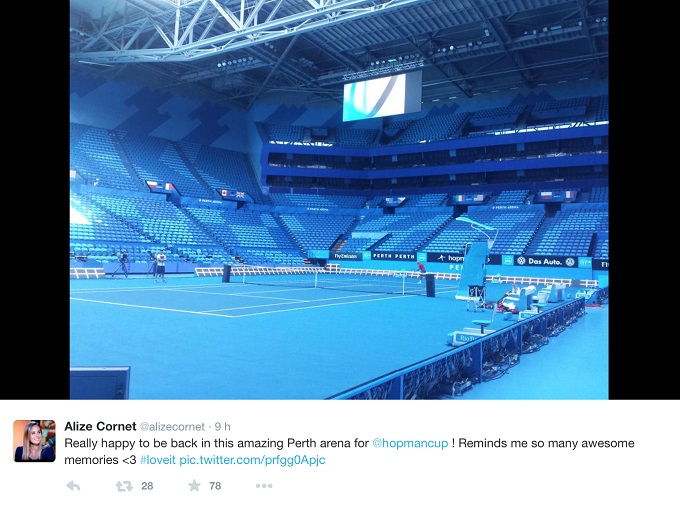 11- Richard Gasquet
Studious holidays for Richard Gasquet. The French first spent a few days in the Balearic Islands, at Manacor, with Rafael Nadal with whom he trained.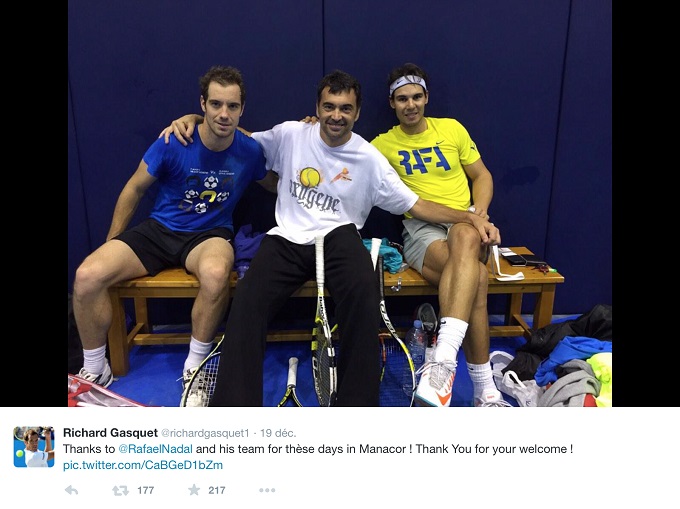 Then after Christmas, the French went to Thailand for Hua Hin exhibition tournament. He also spent NYE there, with other players including Fognini, Ferrer and Berdych.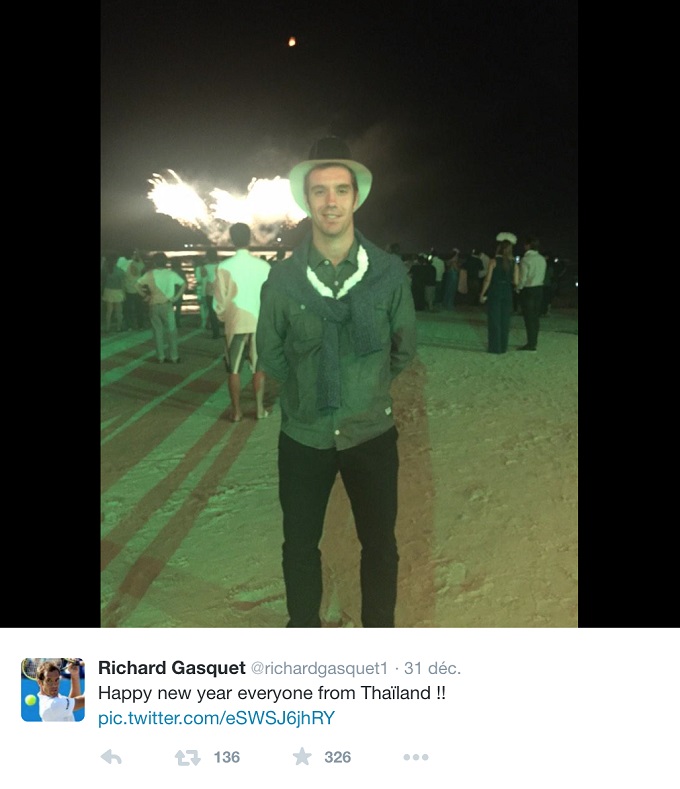 Competition resumes on the 5th of January in Doha.
12- Maria Sharapova
Last year, Maria Sharapova spent Christmas on the plane. This year, the Russian had more luck since she could enjoy the holiday season with her family.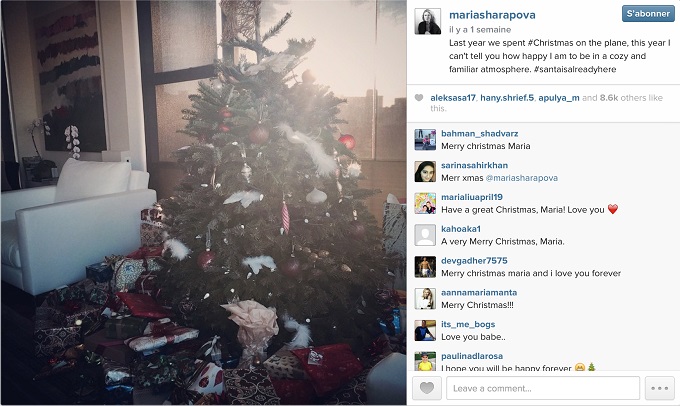 Her family who organized small games for the occasion. The famous "guess who" with a post-it on the forehead.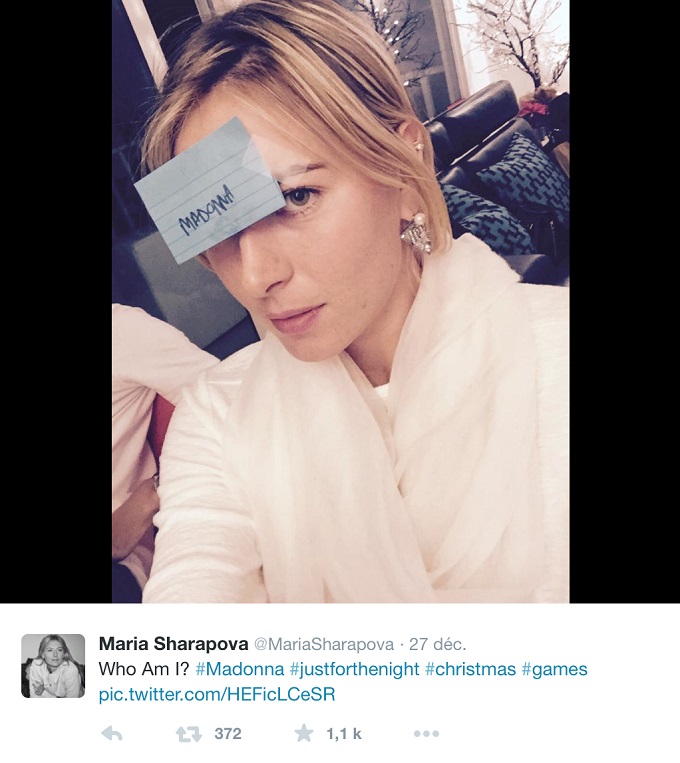 When the party ended, Sharapova packed her bags for Australia where she will be playing this week.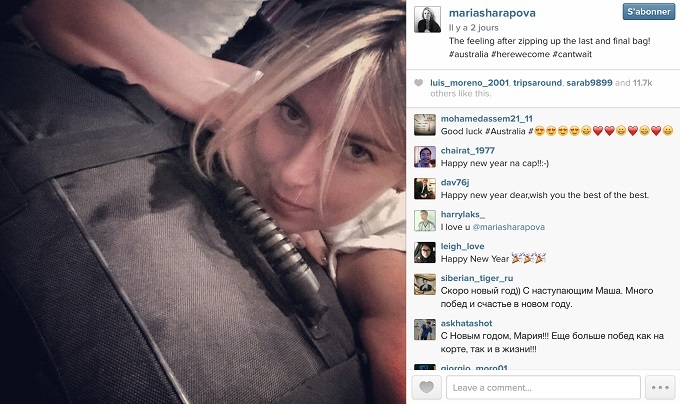 13- Petra Kvitova
Despite strong competition (sic), Petra Kvitova was voted best Czech tennis player of the year.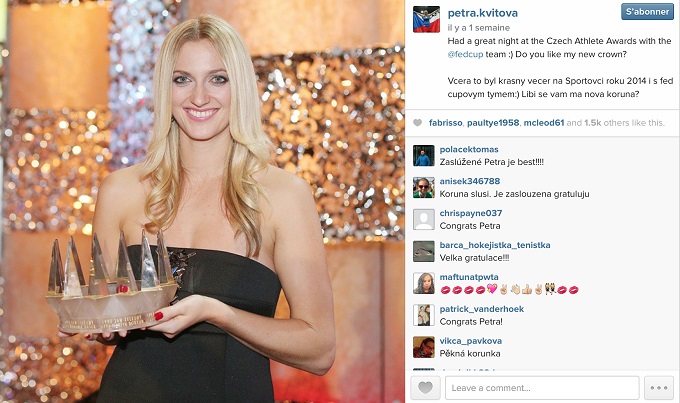 In the process, she resumed training on Christmas Eve. Rest assured, this didn't prevent her from enjoying the holiday with her family.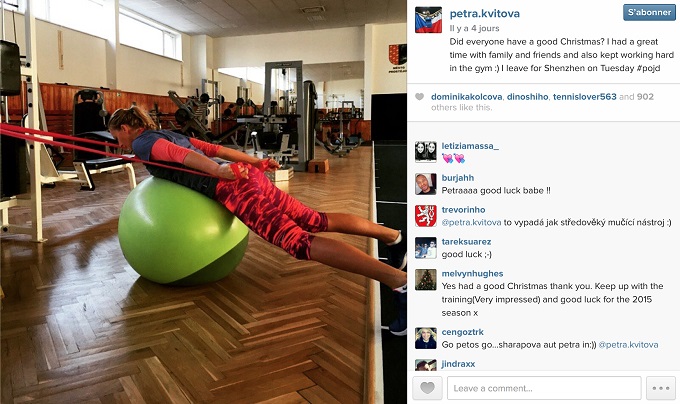 Kvitova then flew to Shenzhen, China to resume the season. With a smile.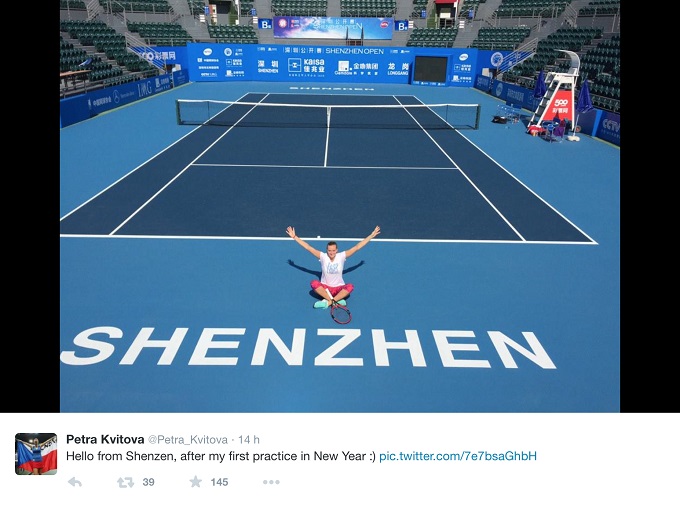 There, she met with the Romanian player Simona Halep with whom she built... meatballs.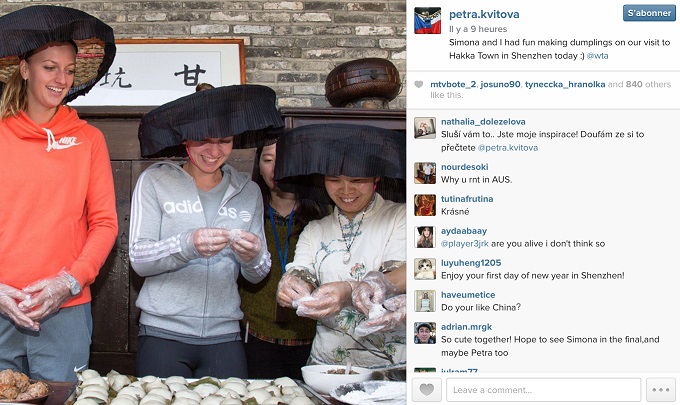 14- Rafael Nadal
After spending Christmas at home, Rafael Nadal went to Abu Dhabi where he spent New Year's Eve. With a beautiful hat.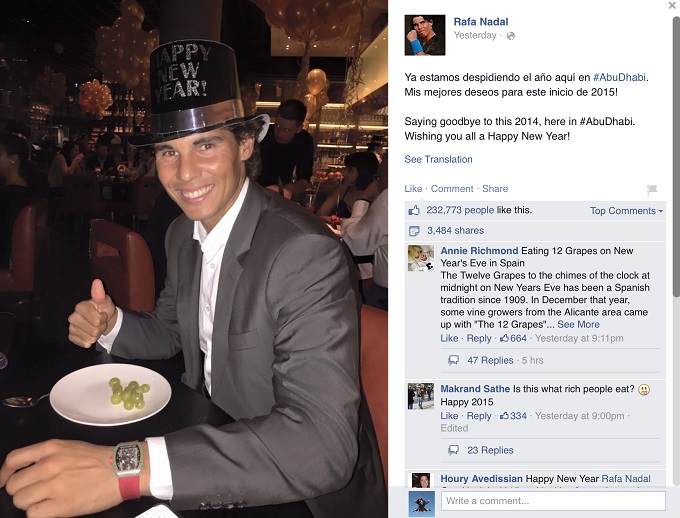 The Spaniard then visited the Spanish team for the Volvo Ocean Race with whom he shares a sponsor: Mapfre.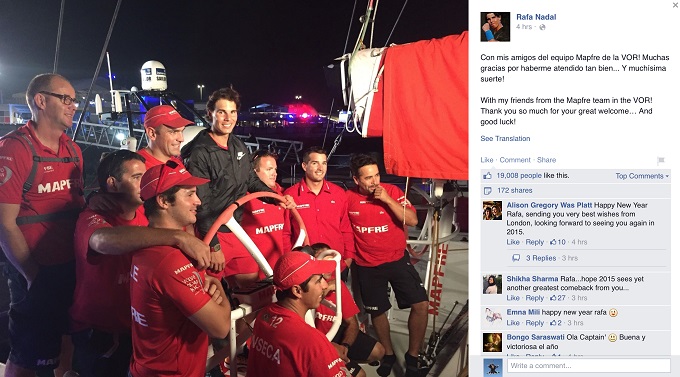 15- Tomas Berdych
Having learned with sadness the passing of Joe Cocker...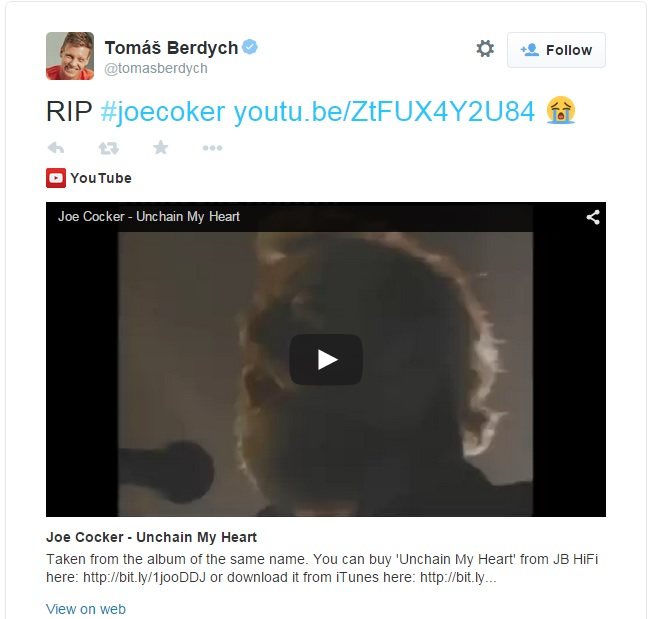 ...Tomas Berdych spent Christmas and New Year's Eve with his girlfriend.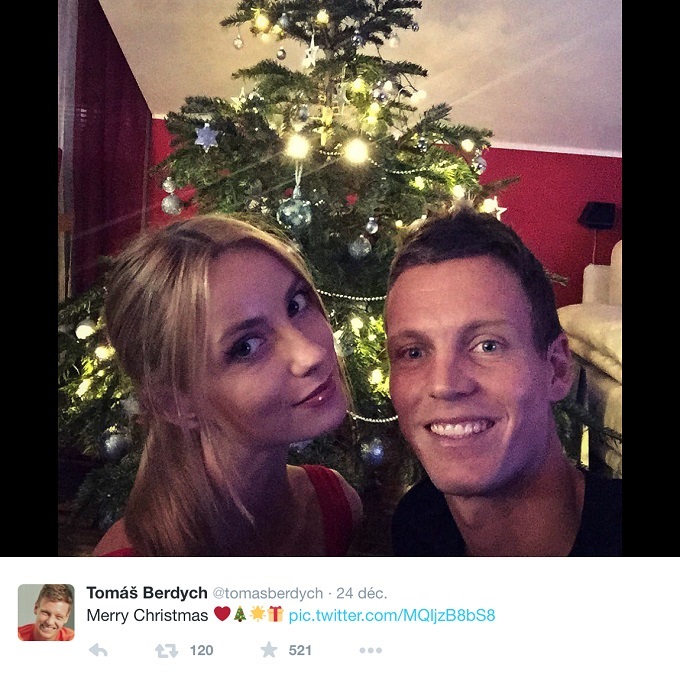 But the Czech didn't forgot to train.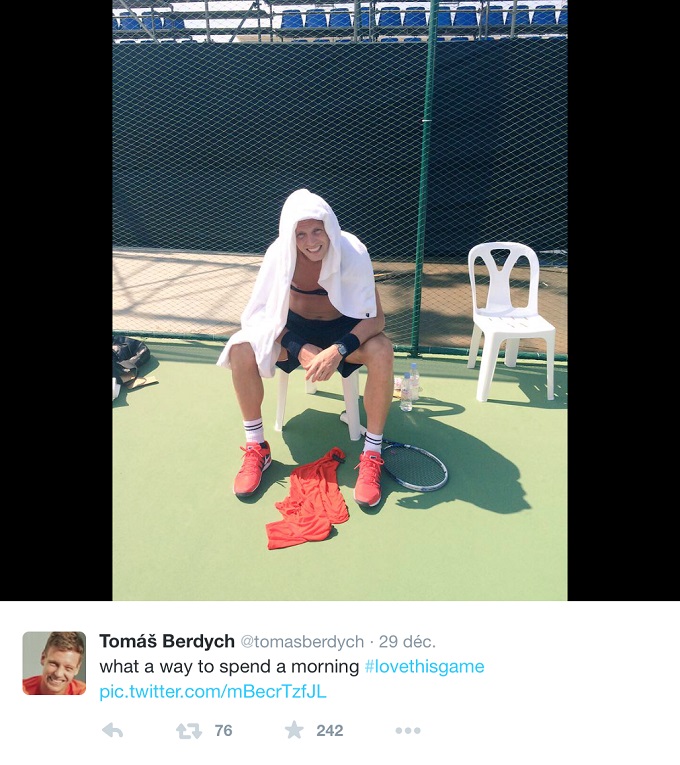 By Quentin Moynet