For the last tennis journal of the year, who is on top of the WAT ranking? The indestructible Novak, the most legendary than ever Federer or the unchallenged Serena? To find out, you only need to click. The last before 2015!
Pay honour to whom honour is due. At 33 and as 2014 is ending for the tennis journal, Roger Federer has climbed on top of the tennis world by winning the last trophy missing from his belt: the Davis Cup by BNP Paribas with Switzerland. Behind, the stars of the tour are enjoying their holidays to rest (or not), in the image of Sharapova who has been seen playing with... a jigsaw puzzle.
1 - Roger Federer (+7).
Roger Federer won with his Swiss teammates the last trophy he was missing, the Davis Cup by BNP Paribas, and moreover by winning the decisive point, against Richard Gasquet that he defeated in straight sets. If he had previously lost against Gael Monfils in three sets on the first day, Roger won the doubles with Stanislas Wawrinka. At the moment of victory, he knelt on the clay of the Stadium Pierre-Mauroy, as if to stop time and enjoy one of his finest victories.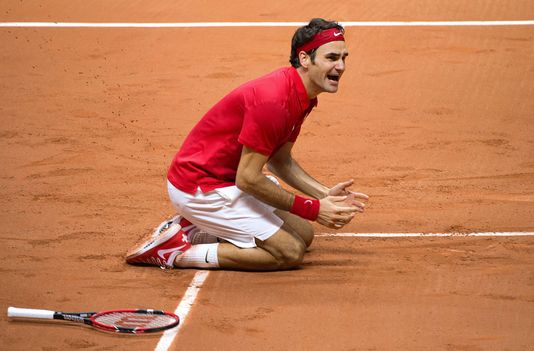 1st equal - Novak Djokovic (/).
After ending his season as new leader of the tennis world, Novak did many promotional operations with his partners, sponsors and the charities he supports. As he lives in the Principality of Monaco, the Serb spent some time at an event organized by the foundation Peace and Sport, with other athletes like Sergei Bubka.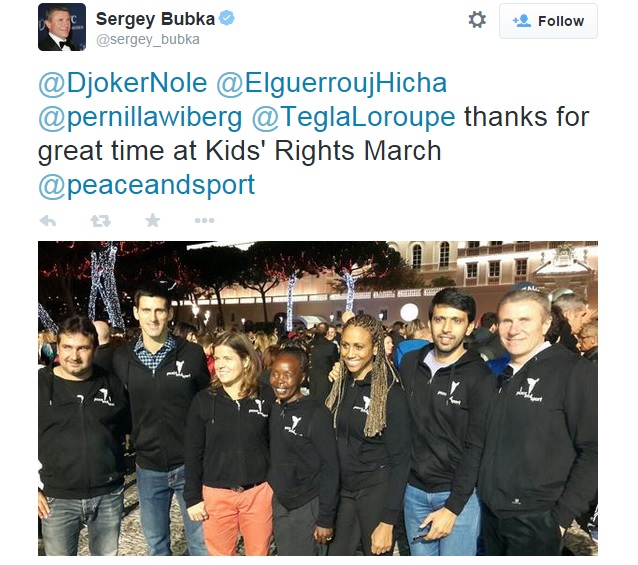 An event to which young footballers of the AS Monaco academy were also present, according to the picture posted by their club where they posed with the world number 1.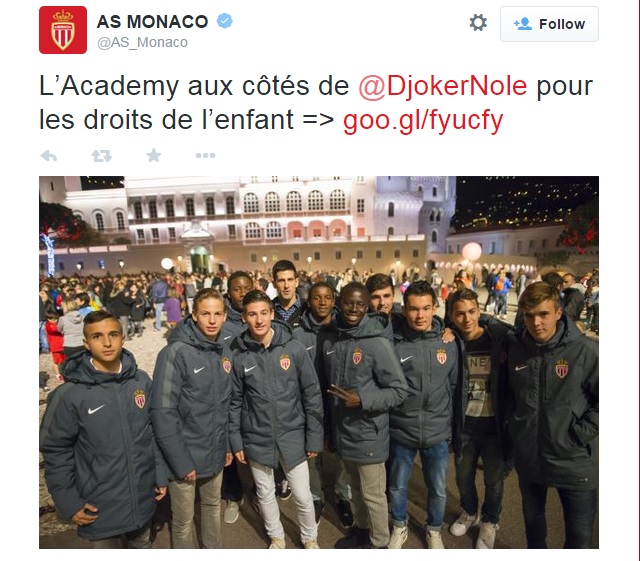 In other news, the Serb has been promoting his online shop, where he's selling his t-shirts and racquets to benefit his foundation.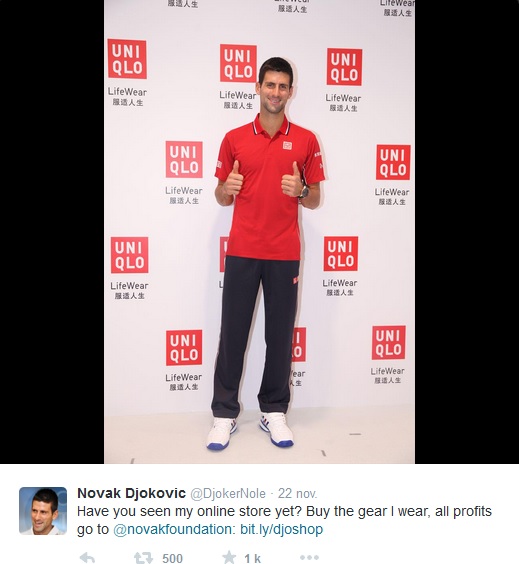 Novak Djokovic is a busy man without much time to take a step back from the world of tennis. He thus published a video in which he promised his fans to participate to the Davis Cup by BNP Paribas next year, but also to the International Tennis Premier League in December, the parallel tennis league launched by Mahesh Bhupathi where we will soon see players from the tour mingle with old glories like Pete Sampras and Andre Agassi in a team tournament over three days.
3 - Stanislas Wawrinka (+2).
The other strong man of the Swiss team finished the season as well as he has started it: with a resounding achievement. After his victory at the Australian Open, he lifted the silver bowl with Roger Federer this weekend. In other (good) news, the hatchet with Mirka finally seems dead and buried.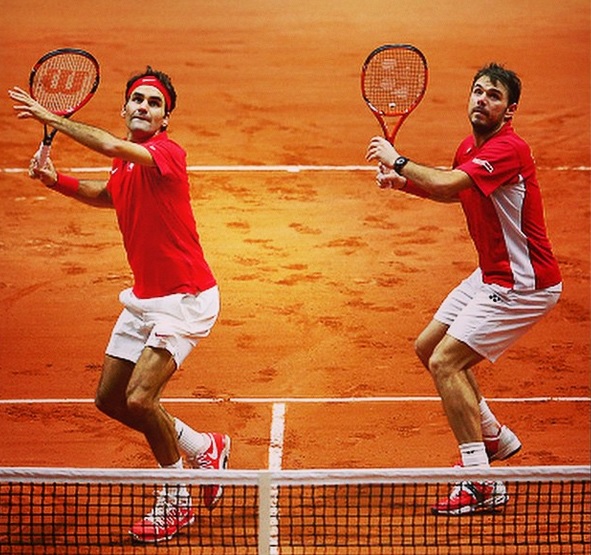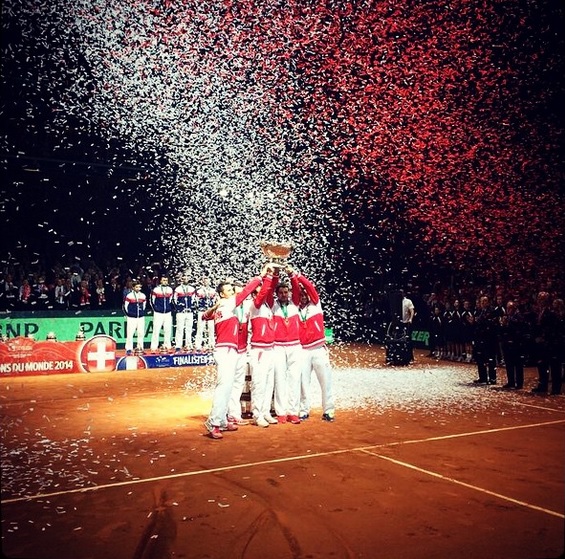 But first and foremost, he was the one who allowed his team to get into the best possible position by beating quite easily in the first game of the weekend the French Jo-Wilfried Tsonga. Beware of 'Stan the Man' in 2015!
4 - Victoria Azarenka (-2).
A nice week for the Belarusian that plunged back into her past....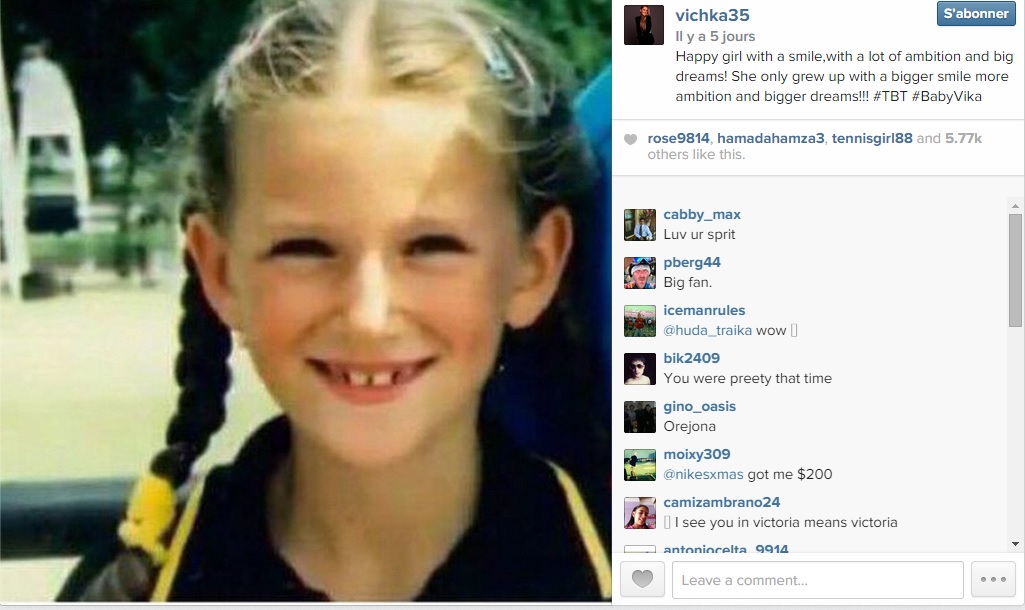 …Showed her Batman sweater…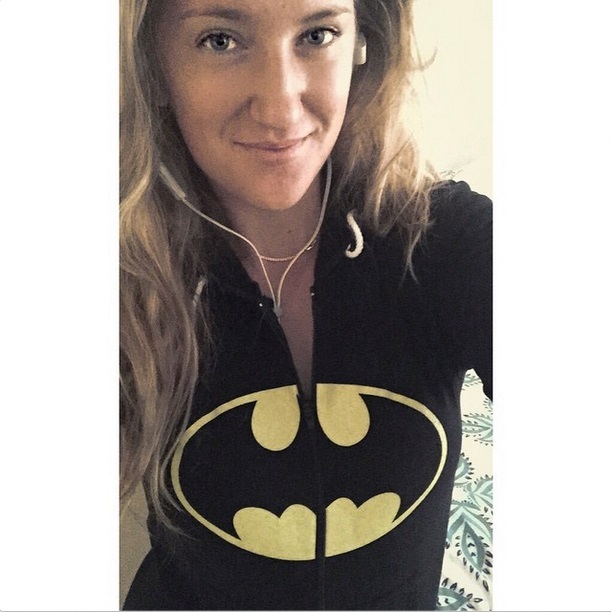 ... and dived in the sea...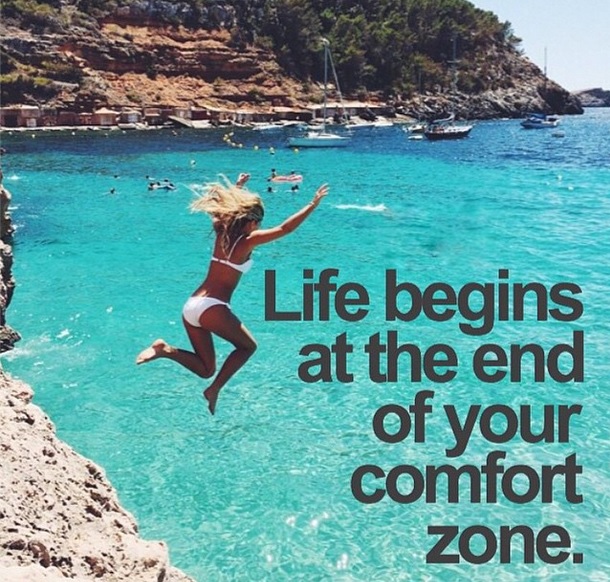 A busy week.
5 - Caroline Wozniacki (-2).
This week, Caroline Wozniacki paid a few tributes. First to her father, that she compared to a Backstreet Boy when he was young.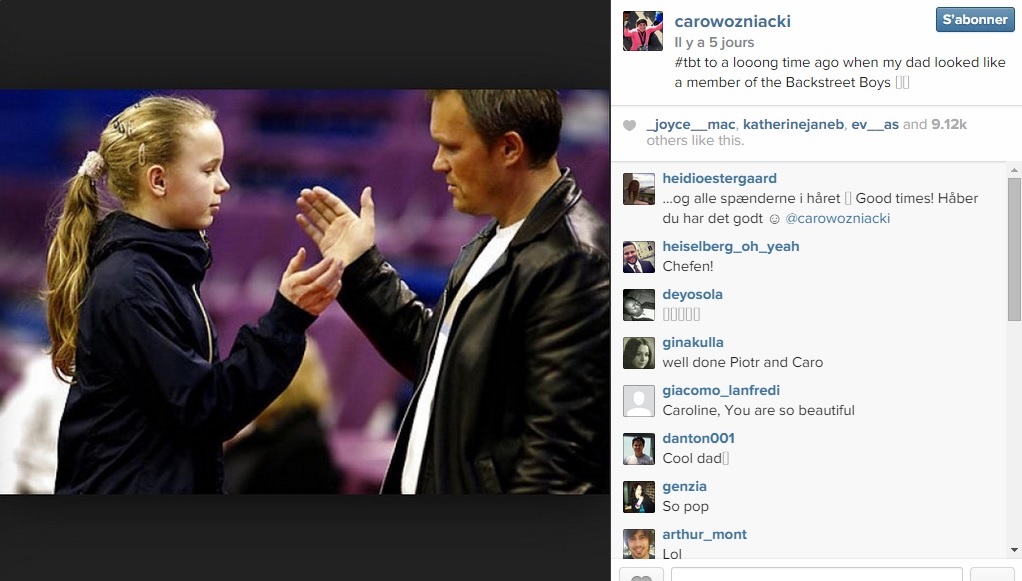 Then to Liverpool, that she supports, and that was defeated 3-1 by Crystal Palace last weekend.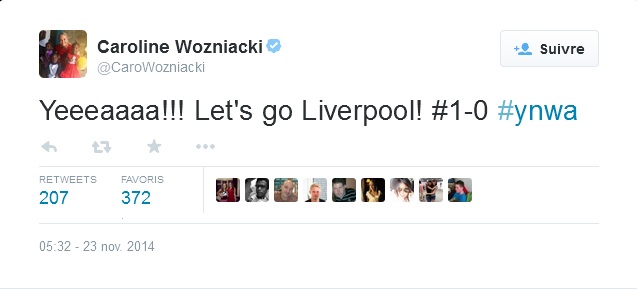 And finally to Filipino boxer Manny Pacquiao.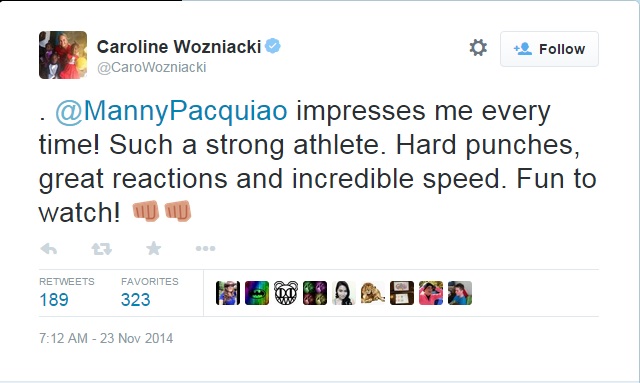 She also appeared in a video against sexual abuse.
6 - Eugénie Bouchard (/).
On holiday, Eugenie Bouchard travels, and let everybody know. After polar bears, time for the Caribbean: sun, beaches...
…And kite-surf.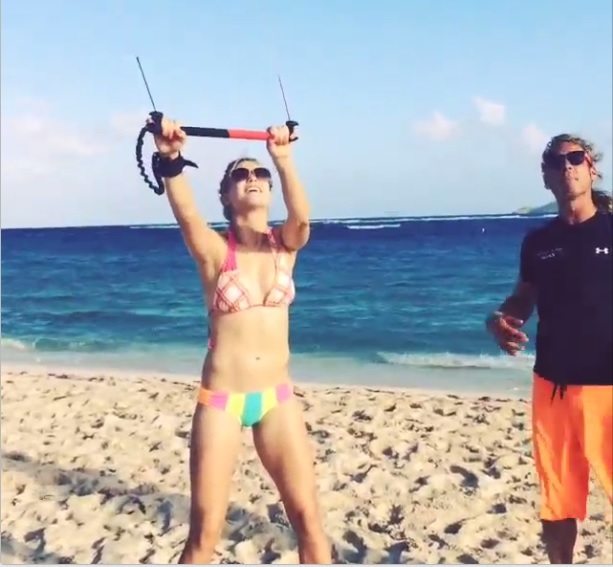 This week, the Canadian has also received the award for the best progress of the year.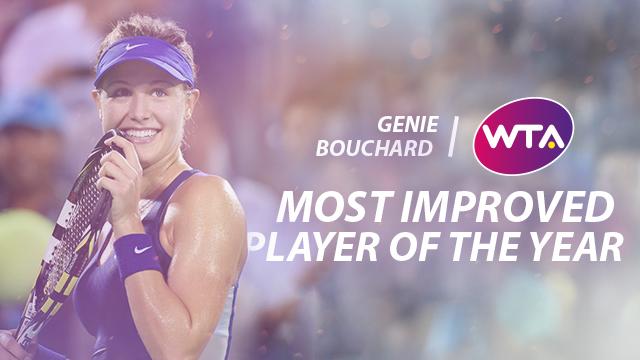 An award to which she responded by discussing her growing fame. All but a problem for her, "I knew what I was getting into. If I didn't want this attention, I would have become a librarian, so I'm fine. I just have to make sure that my priority remains tennis. »
7 - Rafael Nadal (NE).
Successfully operated for appendicitis, Rafael Nadal was quick to clarify the timing of his return: "I'll have a month of preparation before the start of the Australian Open. I hope this will be enough to get back to my best level and prepare well. I look forward to 2015 and hope that my body will allow me to be competitive every time." He also took this opportunity to thank his 7 million Twitter followers.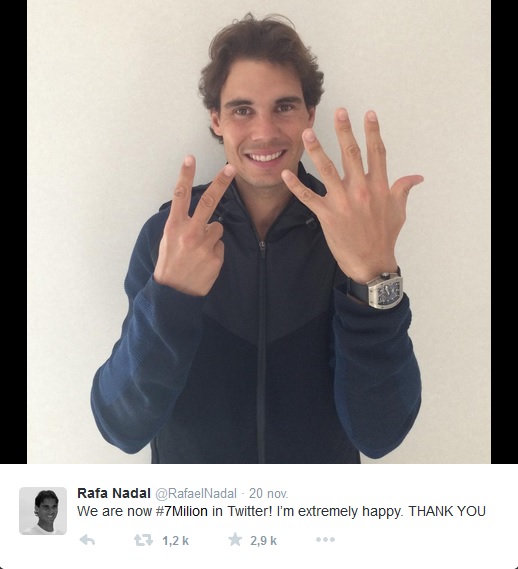 7 million, almost as many as the number of people in Bulgaria...
8 - Maria Sharapova (+2).
Maybe because she doesn't know how to deal with boredom, Maria Sharapova spent her holidays in Florida playing jigsaw puzzles.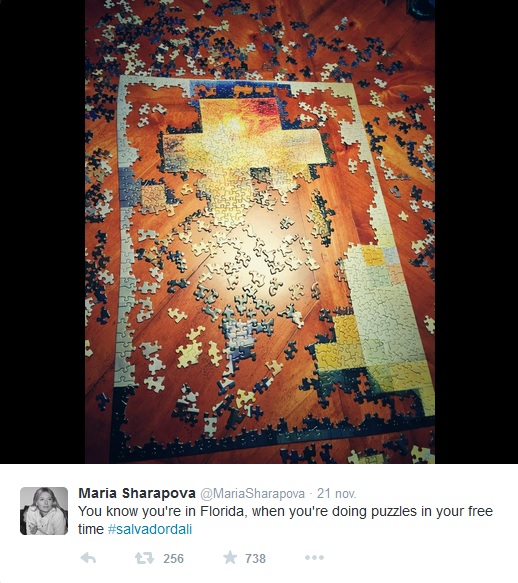 As an expert businesswoman, she didn't forget to promote the cosmetics products she represents.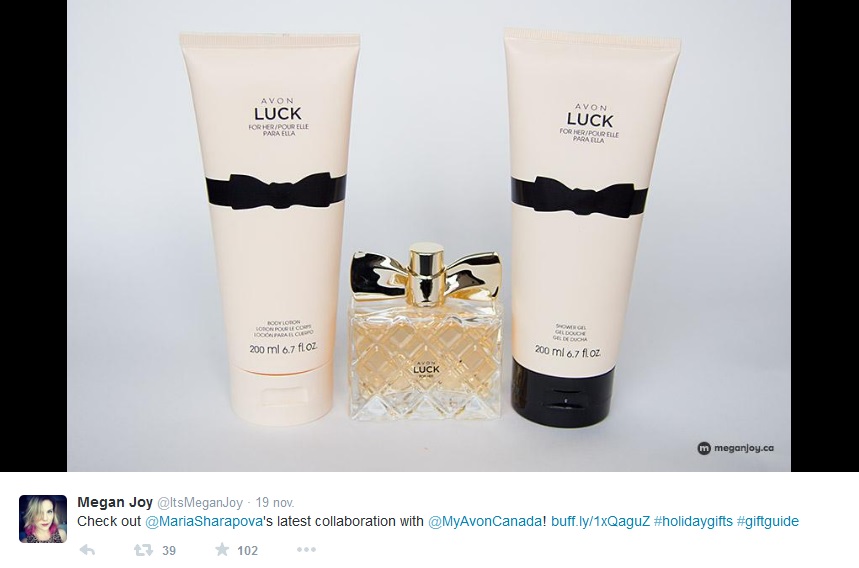 But that's not all, she also hugged her own image.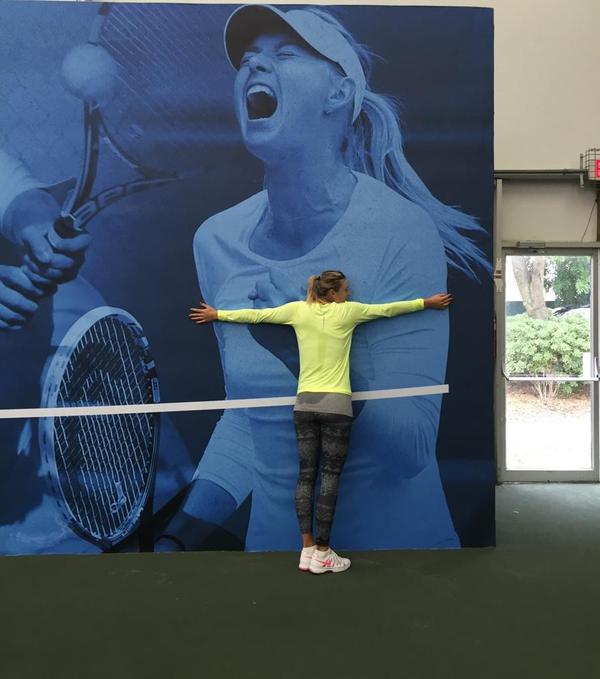 Before flying to the International Tennis Premier League in Dubai...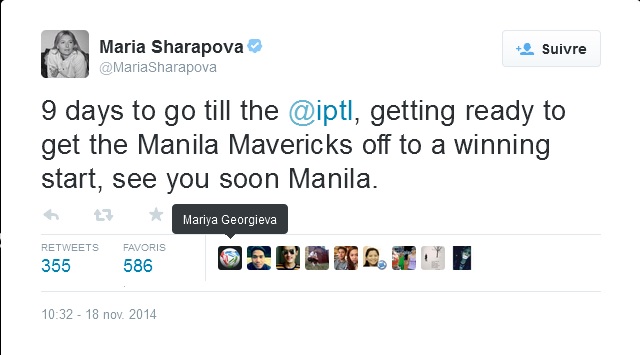 And she still has time for Dimitrov with all that?
9 - Andy Murray (+3).
The Scot took advantage of the break to distribute good points in Formula 1...
... And explain life to Roger Federer fans, worried about his defeat against Monfils in the second singles match of the final Davis Cup by BNP Paribas this weekend.
10 - Tomas Berdych (+3).
Tomas Berdych is also very impatient to play the International Premier Tennis League.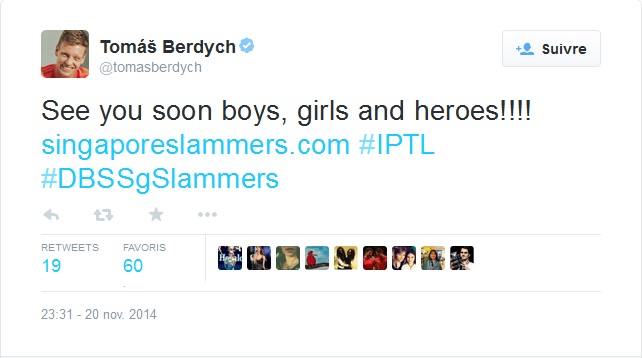 We understand, on holiday in the Maldives, he didn't had the best weather.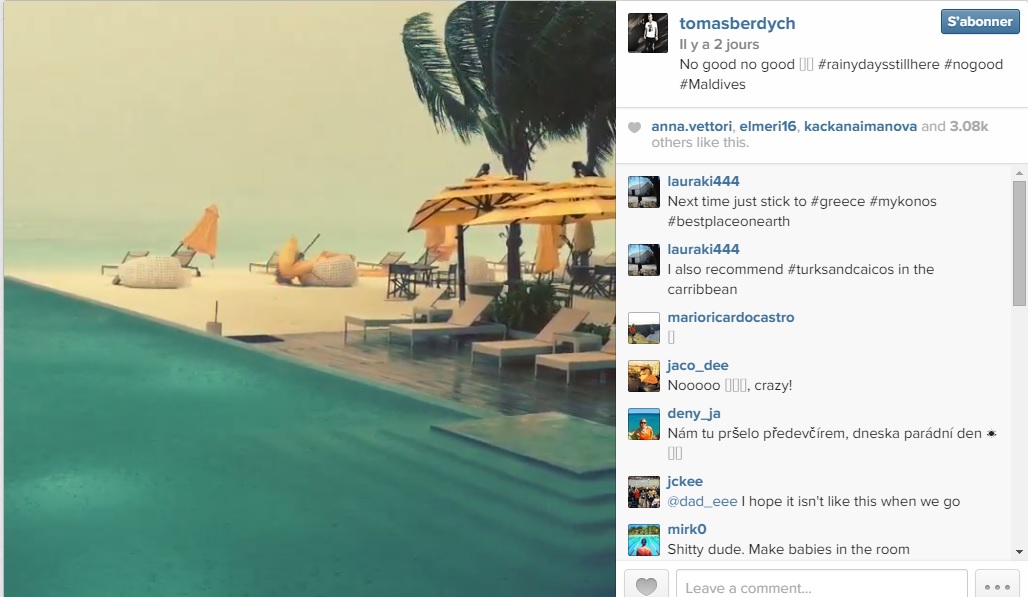 Which didn't prevent him from sharing pictures of his girlfriend.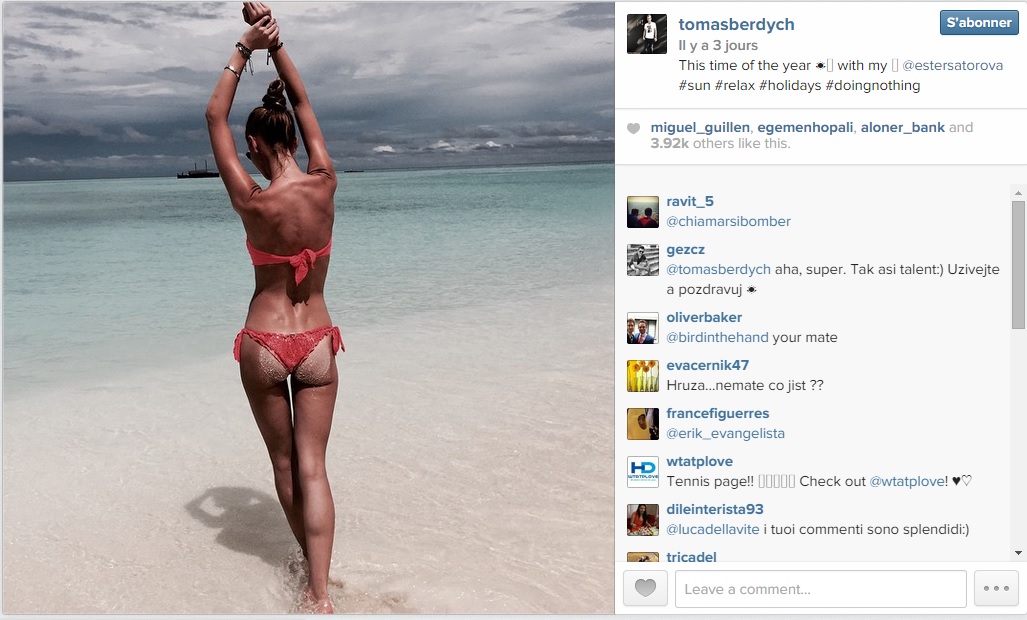 11 - Gaël Monfils (NE).
He was the only French player who performed well in the final of the Davis Cup by BNP Paribas.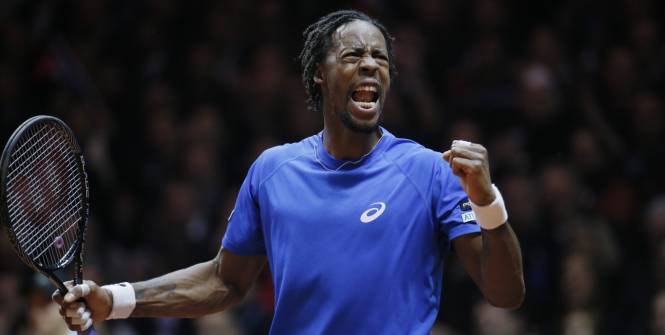 After a fantastic match on Friday during which he defeated Roger Federer in three sets, the Monf ' couldn't repeat this performance on Sunday as the fifth match against Stanislas Wawrinka just didn't happened... Too bad, because for Mats Wilander, "in a match at the best of five sets in Davis Cup, in front of his fans with a captain and a team that supports him and with the level he showed on Friday against Federer, Gael Monfils could be virtually unbeatable on clay courts..." Too bad.
12 - Serena Williams (-8).
Elected WTA player of the year for the sixth time, Serena Williams went to Paris for one of her sponsor and did a photo shoot in front of the Eiffel Tower.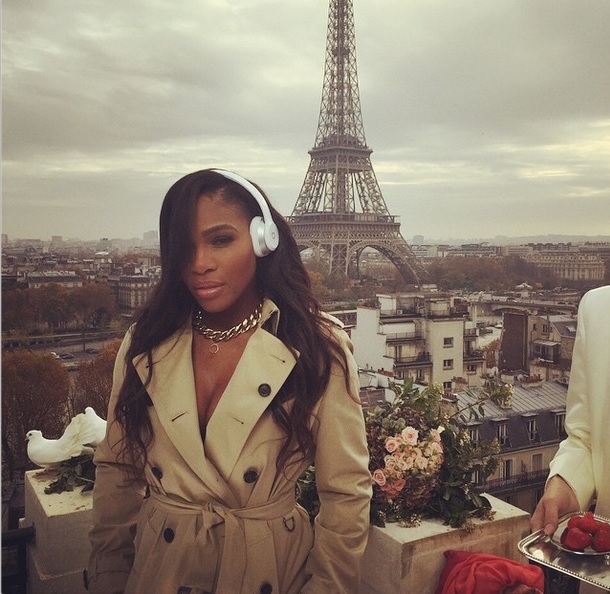 The American then returned back home in more casual clothes and tried a sport that you can only see there: Lacrosse.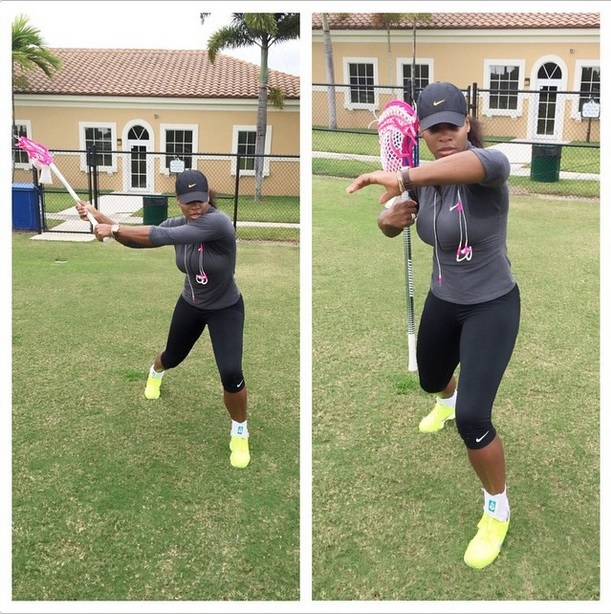 13 - Petra Kvitova (-6).
The Czech player, another revelation of the year with the Canadian Eugenie Bouchard, isn't doing much according to her posts on social networks. Like last week, when she was apparently chilling out in Dubai, where she spent a few days.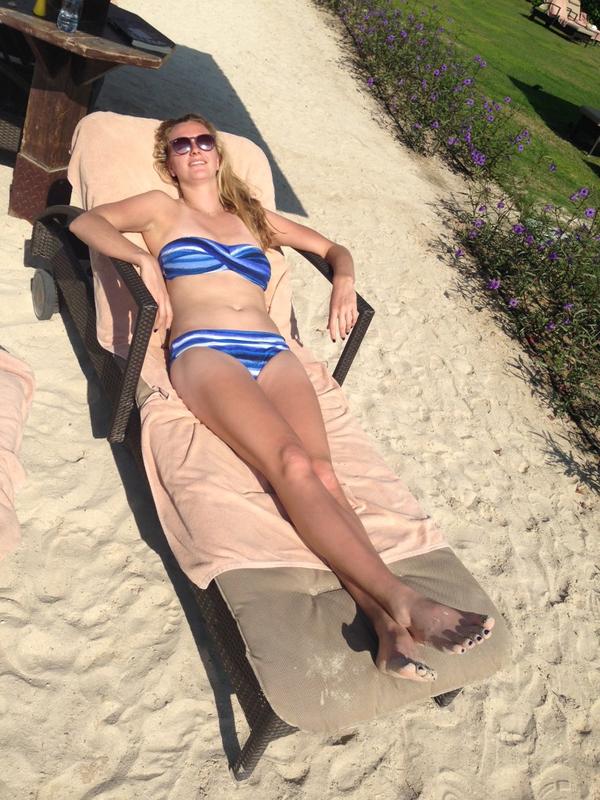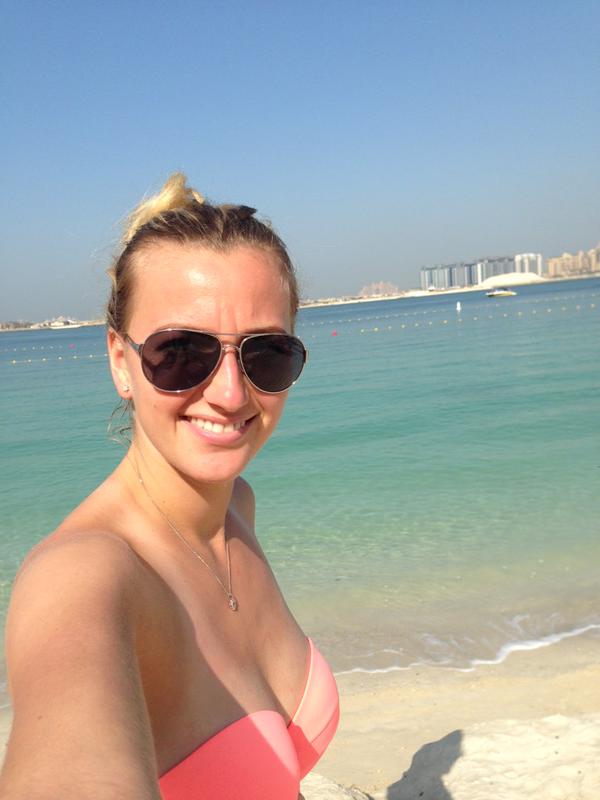 14 - Dominika Cibulkova (+1).
Neither rest nor sun for the brave Dominika Cibulkova. The Slovak started her preparation for a hike in the Croatian mountains...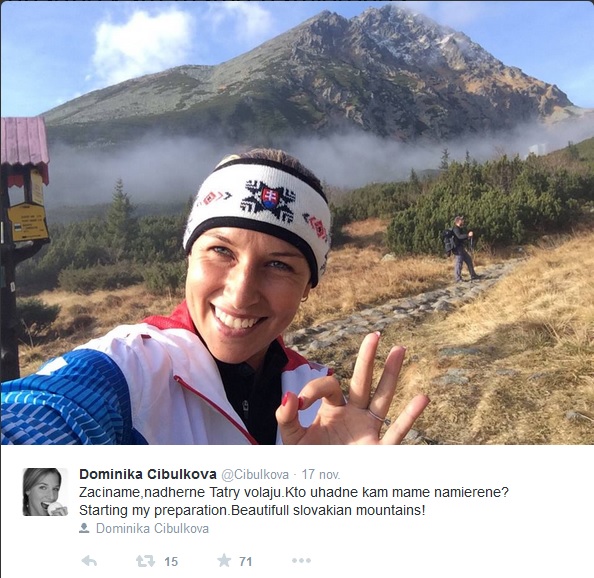 ... Skiing....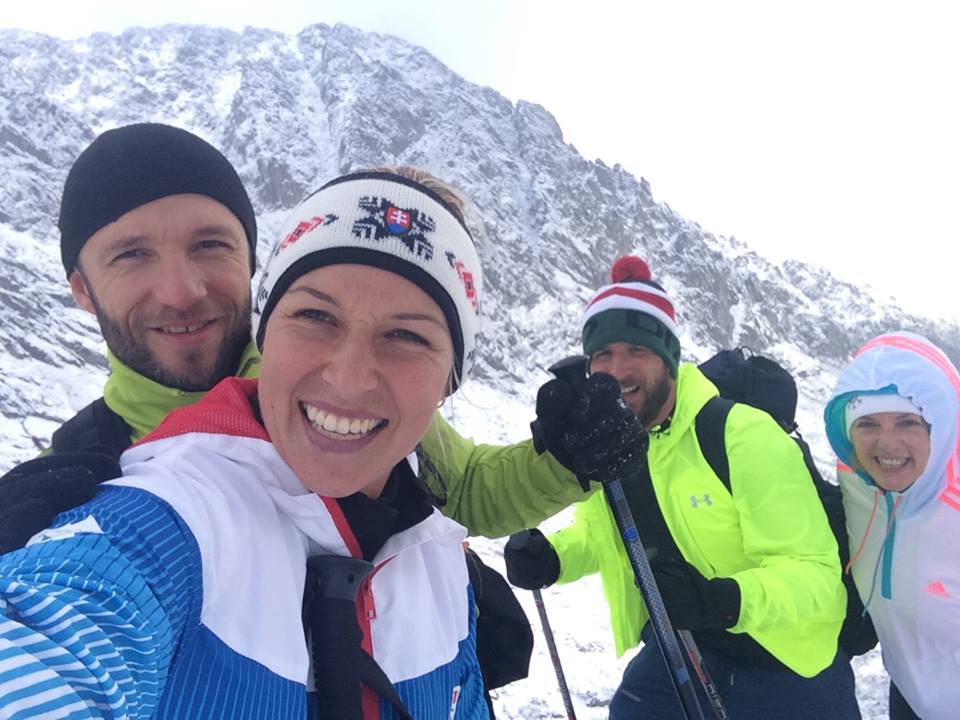 ... And a few selfies.
15 - Sabine Lisicki (NE).
The holidays are already over for some. Sabine Lisicki is one of them. And the German player even bid them farewell on Twitter...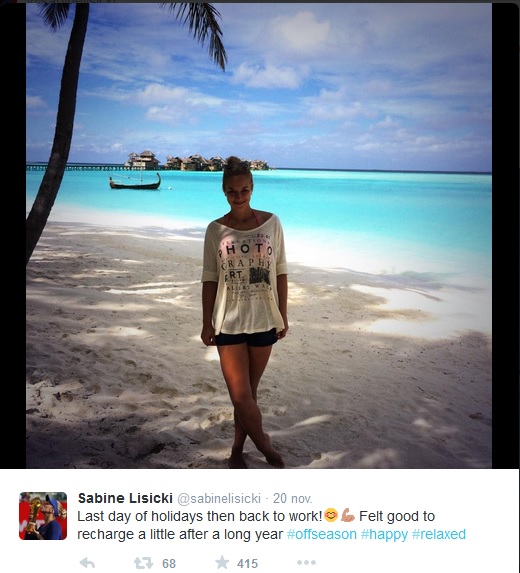 Out:
Richard Gasquet, Ana Ivanovic, Julien Benneteau
By Antoine Mestres