Roger Federer has been attacked by his own father this week. In the process, he pulled out from the ATP World Tour finals. Coincidence or scientific reality? A video to discover by reading the Tennis Journal of the week.
It's been a busy week with the ATP World Tour Finals in London and the preparation for the final of the Davis Cup by BNP Paribas, but once again, Novak Djokovic played his cards right. On the Ladies' side, the players enjoyed their holiday, all in their own way. With an advantage for Victoria Azarenka and Caroline Wozniacki.
1- Novak Djokovic (/).
He's the boss. Novak Djokovic had an incredible week at the ATP World Tour Finals in London. Nine games conceded against Berdych, Cilic and Wawrinka, a small set in semi-final against Nishikori and a victory in final after Roger Federer's dramatic withdrawal. The Serb, who faced Andy Murray in an exhibition match to console those who had paid for their tickets and a fourth Masters victory, the third consecutive. Apart from the trophy, Nole also took advantage from this week to meet the Colombian football star James Rodriguez, who was playing a friendly match with his team against the US in London.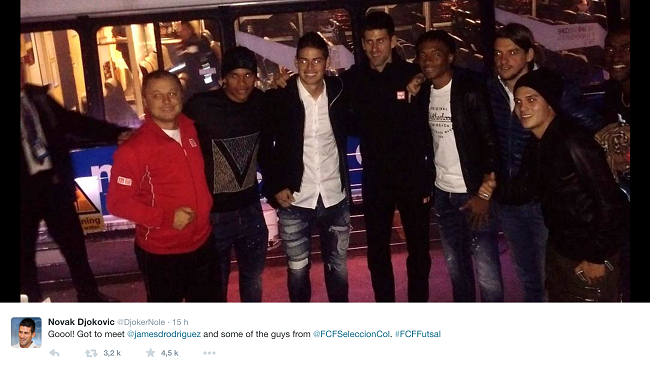 But the brightest star in London this week, it was definitely Djokovic. He was even on the cover of The Times.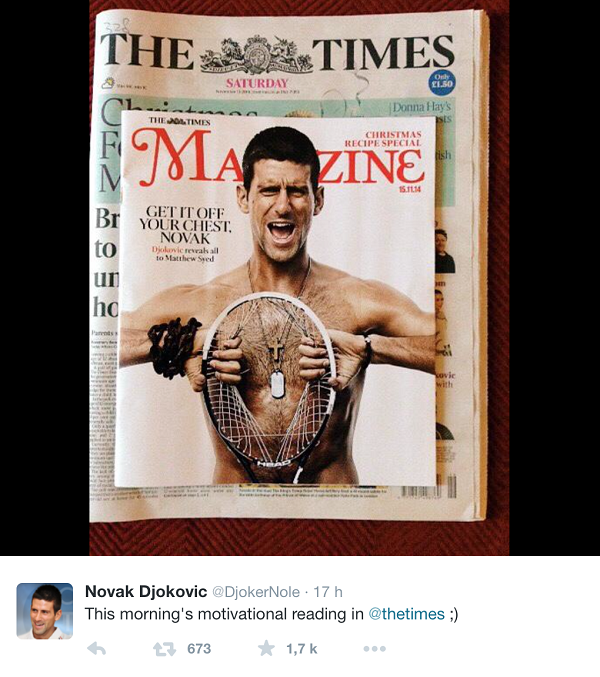 The Serb also took advantage of a haircut to make fun of one of his staff member.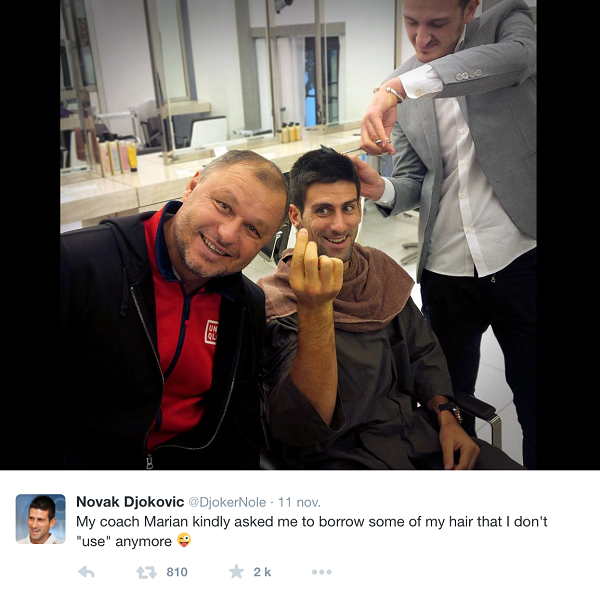 Djokovic then ends the year as World No. 1 for the third time in four years. Legend.
2- Victoria Azarenka (+3).
Victoria Azarenka loves her fans. After offering a concert ticket to one of them, she spent three hours answering questions from her Twitter followers. More than 70 replies, nice!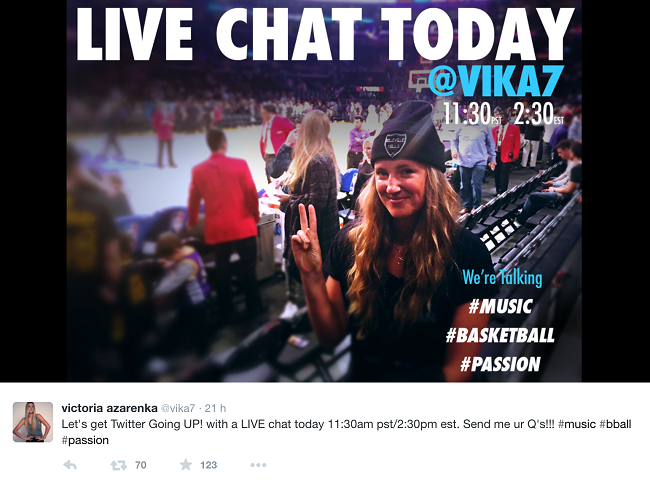 The Belarusian also met Tony Parker and Boris Diaw before a Spurs game in San Antonio.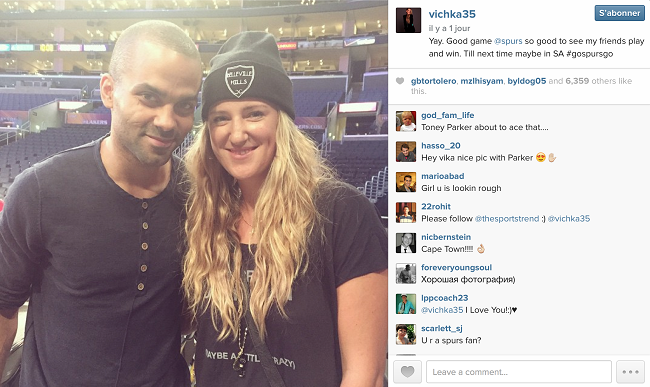 She even played tennis with the two French basketball stars.
3- Caroline Wozniacki (+1).
After the Bahamas, Haiti. The least we can say is that Caroline Wozniacki knows how to enjoy his vacation. With Beyoncé's album in the background.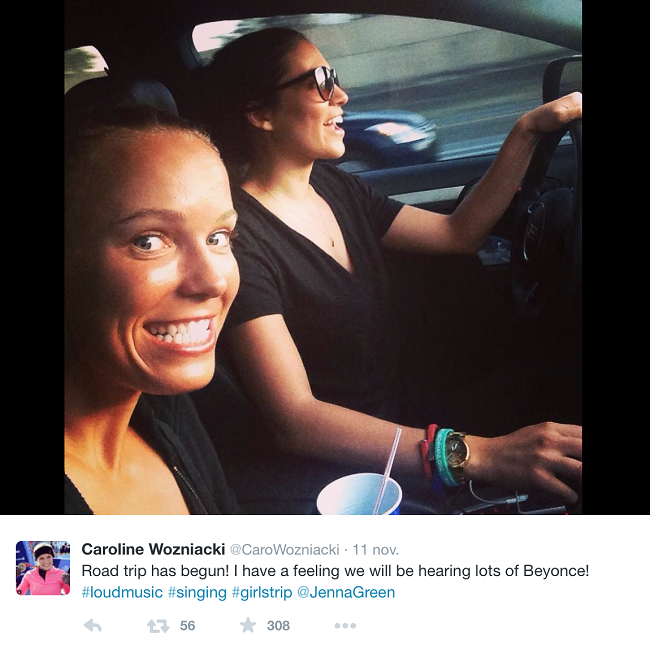 The Dane made several lovely encounters during her trip: dolphins, soldiers...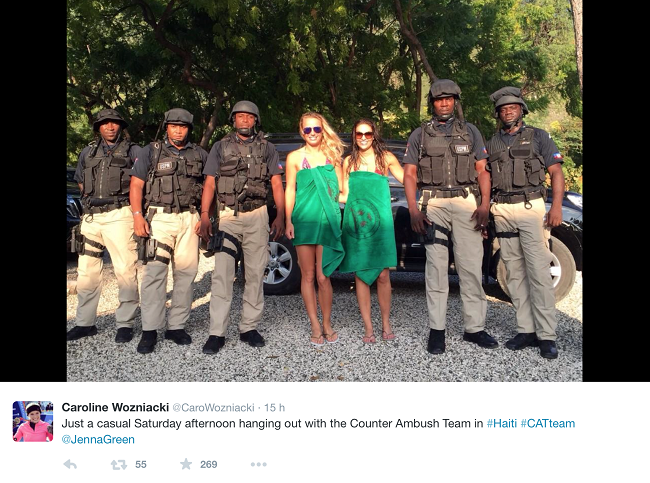 ...But also kids from Haiti.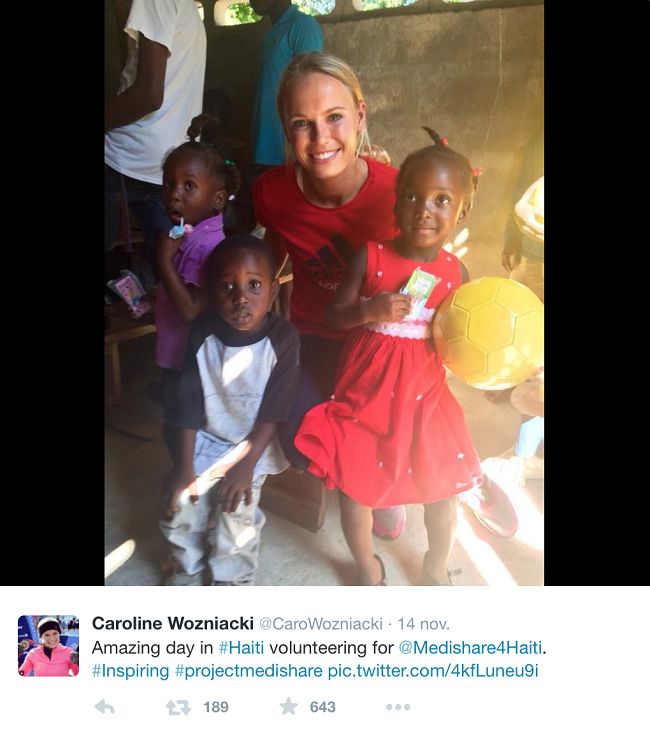 This nice gesture from the Dane allowed her to get on the podium of our ranking.
4- Serena Williams (-1).
But Caroline Wozniacki also made some people sad. Or rather one person sad, her friend Serena Williams.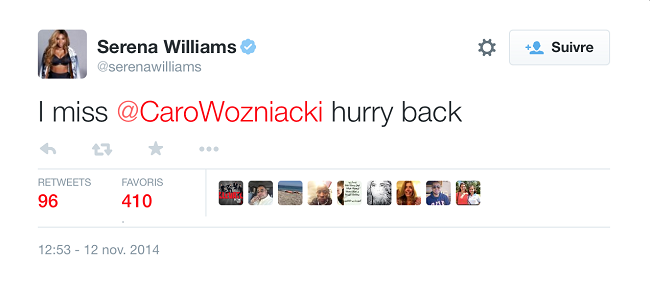 It must be said that the two women shared a good day together last Sunday: a team triathlon in the Bahamas.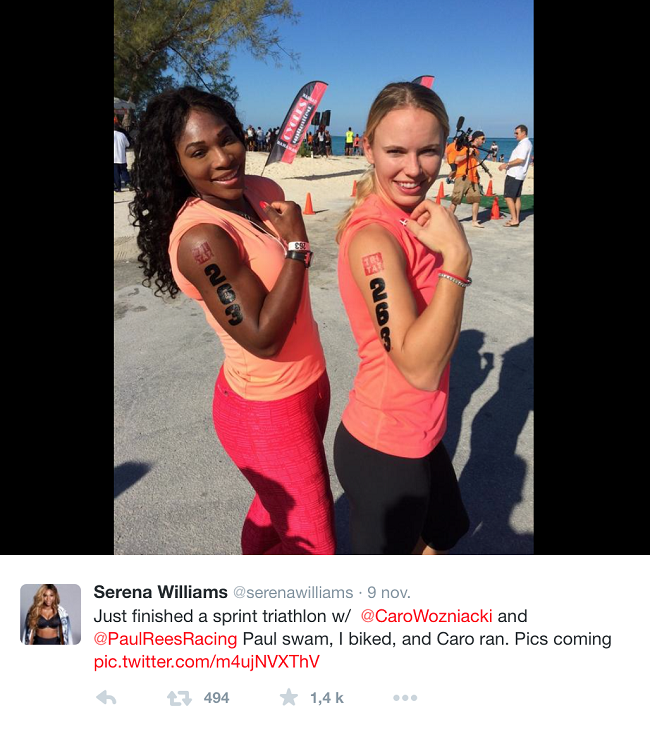 But who does a triathlon on holiday? Seriously, Who?
5- Stan Wawrinka (NE).
Terrible disappointment for Stan Wawrinka defeated in semi-final of the ATP World Tour Finals by Roger Federer after missing four match balls (4-6, 7-5, 7-6). A big hit on the head of the Swiss that was still able to rely on the support of his fans.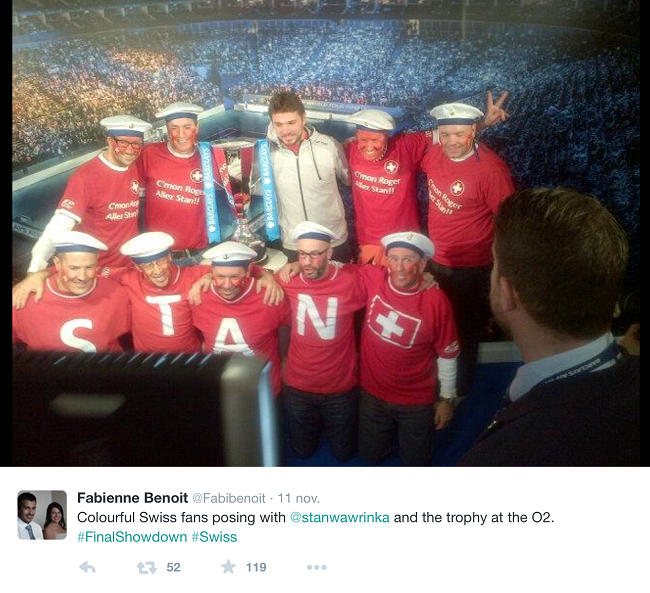 Supporters to whom he expressed his appreciation, as well as his staff, after a particularly successful season.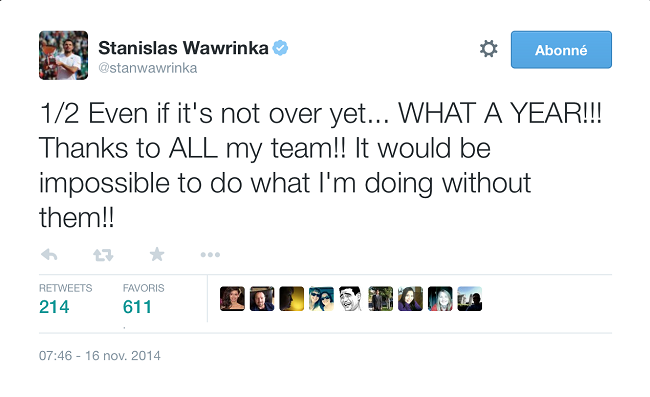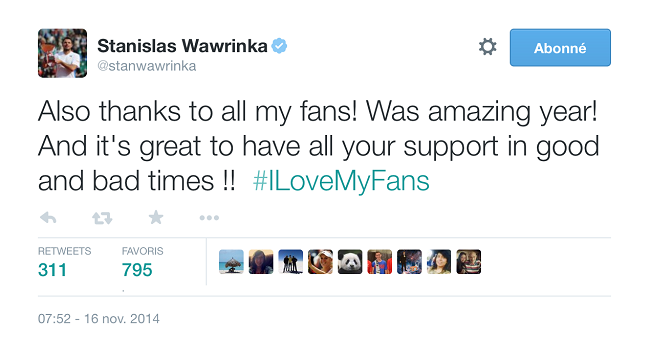 But the season isn't over yet for Wawrinka with the final of the Davis Cup by BNP Paribas against France in Lille. Tired, the Swiss seems to feel like time is going slowly. His salvation: coffee.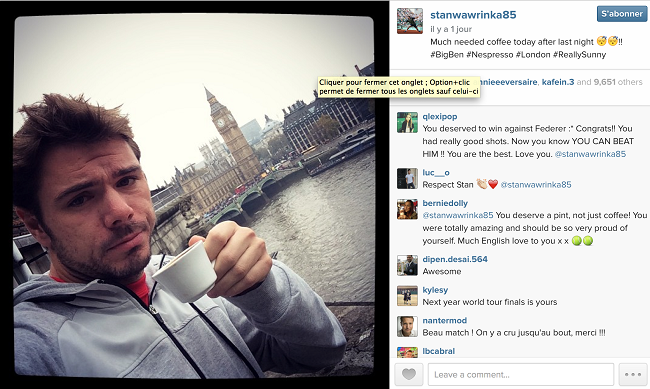 6- Eugenie Bouchard (+4).
For Eugenie Bouchard, holidays are not meant to rest. The Canadian hasn't stopped all week. She first took her fleece jacket to go see a bear in Canada.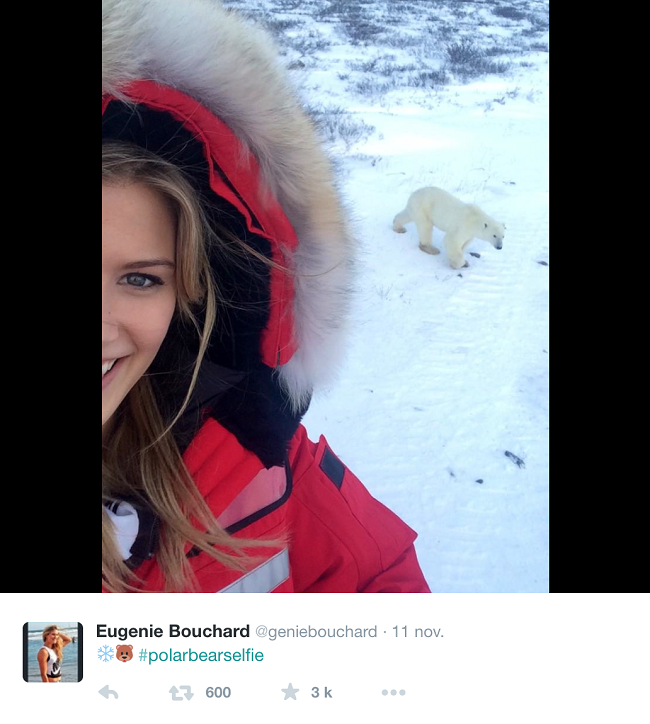 She then attended an NBA game between the Toronto Raptors and Orlando Magic. She took this opportunity to play a few balls with the Raptors mascot. Despite her high heels, she seemed comfortable on the floor. More than her opponent anyway.
And during the match, Bouchard was pleasantly surprised to meet Drake, one of her heroes.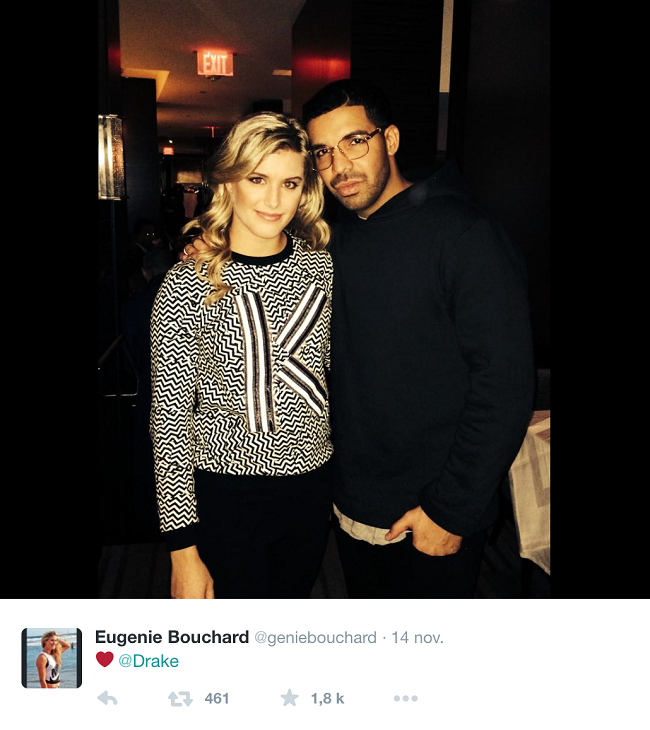 What happened next during Eugenie Bouchard's holiday next week.
7- Petra Kvitova (-5).
Time to look back on her season for Petra Kvitova. After an eventful year ended with a victory in Fed Cup by BNP Paribas, the Czech expressed her gratitude to her staff that accompanied her throughout the year.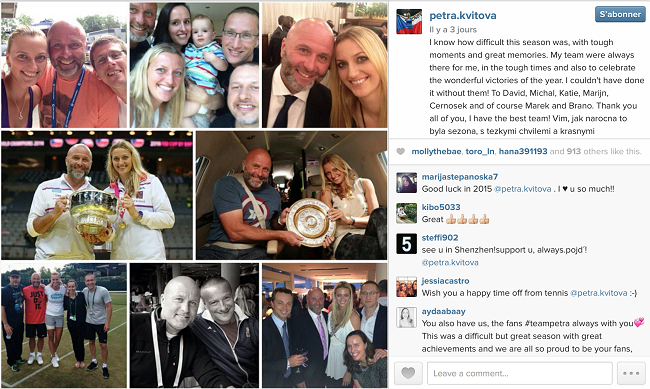 Kvitova can now relax and enjoy a few weeks off with her friends, before going back to training.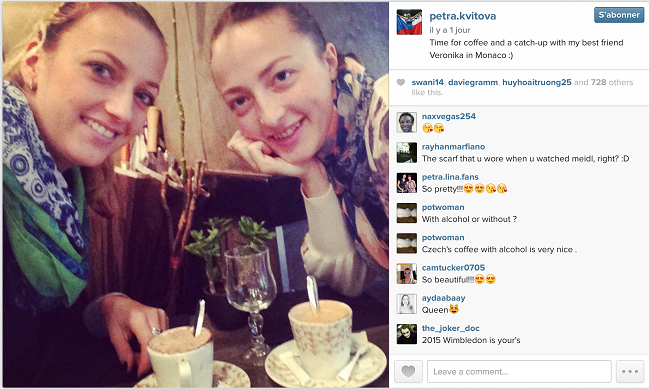 8- Roger Federer (+1).
What is wrong with Roger Federer? After an excellent performance at the ATP World Tour Finals in London, the Swiss had to withdraw from the final against Novak Djokovic. Official reason: some back pain that prevented him from playing. Less than a week away from the finals of the Davis Cup by BNP Paribas, would Roger be preserving himself without daring to say it? It must be said that Federer hasn't been spared in training this week. Executioner of the day: Robert, his father. A dad who hasn't been kind to his son.
You can then be one of the greatest tennis players in history and get your arse kicked by your father.
9- Richard Gasquet (NE).
Richard Gasquet is in great shape. Gone to Lille this weekend with the rest of the France team to prepare for the final of the Davis Cup by BNP Paribas, the French applied for a starting spot both in singles and doubles. His performances in training in Bordeaux this week work in his favour. Thursday, he easily defeated Gael Monfils in two straight sets.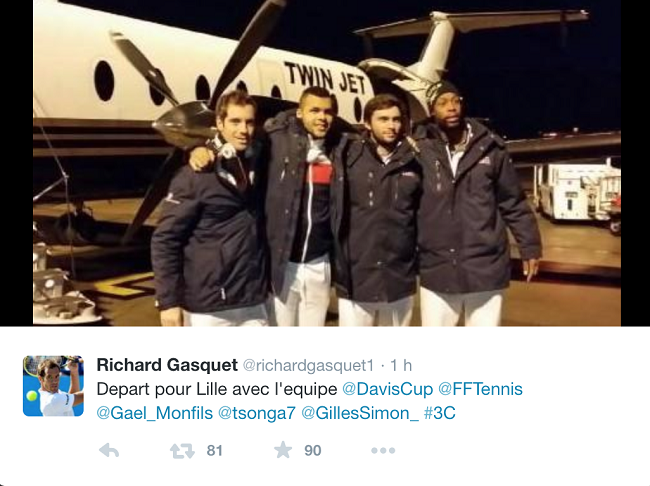 10- Maria Sharapova (-2).
Maria Sharapova is in Japan for a promotional tour. The Russian went on TV several times, to the delight of her Japanese fans.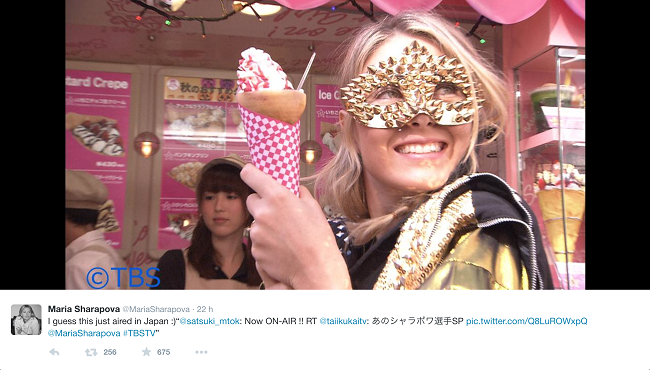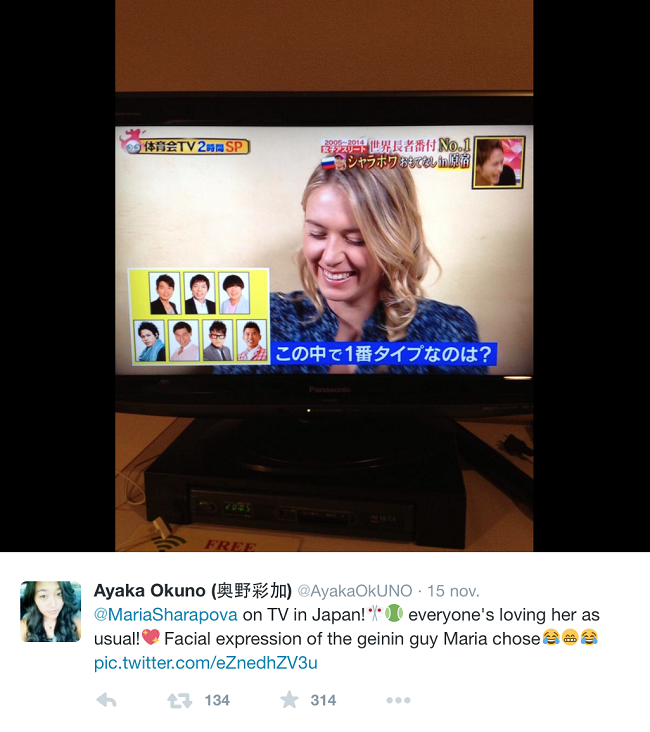 Before leaving for the other side of the globe, Sharapova had lunch with British journalists to discuss the release of her first fragrance.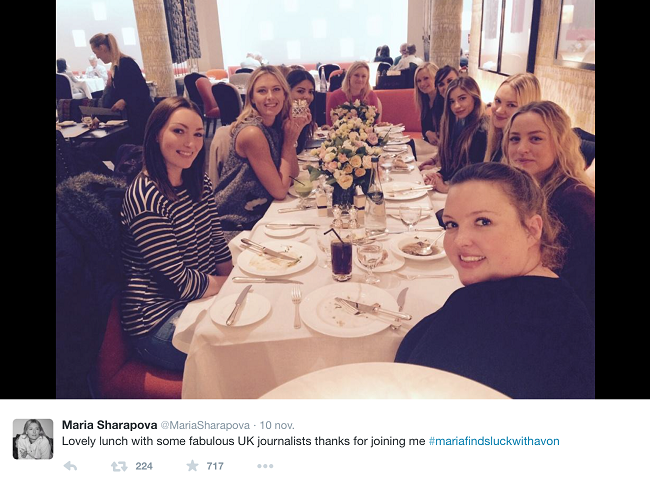 11- Ana Ivanovic (NE).
A week on memory lane for Ana Ivanovic. The Serb, who will fly to Manila, Philippines in ten days, found a picture of her on her little brother's anniversary.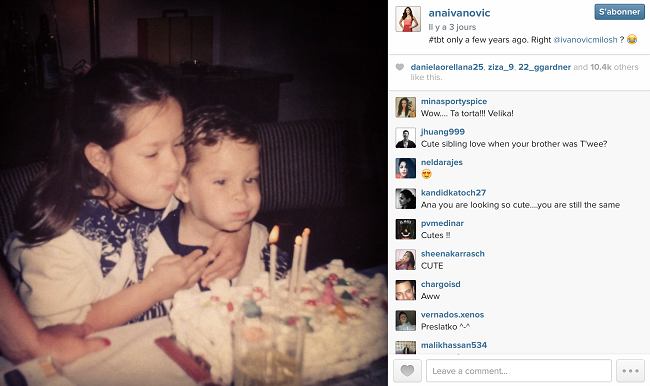 This nostalgia moment allowed Ivanovic to make a comeback in our ranking.
12- Andy Murray (-1).
Bad week for Andy Murray. In front of his public, the Scot failed to pass the first round of the World Tour Finals in London. But above all, he was humiliated by Roger Federer (6-0, 6-1). A bitter pill to swallow.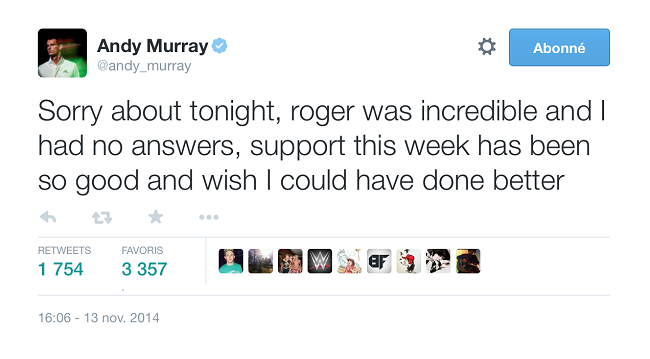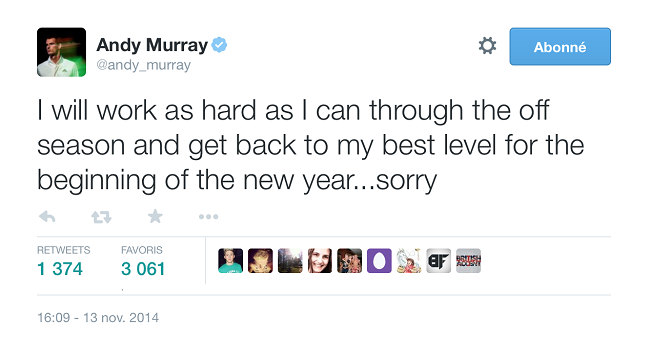 To make matters worse, Murray met Liam Payne, member of the band One Direction.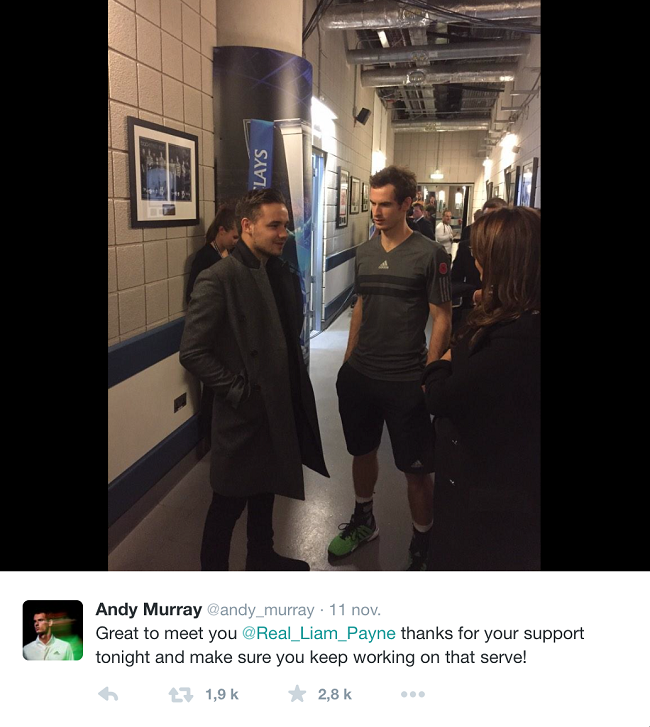 When everything goes wrong...
13- Tomas Berdych (-6).
Despite a victory against Marin Cilic, Tomas Berdych saw his journey at the ATP World Tour Finals end at the group stage. Not enough to make the Czech lose his smile after a season he's so proud of...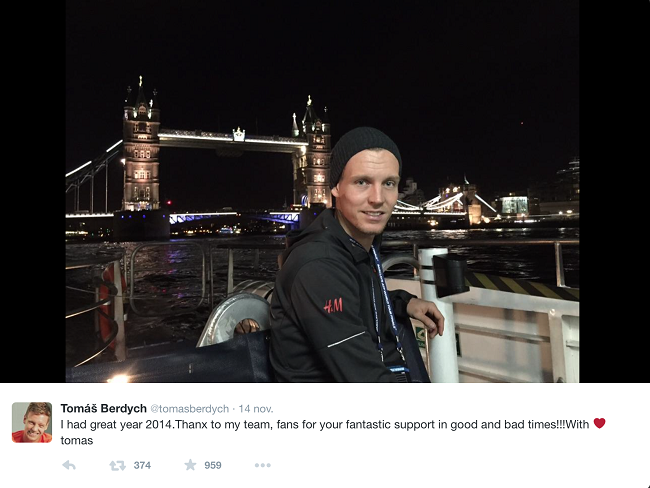 ...All this with a lovely background: Tower Bridge.
14- Julien Benneteau (NE).
Julien Benneteau performed well at the ATP World Tour Finals with his compatriot Edouard Roger-Vasselin, only losing in semi-final against the Bryan brothers, future winners of the doubles tournament. The French also thanked his pal "ERV" with whom he won the French Open this year.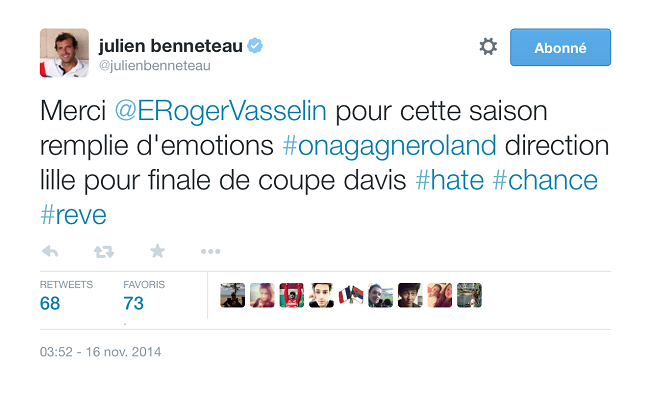 15- Dominika Cibulkova (-3).
Holidays in the Maldives are over for Dominika Cibulkova. After ten days in paradise, the Slovak player had to go home.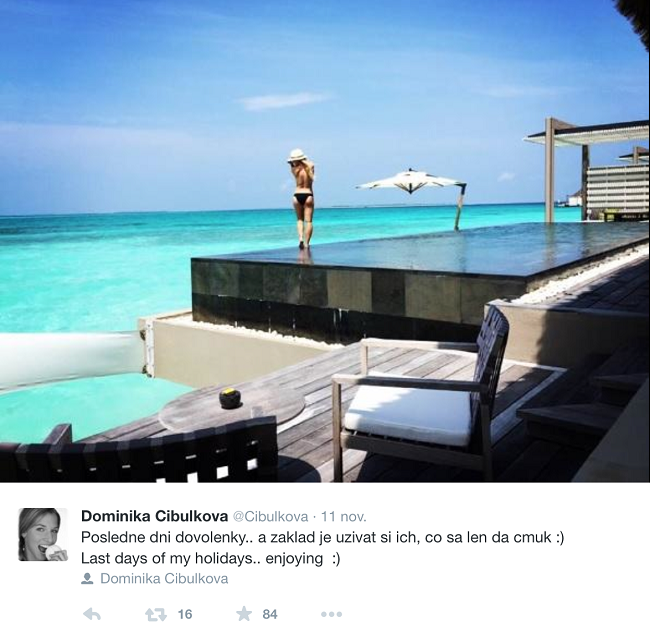 But her fans can rest assured, Cibulkova worked her fitness on the beach.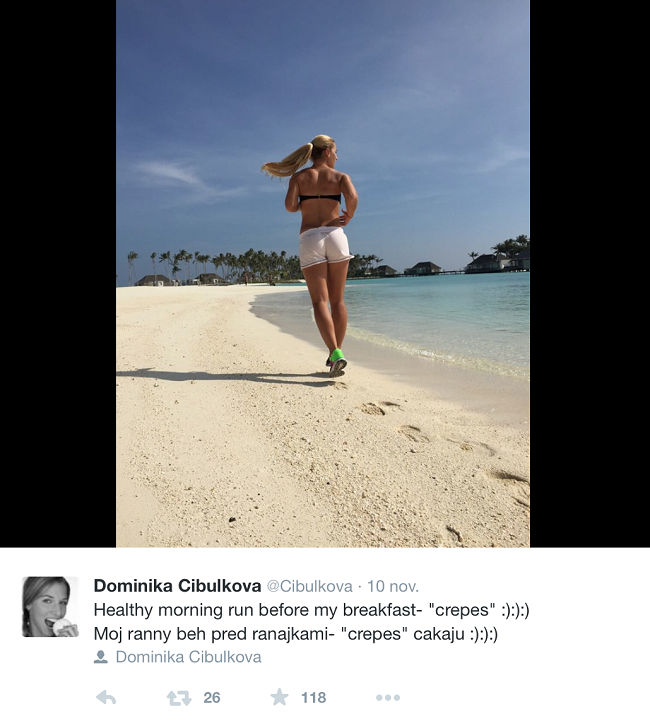 Out:
Barbara Rittner, Andrea Petkovic, Rafael Nadal, Dominic Thiem
By Quentin Moynet