While the BNP Paribas WTA Finals have been played in the best of five sets between 1984 and 1998, the debate comes back on the table: why are the Ladies not playing Grand Slam Finals in five sets? At the MAG, we decided to campaign for the YES.
It's an ever-recurring issue old as... old as tennis, actually, since from 1891 to 1901, the women's finals of the US Open were played in three winning sets. This was also the case more recently, of the BNP Paribas WTA Finals from 1984 to 1998. Regularly, the debate resurfaces: could the girls - or should - play Grand Slam finals in the royal format of tennis, or best of five sets? We decided to campaign alongside supporters of this trend, and not the least: Billie Jean King, Martina Navratilova, Andy Murray and even in the background of the war of the sexes, Pat Cash and Gilles Simon.
1/ The longer the better
A Grand Slam final is supposed to be the grand finale of this firework that is a major tournament. Yet, too often, said headline act turns out to be nothing more than a damp squib, the incomparable challenge weakening the legs of one of the protagonists, ending up in a short and predictable match. This was the case of three major finals out of four in 2014, the prize going to the match Petra Kvitova vs. Eugenie Bouchard at Wimbledon, done and dusted in 53 minutes (6-3 6-0). Frustration of the loser, frustration of the public... Strange showcase for women's tennis at a time where it should show itself in all its finery. In addition, to extend by force of circumstances the duration of the final, a shift to a three winning sets format would provide an opportunity especially to the player paralyzed by the event to break away from the pressure and finally get into her match... Which isn't possible on a short format. "A novice player usually need an entire set to grasp a Grand Slam final," says Billie Jean King. "Since the game is played in two winning sets when she finally enters her match, she is already up against the wall... and a panic immediately follows another, that of disaster taking shape. With the assurance of a third set, I think a lot of players could relax and offer a much better performance." The outcome of the final wouldn't necessarily be different, but the show, potentially, could.
2/ Yes, she can!
If there's been for a long time a difference in terms of physical preparation between men and women, the female tennis champions have been for a while athletes in their own right… "So why considering that we wouldn't be able to play matches in five sets?" says Martina Navratilova. «The executives of the ITF used to say that it would be too hard for us, women. Then the examples of the WTA Finals in the 80s and 90s proved that we were perfectly able to play in five sets, as long as we don't have to make these kinds of efforts everyday. We saw wonderful finals in five sets in the WTA finals with Steffi Graf, Monica Seles, Martina Hingis…" But today, more than men or executive committees, the reluctance to such a change seems to be mostly coming from… Champions themselves. Not the ones who retired a while ago. No, the current champions. According to a phenomena which is classically human, Serena Williams, Maria Sharapova or Petra Kvitova have no desire whatsoever to see any change in a situation that suit them so well. And since it's those precise champions who are the main protagonists of those Grand Slam finals…
3/ "There's nothing like winning in five sets"
Paradox of women tennis: the Grand Slam tournaments aren't the hardest tournaments to win. This title would probably go to the Premier Tournament (equivalent of the Masters 1000 for men), where all the best players are also present, but where the last four matches can potentially be played in four days, from the Thursday to the Sunday. An infernal pace then… Against a senators' pace in Grand Slam tournaments, where the players can enjoy a 24-hour break between each match. A final in three winning sets would correct this real anomaly, giving to Grand Slam tournaments an exclusive difficulty that would make them truly exceptional. Rare fan of Women tennis amongst professional tennis players, Andy Murray agrees with that: « I think that women should play in the best of five sets, maybe not in the first rounds but at least in the most important matches. They are able to do it. They would just need a specific preparation, like a 400 metres runner who would switch to the 800 metres. A grand Slam has to be special. I think that Women too should have the chance to see how different it is from everything else, how winning in five sets make a victory in Grand Slam unique. » Before continuing: « And I think that it would be the best way to answer the guys who say that it's unfair that women earn as much as us ».
4/ It would shut up the machos
Since the middle of the 2000s, the four Grand Slam tournaments, as well as some Premier Tournament, have progressively established a rule of parity in their prize money for men and women. A situation that ruffle feathers in the ATP, amongst legends from the past and current players. And the argument that keeps coming back is actually the fact that the physical effort is lower: «they often talk about equality in prize money. I don't think that it is something that works in sport » said Gilles Simon two years ago; making waves while he just entered the ATP players council. « Men spend twice as much time on the courts than women. That parity for « prize money » doesn't make any sense to me. » A point of view shared with glorious elders, such as Pat Cash: « As long as women don't play the final in the best of five sets, it's impossible to justify the fact that the female winner of a Grand Slam earn as much as her male counterpart. It's just impossible. This controversy will last as long as they don't play in five sets. They are supposed to be as athletic as the men. Why should they be rewarded for being less fit and play less? Personally, I would love to see a women's final in five sets! It would be a real test. » So ladies, challenge accepted? Just to force Pat Cash (and others…) to show that he's not a sore loser and why not gag him with his famous bandana?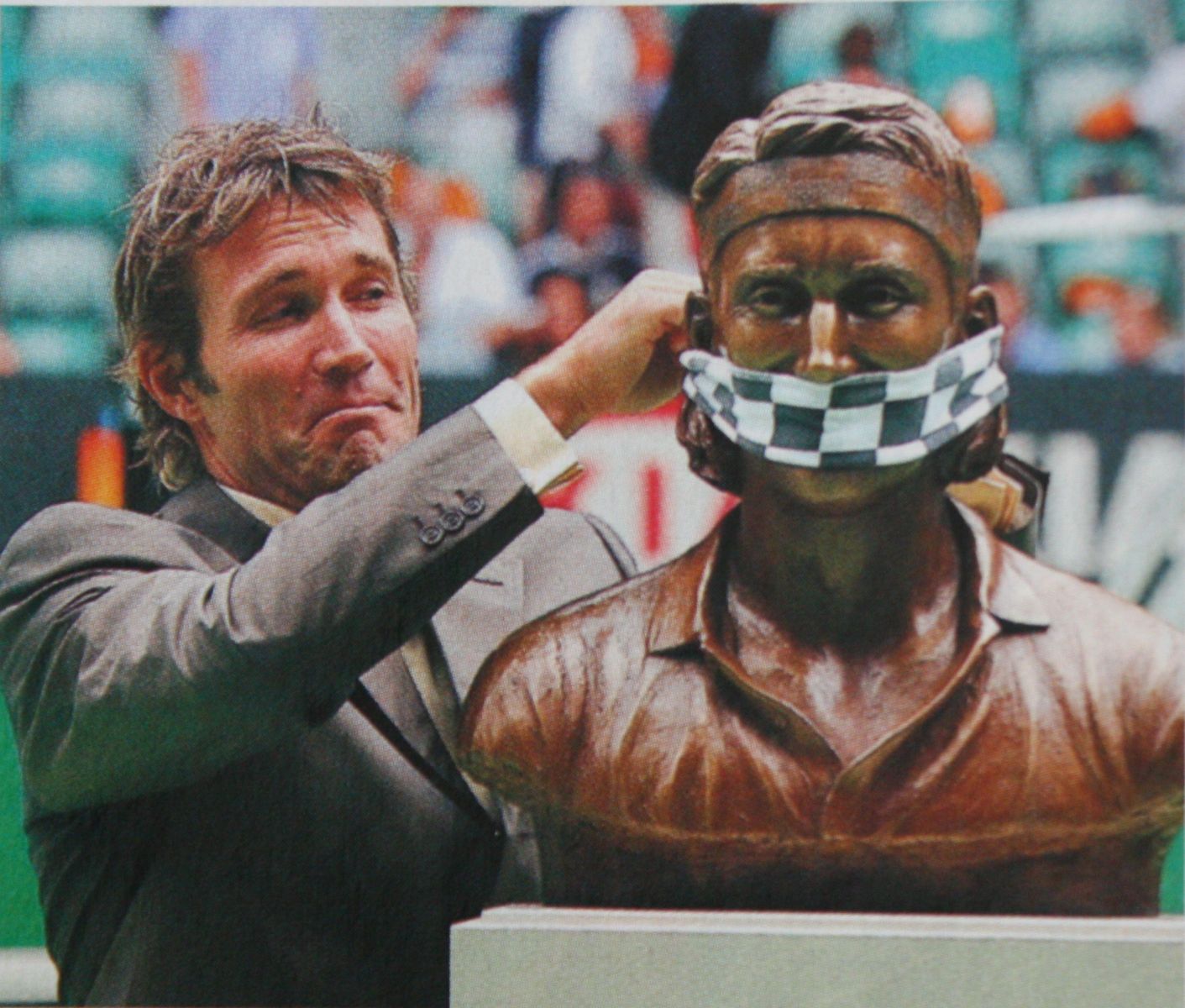 By Guillaume Willecoq