After this first week at the US Open, who's the No. 1 of the WAT ranking? Federer who hung out with Michael Jordan, Serena who discussed drugs and maternity or Sharapova who made a splendid lob? The answer is just a click away...
While Roger Federer was meeting his boyhood hero Michael Jordan, the rest of the tour was on the courts of Flushing Meadows for the first week of the US Open. Where there were of course some surprises, tensions, joys, failures but also ice creams, tattoos and... hair.
1- Roger Federer (/).
A good week for King Roger. The Swiss didn't had too much trouble to pass the first round of the US Open against Marinko Matosevic, dismissed in three sets (6-3 6-4 7-6). He met in stride one of his boyhood heroes - Michael Jordan - for a Nike publicity campaign...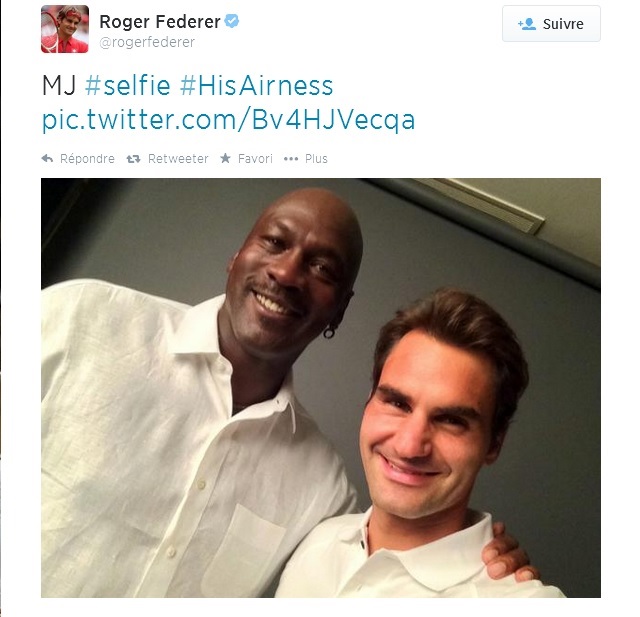 ... He also announced the launch of his brand new Instagram account.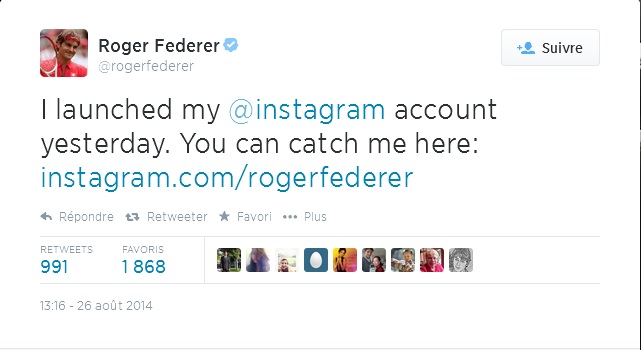 Finally, he decided to give a few life lessons of fatherhood to Novak Djokovic in a press conference: « We can go into this like endless talk of how I did it, which worked and which didn't work. I have spoken to him a little bit in the past. It's normal I think when you're entering the whole family thing that many people you talk to, all you talk about is babies and how to prepare for it mentally. I think it's a very exciting time. So I think he must be quite excited about what's going to happen soon. And with the wedding and everything, I'm sure he's, you know, going through a great spell at the moment with winning Wimbledon, top of it, so things are great for him. But I think he's got to figure it out himself. Honestly I wish him the best.» When Roger speaks, you listen.
2 - Serena Williams (/).
As easy as Federer for Serena Williams in these first rounds. The victims? Taylor Townsend and Timea Bacsinszky, both quickly sent packing. She then took the time to unravel the mystery surrounding her odd Wimbledon, where she was eliminated in the third round and fainted. «I have nothing to hide, she said. No, I didn't take anything. If you want to ask me if I took drugs, I didn't take drugs. I'm not on drugs. I've heard it all. I'm not pregnant; I wasn't pregnant. Although I think a baby would be great, but there's a time and place for everything. But no, I don't do drugs. Never did 'em. I'm scared of 'em. I'm not on that stuff.» Got it?
3 - Maria Sharapova (+2).
Recently elected as « the sexiest female player of the US Open » by Victoria Milan, a dating site for married people seeking affairs, Maria Sharapova - not especially disturbed by the news - won in the second round against the Romanian Alexandra Dulgheru thanks to a quality lob.
But since the Russian isn't a very conventional woman, she had previously given ideas to the board of the WTA to prevent players from breaking the rhythm of a match by using too many medical interventions, "I would make them pay for it. I think it would show who really needs it and who doesn't. If we were to make them pay $ 2,500 or something for an intervention, it would be fun, I think."
4 - Novak Djokovic (-1).
Novak's week? Two first rounds quickly expedited, a commercial for Adidas that he directed himself…
…And some love from John McEnroe in case of a Federer-Djokovic final: «I would give a slight, slight favourite to Djokovic based on it being best-of-five. He's younger and he can go the distance perhaps a little bit more easily than Roger at this stage. A little bit. ». A week like any other in the wonderful world of Novak Djokovic.
5 - Andy Murray (+2).
In 2013, a Briton, very confidently, took a bet: Andy Murray would never win Wimbledon. If it ever happened, then he would have to get the face of the Scot tattooed on his bottom. A few months later, Andy Murray won and the man complied. Recently, he presented the masterpiece to Murray's mother on a TV show...
Therefore, the difficulties encountered by the ninth best player in the world during his first round against Robin Hasse seemed very anecdotal.
6 - Rafael Nadal (-2).
Forfeit at Flushing Meadows because of a right wrist injury, Rafael Nadal is killing time as he can to forget the fact that he won't be able to defend his title. He's here with the Spanish singer David Bisbal.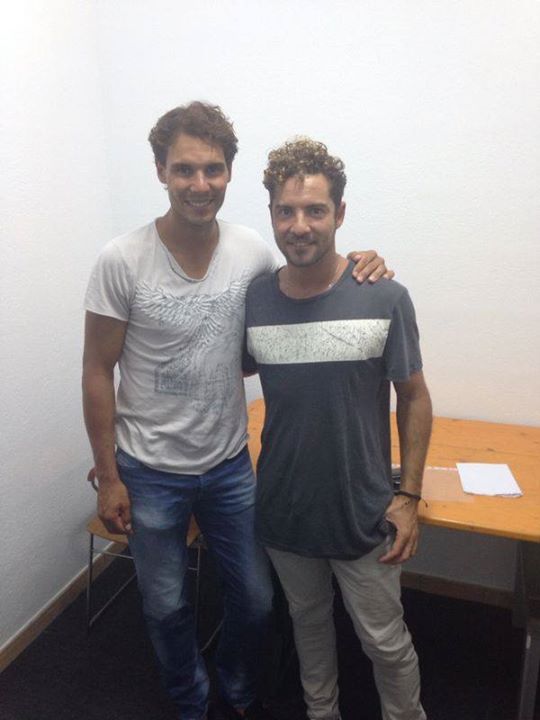 7 - Jo-Wilfried Tsonga (-1).
The man of the summer is still going strong in New York: one little set lost in two games and a confidence that's building. Jo-Wilfried even had the chance to have his portrait featured in the New York Times. Now, that's classy...
8 - Eugenie Bouchard (+3).
Three tiny games lost to Olga Govortsova in the first round, a victory on the biggest tennis court in the world in the second and the cover of the New York Times, Eugenie Bouchard started a fortnight very well.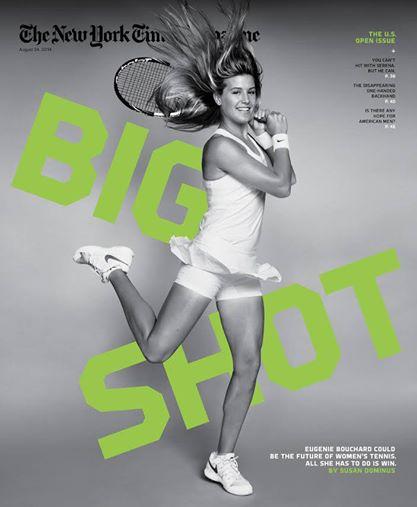 So well that she showed off her new pair of shoes to the world.
9 - Caroline Wozniacki (+3).
If she qualified quite easily for the third round, Caroline Wozniacki had an odd first week. Her driver got lost in Manhattan before her second-round match and when finally arrived, she jammed her hair in her racquet at the middle of a point.
10 - Catherine Bellis (NE).
At 16, the American Catherine Bellis has become the youngest female player to win a match at the US Open since Anna Kournikova in 1996. In New York thanks to a wild card, she defeated the seed number 12 Dominika Cibulkova in straight sets before receiving the praises of the tennis world. Including those of Kim Clijsters.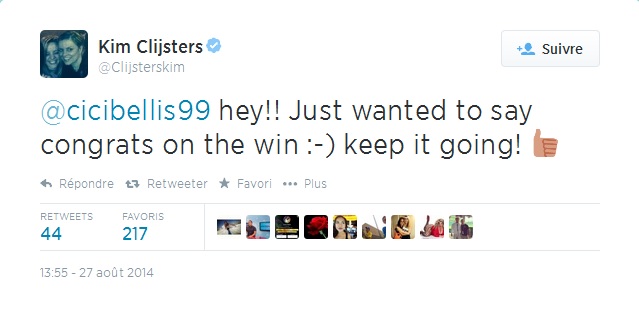 But the fairy-tale was short lived, as Bellis was unable to claim the $60,420 prize money guaranteed for reaching the second round which would have contravened her amateur status: « I think I'm definitely going to stay an amateur right now to keep my options open for college, in case an injury or something happens. But I'd love to be a pro one day!»
11 - Matthias Bachinger (NE).
He had only played Challengers since July 2013. Ranked 235th in the world, he seemed far, very far away from Grand Slam tournaments. Then came a chance, and Matthias Bachinger seized it. Playing against Radek Stepanek in the first round, the German, winner in straight sets, set the first bomb of the tournament. Sadly, the step was too high in the second round against Murray.
12 - Fabio Fognini (NE).
Qualified for the second round, the Italian, incidentally one of the more ill tempered player of the tour, plainly denounced the inequality of treatment during Grand Slam tournaments with a discrete retweet of Thomas Johansson.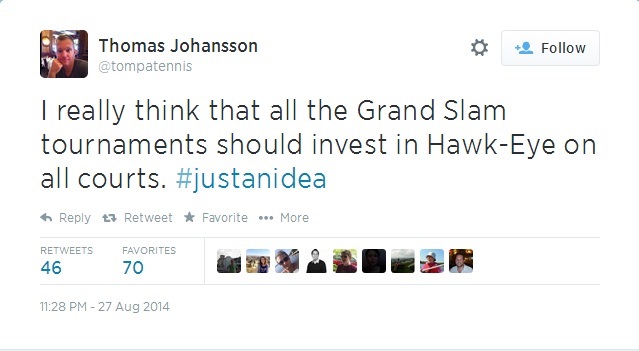 13 - Stanislas Wawrinka (-3).
After a difficult second round won in four sets against Thomaz Bellucci, Stanislas Wawrinka proved to be quite the perfectionist: "I'm harder on myself this year. Sometimes even too hard, because my average level is higher than it used to be. I seek perfection, and sometimes it makes me too negative. But I also know that I rarely play well in the early rounds." That didn't prevent him from smiling on pictures as on this end of match selfie taken with a bald guy.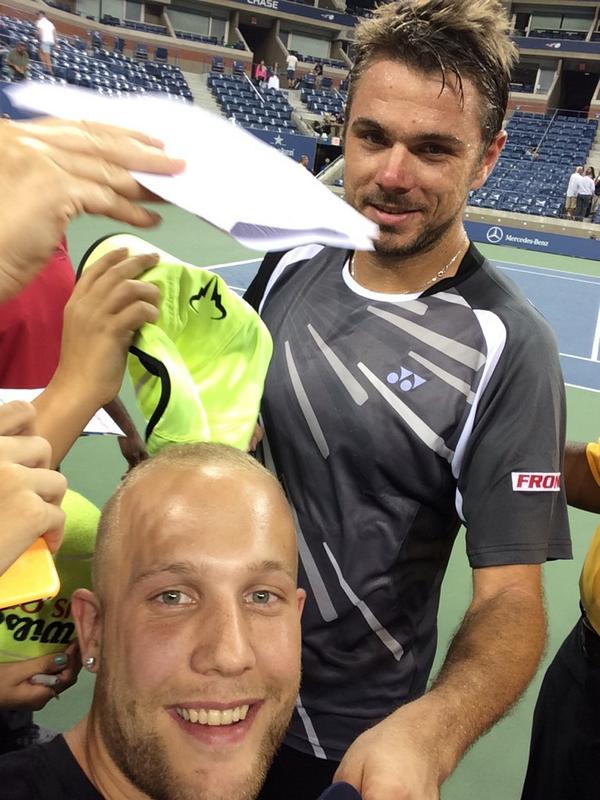 14 - Ana Ivanovic (-1).
Eliminated in the second round, Ana Ivanovic showed her current appetite on Instagram...
... And served some ice creams for a TV show in a very relative anonymity.
15 - Agnieszka Radwanzka (-7).
Agnieszka Radwanzka is still allergic to New York. First top 10 in the ladies table to fall, the Pole lost against the Chinese Peng Shuai, World 39th, in the second round of a competition of which she has never seen the quarterfinals... A crash that still left some room to a touch of humour: "It's always hard for me here, so it shouldn't even be a surprise. (...) I still have a few years to try. Yet I felt really good coming here... The good thing is that every time I come back I don't have to defend a lot of points."
Out:
Sabine Lisicki, John Isner, Jelena Jankovic
By Antoine Mestres