For the last before the summer holiday, it's Djokovic the grass eater who takes back the lead of the WAT ranking. But he is followed closely by all those who participated, one way or another, to a major sports event. And they are many on the tour.
For the last one before the summer holiday, it's a revolution in the WAT ranking. The leading trio is thrown out of the podium in favour of Roger Federer, Novak Djokovic and Eugenie Bouchard. We also witnessed the fantastic comeback of Petra Kvitova after a week marked, for all the players, by Wimbledon and... The FIFA World Cup.
1 - Novak Djokovic (+6).
7th Grand Slam title for Novak Djokovic, the second at Wimbledon. Pushed to his limits against Cilic and Dimitrov, the Serb overcame Roger Federer in a completely crazy final (6-7 / 6-4 / 7-6 / 5-7 / 6-4). So crazy indeed that Nole celebrated his victory by eating the grass of the Central court.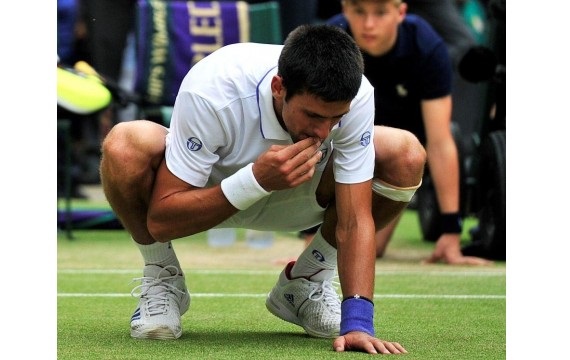 With this 7th title, Djoko gets on level with a certain John McEnroe. Not bad. It must be said that Djokovic received an important support this week: that of his family including his brother Marko, very caring for Nole.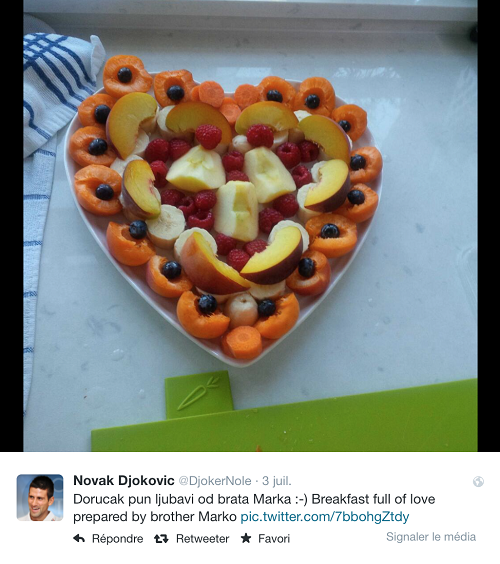 2 - Roger Federer (+3).
Almost a perfect week for Roger. Excellent against Wawrinka and Raonic, Federer finished by giving in against Novak Djokovic in the finale. Therefore, no 18th Grand Slam title for the Swiss who still went through a very tough moment during his great week: the elimination of Switzerland in the last sixteen of the World Cup against Argentina.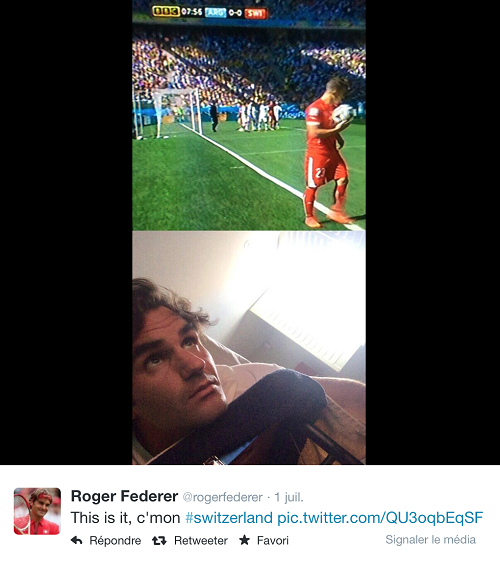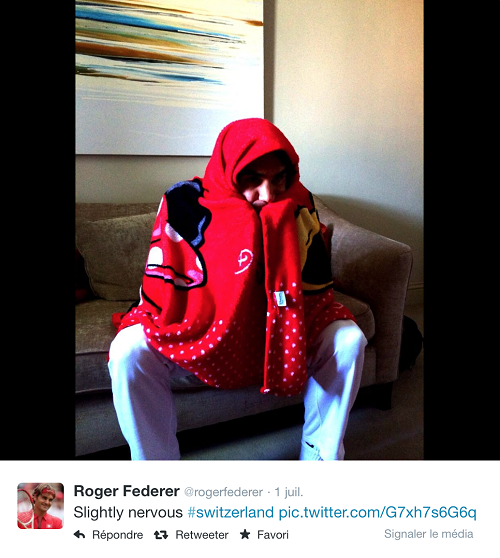 Moreover, Roger has also discussed with Juan Martin Del Potro on Twitter during the game.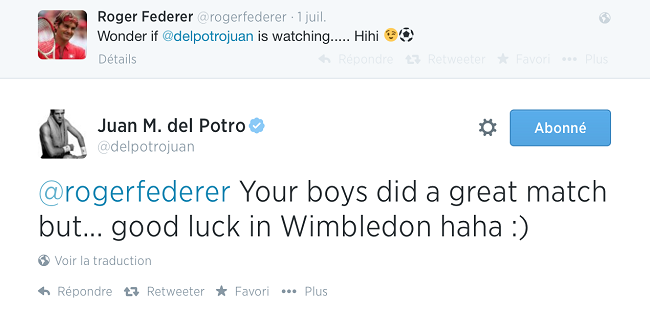 He even gave tips to a future dad, his opponent for the final, Novak Djokovic. "He just asked me how life was on the road, how it is to be a dad. I think it's what like every soon-to-be dad goes through. You want to get some information, something you can wrap your mind around. I think he's super excited. He's very happy. I'm very happy for them. So he's going through that period, which is so cool. I think it's some of the best moments now leading into it, and then right after where I am now."
3 - Eugenie Bouchard (+7).
Eugenie Bouchard will have to wait to lift her first Grand Slam's trophy. But she's getting close very fast. Semi-finalist at the Australian Open and Roland Garros, the young Canadian went to the final at Wimbledon, to the delight of her number one supporter, Jim Parsons.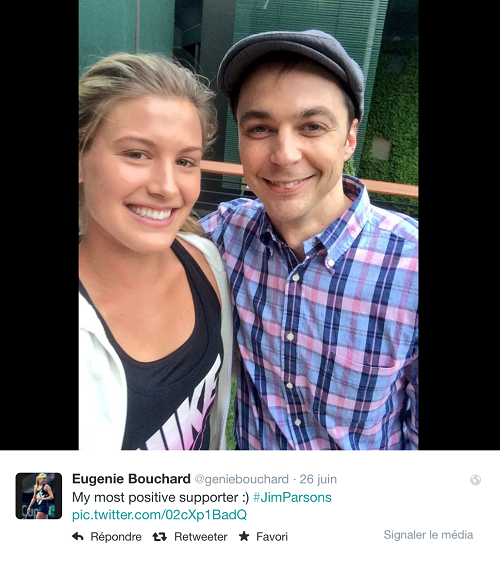 Too soft against Petra Kvitova, she nevertheless continues her incredible progression. She is now 7th in the World. No doubt, the rising star of women's tennis, it's her. A status that allows her some fantasies as to arrive at a press conference wearing a kimono.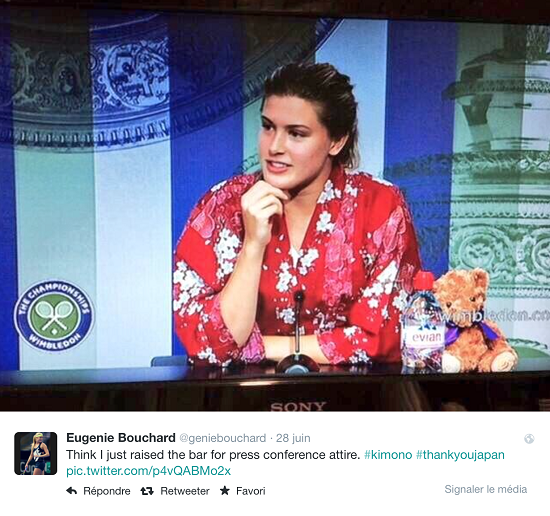 4 - Grigor Dimitrov (+6).
Would Baby Federer actually becoming an adult? In any case, since he started training with Roger Rasheed, the Bulgarian player has changed physically. After his quarterfinal at the Australian Open, he confirmed at Wimbledon with a beautiful semi-final, his first in a Grand Slam. Better still, he gave a hard time to Novak Djokovic before losing in four tight sets. (6-4/3-6/7-6/7-6).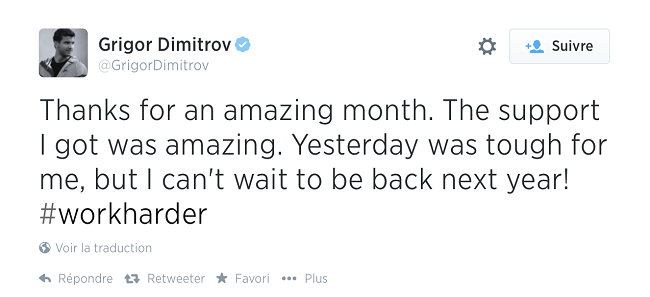 Before going back home, Dimitrov signed the wall of a famous Russian restaurant in London.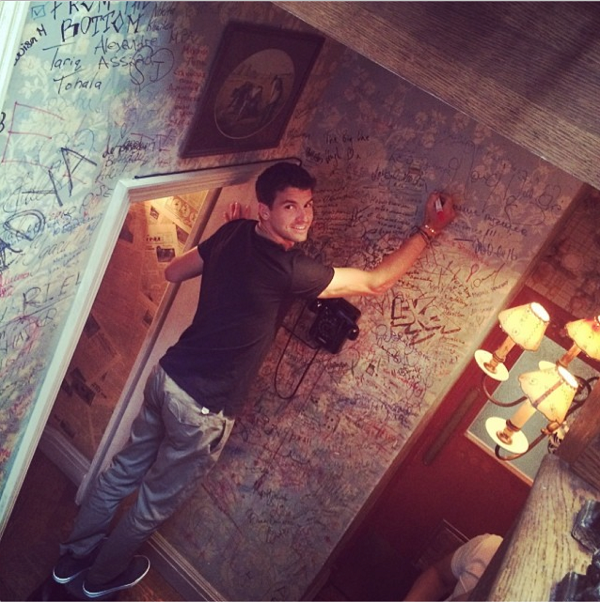 5 - Petra Kvitova (+14).
And another one! Petra Kvitova won the second Grand Slam of her career after the one won in 2011... at Wimbledon. Successful on the London grass, the Czech achieved an exceptional second week, not conceding a single set from the last 16. In the final, she knocked down Eugenie Bouchard (6-3/6-0). Kvitova can thank her staff, very present throughout the fortnight.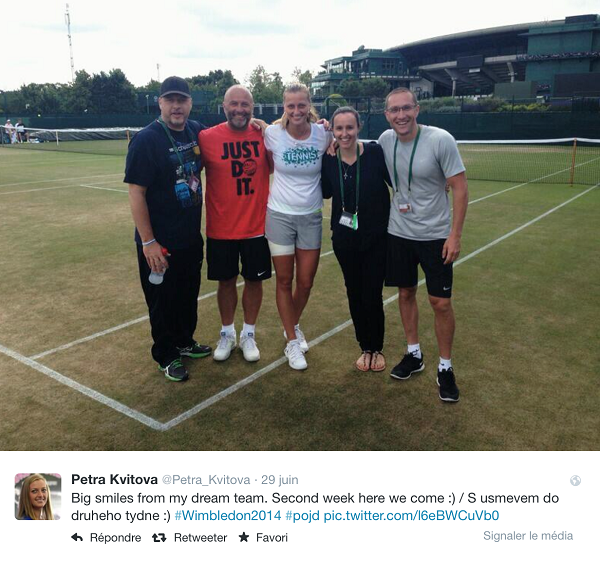 Present, but also creative. On rainy days, training session in a garden!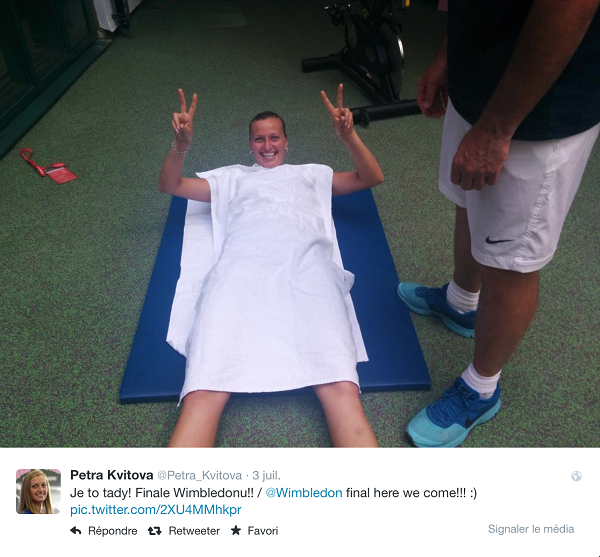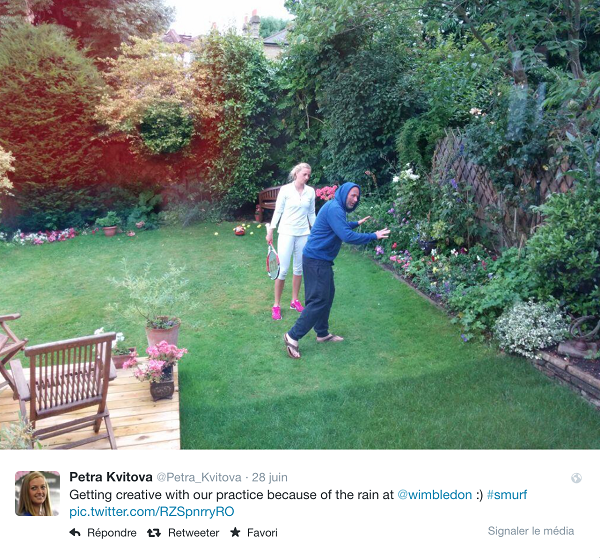 6 - Rafael Nadal (-5).
Obviously, the grass doesn't suit Rafael Nadal. Since his final in 2011, the Spaniard has been suffering at Wimbledon. Defeated by Nick Kyrgios in the last sixteen (7-6 / 5-7 / 7-6 / 6-3), Rafa kept a smile: "I'm not even upset today because I lost after losing my service only once. Now for me, it's time to go to the beach in Mallorca."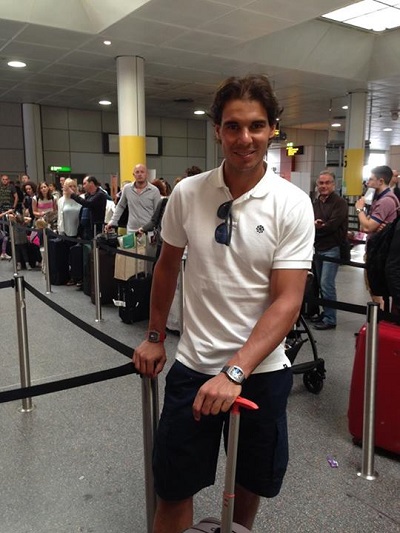 7 - Kristina Mladenovic (+5).
The doubles suits her so well. Eliminated from the first round in singles, Kristina Mladenovic went up to the ladies' doubles final with Timea Babos and up to the semi-finals of the mixed doubles with Daniel Nestor! Definitely a great week for the Mladenovics since Kristina's brother, Luka, graduated with honours.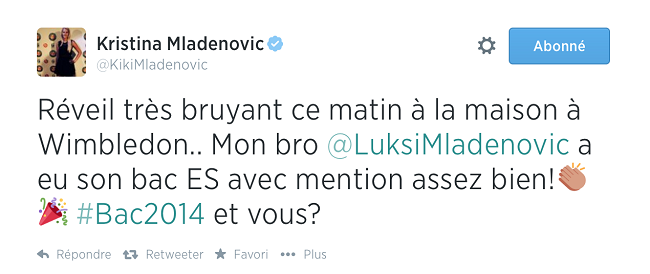 The French also had a thought for the player Vicky Duval, who has been diagnosed with cancer.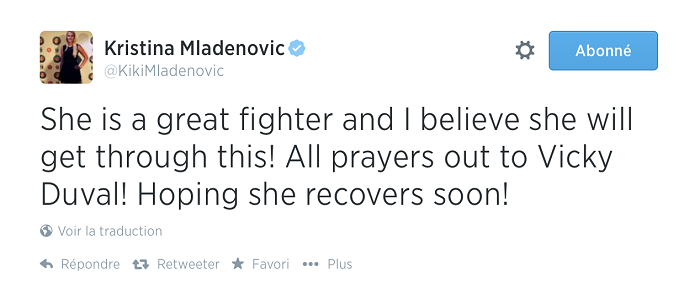 8 - Nicholas Kyrgios (NE).
The revelation of the fortnight. After beating Richard Gasquet by saving nine match points, Nicholas Kyrgios managed the feat of eliminating Rafael Nadal (7-6 / 5-7 / 7-6 / 6-3). During this match, the Australian of Greek decent even succeeded one of the most beautiful shots of the week.
Finally eliminated in the quarterfinals, the 19 years old was still struggling to get over his performance.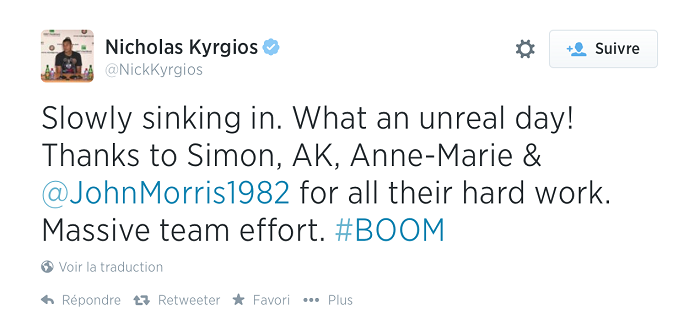 One thing is for sure, you will hear about him and his devastating forehand again very soon...
9 - Maria Sharapova (-5).
No double Roland Garros-Wimbledon for the beautiful Maria. Indeed, Sharapova was eliminated by Angelique Kerber in the last sixteen (7-6 / 4-6 / 6-4). Despite the disappointment, the Russian remained in London to watch the matches of her boyfriend Dimitrov. And to hang out with the actress Chelsea Handler.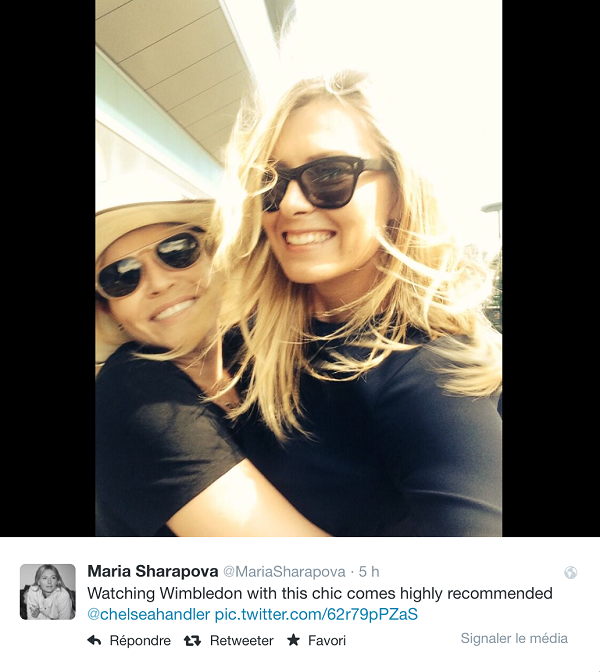 Sharapova has even been proposed marriage. Four supporters of the Russian football team made ​​their proposal during the World Cup in Brazil. "I missed the goal, but I couldn't missed that. Should I marry all four?" She asked, amused.
10 - Andy Murray (-8).
He didn't see that one coming. Andy Murray gave up his title in the quarterfinals after a heavy defeat against Grigor Dimitrov (6-1/7-6/6-2). Caught by pressure, the Scot completely missed out on his game. The new protégé of Amélie Mauresmo didn't, however, misjudged Nick Kyrgios. A week before the start of Wimbledon, he announced that he would be the future star of Australian tennis. Well seen.

11 - Fabio Fognini (+4).
On the courts, Fabio Fognini didn't score any point. Outside however... Beaten in the third round by Kevin Anderson after letting loose completely in the fourth and fifth sets, the Italian has yet acted up on the court. And he also had the good idea to pose nude for the magazine "Cosmopolitan", and for a noble cause: raise awareness against cancer.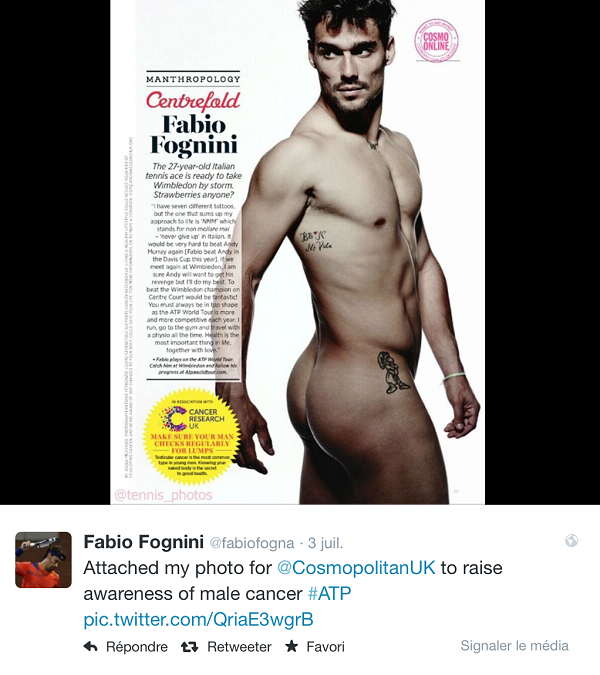 "I have seven different tattoos, but the one that sums up my approach to life is 'NMM' which stands for non mollare mai – 'never give up' in Italian." he said.
12 - Benoît Paire (-4).
Holiday suit him well. On hiatus this week, Benoît Paire took the opportunity to go to Aix-les-Bains.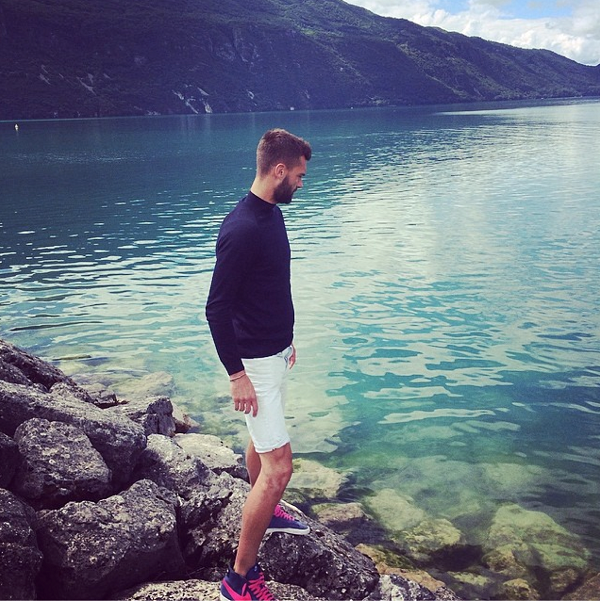 He also had lunch with his mate Gaël Monfils…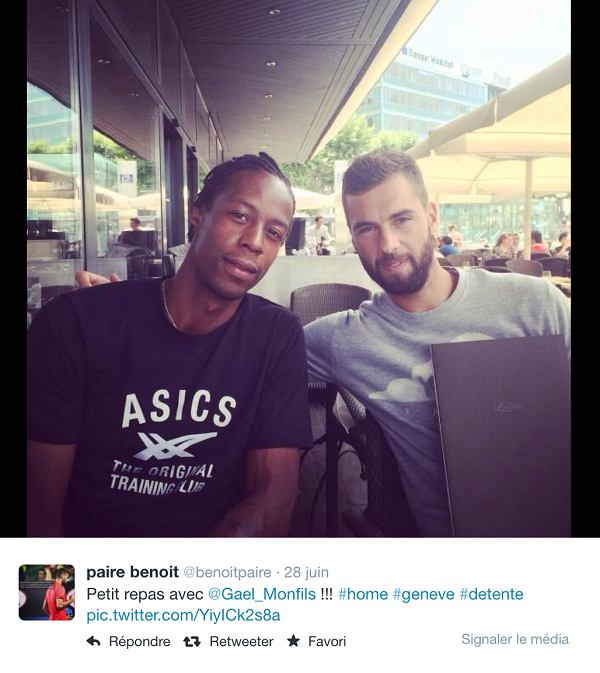 ... Before going back to Paris for some medical appointments. Good news for the French, his physical problems seem to be behind him.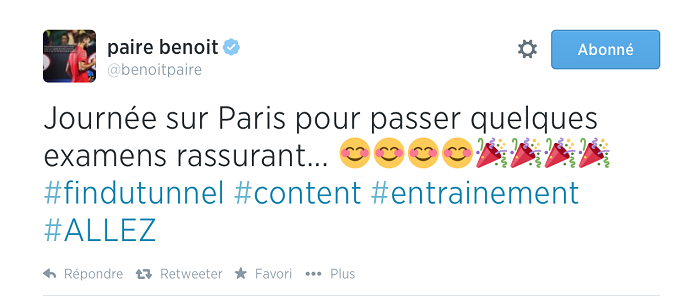 Finally.
13 - Fernando Verdasco (+4).
He's the greatest gym enthusiast of the tour. Fernando Verdasco is perhaps the only player who spends more time in weight rooms than on tennis courts. The Spaniard has also graced the cover of GQ Magazine in South Africa in which he's been asked how he built this dream body.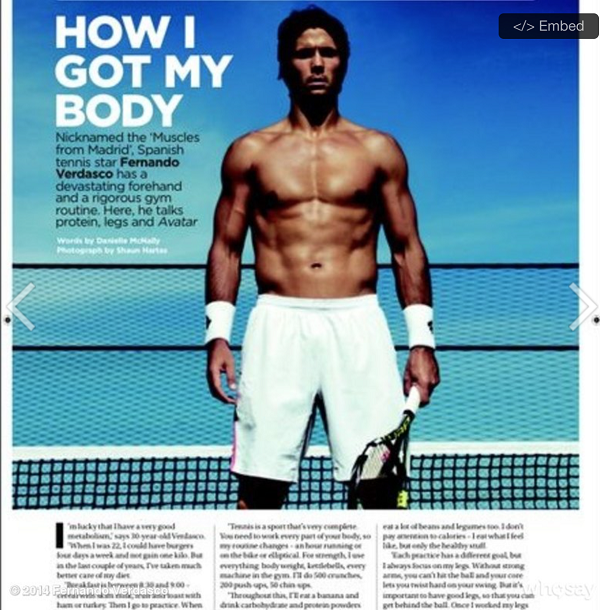 By lifting weights probably.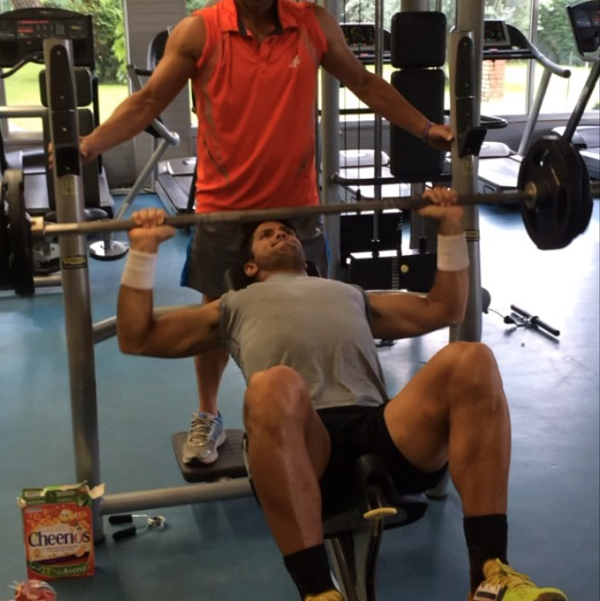 14 - Milos Raonic (NE).
An aces machine. 39 against Kyrgios in the quarterfinals. It might not have been enough to beat Roger Federer in the semi-finals (6-4 / 6-4 / 6-4), but Milos Raonic has achieved the best performance of his young career in Grand Slams. Promising.
15 - Caroline Wozniacki (-4).
The journey of Caroline Wozniacki at Wimbledon stopped in the last sixteen. Before her last match in London, the Dane simultaneously followed the World Cup and Wimbledon.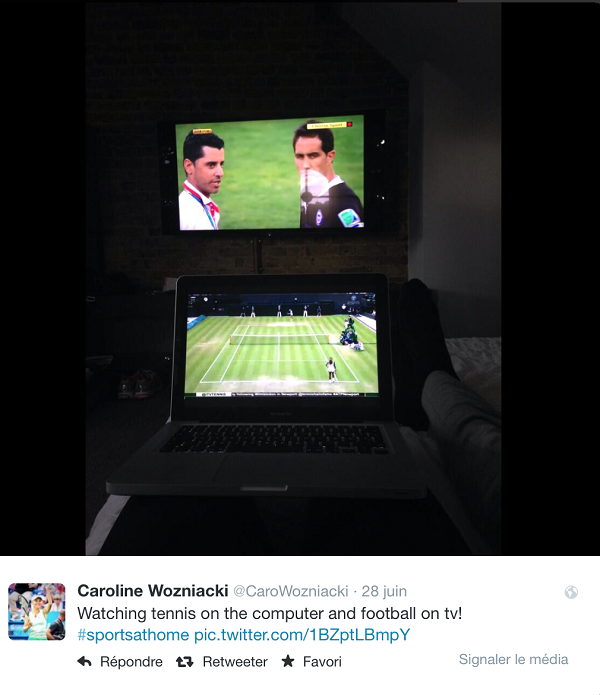 She also watched the movie « 22 Jump Street » that she seemed to enjoy. And after her defeat, she consoled herself by having dinner with her friend Ana Ivanovic....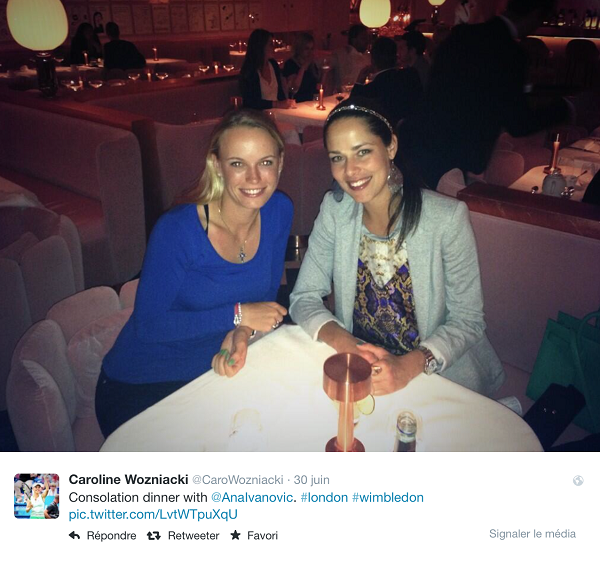 ...before returning to the ring. Literally.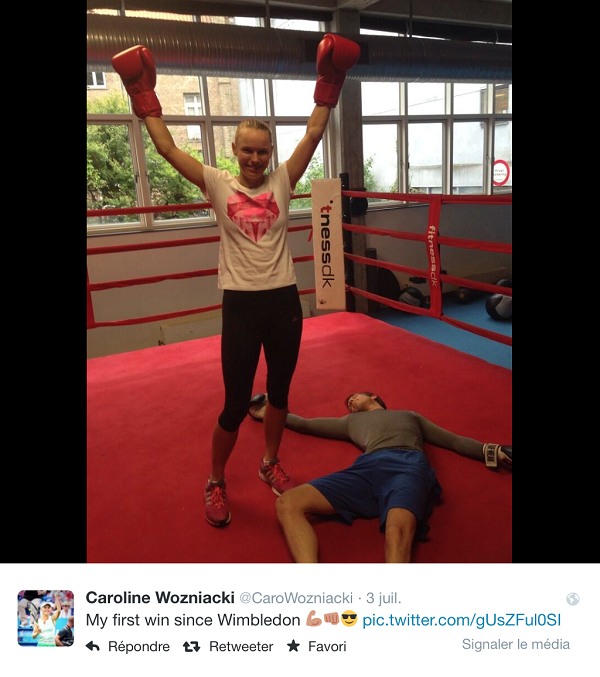 16 - Tomas Berdych (-2).
Defeated in the third round by Marin Cilic, Tomas Berdych didn't appreciate to be forced to play until late at night while it was getting dark.
Not enough, however, to depress the Czech who then attended the wedding of his best friend.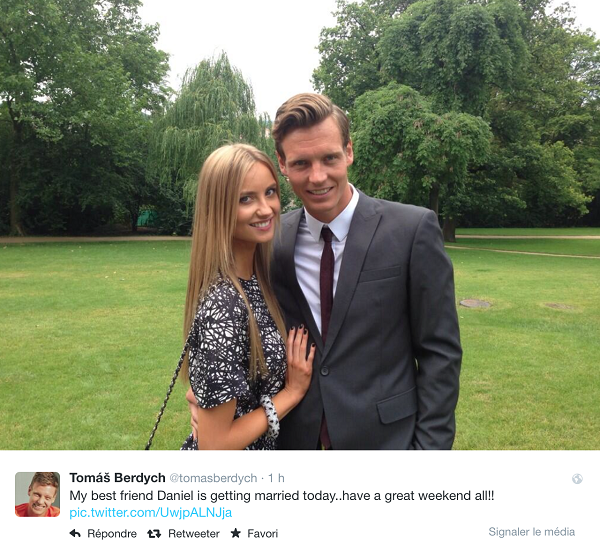 17 - Serena Williams (-11).
Not a good week for Serena. Eliminated by Alizé Cornet from the third round, the American then had a dizzy spell during a doubles match with her sister Venus. Unable to hit a ball, shaky, totally disoriented and in tears, she had to give up after only three games.
This strange weakness sparked many rumors. According to the German newspaper Bild, Williams would be pregnant of the French Patrick Mouratoglou, her coach for two years. So, in the meantime, Serena decided to rest for the week.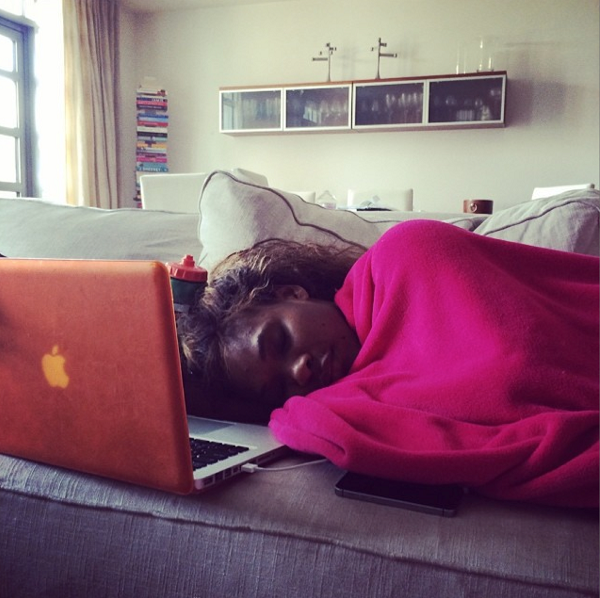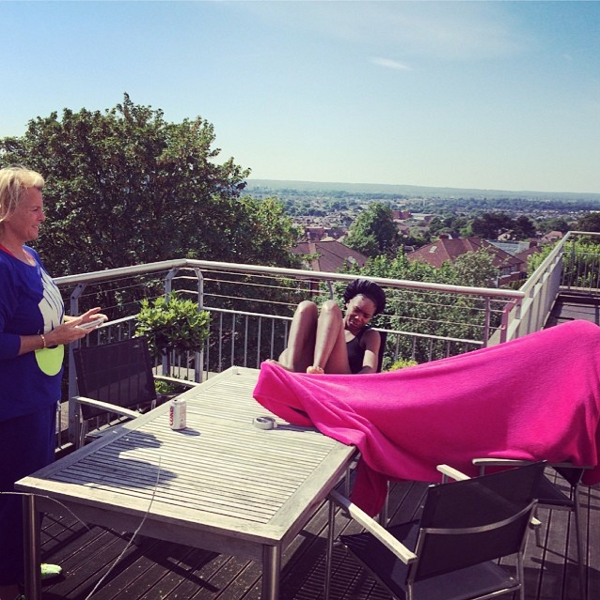 She also received many messages of support, touching her a lot.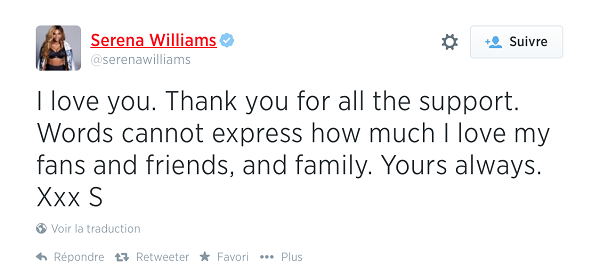 18- Ana Ivanovic (/).
Defeat in the third round by Sabine Lisicki, Ana Ivanovic was consoled over dinner with his girlfriend Caroline Wozniacki, but also by taking off far away, in the sun, and enjoying a tasty ice cream on the beach.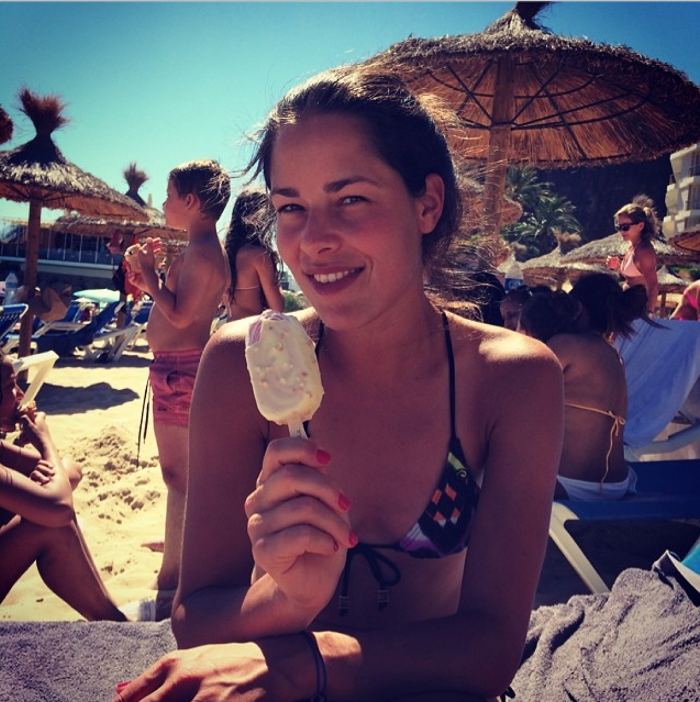 Moreover, the Serbian cried more after watching the movie Love Actually than after her defeat at Wimbledon.

19 – The birds of court n°3 (NE).
Three birds have disrupted the match between Dominika Cibulkova and Lucie Safarova. Laying on the grass of the court number 3, the three cheeky birds were chased by the Slovak. One of them has shown some resistance.
20 - Gaël Monfils (+5).
After getting lunch with Benoît Paire, Gaël Monfils trained with Jo-Wilfried Tsonga.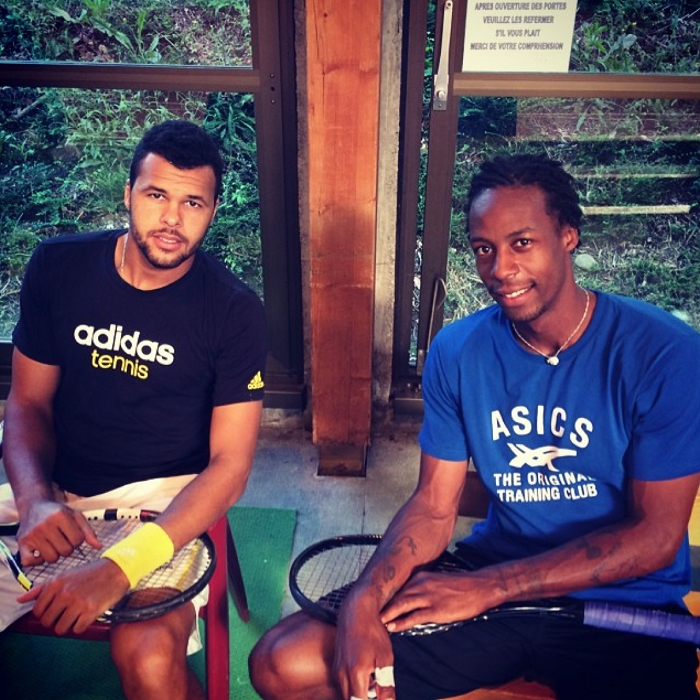 Between the DVD of a cartoon and a belote game, of course.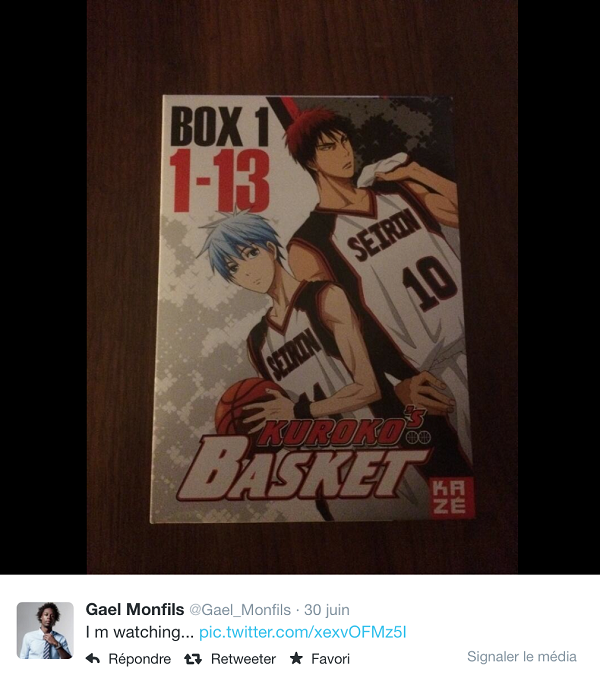 21 - Maria Kirilenko (+3).
Free time, Maria Kirilenko also had some this week. The Russian cruised London and observed the very particular style of some English women.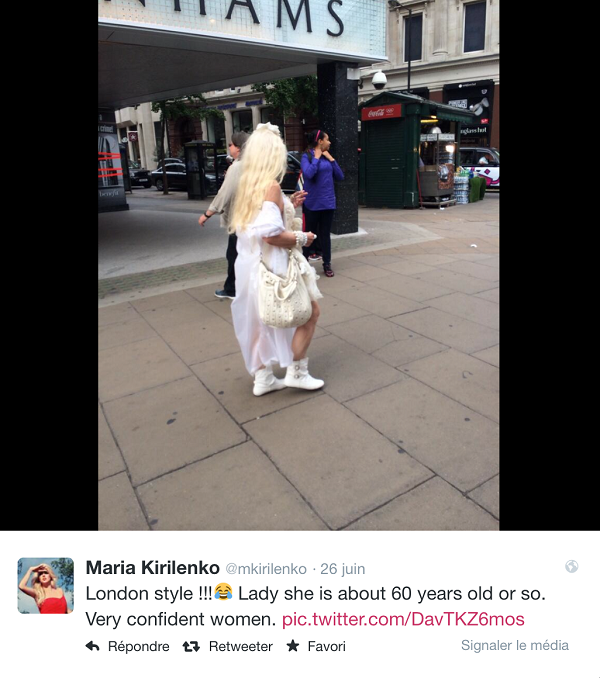 22- Sabine Lisicki (/).
No final this year for Sabine Lisicki. Beaten finalist last year, the German stopped this time at the quarter-finals, beaten by Simona Halep (6-4 / 6-0). Not enough to make her sad since she was lucky enough to take a selfie with David Beckham…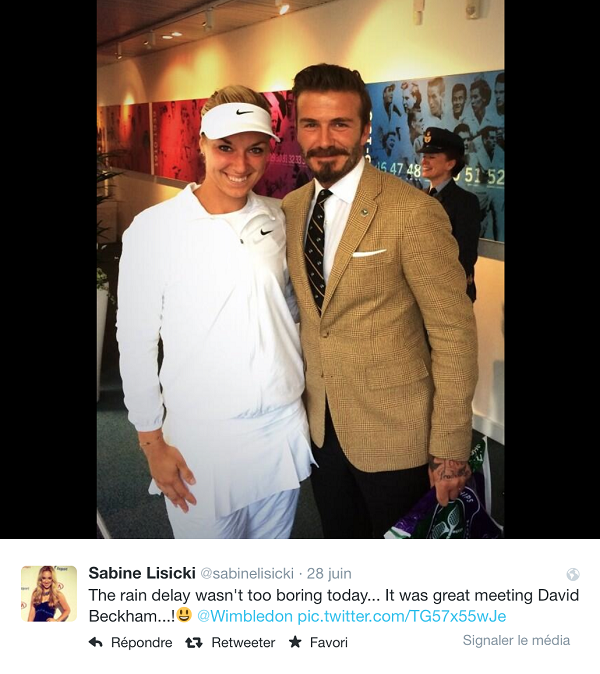 …and watch the German beat the French in the quarter-finals of the FIFA World Cup.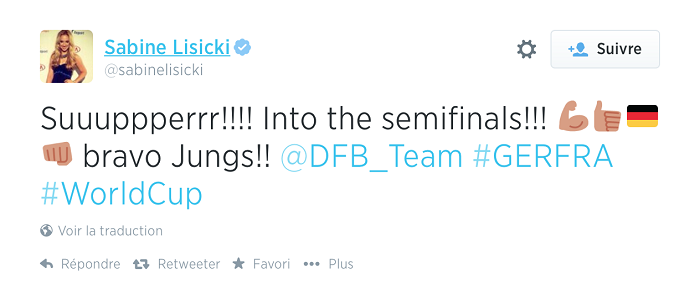 23 - Alizé Cornet (NE).
Alizé Cornet achieved a great performance by defeating the World No. 1 Serena Williams in the third round (1-6 / 6-3 / 6-4) but she didn't confirmed since she lost in the following round against Eugenie Bouchard (7-6 / 7-5). The French consoled herself by learning that she had topped the 100,000 fans on her Facebook page.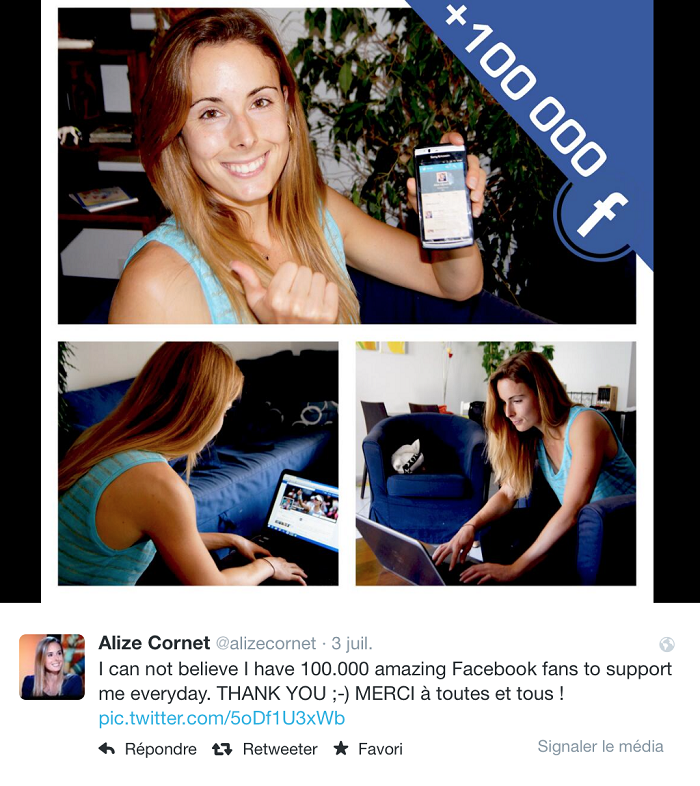 24 - Stan Wawrinka (-3).
A painful beginning of July for Stan Wawrinka. First, he saw Switzerland lose in the last sixteen of the World Cup against Argentina. The next day, he lost in the quarterfinals of Wimbledon against his compatriot Roger Federer (3-6 / 7-6 / 6-4 / 6-4). Two days later, he had to withdraw for the Gstaad Open. Stan needs rest.
Wawrinka is also a big tattoo fans. It's what he explained in an interview published on the ATP website: "I love tattoos. I don't know if I'm going to get more, but I love them. You need to be sure before you get a tattoo. When I'd found "Ever tried. Ever failed. No matter. Try Again. Fail again. Fail better" from Samuel Beckett, I was sure, I just did it."
25 - Victoria Azarenka (-1).
Eliminated of Wimbledon last week, Victoria Azarenka had free time. She then took this opportunity to attend the wedding of her brother…
... But also to watch the quarterfinal of Argentina. The Belarusian is obviously a big fan of Lionel Messi.

Out:
Jankovic, Gulbis, Radwanska, Rufus the Hawk
By Quentin Moynet
NB : Just like you, the Tennis journal goes on holiday and is coming back at the end of August, for the US Open of course. See you on the 23th of August and until then, do not forget your total sunblock, preferably on the nose, the Pat Rafter' way.