Defeated by the rasta Dustin Brown in the first round of the Halle Open, has Rafael Nadal managed to keep his first place in the WAT ranking against Novak Djokovic stag party in Ibiza? Answer in the tennis journal.
Even if the grass-court season isn't really his thing, the Spaniard can boast of having a clay statue in his living room. But beware, behind, they're all on fire! First with Maria Sharapova who is playing table tennis on grass, then Djokovic who did his stag party in the sun and finally Roger Federer who doesn't want to stop his matches even after winning the match point. What a life.
1/ Rafael Nadal (/).
After winning his ninth Roland Garros, the Spaniard had the chance to receive a rather nice gift from his sponsor. Yes, it's a statue of Rafa made of clay. A nice decoration for his living room, too.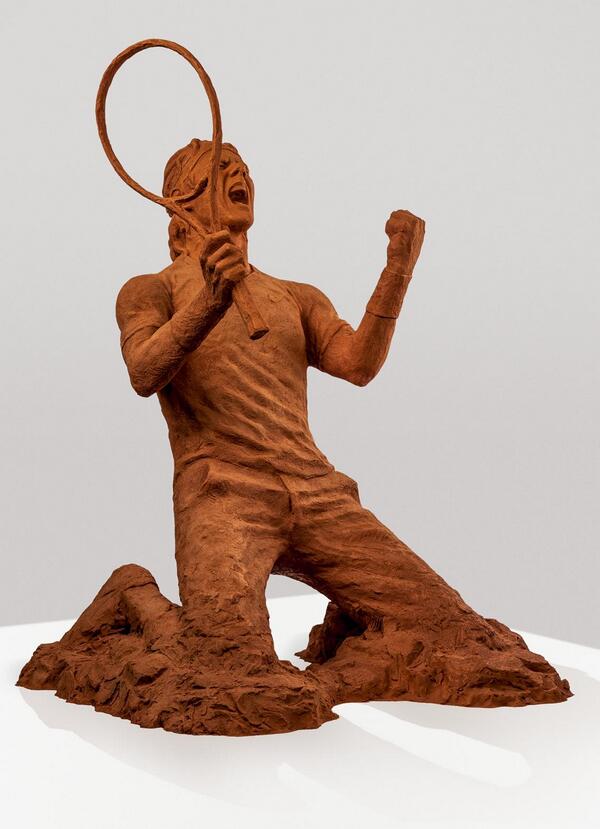 However, since the clay season is over, the time has come to start preparing for the grass-court season. The Spanish player was all smiles at the wheel of his car on his way to get a good beating in the first round of the Halle Open against Dustin Brown.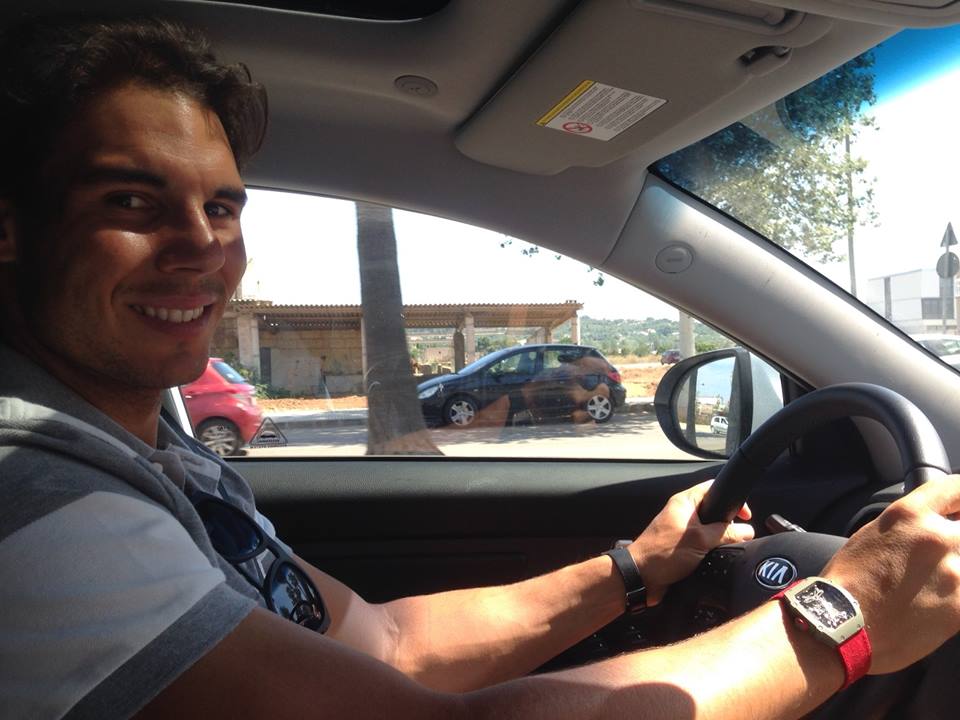 But he couldn't care less; he has a World Cup to watch. Logically, the lefty is supporting his country. He sets the tone in interviews.
2/ Maria Sharapova (+1).
All is well for the Russian who has just won her second Roland Garros, and is ready to begin a new season that she loves: the grass-court season. In order to be ready, she even started with little game of table tennis on grass... All good!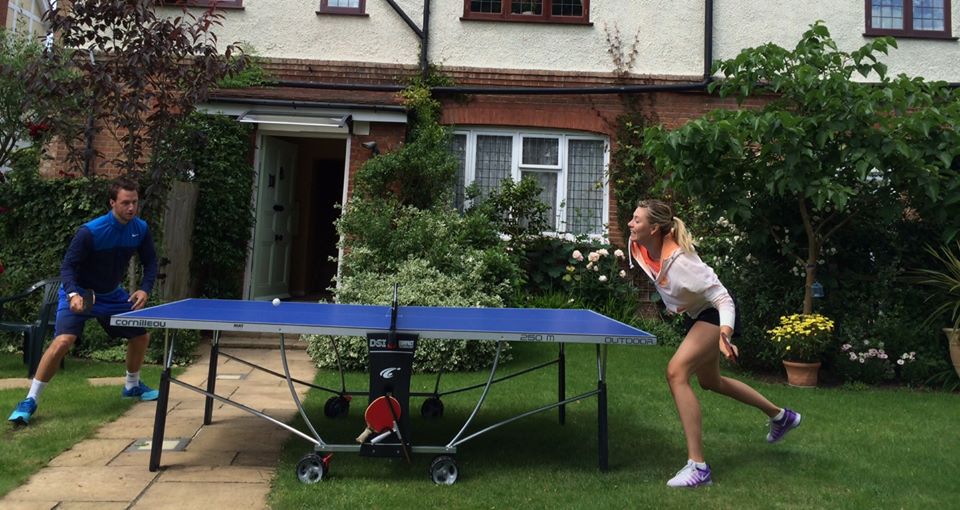 But the Russian has her head screwed on right. She is first and foremost a businesswoman. In London, she posed in front of her future candy store. Not far from Wimbledon. That's what we call a good catch.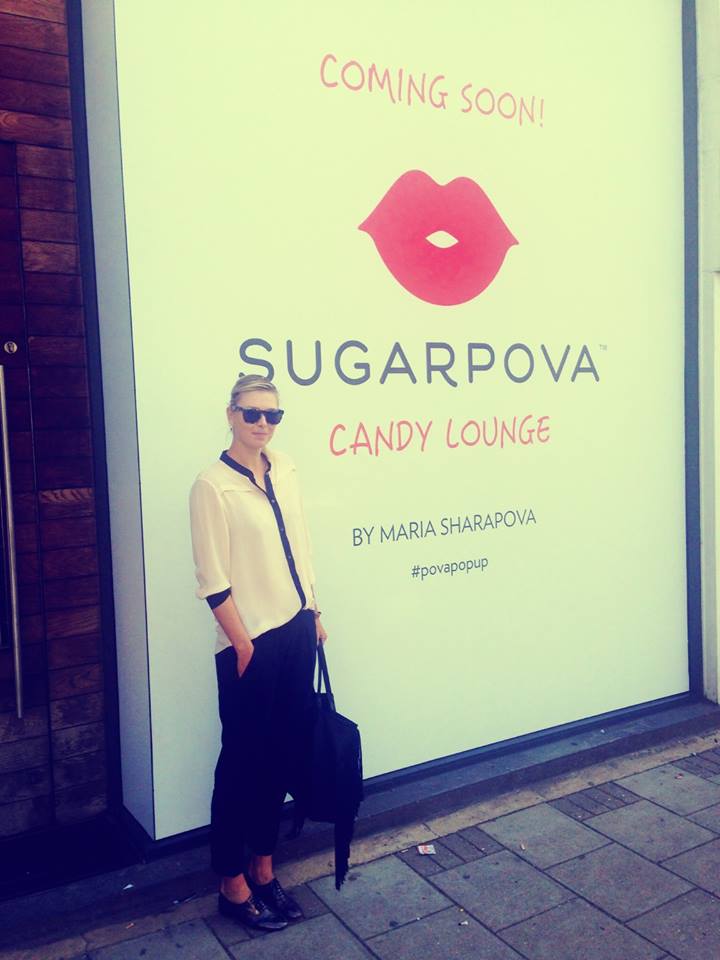 3/ Andy Murray (+1).
While we could salute his boldness since he decided to hire Mauresmo as new coach, we preferred to highlight the class of the Scot. A class he showed with an 8-year-old kid, suffering from a brain tumour. This little guy is called Dylan Martin Harley. And Murray took the time to play a game of tennis with him.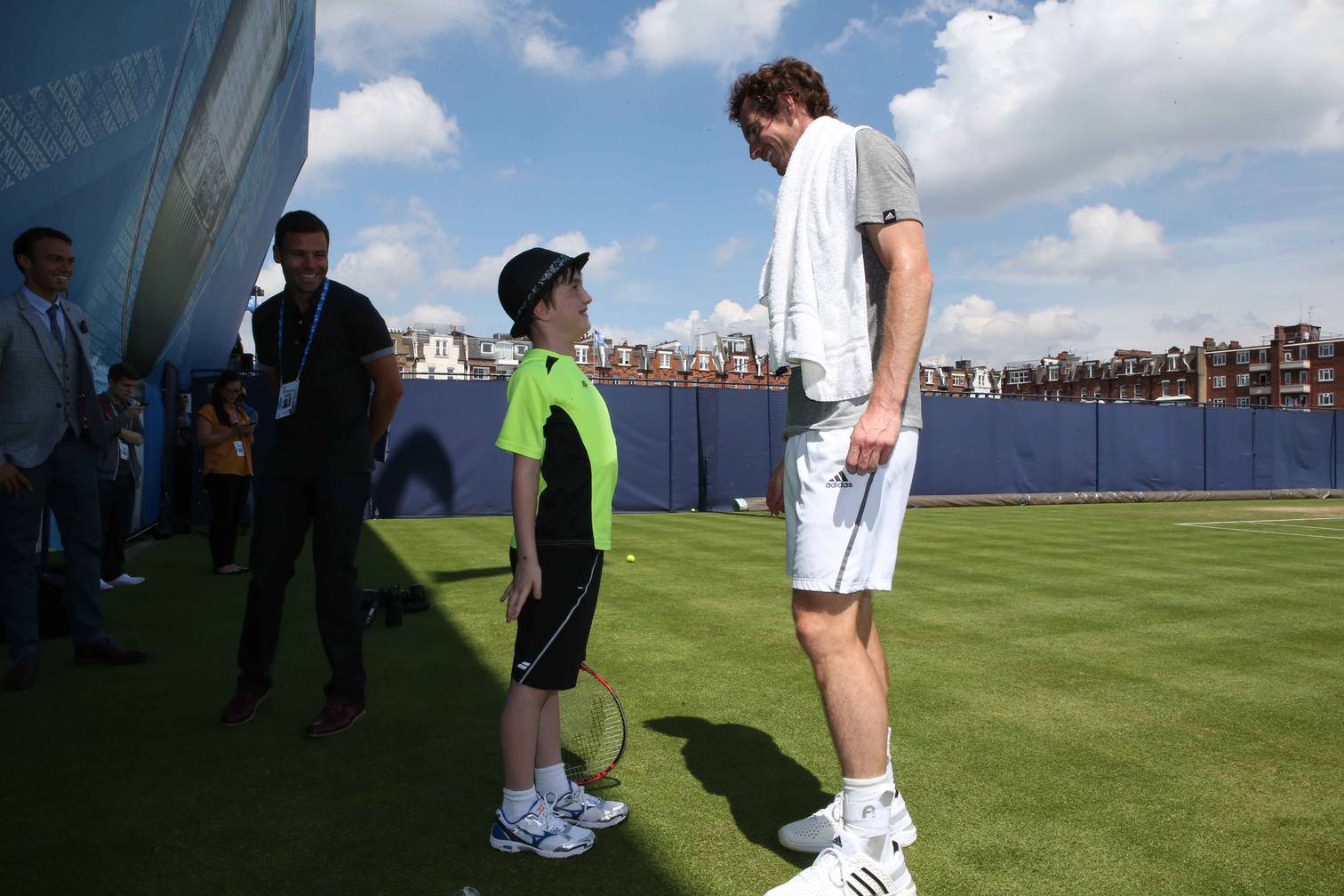 4 / Novak Djokovic (-2).
The Serb is slowly digesting his defeat at Roland Garros. But at the same time, he has better things to do as he sailed to Ibiza with all his friends. The purpose of the trip? His stag party. The guys are all sunbathing in a pool. We can't wait for the gossips.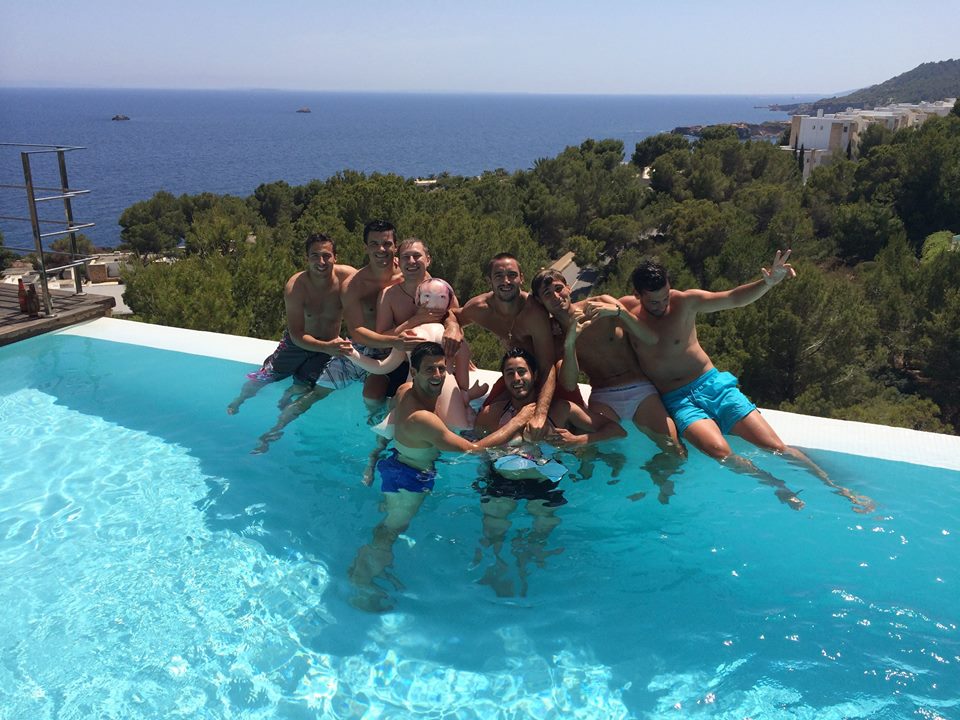 5/ Roger Federer (+1).
Little by little Roger gets back in the game, he played the final of the Halle Open both singles and doubles for the first time since 2005... But above all, the Swiss qualified for the final stage of the singles tournament without knowing it... After winning the point and therefore the match, at 6-4 in the tiebreak of the second set against the Japanese Kei Nishikori, Roger went back to his place while shaking his fist. As if nothing happened. He was ready to continue... forgetting that he had won the game. His new fatherhood is already disrupting him. Or he's getting old. Anyway, he won the tournament for the seventh time by defeating Alejandro Falla in final (7-6, 7-6)
6/ Serena Williams (+1).
Serena Williams is a celebrity's magnet. After Greg Oden, the player of the Miami Heat, the American met another friend during her trip to Miami. A man called Usain Bolt. Selfie time.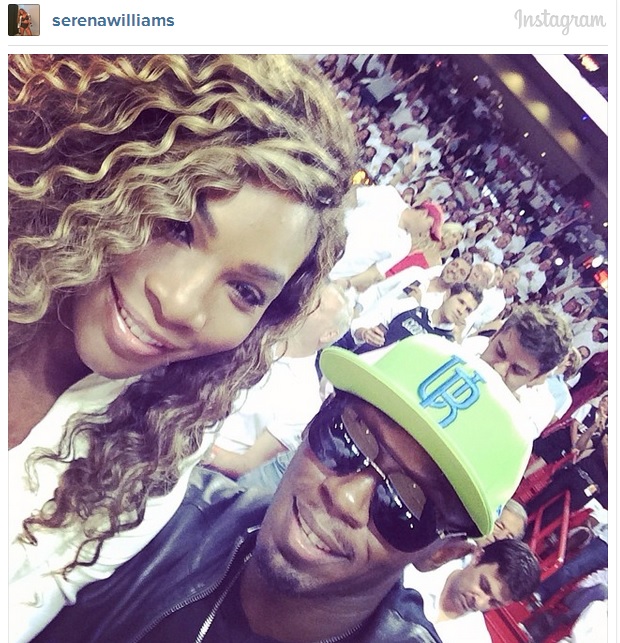 7/ Dustin Brown (NE).
The tennis Rasta is a genius. While he dislocated Rafael Nadal in the first round of the Halle Open (6-4, 6-1), he played an exceptional tennis against the world number 1. A genius that deserved to enter our ranking at this wonderful 5th place. You don't kick Nadal's arse in straight sets every day.
8/ Eugenie Bouchard (/).
Revelation of Roland Garros, the Canadian continues to discover the joys of the WTA tour with delicacy and enthusiasm. And it seems that the grass-court season makes her smile. And she likes to share it.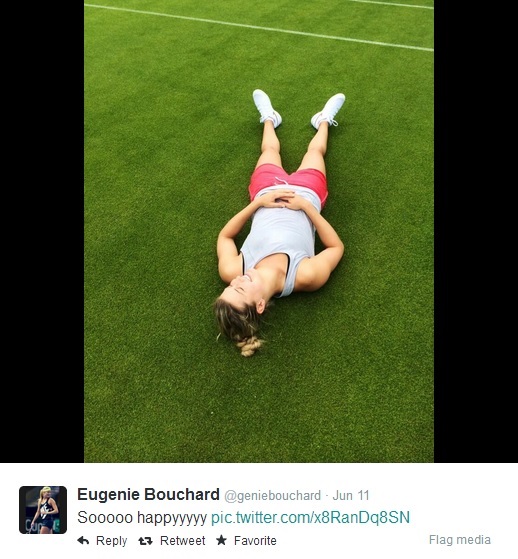 She doesn't need much.
9/ Grigor Dimitrov (+2).
It's not easy to live in the shadow of the media sensation Maria Sharapova. So in order to do this, the spirited Bulgarian has some tricks. Like this picture on his massage table. A mix between a selfie and a cheeky picture.
A resourceful man. And it's seems to be working since he won the Aegon Championships by defeating Lopez in three sets.
10/ Jelena Jankovic (NE).
The Serb might not be the same racquet in hand; she's still going strong when it comes to be the modern woman. Here, we can see that she masters the hair dryer. Hammer grip, in addition. A purist.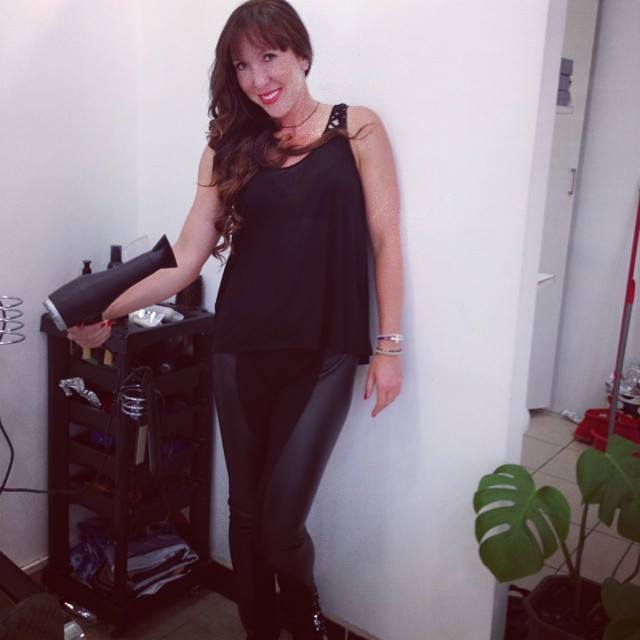 11/ Caroline Wozniacki (/).
Already tired from the grass-court season, the Dane tries another sport. Nice life. Remember that she once was World No. 1...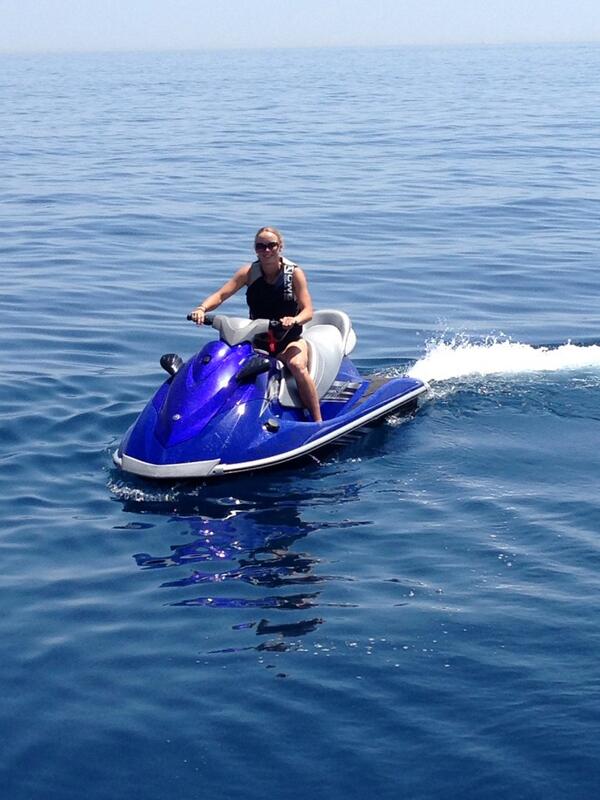 12/ Ernests Gulbis (+1).
The genius of the week. A performance that was worth winning a place in the ranking. Semi-finalist at Roland Garros, the player pocketed more than 400 000 euros in Prize money. A tidy sum that the Latvian player immediately decided to play at blackjack. And, of course, he lost everything, "I wanted to go out and have some fun. I went to bet my prize money with my cousin. I lost almost everything." Amazing.
13/ Simona Halep (-4).
One week after her lost final at Roland Garros final, the Romanian has disappeared from the tour. And as she never posts anything anywhere, she loses 4 places. It's 2014, Simona.
14/ Na Li (NE).
Stunning comeback of the Chinese in our ranking. With her sponsor, Nike, she proudly shown her colours for the FIFA World Cup. Unsurprisingly, Na Li supports Brazil, also sponsored by the U.S. firm.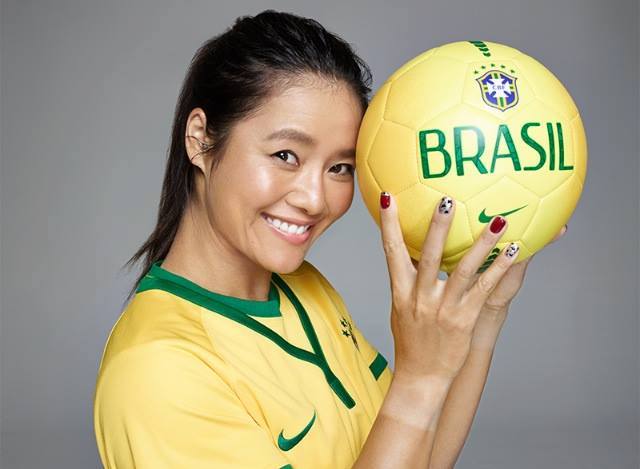 As they say, everything happens for a reason…
15/ Agnieszka Radwanska (NE).
The pole dropped her hideous dresses and went back to healthier things. Like clay and grass. Obviously, the player is excited to start the grass-court season.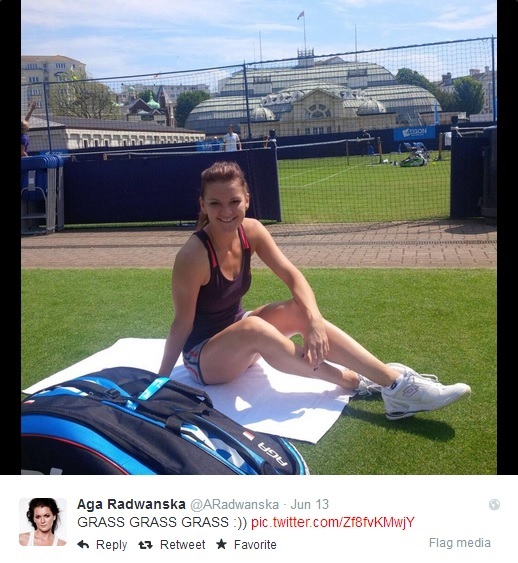 16/ Fabio Fognini (+2).
What a lover... Also on holiday near Ibiza (not for the same reasons than Djokovic), the Italian took the time to chill with his girlfriend: the tennis player Flavia Pennetta. Between the two, love seems solid.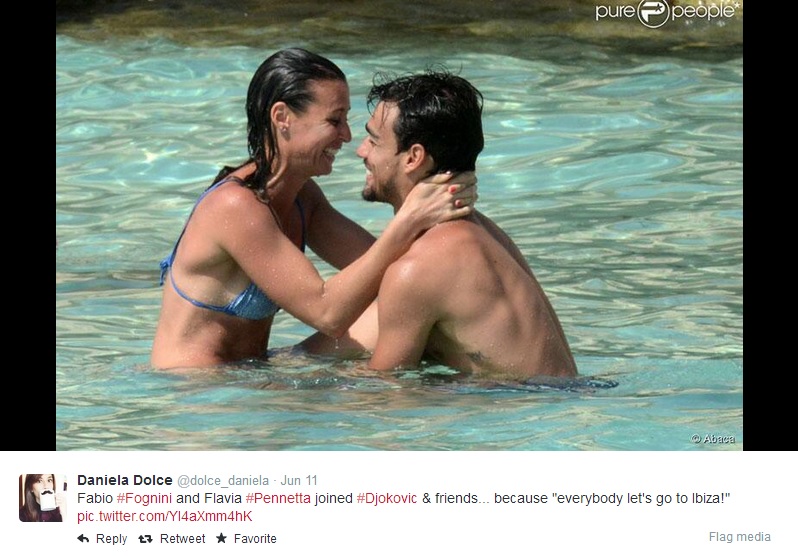 Cute.
17/ Dominika Cibulkova (/).
Nothing new for the Cibulkovas. An average week for her with the ​​usual selfie of her and her boyfriend in the elevator. But the extravagant treat was the cover of her smartphone. It looks like a rose. Or a pig. In short, it is quite strange.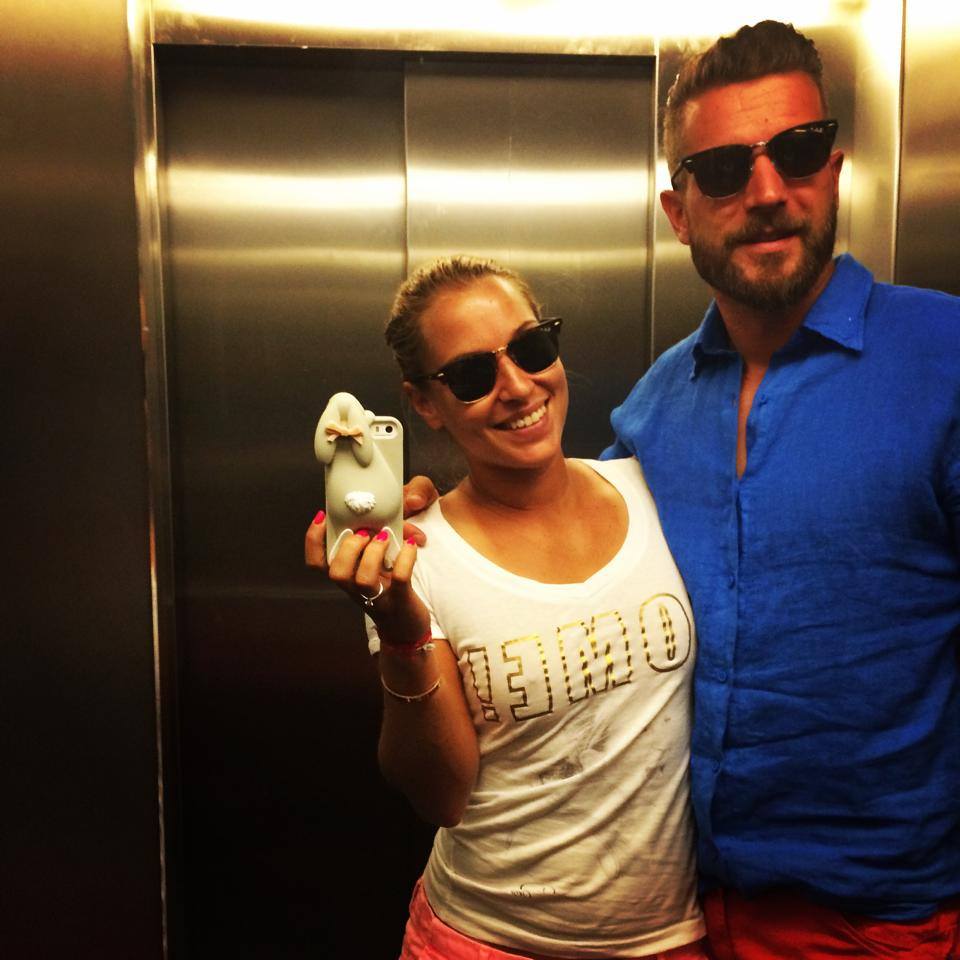 18 – Stanislas Wawrinka (NE).
Nothing works for the Swiss since his success in Australia. However, he returns to our ranking with a bang. Frustrated by his performance at the Aegon Championships, Federer's best friend avenged himself on his racquet. But with a smile. Class.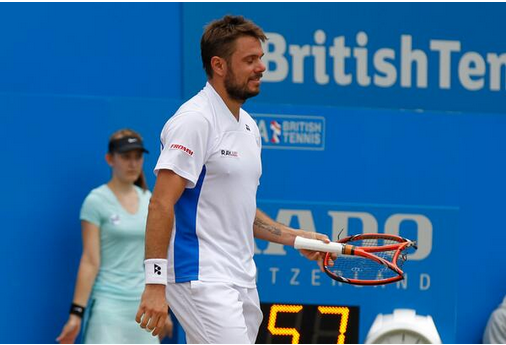 19 – Ana Ivanovic (/).
As Li Na, Ana Ivanovic was in a football mood this week. But as Serbia didn't qualify for the World Cup, the player refused to answer questions about her favourites for the World Cup. At least, she will be able to say that she was supporting the future winner. Smart move.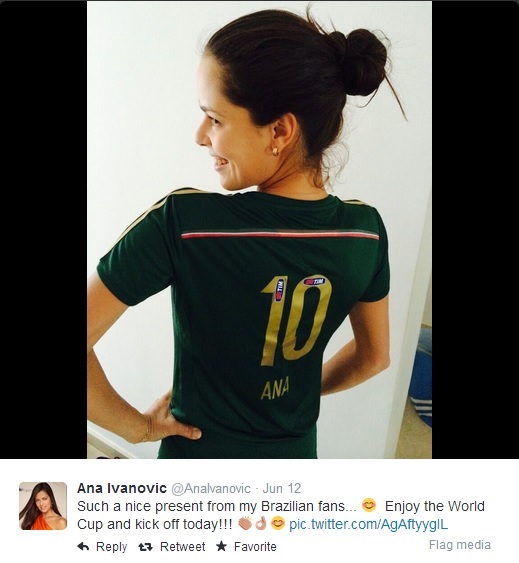 20/ Petra Kvitova (NE).
After «Where's Wally?», where's Petra? We found her. Can you?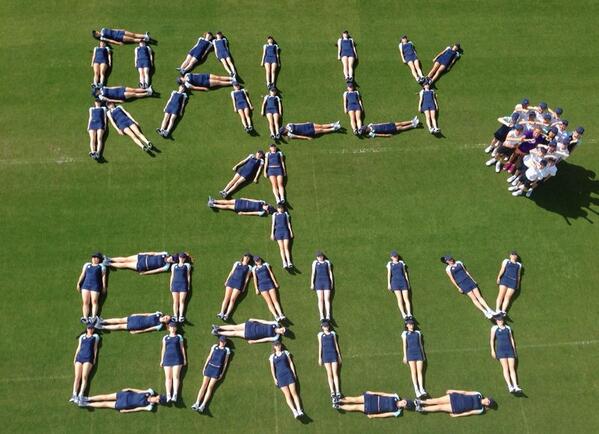 21/ Radek Stepanek (NE).
The veteran of the tour might not be as fit as he used to be, he still has some tricks up his sleeve. Thus, he just found a new coach. A guy pretty famous in this country since he's the goalkeeper of Czech Republic, Petr Cech.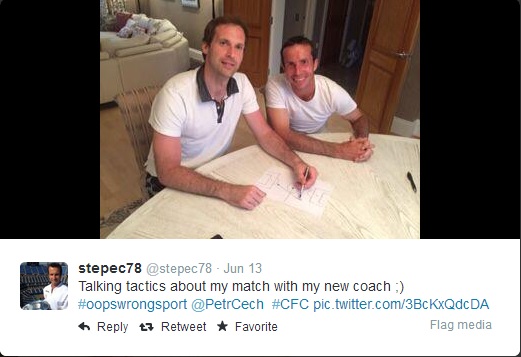 22 - Andrea Petkovic (NE).
A dramatic entrance for the German in our ranking. Indeed, while she was watching the match between France and Honduras in the World, she went completely crazy. She gave us punch lines like she plays returns of serve.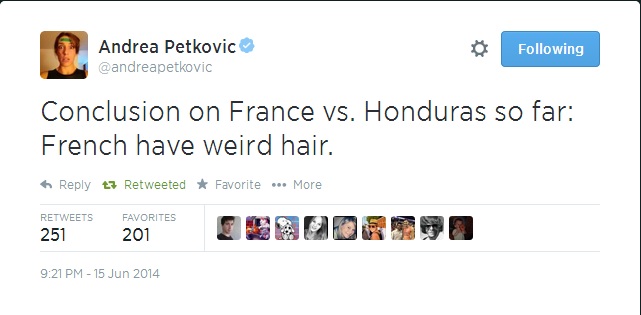 But also: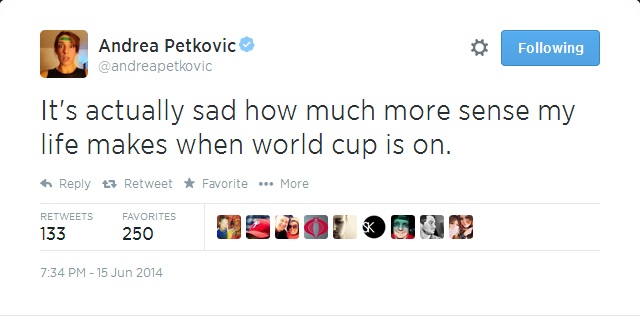 This woman is a godsend.
23 – Victoria Azarenka (/).
The Belarus has never seemed so close to get back on the courts. Now she even touches her racquet. Finally. We really did miss her.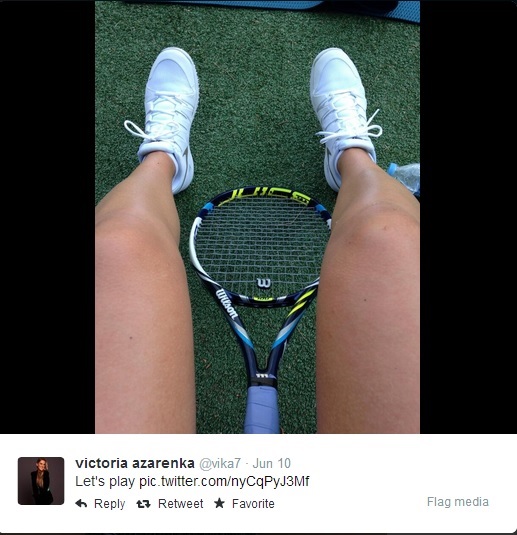 However, she made her footballing preferences very clear. For her, it's all about Argentina.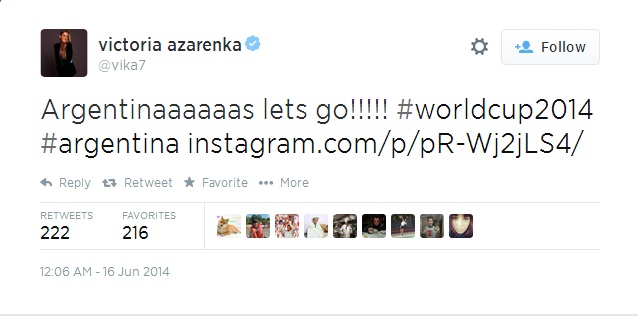 24 – Kristina Mladenovic (NE).
Like many others, the blonde went into "football" mode. To her fingertips.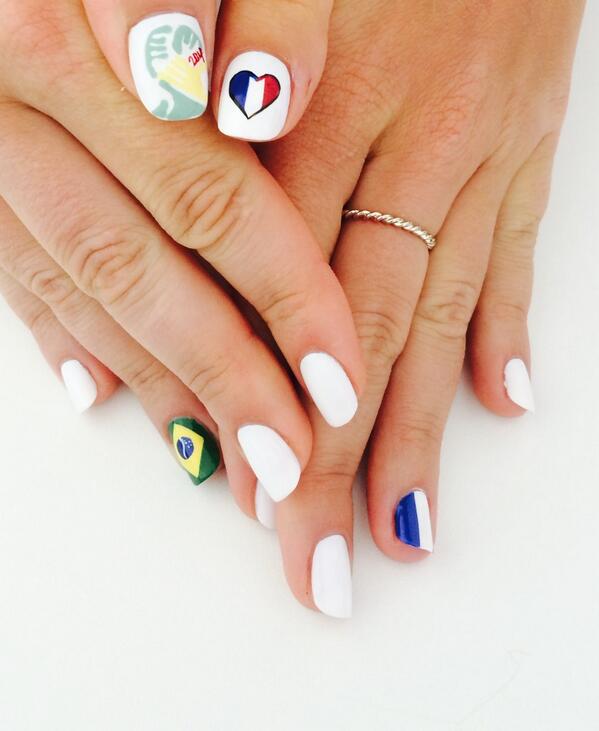 Can we see the toes next time?
25 – Milos Raonic (/).
The Canadian has already arrived at Wimbledon. It's quiet. He's relaxed and taking it easy.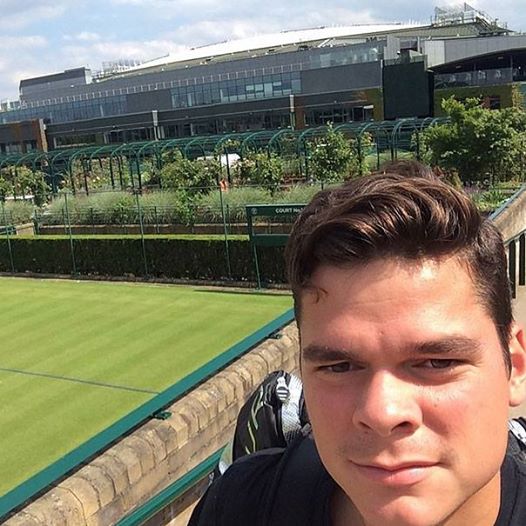 Out:
Anna-Lena Groenefeld, Fernando Verdasco, Gael Monfils, Taylor Townsend, Jo Wilfried Tsonga and Tomas Berdych.
By Mathieu Faure