Novak Djokovic offered an unforgettable moment to a young ball boy during his first round. But will it be enough to keep the lead in our ranking against Federer and his twins or Gaël Monfils who's diving every way possible?
Some big guns have been knocked out, some great exploits, farewells, a dance battle on a clay court, a little petanque... This first week at Roland Garros was rich in emotions. It also allowed Novak Djokovic to keep the lead in our ranking. A ranking in which Gael Monfils and Kristina Mladenovic made a grand entrance while Serena Williams and Stan Wawrinka tumbled.
1 - Novak Djokovic (/).
He didn't miss his first week Porte d'Auteuil. On the courts first, where he successively defeated Sousa and Chardy without conceding a single set. During an interruption due to rain after, when he toasted with a ball boy while holding his umbrella.
He then went on a petanque strip, where he joined a game with a few French players.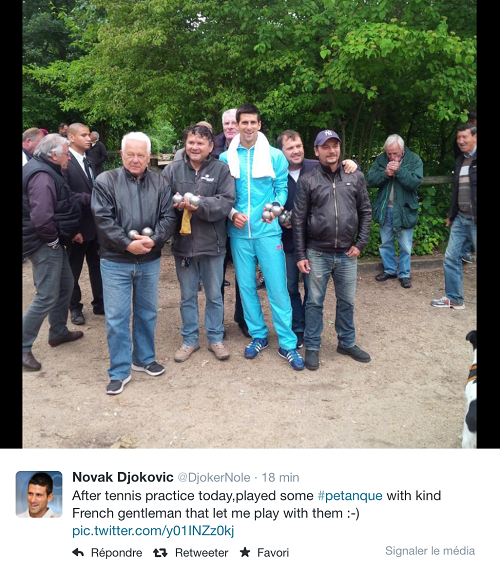 And then in the dressing room where he teased McEnroe. The Djoker seems to be enjoying Paris. However, he's less comfortable to discuss football and the World Cup. «I can't pick a favourite... There's Brazil, Spain... I'm not an expert so I'm just going to talk about tennis (laugh)», he said.
2 - Roger Federer (+1).
His smile, Roger Federer should keep it throughout the fortnight, regardless of his performance. The Swiss can indeed count on the support of his wife, their twin girls and their twin babies... that he takes, by his own admission, "in his arms as much as possible." Happier than ever on the Parisian clay courts, King Roger also won easily his first two rounds. He even broke a camera during his second match. Well done.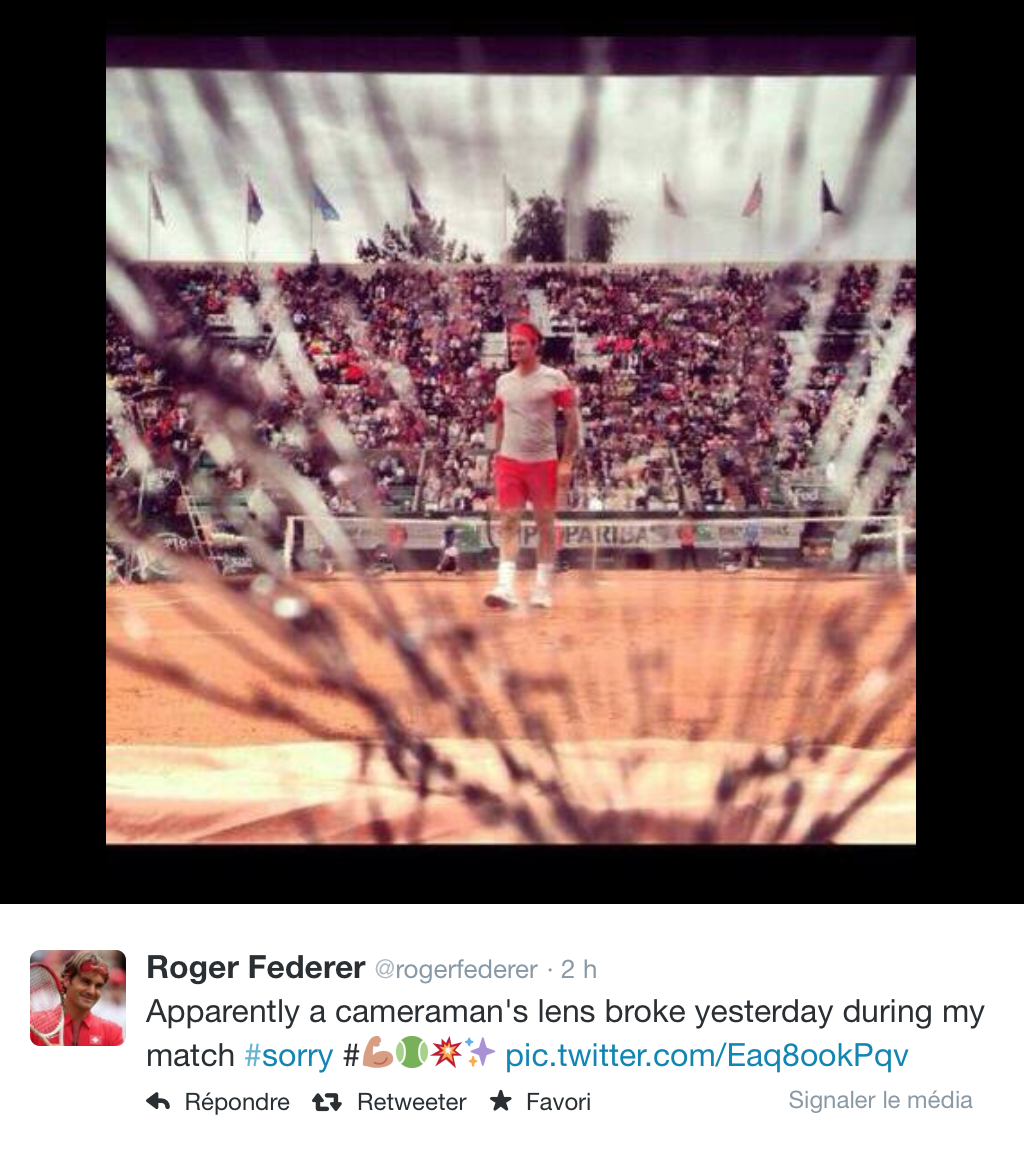 3 - Rafael Nadal (-1).
Rafael Nadal, on his part, seemed a bit upset at the beginning of the fortnight. The Spaniard, world number one and eight-time winner in Paris, didn't like to be relegated to the Suzanne Lenglen court for his first round. Rafa therefore let off steam on Ginepri who went home with only three little games on his belt. Thiem couldn't do much better the following round as he only won 7 games. Rafa then found his smile again by winning a game of poker with his friends...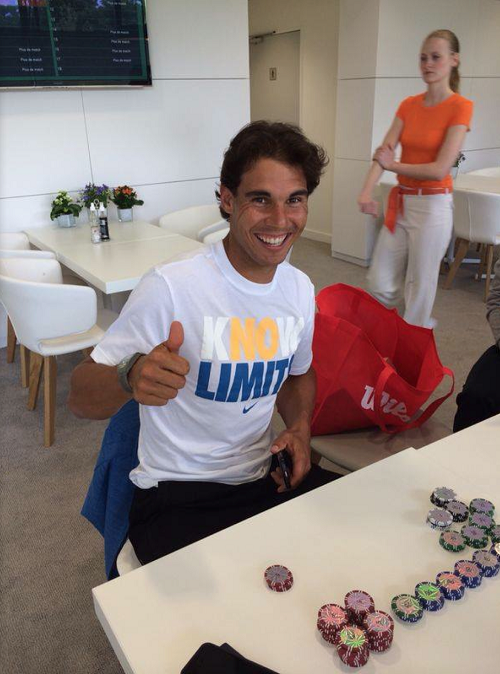 ...And by signing autographs for his young fans.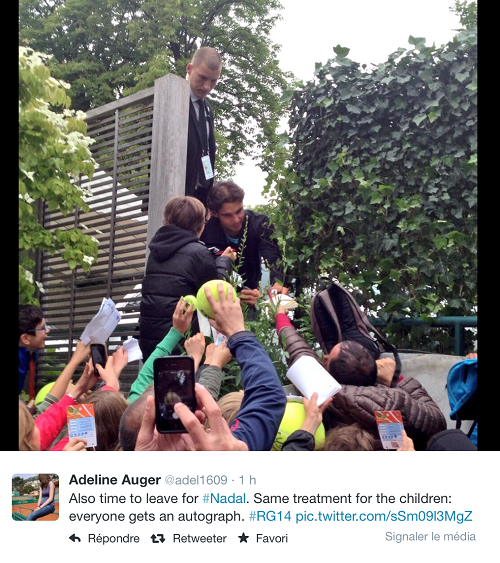 4 - Gaël Monfils (NE).
It's no secret; Gael Monfils loves doing the show. On the court - with his dives, his dunks and sliding races that allowed him to beat Hanescu in the first round - but above all outside. On the occasion of a charity match Saturday, The Monf then offered a little dance battle with his fellow countryman Lokoli.
"I dance every day. Saturday, I didn't give everything, it was quite average really," he said after his demonstration.
5 - Andy Murray (+1).
A discreet first week for Andy Murray. Very quiet for the past few weeks, the Scot also had a difficult start as he conceded a set against the modest Golubev. Not really impressive. Murray was partly reassured after beating Matosevic to whom he only left seven little games. The Olympic champion is also a soothsayer: after announcing a few months ago the future explosion of Caroline Garcia at the highest level, he has set his sights on the young and talented Taylor Townsend who, in the process, defeated Alizé Cornet.

6 - Maria Sharapova (+2).
Sharapova has loudly entered her tournament. Her screams on every ball are considered as entertaining than annoying, depends. Nothing to disrupt the Russian who has relatively comfortably qualified for the third round of a tournament she apparently appreciates. The Philippe Chatrier court in particular.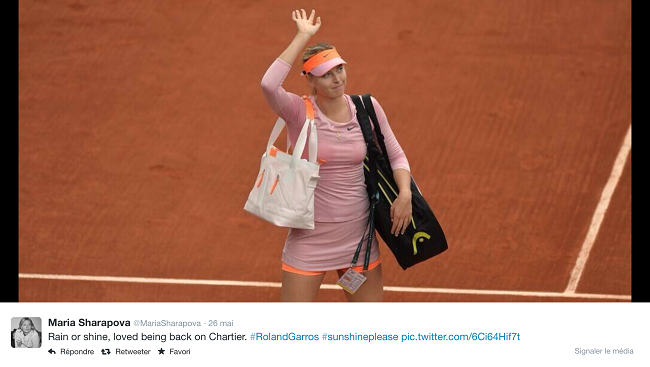 7 - Kristina Mladenovic (NE).
It's the French exploit of the first round. Kristina Mladenovic has prevailed against the world number two and former winner at Roland Garros, Li Na (7-5 / 3-6 / 6-1). It's the greatest victory of the young Frenchie who has been rewarded for her efforts in training; she didn't hesitate to train with her brother despite the rain. But above all, Mladenovic managed to confirm her beautiful performance two days after against the American Riske (7-6/3-6/6-3).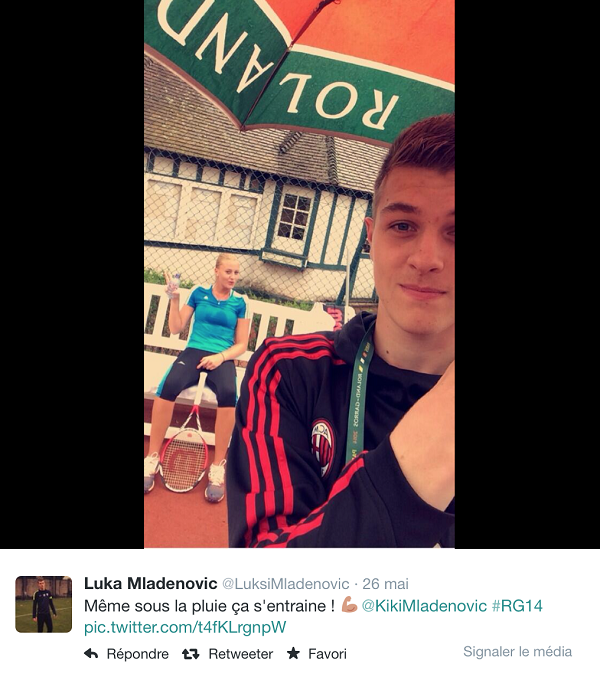 Two days before this feat, Mladenovic was participating in a charity tournament in the company of a certain Novak Djokovic.
8 - Jo-Wilfried Tsonga (+2).
We weren't sure about Tsonga after a very average clay season so far. After two approximate sets against Roger-Vasselin in the first round (7-6 / 7-5 / 6-2), the French seemed reassured against Melzer, thanks in particular to a great service (6-2 / 6-3 / 6-4). Besides, Jo is innovating this year by talking with his fans on social networks.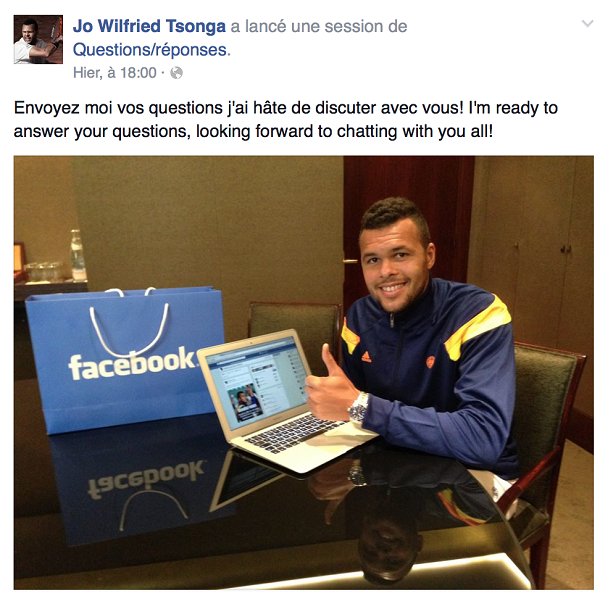 9 - Petra Kvitova (/).
The weather in Paris has been horrible at the beginning of the fortnight. And it seems that Petra Kvitova didn't like that (at all), after having to wait for her taxi in the cold and rain.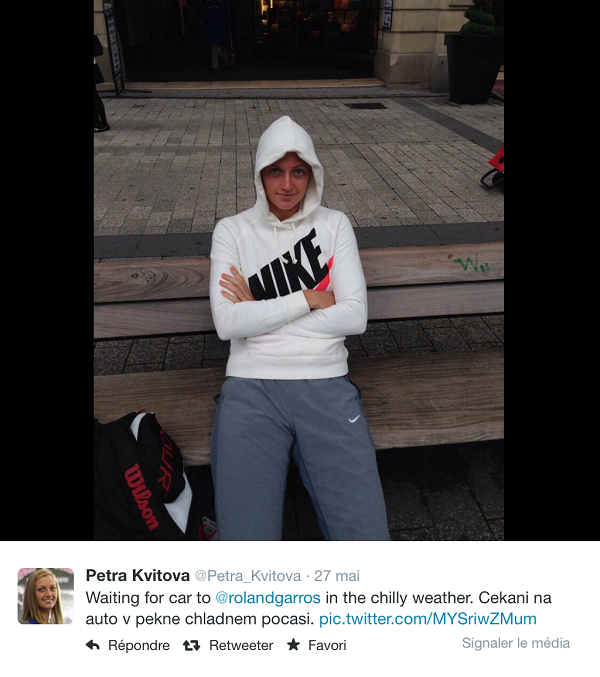 But it didn't prevent the Czech player to win her first round in two sets against Diyas and Erakovic in straight sets.
10 - Tomas Berdych (+1).
Berdych conceded his first set of the tournament against Nedovyesov in the second round. Not to worry, the Czech has been manipulated by his physio.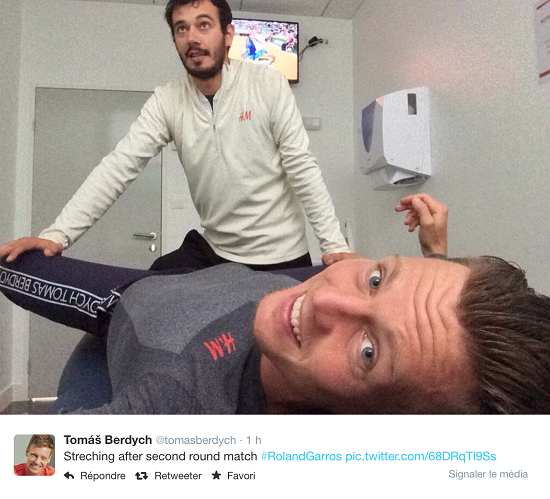 11 - Grigor Dimitrov (-6).
Grigor Dimitrov has been seen running out and about in Paris. The Bulgarian will now have all the time in the world to visit the French capital since he was eliminated in the first round by Karlovic (6-4 / 7-5 / 7-6). Baby Federer still has to grow up.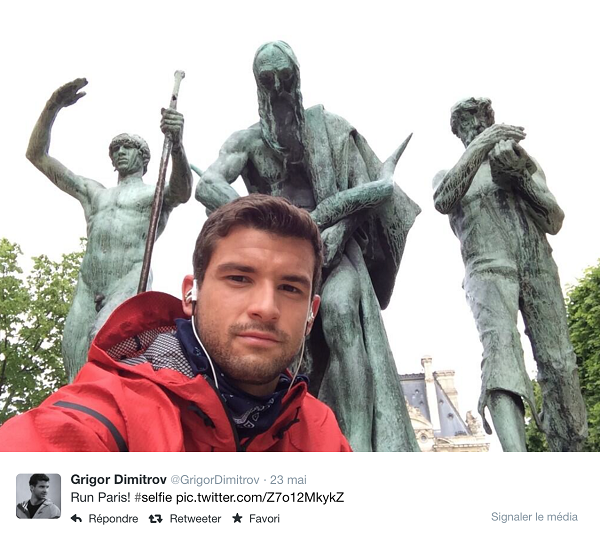 12 - Eugenie Bouchard (+1).
Qualified for the third round after eliminating the German Georges, Eugenie Bouchard was however not asked about her sporting achievements at the press conference but rather about ... her twin sister. The Canadian explained that her sister Beatrice, older by six minutes, is taking advantage of her popularity: "On social networks, people discovered who was my sister and I have fans who follow her and go on Facebook". Eugenie Bouchard who doesn't appreciate the Parisian rain either. She also found a rather original umbrella.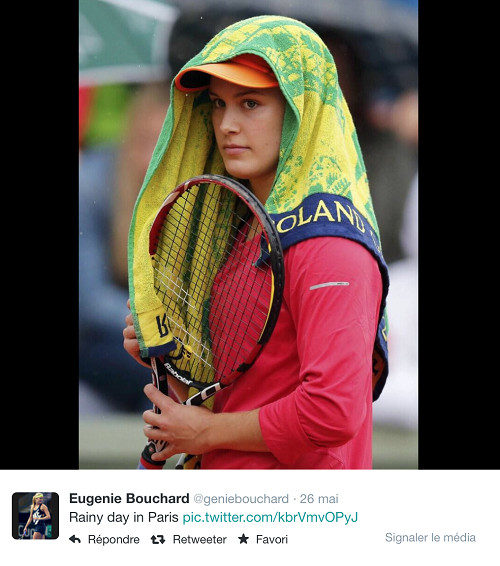 Clever.
13 - David Ferrer (-1).
Tricky first round for David Ferrer and his new haircut. Not the match, since the game against Sijsling looked like a walk in the park for him... but rather an outfit malfunction. Due to a misplaced sponsor on his shirt, Ferrer had to wait for the umpire to cover it with a black marker before starting the match. His other shirts have been patched with black tape. The problem was finally fixed for his second round against Bolelli who didn't see the light during the whole match.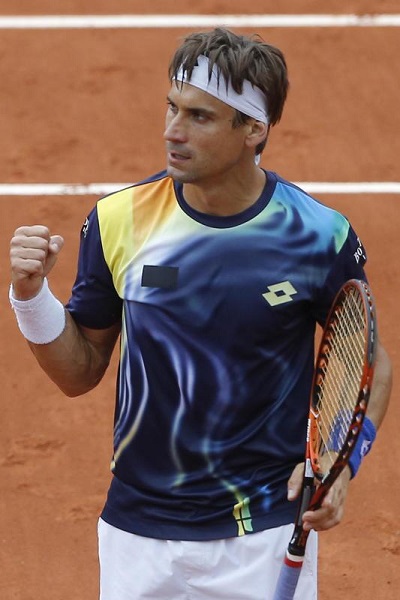 14 - Michael Llodra (NE).
It was the last time we saw him Porte d'Auteuil. At least, as a professional player. Michael Llodra played his last match at Roland Garros this week. Defeated by Verdasco in the first round (6-2/7-6/7-6), the Parisian will end his career at the end of the season. Interviewed at the end of the game, Llodra couldn't hold back his tears.
15 - Serena Williams (-11).
The Queen has fallen. She was even shattered. Serena Williams left Roland Garros by the backdoor, defeated in the second round by the Spaniard Muguruza in straight sets (6-2/6-2). It's the first time that the American and defending champion leaves a Grand Slam after winning less than five games. Strange, as it seemed that Williams worked out hard at the gym.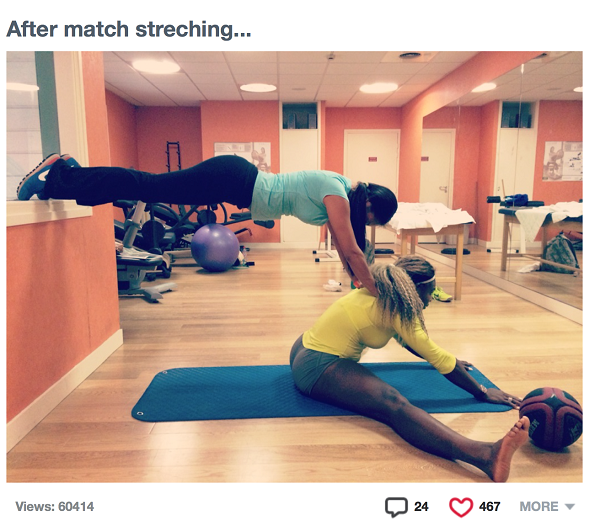 Besides, she had a hard time explaining her defeat at the press conference. Which lasted less than five minutes. "I'll go home and work five times more than usual to never lose again! Can we take one last question and stop this? I'm knackered," she said. At least, no one will criticize her lack of fair play since she immediately congratulated her opponent after the defeat.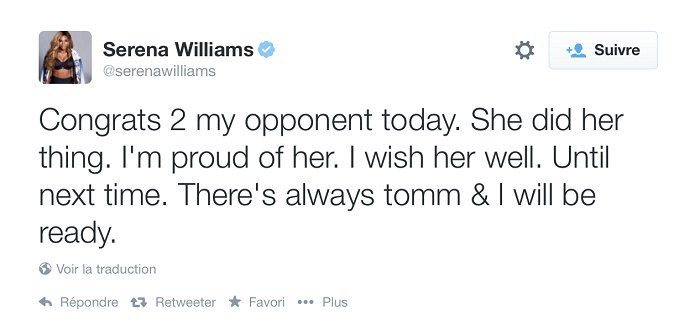 16 - Agnieszka Radwanska (-1).
No problem for Agnieszka Radwanska in the first two rounds. Qualified without conceding a set, the Polish even had time to buy some jewellery at her favourite Parisian shop.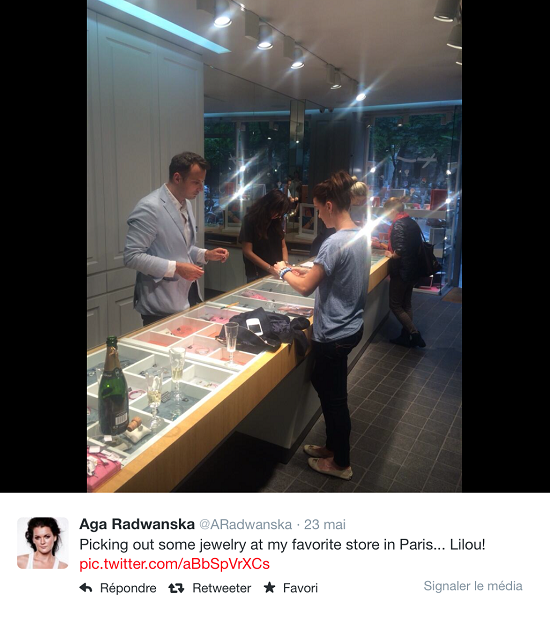 17 - Taylor Townsend (NE).
Alizé Cornet will probably have nightmares. Taylor Townsend dragged her through hell in the second round on Wednesday (6-4/4-6/6-4). Physically impressive, even if a bit reckless on some balls, the young American has multiplied tremendous shots that undermined the French. 205th in the World at the beginning of the week, the 18-year-old is a young Serena Williams.
18 - Fabio Fognini (-4).
Fabio Fognini hasn't broken any racquet or insulted any umpire yet. No, the Italian is all smiles. Easy winner of Beck and Bellucci without conceding a set, Fognini took a little selfie with his compatriot Flavia Pennetta.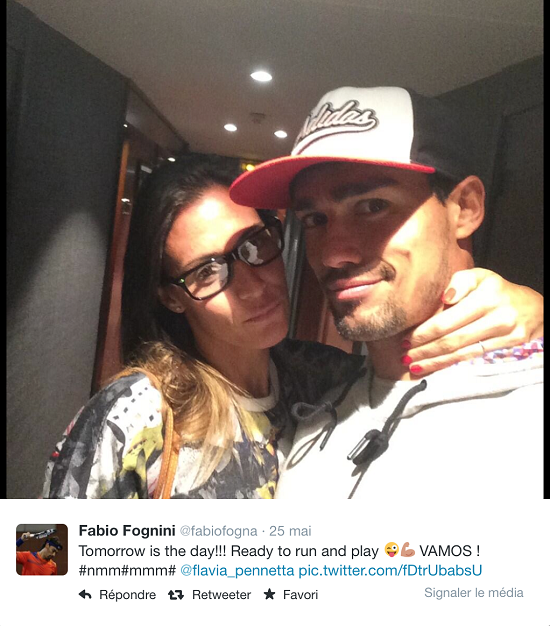 19 - Ana Ivanovic (+3).
Dream breaker. Ana Ivanovic left no chance to the French Caroline Garcia, yet in top form in the first round (6-1/6-3). The Serbian used her experience and flexibility and then quickly defeated Svitolina in the second round. Proof in picture.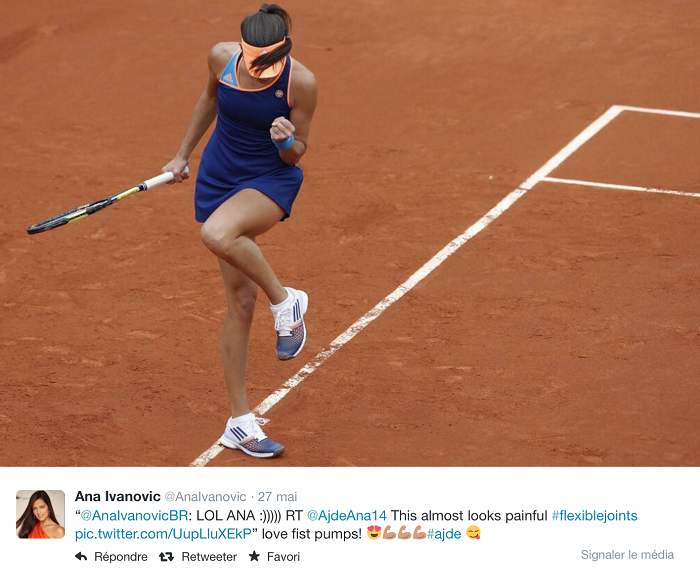 20 - Richard Gasquet (NE).
Quite miraculously back on the tour in time given his recurring back problems, Richard Gasquet is happy. Without pressure at Roland Garros, Richie is having a blast on the courts. Easy winner of Tomic and Berlocq in the first rounds, he's enjoying every minute.
His coach Sebastien Grosjean also remembers the day when his protégé has finally started to enjoy this tournament. "Richard has always struggled to feel good at Roland Garros because everyone had high expectations for him there, he said in L'Equipe. But the day he defeated Thomaz Bellucci (in 2011) when I saw him lying in happiness on the Lenglen, it was so surprising... I think his history with the Parisian public began that day and he really needed that." Gasquet also tried to play the triangle and flute. Let's be honest: not well.
21 - Stan Wawrinka (-14).
He arrived as number 1 outsider at the tournament, the only one able to shake Djokovic and Nadal. Missed. Stan Wawrinka left Paris in the first round. Defeated in four sets, the Swiss stayed in the dark during the last two sets (6-4/5-7/6-2/6-0). A difficult week then for the world number three who had already lost a ping-pong match against French TV star, Cyril Hanouna.
He will now have to watch his compatriot Federer from the stands.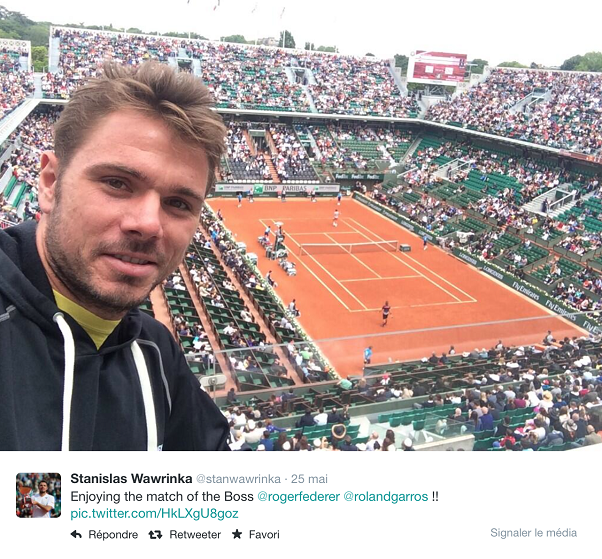 22 - Laurent Lokoli (NE).
He was the attraction of the beginning of the fortnight. After engaging in a dance battle with Monfils, Laurent Lokoli made ​​the show on court n°7 against the American Johnson. Finally defeated in five sets (4-6/6-7/7-6/6-3/6-3), the Corsican may regret an unconverted match point. "It's part of the game, it's tennis, he commented. That's why I think it's a sport that driving us all crazy! I saved match points in the qualifiers, I saved three, here I had two... and I lost! This French Open will still remain a beautiful memory." Lokoli nevertheless won the admiration of the public as well as a certain Roger Federer who gave him some advice.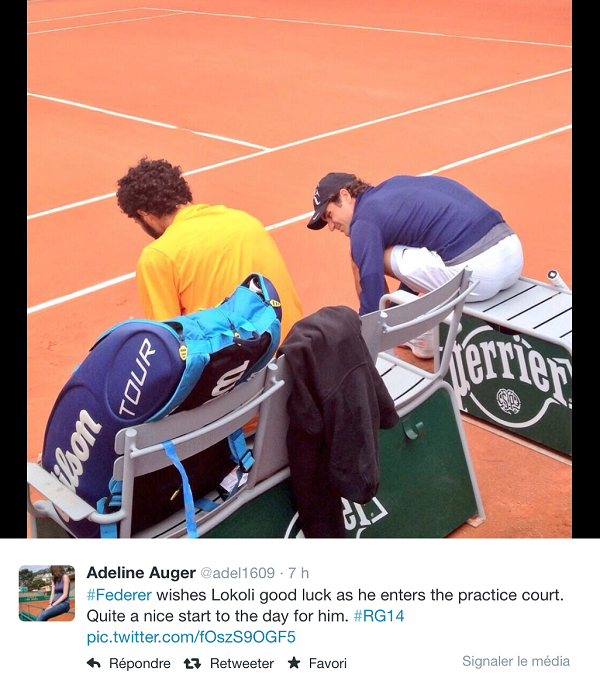 23 - Victoria Azarenka (+1).
Forfeit at Roland Garros, Victoria Azarenka stays busy the best she can during the fortnight. Amongst other things, the Belarusian baked ​​cookies. Tasty.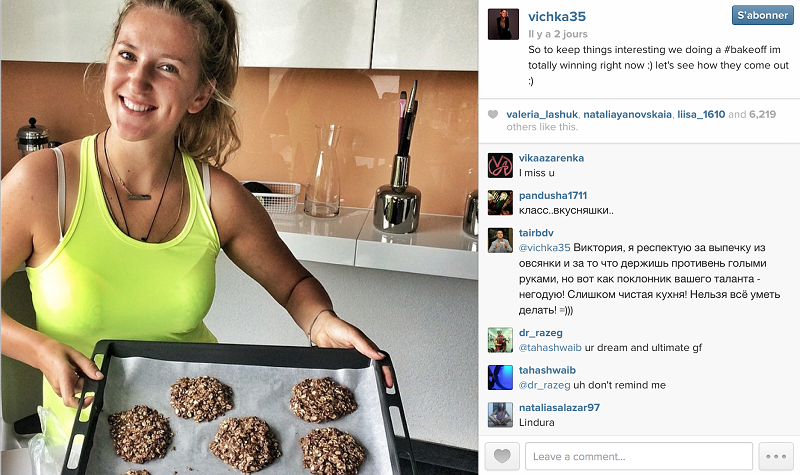 24 – Dustin Brown (NE).
Dustin Brown is back in the ranking. Not because of his performances, the German was indeed defeated in the first round by Matosevic, but thanks to this funny comment: in doubles, an Indian and a Pakistani faced... an Indian and a Pakistani. Good observation Dustin.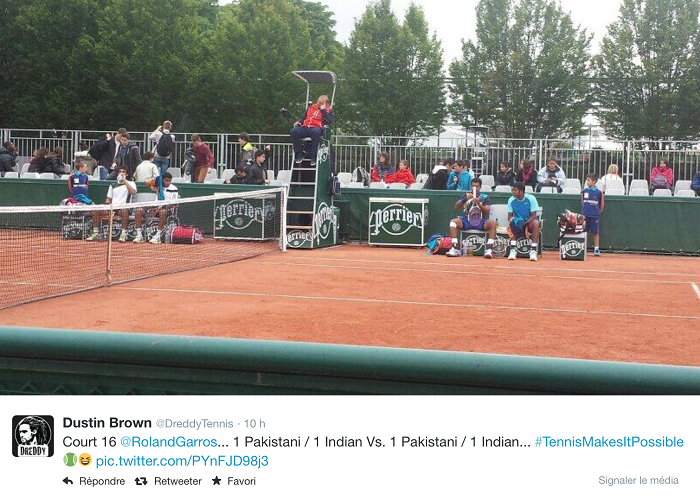 25 - Milos Raonic (NE).
On the occasion of Roland Garros, Milos Raonic tried to speak a bit of French. Not a perfect tweet, but it's a start.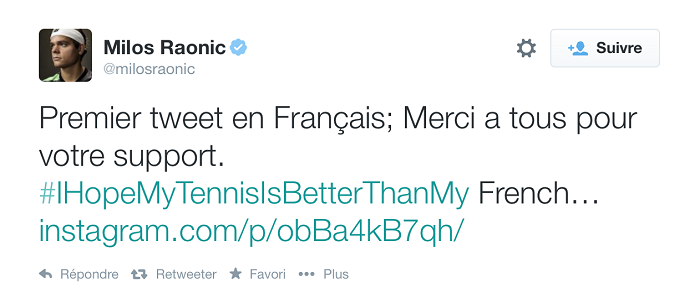 Out:
Errani, Del Potro, Halep, Cibulkova, Na Li, Jankovic, Haas and Pavlyuchenkova.
By Quentin Moynet