Despite his elimination from the first round of the Rome tournament, has Roger Federer, thanks to his fan selfie with a famous football player, managed to keep the top spot of the WAT ranking at the expense of Novak Djokovic?
The WTA and ATP races have merged to produce a single ranking. Men and women are mixed and results alone are not enough. Thus, a picture, a punch line, a tweet, a joke or a great shot can all win places. Or lose some. Tennis is global. And this week, it's Novak Djokovic who takes the top spot. And not only because of his forehand.
1 - Novak Djokovic (+3).
Before facing Nadal for 41st time in his career in the final of the Internazionali BNL Italia and beating the Spaniard for the 4th time in a row, the Serb didn't spare himself to win places in our ranking. Many smiles, during a charity day organized for the children in Rome…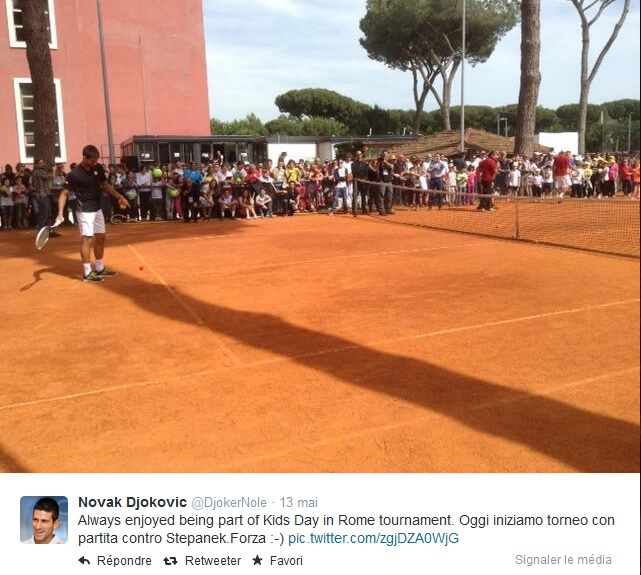 …But, mostly a message of support to Bosnia and Serbia following the deadly floods there.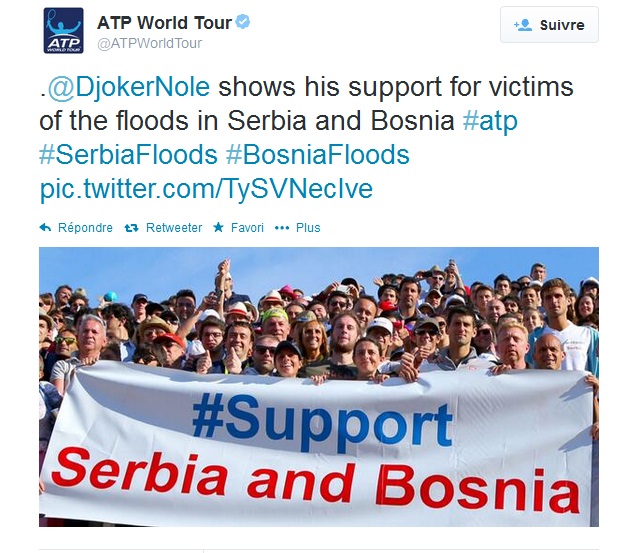 That said, the Djoker didn't forget Roland Garros since he's also starring in a very funny advertisement for a famous French car brand.
In short, he was everywhere. Number 1. Champion.
2 – Rafael Nadal (+1).
Beyond his huge athletic performance in the Internazionali BNL Italia, the Spaniard won a place in our ranking because he's an Epicurean. A real one. While staying in a 5-star hotel, the lefty chose to have the food of his favourite Roman restaurant delivered - The Tamerici for Trip Advisor lovers - in his suite. And it's shirtless than Nadal enjoyed his tomato sauce feast. A purist.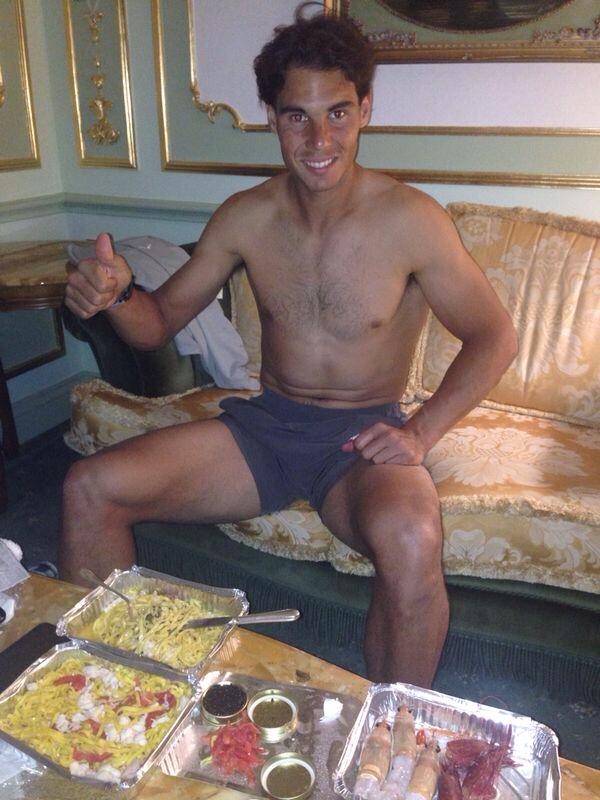 3 – Roger Federer (-2).
Defeated in the first round in Rome, Roger had yet not made ​​the trip for nothing. Upon arrival, the Swiss did his little fan selfie with Francesco Totti, the historic AS Roma's captain.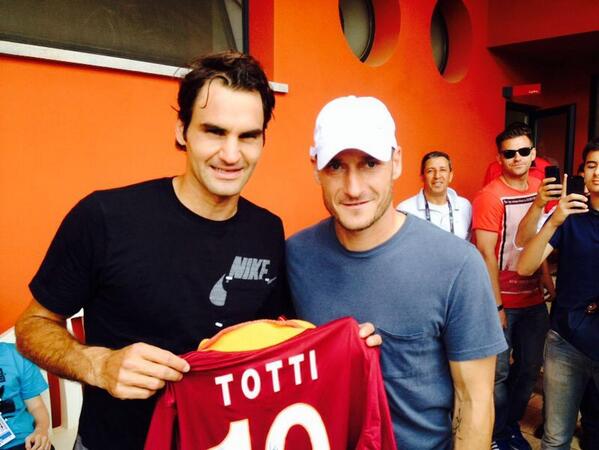 But that's not it. In the aftermath, Roger took his car back to his hotel but got stuck in traffic in the Eternal City.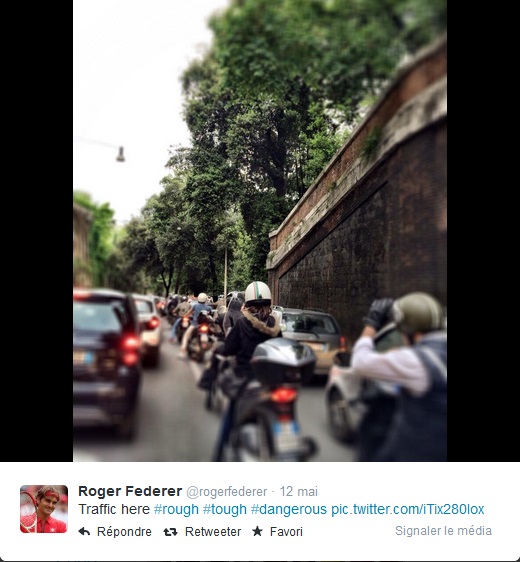 You can't have it all, Roger. Otherwise, if you really love him, you can still buy his portrait. It's less than 2 000 euros. Bargain.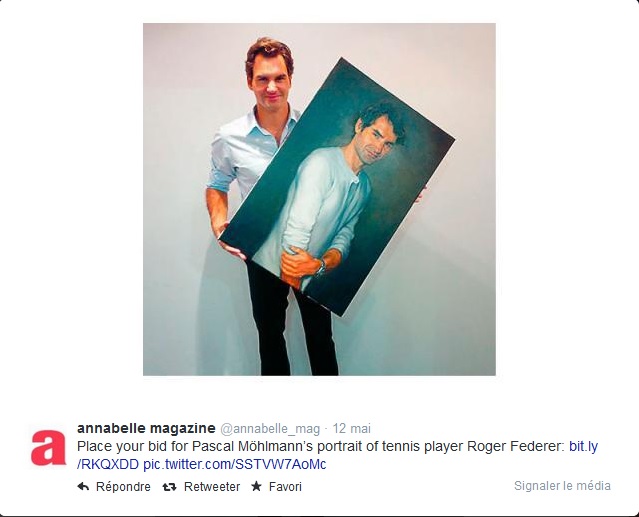 4 - Serena Williams (-2).
Swift as ever on a tennis court after the 60th victory of her career at the Internazionali BNL Italia, Serena started her week on TV. Invited by French talk show Le Grand Journal to talk about this and that, the female world number 1 said something very funny about her playing style: "When I play tennis, I'm a Pitbull, while the rest of the time, I'm a Yorkshire!" If she says so...
5 - Grigor Dimitrov (+2).
You can have Maria Sharapova in your bed and still win places in the rankings without talking about her. This shows how the Bulgarian seems to be on another planet right now. While he was quietly celebrating his 23rd birthday at the Rome tournament, the player was offered a pretty strawberry pie by the tournament organizers. Such a nice intention. Except that his coach, Roger Rasheed, chose to throw the pie in his face, which obviously made everyone laugh.
A gesture that proves that the collaboration between the two men is working very well.
6 - Andy Murray (/).
The Scot provided the career change of the week. Tennis ? Over. He moved on to something else. And right now, the winner of Wimbledon 2013 seems to be into beauty salons. His first client was called Grigor Dimitrov, the Bulgarian wanted a little change.
Not so bad for a first, don't you think? And as the Scot is a true gentleman, he also treated the journalists for his birthday by giving them some of his strawberry pie.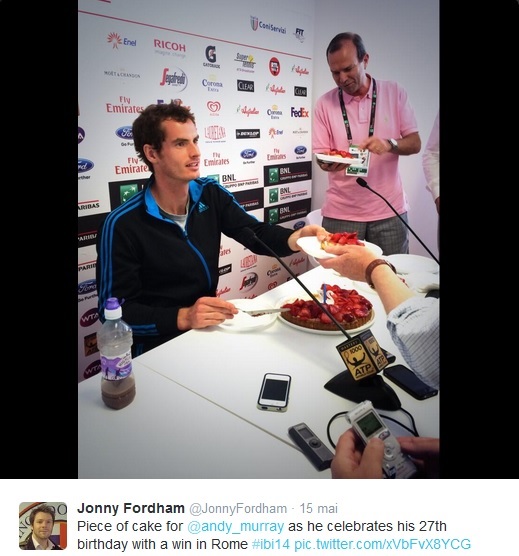 7 – Stanislas Wawrinka (-2).
Wawrinka is a bit fussy when it comes to his name. Rumour has it on the ATP tour that the Swiss would like to change it. Nothing really revolutionary since he would go from "Stanislas" to "Stan". A detail.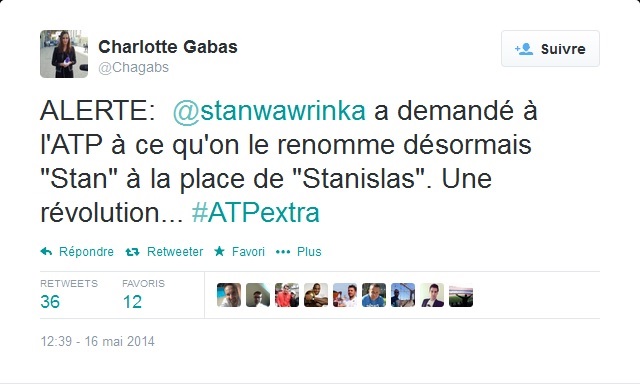 8 - Maria Sharapova (/).
While her boyfriend had a pie thrown in his face for his birthday, the sweet Maria was chilling out in the Eternal City. Sharapova with her lonely planet in the streets of Rome, the Angels & Demons way, we're big fans.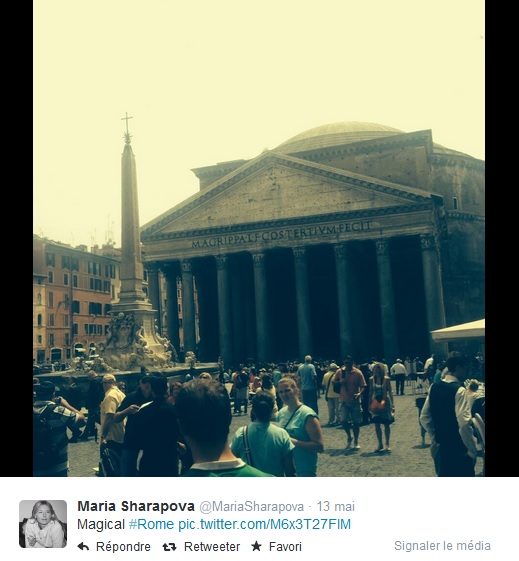 9 – Petra Kvitova (/).
The lady should give up tennis soon. Too overrated. She hesitates on the direction to give to her career. According to the pictures she posted on Twitter, she seems to consider a new life in baseball.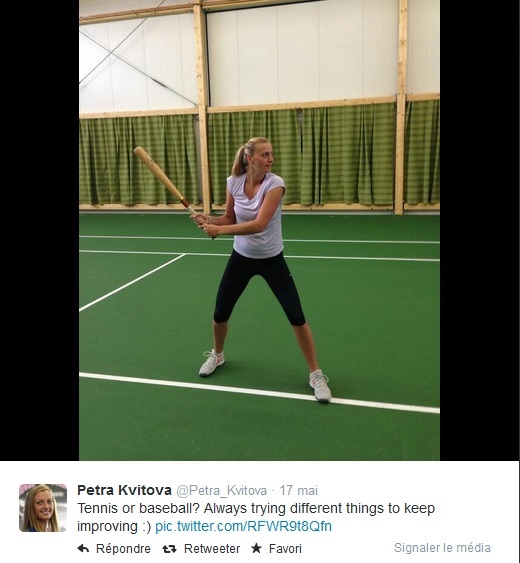 We are not convinced yet.
10 – Jo-Wilfried Tsonga (+1).
What does Jo-Wilfried Tsonga do to celebrate the 300th victory in his career? He takes a good time with a very famous champagne brand.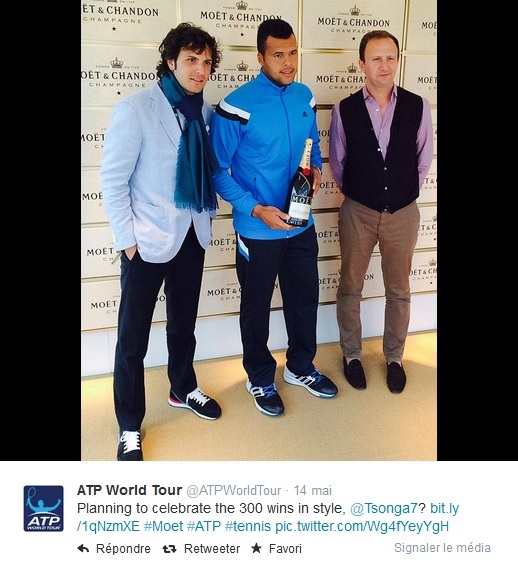 A welcome change from the little yellow balls, which is worth a nice progression in the ranking.
11 – Tomas Berdych (+1).
A wonderful week for the Czech, who's not used to the spotlights yet. First, the great Tomas made two new friends, some cheap lookalikes of John McEnroe and Bjorn Borg. Funny guys.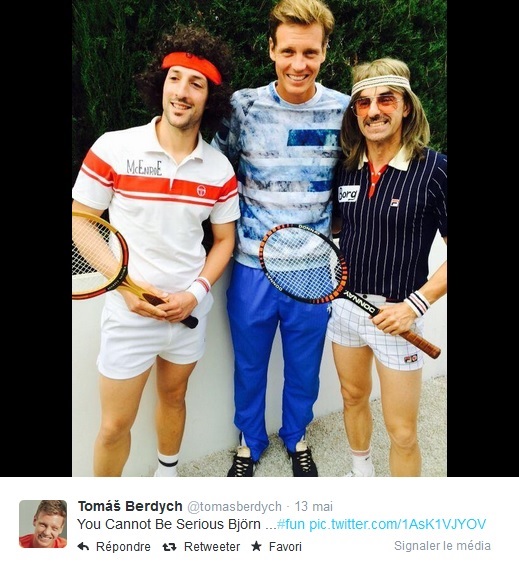 But above all, the world number 6 posted on Instagram a video of his own production, aboard a golf cart, chased by kids who only wanted one thing: an autograph or a picture with him. A chase that revived some good memories for the champion: "When I was a kid, I used to do the same thing. Now I'm in a better position, it's their turn to run!"
12 – David Ferrer (-2).
Defeated for the twelfth time by Novak Djokovic, the Spaniard was eliminated in the quarterfinals at Internazionali BNL Italia. Before Roland Garros, he's in great shape but still stumbles on the greatest. Nevermind...
13 – Eugenie Bouchard (+7).
The Canadian player took the selfie of the year. We can see her sweet little face and, in the background, the Pope. Photo bombing.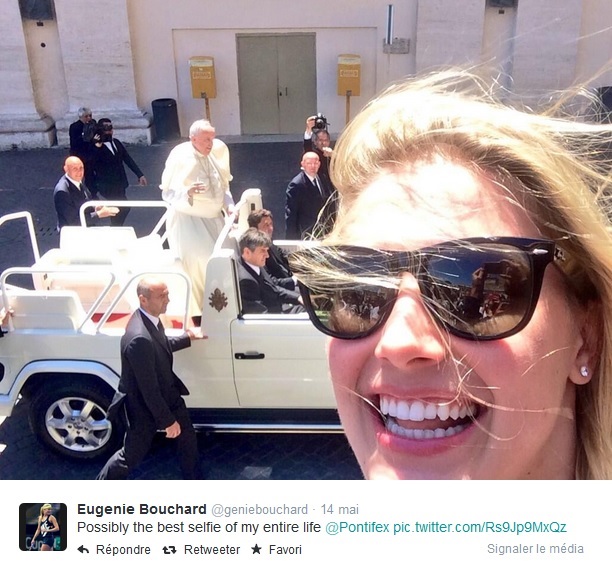 It will be hard to do better. We gave her the greatest progression of the week as the player is definitely an artist 2.0.
14 – Fabio Fognini (+1).
The Italian was defeated at home, in Rome, by Lukas Rosol in the first round (6-3, 6-2 in 1:07'). He nevertheless wins a place in the ranking thanks to... Radwanska's dress. In the WAT ranking, who loses wins!
15 – Agnieszka Radwanska (-1).
She lost a place. A bit gratuitous, let's be honest. The reason? This spring dress in Rome. It's just wrong.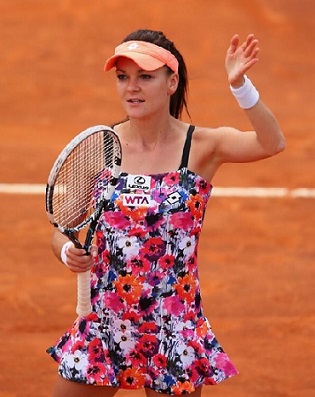 16 – Sara Errani (NE).
The Italian made it to the final of Internazionali BNL Italia only to be demolished by Serena Williams (3-6, 0-6), but this week, she also was on the cover of a book. « Excalibur » which tells the story of her life.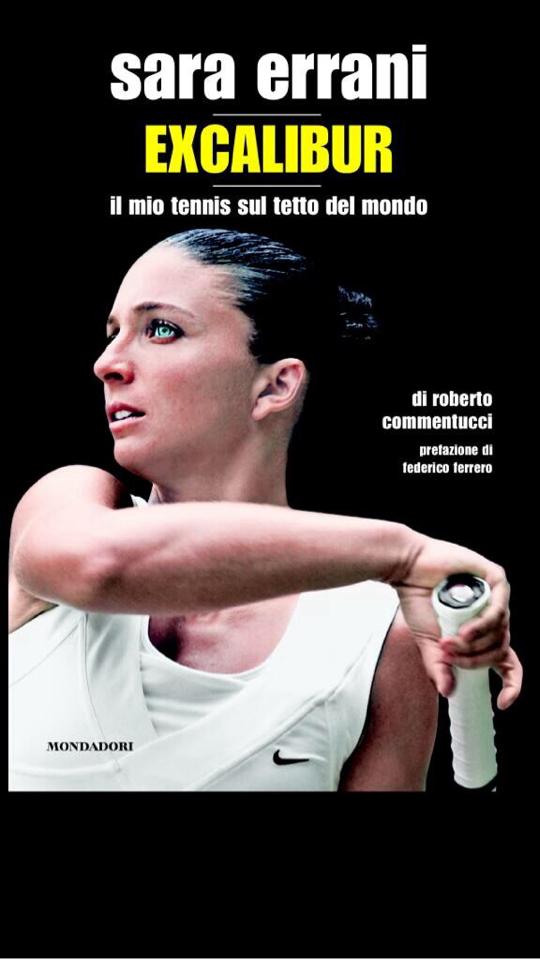 Well, we still have a hard time understanding the title and its relation to tennis, but it will have the advantage to keep us busy on the beach this summer.
17 – Juan Martin Del Potro (NE).
Still recovering, the Argentine is trying to be healthy by drinking Argentinean coffee, the famous mate, while watching Bruce Springsteen live.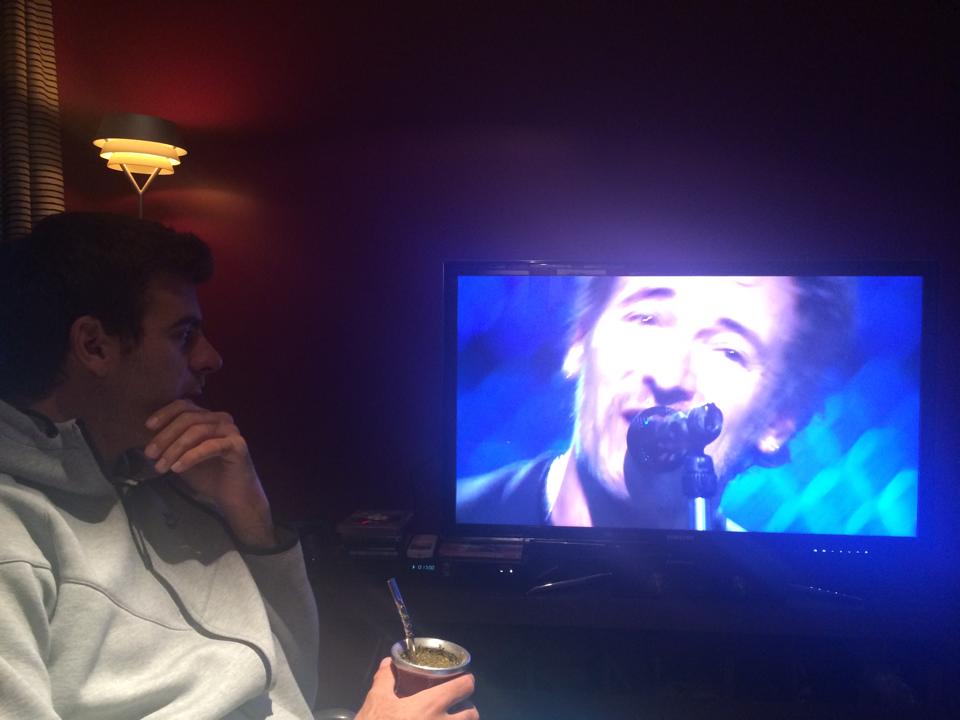 Young but forced to rest, Del Potro is already an elder in his head.
18 – Simona Halep (-1).
An injury to the abdominal muscles and the Romanian waved goodbye to Rome even before her match against Carla Suarez Navarro Spanish. Sad.
19 – Dominika Cibulkova (-1).
Tennistically, she's not having the time of her life. No problem, people keep thinking about her during this tough time. Especially with this little bunch of flowers, which was waiting for her at home when she came back from Rome.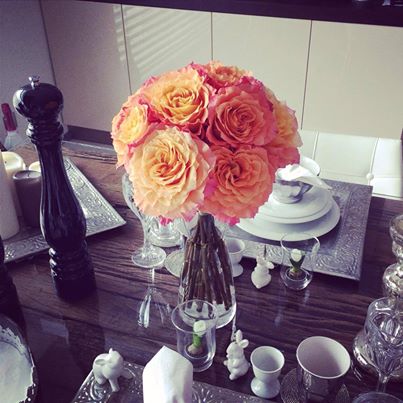 And the player quickly bounced back with a very "veggie" TV set and her dog on the couch.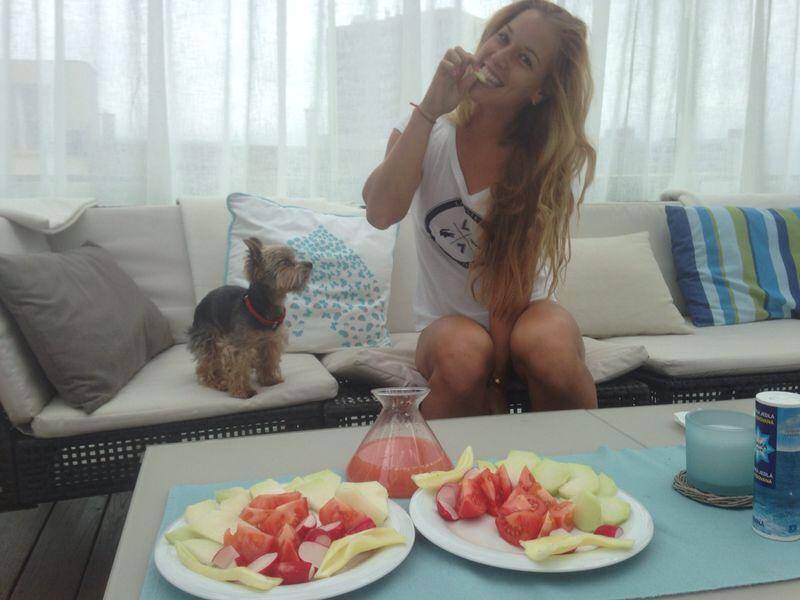 That said, impossible for her not to lose a place – anyway. Her clay court season is a nightmare.
20 – Na Li (NE).
Very quiet outside the courts, Na Li is back with a vengeance since she features on the cover of Time Magazine. It's already the second time that the magazine talks of the champion since in 2013 she was already part of the 100 most influential people of the year.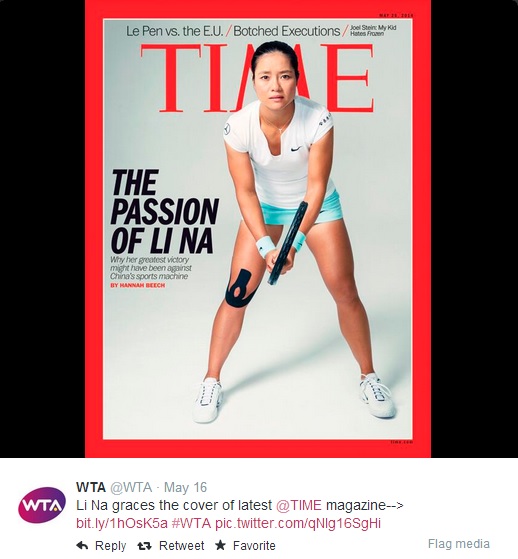 An honour that pleased the former Roland-Garros winner: «I am really honoured to be featured on the cover of TIME magazine yet again, she said on the WTA website. As one of the most widely read publications in the world, I am very grateful to be in the position to make an impact on the multitude of people, especially women, and to show them that if you truly believe in yourself and in your talent, and are willing to work hard, your dreams can become reality.» It was well worth a new emerging in our ranking.
21 – Jelena Jankovic (NE).
The Serb has occupied the top spots of world tennis for a long time. But now she's getting older, tennis is no longer a priority. So when Jelena goes abroad for a tournament, she's rather on a "tourist" mode, camera around the neck and little photo montage for memories. Here, she paid tribute to the Piazza di Spagna in the heart of Rome.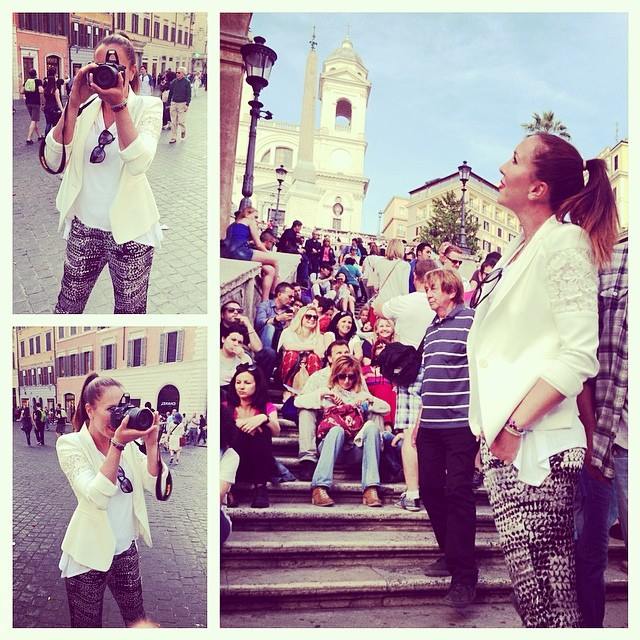 22 – Ana Ivanovic (NE).
Just like her big "sister", Jelena Jankovic, Ana Ivanovic loves tourism. While Jelena does real tourism, Ana is more into culinary tourism. Whether it's a plate of spaghetti or Italian ice creams, the girl immortalizes the moment.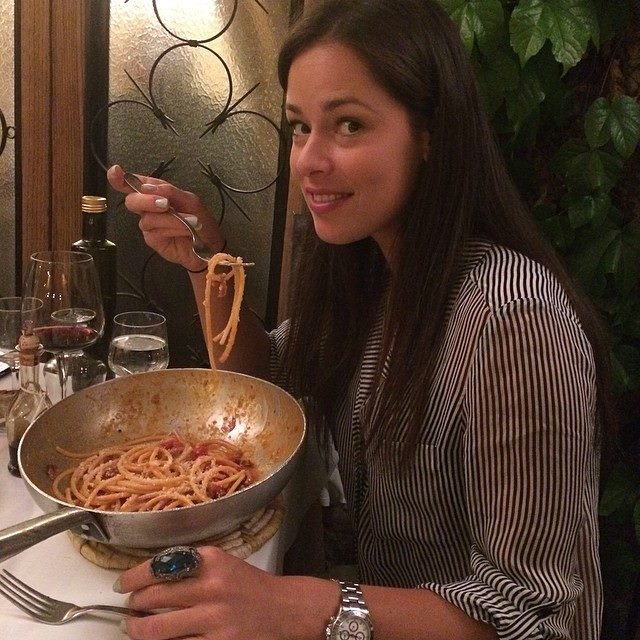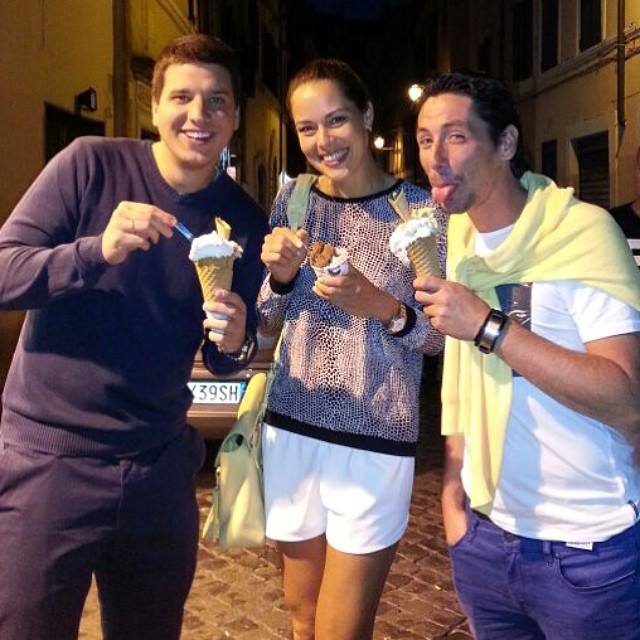 But what about tennis?
23 – Tommy Haas (NE).
Tommy is free as a bird. It's the end of his career, and he no longer has anything to prove. Miroslav Klose, the striker for the football club Lazio, who is German too, took the time to come see his peer at the Rome tournament.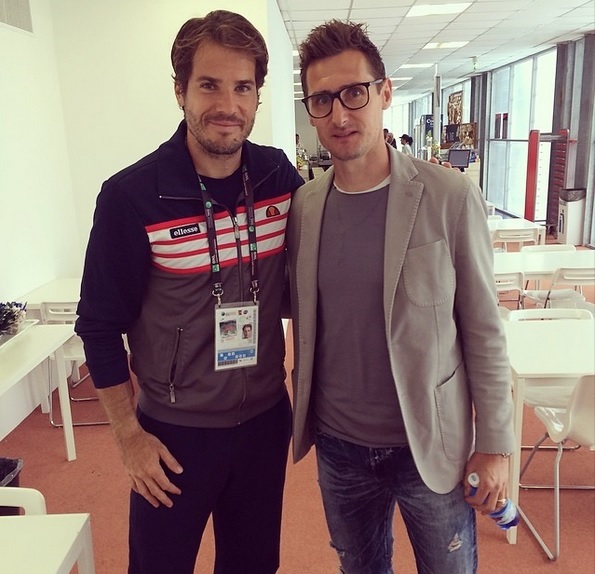 And it's fair to say that between the two men, style is a must.
24 – Victoria Azarenka (/).
Weeks after weeks, the former world number one uses her fitness program to give us an update on her poor health. After working out while listening to Britney Spears last week, she's back with a core training class this time. A photomontage later, we feel like we're back in the 80s in Venice Beach.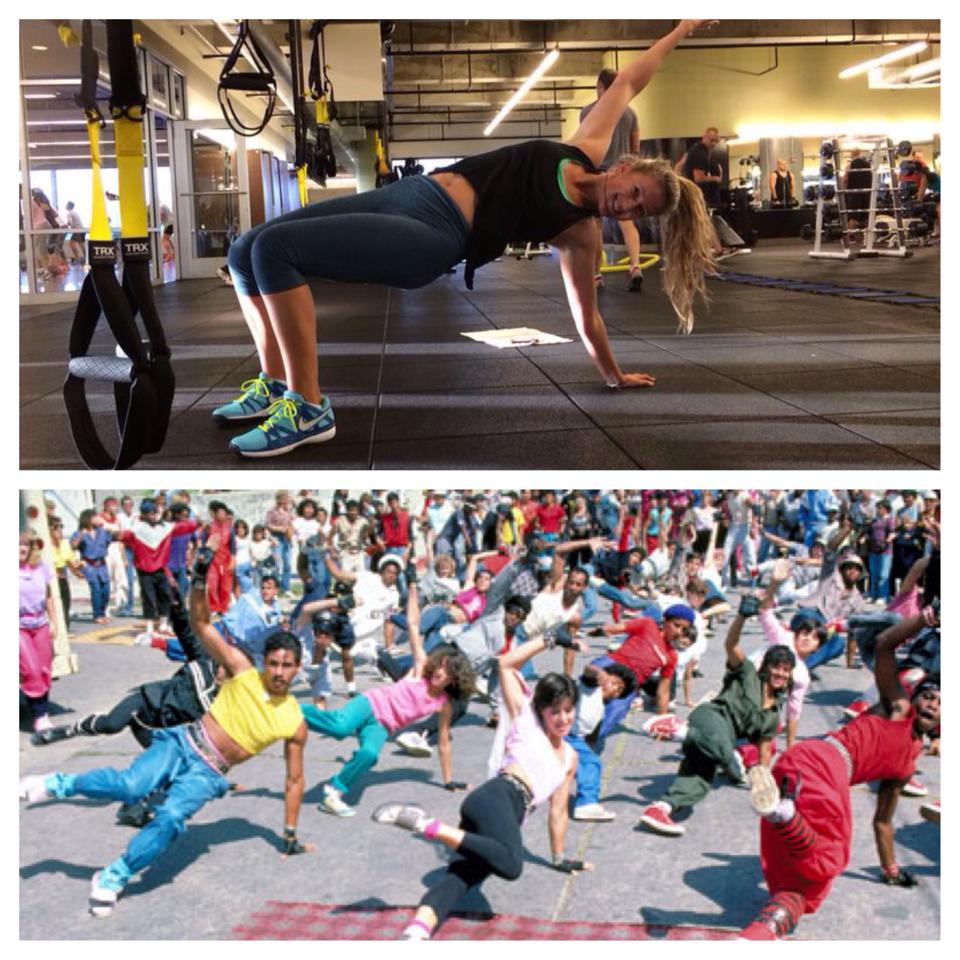 25 - Anastasia Pavlyuchenkova (NE).
Roger Federer already raised the issue. The Russian confirmed it with this picture of the view from her hotel room: The traffic in Roma is horrible during the clay courts tournament.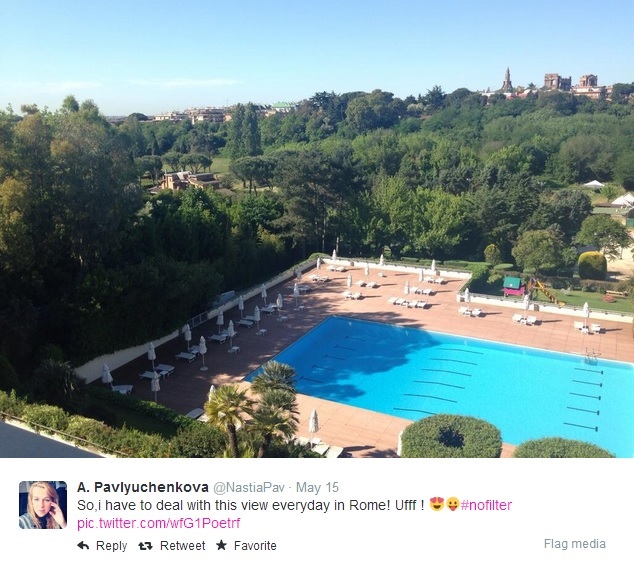 Sometimes, life can be tough on the tour.
Out:
Kei Nikoshori, Caroline Garcia, Richard Gasquet, Maria Kirilenko and Caroline Wozniacki.
By Mathieu Faure