After being on the cover of Fitness Magazine, has Serena Williams managed to keep the first place of the WAT ranking against Federer's twins or Rafael Nadal's doppelganger? The answer is in the tennis journal.
The WTA and ATP race have merged to produce a single ranking. Men and women are mixed and results alone are not enough. Thus, a picture, a punch line, a tweet, a joke or a great shot can all win places. Or lose some. Tennis is global. And this week, Roger Federer got his crown back thanks to a happy news. Or two actually!
1 – Roger Federer (+1).
Not satisfied with having the recipe to win all his matches (or almost), Roger Federer also seems to hold the secret of twins. Already father of twin girls, Myla and Charlene, born in 2009, the Swiss and his wife Mirka are again proud parents of twin boys this time, Leo and Lenny. The legend announced the news on twitter, just after the birth of his babies last Tuesday night.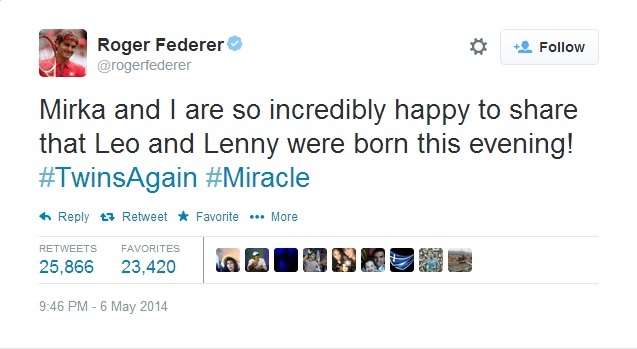 Beside this, the new XXL advert of the Swiss for a famous brand of champagne on Times Square almost went unnoticed. This man is a genius.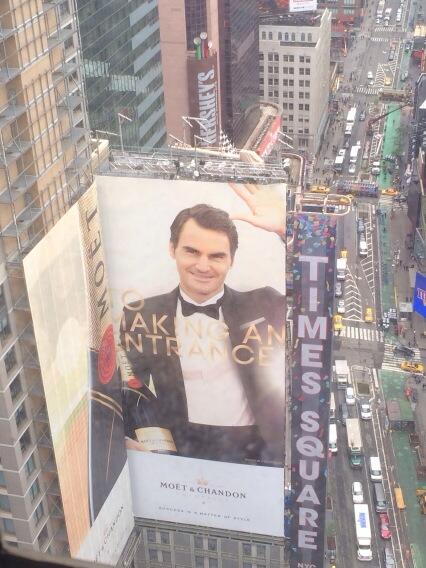 2 - Serena Williams (-1).
Injured in her left thigh, the American decided to pull out of Madrid not to compromise her chances before Roland Garros. Not a big deal, she had better things to do this week anyway. Like being on the cover of a fitness magazine. Easy.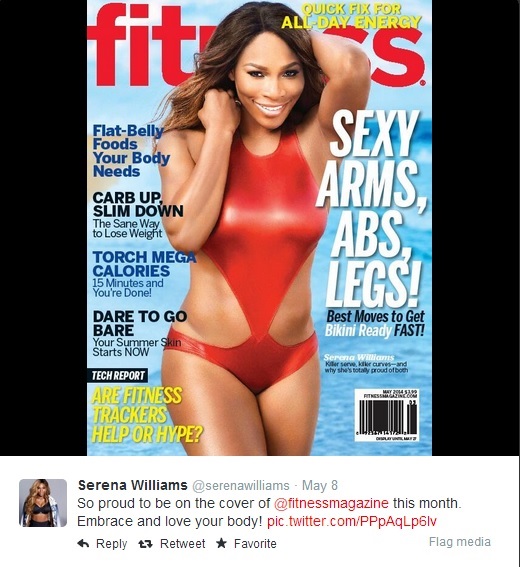 3 – Rafael Nadal (+6).
On a sporting level, the Spaniard is on fire after the 90th final of his career for another victory in Madrid after that an injury forced the wonderful Japanese Nishikori to retire. The Iberian then won his 27th Masters 1000. Boss. Otherwise, before that, Rafa also had a very special beginning to the week. First, he received praises from Andre Agassi in the columns of the Straits Times as the former world number one had to choose the best number one in history. His answer? "I will put Nadal in No. 1 and Federer in No. 2. It's just remarkable to me what he has done, and he has done it all during Federer's prime." And as the lefty was in high spirits, the Madrid tournament also had the good idea to introduce him to a bus driver called José Manuel Ramiro. His particularity: it's his doppelganger. Disturbing.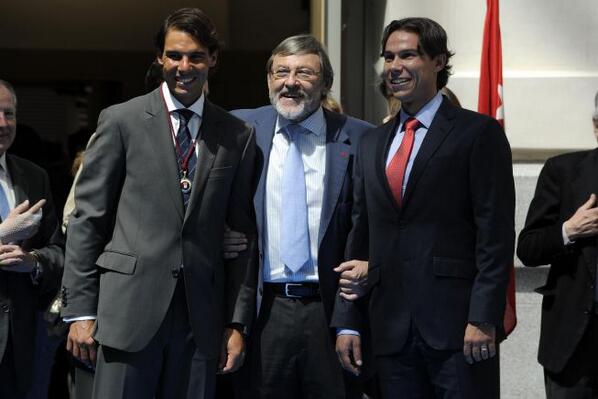 4 - Novak Djokovic (-1).
The Serb is going through a bad patch. As he had to withdraw for Madrid, he got a little bit bored. So he decided to innovate. Novak has then accepted an offer from the brand N&S, whose owns Gerblé for example, to become the face of a dietary products range. For Djokovic, it's more than just a commitment since the player is intolerant to gluten, the protein from wheat. The story is well known: the champion felt such a metamorphosis once he detected the problem and only fed from food not containing any that he wrote a book about it. What a program.
5 – Stanislas Wawrinka (-1).
When Stan isn't tormenting the tennis world, he's training with his friends. Recently, he exchanged a few balls with a man called Federico Coria. Yes, Coria. Federico is indeed the younger brother of Guillermo, the Argentine player who was finalist at Roland Garros. It was worth taking a little picture.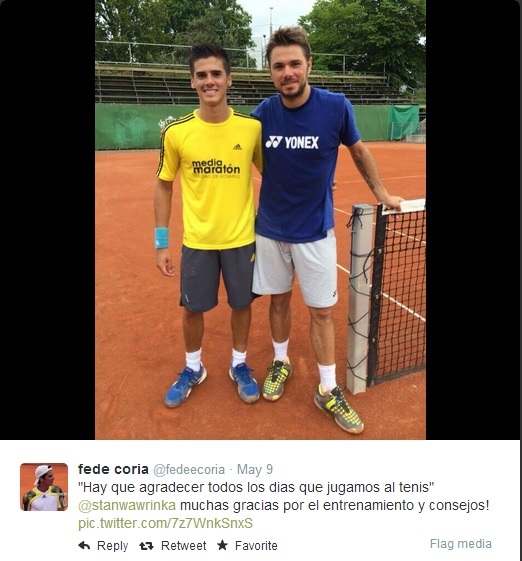 6 – Andy Murray (-1).
The Scot has been without a coach since splitting from Ivan Lendl in March. Not a problem, the winner of Wimbledon is considering working with another 80s champion. A man called John McEnroe. The type of association that would make Murray very happy or at least it's the impression that he gave in an interview to the BBC: «every player would consider someone with his credentials. I like listening to him commentate and he has a lot to offer as well. It's interesting but if anything comes from it, who knows? When you are very competitive as a player, you are likely to be the same as a coach and that's also a benefit.» Beware of racquets and surges of anger though.
7 – Grigor Dimitrov (-1).
No need to play or show up to make people talk about him. The Bulgarian has a wife who does it for him. And rather well. While Maria Sharapova was asked about the contribution of a boyfriend like Dimitrov in her daily life as high-level athlete in Madrid, the Russian has cosset her lover in the answer: "Oh my God, how can I answer that? Yes, I think that love is a real plus, and it's complementary to your professional life. It's good to have someone to go home to. I wish it to everyone." Grigor can smile. He just killed the game.
8 - Maria Sharapova (-1).
When she's not talking about her man, Sharapova talks about other men. As David Luiz, for example. Chelsea's Brazilian footballer has been chosen in the 23 who will go to Brazil for the World Cup. To mark the occasion, Sharapova posed proudly with the jersey of the player on Twitter. With these nice words: «David Luiz congratulations for making the final squad! Working on how I can get yellow and green into my look ;) #DareToBeBrazilian''».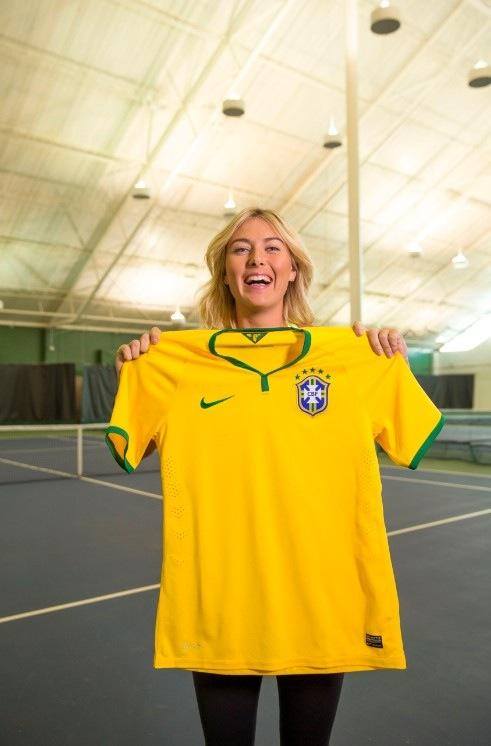 But since the two athletes seem to have nothing in common, some thought a new love story. Except that Sharapova, Brazil and David Luiz do share one thing: the same equipment manufacturer. QED. Nothing to disrupt the Russian who got rid of Simona Halep in Madrid's final (1-6, 6-2, 6-3).
9 – Petra Kvitova (+1).
The player, who was in Madrid like most of her peers, took advantage of her week to visit Santiago Bernabeu, Real Madrid's stadium. But the Czech is faithful and insisted that her heart still belonged to Chelsea. Come on.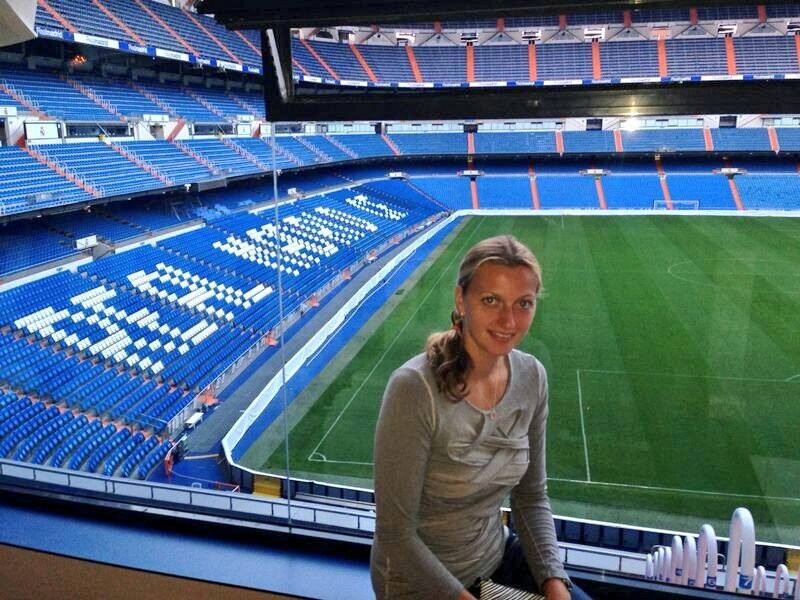 However, this visit didn't help her to beat Halep in the semi-finals of the Spanish tournament.
10 - David Ferrer (-2).
Another bad week for Ferrer who was eliminated in Madrid's semi-finals by the Japanese Nishikori in 2h55 (7-6, 5-7, 6-3). Tough. But the Spanish player did some very big mistakes. Including missing almost all the break points (he converted only three out of fifteen).
11 – Jo-Wilfried Tsonga (/).
After his quarterfinal in Monte Carlo, we thought that the French launched his season. Yes but no. Demolished in the second round in Madrid by Santiago Giraldo in straight sets (6-3, 6-4), Jo fell into the world of doubts. A nest of questions that Stephen Bunard, specialist of body language, tried to answer in the newspaper L'Equipe this week. « This is what I explain about Tsonga in the book. When he has four match balls against Djokovic (in the quarterfinals of Roland Garros 2012, ed), he scratches the right side of his nose, indicating that he has a problem with his image, perhaps due to what's at stake, the context, the person who is in front of him. By analysing this gesture, every party could have adjusted to it, at least in theory. The coach could have encouraged him stronger, the adversary could have felt stronger himself and Tsonga could have regrouped. Without being a soothsayer, yes, I can say that it was possible to anticipate what happened after. When I saw Tsonga scratch his nose like this, I knew that it was far from won. If he would have done this (he passes his hand over his mouth, note), it would have meant that he was drawing attention to his legitimacy, taking control and I would have thought: 'hey, there he's confident'.» Maybe this will help you for your next job interview.
12 – Tomas Berdych (/).
Torpedoed by Rafael Nadal in the quarterfinals of Madrid (6-4, 6-2), the Czech left Spain with his head in the fog. However, it didn't prevent him from wishing a happy birthday to his mother on Twitter. And with a song please, this essential of the Shirelles.
13 – Maria Kirilenko (/).
Finally back on the courts after a series of injuries, the beautiful blonde intends to enjoy the benefits of the circuit. Thus, we saw her at a party with Daniela Hantuchova and Martina Hingis. The female 3T.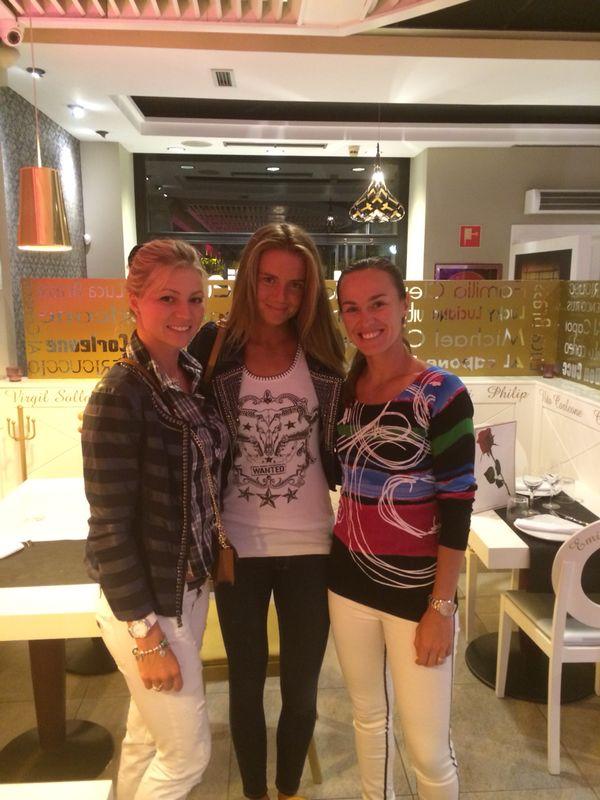 14 – Agnieszka Radwanska (/).
For the tenth time in twelve matches, the Polish lost against Maria Sharapova. It's called an inferiority complex. This time it was in the semi-finals of Madrid. And it was quick, well done (6-1, 6-4).
15 – Fabio Fognini (/).
When he's not insulting his coach on a tennis court, the Italian is at the stadium supporting his football team Inter Milan. Saturday, the Italian club said goodbye to its historical captain Javier Zanetti. A detail for some but a great sadness for Fognini who paid tribute to his favourite player.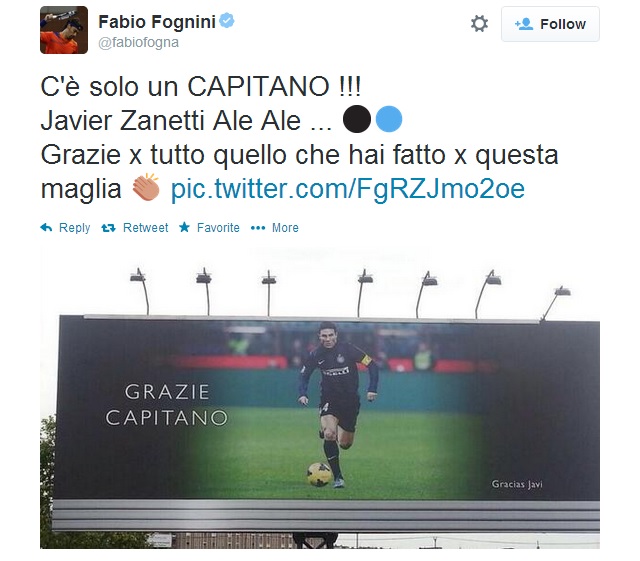 16 – Milos Raonic (+2).
NBA fan, Raonic has already posed with the greatest, including LeBron James, as you might have seen on his Twitter and on his Facebook. And as a good Canadian, Raonic logically supports the Toronto Raptors. Better, during the plays-offs, he talked with the Raptors community manager. And it was a pretty good.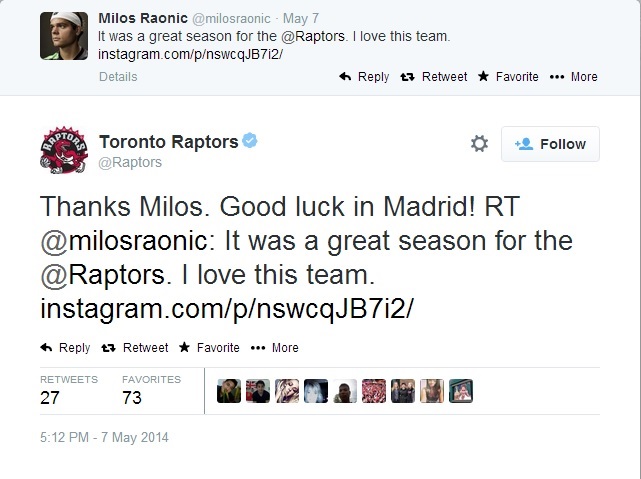 The rapper Drake, who is also fan of the franchise can be jealous.
17 – Simona Halep (NE).
The Romanian is on cloud nine right now. After her victory in Doha in February, the young player also made it to the final in Madrid, and played very well. Even though Sharapova was superior in the last act, and the fact that Simona isn't making a lot of efforts outside tennis courts and on social networks, we salute the effort by awarding her a respectable 17th place in the WAT ranking.
18 – Dominika Cibulkova (-2).
Big disappointment this week. Dominika didn't bother to post a single picture of her at a fashion show or at a photo shoot. Nothing. Nada. The Slovak nevertheless tried to make up for it by giving an interview to the website of the WTA where she talked about her two dogs that follow her everywhere on the tour: Woody and Spajky. She said in particular: "What I like about them is that they don't care if I win or lose. They're just happy to see me." Great.
19 - Santiago Giraldo (+1).
With these good results, the Colombian is becoming an important figure of this ranking. He will become even more if he continues giving anecdotes such as this one. Indeed, while he was playing his first round match against Lleyton Hewitt in Madrid, the player realized he was wearing the wrong t-shirt. He explained on the website of the ATP: « My cousin is spending six weeks with us this summer and he had my other shirt, I counted four shirts in my bag before the match, but when I went to take the last shirt I realised it was my long-sleeve and that my cousin had the short-sleeve. That's why I had to change with him. It's a funny thing. Now that I've won maybe I will do it again. I may start a trend. ».
20 – Eugenie Bouchard (-1).
Candies lover, the Canadian also love going sightseeing. Eugenie has then taken advantage of her Sunday in Madrid to have a street artist draw her portrait.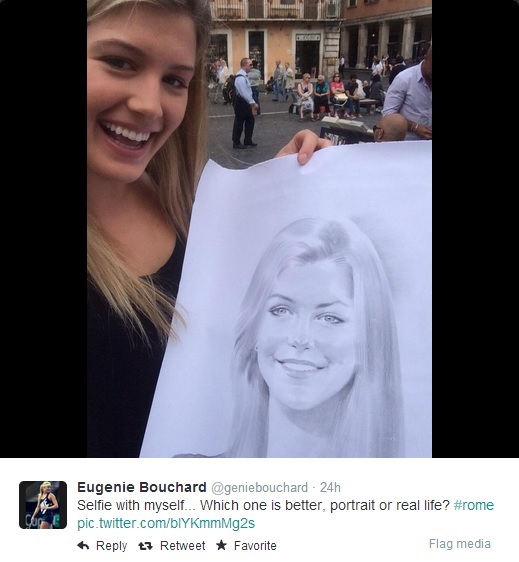 So, what do you think?
21 – Caroline Garcia (NE).
Caroline Garcia is on fire. After defeating Kerber, Kirilenko and Errani, Garcia, who remained on twelve consecutive victories, eventually lost to Agnieszka Radwanska in Madrid's quarterfinals. The French lost in three sets (6-4, 4-6, 6-4). A real success story for this 20-year-old player.
22 – Caroline Wozniacki (-5).
Not only the former world number one has trouble going back to the top on the courts - she just withdrew for Rome - but in addition, she openly admits watching the Eurovision. A good citizen, she also said that the organization in Copenhagen was exceptional.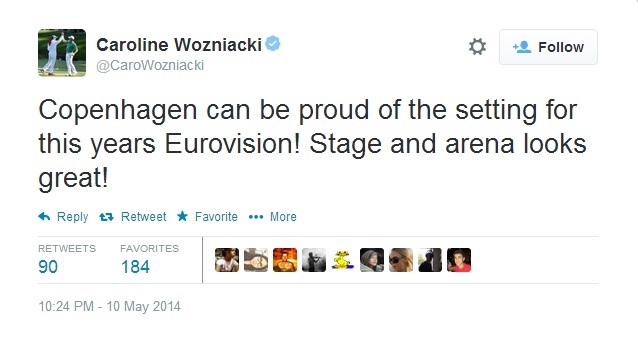 Hello chauvinism.
23 – Richard Gasquet (/).
Like Fognini, Gasquet is a football fan. But unlike the Italian, the French supports Paris-SG. So when the French capital's club won a new champion title last week, Gasquet seemed to be over the moon: "We are all very happy and especially the players who must be delighted. It's the most important. It's great for the club." So Gasquet says "we" to talk about PSG. Just so you know, he was born in Beziers, 500 miles from Paris…
24 – Victoria Azarenka (/).
Still at odds with her body, the Belarusian is working hard at the gym. It seems that she's trying to get stronger muscularly with music. Cheers Britney...
25 - Kei Nikoshori (NE).
No one can stop Kei Nishikori! Winner in Barcelona last week, the Japanese was also great in Madrid since he reached the final where he gave a hard time to Nadal before giving up due to back pains (6-2, 4-6, 0 -3). But we'll see him again soon. No doubts about it.
Out:
Philip Kohlschreiber, Jerzy Janowicz and Juan Martin Del Potro.
By Mathieu Faure