To keep her top spot in the WAT ranking, Serena Williams turned to THE star of tabloids. Discover her identity by reading the tennis journal, the best of this week's oddities.
The WTA and ATP race have merged to produce a single ranking. Men and women are mixed and results alone are not enough. Thus, a picture, a punch line, a tweet, a joke or a great shot can make up some places. Or lose some. Tennis is global. And this week, Serena still holds the first place. With Kim Kardashian as doubles partner.
1 – Serena Williams (/).
In addition to being an influential and admired woman, Serena Williams also has wealthy friends. Thus, before coming to Spain, the world number one indulged in an afternoon in Paris with a girlfriend. But not just any girlfriend since it was with the paparazzi's favourite: Kanye West's future wife, Kim Kardashian. The latter asked her tennis player pal to help prepare her upcoming wedding in the French capital.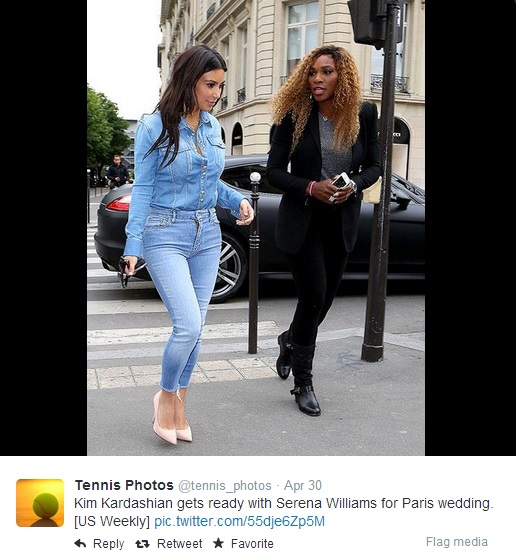 To promote Madrid's tournament, Venus' sister participated in a big football tennis match on clay with her peers Rafael Nadal and Andy Murray, but also a number of figures from entertainment as well as Spanish sports stars such as NBA basketball player Rudy Fernandez, Real Madrid goalkeeper Iker Casillas and Atletico Madrid's star, Thibaut Courtois. And the least we can say is that the American didn't seem very comfortable with the big white ball. Worse, she was afraid of it.
2 – Roger Federer (+1).
Roger Federer and Nike, it's a story of love and big money. Like every year before Roland Garros, the Swiss has received his new outfit for the French Open. And once again, the former World No. 1 will be the most elegant.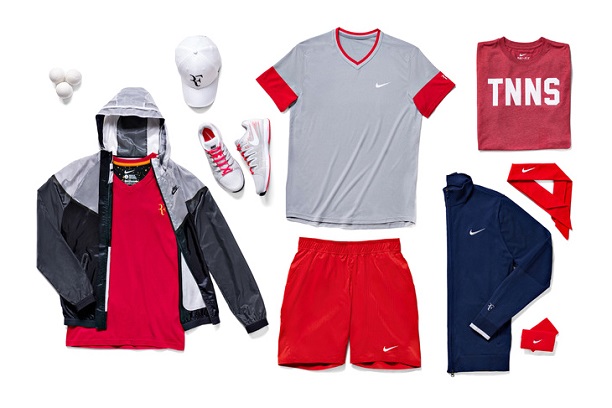 Meanwhile, he's taking advantage from the modern world and his wife's maternity.
3 – Novak Djokovic (-1).
Clay is not the strong point of the Serb. Because of a wrist injury, Novak has already withdrawn from the Madrid Masters. Yet the Djoker had given himself every means of success by running and training hard at the Louis II football stadium in Monaco, where he officially lives during the season.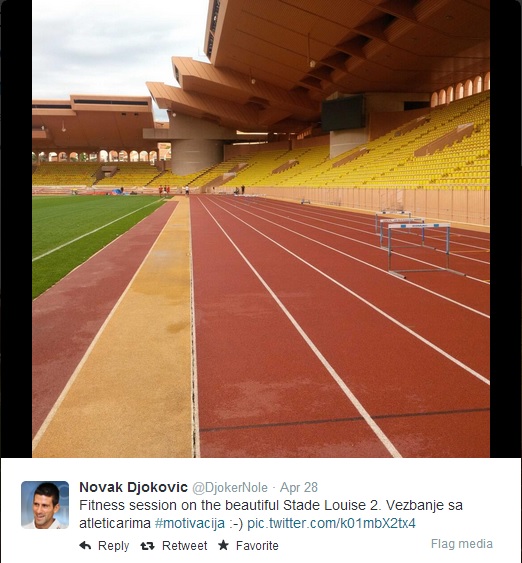 4 – Stanislas Wawrinka (/).
Nothing new for the Swiss player, still cheerful and fair play. Proof with this very oriented viral montage showing us that Roger Federer and Wawrinka are like angels on a tennis court. Amazing.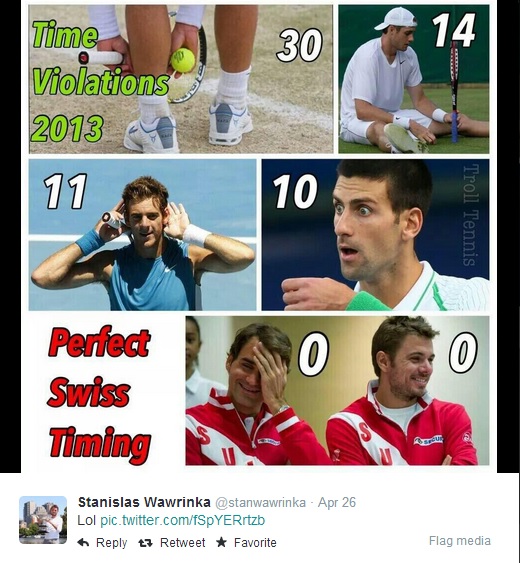 5 – Andy Murray (+1).
The more Wimbledon gets closer, the more the Scot feels ten feet tall. Besides, Wimbledon's officials just announced that the tournament's prize money will rise by more than 10%. While waiting to be on his favourite lawn, Andy went to a little party in Madrid where he was in good company. With Atletico Madrid's Belgian goalkeeper Thibaut Courtois...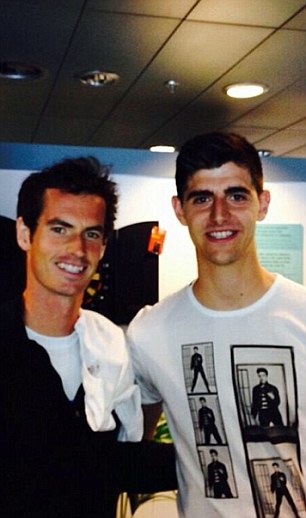 …And the Spanish supermodel Cristina Pedroche.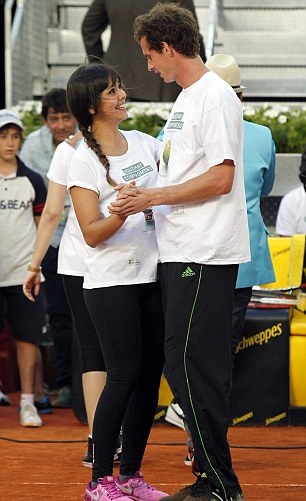 We understand why Murray is always so cheerful!
6 – Grigor Dimitrov (NE)/Maria Sharapova (-1).
The Bulgarian is on the rise. While it was his woman - Maria Sharapova - who starred in Stuttgart by winning for the third time, the man posted a tweet on old wooden racquets. "Never hit with one of those but I would love to #heritage #history" he said in front of a wall full of old Wilson models.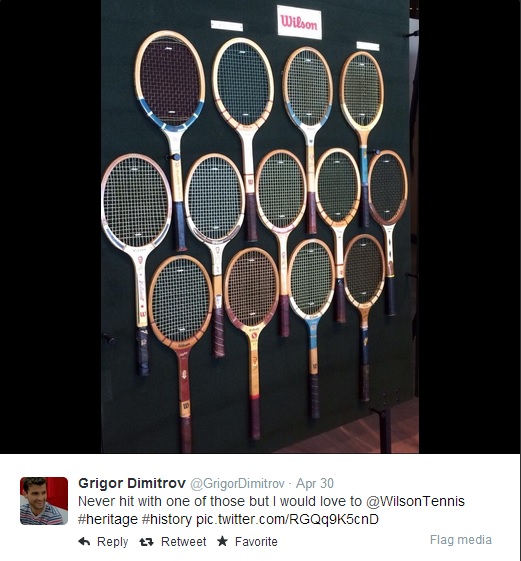 Besides her title and classic post-match interview, the beauty had however little to offer to her fans on social networks. Unfortunate since the Russian is usually very active online. To show her that this cannot become a habit, she loses a place and is tied with her ​​boyfriend.
8 – David Ferrer (/).
Nothing to report for the 32-year-old Spanish player. He has arrived safely in Madrid, has been training quietly and even played a few balls with some children. In short, Ferrer is preparing smoothly.
9 – Rafael Nadal (+1).
The Spaniard awaits his dear Roland Garros nice and warm. To get ready, the lefty went for miles on his mountain bike.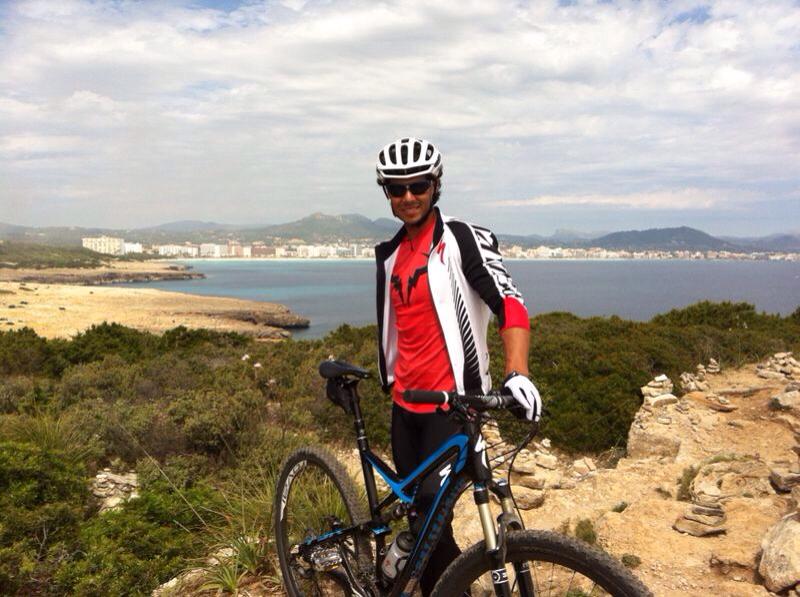 Just to get into the tempo for the Paris tournament, Nadal has also presented his new outfit for the occasion. Like Roger Federer. The copycat doll.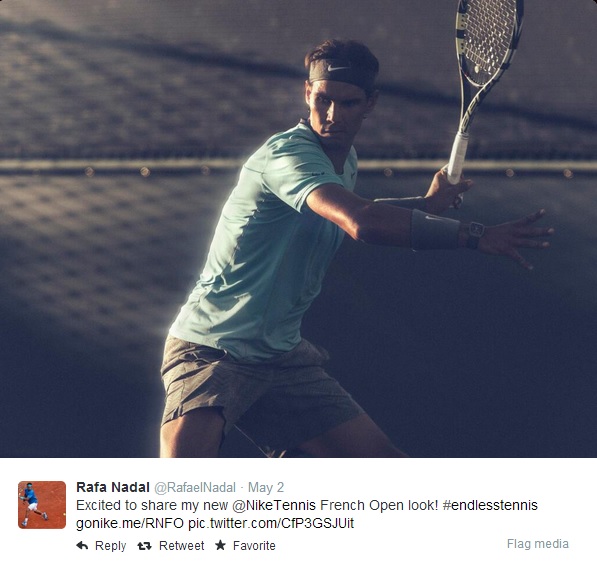 10 - Petra Kvitova (-1).
This is the sad tabloid news of the week. It seems that the beautiful Czech and her compatriot Radek Stepanek have decided to call it a day. The time for kisses and hugs is over. Done. After a year of living together, the two apparently didn't love each other anymore. Sad.
11 – Jo-Wilfried Tsonga (/).
We feel bad for what's about to happen to him in Madrid. Indeed, the Kinder Bueno's French fan is in the same half of the table that Andy Murray, Roger Federer and Rafael Nadal. Needless to say that it will be tough.
12 – Tomas Berdych (+2).
A great place in Estoril's final for the Czech. Truly wonderful. Except that at the end, it's the Argentine Carlos Berlocq who won (0-6, 7-5, 6-1). It doesn't matter; we're not the resentful kind. We loved the overall performance.
13 – Maria Kirilenko (NE).
The Russian finally found the way to victory after months of convalescence. The woman who shares the life of hockey player Alexander Ovechkin was playing against the French Kristina Mladenovic in the first round of Madrid. A victory that could raise the spirits of the former Russian tennis starlet.
14 – Agnieszka Radwanska (NE).
The Polish returns to the ranking thanks to two things: a beautiful floral dress and an advertisement for the famous car brand Lexus. Class.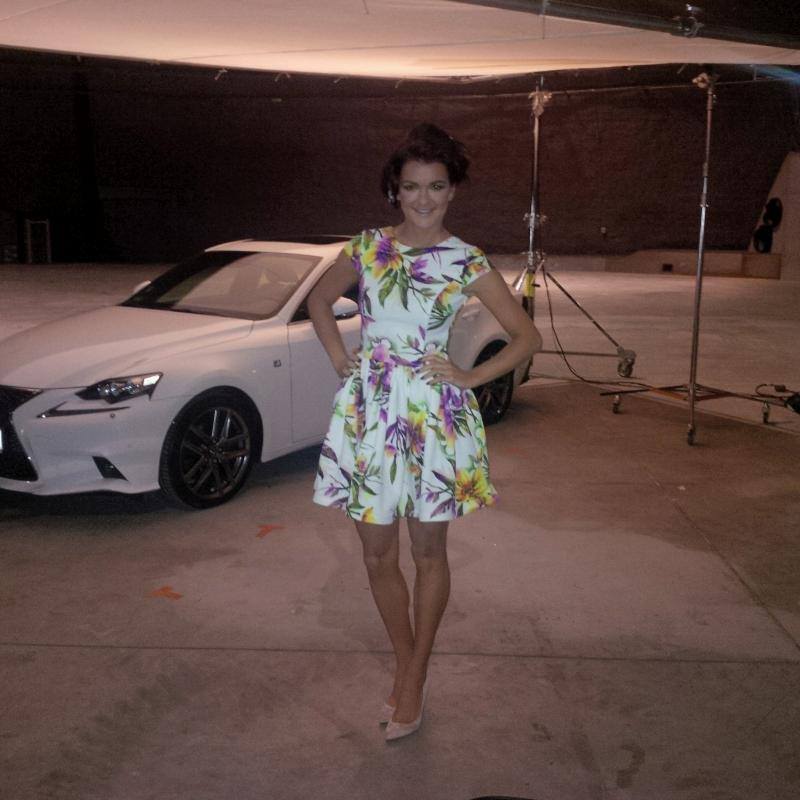 15 – Fabio Fognini (-3).
The Italian had perfectly started his week with a little picture taken with two very cute fans: Moritz and Ruben. Two kids who seem to love the player.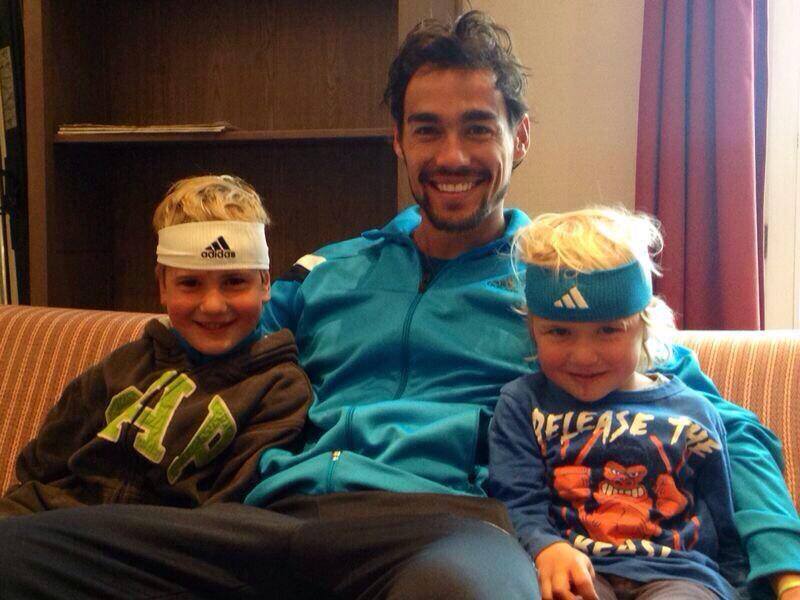 However, difficult to ignore his defeat in Munich's final against the Slovak Martin Klizan, 111th player in the world and a qualifier (2-6, 6-1, 6-2). Rude.
16 – Dominika Cibulkova (NE).
This week, the Slovak entertained all her fans on social networks. The men, with this picture of her at a fashion show.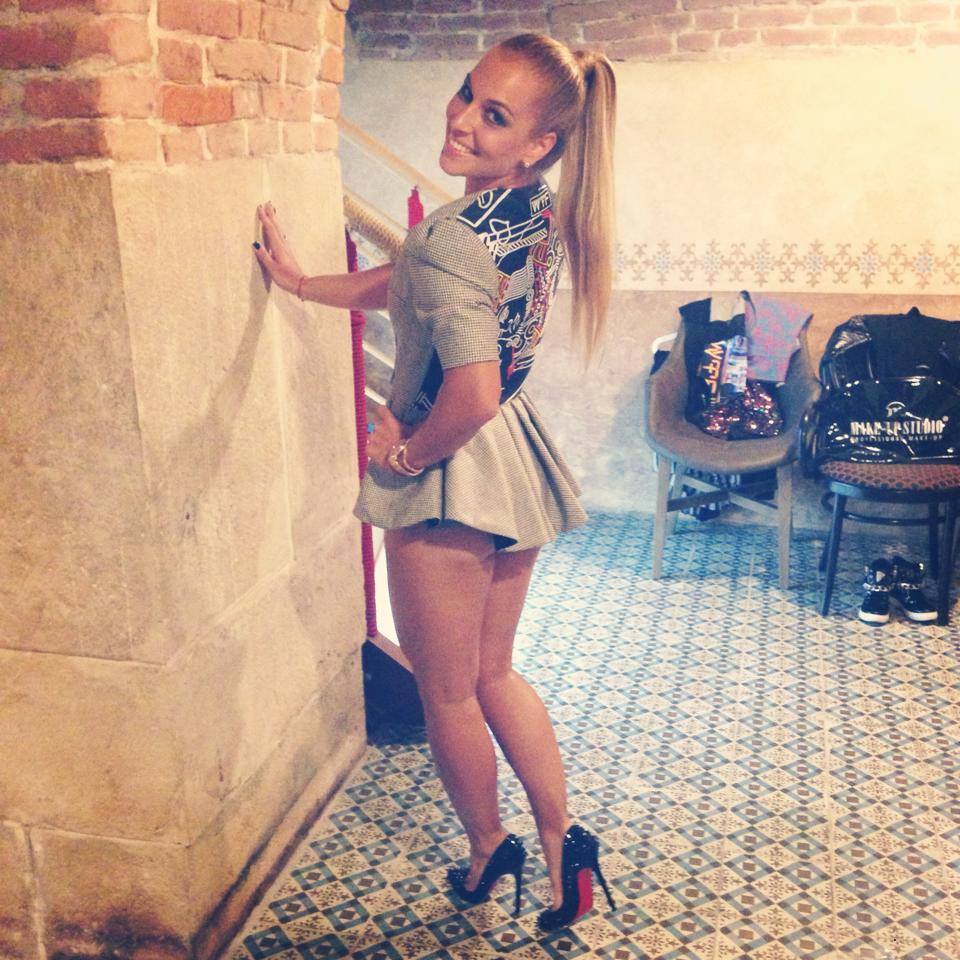 And the women, with this picture of her when she was young. This way, no jealous in Bratislava.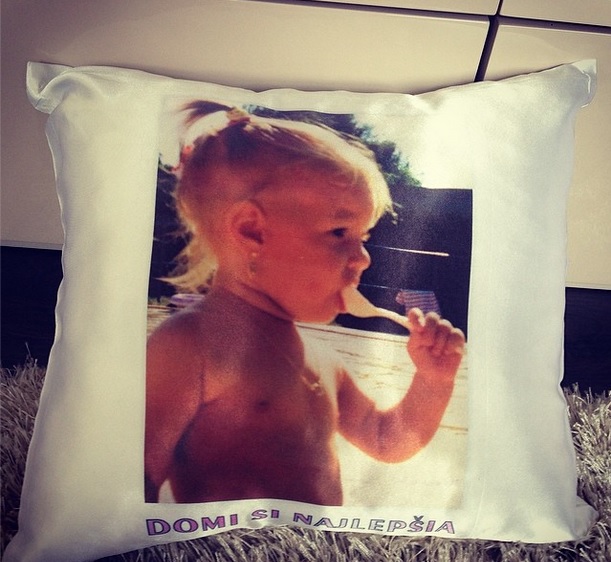 17 – Caroline Wozniacki (/).
When the Dane is not going crazy on golf courses, she tries to regain her level of play. Remember that she was once world number 1. In order to do this, she prepares for tournaments and making her suitcase already proves to be quite a challenge. To fill her bags, the player must make choices in her closet. And when we see the immensity of it, we can honestly say that the preparation starts well before the training grounds...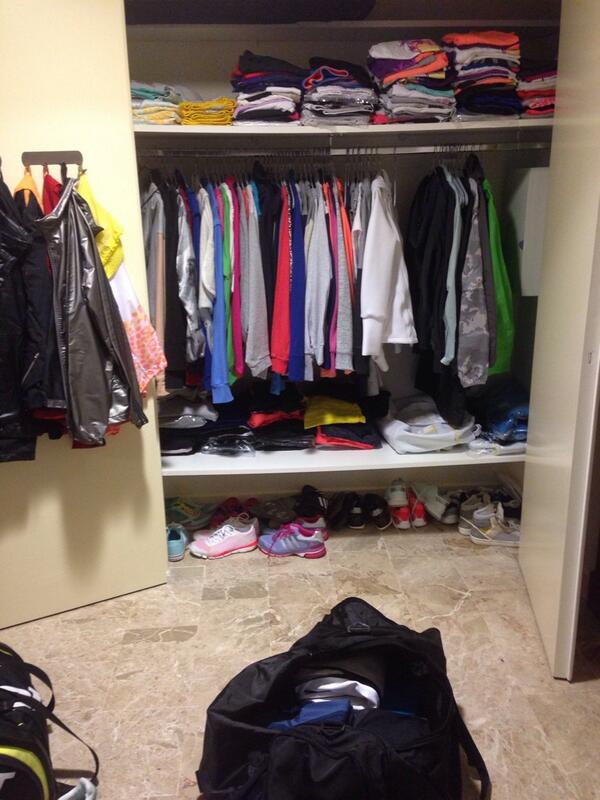 18 - Milos Raonic (NE).
The Canadian is an adventurer. At each tournament, he tests local specialties. Thus, the player tried sailing in Estoril. We then found him perched high up on the mast of a training vessel.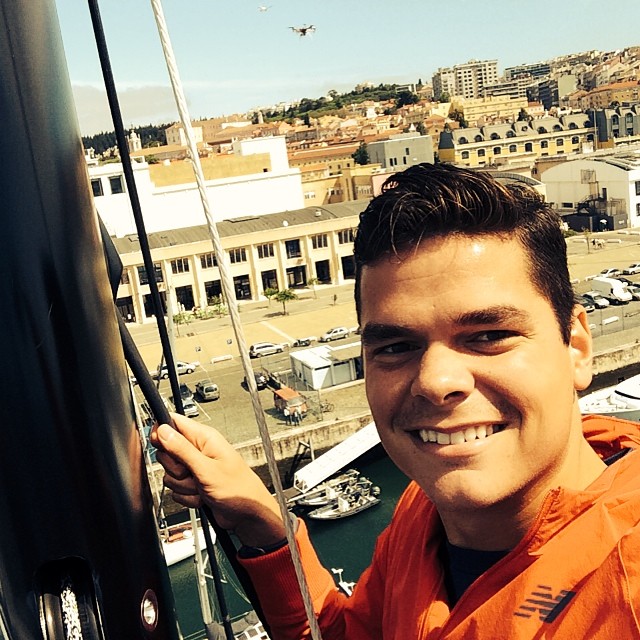 A great experience for him: « It takes a little time to get used to it, but halfway there, the rest seemed a little easier. It's fun and it was a good experience. My heart rate must have gone to 140! I'm not comfortable with heights so I'm glad I could do it.»
19 – Eugenie Bouchard (+1).
The Canadian is a pretty cool player. Young and funny, she also has many fans at home. Thus, one of them celebrated her birthday with the player's face on a cake. Rather well done by the way.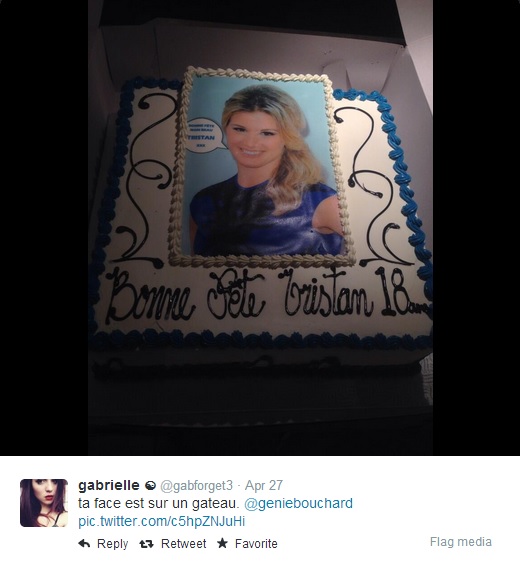 20 – Santiago Giraldo (-1).
Recently finalist in Barcelona, Santiago is, like any respectable Colombian, a big football fan. So when, while visiting Madrid with his wife, he met the best footballer of his country, Radamel Falcao, he had to take a picture.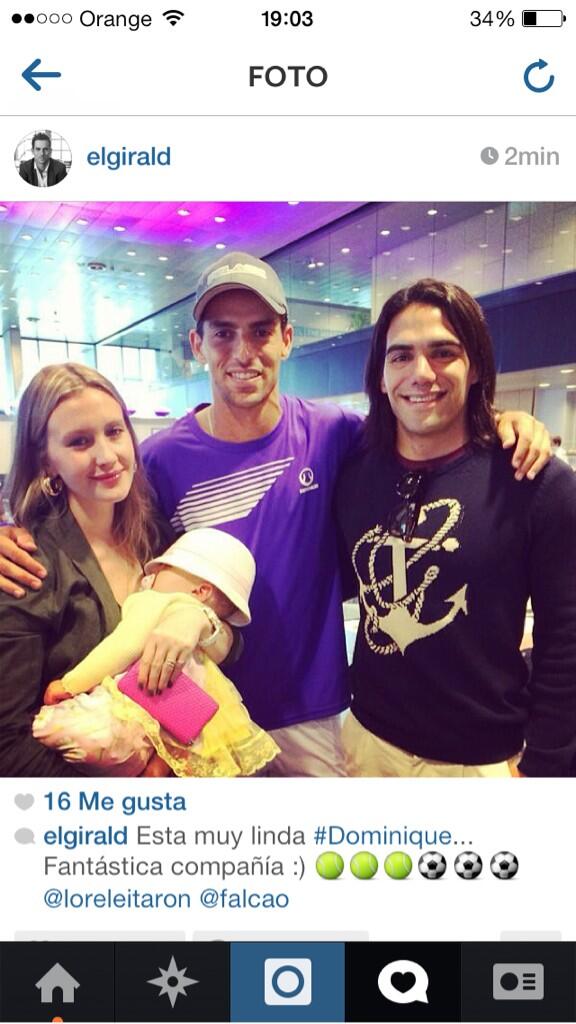 Even the Colombian couple's child is on the pictures. How cute.
21 – Jerzy Janowicz (NE).
The Polish player makes much more noise off the courts than on them. And somehow, better this than nothing. At the moment, he's starring in a Polish advertisement for a paint brand where he's working alongside two other local athletes. It's weird but kind of charming.
22 – Juan Martin Del Potro (/).
The Argentine continues his rehabilitation. While he should resume competition in August, the player has updated us on his Facebook account. In particular, he told us that his doctor, Doctor Berger, allowed him to start his rehabilitation while keeping his cast. We even got a « very medical » picture between the two men.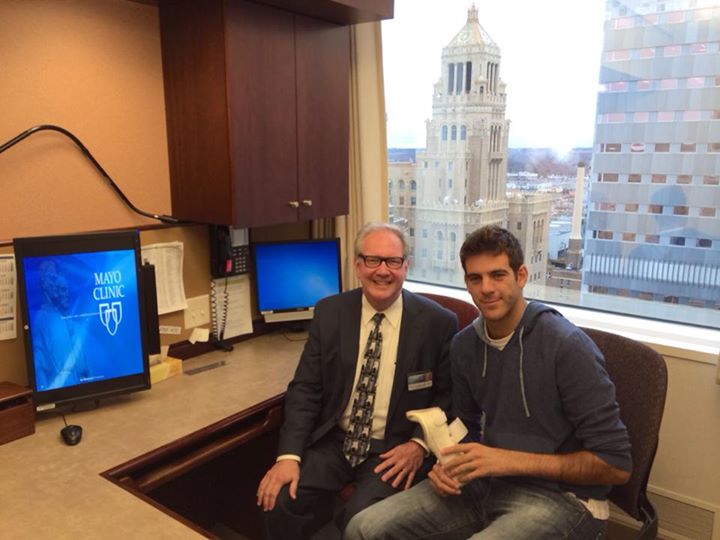 But where is McDreamy?
23 – Richard Gasquet (NE).
Even injured and even forfeit, Richard Gasquet is still talked about. Thus, interviewed in the magazine Sport & Style, the French made quite a harsh statement about television pundits: « I really hope that I never have to do that (Television pundit, ed.) Apart from Arnaud Clement, who is doing very well, with intelligence and restraint, 90% of commentators talk nonsense. (...) Some forget a little too fast that there were players too, and not always great players. So to badmouth old friends and giving lessons, it's a little too easy. » Not a happy man, Richard.
24 – Victoria Azarenka (/).
We're still waiting for the return of the funniest player of the tour. Still working to get a decent fitness, the Belarusian quietly strengthens her ankle at home. An atypical posture she compared to the movie Karate Kid. When we tell you that she's completely mad...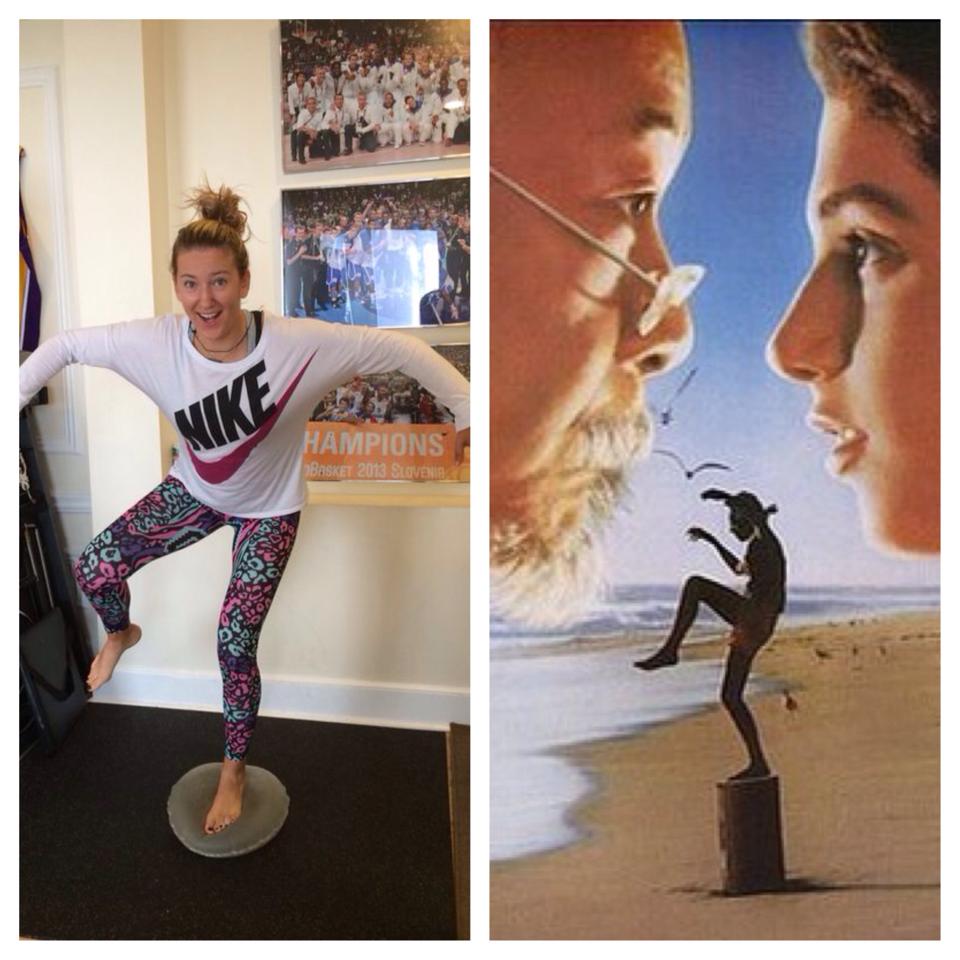 25 – Philip Kohlschreiber (NE).
The German is proud. He always was. He's even quite funny. Proof with this tweet where the player appears second in the rankings behind Djokovic. Don't worry, it's not the ATP rankings, only the points earned on second balls.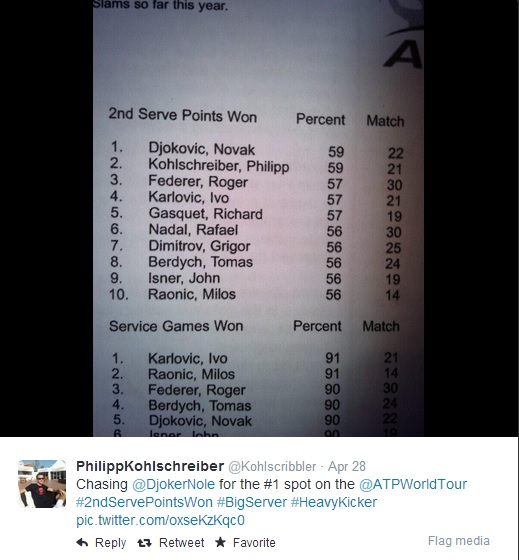 The man is clearly ambitious and we welcome the initiative by offering him a warm spot in our ranking.
Out:
Benoît Paire, Ryan Sweeting, Ana Ivanovic, Dustin Brown, Gaël Monfils, Caroline Garcia and Alizé Cornet
By Mathieu Faure