Time Magazine published the Top 100 of the most influential people in the world. Amongst them, one, and only one, tennis player. A presence that allows this player to take the top spot of the WAT ranking.
She found out this week that she was part of the 100 most influential people in the world. Logically, Serena Williams takes the top spot of the WAT ranking. Novak Djokovic too had some very good news while on holiday and therefore comes back on the podium at the expense of Stanislas Wawrinka, very quiet this week.
1 – Serena Williams (+2).
This is the new queen of the WAT ranking. The younger of the Williams sisters benefits from the release of the Top 100 most influential people in the world according to Time Magazine... in which she features. Besides, she's part of the only five athletes in the ranking. In addition to Serena, the athletes featured in the ranking are the footballer Cristiano Ronaldo, the basketball player Jason Collins, the American football player Richard Sherman and the golfer Lydia Ko. The American has even received compliments from the basketball star Dwyane Wade himself: "I respect her relentless work ethic, focus, drive and discipline. I understand what it's like to sustain injuries and the fight it takes to come back from them. I admire her ability to fight and how she has defied the odds with sheer determination and heart." Only blot on Serena's perfect week Williams: jetlag. Again.

2 – Novak Djokovic(+2).
What better way to get past a bad week in Monte Carlo than to have some great news? Defeated in the semi-finals on the Rock and suffering from a wrist injury, Novak Djokovic found out that he was going to be a father. Delighted, the Serb enjoyed his week off in Athens even more.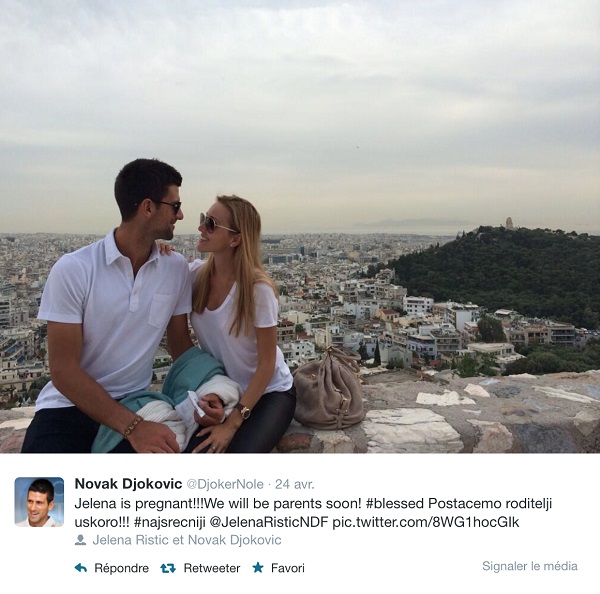 3 – Roger Federer (-1).
No tournament for Federer either, but the week hasn't been easy for the Swiss, who had to endure a few miles of traffic jam.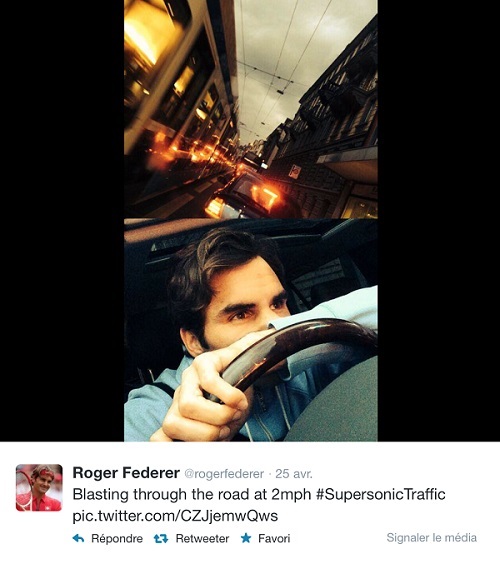 Federer took advantage of this week off to share his decision to participate in the Swiss Indoors Basel (16th to 18th October) that he had grown accustomed to boycott. "The situation has calmed down now. Between Roger and me, between his entourage and me too, said the tournament's boss, Roger Brennwald. We both decided to leave the past behind and we managed to reach a new agreement."
4 – Stanislas Wawrinka (-3).
Week off for Wawrinka. After his title in Monte Carlo, the Swiss decided to skip the Oeiras tournament in Portugal, where he was yet titleholder. The world number three is preparing quietly at home, in Switzerland, for the Madrid Masters 1000, which will take place from the 2nd to the 11th of May.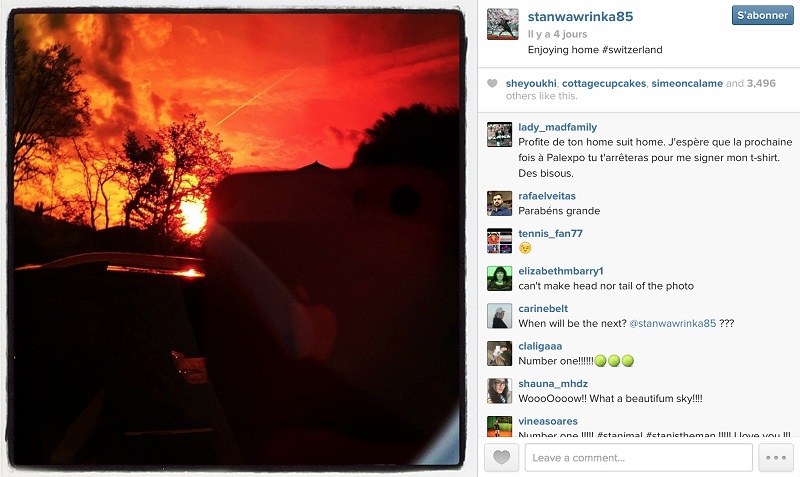 5 – Maria Sharapova (+4).
For her comeback, Sharapova didn't disappoint. The Russian won the Stuttgart tournament after defeating Ana Ivanovic (3-6/6-4/6-1) and especially after beating Radwanska and Errani in the previous rounds. Sharapova also took advantage of her week in Germany to go for a ride with former Formula 1 pilot Mark Webber...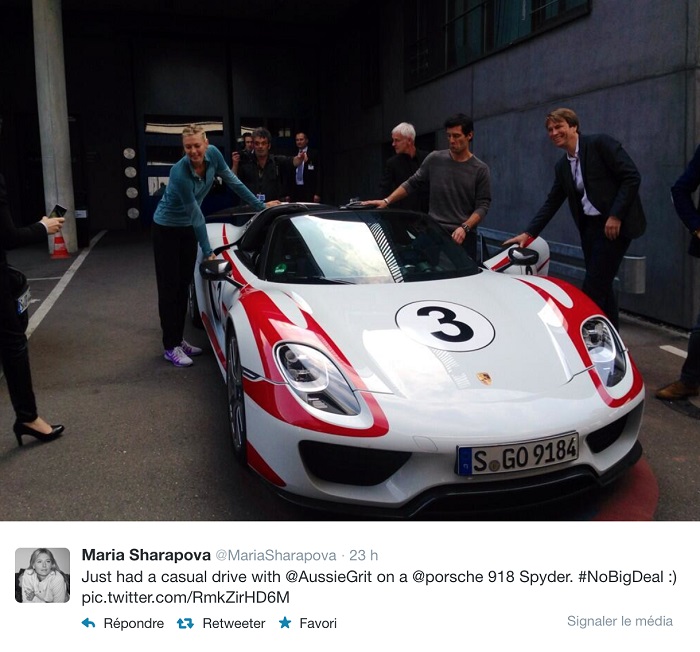 And to make a young fan very happy.... She's so lovely.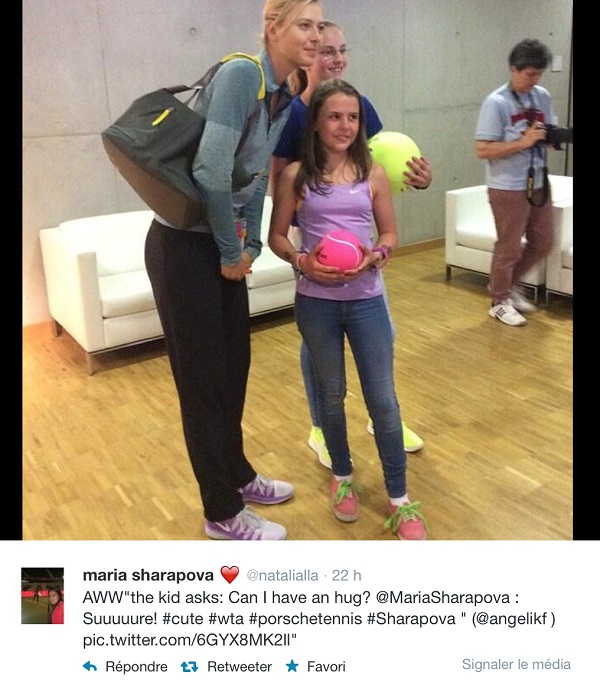 6 – Grigor Dimitrov (NE).
Dimitrov comes roaring back in our ranking. And it is well deserved. The Bulgarian won the third title of his career in Bucharest, beating Lukas Rosol (7-6/6-1). In 2014, the man also known as "Baby Federer" has the seventh best win-loss ratio of the ATP. Probably due to a substantial increase in the efforts made by Dimitrov in training. The proof in picture.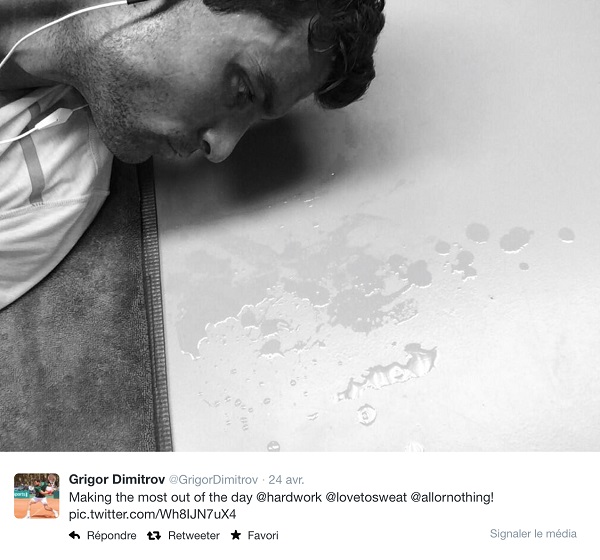 7 – Andy Murray (+5).
Murray experienced a difficult airplane trip between Paris and London last Tuesday, with a few thunderbolts on the menu.

Fortunately, the rest of the week was happier for the Scot. He was named an honorary citizen of the city of Stirling, a village located right next to his hometown of Dunblane. "It's good to be home. I'll make it short because I'm very moved. This honour means a lot to me" he said in a speech in his former school. Before bursting into tears...
8 – David Ferrer (-3).
Weeks go by and are not alike for David Ferrer. Winner of Nadal in the quarterfinals in Monaco, the Spaniard was defeated in the second round of the clay court tournament in Barcelona by the Russian Teimuraz Gabashvili (6-4, 6-2) on Wednesday. Ferrer was however able to relativize by paying tribute to Tito Vilanova, the former coach of FC Barcelona, who died this week.

9 – Petra Kvitova (-3).
She qualified the Czech Republic for the final of the Fed Cup by BNP Paribas almost by herself. But this week, Petra Kvitova, apparently experienced the backlash of her great weekend as she was defeated in the second round of the Stuttgart tournament by Alisa Kleybanova (6-2/7-6). The Czech then drove home, focused on the clay court season ahead.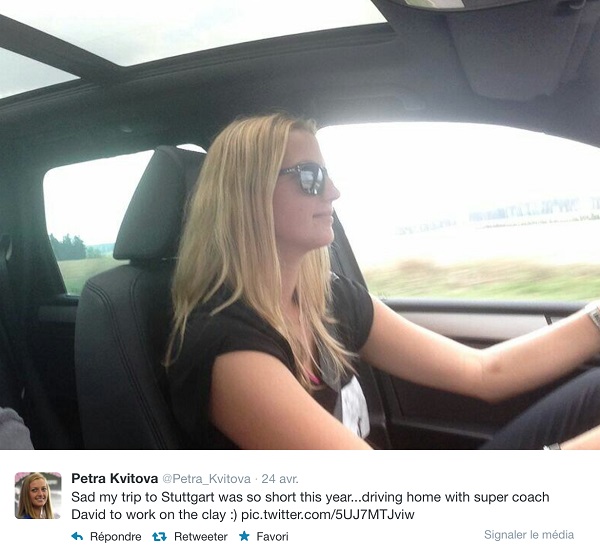 10 – Rafael Nadal (-3).
What's happening in the house Nadal? Defeated in quarterfinals in Monte Carlo, the Spaniard was eliminated at the same stage in Barcelona by Almagro, against whom he had never lost a match in eleven confrontations. Eightfold winner of the Catalan tournament, Nadal hadn't lost there since 2003. « This is sport. Sometimes you win and sometimes you lose. Tennis is like this. Now I need to start fighting and thinking about Madrid. I played better than him in the first two sets but I didn't make use of my opportunities. » Like his compatriot Ferrer, Nadal relativized his defeat after Tito Vilanova's death: «Tennis is just a game. What really matters today is Tito Vilanova. I want to send all my support and wishes to his family in this sad moment. »

11 – Jo-Wilfried Tsonga (-1).
Before the Madrid Masters, Tsonga came back in the sports daily L'Equipe on his leader personality. A status he already had when he was young. « Being a leader is an education, he said. When I was young, I was the leader, but I already had this quiet side. Others knew they could count on me. I was calm, but I had an inner strength, without wanting to crush others. Instead, I wanted for people to come together, and that's why I'm respected. In fact, I didn't have any enemies. I was just happy. And when someone is happy, he releases energy. I had a perfect childhood. Up to 19-year-old - the age of my first back injury, of which I could never really recover - I didn't experience any insurmountable grief. My life was a fairy tale. No family conflicts, no injuries, no illnesses or mourning. The saddest moments were when I was leaving my parents, but it was to live something extraordinary! Where I was going wasn't worse than what I was giving up. »
12 – Fabio Fognini (-4).
Fabio lost it again this week. After losing it against Tsonga in Monte-Carlo, Fognini made ​​the show in Barcelona. Led 6-0/4-0 in 37 minutes by Santiago Giraldo, the Italian withdrew, broke his racquet and yelled at his coach. But Fognini seems to love the irony, as seen in the tweet he posted after his new misconduct.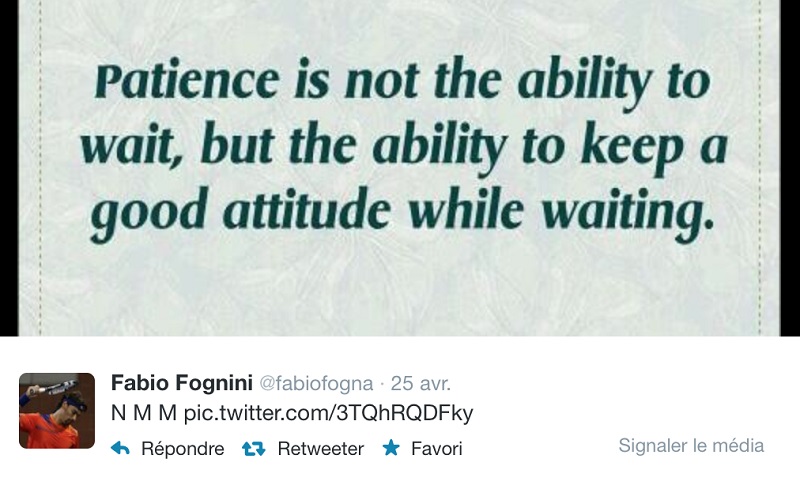 13 – Caroline Garcia (+1).
After her great Fed Cup by BNP Paribas weekend, Caroline Garcia deserved a few days off. And the French seemed to have a lot of fun, between kayaking and hiking.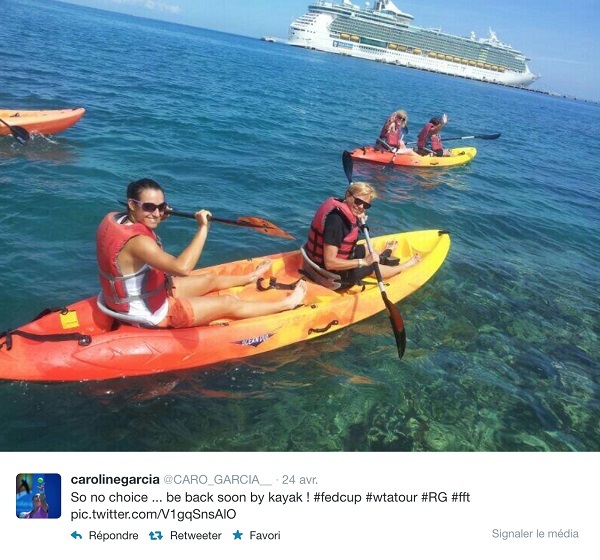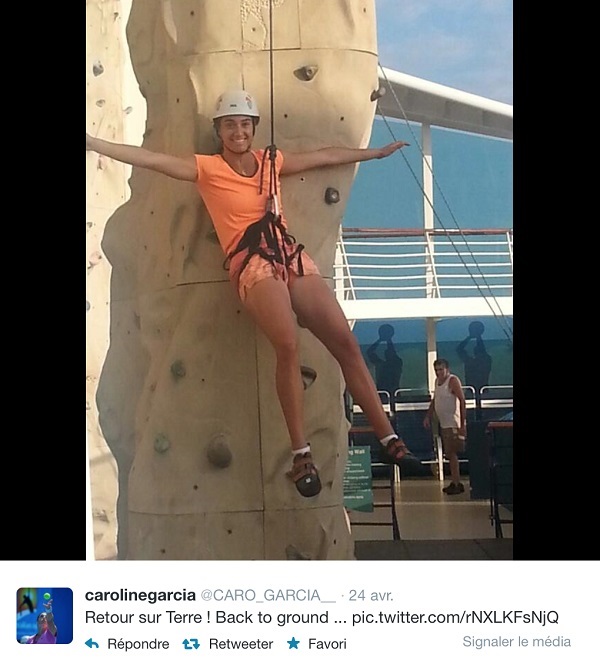 14 – Tomas Berdych (+2).
As Wawrinka had to withdraw, Tomas Berdych arrived at the Portuguese Open at the last minute this week (and for the first time since 2005). He will be seeded No. 1 this week. Meanwhile, the Czech had cravings for... cycling.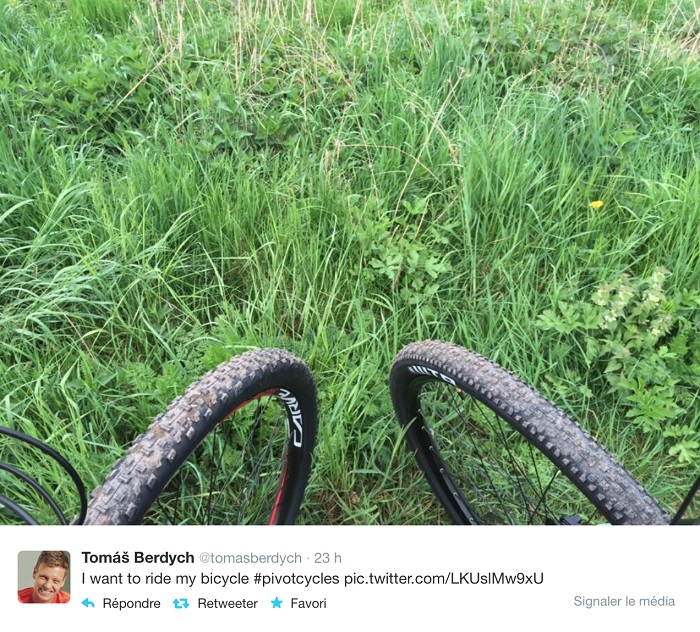 15 – Alizé Cornet (-4).
Strange week for Alize Cornet. The French started by celebrating the return of the Blues in the top flight of the Fed Cup by BNP Paribas...
...before announcing her forfeit for the Oeiras tournament, due to an injury contracted last Saturday.


16 – Gaël Monfils (-3).
His body let him down once again. While he had made ​​a good start to the tournament by defeating Berankis and Mathieu, Gael Monfils was forced to withdraw in the semi-finals against Dimitrov at 5-1 to his disadvantage in the first set. The French hurt his right ankle just before the game. « I've been terribly unlucky, he commented afterwards. I was walking while warming up and I twisted it. It was crowded, I probably didn't see a hole or something... It swelled immediately, I couldn't even walk. I saw a doctor, but I knew it wasn't going to last long. Grigor (Dimitrov, ed) saw it live, he knew it would only last a few games.»
17 – Caroline Wozniacki (/).
She may rule the courts, but at home, Caroline Wozniacki has to deal with a tough opponent: her dog.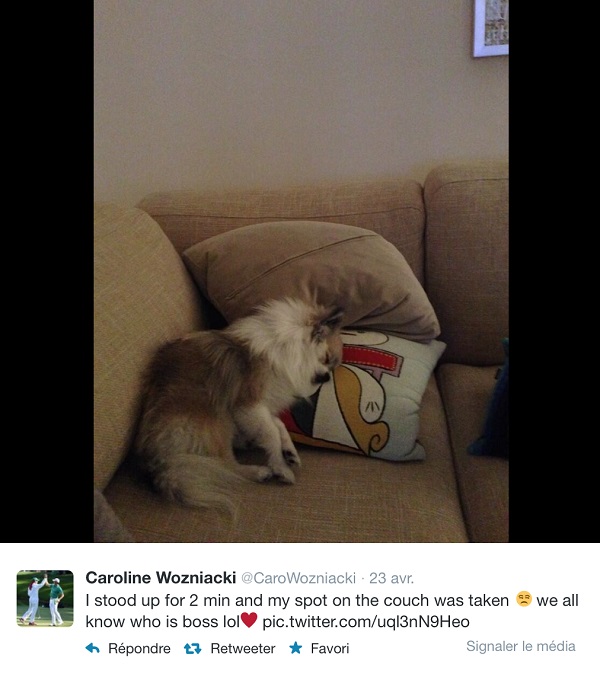 One thing is for sure, it was nothing compared to the horrible Sunday experienced by the Dane. At Anfield, she saw her team, Liverpool, lose against Chelsea. Tough.

18 – Dustin Brown (+1).
Before the Munich tournament that he started on Monday against Karlovic, Dustin Brown has been training hard. And with style. In addition to the dreadlocks, the German has been seen wearing a tee shirt original to say the least.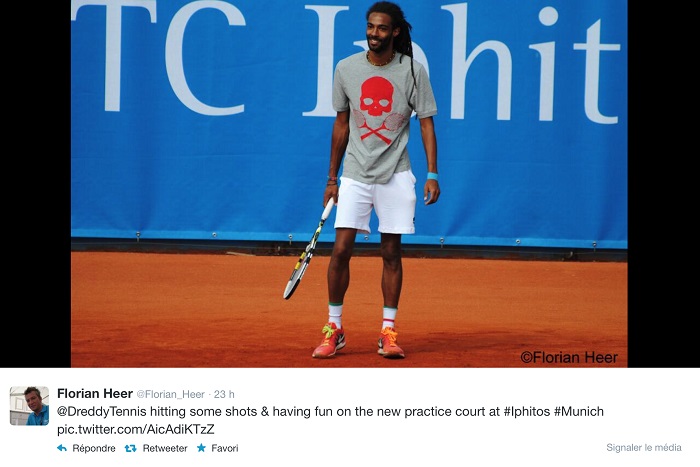 19 – Santiago Giraldo (NE).
Santiago Giraldo enters the ranking with a bang. In Barcelona's semi-finals, the Colombian hit a tremendous forehand. The victim? Nicolas Almagro. Defeated in the final by Nishikori (6-2 / 6-2), all wasn't lost for Giraldo: he made THE winning comeback of the week.
20 – Eugenie Bouchard (-2).
Eugenie Bouchard, who will be in Portugal this week, has suddenly grown up in recent days. Or the gym where she trains has shrunk.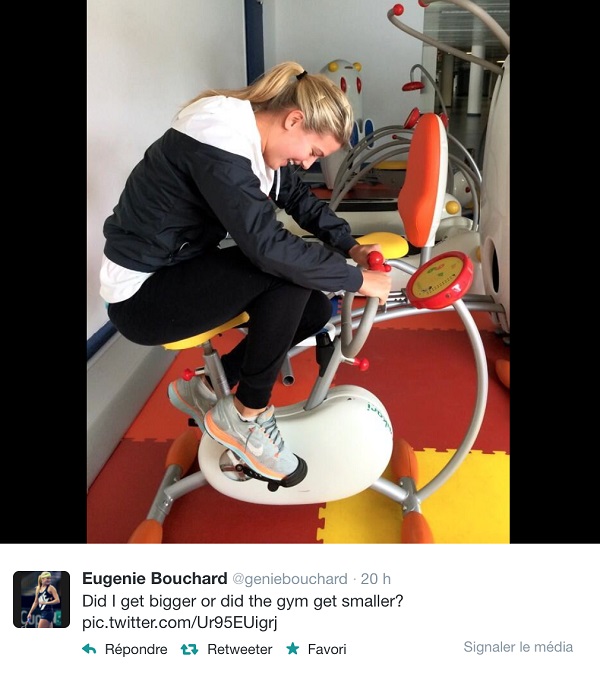 21 – Ana Ivanovic (NE).
The Serb also makes a comeback in the ranking. Finalist in Stuttgart after defeating Kuznetsova and Jankovic, Ana Ivanovic won the 400th match of her career this week. A great pride for the former world number 1.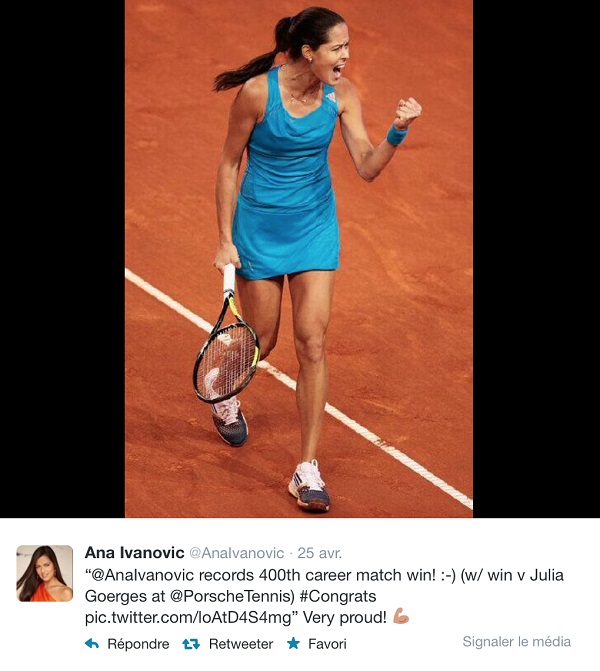 22 – Juan Martin Del Potro (NE).
Currently recovering, Juan Martin Del Potro is apparently no longer single. According to Hola! Argentina, the Argentine player was surprised in good company at the theatre in Buenos Aires. Tbc.
23 – Ryan Sweeting (/).
Another day in Paradise for Ryan Sweeting who continues to coo with Kaley Cuoco. The actress also changed her hairstyle and bought a new bikini. To the great pleasure of her man...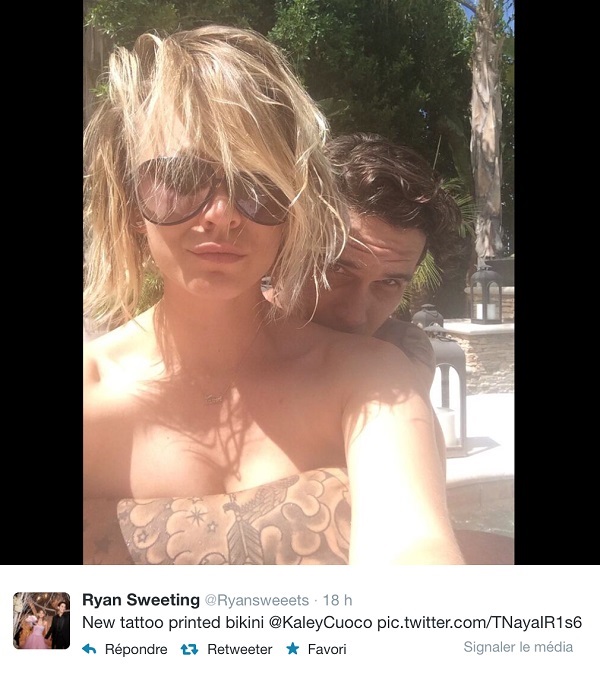 24 – Victoria Azarenka (-2).
Victoria Azarenka has withdrawn from tournaments in Madrid and Internazionali BNL Italia. She announced it on her Facebook page: « Unfortunately, I won't be competing in Madrid and Rome this year. My recovery is still on going, it's getting better but I'm not fit enough to play. » A rather disturbing news one month before Roland Garros. Meanwhile, the Belarusian listened to One Direction.
25 – Benoît Paire (-5).
Benoît Paire has hit rock bottom. Defeated right from the beginning of the Monte Carlo tournament, the French withdrew in the first round in Barcelona while he was down 6-4/5-1 against Andrey Golubev. This withdrawal due to new knee pains was seen as a sign of disrespect for many twitter users. Annoyed by some of the comments, Paire decided to get away from Twitter for a few days. « At least (during my three months off), I knew what was wrong and I thought I would go back to 100% as before, with the same weapons, my legs and my service, he said to L'Equipe. But I can't. I've never felt like this. I'm not feeling well in my head (...) I even wonder what was the point in all I did, weight lifting, working out so much... I would just like to wake up and not be in pain.»

Out:
Çağla Büyükakçay, Kristyna Pliskova, John Isner, Richard Gasquet.
By Quentin Moynet