Roger Federer lost his place of world number 1 in the WAT ranking this week. But who took his place? The coffee lover Stanislas Wawrinka or Serena Williams who finally embraced her curves?
Wawrinka is in the spotlight this week after a final 100% Swiss in Monte Carlo where he won Monaco Masters 1000 for the first time in his career. The player therefore takes the lead of the ranking while Novak Djokovic is ejected from the podium in favour of Serena Williams and her curves. Amongst the ladies, the Fed Cup by BNP Paribas helped Petra Kvitova and Caroline Garcia to make beautiful progressions in the ranking.
1 – Stanislas Wawrinka (+2).
He's the new boss of our ranking. Already winner of his first Grand Slam in Australia earlier this year, Stanislas Wawrinka won his first Masters 1000 in Monaco. The Swiss has defeated his compatriot Roger Federer (4-6 / 7-6 / 6-2). A performance that brings him a little closer to the elite of the sport. The boy is first in the race and has never lost against a Top 10 in 2014. Impressive. But if he had a blast on the courts this week, Wawrinka also had some fun off the courts. He posed with the ball boys of the tournament...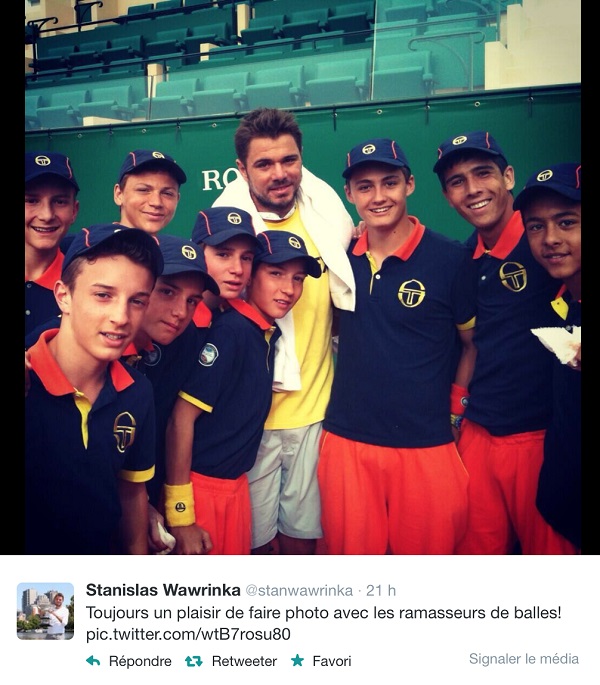 ... And even found the time to take a cup of coffee before his semi-final against Ferrer.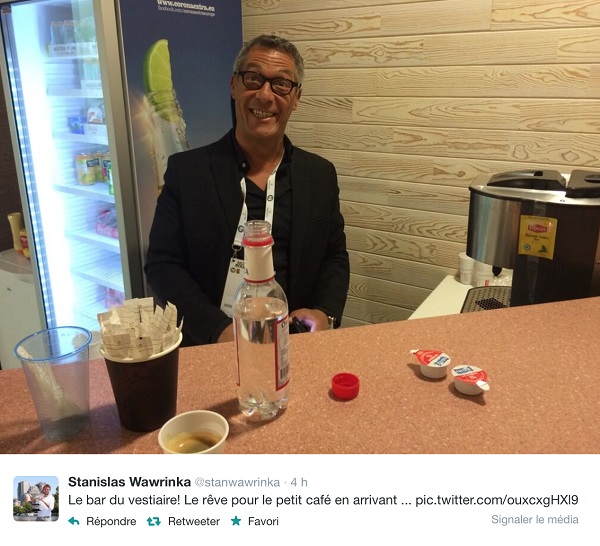 2 – Roger Federer (-1).
Federer may have lost his throne he still remains on the podium. Beaten by Wawrinka in the final, the Swiss has still played magnificently this week in Monaco. Reassuring before Roland Garros. Yes, except that Roger could miss the French Open. Indeed, his wife Mirka is expecting a happy event for the month of June. An event that Federer doesn't want to miss. «It's a priority for me trying to be there, trying to support my wife. I've played enough tennis matches. Missing a tournament or missing a match wouldn't change anything for me.» What a doting father.
3 – Serena Williams (+1).
Sometimes mocked on the tour, the youngest of the Williams sisters is not ashamed of her body: « When I was young I thought I should be built more like an athlete -- long and lean -- not with a womanly figure. But then people my age started coming up to me, saying, "I love you because of the way you look." They could relate to me. That was really motivating. So I learned to be proud of my curves ! » However, Serena has more difficulty to accept the little spot on her left cheek.

4 – Novak Djokovic (-2).
Bad week for Djokovic, who, defeated by Federer in the semi-final, lost his title in Monte Carlo. Above all, the Serbian's right forearm is very painful. «The pain was there every single day from 10 days ago. At some stages it was very painful. Obviously I practiced a lot. Maybe I started a bit too strong. The transition from hard court to clay, different balls, has probably taken its toll» he said. His injury will force him to remain sidelined indefinitely. But despite the concerns, Djokovic didn't forget to celebrate Easter.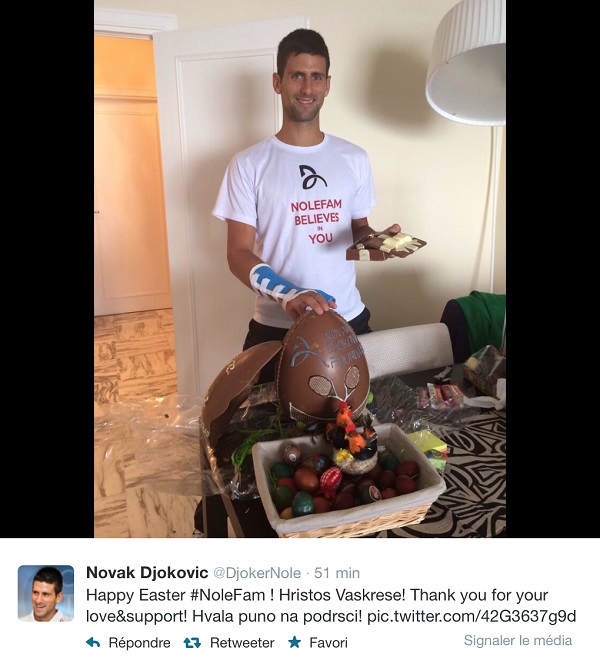 5 – David Ferrer (NE).
Ferrer comes roaring back in our ranking. And it's well deserved. The Spaniard managed THE performance of the week by taking out the world number 1 Rafael Nadal in the quarterfinals of Monte Carlo (6-4 / 7-6). Ferrer had not beaten his compatriot on clay in the last decade. It was only his sixth victory against Rafa in 27 confrontations. Unfortunately for Ferrer, the journey stopped in the next round against Wawrinka (6-1 / 7-6). Whatever, he managed to be stronger than the statistics.
6 – Petra Kvitova (+9).
Czech Republic qualified for the final of the Fed Cup by BNP Paribas by defeating Italy, and owes much to its leader Petra Kvitova. The Czech won both of her singles against the Italian Giorgi (6-4 / 6-2) and Vinci (6-3 / 7-5), without dropping a set. It must be said that the player had the support of her family.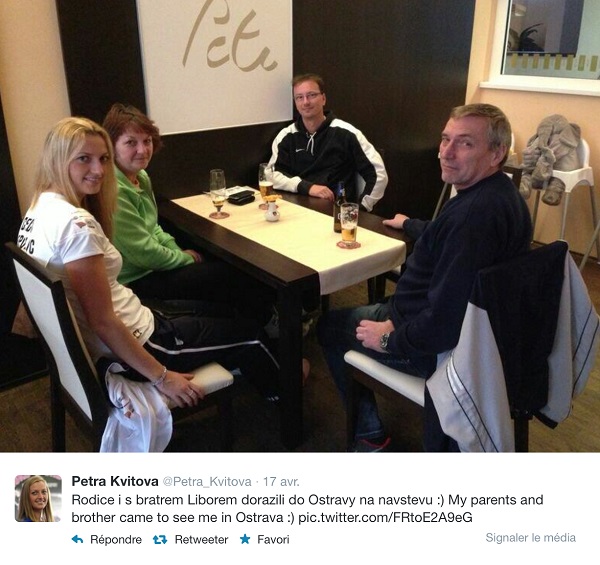 7 – Rafael Nadal (-2).
Earthquake in Monte Carlo with the elimination Rafael Nadal in the quarterfinal, defeated by David Ferrer (7-6/6-4). Nadal remained on nine consecutive finals in the Principality and thirty consecutive victories on clay. He had not lost on his favourite surface against Ferrer since... 2004. «I didn't play the right way. I didn't play with the right intensity with my forehand, he said. I played too short. I gave him the chance to have the control of the point almost all the time.» The week wasn't a complete fiasco for Nadal who showed great agility at the net against Seppi for his 300th victory on clay in the round of 16.
8 – Fabio Fognini (+2).
A phenomenon. While he was dominating Tsonga (7-5 / 3-3) in the second round in Monte Carlo, Fabio Fognini totally snapped in the middle of the second set after missing several break points. The Italian then lashed out at a linesman, then on the umpire, called a supervisor, took him by the hand and sat in his chair.
He even hurled obscenities at his father.
The Fognini show ended with a ludicrous third set in which he failed to score a single game. He left booed the public. "I'm sorry I didn't play the final set, he apologized afterwards. I saw red, I'm angry with my team, they really annoyed me... But we learn from our mistakes, we must be patient." We leave the conclusion to Guy Forget: "This guy has to see a shrink, he has to lay down."
9 – Maria Sharapova (+3).
Sharapova celebrated her 27th birthday on Saturday. A birthday celebrated in German attire, as the Russian was in Stuttgart. She took the opportunity to announce her ambitions for the future. Number 1 goal of the Russian player: Rio 2016. « I will go to Brazil to win the gold medal, she said. That's my goal and I will try to achieve it. Every athlete lives to make their dreams come true and this is my dream. I've won Grand Slam titles and you just can't spend hours on training courts if you don't dream of other great victories.»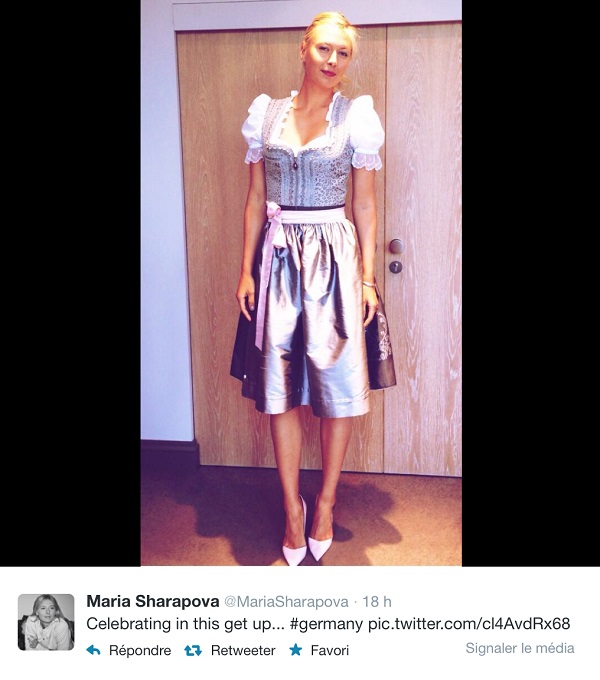 10 – Jo-Wilfried Tsonga (-1).
A week full of regrets for Tsonga. Defeated by Federer in the quarterfinals of Monte-Carlo (2-6 / 7-6 / 6-1), the French however seemed to have the game in hand. He even was two points away from victory before collapsing in the third set. "I feel like I wasn't so far off, he said afterwards. I had an important break point that I missed completely. Early in the third set, I took a small hit on the head after losing the second that was so tight. I wasn't in the game as I should have been and Roger took advantage of it to do what he does best: he stepped up while I was going down." A big disappointment for Tsonga who still celebrated his 29th birthday.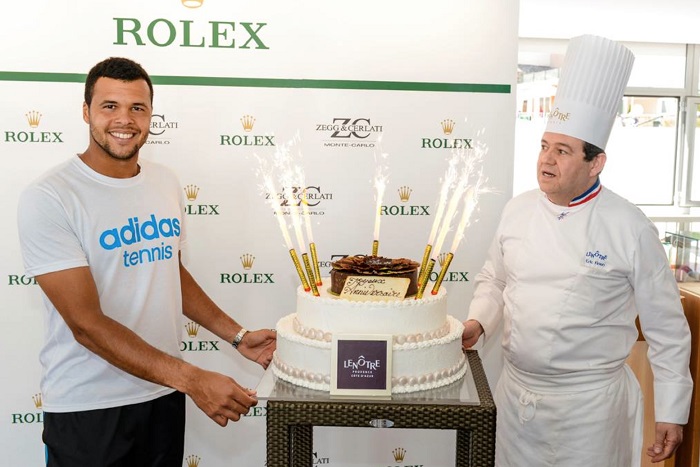 11 - Caroline Garcia (+8).
She might just be the future of French women's tennis. A week after winning her first WTA title in Bogota, Caroline Garcia didn't disappoint in the Fed Cup by BNP Paribas with the Blues. We can even say that her performance alone has qualified the team with two successes in singles (including one against Sloane Stephens 6-3 / 6-2, yet World 17th and supported by the American public) and in doubles (associated with Virginie Razzano) in the decisive match. She allowed France to go back to the elite of the Fed Cup by BNP Paribas and then deserved a nice little progression in the WAT ranking.
12 – Alizé Cornet (-6).
Weeks go by and but are not alike for Cornet. Full of confidence after her title at the BNP Paribas Katowice Open, the French had a difficult Fed Cup by BNP Paribas. While she was leading 7-6/5-3 against the American Madison Keys, she lost (6-7/7-6/6-3), caught by pressure and a failing body. In 21 matches of the Fed Cup by BNP Paribas, Cornet has thus only won 5 times... She left the court in tears, touched to the right adductor and left quadriceps and was replaced by Razzano for the second day. Yet the French was smiling earlier in the week. First for Tsonga's birthday and then for a selfie with her teammates and her captain Mauresmo.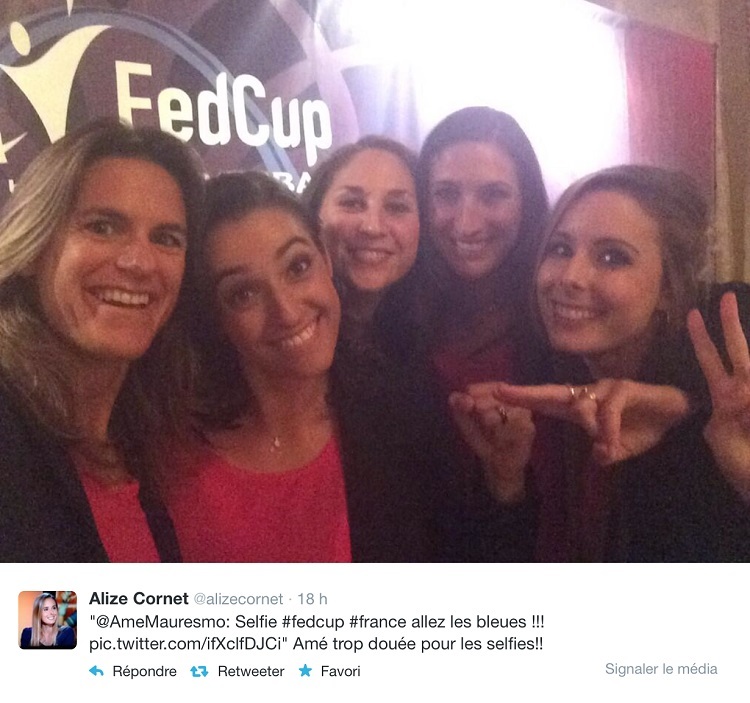 13 – Andy Murray (+1).
Forfeit in Monte Carlo, Murray took the time to watch the Copa del Rey final on Wednesday between Real Madrid and Barcelona. The Scot clearly enjoyed the victory of Real and especially the wonderful goal of Gareth Bale. He also enjoyed playing with his dogs…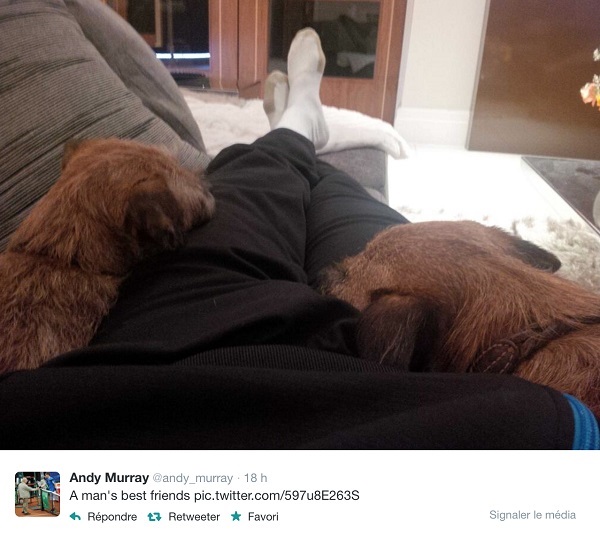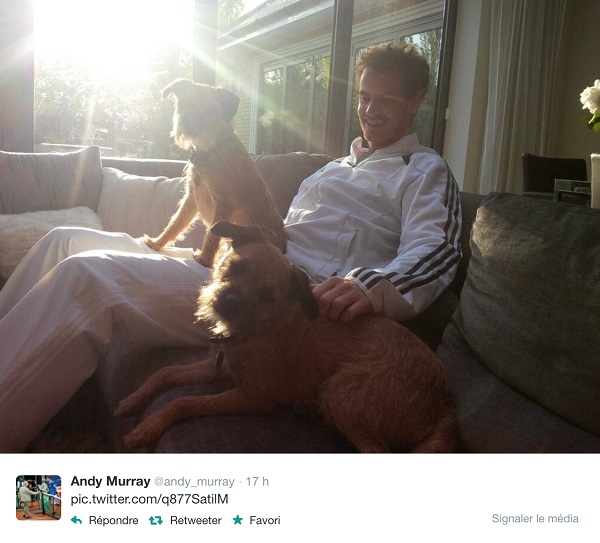 14 – Gaël Monfils (-3).
Eliminated in the second round of the Monte Carlo Masters by Busta Carreno (6-3/7-6), Monfils said he was "frustrated": "Every year I come here and I lose against the same kind of player. They are good players who play from the baseline. They don't hit hard and often come from the qualifiers. It's always like that. They play solid tennis and I can't find solutions against them." The Monf found some comfort by playing basketball with his friend, the Australian tennis player Nicholas Kyrgios.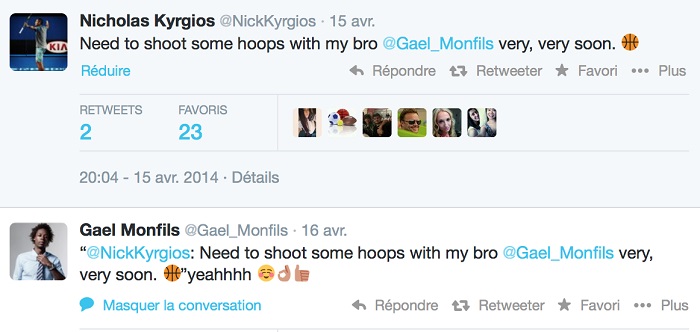 15 - Cagla Büyükakçay (NE).
Her name earns lots of points at scrabble, but her great feat is to have made history for her country this week. In Kuala Lumpur, Çağla Büyükakçay became the first Turkish player to reach the quarterfinals of a WTA tournament. A great reward for the 24 year old player, World 150th. In 2010, she had already been the first Turk to play the qualifications of a Grand Slam. Enough to enter our rankings.
16 - Tomas Berdych (/).
Defeated by Garcia-Lopez from the knockout stages in Monaco Berdych returned to his hotel... walking. A habit the Czech probably took to evacuate his frustration after a defeat. Fognini, watch and learn.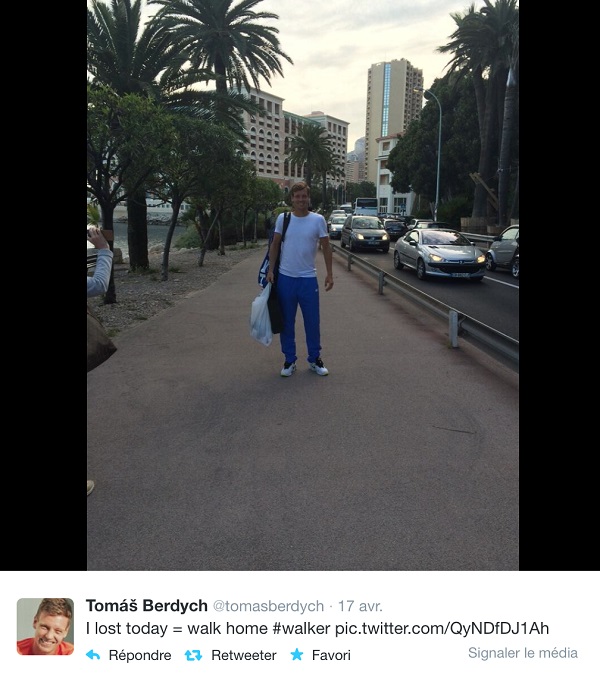 17 – Caroline Wozniacki (/).
Wozniacki doesn't like jet lag. But the Dane has found a way to pass the time: eating cereal and watching "Suits" with her boyfriend, the golfer Rory McIlroy. At four o'clock in the morning.

18 – Eugenie Bouchard (+3).
Elegant and feisty. Eugenie Bouchard showed her two faces this week. Elegant first on the cover of the magazine "Chic":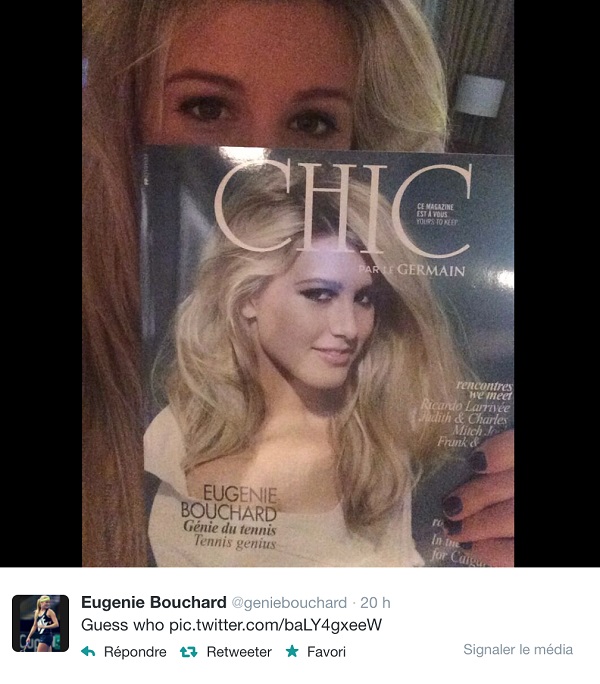 Feisty later while attending the Ultimate Fighting Championship in Quebec.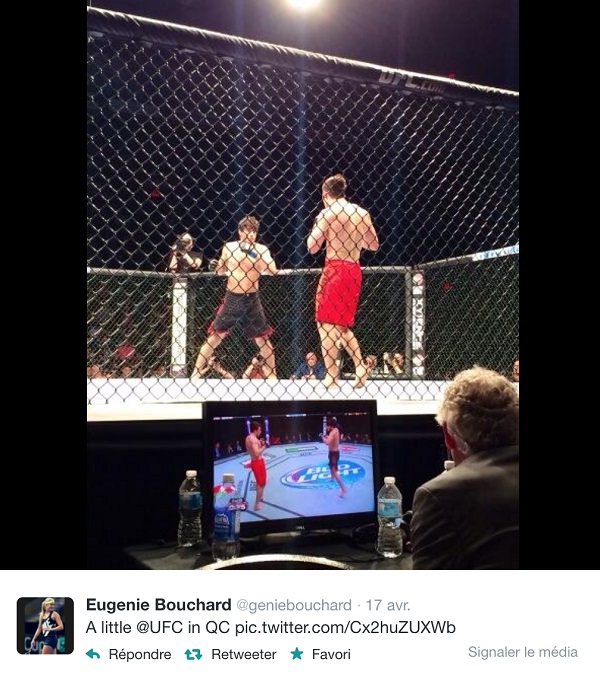 19 – Dustin Brown (NE).
Dustin Brown is the Rasta of the circuit. But playing with dreadlocks is not always easy as he explained in Tennis now: « I've already taken a little bit off the end because on a kick serve when it's a little wet or it's been raining or something, it's a little heavier and it flies over the front and goes in my face. I've already taken a little bit off the back, but August '96 is the last time I cut them. It's been a while. »
20 – Benoît Paire (-2).
The road to recovery is long and difficult for Benoît Paire. Defeated in the first round in Monte Carlo by Montanes (7-5 / 4-6 / 6-2), the French, always worried about his knee, seemed on the verge of depression. "I just want to go home, he confessed. My level is terrible, when you stop playing for three months, it's hard to regain the sensations and physically it's hard too." However, Paire has apparently found reasons to smile again this weekend, thanks to his family. And after a day at the spa, he even had a little raclette.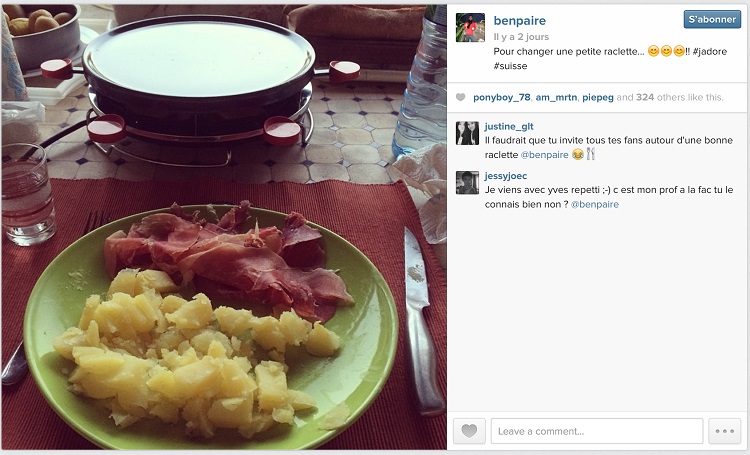 21 - Kristyna Pliskova (NE).
She makes a remarkable entrance in our ranking. Very annoyed by her defeat in the second round in Kuala Lumpur against Vekic (1-6 / 6-3 / 7-5), Pliskova greeted her opponent and the umpire as if nothing happened, before exploding her racquet on the ground. A technique that reminds us of the greatest.
22 – Victoria Azarenka (+3).
Victoria Azarenka has spent a lot of time at the gym again this week.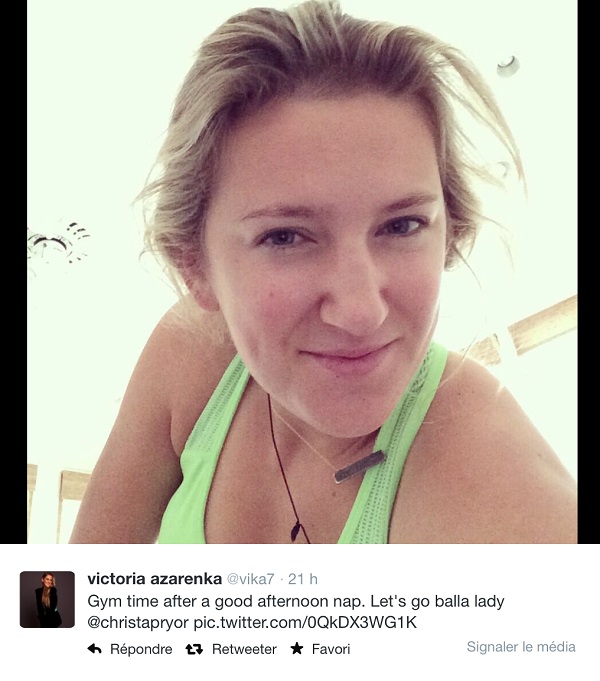 But above all, the Belarusian player showed that she was very creative by making coffee with... an "Omelette pan". No information was available regarding the taste of the coffee in question.

23 - Ryan Sweeting (+1).
All is well for Ryan Sweeting who is still crazy in love with Kaley Cuoco.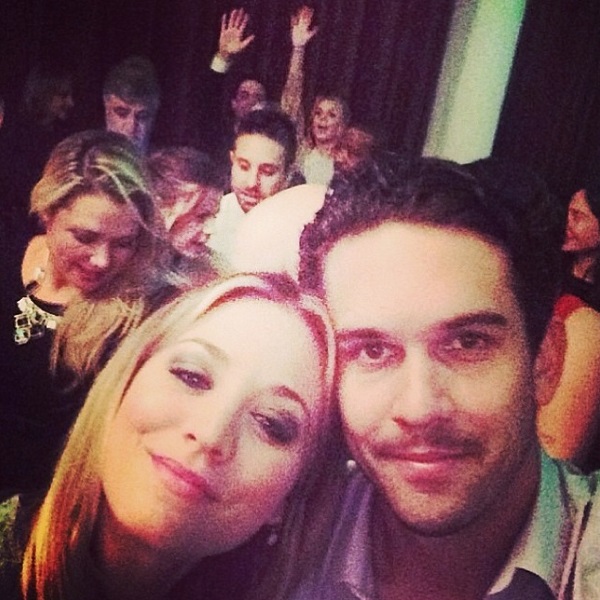 Between two kisses, the lovers even found the time to get involved against seal hunting in Canada.

24 – Richard Gasquet (-2).
Not in Monte-Carlo, Gasquet didn't understand the decision of his coach Ricardo Piatti to end their relationship. "I hope that Richard understand me one day, explained the latter to French newspaper L'Equipe. Telling him that I was leaving, it's been one of the hardest things I've ever done. I like the player but this is not what matters. I love Richard, as a person. He's smart and he's a really good human being. When I told him I saw that he didn't understand me. I felt bad, too. There was a lot of emotion. But it's part of the job." Between his injuries and the departure of his coach, Richie's season hasn't started well to say the least. To cheer him up after the injections he had in his back this week...

...His friend and PSG football player, the goalkeeper Nicolas Douchez, invited him in at a restaurant in Paris, where he and his teammates were celebrating their victory in the League Cup Saturday night.
25 – John Isner (-2).
While he's not playing, John Isner made a political statement this week. The American clearly showed his support to the Republican Party by endorsing a tweet of Ted Cruz, a Republican Senator from Texas. It might not please all his fans.

Out:
Milos Raonic, Li Na, Grigor Dimitrov and Ana Ivanovic
By Quentin Moynet