A week after the Davis Cup and a week before the Fed Cup, most of the stars of the tour were focused on their preparation. Did Djokovic or Nadal managed to take back the top spot occupied by Roger Federer last week?
A week after the Davis Cup by BNP Paribas quarterfinals and a week before Monte Carlo and the Fed Cup by BNP Paribas, most of the players were focused on their preparation. If the French Alize Cornet and Caroline Garcia took this opportunity to pull off some very good performances on little tournaments, Roger Federer celebrated his fifth wedding anniversary while Rafael Nadal came up short in a heads up poker battle.
1 - Roger Federer (/).
King Roger trained on clay for the first time of the season this week.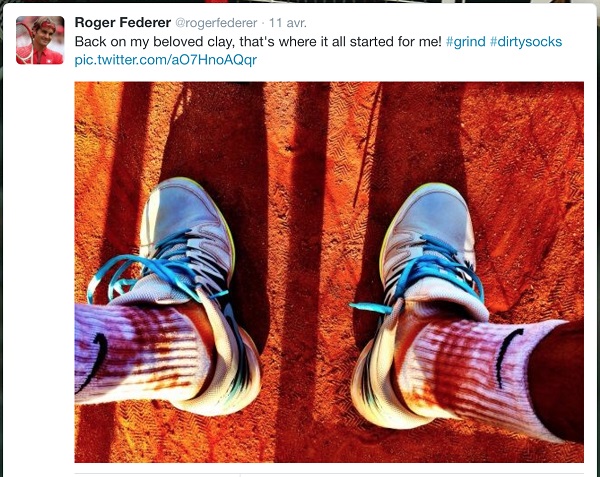 And the least we can say is that the Swiss seemed to be delighted to get back on this surface. Really.

Federer also celebrated his fifth wedding anniversary with Miroslava "Mirka" Vavrinec Friday. Enough to keep the lead in this ranking.
2 - Novak Djokovic (/).
Djokovic is at his home in Monte Carlo. Owner of a dwelling on the Rock, the Serb has trained... right in front of his apartment.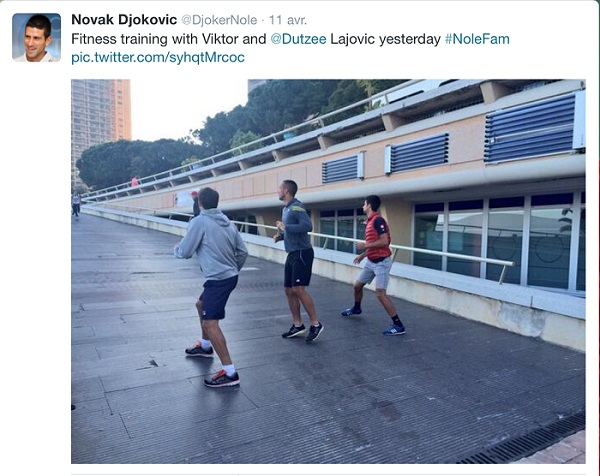 Needless to say, the former world number one isn't worried one bit: «Winning this title last year in the final against Nadal was definitely one of the highlights of my career. I really love playing in this tournament. My family comes in big numbers during this week so it makes me feel very comfortable and at home. Going onto the clay always feels like a new beginning, it will be very important to start well, hopefully with another win.» Nole also acted as coach by teaching Clement, a young tennis player, how to stretch out.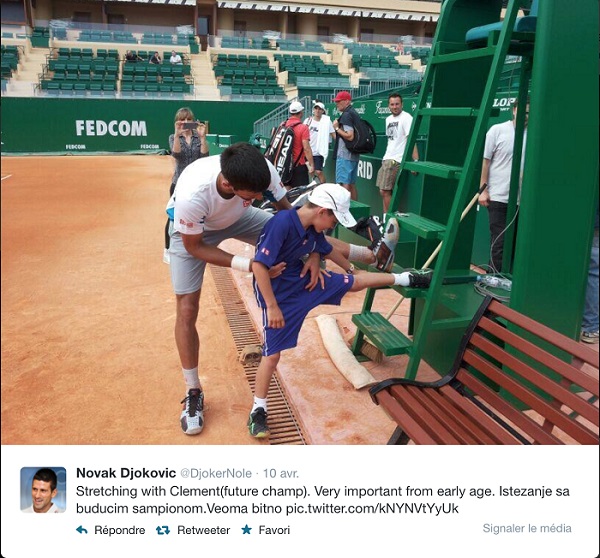 3 - Stanislas Wawrinka (+2).
Wawrinka keeps repeating it, he's less talented than Nadal, Federer, Djokovic, Murray and co. But he has other qualities: «I chose my own path. When I was young, I liked to spend hours and hours on the practice court. It's true sometimes that if you see kids now, we don't have a new generation coming, because when it starts to be difficult they just stop and they change. They have a choice to do what they want because the level of life is really good in Switzerland. Unfortunately some younger player doesn't understand that if you want to get through, you have to sacrifice, you have to work hard and there is no easy way.» Perseverance always pays. Well, at least in the WAT ranking.
4 - Serena Williams (+2).
The youngest Williams sister is participating in a charity operation for the "Autism Speaks" association, which helps the Autism Research and conducts awareness campaigns on these developmental disorders. Chocolate maker Lindt and the association have put on sale a little less than a hundred rabbits autographed by stars from sports (including the American player), cinema, music or entertainment. They hope to raise more than 130 000 dollars through these auctions. Congratulations Serena.
5 - Rafael Nadal (-2).
It's no secret that Nadal is a big fan of poker. So much so that on Friday night he challenged Vanessa Selbst, the best female poker player in the world, for a heads up poker battle at the Monte Carlo Casino.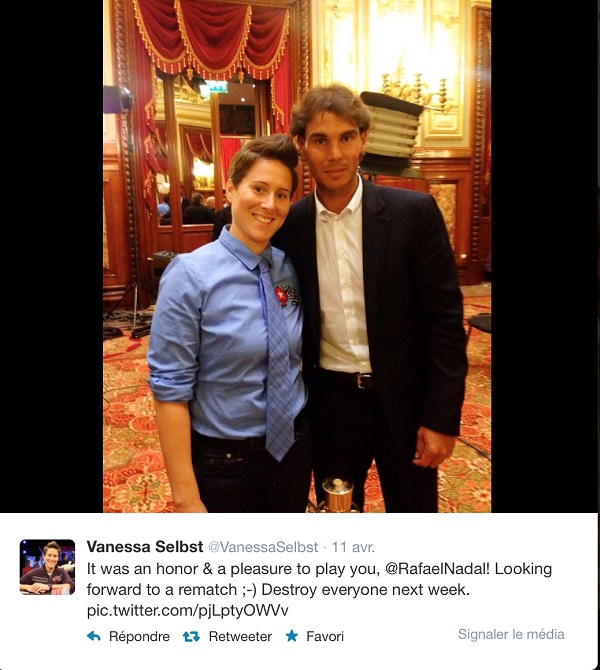 But the Majorcan was clearly out of his league "It was an honour and a pleasure to play against you, Rafael Nadal! See you soon for a rematch," said his opponent. Rafa cannot bail.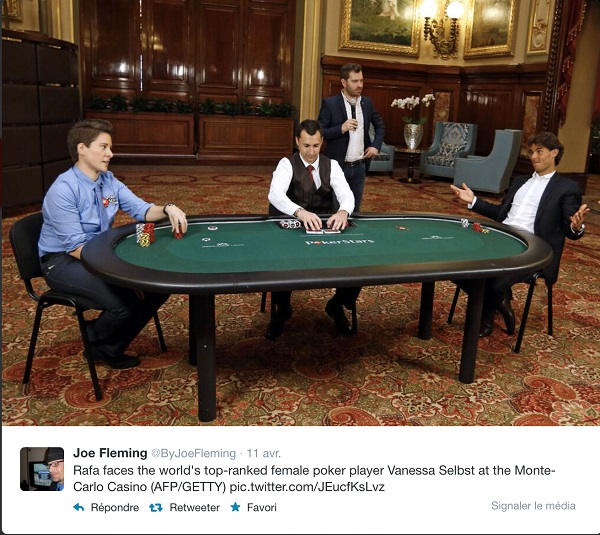 6 - Alizé Cornet (+14).
Tremendous week for Alize Cornet. The French won Katowice tournament by defeating Giorgi in the final (7-6 / 5-7 / 7-5). But above all, the blonde beauty managed the feat of eliminating Radwanska, world number three, in the previous round, and this after losing the first set 6-0. Cornet is now 11th in the Race, just before Maria Sharapova.
7 – Na Li (-2).
Nothing to report about Li Na, always very discreet.
8 - Grigor Dimitrov (+2).
New member of the Top 15, Dimitrov is also a very versatile player. Proof with this selfie.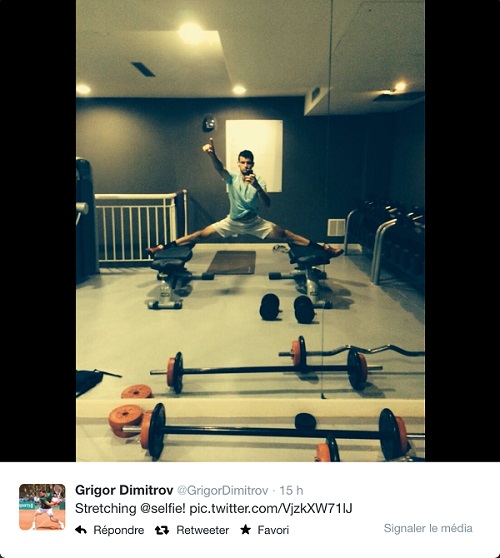 The Bulgarian has also trained with Gaël Monfils this week.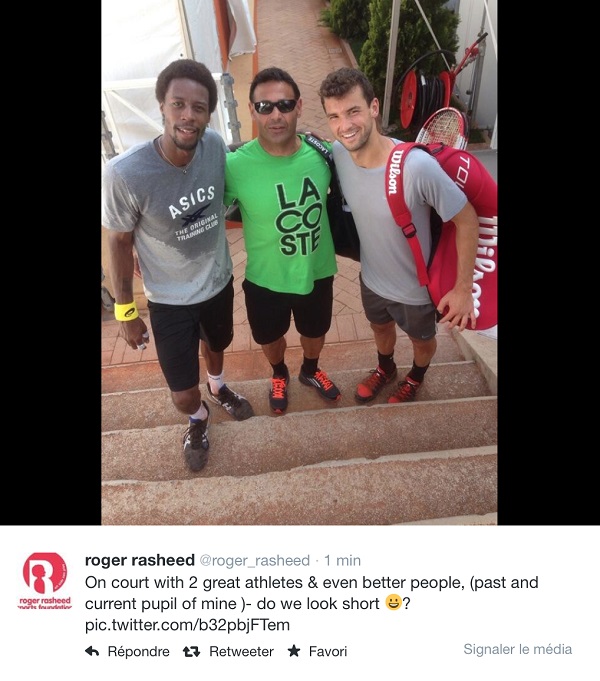 9 - Jo-Wilfried Tsonga (+2).
Tsonga wants to "set the record straight". Disappointing since the beginning of the season, the French has points to defend in Monte Carlo, where he made it to the semi-finals last year. But he especially wants to make a mark in the minds of his opponents: "I need to show once again that I'm here. That it's still hard to beat me. I feel that guys are starting to say that it has become easier to play against me." Good news, thanks to Richard Gasquet, who had to withdraw, "JO" won't have to play the first round, privilege usually limited to the eight seeds, and therefore avoids a confrontation with the dreaded Latvian Ernest Gulbis.
10 - Fabio Fognini (-2).
Fognini has passed a milestone by beating players such as Murray, Berdych, Wawrinka and Almagro in recent months. But the Italian has yet to pass a mental barrier to reach the top. "Djokovic, Nadal and Ferrer constitute an obstacle to Fabio, according to his coach Josè Perlas. Our goal is to break that barrier and find solutions. They are real pet peeves for him."
11 - Gaël Monfils (-4).
After qualifying France for the semi-finals of the Davis Cup by BNP Paribas, the French got injured in training on Wednesday after a bad fall. Hit in the ankle, he had to withdraw for the Casablanca. Tournament He's also highly doubtful for Monte Carlo.Wwhat a difference a day makes…
12 - Maria Sharapova (/).
Now very far from Serena Williams, the former World No. 1, Sharapova wants to get back on top. For this, she doesn't hesitate to wake up at dawn. A motivated Maria.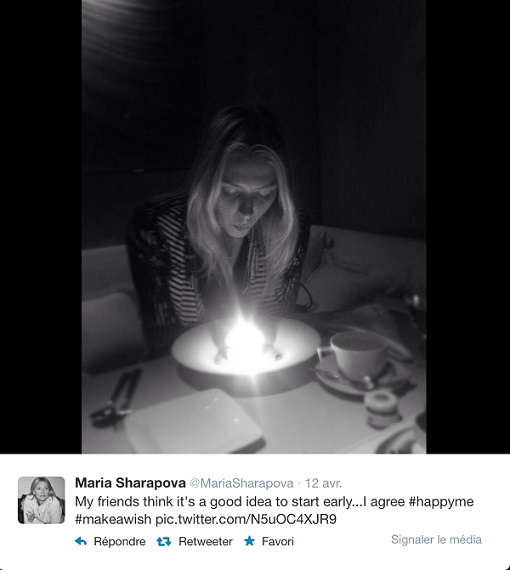 13 - Ana Ivanovic (-4).
After a great week in Monterrey, Ivanovic allowed herself some time off with her brother Milos.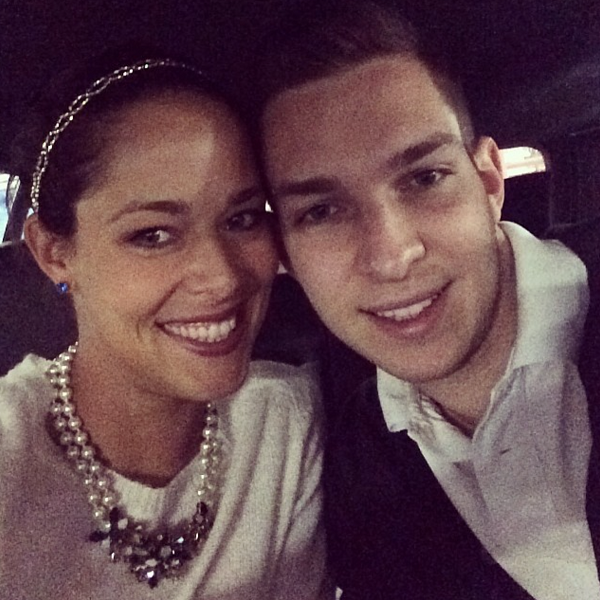 However, despite years of experience, she seems to never get used to jet lag.

14 - Andy Murray (+1).
Murray opened a luxury hotel last Tuesday, the "Cromlix" near Dunblane, his hometown in Scotland. The ambition of the Scot: «The town has a lot of history and it's important to me that people think positively when they hear about Dunblane, so if by me playing tennis and this hotel being a success helps make that happen then I'll be more than happy. It's important that I give back to the community which put me on my path, and the hotel seems the perfect way to do it» Meanwhile, Murray, freshly separated from his coach Ivan Lendl, hopes to find another coach before Roland Garros.
15 - Petra Kvitova (-2).
Absent against Spain in the previous round, Petra Kvitova is making a comeback with the Czech Republic in the semi-finals of the Fed Cup by BNP Paribas against Italy next weekend in Ostrava. Leader of her selection, Kvitova is preparing in good spirits with her compatriot Lucie Safarova.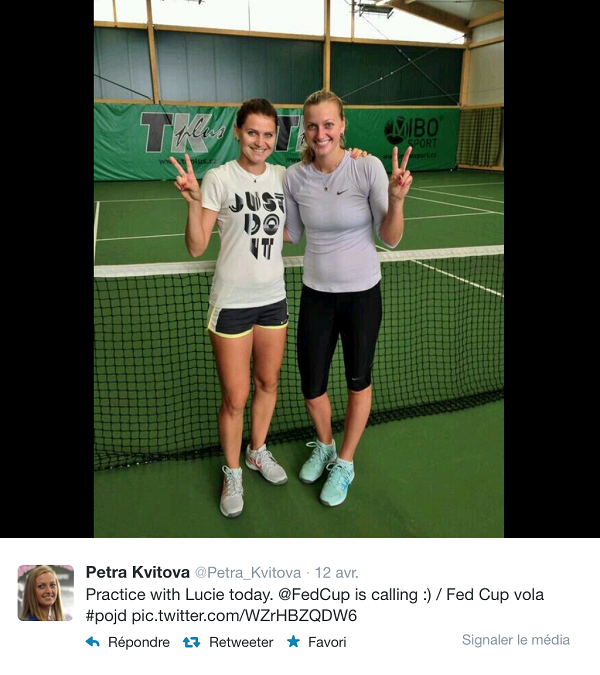 16 - Tomas Berdych (+1).
Absent in the quarterfinals of the Davis Cup by BNP Paribas, Berdych is expected for the semi-final against France. "I sincerely believe and hope that he will return to our team and that he will fight again for a spot in the final," said his compatriot Radek Stepanek. Meanwhile, Berdych is showing off in Monte Carlo where even his warm up rounded up a crowd.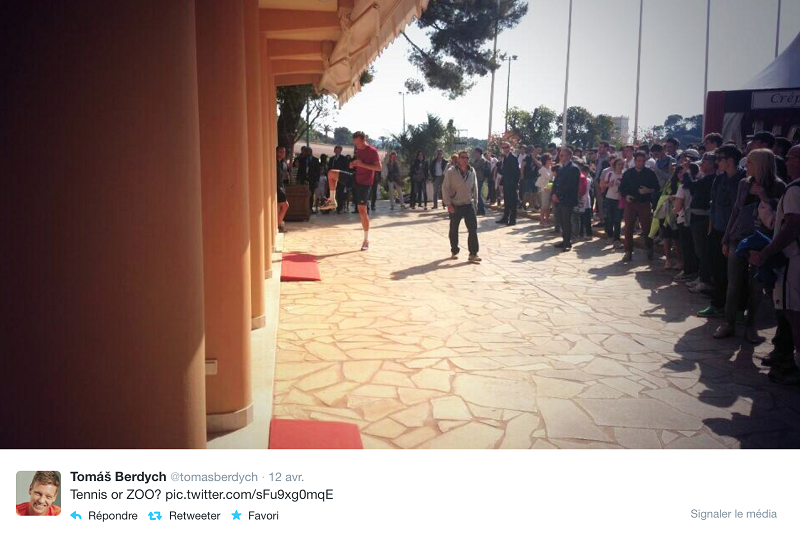 The Czech is also closely watched in China since he now has more than 500,000 followers on the Chinese Twitter. It was worth a little progression.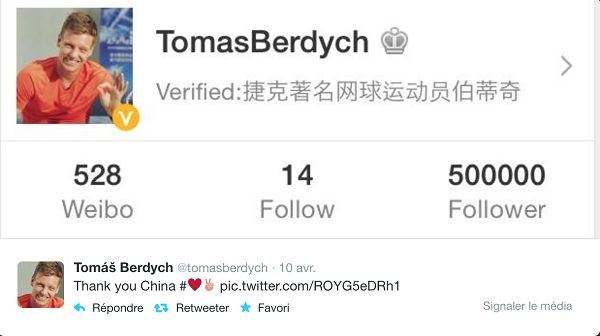 17 - Caroline Wozniacki (NE).
On the occasion of the traditional Augusta Masters par-three golf event, Caroline Wozniacki acted as a caddie for her boyfriend Rory McIlroy. The Dane was sporting pink hairs. Original.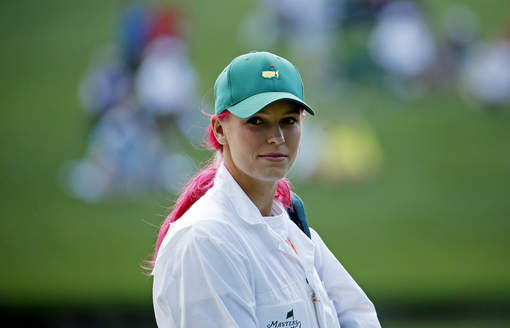 18 - Benoît Paire (NE).
Defeated in the quarterfinals of Casablanca by Garcia Lopez (7-5 / 7-6), Benoit Paire hasn't lost everything. According to a survey on the French dating site AdopteUnMec.com, the tennis player is the sexiest of the tour. He even finished above Rafael Nadal and Marat Safin. All sports combined, Paire is ranked 14th, at a respectable distance from the leading trio Camille Lacourt (1st) - David Beckham (2nd) - Martin Fourcade (3rd).
19 - Caroline Garcia (NE).
Garcia enters the ranking thanks to a perfect week on Bogota's clay. Winner of the Doubles with the Spanish player Lara Arruabarrena, the French also won in singles. It's her first victory on the professional tour. Thanks to her victory against Jelena Jankovic in Sunday's final (6-3 / 6-4), she now stands in 51th place worldwide, her best ranking so far. A well deserved entry in the WAT ranking.
20 - Milos Raonic (NE).
Raonic is training hard to be ready for Monte Carlo. But the Canadian still allows himself a few moments of relaxation. Saturday for example, he had dinner with Tomas Berdych and Ivan Ljubicic.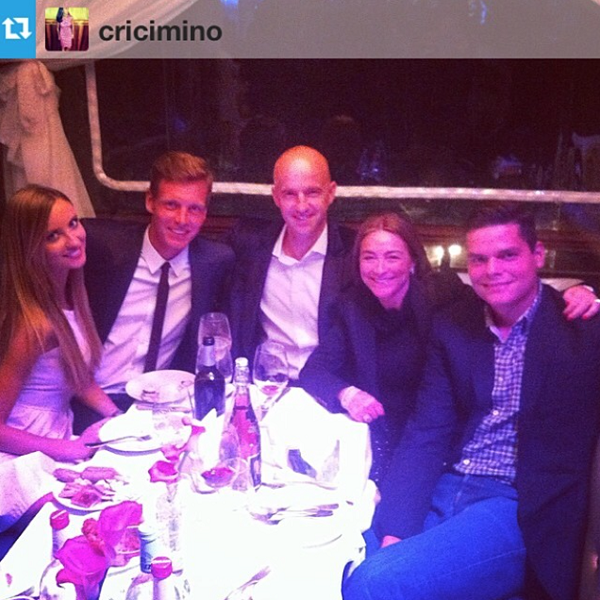 21 - Eugenie Bouchard (+2).
Eugenie Bouchard spent a few hours with her family this week, and enjoyed a nice ice cream with her sister Beatrice.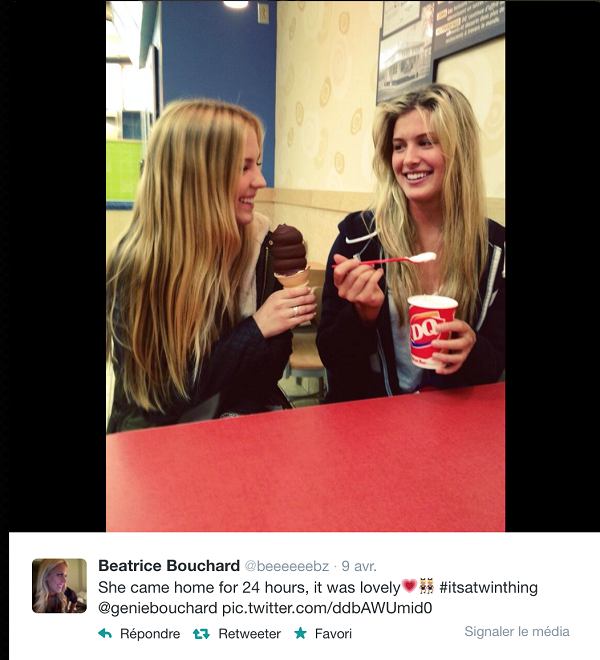 But the Canadian quickly resumed training. She also hit a target during a service training exercise. Unfortunately for her, nobody saw it...

22 - Richard Gasquet (-8).
Challenging times for Gasquet. Already forfeit for the Davis Cup by BNP Paribas, the French will also miss Monte Carlo and Barcelona. He's suffering of the lumbar and will have to undergo infiltration to soothe the inflammation. The fall in the ranking may be heavy for Richie who spent Sunday at the Hippodrome de Longchamp near Paris.
23 - John Isner (-2).
Together, they exceed 14 feet. This week, John Isner, 6 ft. 10 in, played a match with the 80s and 90s dunker Clyde Drexler, 6 ft. 7 in. Remember that Isner hesitated a long time with a basketball career before opting for tennis.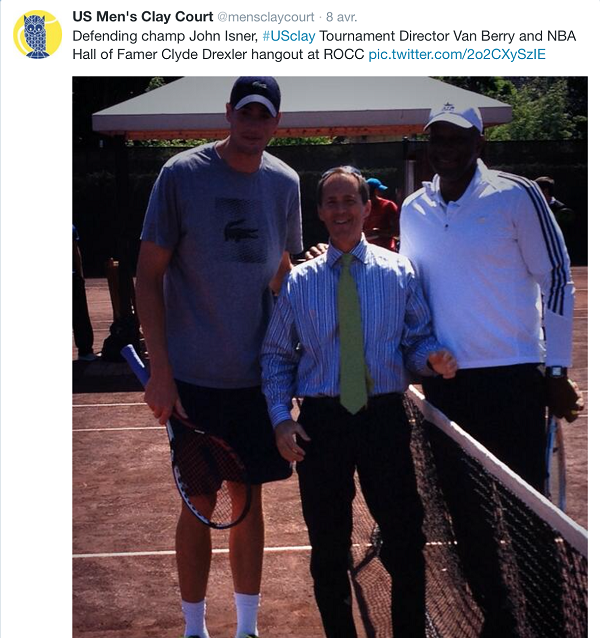 But this training didn't seem to be that efficient since the American was eliminated in the second round of the Houston tournament by the German Brown. (6-4 / 6-7 / 7-6).
24 - Ryan Sweeting (/).
When he's not playing tennis, Sweeting is playing with cotton along with his actress girlfriend Kaley Cuoco. They're so cute.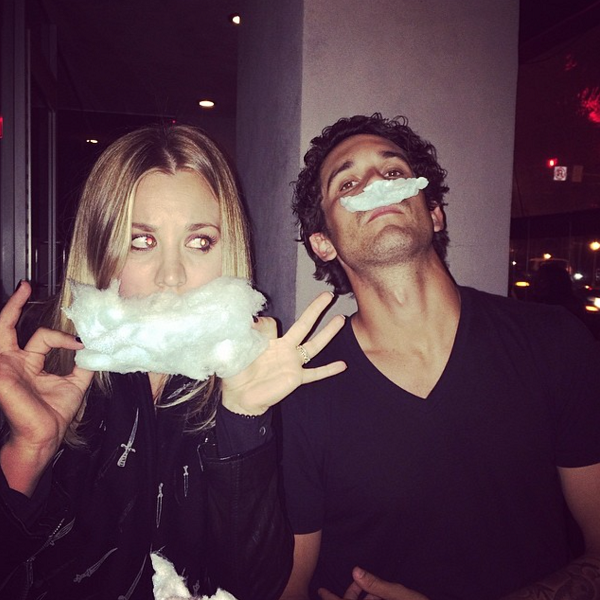 25 - Victoria Azarenka (-3).
Work week for Azarenka who spent many hours in the gym. To motivate herself, the Belarusian puts her headphones and listens to the American hip-hop band Play-N-Skillz.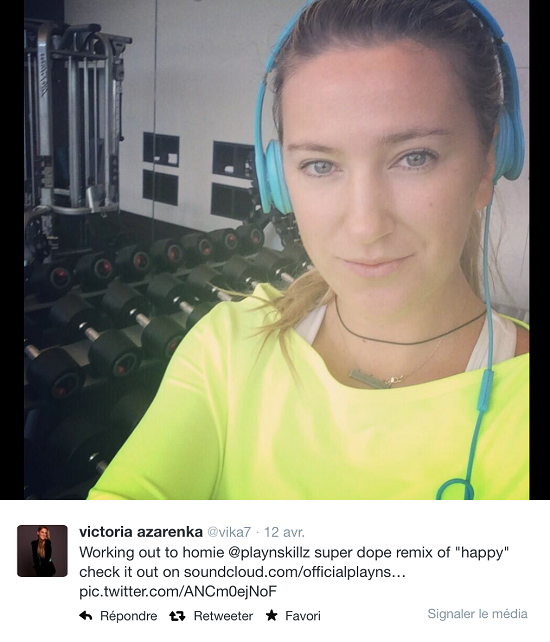 Out:
David Ferrer, Sabine Lisicki, Dominika Cibulkova, Flavia Pennetta
By Quentin Moynet