The Davis Cup by BNP Paribas this weekend turned the WAT ranking upside down and allowed a new player to take the crown. Discover who and why by reading the tennis journal, a summary of the best things that happened during the past week.
While the ATP was on a break and the WTA was continuing its usual routine, the Davis Cup by BNP Paribas resumed its duties this week end. In the quarterfinals, the best players were called Fabio Fognini, Gael Monfils and... King Roger, in top form at 32 years old.
1 - Roger Federer (+3).
The Swiss has played the fifth match of the Davis Cup by BNP Paribas quarterfinals opposing Switzerland to Kazakhstan. He won 7-6 6-2 6-3 against Andrey Golubev. Proof that the myth is still running. Interviewed by Mats Wilander on Eurosport, he also reminded the competition, simply, that: "With my game and newfound health, I can play for a long time."
2 - Novak Djokovic (/).
After dominating the American tour and a victory at the BNP Paribas Open and the Miami Masters, the Serb had some fun while shooting an advert for Peugeot on the French Riviera and also enjoyed a few moments of self-satisfaction: "I felt good throughout the game. Against "Rafa" I always know what to expect... we no longer have any secrets from each other. I am very well prepared for this final. Winning the BNP Paribas Open was special; it gave me a lot of confidence. I had several matches where I had to reverse the situation in my favour... But in Miami, the tournament was perfect from start to finish."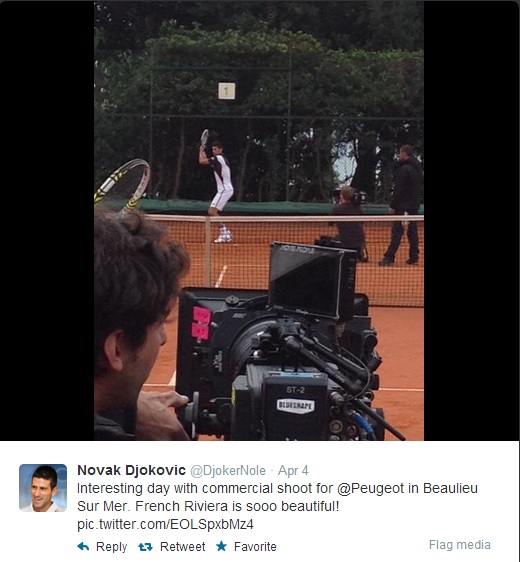 3 - Rafael Nadal (-2).
Rafael Nadal, defeated by Novak Djokovic in the final of Miami Masters 1000, always has a special place in the heart of the Spaniards. He won, for the third consecutive year, a poll intended to designate the athlete with whom they would like to go have a drink. He finished before the footballer Iker Casillas and F1 driver Fernando Alonso. Which prevents him from falling further in the WAT ranking.
4 - Na Li (+1).
Nothing to report for the Chinese, still leading the WTA Race this week.
5 - Stanislas Wawrinka (+1).
In trouble during the first single of the Switzerland-Kazakhstan match against Andrey Golubev, Stanislas Wawrinka then came back in the game: he won his second single match against Mikhail Kukushkin to bring the teams to a tie... before Federer offered the decisive point to his. Otherwise, Stanislas also lost a bet against Nicolas Mahut: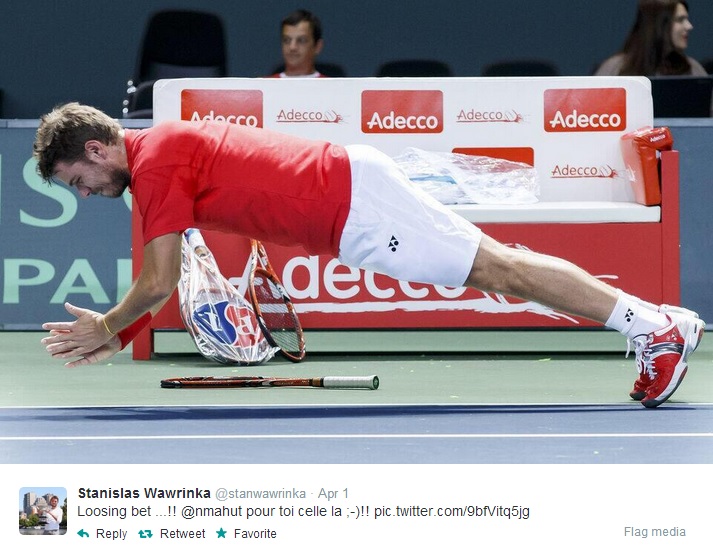 A good spirit that allows the Swiss to win a place in the WAT ranking.
6 - Serena Williams (-3).
Victorious in Miami last week, Serena Williams needed to ease off on the pressure in Charleston and bowed in the first round against Jana Cepelova, 78th in the world, in straight sets 6-4, 6-4. A defeat she commented in very clear words: « I'm really just dead. I need some weeks off where I don't think about tennis and kind of regroup. I've had a long couple of years, and I'm really a little fatigued ». Before taking plane tickets, the American bought tickets for... the cinema. This Saturday, she went to see the blockbuster of the moment: Captain America, the Winter Soldier.
7 - Gaël Monfils (NE).
Gael Monfils is indolent, Gael Monfils is unmanageable... Maybe, but Gael Monfils likes playing big matches. "I hope that the captain will trust me for this last game, I enjoy this kind of matches" he said before the last match of the Davis Cup by BNP Paribas between France and Germany, where it was two all. Arnaud Clement granted his wish and the player won 6-1, 7-6, 6-2. Gaël Monfils therefore never lies.
8 - Fabio Fognini (+15).
In the warm Neapolitan atmosphere, Fabio Fognini defeated Andy Murray in straight sets (6-3 6-3 6-4) on Sunday to bring the Italian team to two all against Britain. No less. Andreas Seppi then finished the job and Italy finally won 3-2.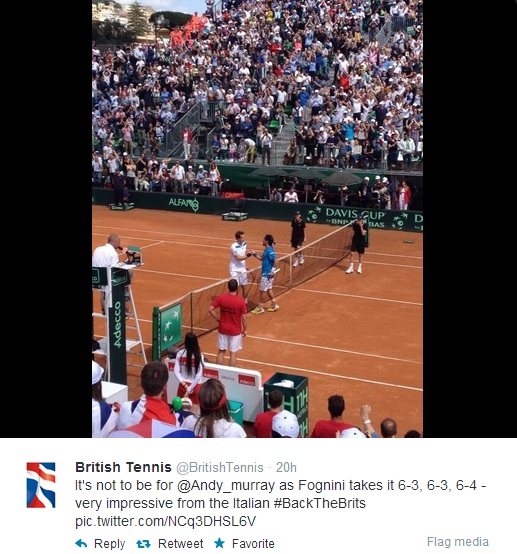 9 - Ana Ivanovic (+15).
The other big progression of the week! It must be said that Ana Ivanovic had a busy week in Monterrey: she played an exhibition match against Caroline Wozniacki in a wheelchair before winning easily in the final on Sunday against her young 20 years old compatriot Jovana Jaksic. The score? 6-2, 6-1.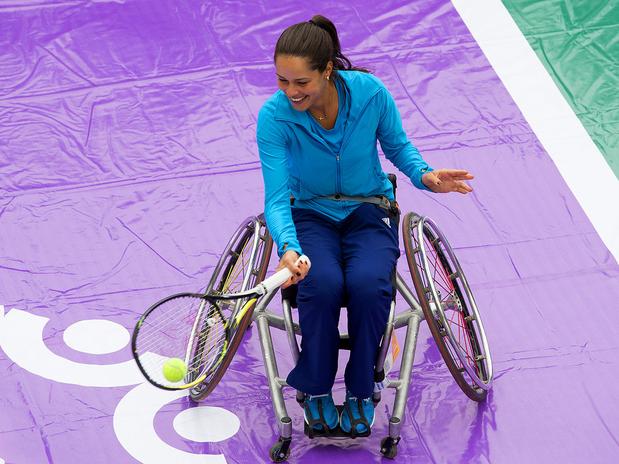 10 - Grigor Dimitrov (/).
Maria Sharapova's Bulgarian boyfriend has made it into the top 15 last week. At 22 years old.
11 - Jo-Wilfried Tsonga (+8).
Jo-Wilfried Tsonga experienced an emotional roller-coaster this weekend. Beaten Friday by Peter Gojowczyk, 119th in the world, in the second match of the Davis Cup by BNP Paribas between France and Germany, the French made up for it on Sunday against Tobias Kamke, 96th in the world. All this before seeing teammate Gael Monfils bring the last point and victory to France, yet led 2-0.
12 - Maria Sharapova (+3).
On holiday in Cancun, Maria Sharapova had a good time and warned twitter: she is ready for the summer!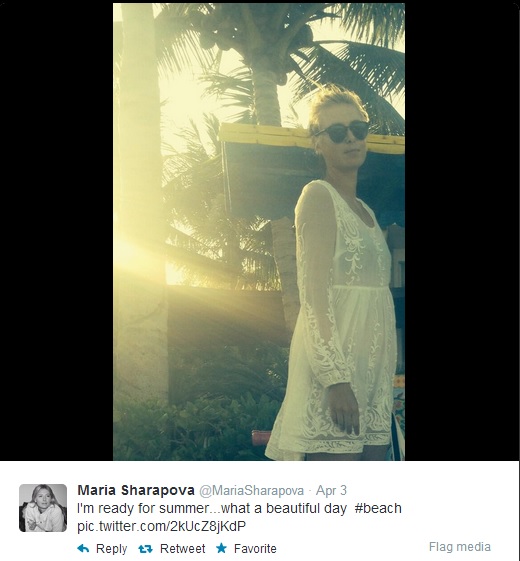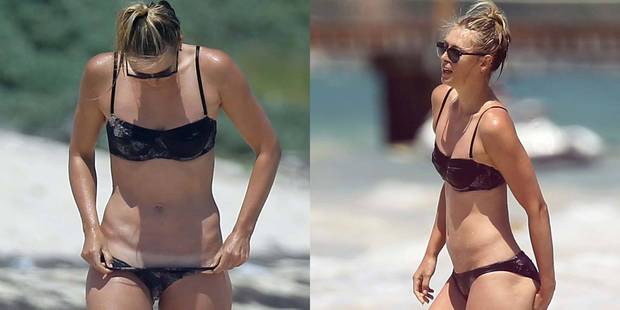 13 - Petra Kvitova (+9).
This week, the Czech played a match in the village of Fulnek where it all began. Emotional.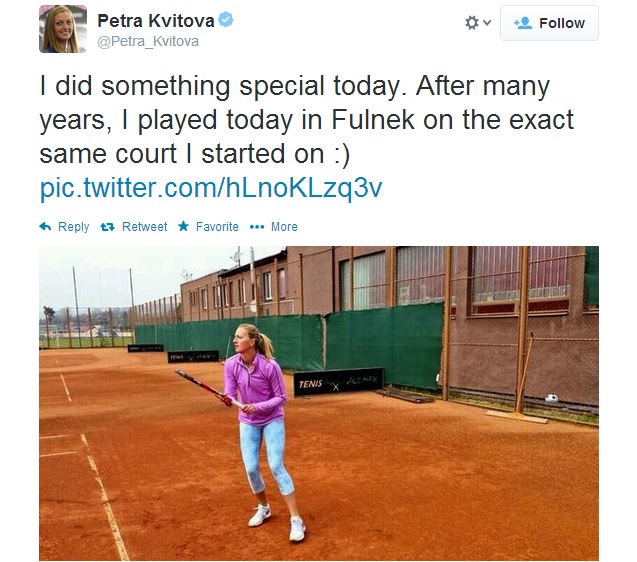 14 - Richard Gasquet (-3).
Forfeit for the Davis Cup by BNP Paribas, Richard Gasquet had nonetheless supported his teammates.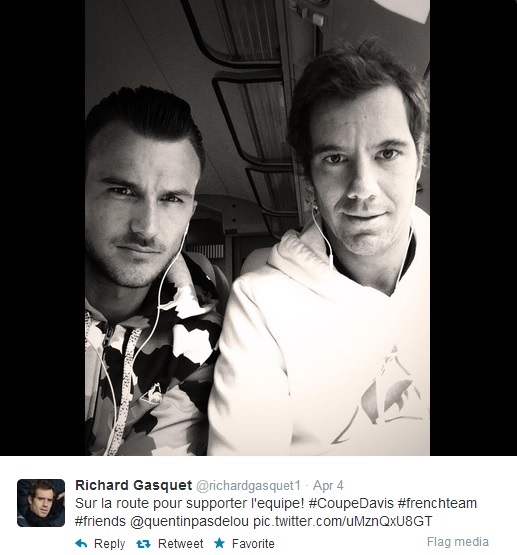 15 - Andy Murray (-7).
Winner of his first singles and doubles, Andy Murray thought that his team was mastering its Davis Cup by BNP Paribas quarterfinal against Italy... Before losing to Fabio Fognini on Sunday and seeing Andreas Seppi give the victory point to Italy. And go down, then.
16 - David Ferrer (-7).
The Spaniard is not at his best at the moment and spoke about it on Radio Marca: «I've noted a small physical slip, especially this year. It's costing me more to play my best tennis. It seems that it's costing me more to react, or recover. I play a good match and the next day I find it harder to react. Tennis is much more physical, but the governing bodies have not changed anything.» But at least, Rafael Nadal didn't forget his birthday.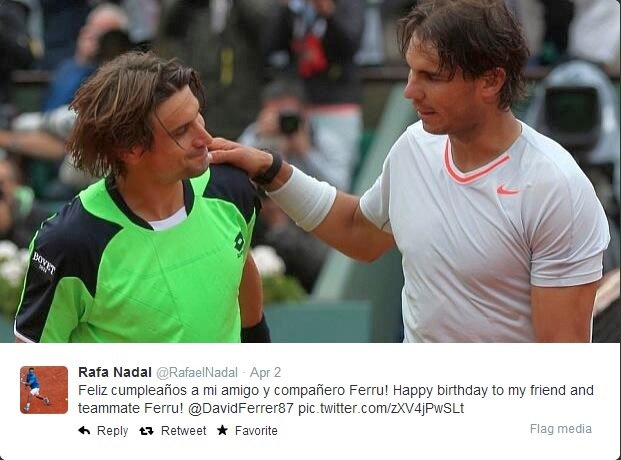 17 - Tomas Berdych (-5).
Tomas Berdych withdrew from the quarterfinals of the Davis Cup by BNP Paribas against Japan for « personal reasons ». His captain, Jaroslav Navratil didn't resent him for this: « I understand and respect the decision of Tomas, » he explained on Facebook. Especially since his teammates got the job done and won 3-0... Meanwhile, Tomas spent some time at the gym.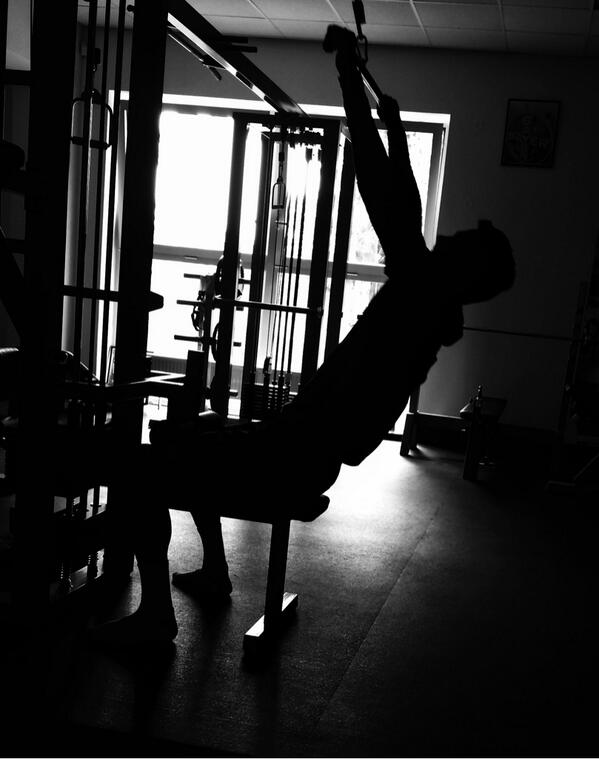 18 - Sabine Lisicki (-2).
Seeded No. 4 in Charleston, Sabine was defeated like a common sparring partner by Andrea Petkovic 6-1 6-0. When she left the court, the German was rather fatalistic: « I think I haven't played very well. I missed almost everything. At first I was missing things narrowly, which is unfortunate because I don't usually miss these kinds of balls. It wasn't fun, I just didn't play well. »
19 - Dominika Cibulkova (-3).
The pretty Czech entered the top 10 this week. Well, that's all.
20 - Alizé Cornet (-3).
When she wasn't supporting France in the Davis Cup by BNP Paribas, this weekend, Alize Cornet was training with Djordje Djokovic, brother of. Yep. Not enough to beat Ivanovic, Fognini or Monfils' progression, but good effort.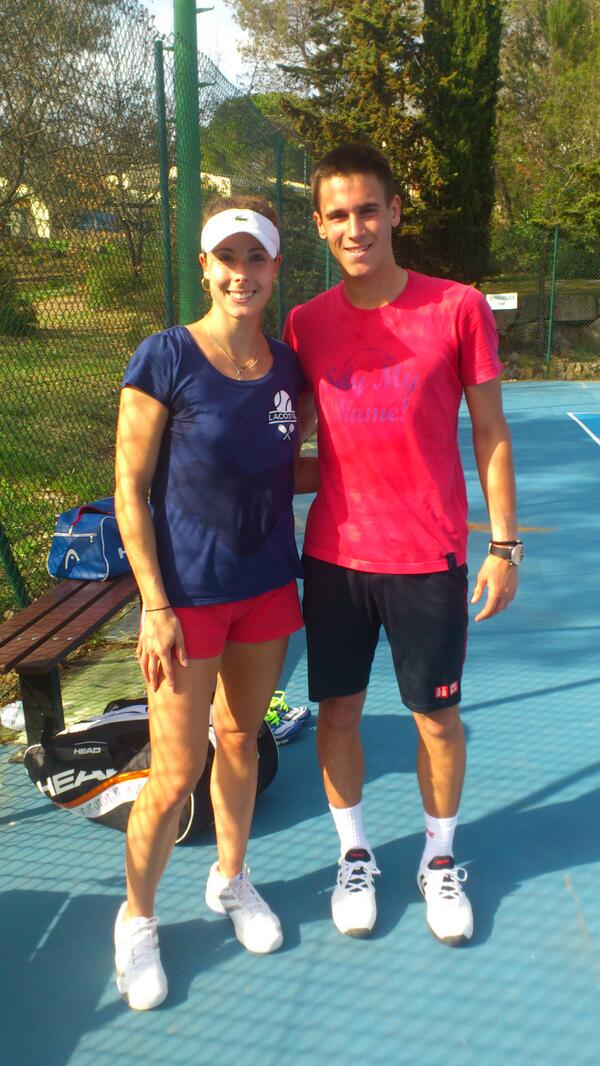 21 - John Isner (-3).
The American trained all week to defend his title in Houston.
22 - Victoria Azarenka (-2).
This week, Victoria Azarenka formalized the signing of a sponsorship deal with a new partner: the insurance company Esurence, also sponsor of the Bryan brothers and Dmitry Tursunov. She also saw her name appear in the ITF list of the nine players to have undergone more than seven anti-doping controls last year.
23 - Eugenie Bouchard (-2).
Sabine Lisicki is not the only one to have fallen in South Carolina against the German Andrea Petkovic. The Quebecer bowed in three sets in the semi-finals. Otherwise, she went around with a teddy bear.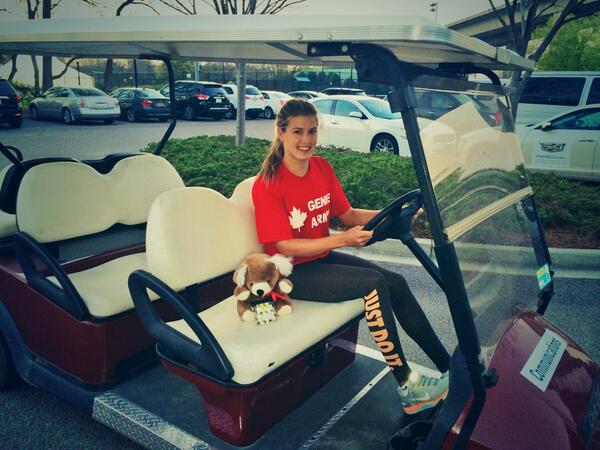 24 - Ryan Sweeting (+1).
We finally now know a little bit more on the relationship between the American player, 293rd in the world, and Kaley Cuoco, The Big Bang Theory star, since the latter talk to Cosmopolitan: "I admit it happened fast, but that's who I am. When we met, I knew he was the one. [At my wedding], I felt like a rock star and a badass. What was amazing in that room, it was so full of love. It was like nothing I'd ever been to before, and it was exactly what we wanted it to be. It was the eighth wonder of the world, the greatest wedding of all time.» Love with a capital L.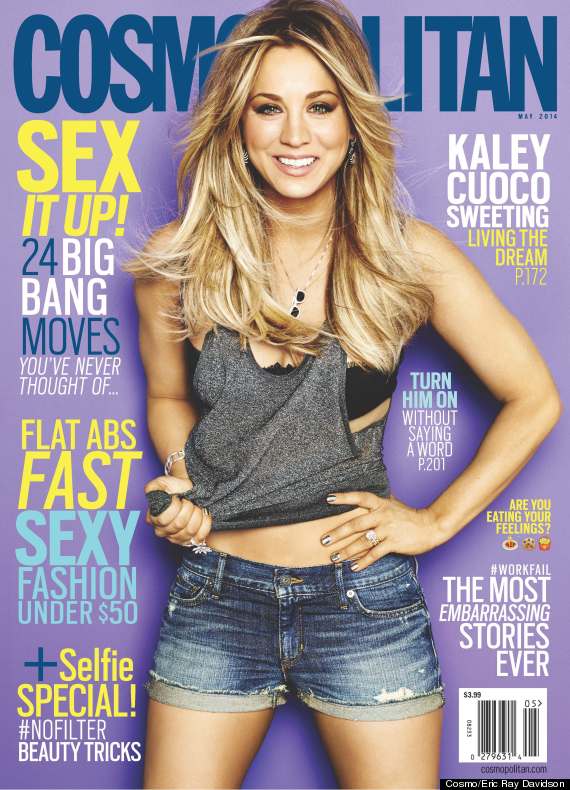 25 - Flavia Penneta (NE).
Eliminated in the first round of Monterrey, Flavia Penneta disguised as a zombie and took the opportunity to party with Ana Ivanovic, Kristina Mladenovic and Kirsten Flipkens.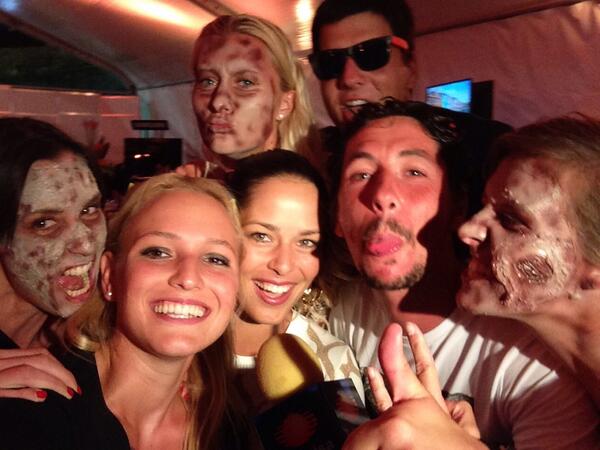 Out:
Milos Raonic and Agnieszka Radwanska!