Rafael Nadal lost the top spot of the WAT ranking this week. Blame it on a much funnier opponent than him at a news conference. We had warned the Spanish player, results are no longer enough!
The WTA and ATP rankings have merged to produce a single ranking. Men and women are mixed and results are no longer enough. Thus, a picture, a punch line, a joke, a great shot or a bit of flesh can help win places. Or lose some. Tennis is global. And this week, Novak Djokovic is world number 1. And easily. Happy?
1 - Novak Djokovic (+1)
In perfect shape after a final at the BNP Paribas Open, Djoko also took this opportunity to make fun of his little friends. The Bulgarian player Dimitrov was quietly doing the job at his press conference after defeating Robin Haase when the Djoker arrived. And then it went crazy, "My friend Grigor here, best-looking guy on the tour. You don't need to talk about tennis too much. You had so much success this year. Let's talk about your looks." And while he was leaving the room, the Serb turned around and asked: "Can I ask you a question? What is your favourite Sugarpova candy? (Maria Sharapova's candy brand, ed.)?" "Flirty Sour" answered the Bulgarian.
But this week, Djokovic has also and above all met the wild American actress Rebel Wilson during the Will Ferrell's Desert Smash tournament. The young actress immortalized this moment with the Serb.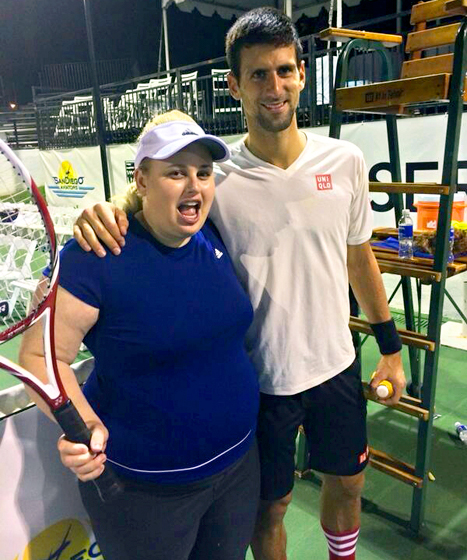 2 - Rafael Nadal (-1).
At the BNP Paribas Open like all best players of the world, Rafael Nadal had to keep busy off the courts. Thus, during a little game organized by the tournament's bosses, which consisted of recognizing the players of the tour when they were young, the Spaniard made ​​a mistake, confusing Roger Federer with... Agnieszka Radwanska. It is not known for whom it was the most embarrassing.
Otherwise, Rafa took advantage of his trip to L.A. to visit his friend Pau Gasol who plays for the Lakers. He obviously took a little picture on the way.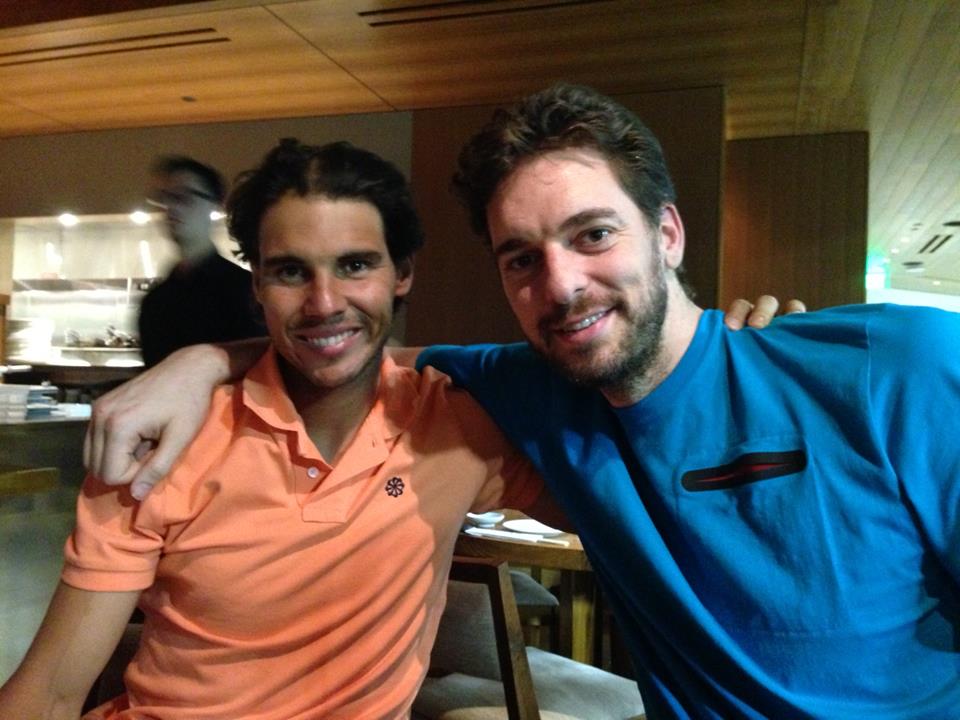 This helps to forget his pathetic elimination in the third round of the BNP Paribas Open in three sets 6-3, 3-6, 7-6 (7/5) and 2 hours 18 minutes against the Ukrainian Alexandr Dolgopolov.
3 - Serena Williams (+1).
Not competing at the BNP Paribas Open (she's been boycotting the tournament since 2002), Serena Williams took some time to watch TV. Watching a match of Maria Sharapova, the Williams sister, decided to give some fashion advices: "I'm loving Maria S Nike outfit. #approved #supercute"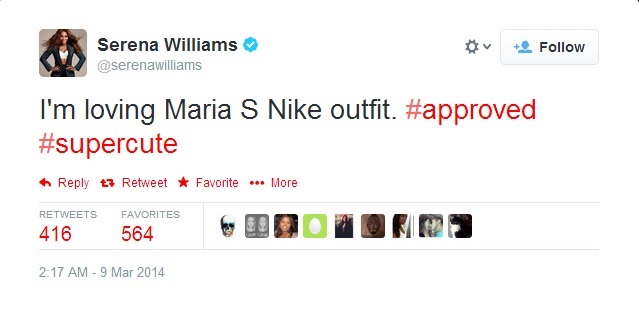 This was anything but trivial since the two women have cordially hated each other since Wimbledon where they had an argument about their respective boyfriends. «Really? Are those her exact words, 'totally cute? I think we have to exchange designs," Sharapova said. "We have to design an outfit for each other, without knowing -- that would be fun to do, without telling each other what it is, just unveiling it." Why not… Meanwhile, Serena Williams has ended her week nicely since she went to see Michael Bolton in concert.
4 - Roger Federer (+1).
Between the final of the BNP Paribas Open, which was his 33rd match against Novak Djokovic, and his many selfies (his cute new guilty pleasure, like here in Los Angeles), the Swiss is also expecting a happy event. Indeed, Roger has already announced the good news on Twitter at Christmas "Mirka and I are very pleased to announce that Myla and Charlene will be big sisters in 2014. Happy Holidays." But now we are getting more information. According to the Swiss press, the couple is expecting... twins. Yes, again.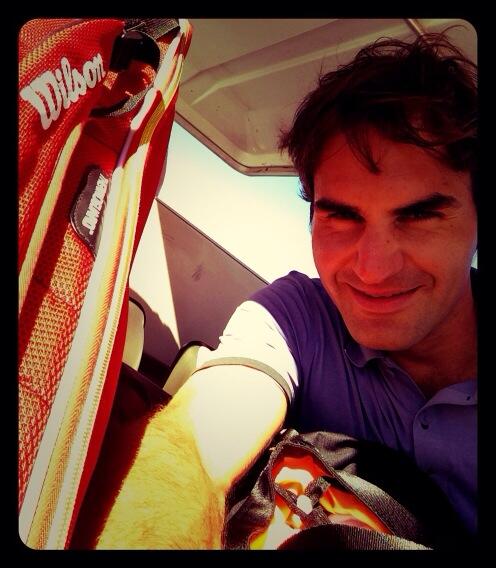 5 - Agnieszka Radwanska (+1).
In the final of the BNP Paribas Open against Flavia Pennetta, the Pole to have a good 2014 year so far. Relaxed off the courts, she gave away some of her beauty secrets. As the name of her favourite jeweller for example, with a picture to illustrate it. It's the brand Lilou Paris. A lovely product placement with a smile. Amazing.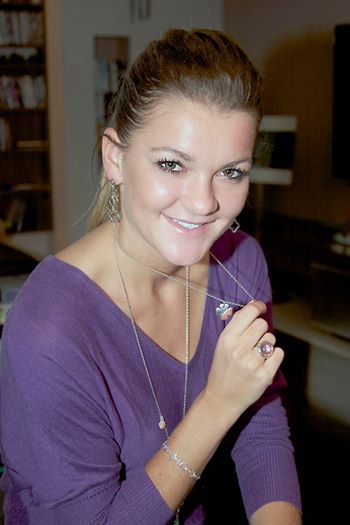 6 - Stanislas Wawrinka (-3).
He fell for the first time in 2014! It's the South African Kevin Anderson who knocked him down, in the second round of the BNP Paribas Open. And to get over his disappointment, Stanislas apologized for his underachievement on Twitter: Sorry for my match today! Bad attitude!! But thanks for all the great support here!!Congrats to @kevinanderson18"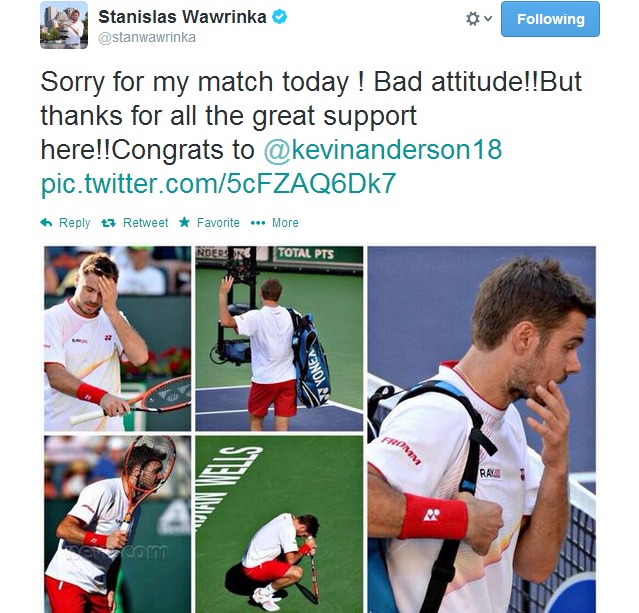 7 - Andy Murray (+2).
Eliminated by Raonic in the last sixteen of the BNP Paribas Open, Murray is not affected in the WAT rankings since he announced his participation in the famous British show "Mock of the week", a popular game show in Britain where you have to answer unusual and offbeat questions. The Scot will appear on the show at the end of March for a week. Fun times ahead.
8 - David Ferrer (-1).
The Spanish player had to forfeit for the BNP Paribas Open. He's resting in preparation of the Miami Masters 1000, where he confirmed his presence by tweeting a picture of him on a bike with his friends. Not enough to preserve his place in the rankings.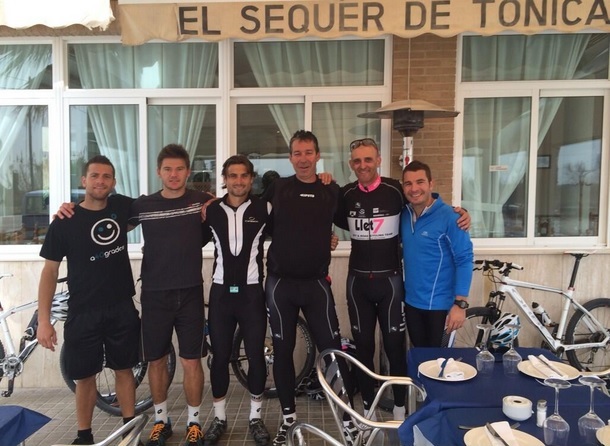 9 - Juan Martin Del Potro (-1).
The Argentine seems to copy everything on David Ferrer. Also forfeit in Los Angeles, he let the big dogs talk between them.
10 - Li Na. (+2).
A good American week for the Chinese who dragged her smile in the last four of the BNP Paribas Open, before being smashed by the surprising Italian Flavia Pennetta.
11 - Tomas Berdych (-1).
First Top 10 player to have been torn-down at the BNP Paribas Open, the Czech bowed in three sets against the Spanish player Roberto Bautista Agut, World 53rd, 4-6, 6-2, 6-4. The kind of wrong note that doesn't go unnoticed. So he took advantage of his week off to visit L.A. On the menu: climbing a hill overlooking the city and going to a match of the local ice hockey team: the Los Angeles Kings.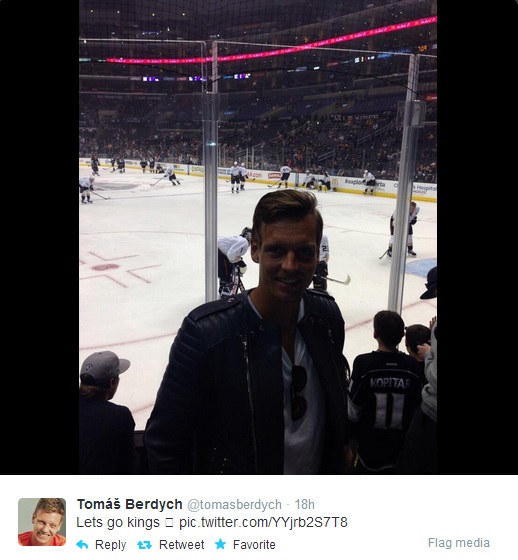 12 - Richard Gasquet (-1).
The tumble continues for our friend Richard Gasquet, eliminated in the third round by Verdasco in Los Angeles.
13 - Grigor Dimitrov (/).
The Bulgarian has been heckled by Novak Djokovic in his press conference. That's enough for this week. But we're talking of a man who shares a bed with Maria Sharapova. We're not going to feel sorry for him.
14 - Milos Raonic (+2).
The Canadian loves taking everything and anything in picture during a tournament. Like here in Los Angeles where he posted a picture of the car that handles the dirty laundry during the fortnight. Otherwise, on the sport side, Milos was stopped in the quarterfinals. The service of the Ukrainian Dolgopolov was too strong for him. That's ironic.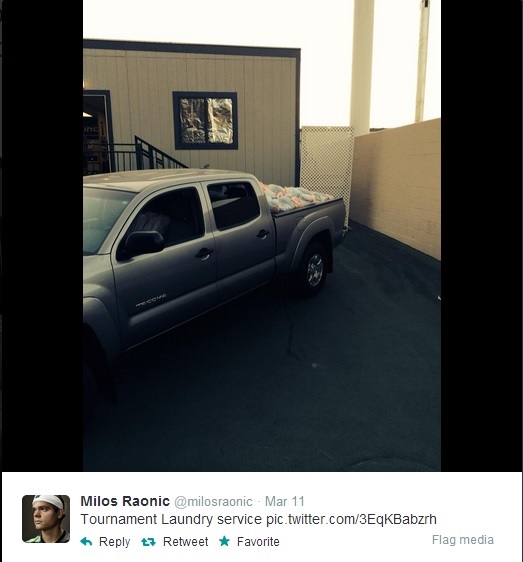 15 - Tommy Haas (+1).
The German might be 35 years old, he's still fired up. Bullied by Federer in the BNP Paribas Open, Tommy found a way to give his all and punish Roger after a marathon from the baseline. Respect. For his trouble, he won a place.
16 - Maria Sharapova (+1).
The Russian takes a place, but this is a holdup. On the courts, she's no longer scaring anyone. In contrast, in the medias, she's still on top of the hype established by Anna Kournikova. Thus this week she posted a picture of her in front of her Porsche while it was being washed.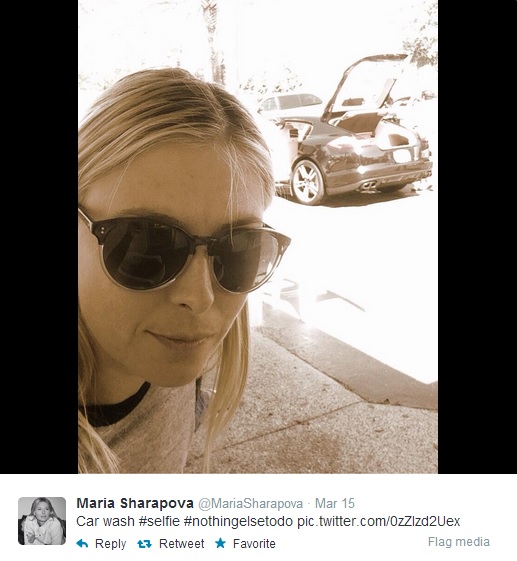 17 - Jo-Wilfried Tsonga (-2).
Vital signs at their lowest. Eliminated right away in the californian tournament by Julien Benneteau in straight sets. Quickly, an aspirin.
18 - Dominika Cibulkova (+1).
Eliminated in the quarterfinals by Li Na at the BNP Paribas Open (6-3, 4-6, 6-3), the Czech decided to digest her defeat with her four-legged friend. A woman who loves animals. Up!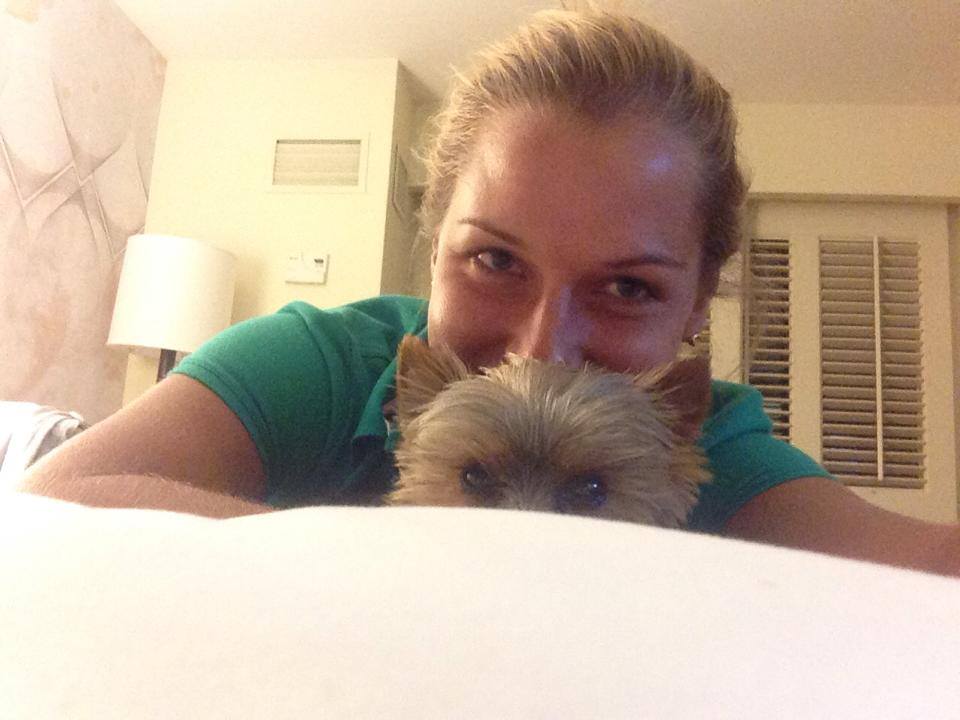 19 - John Isner (+1).
A place in the final four in Los Angeles, that's worth a little recognition.
20 - Victoria Azarenka (-2).
Winner of the Miami tournament twice (2009 and 2011), the Belarusian will not make the hat-trick for the simple reason that she had to withdraw for the WTA tournament. Blame it on this damn injury that has been hampering the player for a long time: "It looks like over the past year, I've been pursued by bad luck. I could not compete in the tournament in 2013 because of my ankle and now I have this foot problem." Too bad because Vica is really cool.
21 - Flavia Pennetta (NE).
The beautiful story of the week. While she was dragging her spleen through the maze of the rankings for two years (she was even close to leave the top 200 at some point), the Italian seems to be back (for good?) in 2014. Proof with this beautiful place in the final of the BNP Paribas Open after defeating amongst other, the number 1 seed, Li Na in semi-finals. Beautiful.
22 - Benoît Paire (+1).
The French is not having the time of his life. Injured, he tried to regain some physical strength. But this was forgetting the jinx that has been following him for some time. So he borrowed his parents' car and obviously had a small mechanical problem on the motorway... He goes up in the rankings for some well-needed comfort.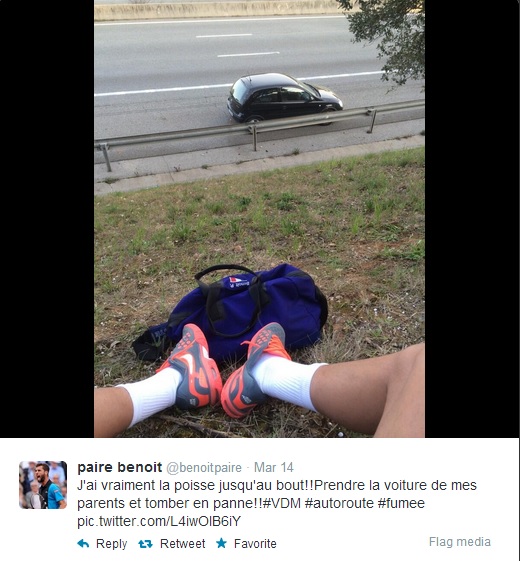 23 - Simona Halep (NE).
Quietly, the Romanian is moving towards the top of the rankings. She's even becoming bankable. Proof with this very young fan asking her for an autograph.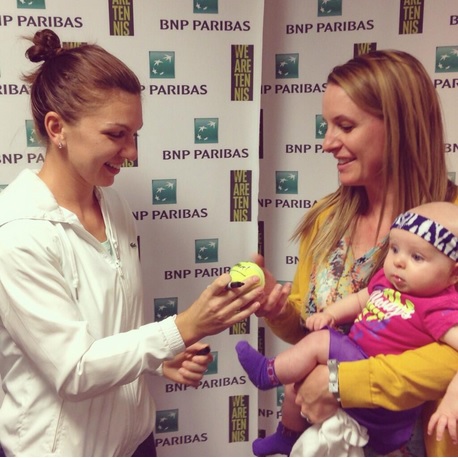 24 - Ana Ivanovic (NE).
The Serbian is a sports fan and with such a pretty face, a great marketing product, This is why Samsung has decided to launch a new advertising campaign around football, TV and the excitement that it might create. So we see Ivanovic, hysterical, smashing her couch with a racquet while watching football game.
25 - Elena Vesnina (NE).
An entry that can be explained by this picture published in the Russian edition of Playboy magazine. Yep. Maria Sharapova can be scared; her title of "most beautiful Russian" of the tour is in danger.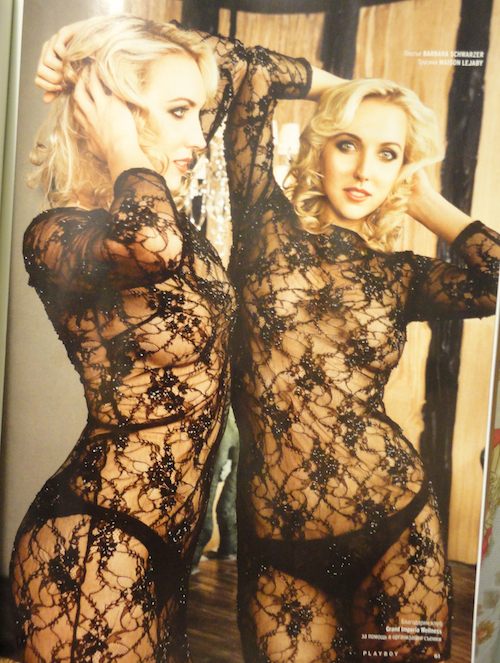 Out:
Caroline Wozniacki, Mikhail Youzhny, Eugénie Bouchard, Fabio Fognini
By Mathieu Faure
Ps: annoyed? As we are open people, don't hesitate to share your arguments in favour of your favourite player with a picture, a video, a tweet or anything else you might find to support them.