Nadal distracted by a ball girl, Stakhovsky very upset against a French player and tennis player transformed into Olympic athletes... Relive the best moments of the tennis week in the Mag.
A new record for Rafael Nadal, a tribute to Guga, the comeback of Venus Williams, Ernests Gulbis raising his voice and some nice surprises...
The Big Four corner
Marseille, Delray Beach, Rio de Janeiro, two ATP World Tour 250 tournaments and a 500... This past week on the tour, the members of the Big Four decided to take it easy. Except for Rafael Nadal who started his clay season in Brazil, after his forfeit in Buenos Aires last week due to back pain contracted during his lost Australian Open final. "I can't hit the ball with as much strength than I'm used to, it's a delicate process after an injury. But I really wanted to play here in Brazil" he said before the beginning of the tournament. Nevertheless, as expected, he won without too much difficulty, except in semi-finals against Pablo Andujar, during which he had to save two match points. Next week, Novak Djokovic and Roger Federer will be in Dubai while Andy Murray will play the Mexico tournament.
Rankings' news
In the ATP rankings, Rafael Nadal remains a strong leader in a unchanged Top 10. Marin Cilic is now 25th thanks to his victory in Delray Beach while Ernests Gulbis joins the top 20 for the first time in 18th position. Amongst the ladies, Venus Williams goes up fifteen places to the 29th place worldwide, six places behind Alize Cornet. The trio consisting of Serena Williams, Li Na and Agnieszka Radwanska remains the same.
Tourists' news
At rest, Novak Djokovic went to Geneva to support his old friend and player for the Servette FC, Neven Markovic. We can't say that he brought him luck since the Genevans were defeated 3-2 against Vaduz and continue to stagnate in Challenge League, the Swiss second division. It's been a long time since Servette weighed heavily on the European scene.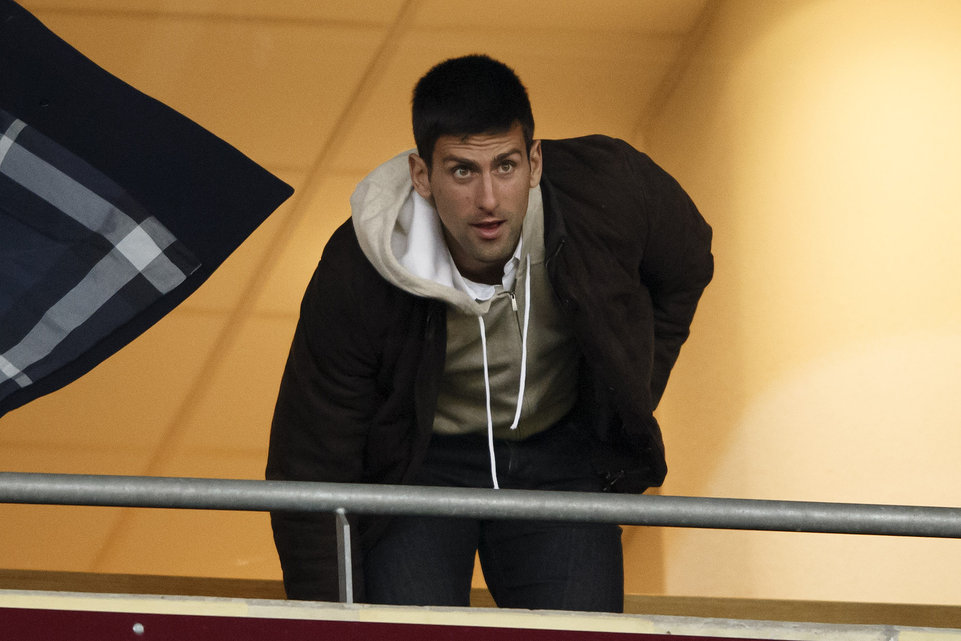 The statistic
This week, Rafael Nadal played his 800th match on the ATP World Tour. For the occasion, he quietly disposed of his teammate Daniel Gimeno-Travers in two sets. A beautiful way to celebrate an already very full career at 27 and join the very exclusive group of players currently in activity to have reached this point (Roger Federer, David Ferrer, Nikolay Davydenko, Lleyton Hewitt and Tommy Haas), all older than him.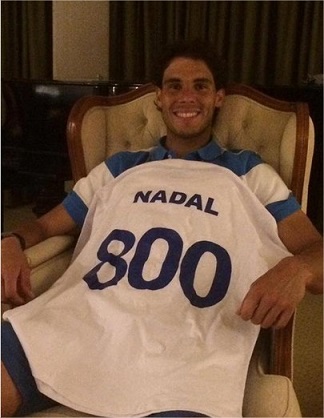 They made the week:
- Alize Cornet. For the first time since 2008, Alize Cornet defeated a Top 10 player, the Romanian Simona Halep in the first round of the Dubai tournament. She also won against Serena Williams, world number one, in the semi-finals. It's called mark the occasion.
- Venus Williams. Venus Williams won in Dubai her first tournament for 16 months. She had disappeared since 2011 and the announcement of her illness, Sjogren's syndrome, an autoimmune disease that causes fatigue and joint pain. The holder of seven Grand Slam titles and former World number one had received an invitation to participate in this tournament. The beautiful story of the week.
- Marin Cilic. The Croat is in great form at the moment. After a lost final in Rotterdam last week, in a tournament that saw him dominate Andy Murray in the quarterfinals, Marin did it again this week in Delray Beach... (wait for final results)
- Richard Gasquet. Defeated in the semi-finals of the Open 13 in Marseille by the eventual winner Ernests Gulbis, Richard Gasquet had a heavy heart when he left the court. An early exit at the Australian Open, lost titles in Doha and Montpellier, a big loss in Marseille, the year started badly for the ninth player in the world.
They said it:
- During a press conference held for the exhibition match against his long-time rival Andre Agassi in London, Pete Sampras paid tribute to Roger Federer:
« He's done everything in the game. He could walk away tomorrow feeling great about it. I'm in awe of it. I don't know how he maintains the level. He's got a true love of the sport, doesn't mind the travel, doesn't mind the lifestyle. He seems to enjoy it. I'm amazed he finds the motivation to play the outside events, although obviously the majors are his main motivation. I found myself getting tired when I hit about 30, 31 – he's still enjoying it. He could play another three or four years. »
- Eliminated in the second round of the Open 13 by Edouard Roger-Vasselin, Sergiy Stakhovsky wasn't very happy. He said it on Twitter shortly after the game, by comparing his opponent, who had received medical care several times during the match, to an actor. Then a rabbit: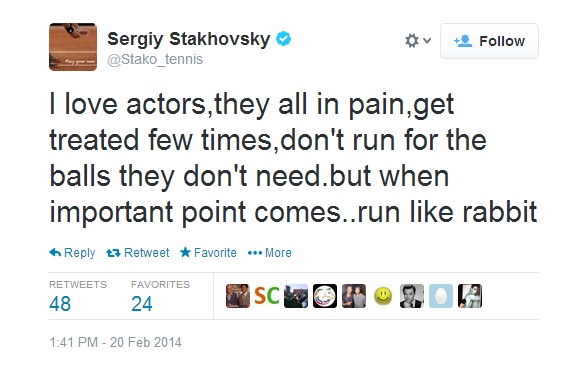 - No, Michaël Llodra is not dead. The 126th player in the ATP rankings, who is currently playing his final season, is not there to do a farewell tour. "This is not the Rolling Stones tour, I still want to win," he said. It has the merit of being clear.
- Tim Henman believes in Andy Murray's comeback. He told the London Evening Standard: « I liked what I have seen from him in Australia. The signals are positive. Even Andy himself is happy with his current condition and I am sure that his preparation towards Wimbledon is going to be optimal. It is important that he enjoys his chance of defending the title without pressure. The Championships are far away though, many things could have changed by then.»
- "My long-term goal in tennis isn't to be Top 20. It's to be No. 1. Anything less than that wouldn't make me fully satisfied. I don't want to get to 30 years old, look back on my career and say I didn't make something of it. Everybody's looking for satisfaction in life, and my joy and happiness is based on my tennis career. I think [the top players] feel threatened by my game, because they know if I serve well and I'm aggressive, then it's tough to play against me. I don't feel I'm in the same league as the [Top 4] yet, I need to prove it. Game-wise, I think that I can be. » If one thing is sure about Ernests Gulbis, it's that he knows what he wants.

The Indiscretion
In Rio de Janeiro, Rafael Nadal has sometimes seemed distracted, which didn't prevent him from winning...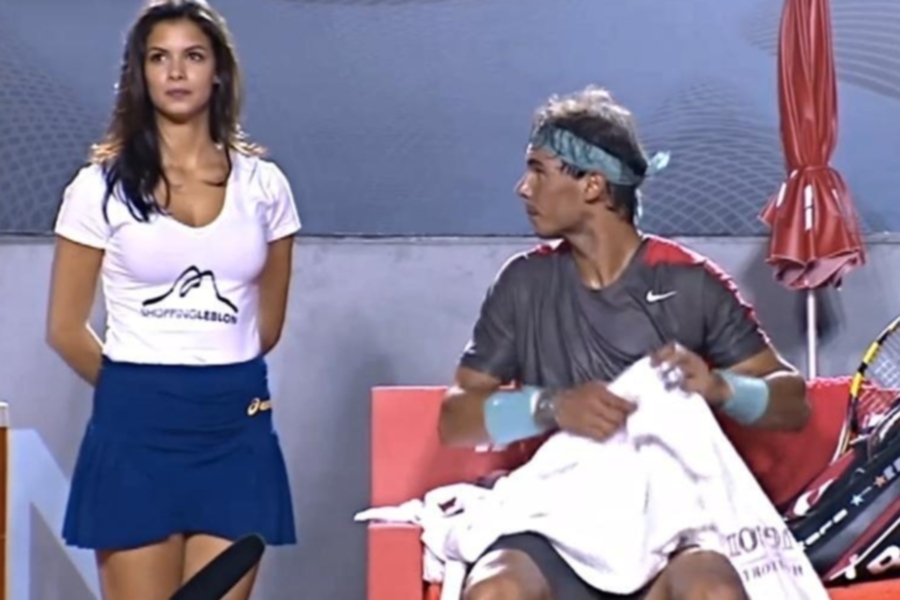 The point of the week
Alize Cornet made a brilliant performance by winning against Serena Williams in the semi-finals of the Dubai tournament. On this point, hits a magnificent lob.
The Tribute of the week
Gustavo Kuerten was honoured on Thursday at the Rio tournament. After receiving a commemorative plaque from Rafael Nadal, Guga drew, assisted by two children, a heart on the clay of the central court. Before lying down in it, of course.
The Olympics corner
Sports Illustrated took advantage from the Winter Games in Sochi to transform the top players of the tour in Olympic athletes. Why not...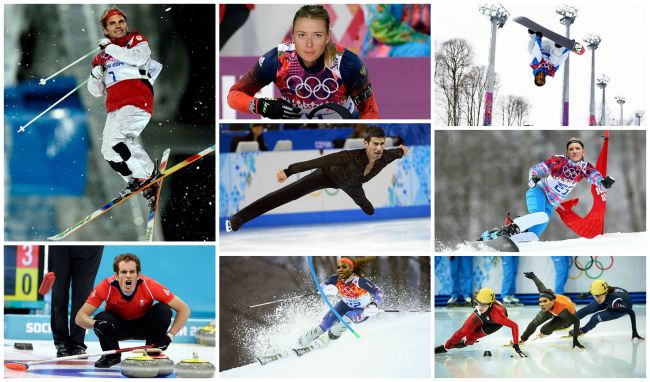 By Antoine Mestres