The 2013 season ended with the victory of the Czech Republic in the Davis Cup by BNP Paribas final. Yes, but before that, do you remember what happened? The highlights of the year 2013, between Big Four and big surprises.
Eleven months of tennis, sixty-five men's tournaments, sixty-two women's and almost as many movies, stories and different journeys. Review of a year 2013 with its somehow predictable scripts, but always full of suspense. Blockbusters built around the bankable stars such as Nadal, Djokovic and Williams. And then, in the middle... Marion Bartoli, the biggest Grand Slam surprise of the past decade.
Twin Peaks
Both world No. 1, Serena Williams and Rafael Nadal had a year unsettling of mimicry, dominated by titles at Roland Garros and at the U.S. Open and interspersed with a big disappointment at Wimbledon. The yearly review confirms the identical horoscope of the lioness and the bull: 11 titles for Serena, 10 for Rafael, 78 victories and 4 defeats for her, 75 victories and 7 defeats for him. Their paths have waited for the Masters, at the very end of the season, to finally part: Serena won her fourth crown while "Rafa" remained empty-handed.
Bip-Bip and Zsa-Zsa
A start with a bang in their stronghold of Melbourne, before a heavy blow received at the hands of their biggest rival: Novak Djokovic and Victoria Azarenka also had a similar year, started in the spotlight before disillusions during the spring and the summer. The defeat in the final of the U.S. Open, however, marked a halt in their parallel curves: Azarenka finished the season knackered, close to tears during the Masters. On his side, Djokovic fought back, spurred by the loss of his world No. 1 sceptre, and sprinted at the end of the year, with four titles in a row in Beijing, Shanghai, Paris and at the Masters.
Wimbledon runs wild
Before, it was at Roland Garros that you could live a crazy tournament. But things change. Especially since Nadal happened. The wise English neighbour, was never a permanent fiesta during its fortnight. But when it goes wild, it's quite something. Rafael Nadal eliminated in the first round by Steve Darcis, Roger Federer in the second by Sergiy Stakhovsky, Maria Sharapova also in the second by Michelle Larcher de Brito, Victoria Azarenka in the second too but by forfeit, Jo-Wilfried Tsonga still in the second by Ernests Gulbis, and, last but not least, Serena Williams by Sabine Lisicki in the last sixteen. Enough to allow uninvited guests to capture a large share of the cake: among the guys, Jerzy Janowicz scored his first semi-final in a Grand Slam. And above all, among women, Marion Bartoli won this Wimbledon without head or... seed, since she won the tournament without facing any player ranked in the world top 16. The shock was such that the French herself couldn't get over and announced her retirement a few weeks later.
Sniper
Between painkillers and injections, Andy Murray didn't have a lot of shots to take in 2013. But he was able to reach his target by winning Wimbledon, the biggest tournament in the world, the one that the British have been waiting for the last 77 years. Former bulimic of less important tournaments, the Scot has now decided to focus on quality over quantity. Forfeit at Roland Garros, season ended after the U.S. Open, his ranking of world number 4th is essentially built on three tournaments: Wimbledon, the Australian Open final and the title in Miami. The end. And it's already huge.
Cocoon
They are 29 among the world's top 100. "They" are the "old ones", those who are over 30, the age at which players used to hang up the racquet. Never the elite of tennis has been so old than it is at the moment. On top of the pyramid, in the Top 10, only Juan Martin del Potro remains closer to his twenties than to his thirties. From Tommy Haas' eternal youth to Tommy Robredo's comeback, from Nicolas Mahut's best season to David Ferrer's first Grand Slam final, the seniors have already caused many sorrows to their succession. But then again, the best of them, initials RF, went through his worst year since the time Grigor Dimitrov was played marbles in a playground.
...And Roger's rheumatism
«I created a monster», said Roger Federer in 2008. Five years later, at 32, he completed his season as world number 6, semi-finalist at the Australian Open and at the Masters. Obviously far from the standards that have contributed to deify him during the past decade. A bad year for the Swiss then, while he has just managed to preserve a few on-going series: consecutive qualifications for the Masters, number of seasons during which he has won at least one title... Enough to tickle the champion's pride: back to block by a late season more in line with his status, apparently stripped of his back problems, the man with 17 Grand Slams titles is already thinking of 2014.
A backhand swept away with just one hand
With his most prestigious representatives' troubles, it was a difficult year for the one-handed backhand. The most beautiful shot of tennis that has triumphed 19 times in 65 tournaments played. Main source: Richard Gasquet, three titles. Most important trophy: Valencia, by Mikhail Youzhny. An ATP 500... And among the 13 players involved in these 19 successes, only one is under 27: Grigor Dimitrov, who opened his prize list in Stockholm. The last fires of a legendary move?
Breast impact
"My breasts were very heavy. Because of them, I was losing speed, I had back pain and it bothered me to serve. I couldn't go on like this." In 2010, the Romanian Simona Halep then made an unusual decision: to have, at just 19 years old, a breast reduction surgery, to go from an E cup to a D cup. This funny bet - her career or her breasts - found its reward in 2013: winner of six titles between June and October, the young woman has reached her goal of integrating the circle of the world's best. The Top 10 is at arm. She will never have to wonder if she hasn't gone under the knife for nothing.
Tennis players are people like you and me
Physically, Tomas Berdych is impressive: 6 ft. 5, almost 15 stones, a pretty good track record dominated by a Wimbledon final and a title at the BNP Paribas Masters in Bercy, a perfect girlfriend, incarnation of the Slavic beauty... But what's wrong with Tomas Berdych then, apart from his repeated "failures" every time he ventures to the net? Ah yes, it's true: his clothing sponsor "H&M" prominently on his heart is, admittedly, most likely to make his opponents smile than to inspire fear. As to look ridiculous, you might as well do it with style.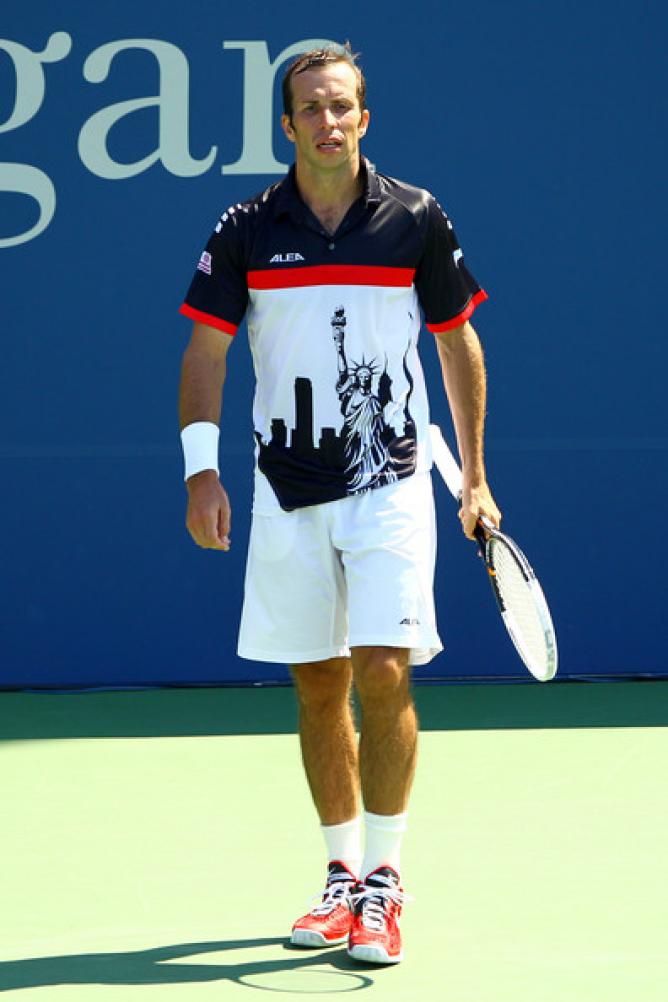 Wawrinka on the honour roll
Against Novak Djokovic at the Australian Open. Against Richard Gasquet at Roland Garros. Against Novak Djokovic, again, at the U.S. Open. It's an understatement to say that Stanislas Wawrinka was in all the most beautiful games of the year. Semi-finalist at the U.S. Open and at the Masters, finalist in Madrid, the self-proclaimed "Swiss who loses" then managed to finish on the heels of Roger Federer in 2013. Two Swiss among the world's Top 8, obviously it's a first. The only thing still missing to Benoit Pair's best mate are to finally learn how to beat "Djoko"... and to take at least a set to Rafael Nadal one day. As stated in the Beckett's quote that he had tattooed on his left arm: "Ever tried. Ever failed. No matter. Try again. Fail again. Fail better."
Genius without trying
With them, it's all or nothing. In less time than it takes to smash a racquet, they can go from a stroke of genius to a moment of madness or self-destruction. This season, however, it remained quiet in the skulls of Fabio Fognini (16th), Jerzy Janowicz (21st), Ernests Gulbis (24th), Benoit Paire (26th) and even Gael Monfils (31st), after a 2012 season spoilt by injuries. However, we haven't heard from Alexandr Dolgopolov (57th).
You don't play a final, you win it
He's French, she's Czech. They are called Julien Benneteau and Lucie Hradecka and they don't like finals. Or finals don't like them, depending on how you look at it. Both have incremented their disastrous record in 2013: Benneteau equalled the "historical" record of Cedric Pioline in his time by losing his eighth and ninth final in Rotterdam and Kuala Lumpur. Hradecka, meanwhile, lost her sixth final in Strasbourg. In six matches, she hasn't even won a single set... Fortunately for them, they're both excellent in doubles. To a comfort mixed doubles?
They might not win Grand Slams titles, but at least we have fun with them
There, there was a match. Between Jerzy Janowicz and his thunderous "How many times" terrorizing an unfortunate umpire at the Australian Open, or the blustering "A lot of guys in the Top 100 don't know how to play tennis and have nothing to do here" of Ernests Gulbis, the competition was tough. But the prize goes without discussion to Bernard Tomic for his feat earlier this year, when his title in Sydney seemed sufficient to compare himself with Sampras and Federer, saying - amongst other great punch lines - a wonderful: "I have no doubt that one day I will be the best player to have ever played this game". We have a winner.
By Guillaume Willecoq