In Shanghai, the top seeds have an immense privilege. Novak Djokovic tells you what in the tennis journal, the best of the tennis week.
Because of a shoulder injury, Maria Sharapova had to end her season and will not play the TEB-BNP Paribas WTA Championships in Istanbul. But don't worry, between relaxation and rehabilitation, the Russian player has enough to keep busy. Meanwhile, Djokovic is having a blast in Shanghai, Stakhovsky is moaning, Nadal is stuck and the Tunisian Tennis Federation is making a fool of itself.
End of season for Maria
The Istanbul TEB-BNP Paribas WTA Championships, which brings together the eight best players of the season, will take place without Maria Sharapova. The beautiful Russian's shoulder is still injured. She's been in pain for several months now. "I'm very disappointed," said the world number 3 on the WTA site, when announcing the end of her season. Not as much as us Maria, not as much as us…
Little trip to Tenerife
Her season is over, so Sharapova is now on holiday. The Russian player took advantage of this forced break to travel. She was in Tenerife, in the Canary Islands, last week, as she said on her Twitter through a riddle.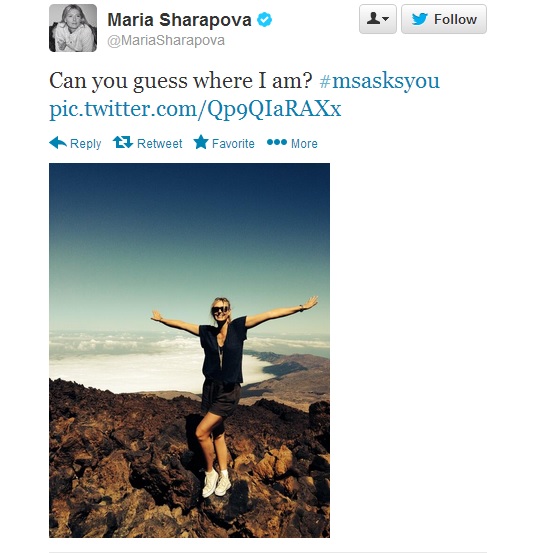 Princely coffee
Before Tenerife, Sharapova was in the UK. Upon leaving Old Blighty, the Russian paid ​​a little tribute to the royal couple Kate and William by drinking a coffee in a cup commemorative of their wedding.

Relaxation… and rehabilitation
Sharapova is relaxing, but not only. To heal her injured shoulder, she has to do rehabilitation sessions. "Stability and shoulder work together," she posted on her Facebook page.

Sharapova hires a French physio
To speed up the healing of her shoulder, Sharapova decided to hire a new physio. The lucky winner is called Jerome Bianchi. The former rugby player, who previously worked with the French team of Fed Cup by BNP Paribas, had already worked with a Russian player, a certain Svetlana Kuznetsova.
Meanwhile, in the rest of the world…
Nadal, his knee is still painful
World number one once again, Nadal has however admitted that his knee is still painful. "The knee is not 100 per cent perfect, but even if I have pain a lot of days, it is not limiting my movements. That's the most important thing. Even if I have pain, I am able to control it. In the past I was not able to control that pain, so I couldn't play. I would like to improve a little bit more, but for the moment, I am happy because I am able to play," said the Spaniard. His heavy defeat against Del Potro (6-2 6-4) in the semi-finals of Shanghai could still raise questions about this sore limb.
In Shanghai, Djokovic has his own dressing room
Novak Djokovic feels at home in Shanghai. It's true that the tournament organizers put on a great spread to accommodate the tennis stars. "Did you know that the best players have their own dressing room in Shanghai? Welcome to mine!" said the happy Serb on Twitter.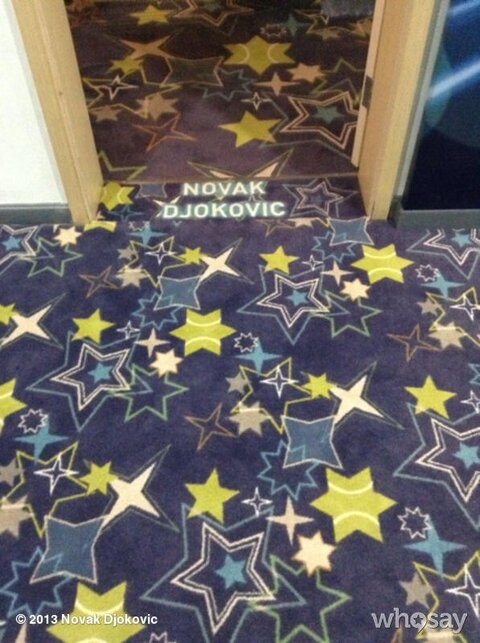 Murray pulls out of the Barclays ATP World Tour Finals
After Sharapova in the ladies, it's Andy Murray who had to withdraw of the Masters, which will take place in London for the men. "I'm really disappointed not to be playing in front of my home crowd, it's such a great atmosphere," regretted the Scots on the ATP website. The world number three is slowly recovering from a small back surgery to address the pains that have been affecting him for several years.
The Belgian slaughter
Belgian men's tennis is suffering. In terms of results, but especially on the physical level. After David Goffin, who is just getting back to training after a wrist injury, and Olivier Rochus, unavailable for at least three months following a hip surgery, it was the turn of Steve Darcis to go under the knife. Badly hit on the shoulder, the Belgian shouldn't touch a racquet for four to six months.
Paire Jealous of Wawrinka's plush toy
Stanislas Wawrinka and Benoit Paire both received a small plush toy in Shanghai. But the French is jealous: the Swiss' toy has two eyes, while his has only one. We can legitimately understand the disappointment of the French man who's used to having things in pairs...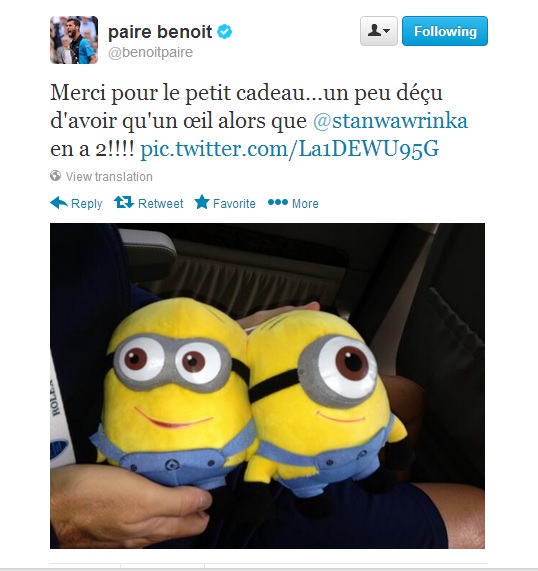 Forfeit not to play against an Israeli
Friday, Malek Jaziri was supposed to face Amir Weintraub in the quarterfinals of a challenger tournament in Tashkent. But the Tunisian was forced to pull out by the federation because his opponent was... Israeli. "Malek has received an email from the TTF (Tunisian Tennis Federation) asking him not to play against the Israeli player," said Amir Jaziri, Malek's brother, on the private Tunisian radio station Shems FM. Ironically, Weintraub and Jaziri play in the same club in Sarcelles near Paris.
Djokovic the singer
Novak Djokovic has a secret to relax during a tournament: music. After his victory against Tsonga in the semi-finals of the Shanghai tournament, the Serb swapped his racquet for a microphone. We're not convinced that his talents as a singer are as appreciated than his talents as a tennis player.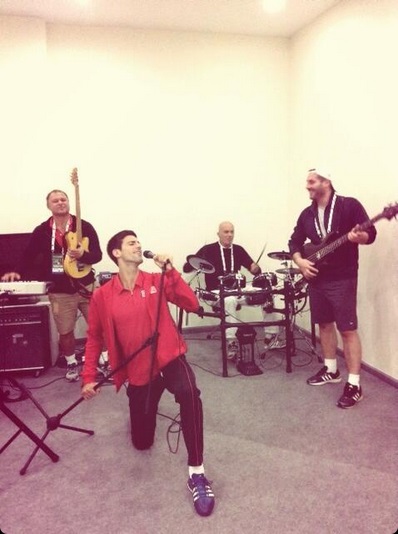 Moya, new captain of Spain
It's official, Carlos Moya is the new captain of the Spanish Davis Cup by BNP Paribas team. "Carlos Moya will start during the first round of the World Group in 2014 in Germany," said the Spanish Tennis Federation in a statement posted on its website. Moya replaces Alex Corretja, not reappointed earlier this month after a lost final in 2012 and an elimination in the first round in 2013.
Kournikova leaves Iglesias
Earthquake in the tennis world: Anna Kournikova broke up with Enrique Iglesias after twelve years of relationship. The former tennis player was apparently tired of waiting a marriage proposal, which never came. Rest assured - or don't- as it seems that a reconciliation is still possible.
Federer is also going through a separation
Another separation, not a love story this time, but the end of the professional relationship between Roger Federer and his coach for three years, Paul Annacone. The Swiss announced it on his official website Saturday:
«After a terrific 3½ years working together, Paul and I have decided to move on to the next chapter in our professional lives. When we started together we had a vision of a three-year plan to win another Grand Slam title and get back to the number No1 ranking. Along with many other goals and great memories, these two main goals were achieved. After numerous conversations culminating at the end of our most recent training block, we felt like this was the best time and path for both of us. Paul remains a dear friend, and we both look forward to continuing our friendship. I want to thank Paul for his help and the value he has added to me and my team.»
Fell to the 7th place and after winning only one tournament - Halle - this year, the winner of 17 Grand Slam tournaments is looking for a solution to revive his career.
Stakhovsky and the porn videos trend
Sergiy Stakhovsky is not happy. Big fan of music, the Ukrainian is tired of seeing naked girls in music videos. And he said it on Twitter, with a bold comparison. Miley Cyrus likes this.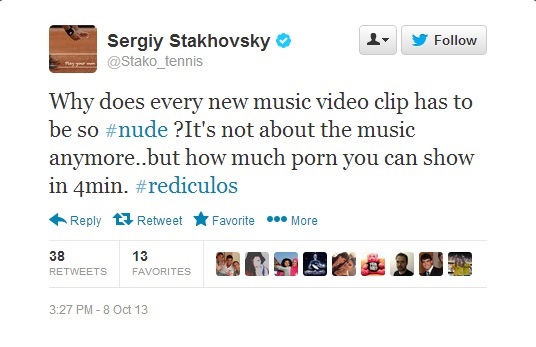 By Quentin Moynet