Invited to give his opinion about the best player of all time, Andre Agassi said Federer Rafael was before Nadal. Discover the reason he gave by reading the Tennis Journal of We Are Tennis.
Henman, Agassi, Sampras... Roger Federer has received many praises throughout the week. Proof that it's far too early to write him off. Greater news than the ones about Martina Hingis beating her husband, Yannick Noah being charged with abuse of his former nanny or Björn Borg having a hard time with his panties.
Tim Henman behind the Swiss
Recently, we've heard a lot of stories about the end of Roger Federer. The opportunity for some famous names to praise the Swiss tennis player. Like Tim Henman:
«A lot of people question Roger and ask 'is he going to retire soon?' But I think we should just enjoy watching him while we can. He's the best player that has ever lived and it's going to be a long time before we see another player like him. Roger is 32 now and it doesn't get any easier to bounce back. However, he's won so many titles and has so much experience; it's far too early to be writing somebody like that off. He hasn't had the best year but he's still motivated and he loves playing the game. He'll be back soon. »
May the God of tennis hear you Tim.
Pete Sampras supports his protégé...
Pete Sampras, Federer's hero, is also convinced that the man isn't going anywhere soon. In an interview with The Tennis Space, the American even spoke of an 18th Grand Slam title:
« I do believe he can (win another grand slam, ed). People wrote me off. But what the great players have is belief, and once Roger has that belief back, and starts playing well again, I think he can win another major. He will at least contend. Maybe he won't be the big favourite that he was around 2005. I think that if he is playing well, and stays healthy, he is capable of winning another major.»
Why not?

...Oh and Agassi too.
In an interview with the Huffington Post, Andre Agassi was invited to participate in the famous debate about the Greatest Of All Times. Understand: the best player of all time. The opportunity to hear the Kid of Las Vegas' opinion on Roger Federer and Rafael Nadal once again. And random fact or scientific reality, the Swiss still tops the list.
«Nadal has an argument to make for the best of all time, If Nadal is sitting at a table with Federer and Federer says, 'I'm the best ever,' my first question would be, 'Well, then how come you didn't beat me, because I beat you twice as many times? And, hey, by the way, you know I won everything, including a gold medal (in singles at the Olympics, ed) and Davis Cup. But at the same token, Federer has separated himself during a few years like nobody else. And he's done it more consistently. To be able to make the argument for both guys playing in the same generation is pretty remarkable.»
Any takers?
Federer, a junior's training
How did a Roger Federer's training session looked like when he was 18? To that:
Meanwhile in the rest of the world…
Rafael Nadal must be really shaken
Who are you Daniel Köllerer? An unknown Austrian player, a bit crazy, with a sharp tongue. Recently, the man who has been suspended for life from the ATP tour for match-fixing, took a dig at Rafael Nadal:
"He (Nadal, ed) cannot be negative (in the doping tests, ed.) After seven months off because of a back injury he come back and he win 10 out of 13 tournaments... It's impossible, impossible! Tennis is plagued by manipulation and doping. And what happened in relation to it this year? Nothing. I paid for everybody. Today they caught Troicki and Cilic. But why? This combined with the rumours of injuries to hide silent suspensions... Nobody actually believes that he's not taking anything. But imagine what a positive control for Nadal would mean for tennis "
Such a nice colleague.
Borg says stop
Björn Borg has never been able to stop things like everyone else. After a surprising late career, the Swede started a new life in textiles with a brand of underwear, Dutch Brand Management (DBM). But because of the crisis, DBM will have to close some of their stores in Europe, including in the Netherlands and in Belgium, where a dozen stores should close down. Between 50 and 75 people are expected to lose their jobs.
Martina Hingis, iron lady
While Martina Hingis is trying yet another comeback on the tour, a dirty story just came up. It's the newspaper Blick that released the story earlier this week. Thibault Hutin, M. Hingis, said in an interview that the player has assaulted him:
« On Monday evening, I was in our shared apartment when the doorbell rang. In the course of a dispute, Martina and her mother Melanie Molitor pounced on me, beat me and scratched me. My upbringing forbids me to beat women. I resisted every effort but Mario Widmer, the partner of Melanie, struck me in the head with a DVD player. They wanted to kill me. I'm shocked! I never thought it would go so far.»
Meanwhile, not a word from the Hingis.
Azarenka thinks she's Miley Cyrus
The sexy performance of Miley Cyrus at the MTV Music Awards has made a lot of noise. Since then, everyone wants to emulate the singer's dance. The last to date is Victoria Azarenka. The recent U.S. Open finalist posted a video on her Instagram account in which she starts to 'twerk' (the name of the famous dance) while adding her personal touch. "Miley Cyrus inspired machines. Now everyone can work and twerk", she commented. Why not.
Yannick Noah bullied by his former-nanny
Yannick Noah and his wife Isabelle Camus are accused of slavery by the former nanny of their son. The facts are quite old since it allegedly happened in 2004. She explained her version of the story in an interview with French newspaper Le Figaro this week:
«I followed them for three months, on tour, then on vacation, and I took care of Joalukas night and day, from Monday to Sunday, for 950 euros per month. I was hired when the baby was born, and from then I found myself caught in a whirlwind. I just told Isabelle Camus that I was no longer willing to work day and night, so she said: "In this case, get the F*** out."»
It was not until 2011 that the nanny, Rabra Bendjebbour, realized that the couple had behaved inappropriately: "My sister opened a restaurant and I talked to her accountant who told me I had been severely underpaid."
Wozniacki and Robson make a mess
Enrolled in the Tokyo tennis tournament, Caroline Wozniacki and Laura Robson got bored. Yes, bored. So, to pass the time, the players started to act like teenagers with a camera. Dressed as pirates, making faces and voila.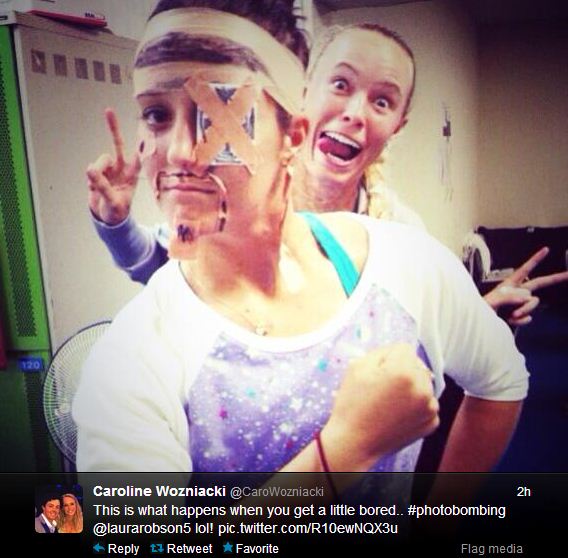 Melzer and Baghdatis and their little backpacks
Between two matches in Kuala Lumpur, Marcos Baghdatis and Jurgen Melzer went sightseeing. The advantage with tennis players on a journey, is that they take their racquets everywhere. Easy to spot them.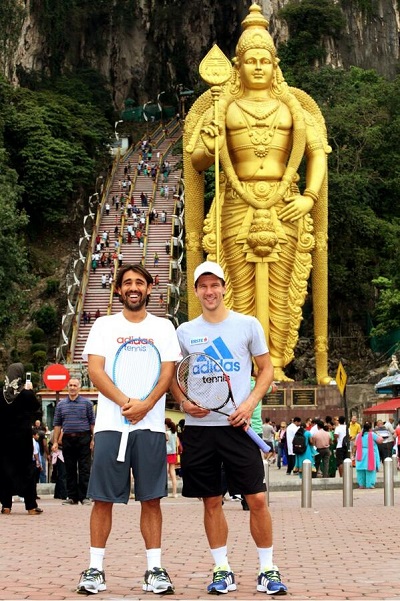 Wozniacki's muscles

When the former world No. 1 shows her legs for a cocktail, it quickly become obvious that the Danish's thighs are very... muscled.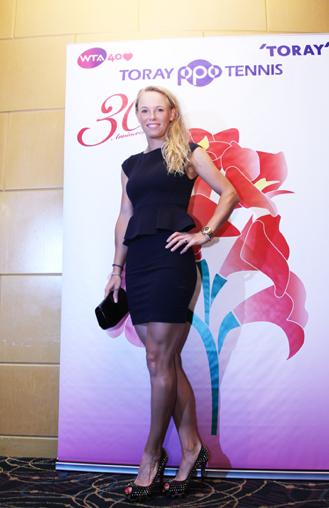 Ryan Sweeting and his theory on Love
When he was young, Ryan Sweeting, currently ranked world 532nd, was ranked world 64th. More or less forgotten, he's making a name for himself on the red carpet, including at the Emmy Awards. Recently, he's been linked with Kaley Cuoco, a trendy actress who has starred in Charmed and in The Big Bang Theory.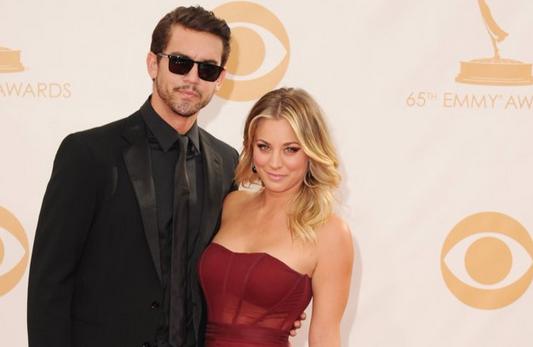 Bouchard fan of Hello Kitty
Eugenie Bouchard is a rather unknown Canadian player. To make people talk about her, the lady likes to say crazy stories in press conferences. As this one about her love for the Hello Kitty brand. Yes, a kids' brand:
« Does everybody know that I'm a big fan of Hello Kitty? Oh my God! Yes it's true, I'm crazy about it. It's the second time that I'm coming to Tokyo, and as during my first visit, I went to the Hello Kitty store. And spectators here are lovely, they give me a lot of Hello Kitty presents.»
Even colouring books, Eugenie?
Benoît Paire and the ball boys

Last week in Orleans, the French player made a new friend. An ideal ball boy for future ATP tournaments.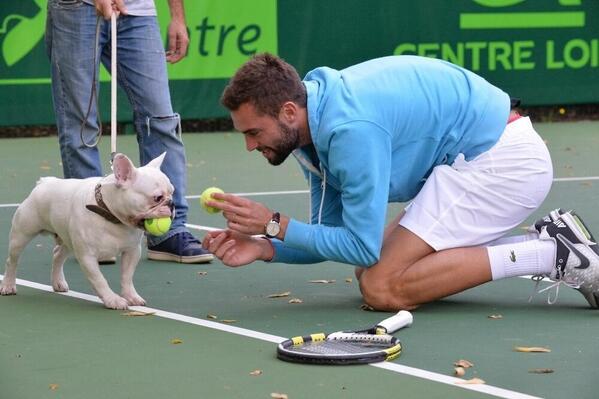 By Mathieu Faure