Azarenka seduced by Nadal, the calf love of Gasquet and Bartoli, Stepanek (very new) couple with Petra Kvitova... It's not spring yet, but the tennis world is living a real mating season. Find out about all these stories in the tennis journal.
It's official, Rafael Nadal is the best player in the world. And with his victory that kept Spain in the Davis Cup by BNP Paribas World Group this weekend, he's not far from the best year of his career. For women, nothing changes, Maria is still the most beautiful. Even if she plays less and less tennis...
The figure: 61 – 3
61 victories with the one this weekend in Davis Cup by BNP Paribas against Ukraine, for only 3 defeats. The 2013 record of Rafael Nadal is very strong so far. Even better, the Spaniard is undefeated on asphalt. For a guy who just came back from injury, Rafa is having the best year of his career. And the season isn't over yet since Rafa should participate in the Shanghai Masters, the Basel tournament, the BNP Paribas Masters Paris-Bercy and the Masters in London.

The old school picture with Ronaldo
Ronaldo, the real one, congratulated Rafael Nadal after his victory at the U.S. Open. And had another message. As a gift, the former footballer posted a photo of him and a little kid... Rafa when he was a teenager. Indeed, Rafa's uncle, Miguel Angel, played with Ronaldo in Barcelona in 1997.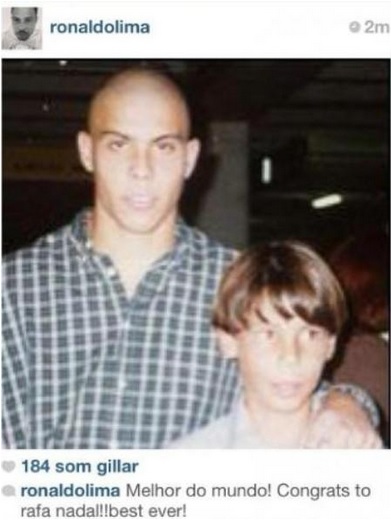 The video:
Rafael Nadal at the 2013 U.S. Open? It was that: a video with the best 20 points of the winner. Enjoy.
For Toni Nadal, Bale is too expensive
The Nadals love football and especially Real Madrid. So, when Toni Nadal starts talking about the recent transfer of Gareth Bale to Real, he doesn't use doublespeak:
« To me, it seems wrong to pay all this money. Not just for Bale: the amount of money that Rafa or Xavi for example can receive, seems exaggerated. When you think that the coach of a first division team can earn more than the president of a country... This world is crazy!»
Of course, Toni Nadal is earning minimum wage.
Azarenka is falling for Nadal
Is Rafael Nadal starting to make all the ladies melt? This is certainly the truth for Victoria Azarenka, even if she has a boyfriend. Before his final consecration, the Spaniard was already the Belarus' favourite. And she made it clear in press conference:
"Who will win? I don't know. Who do I want to win? You know, Rafa convinced me to give him my support. How did he convince me? By training shirtless."
Yes, crystal clear.
The gadget
You don't know what to buy for your kids? No problem, Nadal now has toys in his image. How cute.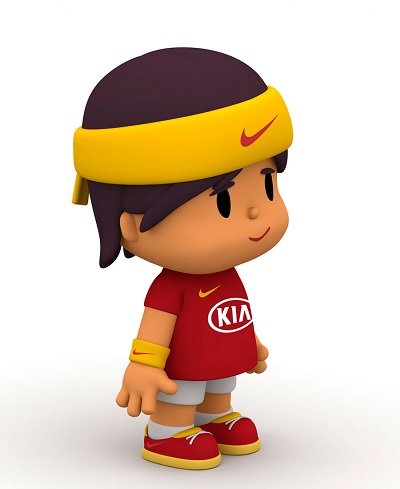 Meanwhile, in the rest of the world…
Lisicki's roars
Sabine Lisicki won't have car troubles anymore. And for good reason, as the German decided to enter a partnership with the French brand Peugeot. At a show held in Frankfurt this week, the player was then photographed next to her new best friend: a 308.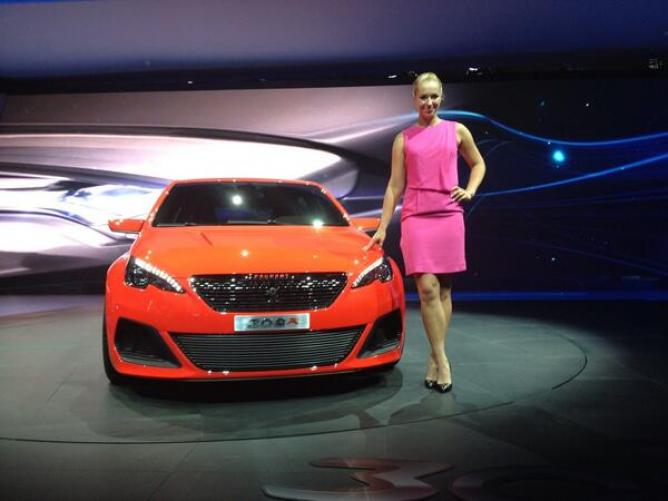 Ana Ivanovic in Cosmo
When Ana Ivanonic isn't showing her pretty smile on the courts, she graces the cover of the Serbian edition of Cosmopolitan. And the Serbian even took the opportunity to talk about her dream man:
"I like sophisticated men, with whom I can have interesting conversations. (...) They need to have the intelligence, empathy and good manners. "
Yes, we all fit this definition perfectly.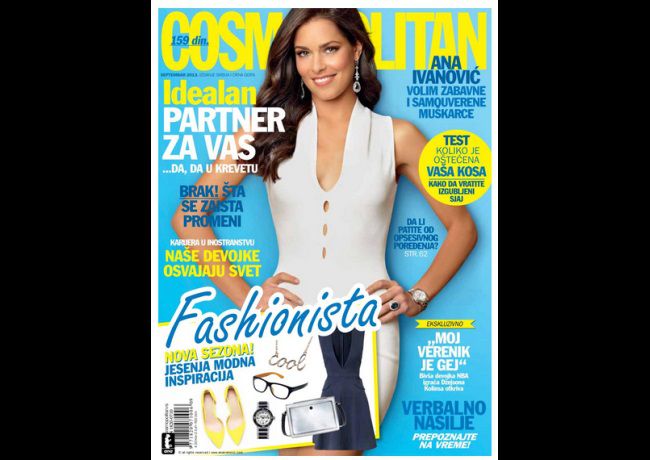 The oddity of the week
History will remember that the Danish Caroline Wozniacki was World Number one once. But it will also retain that since, the player has lost her mind completely. Evidenced by a very odd tweet that the blonde posted this week:
"Put on and tied my ankle brace and shoes before practice, just to realize I put it on the wrong foot! #longday #tired"
Everything will be fine.
Bartoli on golden stilts
Marion Bartoli has definitely retired. However, we've never seen the winner of Wimbledon so much on talk shows, where she always make sure to wear the sexiest dress. As at the "Grand Journal" of Canal +, a very famous talk show France. The young woman arrived wearing a black mini dress with six inches heels on her feet. An arrival that didn't went unnoticed.
Bartoli, calf love of Gasquet
Also invited on the show "Touche pas a mon poste" on French channel D8, Marion Bartoli was asked by the host to reveal with whom she had love affairs growing up. And the young retiree hinted that something might have happened between her and Richard Gasquet...
Safarova likes crepes
What does Lucie Safarova do when she comes to a tournament in Quebec? It's simple, she eats. And the Czech has pretty good taste. She's a food lover:
"Being in Quebec is great, it's a very beautiful city. This week, I went for ​​some great walks when the weather was better. [...] My favourite place is a little creperie called "The Billig." I go back there very year!"
And it brought her luck since the Czech won the tournament on Sunday. Her first title in 5 years!
Stepanek in love with a new tenniswoman
Freshly divorced from Nicole Vaidisova, Radek Stepanek didn't stay long on the market. He was spotted in the arms of Petra Kvitova. Another beautiful young woman. The couple were caught red-handed during the semi-finals of the Davis Cup by BNP Paribas between Czech Republic and Argentina (3-2 victory for the Czechs). Well done, Radek.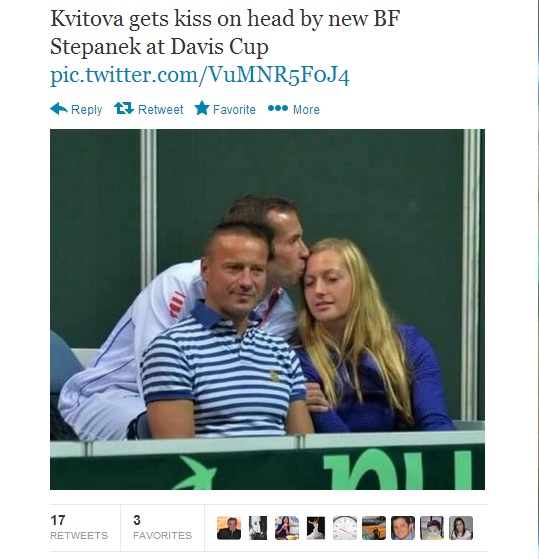 Maria gets her legs out for a late show
Is Maria Sharapova still a tennis player? We can wonder. In any case, the Russian is on all the talk shows, and this week, she was even invited by Larry King. Needless to say that she had to look good... And that's something Maria can pull out. The proof with this exceptional legwork posted on the champion's Facebook.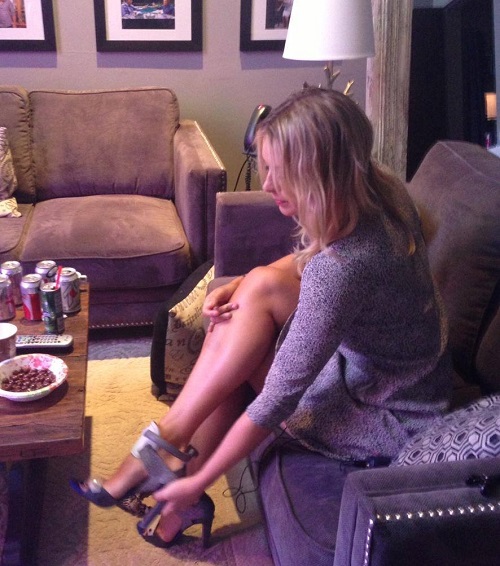 By Mathieu Faure