While Nadal is celebrating his 8th triumph at Roland-Garros in bed, the tennis world is turning in a very strange way. Roger Federer plays in white, Novak Djokovic fires a cannon and Jo-Wilfried Tsonga challenges Andy Murray at table football.
While Nadal is celebrating his 8th triumph at Roland-Garros in bed, the tennis world is turning in a very strange way. Roger Federer plays in white, Novak Djokovic fires a cannon and Jo-Wilfried Tsonga challenges Andy Murray at table football. Is anyone actually playing tennis?
Rafa at Disneyland
For his eighth coronation at Roland Garros, Rafael Nadal went for a ride at Disneyland Paris. Not necessarily very original, but it was worth taking a few pictures. Especially to see him in the company of Sully, the monster with the big heart.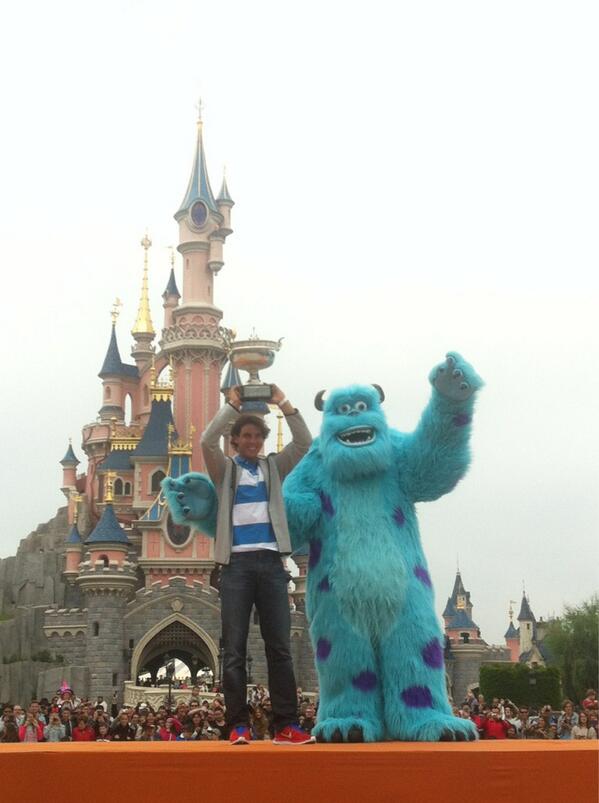 Roddick still can't believe it
At Roland Garros, Rafael Nadal became the first player in history to have won the same Grand Slam tournament eight times. The kind of thing that completely puzzles Andy Roddick on Twitter:
When rafa won his first French open, my trainer @dougspreen said w zero doubt, that he thought he'd win 8 FO .... I told him he was crazy.

— andyroddick (@andyroddick) June 10, 2013
What now?
The modest triumph
What does Nadal do when he wins Roland for the 8th time? Nothing, or almost nothing. No champagne, no party. The guy just went for dinner with his family before going to bed: "I didn't go out, I simply went to the restaurant with my family and my team. Then I slept because I really needed it." Lazy boy.
Nadal goes back up
While he's steadily climbing in the ATP rankings, the Spaniard still leads the way on Twitter. Nadal is the most followed player with 4,470,000 followers, ahead of Serena Williams, 3,760,000. Novak Djokovic comes next with 1.9 million fans, with Andy Murray sitting pretty in fourth on 1,480,000. Roger Federer, for his part, has only 350,000 subscribers, but he only started to tweet on May 23rd.
Meanwhile, in the rest of the world…
Azarenka unaware…
When Victoria Azarenka travels in a private jet the people accompanying her can get a little bored. To pass the time, her staff decided to build a pole with Bugles crisps and scratch her nose with it. Humour 2.0.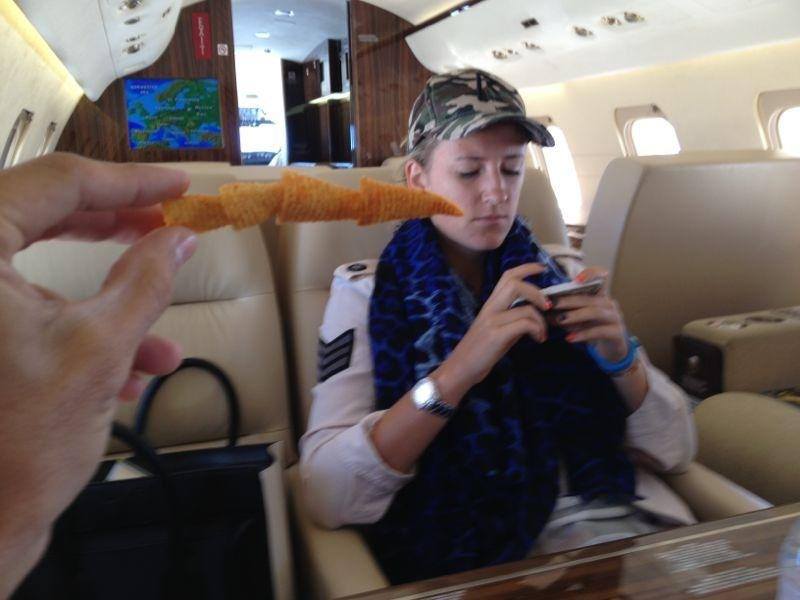 Novak Djokovic, the maverick
After a rather successful Roland Garros, and before attacking Wimbledon and the grass season, Novak Djokovic took a few days of vacation with his staff and friends. And what does Nolé do when he gets bored? He pretends to fire a cannon. What a great shot.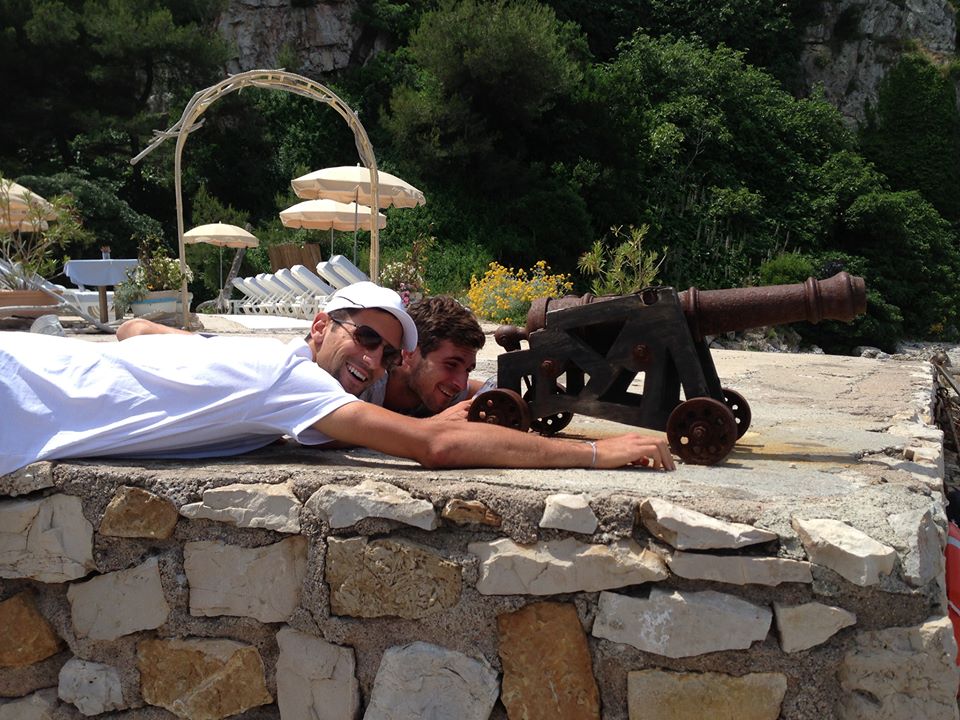 Roger all dressed up for Wimbledon
This is how Roger Federer will be dressed for Wimbledon. Tradition requires a royal white outfit, so he just went for it. No lack of taste, but nothing crazy either.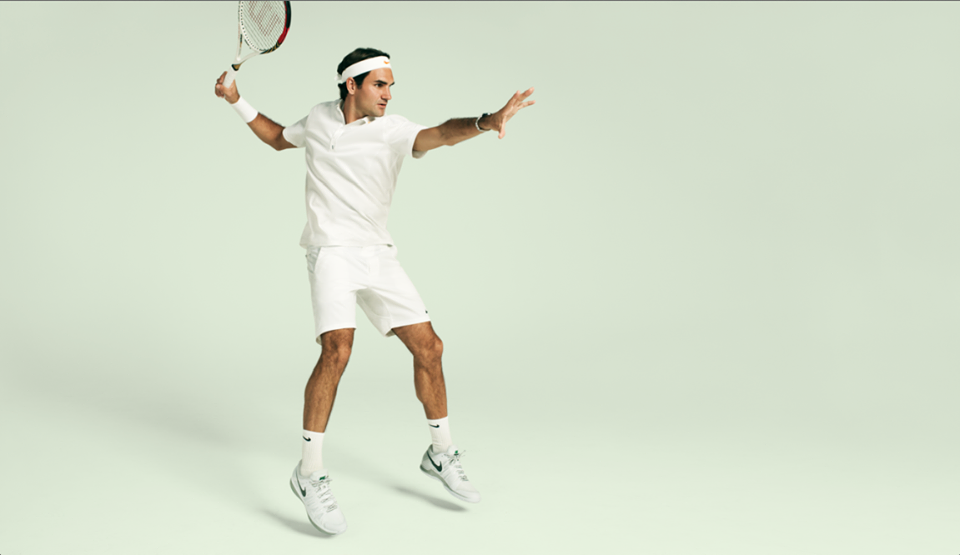 Video: Dimitrov, the drag
While Grigor Dimitrov was quietly playing against Lleyton Hewitt at the Queen's tournament, the player who is often referred to as the new Federer had a lapse of concentration. And presto, the pretty little yellow ball cannoned into his family jewels. Obviously, it made everyone else laugh, but Dimitrov was surprised by the shock... No lasting harm was done though, but he finally lost the match 6-4, 6-3.
From 59'14":
Beyonce congratulates Serena
Serena Williams winning in Roland Garros makes everybody happy, especially female American stars and among them, Beyoncé. Yes Beyonce. The singer sent a congratulatory letter to the tennis player. A little note full of love: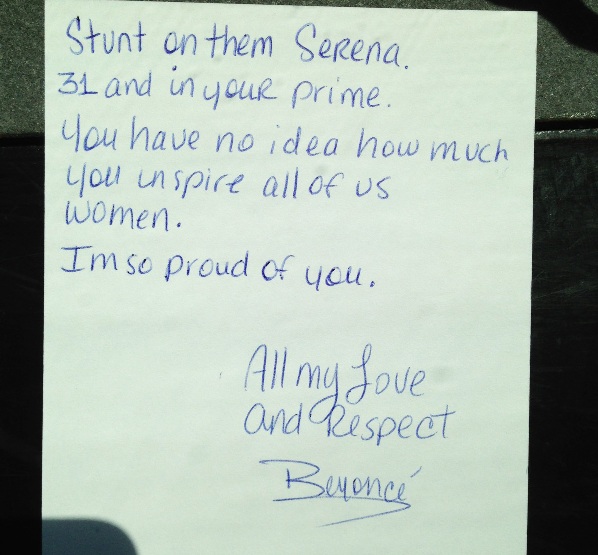 Tomic, the comeback
We last left John Tomic, Bernard's daddy, in custody after his violent altercation with his son's hitting partner, Thomas Drouet. We found him in the stands of the Queen's Club tournament, watching his boy go down against Benjamin Becker 6-4 6-7 (4) 7-6 (4). Banned from the stadiums, the father was able to negotiate with the organizers of the tournament in order to attend his son's game. To do this, the father simply bought a ticket. Like everybody else...
Serena and her poodle
After Beyonce's congratulations, Serena Williams chilled out by her swimming pool. With her little dog and her quite racy swimsuit. She must be pretty relaxed, the American.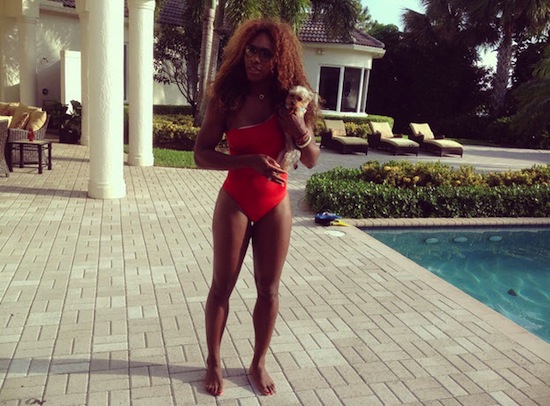 In the Wozniacki household the trophies are flowerpots
As a former world number one, Caroline Wozniacki has had the opportunity to collect a few trophies in her career. Except that, at some point, she left some to her parents. And when the player comes back home to Denmark before starting Wimbledon, she had the pleasant surprise to discover that some of them serve as vases...
Tsonga can't hold his liquor
If Jo-Wilfried Tsonga likes chocolate bars, he doesn't like alcohol. This was the main lesson from his press conference at the Queen's this week: "After winning the tournament in Surbiton (note: a Challenger in 2007), I drank a beer. I remember it because I was like this (mimicking the face of a drunk)... I'm not used to beer. But Eric (Winogradsky, his coach at the time) told me: 'If you win, you'll drink one'. So I took one and I was completely drunk... It was fun!" We would love to see the videos.
Murray, usual suspect
Andy Murray isn't the most bankable player of the tour. However, the Scot has famous fans such as the American Kevin Spacey, a tennis lover and fan of Murray's style. So the man who played Keyser Söse went to watch his darling in action against Marinko Matosevic in the last sixteen at Queen's.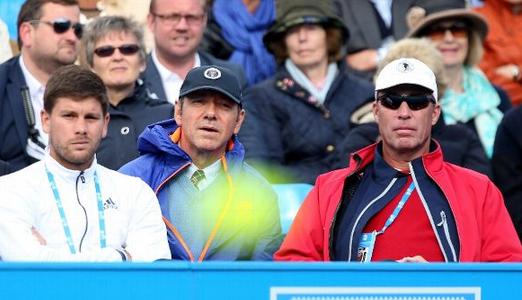 7-0, game over
Andy Murray and Jo-Wilfried Tsonga saw their semi-final at Queen's disrupted by the rain. Not a big deal, the two men found a way to keep busy: they challenged each other at table football before entering the court again to finally fight. Murray prevailed on the grass. Who took the honours at the table, however, is still unclear.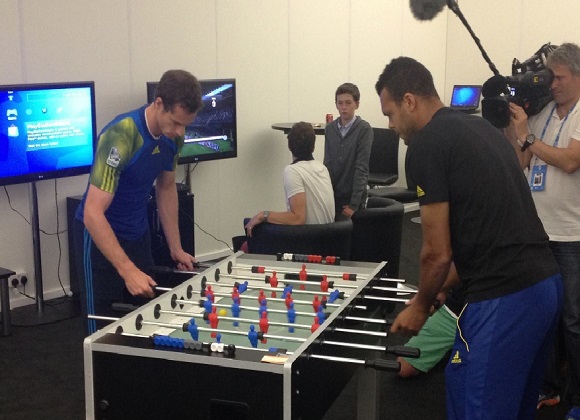 Monfils and the 360-degree smash
During his quarter-final against Tommy Haas at the Halle tournament, Gaël Monfils put on a great show, as usual. The Frenchman pulled off a fantastic trick shot, but still lost the point and the match.
Maria, just a groupie
For a few weeks now, Maria Sharapova has been completely engaged in her love story with Grigor Dimitrov. After the pictures of them holding hands in Madrid last month, the Russian has been photographed in the stands at Queen's during her lover's match against Dudi Sela. Obviously overwhelmed by the event, we saw Maria a little bit stressed, but very focused, on her man's performance. In the end, Dimitrov was made to work for his 4-6, 6-2, 7-6 (4) victory.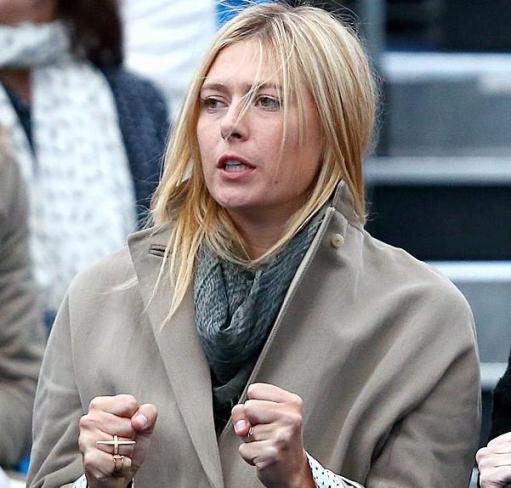 By Mathieu Faure