While Djokovic strictly follows the advice given by his dog on stretching, Nadal triumphed at a miniature car race, Wawrinka flies like a bird and Del Potro meets the Pope.
While Djokovic strictly follows the advice given by his dog on stretching, Nadal triumphed at a miniature car race, Wawrinka flies like a bird and Del Potro meets the Pope.
Novak and the Madrid public
Novak Djokovic is not happy. Beaten by Dimitrov in Madrid, the Serb did not really enjoy being booed and mocked by some of the Spanish crowd, "I respect people's choice, who they support, and I understand that it is not always me. The public adopted Dimitrov as its favourite from the start. What happened is quite unusual for me. Be treated this way for no reason, this is something that never happened me." It was a bad idea to beat Rafa in Monte Carlo.
A day with the kids
Between matches in Rome, Djokovic spent an afternoon with children. Little games, rallies, demonstration, autographs, pictures... The Serb took full advantage of it: "Now I'm full of positive energy for tomorrow's game." A positive energy that wasn't enough to prevent him from being knocked out by Berdych in the quarter-finals.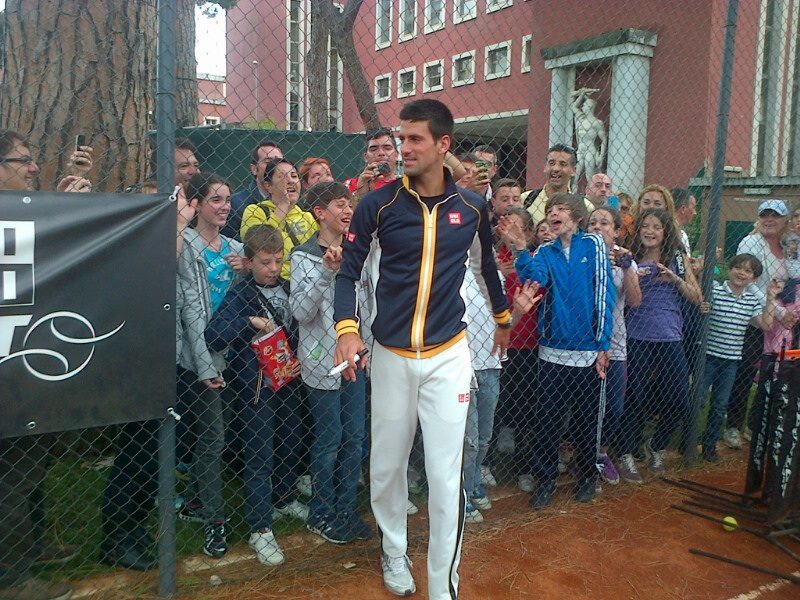 Djokovic chased by Murray
No, Murray and Djokovic didn't argue after their early exits in Rome. They were taking part in a commercial for Head and its new ball, the "Golden Ball". We truly appreciate what a fantastic actor Nole is.
Djoko and the baggage carousel
Novak Djokovic is just like everybody else. When the plane lands and you've taken the time to check all the messages received during the flight, then comes the scare of not seeing your luggage on the baggage carousel. So, just like everybody else, when he sees his tennis bag, he's almost as happy as when he wins a decisive tiebreak.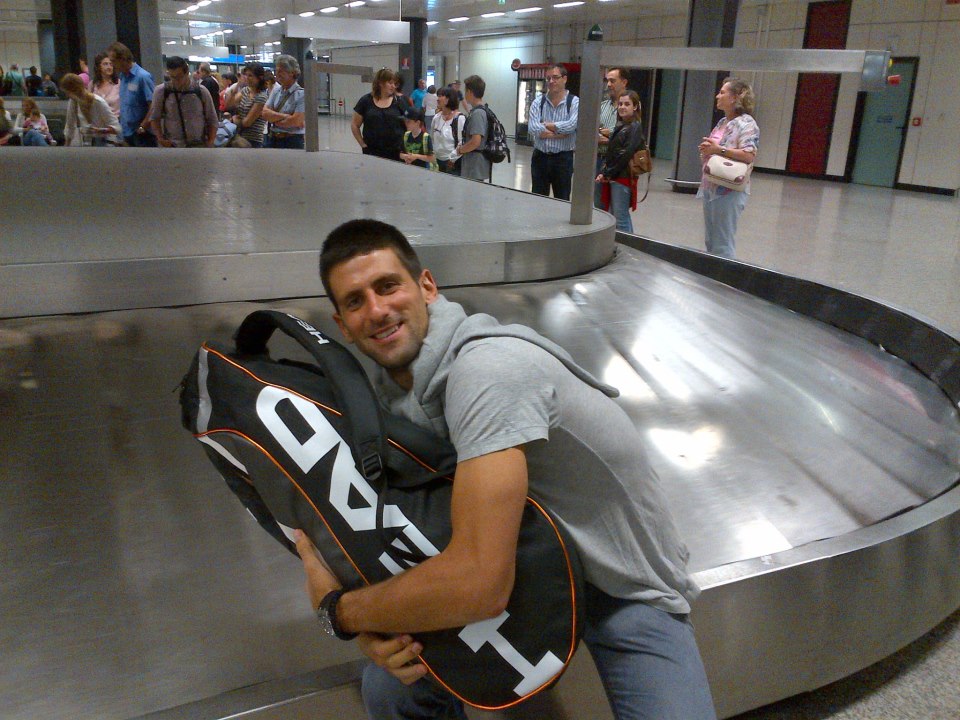 The training secret
To prepare for the Rome tournament, Djokovic trained with Peter… his dog: "I do some stretching with Paul, he's a demanding coach. Don't be mistaken by his looks." Here it is, the training secret of the World Number One.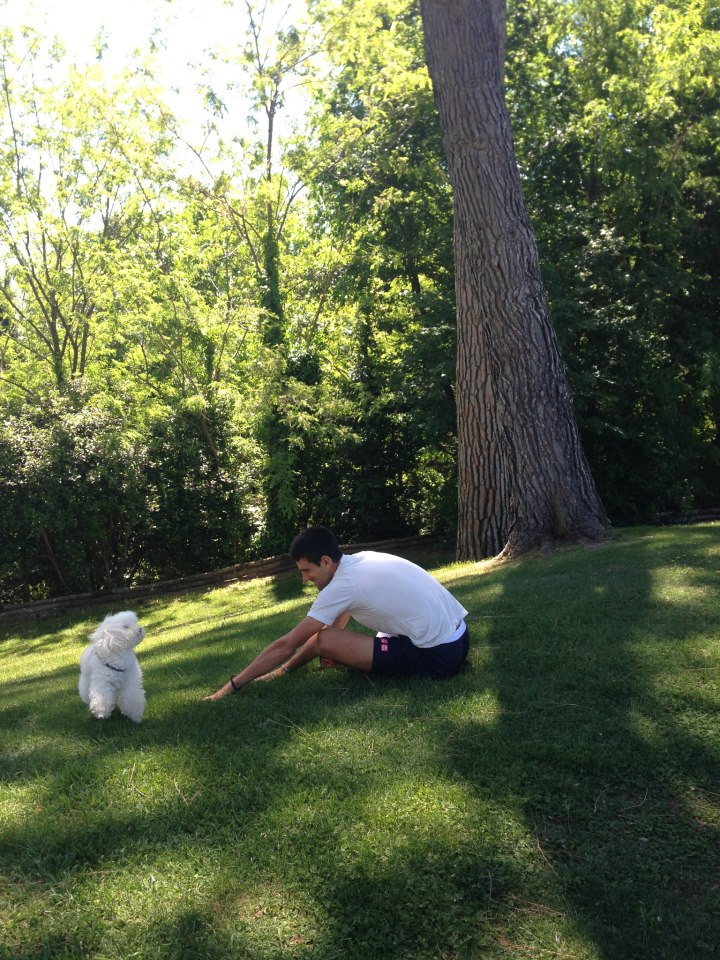 The Serbian Show
Guest on El Hormiguero, a famous Spanish TV show, with his colleague Ana Ivanovic, Djokovic took part in a series of completely absurd games. Obviously, the Serb had a good time.
Meanwhile, in the rest of the world…
Wawrinka's jet
If you ever decide to take a piloting course with the Fly7 company, you just might get into the plane of… Stanislas Wawrinka. The Swiss recently signed a contract with the company, who specialize in private planes. He took advantage of it to fly from Rome to Geneva in a Pilatus PC12. He should do it again to go to Roland Garros. Above all, one of the Fly7 fleet is going to bear Stanislas' name. Someone has their head in the clouds…
https://twitter.com/stanwawrinka/status/334942235542044672
Nadal, a winner in a Ferrari
There can be a lot of time between two matches or two training sessions. So, the organizers sometimes propose a few activities for the player. In Rome, Nadal engaged in a car race on a miniature circuit installed in the players lounge. With his Ferrari, Rafa won after his opponent's accident. Fernando Alonso would be proud.
Troicki and the cameraman
It's probably the image of the week. Led one set to love by Ernest Gulbis in the second round of the Italian Open, Viktor Troicki went AWOL after a faulty call, an "Out!" that caused him to lose his service game, the opening game of the second set. Convinced that the ball was good, he challenged the decision before taking a cameraman hostage, forcing him to film the mark where the ball landed. The result: a warning, and a 6/1 6/1 humiliation. At least he didn't break his skull with his racquet… Hi Youzhny…
Delpo and the Pope
Del Potro took advantage of the week in Rome to visit the Vatican and meet Pope Francis. Delpo had the chance to talk with his fellow countryman. A very special meeting: "Today I had the chance to meet and talk with Pope Francis at the Vatican. It was a very special moment for me and I'll never forget it."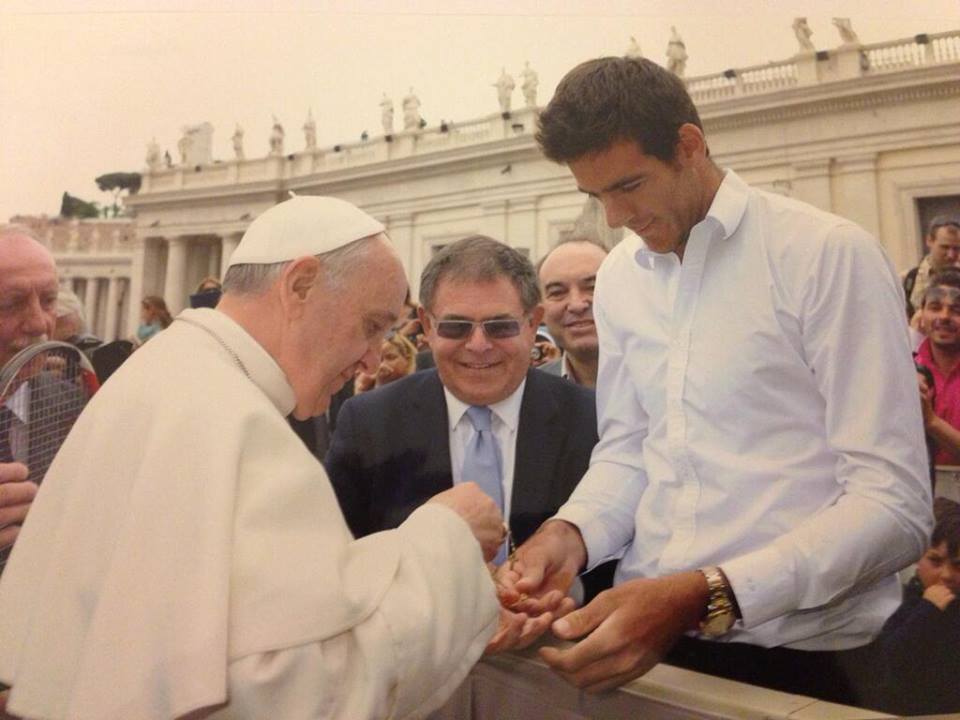 No Murray in Paris?
Roland Garros might take place without Andy Murray this year. After withdrawing in the second round of the Rome's tournament after levelling the match at one-set-all against Granollers, the Brit confessed to having a very painful back. "I would be very surprised to play in Paris" he said after the match. A withdrawal that would be great for Nadal, currently seeded number five and a potential opponent for Djokovic in the quarter-finals.
Pauline Parmentier befriends some leeches
Pauline Parmentier has a very special method to heal a painful shoulder: The French player uses leeches, known for their healing virtues. Just don't forget to take them off after.
https://twitter.com/ppauline86/status/333934462905757697
Swiss humour
Wawrinka is not in lacking in humour. So when the Swiss press mocks him in a mini-cartoon, Stan has a laugh and shares the image on Twitter.
https://twitter.com/stanwawrinka/status/333223596308721665
Enemies Reunited - for a tennis match
Tennis brings good spirits. If not, how else to explain that the players of Lazio and AS Roma, the two football clubs of Rome and sworn enemies, met at the Foro Italico to watch some great tennis. History will remember that the footballers of both teams accepted to pose together for a great family picture.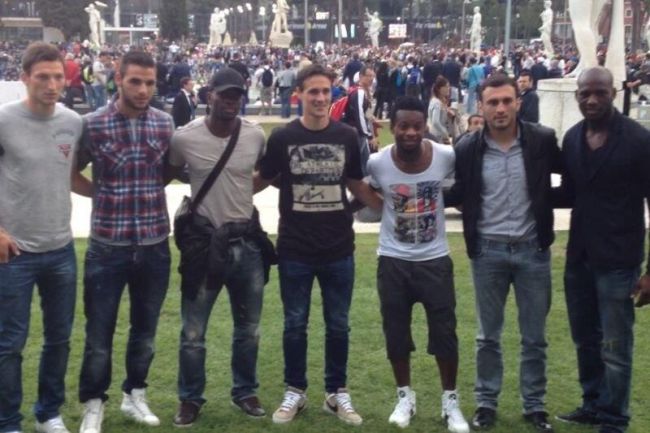 By Quentin Moynet