At Monaco, Novak comfort little girls. Meanwhile, Rafa sees himself becoming a police officer when he'll retire, Azarenka keeps getting all the men crazy and Sara Errani would like to play a mixed doubles with Mario Balotelli...
At Monaco, Novak comfort little girls. Meanwhile, Rafa sees himself becoming a police officer when he'll retire, Azarenka keeps getting all the men crazy and Sara Errani would like to play a mixed doubles with Mario Balotelli...
Novak reeling in Hewitt
The ATP published this statistic. Novak Djokovic is currently ranked in 10th place of the longest reigns at the number one spot at 77 weeks exactly, closing in on Lleyton Hewitt in 9th place with 80 weeks. In 2013, if it all goes according to his plan, the Serb could even overtake Andre Agassi, Rafael Nadal and Björn Borg, who are all between 101 and 109 weeks. To reach the podium, however, he will have to be patient...
1) Roger Federer 302
2) Pete Sampras 286
3) Ivan Lendl 270
4) Jimmy Connors 268
5) John McEnroe 170
6) Björn Borg 109
7) Rafael Nadal 102
8) Andre Agassi 101
9) Lleyton Hewitt 80
10) Novak Djokovic 77
Novak against Andy on a mini-court
Monaco is quite a nice place. It has its casino, its tennis tournament and its mini-court on which it's possible to humiliate Andy Murray in broad daylight. Actually, we understand why the Serb lives in the Principality.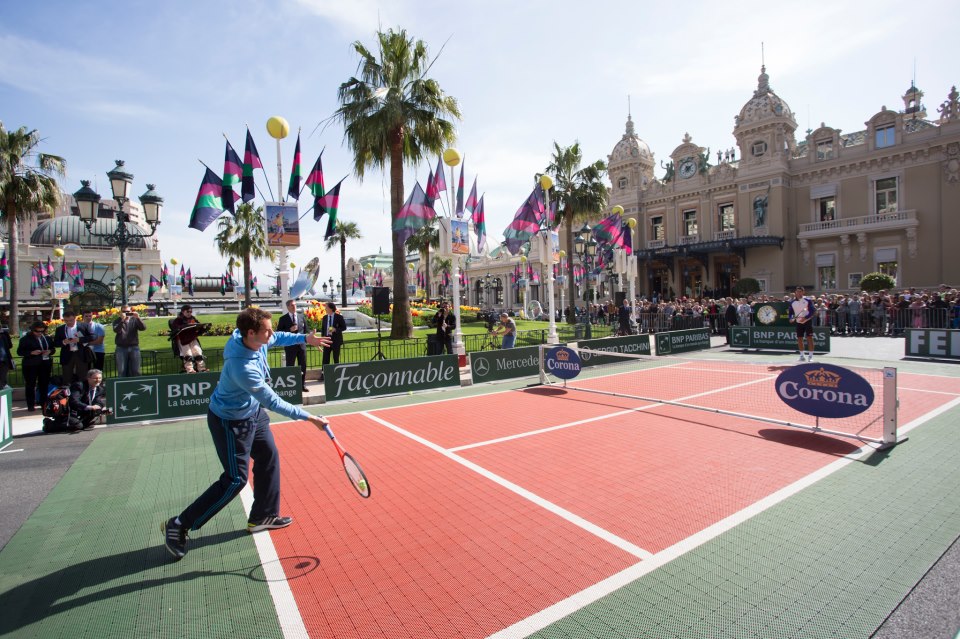 Novak and Thelma, 5 years old
Prior to the beginning of the Monte Carlo tournament, Djoko was already training and chilling on the annex courts of the Principality. Of course, it was overcrowded. And in this crowd, was a little 5 year-old girl, Thelma. She loves the Serb but is afraid of all these people. Scared, she started to cry her eyes out. Ever the gentleman, Nolé stopped, took her in his arms and gave her a cuddle before giving her a gift: his wristband! How cute.
Novak's presents
10 000 euros given to the Novak Djokovic foundation - a source of great joy for Nolé and Laurent Delaney, the Europa boss of the ATP foundation.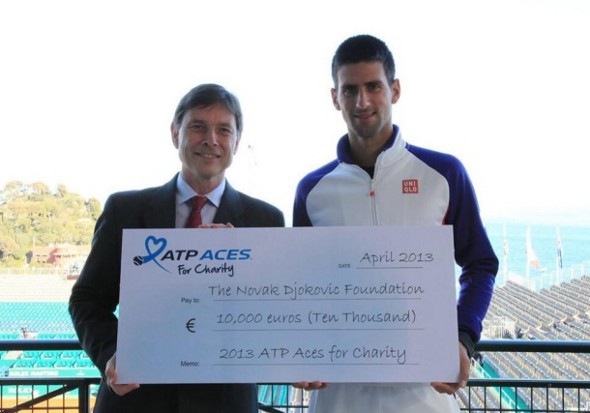 Fognini brushed aside
A blink-and-you'll-miss-it Masters 1000 semi-final as Novak crushes Fognini: 6-2, 6-1. In video, it's worse:
Meanwhile, in the rest of the world…
Cara Black is training solo. So is Errani.
No coach or training partner? Not a problem. Cara Black, the Zimbabwean and the Italian Sara Errani found an alternative (and free) way to work on their reflexes. The wall for Black. Old school. But in a very energetic way. And, even better, the Italian uses her own house. Any surface will do: walls, windows…etc. Quite convenient.
Errani and Balotelli
When Sara Errani isn't training at home, she's taking her aggression out on Mario Balotelli, the AC Milan footballer she "can't stand", according to La Stampa. Except that the tennis player decided to go back on her declarations: "I worked the situation out with him (Mario Balotelli, Ed), because I didn't like the fact that things I didn't say were published in the press. With you journalists, it's never easy. But I've learnt my lesson. Play a mixed doubles with him? No problem, and even against Roberta Vinci (Errani's usual doubles partner, ed) and her hero, Paolo Maldini!"
Azarenka, sexy girl number 2
The Byelorussian is a tough opponent on the ATP tour. But not only. Her curves are also turning heads off the courts as she was recently rated the second sexiest athlete of 2013 by the magazine Men's Fitness. The NASCAR driver Tia Norfleet took the crown, but Azarenka isn't the only tennis woman in this top 10, Agnieszka Radwanska holds the 10th place. However, there's no place on the list for Maria Sharapova. Surprising.
1. Tia Norfleet - Nascar
2. Victoria Azarenka - Tennis
3. Sage Erickson - Surfing
4. Sydnee Michaels - Golf
5. Sydney Leroux - Football
6. Alissa Czisny – Figure-skating
7. Alana Blanchard - Surfing
8. Aimee Fuller - Snowboard
9. Kaylyn Kyle - Football
10. Agnieszka Radwanska - Tennis
Serena Williams, the roaring thirties
While everybody on the ladies tour is under 25, Serena Williams remains as a relic from the last millennium at all of 30 years old. A complicated age for the younger Williams: "when I turned 30, I panicked… I thought I had to buy an old car and all. It was my thirties crisis. It was quite hard actually! I had to deal with it, but it was a tough time to get through!" Today, the "granny" seems to feel much better as she rules the tour. Like a boss. It's probably experience.
Feliciano Lopez lives
The Spaniards, injured since the Miami tournament, isn't dead. We last saw him on his hospital bed, with wires all over and looking rather tired. Now, the Spanish player looks confident and recently gave some news to the world on his Twitter feed: "I'm over my last obstacle! God-willing, next week, I will start hitting the ball again"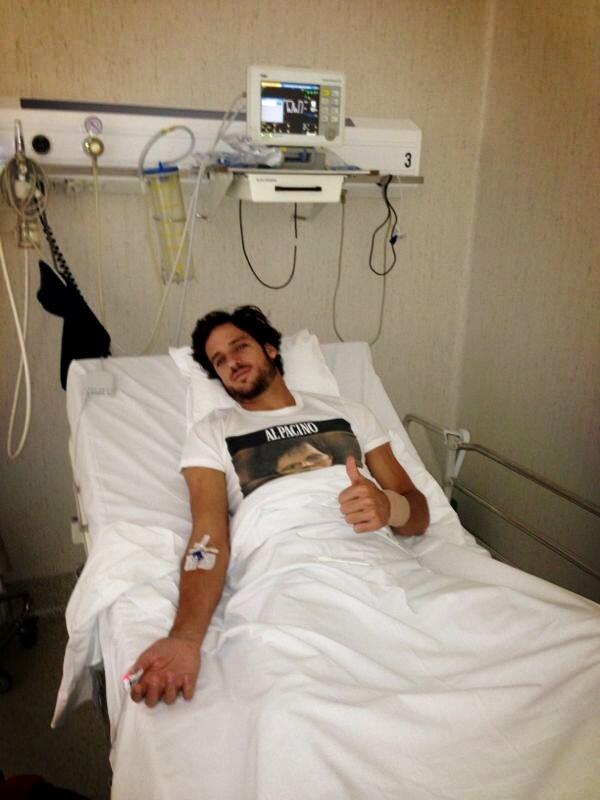 Gulbis, an emotional man
When Ernests Gulbis is annoyed, he lets it know. In Monte-Carlo, he left no one in any doubt. His racquet is a good evidence of it. Or what is left of it…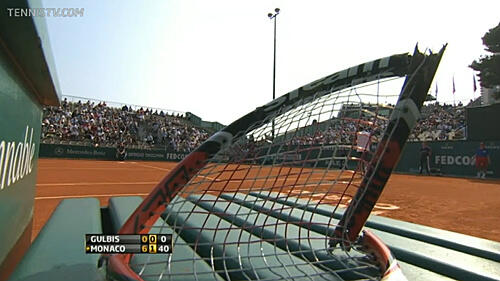 Matosevic, another ball of emotion
Definitely, the first rounds of Monte Carlo made a few men quite emotional. After Gulbis, it's Marinko Matosevic who let his dark side express itself against Rafael Nadal. At 6-1, 5-2, the Australian lost it. He knocked over one of the bottles that Nadal had nicely organized, per his usual routine. Nadal didn't take it badly. "I didn't care. It was funny. He might have thought that it would affect my focus but it's a routine for me. The only thing I did was to re-organize the bottles properly" said the Spaniard at the press conference.
Tsonga, for his part, is more sporting
When Jo-Wilfried Tsonga was asked what would be his technique against Rafael Nadal in the semi finals in Monte Carlo, the Frenchman didn't think of tampering with the water bottles. Not his kind of thing really: "you're telling me that Matosevic did it yesterday? I didn't see it. Anyway, I've always wondered what it would do to Nadal if someone messed with his bottles. Just a little kick during the change of side, to see you know (laughs). He laughed yesterday when Matosevic did it, but it was at 6-1 5-2. I'm not sure that at 3-3 or 4-3, it would make him laugh that much (laughs)." Challenge accepted?
Tipsarevic beat Djokovic
Finally, Janko Tipsarevic has beaten Novak Djokovic. A miracle. Indeed, Tipsa was named "Man of the Year" by the Serbian magazine The Men. This distinction is awarded to people who help Serbia's image through their successes. The player, absolutely delighted, couldn't actually believe it: "It's a great surprise, it's really fantastic! I'm happy that my results, as much with the national team as individually are recognized as a contribution for the betterment of my country's reputation. This recognition will be an extra motivation to give the best of myself in the future."
Hantuchova and friends
When Daniela plays the Fed Cup in Moscow, she posts some sexy pictures. We especially appreciate the one with the Russian team during the official dinner before the match. Thank you, Daniela.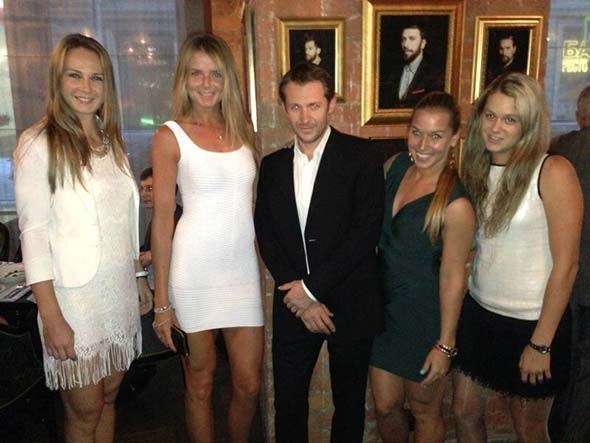 Juan Monaco with Albert de Monaco
On this picture, you can see the Prince of Monaco and Juan Monaco. They're not related.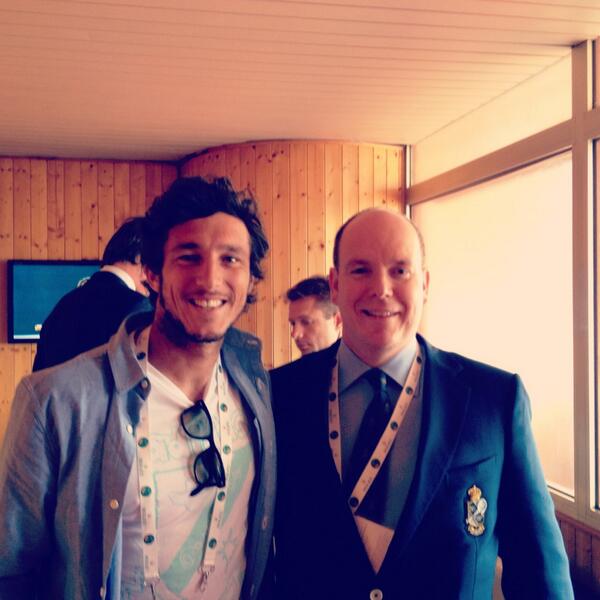 Robredo already in Barcelona
While his mates are fighting in Monte Carlo, Tommy Robredo is already getting ready for Barcelona, making himself very much at home on the Catalan clay…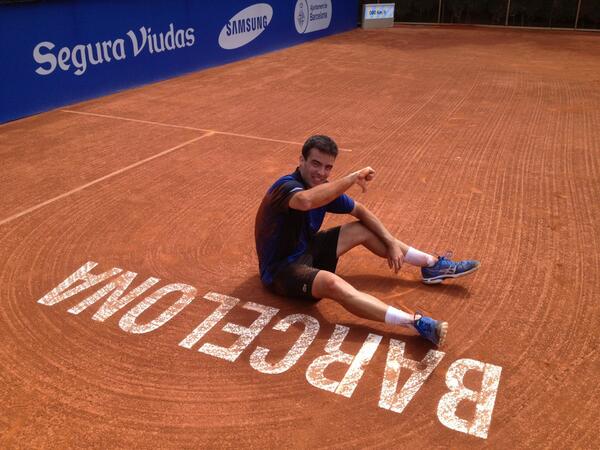 Raonic Harlem Shaked Monte-Carlo
Here's the Monte-Carlo Harlem Shake. We saw that Rafael Nadal stayed quiet. Too quiet. Unlike Milos Raonic, who went completely mad. We want the same chance with the girl now…
Azarenka is chilling
Victoria Azarenka "lives" in Monaco. As do many professionals on the tour. When she needs a break from tennis, the player indulges in life's little pleasures. This week, it was spa time. Just chilling, you know…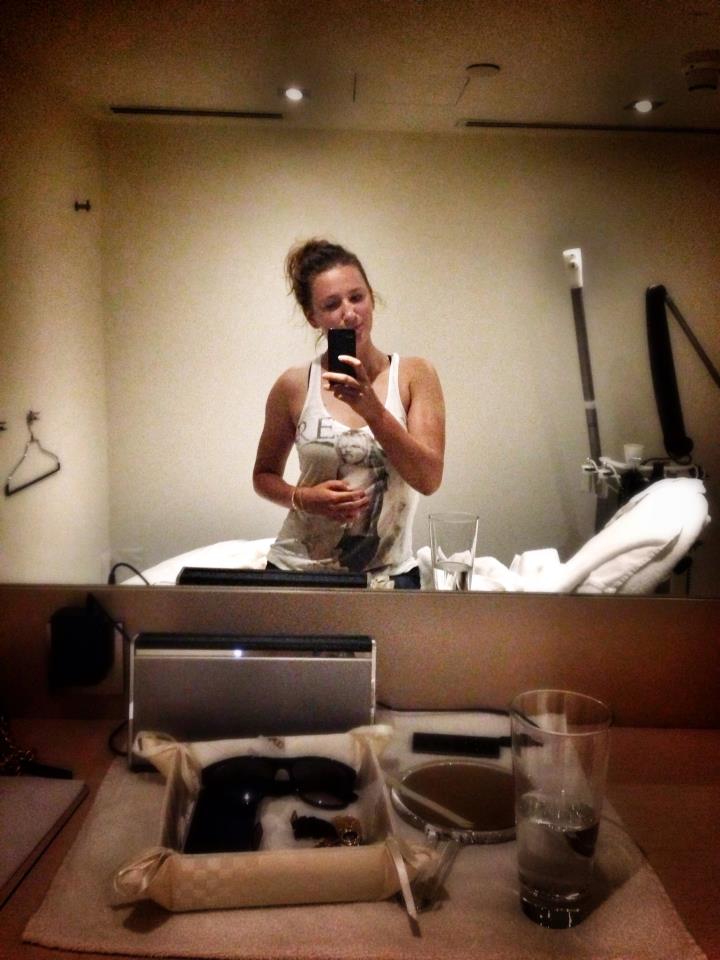 Nadal found out what to do after his tennis career
What will Rafael Nadal do after his career? Going on the evidence here, he'll probably be a cop. Anyway, he already has the badge of a French policeman, and obviously, it doesn't bother him.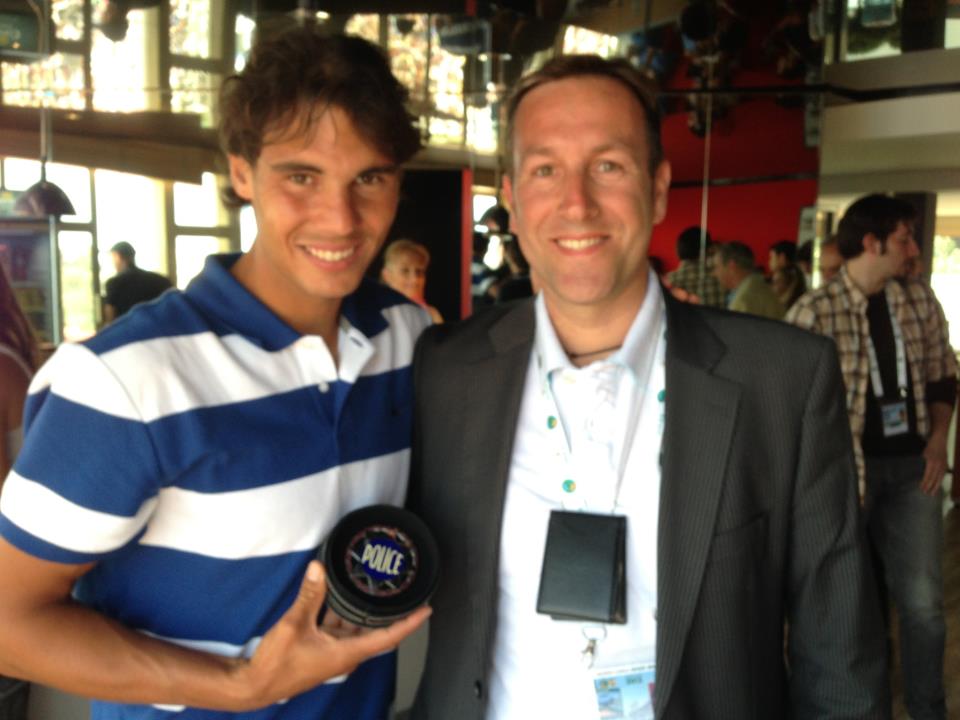 Radwanska and her girls
"Come on, everybody say cheeessseeeee." A good team spirit will be essential for the Polish Fed Cup team in Belgium…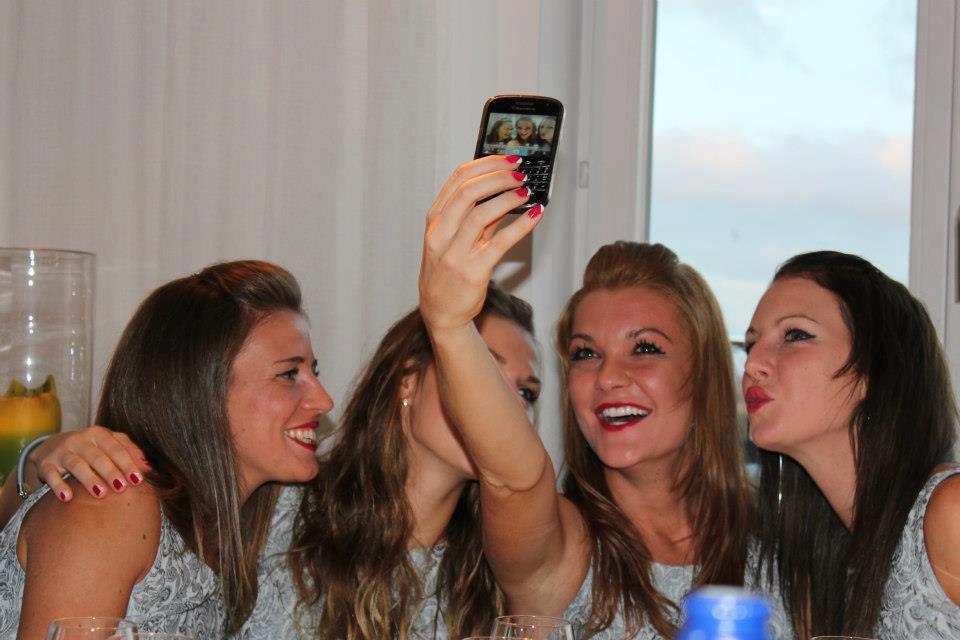 The point of the week
Grigor Dimitrov took out the Serb Tipsarevic in two sets (7-6 6-1) in Monte-Carlo. But this is only a detail compared to the outstanding point he played during the game.
By Mathieu Faure