Novak Djokovic cracks jokes, Rafael Nadal does the dirty work, Wozniacki denies being a WAG and Ana Ivanovic explains how to do her bag before leaving for a tournament. A very mainstream week, in fact.   Roger, the...
Novak Djokovic cracks jokes, Rafael Nadal does the dirty work, Wozniacki denies being a WAG and Ana Ivanovic explains how to do her bag before leaving for a tournament. A very mainstream week, in fact.
Roger, the digital comeback
Inactive for a month on his Facebook page, Roger Federer has returned to the game. The Swiss player just posted this picture on his wall. With a caption, of course:
"Just finished a hard work out. Anyone know where this picture is taken?"
Of course we know, Roger. It's on the ferry across Lake Zurich.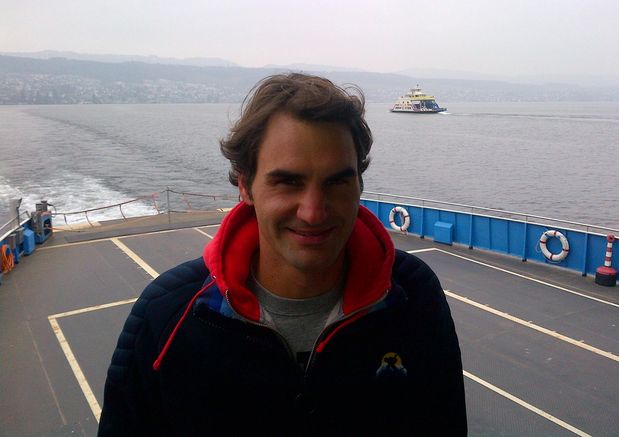 Federer, number 1 on Facebook
Roger is no longer world number one but he doesn't mind. He's number one on Facebook, and by far. With 12.5 million "likes", he's the most popular tennis player on the social network, closely followed by Rafael Nadal, on 11.5 million. Andy Murray, recently winner in Miami, almost reaches one million. Amongst the women, the leader is Maria Sharapova with 9.7 million. Surprising.
The number: 0
Federer has played 1093 matches since turning professional, and in 14 years on the professional tour the Swiss has never abandoned a match due to injury. Yeah, it's impressive. Even when he suffers, Roger handles it. With class. Forever. Scientists are still trying to figure out the figure for Richard Gasquet.
Roger's twins gifted for tennis?
A Swiss newspaper examined the issue of genetic inheritance, particularly in sport. Thus, a family therapist and sports psychologist, Gavriel Pinson, engaged in the columns of 'Le Temps" on genetic predispositions for success in a sport. And he took as example the twins of Roger
"Behaviour is trans-generational. Hence the fact that the offspring of an elite athlete proves capable of managing on a daily basis the consequences of such activity. Now, will Federer's twins play tennis? Nothing is less certain, although they already know many aspects of the sport, including its advantages and disadvantages."
A new golden generation for Switzerland. Furthermore, if there are two...
A very special birthday
MTV had a very special reality show. It was called My Sweet Sixteen and followed the lives of rich teenagers preparing extravagant celebrations for their 16th birthday. Roger was never on MTV but already had a pretty crazy birthday. DJ Bob Sinclar who spilled the beans to the French press. A big fan of tennis, the DJ talked about some VIP parties he hosted:
"I had the great chance to have been invited to DJ for Roger's thirtieth at his home in Switzerland. We ate together. I was tense because I thought I was going to meet an alien ... And in the end, they are very simple people. Roger likes to talk about ordinary things, He's always extremely relaxed but I also noticed that he was very, very well supported. In his personal guard, there are only positive people."
Meanwhile in the rest of the world…
Who am I?
We know that Novak Djokovic loves teasing and is always there to make a joke, including visual ones. So when Easter rolls around, the world number 1 doesn't let then opportunity pass him by. On his Facebook page, we had the treat to see the Serb wearing a beautiful bunny head and a very sweet comment:
 "Here is one special Easter postcard that i made for you my friends :) Hope it will make you smile and your bellies won't hurt as much from all the chocolate you ate today :)"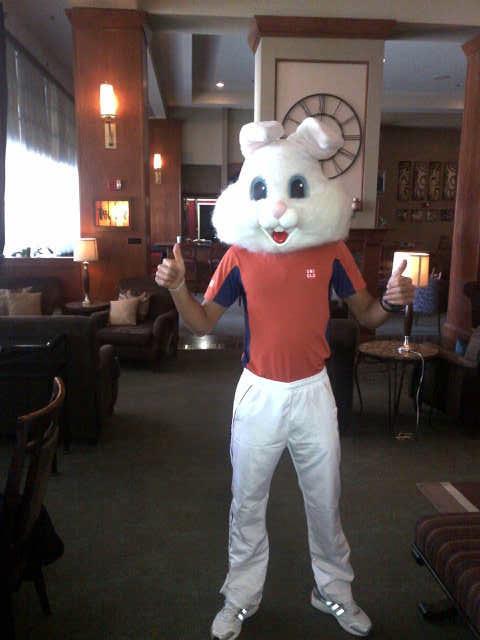 Who am I? Part 2
A woman. Blonde. Rather busty. And captured on camera in the middle of a fashion store. Yes, it's Maria Kirilenko.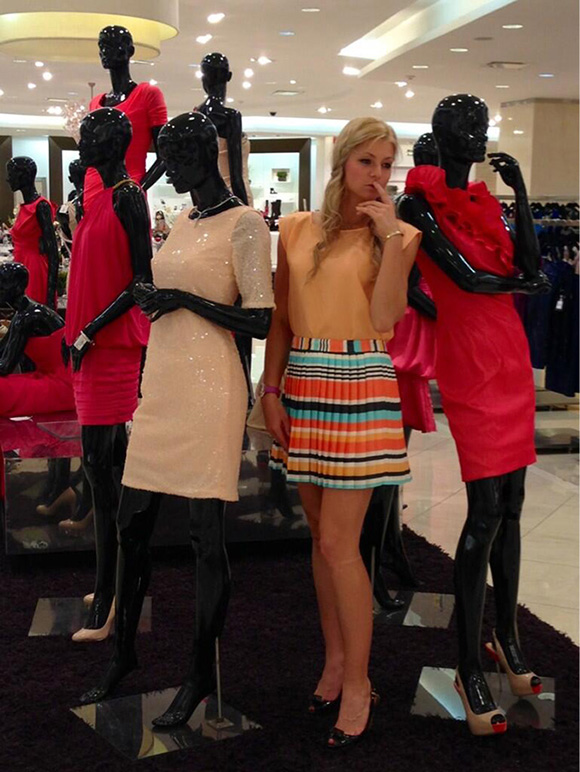 Wawrinka, the road hog at the service
The Swiss sense of humour. More used to hitting powerful serves, Stanislas Wawrinka is currently the face of an advertising campaign that attempts to educate the masses about the dangers of speeding. And since Stan is able to propel the little yellow ball at over 200 km / h, the slogan was easily found:
"200 km / h, only on serve."
Funny.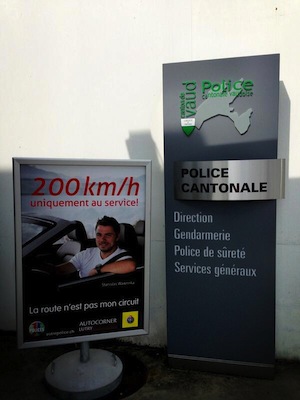 The ideal bag according to Ana Ivanovic
Interviewed by the website The Tennis Space, Ana Ivanovic unveiled one of her beauty secrets. How to prepare her tennis bag, with a very special technique laid out by the Serbian:
"I carry a sports drink filled with electrolytes to keep me well hydrated. I always carry a banana, which quickly releases energy. And power bars are also good to give you a boost of energy during a changeover, so I carry them too [...] You don't always have to buy a sports drink – I know they can be expensive. Instead, you could buy some electrolyte tablets or powder that you dissolve in water [...]I always have a spare outfit in my bag. In the locker room they have towels, and we can get extra on court from the ball boys. I recommend to club players to carry a towel." [...] don't like to unpack my racket bag too much, so I will often carry onto court some things that I won't actually use during a match, for example the book I am reading, and maybe a packet of string [...] I will also carry my accessories: wrist bands, visors and hair bands and hair ties. Something I sometimes forget to carry is sun screen – that's very important, of course." 
The best guide we've seen on the subject to date.
The highway story
The French tennis team was in Argentina for the Davis Cup by BNP Paribas. And it's clear that the training conditions were rather unusual, to say the least. The Blues had to train in a club ... under a highway. All par for the course....
"It was pretty special. The clay courts were not of great quality, but good enough to train",
said Michaël Llodra. Jo-Wilfried Tsonga was rather amused for his part: "
It's clever ... it means they spend a little less money on covering the courts. However, it was not so easy to breathe, because there was a lot of pollution just above! But it was funny and original."
Next step, training in a tunnel.
The US has a unique doubles team
Because of the Davis Cup by BNP Paribas, the doubles is back in fashion. Thus, the U.S. tried out a new pair: Sam Querrey... and a child. It was during Children's Day organized by the competition. A star is born?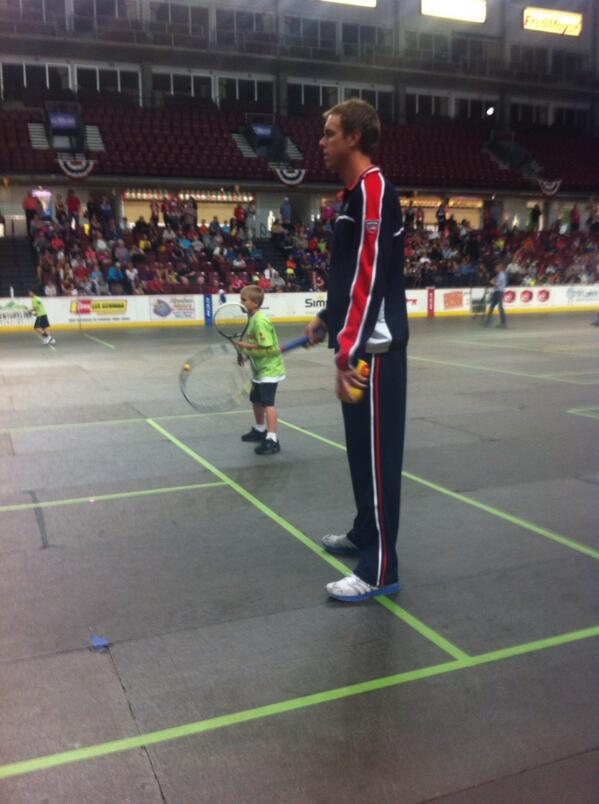 The picture of the week
When competing in the Davis Cup by BNP Paribas, Americans seem to be in Spring Break. So, naturally, as soon as you get the U.S. delegation in a mirrored lift, they take pictures like over-excited students. However, it is worth it to see the classy and silky fringe of the former world No. 1 Jim Courier. It's the Bryan brothers who posted the picture on Internet.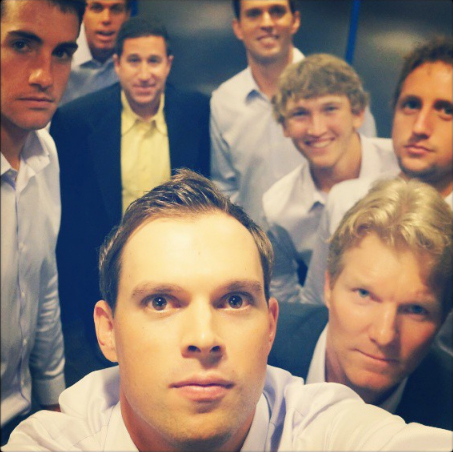 Corporate Nadal
When Rafael Nadal completes a workout on clay, what does he do? He grabs a drag mat and prepares the ground for the following players. What if the Spaniard was a player like any other?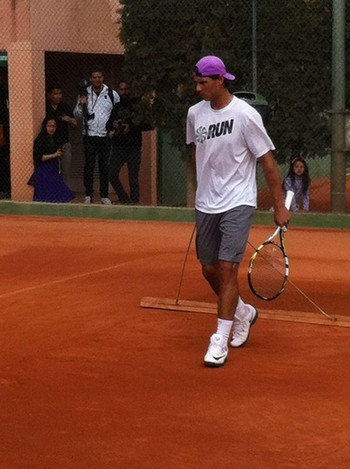 Wozniaki isn't a WAG
By dint of being photographed with her golfer ​​boyfriend Rory McIlroy, Caroline Wozniacki is becoming a "WAG"? A charge that irritates her immensely:
"I hope people don't just see me as Rory's girlfriend. I hope they know me for my tennis. I'm not just a WAG!"
We feel a bit of frustration in the Dane's words...
Obama, the frustrated lefty
Barack Obama is a basketball fan and, especially, a Chicago Bulls fan. What was less well-known were his skills with a racket. For Easter, the President of the USA indulged in a game wearing a shirt and pleated trousers with young people. Well, seeing his racquet handling and his looks, Barack has obviously never spent too much time on court. He's almost ridiculous.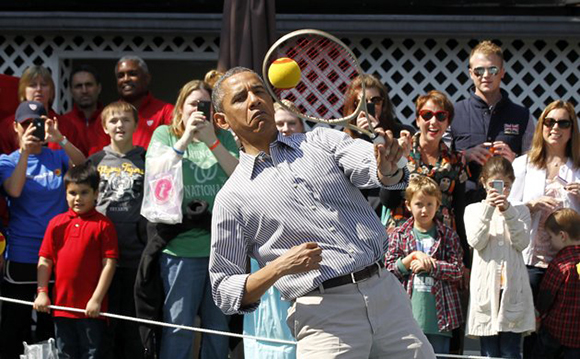 Zlatan McEnroe
The former sporting director of Paris-SG between 1991 and 1998, Jean-Michel Moutier indulged in a funny little comparison when talking about Zlatan Ibrahimovic, the Swedish striker's club based in the French capital "
When you come to a club, you try to learn a little about its history, but I don't think anyone will be mad at him since he scores goals. It makes me think of John McEnroe, the tennis player who needed a challenge and scolded the referee to gee himself up."
McEnroe, complaining? Never seen it…
McEnroe collector
OK, well, since we talked of John McEnroe, here is a video of his best rants against the referees. A genius. [youtube]http://youtu.be/wcWNsS6wEps[/youtube]
The video
Have an hour to spare? Here are the 69 most beautiful points of the ATP in recent years. It's a treat, and enough to justify the intense selfless love that we have for this insane sport. [youtube]http://youtu.be/e5IyvJj5HKE[/youtube]
By Mathieu Faure