While the security of the Miami tournament didn't recognize Novak Djokovic at the entrance, Kim Clijsters told the story of a memorable night, Serena Williams borrowed a bike to arrive on time for a match and Roger...
While the security of the Miami tournament didn't recognize Novak Djokovic at the entrance, Kim Clijsters told the story of a memorable night, Serena Williams borrowed a bike to arrive on time for a match and Roger Federer autographed chocolates. Keep calm and carry on…
The number: 889
It took 889 days for Rafael Nadal to win a tournament again on hard courts. Before his victory in BNP Paribas Open to Indian Wells, the last title the Spaniard claimed on this surface dated back to October 2010 in Japan, Tokyo, against Gael Monfils.
Rafa has famous fans
It was the event everyone was waiting for - Rafael Nadal's comeback. And when the Spaniard swept in Paribas Open BNP to the Indian Wells title, the compliments came
from everywhere. The Italian footballer Alessandro Del Piero paid tribute to Rafa on his Facebook: "What a great come back for Rafael Nadal! He won the Indian Wells Masters 1000! Well done, Rafa! ".
Victoria Azarenka, also congratulated Nadal on Twitter:
"A fantastic champion."
David Ferrer did the same:
"Rafa, the best, that's all! ".
And many others, like Andrea Petkovic:
"Oh Rafa, you're killing me!"
Obviously, the lefty was missed by everyone. Except, perhaps, Roger Federer…
The picture: Nadal, in fuzzy rest in Mallorca
Between two tournaments, Nadal returned to his home in Mallorca. It is in any case what he posted on his Facebook page:
"Resting for a few days at home. I'll come back to practice to prepare the clay tour."
All accompanied by a quite... fuzzy picture. It's a shame that having earned all those millions he is unable to find a camera which can focus.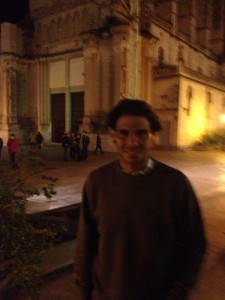 Nadal talks about doping
Rafael Nadal's name has often been associated with doping. Jealousy or proven fact? Still, the lefty was recently interviewed by CNN on the subject. Don Riddell, the journalist wanted to ask if the player had been hurt by the allegations against him. Nadal conceded that it could "really hurt"
"You know, this is something I really don't like to talk about. Because it has caused great harm to the image of the sport and someone like Armstrong was an idol for most of those who love sport. And ultimately you realize that none of this was true, you know? This is really disappointing. Also, I think we all need to work together in the same direction to change the situation. This is something which can't continue like this."
He has the merit of being clear. In his comments, anyway...
Rafa back on clay courts
"Back in training on clay. A beautiful day!"
That's how Rafa announced his return to his favourite surface: clay. The player started to get his socks dirty in anticipation of the summer season that should take him up to Roland Garros. As proof, he posted a nice picture of his forehand.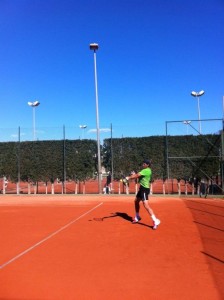 Rafa congratulates la Roja
Spain's victory at the Stade de France against
Les Bleus
in the 2014 World Cup qualifiers obviously made Nadal happy, as he watched the game with his friends at home. So chauvinistic...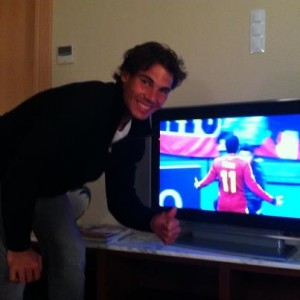 Meanwhile in the rest of the world…
Agnieszka Radwanska, the unbelievable backhand
The Polish pulled off an outstanding trick this week against the Belgian Kirsten Flipkens at the Miami tournament. Totally wrong-footed at the net, Radwanska improvised a magical behind-the-back backhand. Bemused, her opponent dropped her racket. [youtube]http://youtu.be/uK8vzjLt8hI[/youtube]
Serena: Late? Take a bike…
On the courts, Serena Williams is rarely out-of-position. However, she sometimes has trouble getting there. Thus, stuck in traffic in Miami, Serena had to abandon the official tournament transport for a bike, just to be on time to play her match:
"Riding to the match was probably one of my best memories ever. The traffic was crazy and everyone was like, 'I have been here for an hour, and I'm staying like eight minutes away'. I'm like, 'OK, I'm not going to make my match. So I asked for a golf cart, and the hotel didn't have a golf cart. Then they were like, 'We have a motor bike'. I'm like, 'I don't do motor bikes'. They said, 'We have a bicycle'. I said, 'I really don't do bicycles, but I will today'."
Take that Lance Armstrong.
Hi Sir, who are you?
Apparently, a lot of funny things happen in Miami. Thus Novak Djokovic, world number 1 and brightest star in the tennis universe was not recognized by tournament security and had to take out his badge like other mere mortals in order to access the Sony Open. Of course, the scene has been immortalized…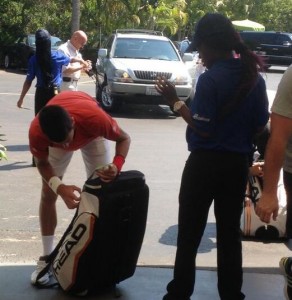 What Maria said
It doesn't come as a big surprise but Maria Sharapova is a foodie. Thus, at a press conference, the Russian confessed to a soft spot for some culinary chocolate dough:
"I love Nutella. Nutella on pancakes, I love it. When I'm in Paris, I go crazy for it!"
Kirilenko, the white swan
Still in Russia, still with a Maria, but Kirilenko this time. The 13th-ranked player in the world looked very beautiful in the April issue of InStyle Russia. We discovered the Russian in a ballerina costume. And we must admit that she's very gracious.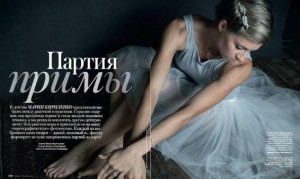 Tommy Haas; a doting daddy
Another outstanding tournament for the veteran Tommy Haas in Miami, and who came to congratulate him first after his great victory against Dolgopolov (6-3, 6-2)? His little bundle of joy named Valentina. Cute.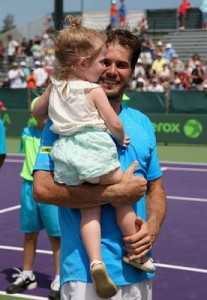 Gilles Müller, the football fan
It can be hard to get yourself noticed when you are the only Luxembourger on the tour. However Gilles Müller managed to do it quite well… On the practice courts of the Challenger tournament in Guadeloupe, the player has found a way to train without a racquet: a spot of tennis-football for the former junior world number one. Beautiful ball control anyway. An expert, obviously…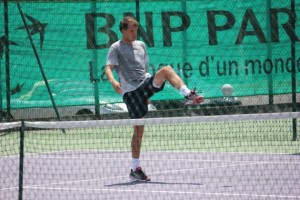 Chill out break for Paire
While Gilles Müller plays football, Benoît Paire visited the Guadeloupe seabed. The worst thing is that the Frenchman took the opportunity to post pictures on Twitter. Tough day at work…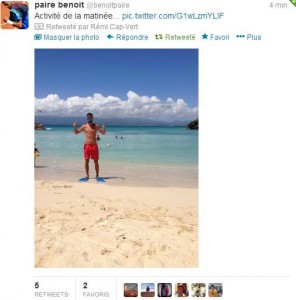 Gisela Dulko pregnant
Before, the Argentine Gisela Dulko was a tennis player. But that was before. Today she's six months pregnant and posted pictures of her curves and her dogs on social networks.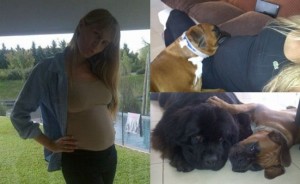 Golovin's already shopping
Roland Garros is almost here and Tatiana Golovin, freshly retired from the courts, will have to return to duty on French television. In preparation, the blonde has already begun her shopping to be sure to have enough outfits for the fortnight. All she has left now is to work on her colour coordination.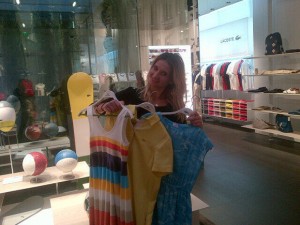 Haas doesn't like his look
Speaking of clothes, Tommy Haas said he food his look pretty shocking. He's not even ashamed to say it at a press conference:
"Hmm, I'm pretty pathetic in the choice and colours of my outfits. Sometimes I look at myself in the mirror before going out and I say, "My God, what was I thinking of, dressing like this?"(laughs) Maybe it would be different if I had a contract with a brand. But in my situation, I just take the clothes that I really like, comfortable ones. My wife takes care of our daughter, so she has no time to advise me on that (laughs)."
We can confirm: Tommy, you don't have a great look. But your game allows you to be completely forgiven.
Chocolate Federer
Roger Federer is rather quiet at the moment. However, the Swiss has been keeping busy as the chocolate maker Lindt asked the tennis player to sign some Easter chocolates to be sold at auction to raise funds for charity. It does mean that, at the end of the day, gluttony isn't such a bad thing.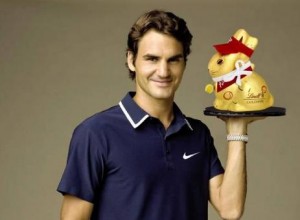 Cristiano on the ATP tour?
Interviewed by CNN, Boris Becker indulged in a strange game when asked what footballer would make the best tennis player. Without hesitation, the German said the name Cristiano Ronaldo, Real Madrid's Portuguese striker:
"Tennis is a very demanding sport physically. In addition, you have to be tall enough to serve well and return the services of your opponent. The best footballer for tennis would certainly be Cristiano Ronaldo. He would be a perfect tennis player."
Poor little Messi…
The hottie of the week
This week, it's the Russian Elena Vesnina who managed to surprise her fans with this picture posted on her Twitter account. No curves or sexy outfit. Just a face and eyes.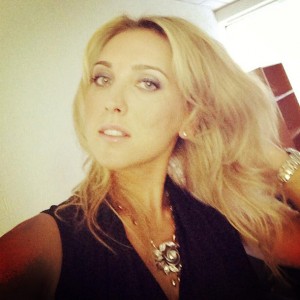 Raonic and his giant rabbit
After Roger Federer, it's Milos Raonic who got into the Easter mood. The Canadian insisted on posting a little picture of his rabbit. It's not made of chocolate and is rather difficult to hide in a garden…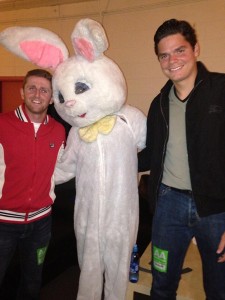 Clijsters using toilets as a pillow
Kim Clijsters was a guest on the Flemish show "Sean Late Night." Obviously in good spirits, the former player confessed that, drunk, she once fell asleep in the toilets of the nightclub Versuz, in Hasselt, Belgium:
"The bouncers had to carry me to my cousin's car. He kindly drove me back to my house. The next morning I woke up without remembering what happened. My nose was all blue, because I probably hit the bathroom door."
Kim, we love you so much.
By Mathieu Faure