Between two stretching sessions and giving hugs to his dog, Novak Djokovic posed in the rain in Miami. Meanwhile, Victoria Azarenka said that she wanted to die eating an ice cream, Toni Nadal got into a Rochus,...
Between two stretching sessions and giving hugs to his dog, Novak Djokovic posed in the rain in Miami. Meanwhile, Victoria Azarenka said that she wanted to die eating an ice cream, Toni Nadal got into a Rochus, Serena Williams found a new occupation and Sam Querrey got engaged. A busy week…
Djokovic discovers the Monsoon
"Monsoon in Miami?! Bring it on! We are ready ;)"
This is what Novak commented alongside a photo of him, bare-chested, in front of what looks like a tropical storm.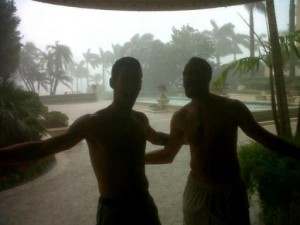 Nole wants to start a Harlem Shake
For the moment, the tennis world has managed to keep its distance from the new trend that is the Harlem Shake. However, Djoko is well up for starting one. This is the new idea posted by the Serbian on his Twitter account. Nole has also consulted Andrea Petkovic to organize the event: https://twitter.com/DjokerNole/status/314929842464358401
Djokovic's crush on his pet
If you follow Djokovic's Facebook closely, you will notice one subject crops up more than others: his dog. The little pet can be seen on many photos, stretching or drying off. True, poodles are usually reserved for the elderly, but who cares?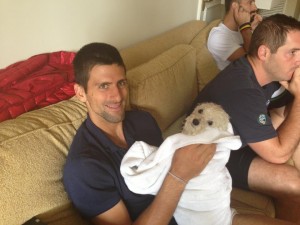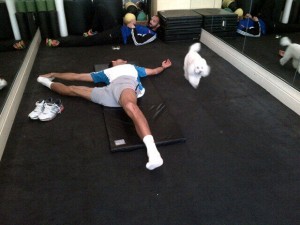 The mistake of the week
While he meant well, posing with his little wife before a party in Miami, Djoko pulled the worst jacket ever from his wardrobe... White palm trees on a blue background. Oh my god.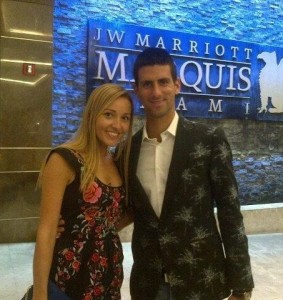 Djoko, the gymnast
Just a small split. Easy. Not even trying. To prepare his body for the hectic spring schedule, Novak tests the elasticity of his lower limbs with a morning session in the sand.
Nole, true lover
"Hi Miami! We landed at the perfect time - sunset. With my two loves by my side, it couldn't be better"
posted the Serb on Facebook. If you are looking for the second love, it's the dog. Caught between the two lovers. Poetic Lover.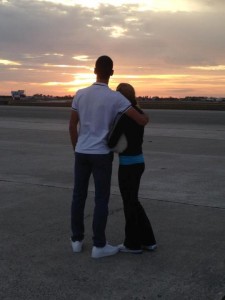 Concentration problems
Defeated by Del Potro in the semi-finals at Indian Wells, Novak came back at a press conference in Miami on the concentration problems he may encounter by playing every week:
"Keeping the same level of concentration in every game is the biggest challenge for a tennis player. To be consistently successful, you must be concentrated from the first to the last point. Most of the games that you play in the early rounds are quite dangerous, because lower ranked players have nothing to lose against you. You enter the court knowing that you're supposed to win. It's not an easy thing to fight for every point, without regard to who is on the other side of the net. And you can fail. At Indian Wells, I lost a very close match of nearly three hours, against a guy who is well established in the Top 10: Del Potro. I haven't lost against a player of lesser quality. The victory was decided on a few points. I could have made it, but I wasn't able to make it happen. This is sport. When you lose, you try to understand what you did wrong and get better in the next game." 
Poor little guy.
Meanwhile, in the rest of the world…
Llodra and Paire tease each other
Miami is really an infamous place. After the fight between the French rappers La Fouine and Booba for the title of "Best French rapper", Benoit Paire and Michael Llodra took over. It all started early in the first set after a late call from the umpire on Llodra's service. Paire indicated his discontent and then claimed he had been insulted by his opponent. Llodra denied the claims:
"I never insulted him. In the second game of the match, the referee took a little time to report that my second ball was foul and Benoit started moaning."
On the following change of sides it kicked off again. Llodra again:
"I ​​told him: 'don't start putting pressure on the umpire, the match will be alright. Please don't act like a spoilt child.'"
Paire didn't like it and told him to "eat shit".
"From there, I didn't say anything to avoid being the ugly duckling"
, Llodra said.
"But he insulted me on numerous occasions and has repeatedly tried to wind me up. He cracked. I can understand (that what he said made Paire react, Ed) but it went too far."
In the end, Llodra won 7-6, 6-2 but was a bit confused:
"I knew that if I was winning the first set, he would freak out."
Paire refused to shake hands at the end of match, and left to boos from the crowd.
Toni Nadal wants Rochus' scalp
Certainly, the tennis world has been tense lately. After the French civil war, it is Rafael Nadal's uncle, Toni, who turned his anger on Christophe Rochus, brother of the Belgian player. On January 15, Olivier's brother said that doping in tennis was "a reality", referring in particular to the "suspicious" long absences of Rafael Nadal and Robin Soderling. Toni had been slow to react but when he did he did not hold back this week in the Spanish press: "This Rochus, apart from being a fool, is very rude. He's a real asshole! Some whisper suspicions but he says it out loud. "
Rafa has never taken anything, you should know that. He will never take anything!"
Serena Williams gym coach 2.0
We already know how Serena Williams intends to reinvent herself when her playing career is over – personal trainer. Moreover, the youngest Williams has already begun to post videos and exercises to do at home for her sponsor Nike. This is pretty good and catchy. An entire page on her website is also dedicated to this new passion.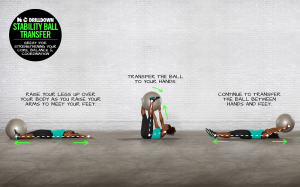 Baby boom
A bit of joy this week as former world number one Justine Hénin announced the birth of a little girl. The recently retired lady has become - for the second time - the proud mother to Lalie. The announcement came via her Facebook account: 
"We were waiting for her so much, here she is, this afternoon a little fairy came to illuminate our lives ... Her name is Lalie, she's in top form and we are overjoyed! Justine and Benoit."
Fognini picks Rafael Nadal
If by some miracle Fabio Fognini became a football coach, which player on the tour would he pick for his team? This is the question that Tennis Fans United asked him:
"Rafa (Nadal), definitely, he plays well, Andy Murray plays well too. For keeper, I would pick Karlovic ... He's not bad and he's tall!" 
[youtube]http://youtu.be/rfGZ1eHXuOQ[/youtube]
Murray in love with his dogs
Andy Murray manages to scratch by in the shadow of Federer, Nadal and Djokovic. Even away from the courts and particularly on social networks where his fans love his two dogs, Maggie and Rusty. Recently the Scot made ​​us live the lives of his two dogs via Facebook:
"Maggie and Rusty are fighting for one of my socks, haha. They could have taken one each..." 
The story doesn't say if the sock was clean.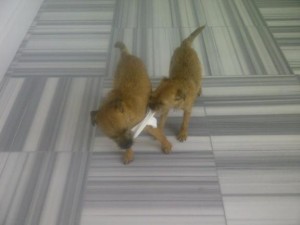 The very important quote
"I like to eat healthy but I would like to die eating an ice cream. Chocolate, vanilla, coco, whatever…"
- Victoria Azarenka in an interview for the WTA in Miami.
What are they doing?
Marat Safin had everything to be a genius of tennis. But his character and fragile body meant it was not to be. He had to retire. And today, Marat is involved in politics as a member of the Russian parliament. The former star of the tour said this week on his Twitter account that he met students of the Russian Academy of Economics and the career guidance service of the country. It is obvious from this photo that he is still an imposing figure as he addresses the crowd…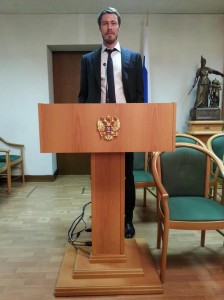 Murray in a commercial
Andy Murray shot a commercial for his watchmaker sponsor, Rado. Not necessarily the funniest player on the tour, the Scots is opening himself up, little-by-little, to the media. The commercial is fairly standard, but funny if taken at face value, and sure to be effective anyway. [youtube]http://youtu.be/YbR6fYcHNyc[/youtube]
Querrey is no longer on the market
Ladies have to go hunting elsewhere, Sam Querrey is no longer on the market. His heart is taken. The current World No. 20 just got engaged and the two lovebirds were spotted at the players' party in Miami.
Blast-from-the-past: Azarenka at 13
Before dominating the WTA rankings, Victoria Azarenka learnt her trade around the world, like all the girls. We found a video of her, then aged 13, where she is already managing her moves and service very well. A video recorded at the Orange Bowl, when she was facing Volha Havarstova. She hasn't changed a bit... [youtube]http://youtu.be/80dX_yNz70c[/youtube]
Viky sexy girl for Redbull
After a video of Azarenka at 13, here are some pictures of the Belarusian for a Red Bull photo shoot. It reveals a primed woman, with  sick footwork… And a very sexy smile.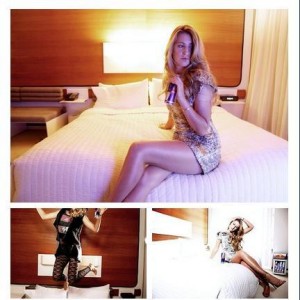 By Mathieu Faure