This week Roger got worried about the earthquake in Indian Wells and Juan Martin Del Potro declared his love to the new pope, Argentinian like him. Otherwise we heard that old glory Jennifer Capriati was charged with...
This week Roger got worried about the earthquake in Indian Wells and Juan Martin Del Potro declared his love to the new pope, Argentinian like him. Otherwise we heard that old glory Jennifer Capriati was charged with assault by her ex boyfriend. Not cool.
Federer angry with the umpire
Famous for his class and fair play on the courts, Roger Federer can also get angry. Irritated by the attitude of the chair umpire Fergus Murphy, who denied him a challenge, the Swiss blew a fuse at Indian Wells during his match in the last sixteen against his compatriot Stanislas Wawrinka (6-3 6-7 (4/7) 7-5). He attacked the competence of the official in these words: "
You are a tennis player, right? You are on a court all day every day, you know what it is to play for five hours and you also know how things happen, right?
" Basically, Roger made ​​it clear what he thought of the umpire... [youtube]http://www.youtube.com/watch?v=cNeftl5ca3A[/youtube]
Earthquake during BNP Paribas's Indian Wells, Federer gets worried
A magnitude 4.7 earthquake struck on Monday in Indian Wells, which saw the players racing to Twitter to give their reactions… Firstly, the imperturbable Federer. https://twitter.com/FedererOfficial/status/311180366394314753 Visibly shaken, Roger suffered the aftershocks of the earthquake as he was demolished by Rafa Nadal in the semi-finals. However, the earthquake didn't worry Novak Djokovic too much. While his counterparts were all running scared, the Serbian was playing golf in the sun. Nole even showed a playful mood on his Facebook page:
"Earthquake or not, here I am enjoying some golf and sun :) Relaxing day before the next round. See you all tomorrow, 2nd match from 1pm vs Dimitrov."
He's the boss. Because for Milos Raonic or Kei Nishikori, it didn't felt so good… https://twitter.com/milosraonic/status/311159131128086528 https://twitter.com/keinishikori/status/311167204169224192
Maradona: like a child in front of Federer
In Dubai, Maradona went to meet the entire tennis world. First, the women at the WTA tournament then, two weeks later, the men, when their tournament came to town. The Argentine made sure to have a picture taken with Roger Federer. It wasn't the first meeting between El Pibe de Oro and the former world number 1, if we are to believe an interview from the Swiss in the newspaper Le Matin. Preview.
"Our first meeting was in London in 2011. He came to see me during the Masters. I didn't know how it would go. He had tears in his eyes. Diego is very emotional. Also very nice. That day it was as if he had met his hero, while for me he was an absolute icon, an idol. It was almost a situation "in reverse". Seeing him so moved was a little weird. I've always loved football; I used to watch the German league a lot, and later the Italian, French, English... Diego Maradona, obviously, it was more my time that Pele. After that, it's Zinedine Zidane who was really important to me. I think he was an incredible player."
Take this Marco Materazzi!
Federer's daughter in good hands
Freshly arrived in California, Roger gave an interview to the big television news channel CNN. An interview during which Roger opened up to journalists to talk about his two little twins of 3 ½ years old, Charlene and Myla. Asked about their passion for the little yellow ball, the Helvetian revealed that they were already taking lessons:
"
We've already tried to enrol them for lessons (tennis, Ed), just for their hand-eye coordination and things like that. I think it is important for children to practice all the sports they can, if they have the opportunity. I truly believe that sport is a real life lesson. We try to give them the opportunity to realize that. Tennis is a beautiful thing, we'll see if they continue.
" The Swiss BNP Paribas Fed Cup team is already crossing its fingers.
Video: Federer and the coming generation
They will remember it forever. Promising young tennis players, Raquel Pedraza, Bryce Pereira and Bogdan Borza were invited by the equipment manufacturer Wilson to participate in a commercial with the face of the brand, Roger Federer, in person. A doubles match during which they seem to have learned a lot, going by the words of the young American Pereira upon leaving the shoot: "
I ​​modelled my game by watching him. Seeing him on the court, it's a bit like watching the perfect player
." To appease the most impatient and tease for their upcoming products, the firm has posted a
video
from behind the scenes.
Federer, a powerful man
Last week, the American magazine
Sports Illustrated
published a ranking of the most powerful athletes on the planet. Of course, Roger Federer has his place, and a rather high place at that as the Swiss player is ranked third. The magazine explains its choice with the following comment: "
Never mind that he's the most decorated men's tennis player ever, is there a more likeable athlete?
" Roger isn't the only tennis player making the list - Serena Williams is ranked seventh. The others on the podium are LeBron James, first, and Tiger Woods, second.
Meanwhile, in the rest of the world…
The quote: Del Potro rolls for Francois 1er
"We are so proud of him. He's the first pope from South America, it's something great for our country and for the Argentine people. I'm very Catholic and I appreciate this decision. I think he's going to do a great work, I wish him the best."
The Tower of Tandil is a pious man.
Söderling: a doting daddy
Removed from the courts for the last two years, Robin Söderling has had a lot of opportunity to spend quality time with his family. This week, the Swede was watching over his daughter Olivia, and even had her pose alongside John McEnroe.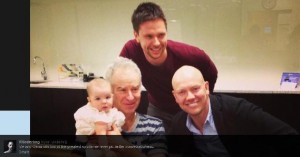 Azarenka's crazy hat
Injured, Victoria Azarenka is taking advantage of her free time to go shopping in the City of Angels. Her latest investment? This strange hat that the world number two asked her fans to approve via her Facebook page. Something tells us that she's better off on a tennis court.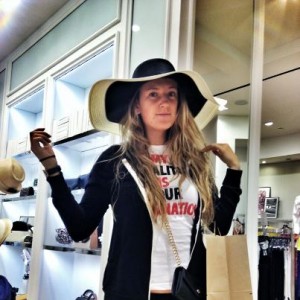 Tsonga the midget
Jo-Wilfried Tsonga might be 6ft 2in and a big beautiful boy, but standing next to the former basketball player David Robinson, he looks like a midget. Posing for pictures alongside the ex-San Antonio Spurs players of 7ft 1in, the Frenchman looks like a happy kid. It must be said that you don't meet a player from the 1992 Dream Team every day.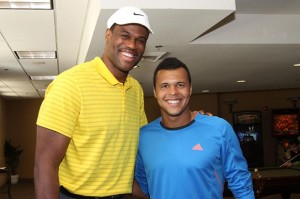 Verdasco is into la Roja
Fernando Verdasco is wearing the polo shirt as well as the football jersey. Spanish from the top of his head to the tips of his toes, the leftie published on his Twitter feed a quite-badly Photoshopped picture where he poses, racquet in hand, with his compatriots Xabi Alonsi, Xavi, David Silva and David Villa.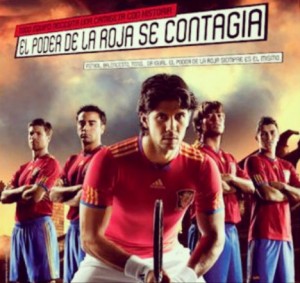 Capriati accused of beating up her ex
Winner of Roland Garros in 2001 and retired from the world of the little yellow ball since 2004, Jennifer Capriati hit the headlines for a different reason. Having once battled with Lindsay Davenport, Martina Hingis and others, she is now in trouble with the law. According to CNN, the former world number 1 is accused by her former boyfriend, Ivan Brannan Jr, of assault. At the sight of her ex on Valentine's Day, Capriati is said to have lost it and started pounding him on the chest several times. After locking himself in a locker room, he filed a complaint four days after the incident. The American now has a warrant out for her arrest by the police in Palm Beach.
Juan Monaco's jeep
Juan Monaco loves big cars. The Argentine, sponsored by the 4x4 brand Jeep, was given the keys to a brand new black sports car this week. Perfect for discovering the Argentine pampas.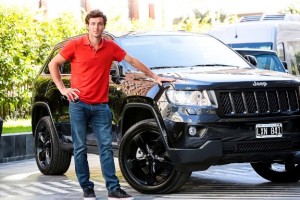 Azarenka admires Messi
Overwhelmed by the performance of the FC Barcelona against AC Milan in the second round of the Champions League, Viktoria Azarenka didn't hesitate to praise Leo Messi on Twitter. https://twitter.com/vika7/status/311714229298294785 And what do you think her compatriot Aleksandr Hleb thinks of that?
Thomas Berdych and Viktor Troicki's girls
On the occasion of the Indian Wells BNP Paribas Open gala dinner, Tomas Berdych and Viktor Troicki came accompanied by their girlfriends. The chance to see that the two hitters both have a penchant for Slavic beauties - as evidenced by this photo of the Russian with his better half, the Serbian supermodel Suncica Travica, in front of an old Californian van.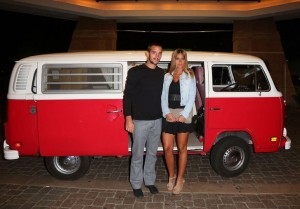 By Arthur Jeanne