Rafael Nadal as a Knicks' fan, Maria Sharapova gets into karate, Victoria Azarenka more in love then ever and Ana Ivanovic in underwear - the tennis world has once again revealed some fabulous secrets this week....
Rafael Nadal as a Knicks' fan, Maria Sharapova gets into karate, Victoria Azarenka more in love then ever and Ana Ivanovic in underwear - the tennis world has once again revealed some fabulous secrets this week. Meanwhile, Novak Djokovic met Bruce Willis.
Novak takes up a shovel
Roger Federer, Rafael Nadal, Novak Djokovic, Ana Ivanovic and Victoria Azarenka, all former winners of Indian Wells, came together to lay the cornerstone of the tournament site expansion. Under construction: a court with a capacity of 8000 seats - ideal for one of the biggest events on the tour.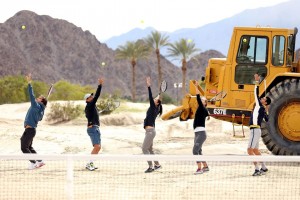 Nole talks to Kobe Bryant...
When two superstars like Kobe Bryant and Novak Djokovic meet, you always wonder what they find to talk about: "
I've been a NBA fan for a long time but it was the first time I saw a game from the side of the court. I met Kobe (Bryant, Ed), Dwight Howard and Steve Nash. I was surprised to find out that they like playing tennis. Kobe has just started. We must find him better racquets than the ones he has
!" Basically, The Black Mamba isn't so good at tennis.
...And has some fun with RedFoo
At the moment, RedFoo is everywhere. After New York, he's now at Indian Wells playing football with Novak Djokovic. At first sight, the Serb tennis player has a more classic look than the singer who, let's be honest, looks like a palm tree.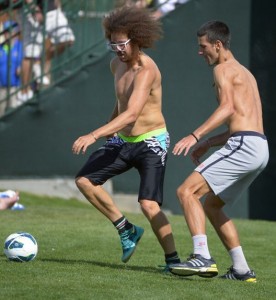 Djoko meets the stars
In reality, the world number 1 is still a kid. When he meets famous people, he takes a picture with them. So, this week he has immortalized his encounters with Bruce Willis and Pete Sampras. The story doesn't say if he also asked them for their autographs.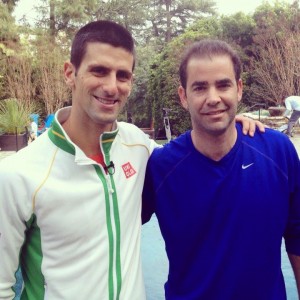 Novak Djokovic and Andy Murray Head
Just like Maria Sharapova, Head sponsors Novak Djokovic and Andy Murray. At Indian Wells, their equipment manufacturer asked them to feature on a commercial that will be released in May. And according to this picture posted by the Serb on the social networks, the two men have a rather phallic humour.
Meanwhile in the rest of the world…
Rihanna, Serena Williams and Victoria Azarenka as a trio?
Serena Williams and Victoria Azarenka are the best female tennis players at the moment. On the court, they are serially pitted against each other, and the two women even hang out together when they're not playing. Recently, the two revealed that they started to work on a cover of Rihanna's hit single "Stay". The American sings while the Byelorussian plays the piano. A project that pushed Serena to make a declaration of her love: "
I love Victoria as a person. I love her spirit, how competitive she is on a court. She's one of the rare players I'm close of outside the courts".
Make a heart with your fingers.
Azarenka saved by her man
Obviously, between Victoria Azarenka and RedFoo, the boss of LMFAO, it's the big love-match. While the player was playing an exhibition match at the Madison Square Garden against her new best friend Serena Williams, she asked her boyfriend to help her win the match. Unfortunately, as the hairy one is pretty rubbish, he didn't help much and Serena ultimately won 6-4, 6-3. Not everyone has the luck to have a boyfriend called Andre Agassi. [youtube]http://youtu.be/l_byXSflmLQ[/youtube]
Del Potro dabbles on the stock market
When the Argentine Juan Martin Del Potro gets bored, he sets his alarm clock at dawn, takes a little shower and runs to the New York stock exchange for the NASDAQ opening. Fun.
Nadal, Del Porto, Ben Stiller and the little girl
Ben Stiller came quietly to Madison Square Garden in shirt and jeans to watch Del Potro and Nadal in exhibition. Except that Nadal asked the actor to come hit a few balls. The Argentine, in order to balance out the teams, dug up a young partner. And the little girl did pretty well. Much better than Ben Stiller in any case, who proved rather...clumsy…at the net. Or should we just say rubbish? [youtube]http://www.youtube.com/watch?feature=player_embedded&v=Y4TF0imqn5w[/youtube]
Maria starts karate
At the moment, Maria Sharapova is working hard to promote her new Head racquet. After challenging Novak Djokovic in a previous video (they are both sponsored by Head), the Russian posted an advertisement where she takes up karate. With her racquet. So much violence… [youtube] http://youtu.be/rEWL-N9v7oc[/youtube]
The tweet: Kuznetsova robbed?
An eventful evening for Svetlana Kuznetsova when she found her hotel room had been visited in her absence. She told the world of this unscheduled visit on Twitter: "
Was very happy to come back to hotel to dolce, before i saw all that!!!!!WTF?!"
Apparently, the thieves left her a few pairs of shoes and a bra.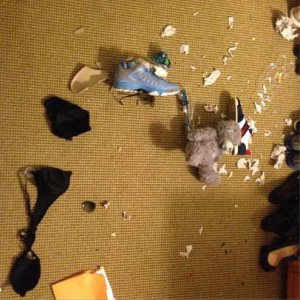 The quote: Ivanovic loves her car
"It's nice to come back to Indian Wells. Here, the weather is amazing. This tournament is part of my three favourites on the tour. In most of the tournaments, we use the official cars and we get driven us around. But here, I can drive my own car; it's very nice to have this kind of independence.
" We're still looking for the brand, number-plate and address of the lady in question.
The Spanish playboys
The Spanish players Almagro, Verdasco and Lopez took their suits out, put some gel in their hair, and flashed their pearly whites and Mediterranean looks to pose for pictures. A great present for ladies into tall, dark men…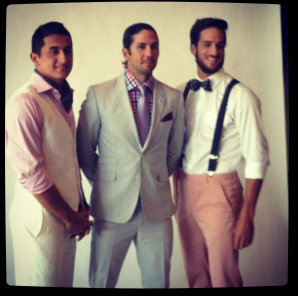 Azarenka in the charts
The latest crazy idea of RedFoo, LMFAO leader and also Mister Azarenka? Spread a rumour that he was about to release a song featuring his girlfriend's screams: "
I'm working on a song I might release. It's a song made of Vicky's screams (
Azarenka, editor's note
). It might be released in a week or so. It's a real ode to sport, to passion. Just like Eye of the Tiger.
" Is it possible to do the same thing with Monica Seles and Maria Sharapova?
Ivanovic showed some leg...
During the players' party at Indian Wells, we had the chance to see a beautiful red carpet. The occasion for Ana Ivanovic to flash her pins. A nice sight.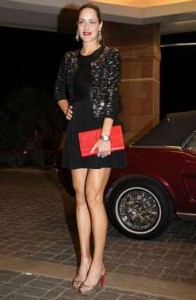 ...and Hantuchova too
In the meantime, the Slovak took up the challenge by flashing her legs too, during the K-Swiss Charity Event, at la Quinta in California. Hantuchova therefore had the chance to pose with Jeremy Piven, the famous American actor. The player can eat soup from the top of his head.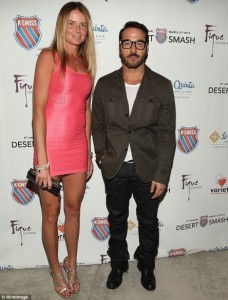 Guga in Point Break
After making clay courts his domain, a new sport tempted Gustavo Kuerten. Today, the Brazilian is attacking the ocean with a surfboard, a present from his sponsor, Crocodile. The only thing left for him to do is find a nice swimming suit and he'll be ready for Hawaii…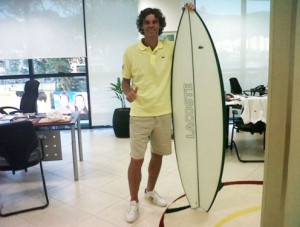 The gadget of the week
Sloane Stephens is just like all players her age: she's a geek. To show off with her iPhone, she found the funniest cover in the modern world: A knuckle-duster. Amazing.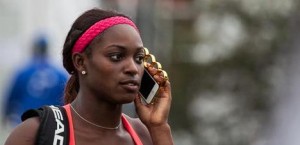 Maria Sharapova is a foodie
She might be 6 feet 2, but with her angel's face, Maria Sharapova is still a girl. And, therefore, a food lover. So when she goes to the restaurant, she doesn't skip dessert…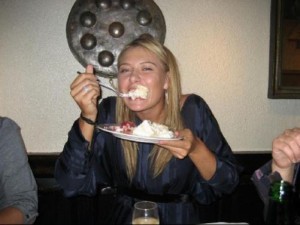 The old school look: Jana Novotna
Marion Bartoli, one of the less-glamorous players on the tour has just started to work with Jana Novotna, former world number 3 in the 90s, to take control of her career. One thing is sure; the Czech won't be giving her any fashion advice. Just remember how she looked when she was on the tour…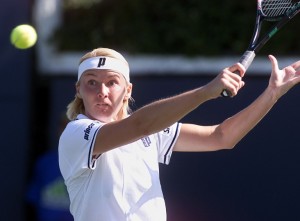 Rafael Nadal: Knicks fan?
We knew that Rafa was in love with football and Real Madrid. But obviously the Spaniard also likes big orange balls. The left-handed player took advantage of a trip to New York to take in some local basketball at a Knicks game. Apparently he liked the flooring.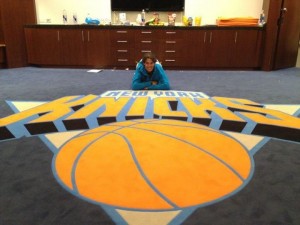 By Mathieu Faure