Novak Djokovic is a rascal, Kim Clijsters is pregnant, Andy Murray has bought a luxury hotel and Rafael Nadal signs autographs for an eight-months-pregnant woman. Really, it must be good to be a tennis player at the...
Novak Djokovic is a rascal, Kim Clijsters is pregnant, Andy Murray has bought a luxury hotel and Rafael Nadal signs autographs for an eight-months-pregnant woman. Really, it must be good to be a tennis player at the moment.
Maria challenges Novak
To promote her new racquet, Maria Sharapova released a video. Inside, she challenges Novak Djokovic. Honestly, it's hard to know who would win. At the moment, the Russian is rather unplayable. [youtube]http://youtu.be/m9ySXOJjvPs[/youtube]
Custom pumps for Sharapova
Invited by her equipment manufacturer to their American headquarters, Maria Sharapova spent the day being spoiled. And as she is rather bankable, she even spent some time having her feet scanned. The goal: manufacturing her a customized pair of shoes. Luxury.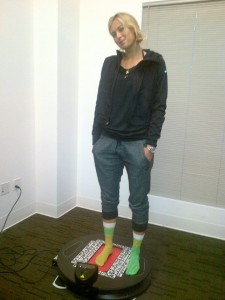 Maria in Vanity Fair
When she's not training or visiting Nike headquarters, Maria Sharapova goes out a little. This week, she decided to show off her beautiful figure at the Oscars after-party held by Vanity Fair. And when Maria goes out, she does it in style: halter-neck dress, ultra bright smile and doe eyes.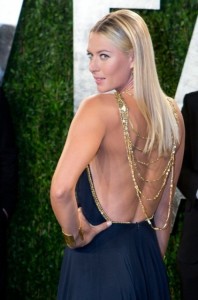 Sharapova digs Adele
In Doha, the WTA carried out a little investigation into the musical tastes of its best players. And this is how we found out that the Russian is a big fan of Adele: "
I love Adele. I find her voice incredible. She has so much talent that I secretly want to be able to sing like her, especially during karaoke with friends... I'm really good when I sing Cher. I've never tried Adele, but it should be fun.
" So then, Maria Sharapova likes singing Cher. Herein lies the true revelation…
Meanwhile, in the rest of the world…
The figure: 888
Roger Federer is a bit of a dinosaur on the men's tour. And for good reason, as in Dubai, the Swiss won his 888th official match on the professional tour, after beating in the quarterfinals the Russian Davydenko (6-2, 6-2). A colossal figure which amuses the former world number 1: "
8 is my favourite number. One of my friends just sent me an email to remind me that I had
just won my 888th game. It's nice
." In short, over his career, Roger has a win-percentage of 82%. Catch him if you can.
Djokovic, that rascal
Novak Djokovic is world number one. He's also a man who isn't insensitive to the finer things in life. Thus, at a dinner party held during the Dubai tournament, Nole let his eyes linger a little too long on a belly dancer came to greet him. Hmmm, the little rascal.... [youtube]http://youtu.be/HOAC9iIWlQ4[/youtube]
Zeballos, the cosmic point
The Argentine Horacio Zeballos is not the most famous player on the tour, which is too bad, as he can be spectacular. Playing against Nicolás Almagro in the quarter-finals of the Acapulco tournament this week, the Argentine was, as during one of the many points of the match, stuck way back behind his baseline. We thought that the point was lost when the Spaniard sent a smash flying past him but Zeballos produced an almost-unheard of shot – a counter-smash – to take the point. Although it was ultimately a useless stroke of genius as Almagro won comfortably 6-3, 6-4. [youtube]http://youtu.be/eZiUgBXVwm8[/youtube]
Azarenka showing off in Brazil
What does Victoria Azarenka do when she goes to Brazil to play some exhibition matches? Just about anything. Interviews for local TV, sexy dances with Serena Williams, a giant round-robin on
a tennis court and, of course, an exhibition match… In short, the young lady has plenty to keep her occupied and even found the time to make a little video . Let's be honest, we want her life. [youtube]http://youtu.be/PeKe_ApGoHk[/youtube]
Diego Roger's fan
So definitely, it's a big trend. Diego Maradona shows up at all the tennis tournaments in the area.
After Caroline Wozniacki
, the best football player of all time, based in Dubai, was seen taking fan pictures with Roger Federer, Novak Djokovic and Juan Martin Del Potro. Del Potro even admitted that the former Argentina captain was a very good tennis player "
He plays really well, not as well as he plays football, but we can do a few exchanges. It was quite a fun time for both of us!"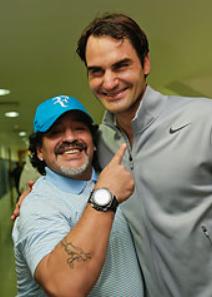 Andy Murray, landlord
Well, it's done. Andy Murray has bought a hotel, and not a Premier Inn, but a luxurious palace in his hometown of Dunblane. To do this, he had to get his cheque-book out to the tune of 1.8 million pounds. His project is simple, restore it and make it a 5 star resort. Simple. As the world number four declared on his website "
I am pleased to have acquired Cromlix House and look forward to securing its future as a successful business. By re-establishing Cromlix as a leading luxury hotel at the heart of the Dunblane community we will be able to attract new visitors to the area, create a number of new jobs and focus on supporting other local businesses. I'm pleased to be able to give something back to the community I grew up in."
Erakovic, the star
Marina Erakovic isn't the most well-known player on the WTA tour, but there's something about her. She loves to play guitar. Moreover, she always carries her own during her travels. So when she won her first title in Memphis, where Elvis Presley kicked the bucket, the organizers made a little gesture: the trophy was shaped like a guitar. Resulting in a quite rock'n'roll trophy presentation. [youtube]http://youtu.be/GGaYUuWo5NY[/youtube]
Martina Hingins: PSG fan
And one more. It's now a big trend in women's tennis. After Serena Williams and Caroline Wozniacki, it was Martina Hingis' turn to convert to the Paris Saint-Germain football club. On Twitter, the Swiss player confessed that she has become a PSG fan. She's fine with it. This is probably to get her own jersey too...
Nadal in Acapulco, a tale of victory and leisure
Rafael Nadal's week in Acapulco went very well, since the Spaniard won the tournament. We then saw him with the cup and a beautiful sombrero on his head, without the slightest hint of embarrassment. It was the same when he was seen signing an autograph on the shirt of a pregnant woman, right on her baby-bump. Slowly-but-surely, Nadal is getting back into the game.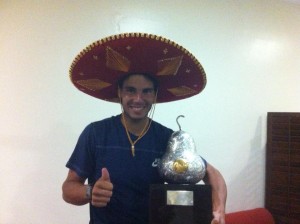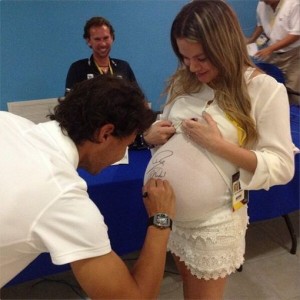 Serena Williams reprimanded (for excessive use of her phone)
When Serena Williams is at a golf tournament (the Honda Classic, to be exact) in which Tiger Woods is playing, she turns into fan. As she was watching the golfer, the tennis world number one pulled out her cell phone to take pictures of the Tiger. Except that it's forbidden and a tournament agent made it very clear to her, to a mixture of disappointment and shame on the face of the American. [youtube]http://youtu.be/jZVlI-8UYOw[/youtube]
Caroline Wozniacki takes to the surf
When the Dane is in Dubai, she takes the opportunity to discover the joys of surfing. We don't blame her.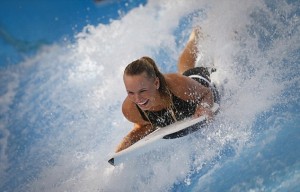 Hatched, matched and despatched
After giving birth to Jada in February 2008, Kim Clijsters announced on Twitter that she will become a mother for the second time. https://twitter.com/Clijsterskim/status/306014479324438530 Married since 2007 to Brian Lynch, a former professional basketball player, Kim ended her playing career last December.
Get the 90s look
Andre Agassi with hair and colourful clothes. Amazing.
By Mathieu Faure