When Nole isn't playing hopscotch or saving sea turtles, he's supporting AC Milan. A very ordinary life, in fact. A bit like Andy Murray and his customized games console or Maria Sharapova and her customized drinks...
When Nole isn't playing hopscotch or saving sea turtles, he's supporting AC Milan. A very ordinary life, in fact. A bit like Andy Murray and his customized games console or Maria Sharapova and her customized drinks bottle…
Nadal inspired by Ronaldo
Who inspires Rafael Nadal? Borg? Edberg? Moyà? No, Ronaldo. Simple. In any case, it's the confession made by the Spanish player to 
TennisWorldUSA
: 
"Ronaldo is an example to a lot of people because of all that he was able to achieve despite what he had to go through with all the knee problems in his career. He is definitely an example to me. He's an example of determination and hard work. "He was unstoppable, one of the best players of all time despite all the bad luck he had with the knee. I didn't have so many problems, I never needed the surgeries. But I can imagine how hard it must have been for Ronaldo with the complicated surgeries that he had to go through." 
Nadal on the cover
He's finally back and so are the advertisers. Proof, the Spanish magazine ESPN has put the lefty on the cover of its next issue. Sales will rise again. Phew.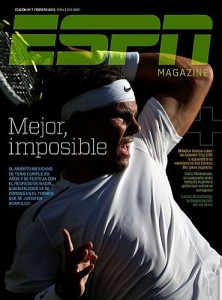 Rafa, at the right time
We know that the Spaniard is very close to the French watchmaker Richard Mille. In 2010, Rafa was wearing a charm worth 340,000 pounds. A mere pittance. And now he's back with Mille, agreeing to wear a small little watch valued at… 450,000 pounds. For purists, it's the RM27-01. The equivalent of a nice little flat in London around the wrist. Taking it easy.
Acapulco's delights
What does the Nadal clan get up to when they are in Acapulco? Surf? Parties? No, everyone meets at the luxurious Secrets Aura Cozumel hotel and enjoys the local cuisine. The simple pleasures in life...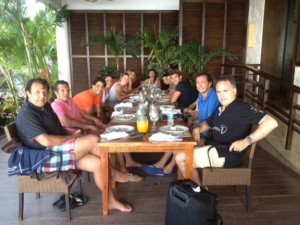 Rafael Nadal happy on the courts
It's an emotional Nadal who arrived at the press conference in Acapulco. The reason? His return to the game on South American clay: "
I couldn't wait to play these tournaments on clay again and I'm sure it will be once again a fantastic experience. I don't know what is going to happen in terms of results, but on the feelings side, it's really fantastic to play in front of people who speak your language and who are like brothers
."
Meanwhile, in the rest of the world…
Victoria Azarenka change colors
What is the Belarus player doing when she isn't winning matches on tennis courts? An initial response with a quick pit-stop at the M & M's store. Not ideal for her fighting weight, but who cares…? Serena Williams has made a decent career with Mathieu Bastareaud's body.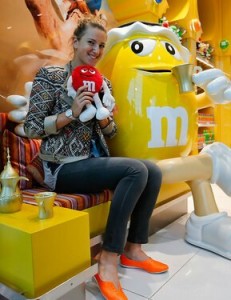 Novak Djokovic is back to childhood
It's all well and good to play the clown at all the Grand Slams in the world, Novak, but you forget that you too were a naive young boy once. That's why a simple hopscotch drawn on the floor allowed the Serbian player to forget his surroundings and regress to childhood…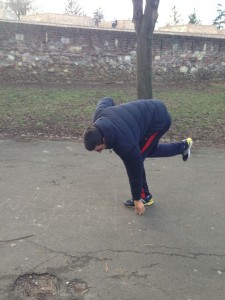 Nole, the great turtle
After hopscotch, Nole went working for charity. Taking advantage of a few days holiday, the world's No. 1 participated in a rehabilitation program for turtles. On the menu: emergency care, and a return to the sea for some sick reptiles. The Serb also found out that jet-skis, boats, intensive fishing and cold seabed were the main enemies of turtles. In short, Novak mutated (briefly) into Jacques Cousteau.
A wet Nicolas Almagro
What's the best way to celebrate a victory in Buenos Aires? Look at Nicolas Almagro. The Spanish player literally jumped into a pool, fully clothed and with his racquet to pose for pictures. We don't know if it was actually spontaneous (marketing operation?) but it sure looked good. In addition, he kept his eyes open under water.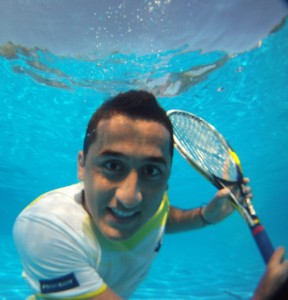 The depression
"
I could spend days without leaving my bed, without even getting dressed. It's hard to describe, but you have this strange feeling that everything is gray and that you simply lack the motivation to do things.
" The words are those of Rebecca Marino, the former next great hope of Canadian tennis. Except that Rebecca decided to say "stop". Harassed on social networks and suffering from depression, the young 22 years old woman decided to put an end to her career... "
They'll say, 'You gave that match away, you cost me such-and-such amount of money, you should go burn in hell,' or 'You should go die. And oh, my gosh, that is really scary."
She first made a name for herself in 2010 at the U.S. Open - then aged 19 – acquitting herself well despite a defeat in the second round of the tournament against Venus Williams (7-6, 6-3). "
Now I know what it's like to play against me!
" Venus said at the end of the match. A nice tribute. And a nice change from the digital insults she received recently...
Novak Djokovic the Milanese
Rafael Nadal has never hidden his love for Real Madrid. Novak Djokovic, on the other hand, is more into AC Milan. On Wednesday, for the match in the last sixteen of the Champions League between Milan and Barcelona, Novak went to the San Siro to cheer on the team dear to his heart. The Serb must be born under a lucky star since his team won by two goals to nil.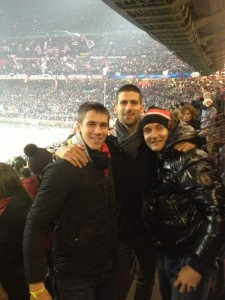 Wozniacki in good hands
At the moment,
tennis and football
are very close. After seeing Serena Williams and Victoria Azarenka wearing Paris-SG jerseys last week, this week, it was Caroline Wozniacki, former world number one, who hung out with a football legend. It's in Dubai that the Danish tennis player met a certain Diego Maradona. Only the greatest football player in history. Not enough to scare the Dane though, who happily posed for photos with the tubby genius.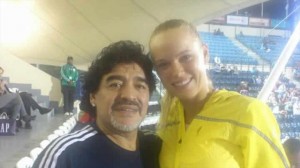 Andy Murray and his customized PS3
It's official, Andy Murray is a massive geek. The Scot just had a Sony PS3 customized with his name delivered to his house this week. Just that. This can come quite handy in case someone should like to steal it and sell it on eBay.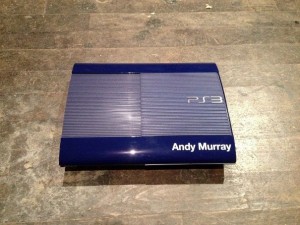 Wawrinka: Masterchef
Swiss player Stanislas Wawrinka took advantage of the Cabrera tournament in the Balearic Islands to trade his racquet for kitchen knives. The player took some lessons in local cuisine. A good way not to go home empty-handed…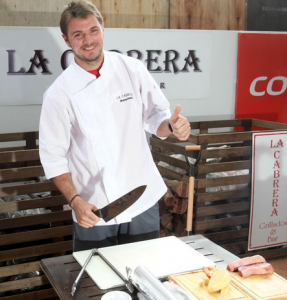 Maria and her customized bottle
Maria Sharapova has the world at her feet. Beautiful, blonde, talented and loaded, the Russian tennis player even has Evian bottles with her name on. Class.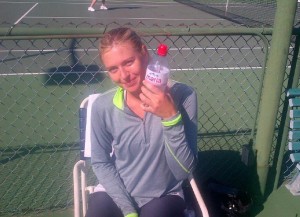 A mad ad
Australians have a thing with crocodiles. After three movies of the amazing Crocodile Dundee, the Aussies came out with an absolutely crazy advertisement for the Australian Open. It's wild and funny. [youtube]http://www.youtube.com/watch?v=9qwJ5uwkUEo&feature=youtu.be[/youtube]
By Mathieu Faure